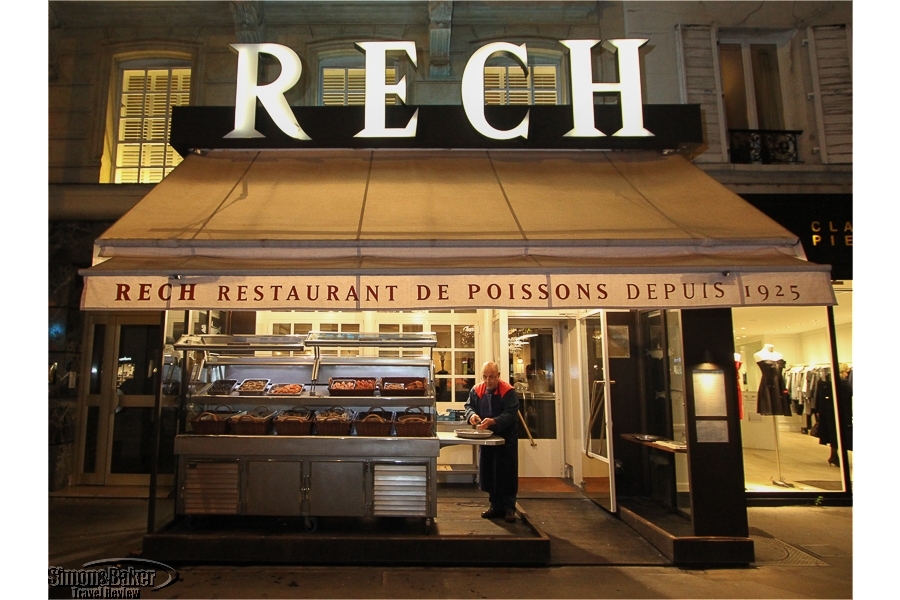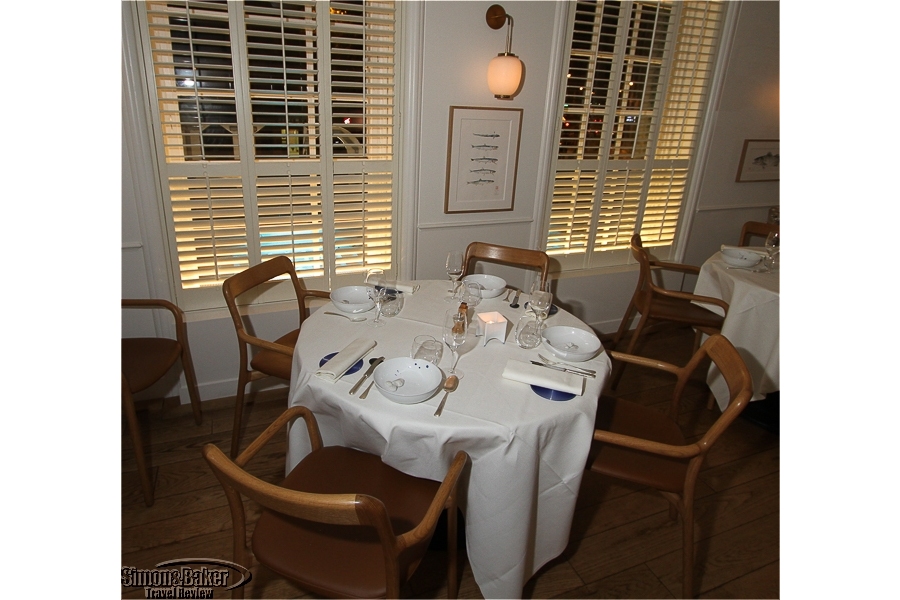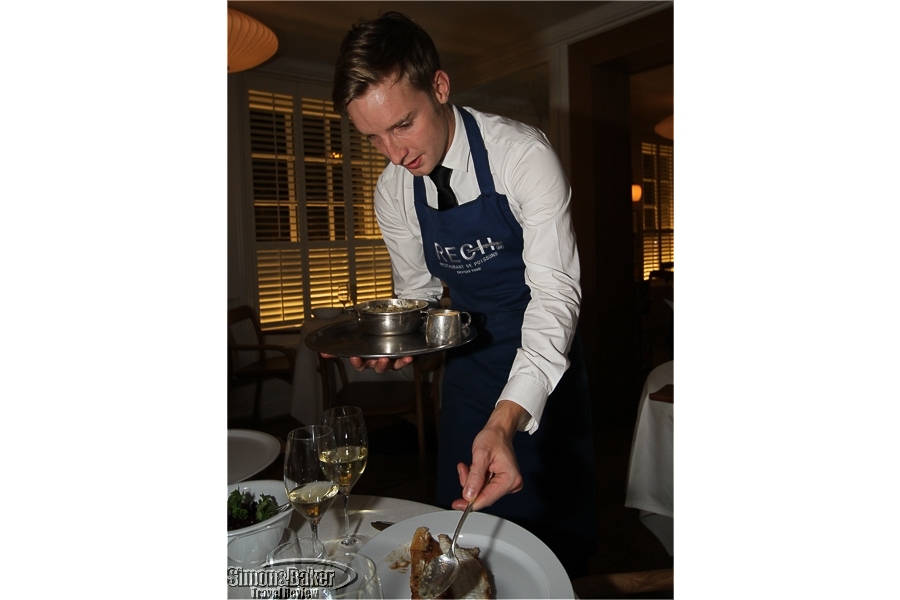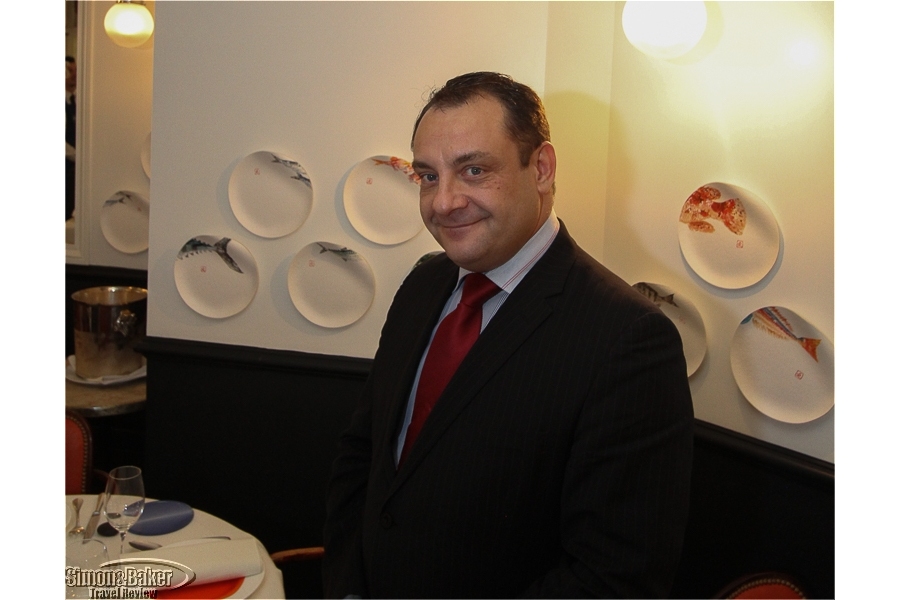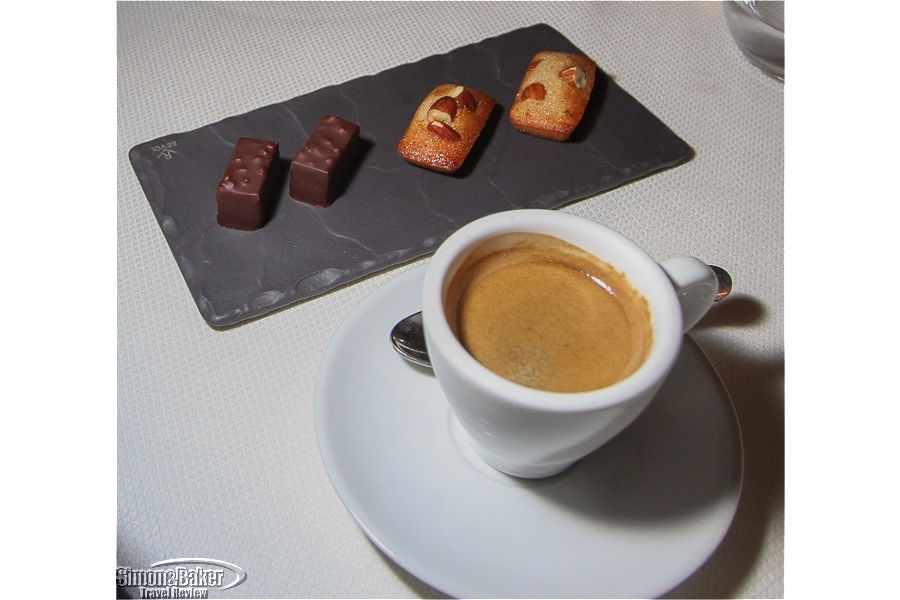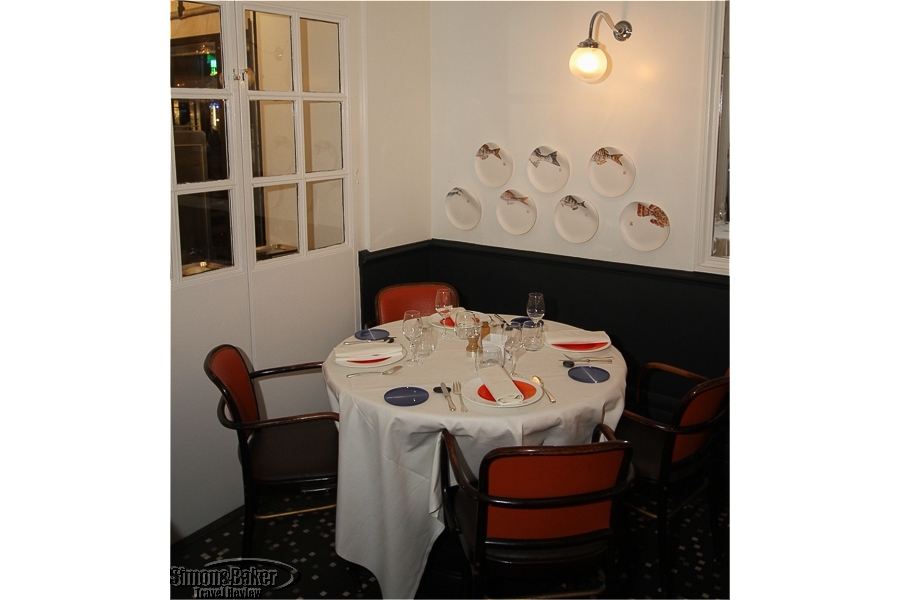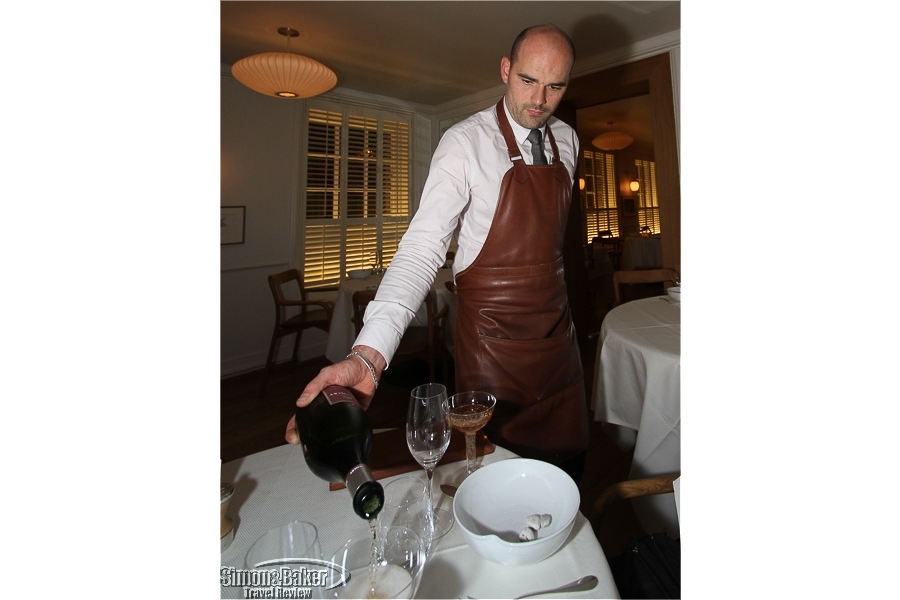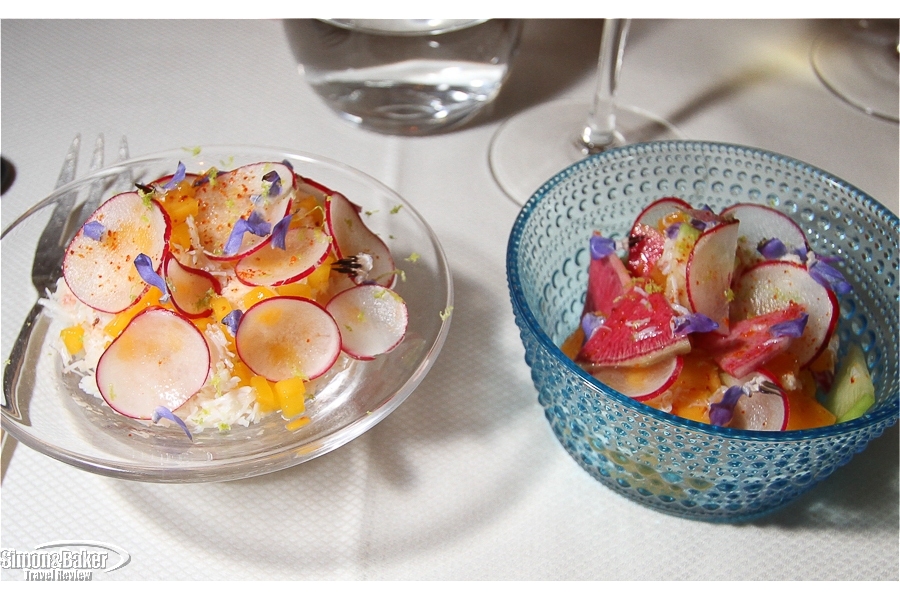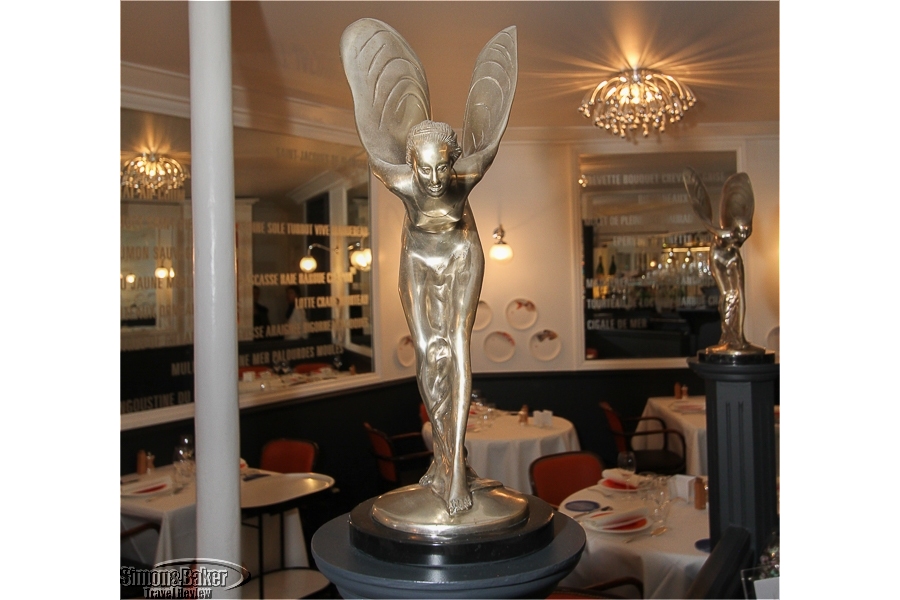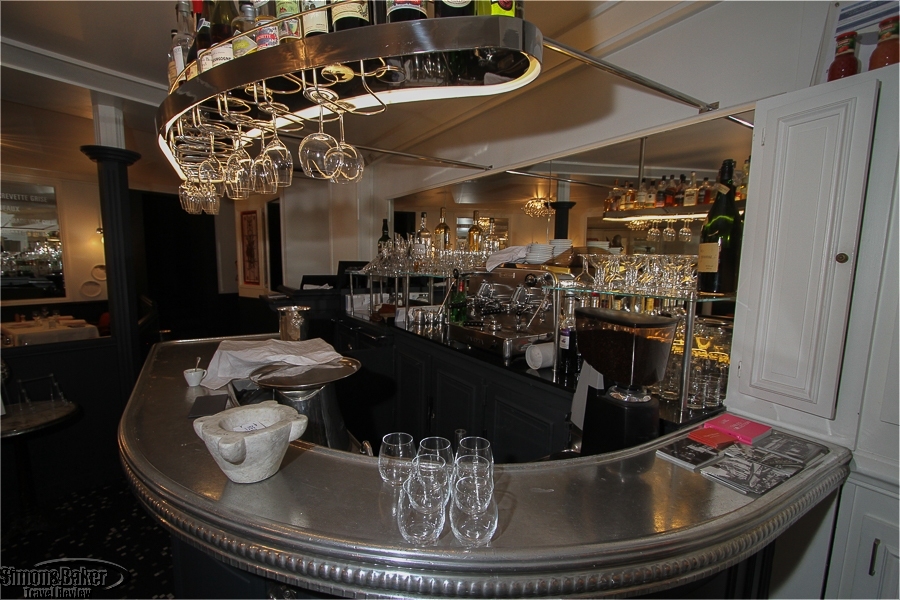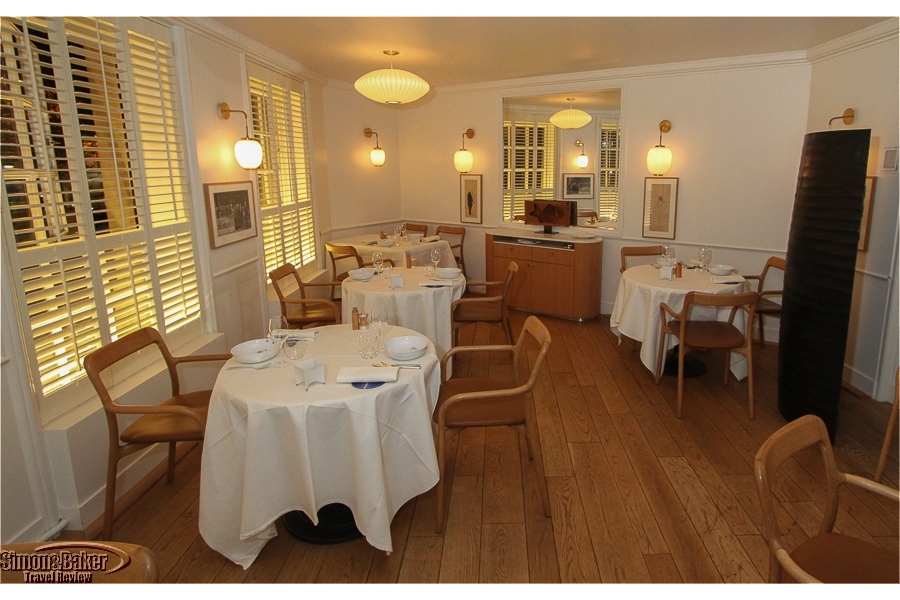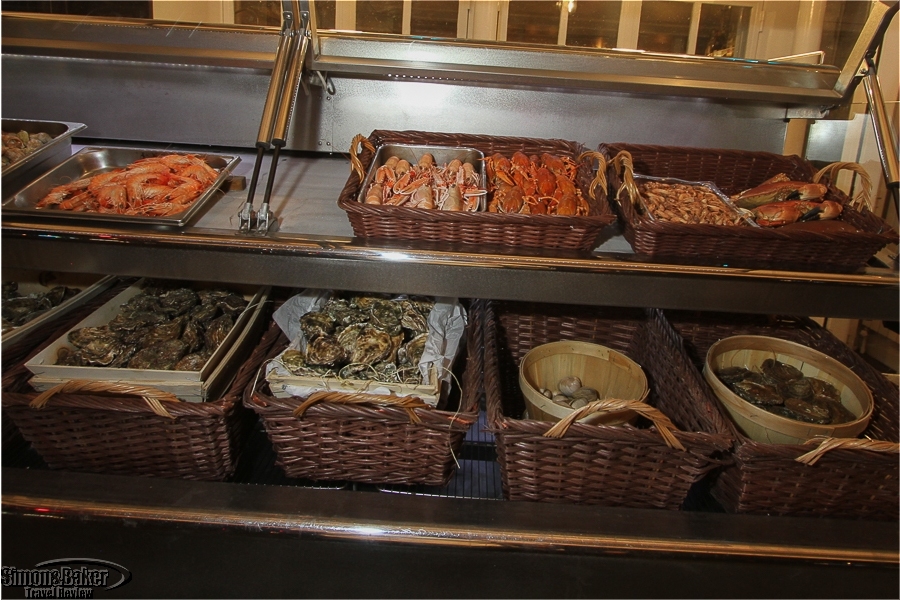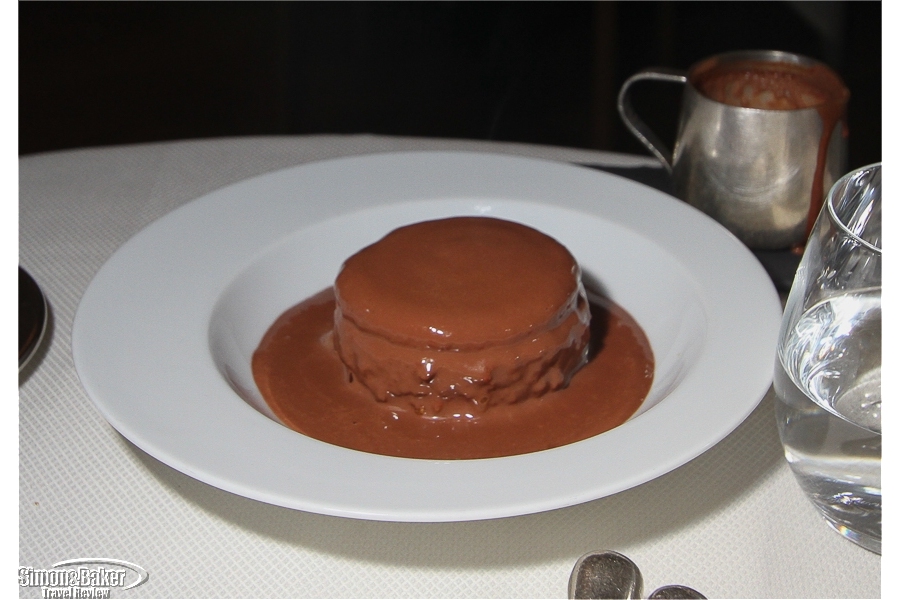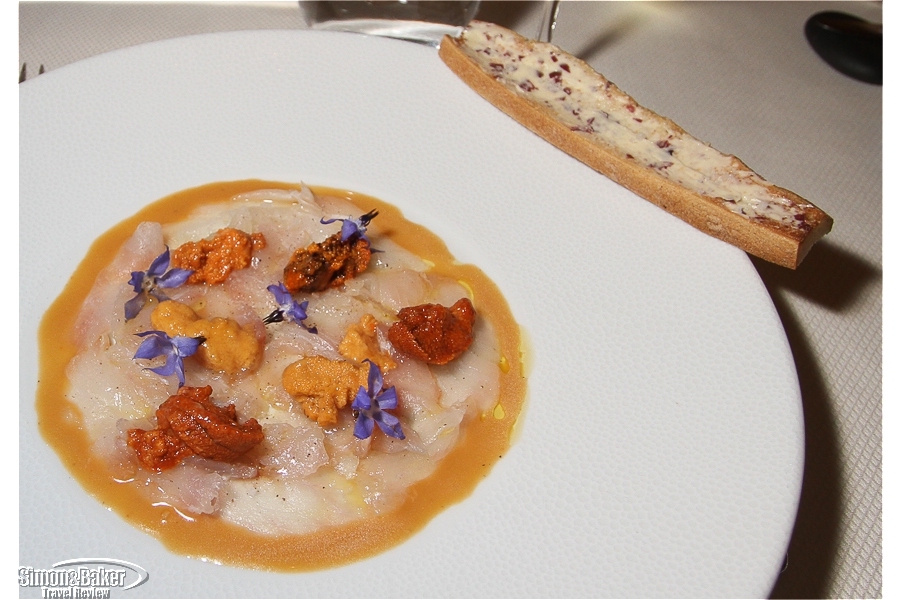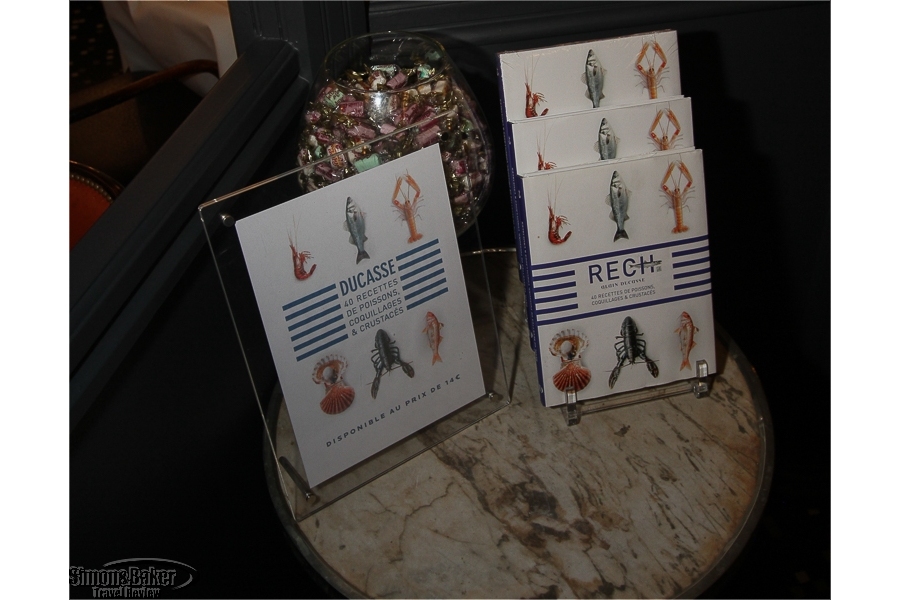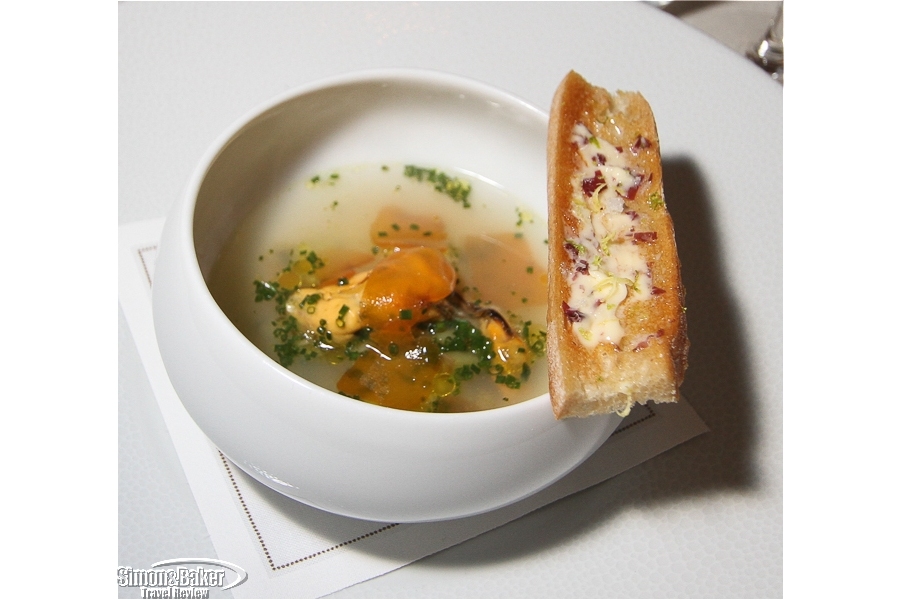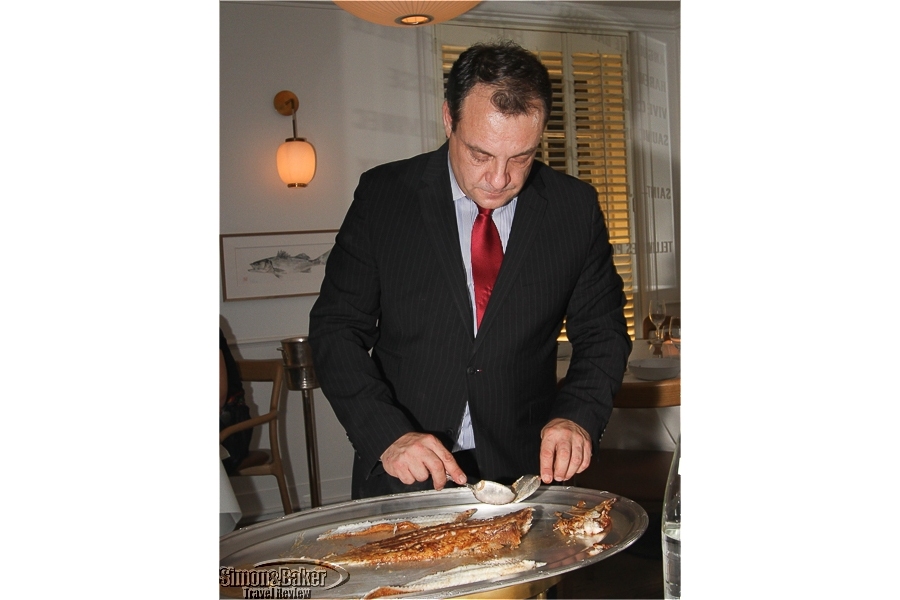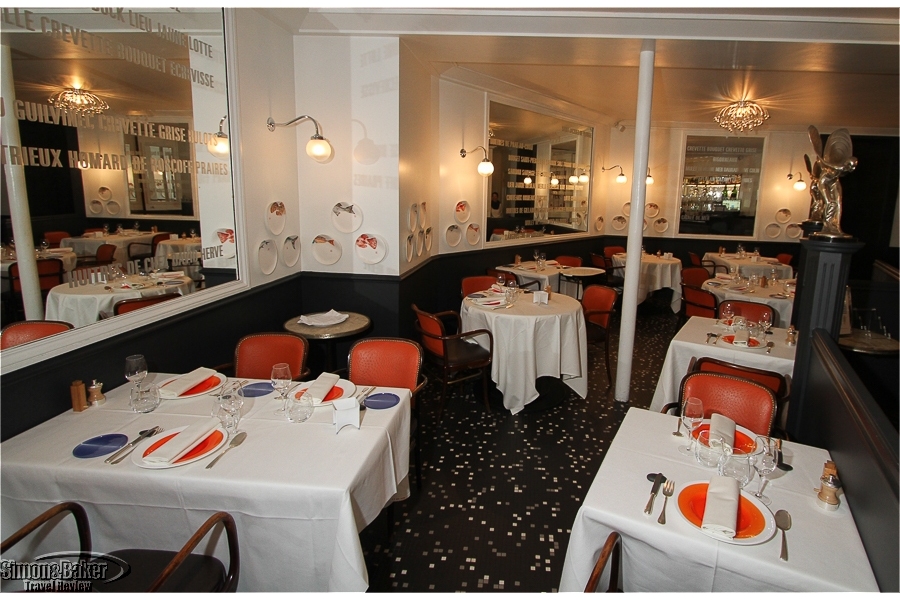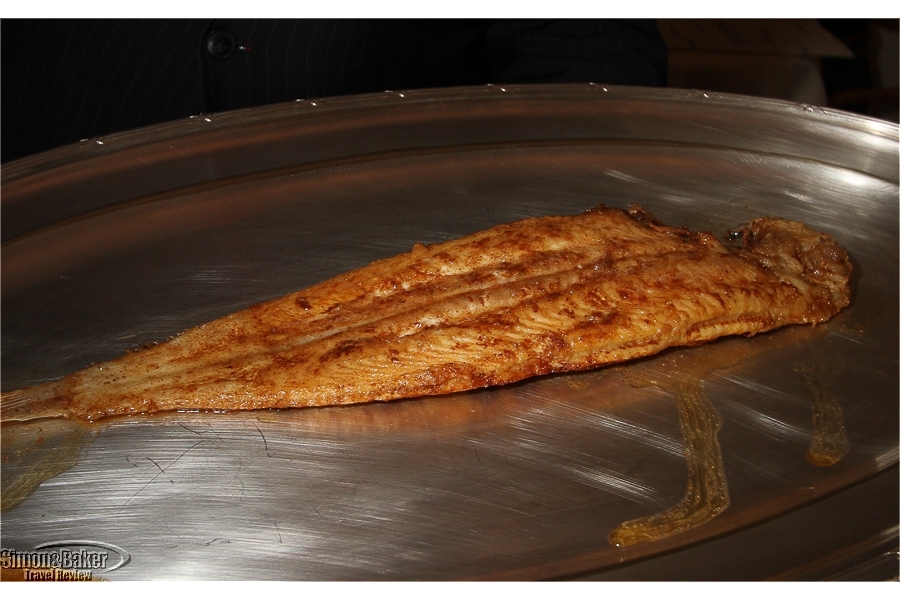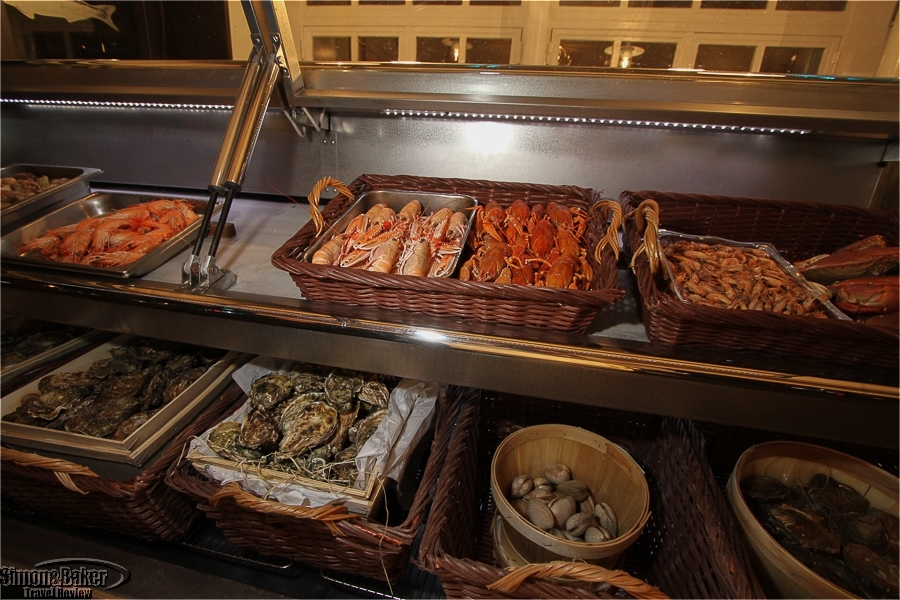 This restaurant appears to have closed.
We look forward to a return visit to Rech for lunch or dinner.
Overall Impression
The first time were went to Rech, part of the multinational Alain Ducasse culinary portfolio, we had a most pleasant lunch. On our return visit we had an equally delightful dinner. The modern understated yet warm décor with blond woods and a convivial ambiance were a good match for the well prepared tasty meal, aesthetically pleasing presentation, and friendly and efficient bilingual service.
Although we were the first to arrive the two room upstairs dining section filled up as the evening wore on. Yet we never lacked for anything at our table. Attentive eyes glanced by en route to the second room, and at the most discrete indication from us someone would immediately attend to our request. The table side dish preparation, including fish deboning, enhanced the experience.
Generous portions and an over ambitious order made it impossible for us to eat everything. However, we savored every bite we could finish. Although we liked most everything, we especially enjoyed the Grey mullet carpaccio with sea urchin, one of the restaurant's signature dishes, the Meuniere style sole main, Camembert cheese, and XL vanilla eclair. We look forward to a return visit to Rech for lunch or dinner.
About the Executive Chef
In January 2015, Damien Leroux joined Rech as chef de cuisine. Perhaps because he came from a family of restaurant owners, he developed a love of cuisine at a young age. At 16, chef Bruno Cirino from L'Hotellerie Jerome introduced him to gastronomy. He joined the team of Louis XV in Monaco where he worked for three years with Franck Cerutti. He rapidly adopted the philosophy of la cuisine de l'essentiel based on respect of produce.
Executive Chef Damien Leroux
Handicapped Access Handicapped guests were invited to dine on the ground floor.
Head Sommelier Florian Lemercier, executive sommelier, worked closely with Gerard Margeon, head sommelier of Alain Ducasse restaurants.
Location On a busy avenue in the upscale seventeenth arrondissement in Paris.
Manager Eric Mercier, a warm and welcoming host, had been at the restaurant since 2008. Prior to working at Rech, he earned his culinary badges with Gaston Lenotre, Alain Passard and Joel Robuchon at the brasserie Relais du Parc where he met Alain Ducasse. He is an avid fan of history and culture.
Opened-Renovated The restaurant was established in 1925 by Adrien Rech. The most recent major renovation, by Marie Deroudilhe, an architect, occurred in September 2012. Her goal was to bring "freshness and modern accents while keeping the original identity of the place." The downstairs area had been renovated to match the elegant upstairs décor since our previous visit.
Owned and managed Alain Ducasse took over ownership and management of the well known restaurant in 2007. As head of the eponymous restaurant management company Alain Ducasse Enterprise he led three restaurants each awarded three Michelin stars in Monaco (Alain Ducasse à l'Hotel de Paris), Paris (Le Meurice Alain Ducasse) and London (Alain Ducasse at The Dorchester). A native of the Landes region in the southwest of France, he had dedicated thirty years to being a chef, restaurateur, hotelier and teacher. His company owned or managed 24 restaurants in eight countries, a publishing house, Ducasse pastry and culinary arts schools, in France, the Philippines and Brazil, and a hotel chain of 500 hotels in France.
Pastry Chef Vincent Lemains
Size The two story 120 square meter restaurant was able to accommodate 80 guests and employed 20 people.
Type of Restaurant French seafood
Decor The restaurant design was meant to remind dinners of a coastal setting within a "seaside chic atmosphere." There were fiber reed plates signed by Shinichiro Ogata and the framed fish artwork was hand painted by Jean-Pierre Guilleron with an Asian stamp. Wood floors and blonde wood accents blended well with the white walls to create a warm ambiance. Accents were subtle such as comfortable tan armchairs, shaded lamps, matching tablecloths, silver cutlery, and pretty dinnerware.
Cellars Wine And Alcoholic Beverage Selection
There were 150 red and white wine references sourced from "respectful and responsible" French vineyards. They included Chablis, Meursault, Puligny-Montrachet, Chassagne-Montrachet, as well as Saint-Romain, Bouzeron or Maranges.
The restaurant offered wines by the glass, two half glasses and in 45 centiliter half carafes, as defined by Gerard Margeon for Alain Ducasse Restaurants. Rech had a collection of absinthe and beverages flavored with aniseed.
Special Menus For lunch there was a three course menu which changed on Tuesdays and cost 44 euros. For diner there was a four course seasonal menu for 54 euros. A five course seasonal Signature Menu was available at lunch and dinner for 76 euros.
Meal
While sipping from a glass of chilled Pommery champagne served in an hollow stem flute we browsed the seafood menu in English. We skipped over the single chicken from the Landes region and one beef fillet dishes, focusing on seafood and signature dishes instead. With the friendly staff's assistance, Eric Mercier was especially helpful, we made our selections, inviting the sommelier who wore a distinctive leather apron to pair wines as he saw fit. We had two choices of bread: baguette seaweed and cereal. We began with a warm mussel dish (a favorite). The server poured warm bouillon atop morsels of mussel. It was accompanied by a savory toast prepared at the kitchen with seaweed butter.
My lunch partner had an elegant and moist Grey mullet carpaccio with sea urchin, one of the restaurant's signature dishes and our favorite starter. It was served with a Muscadet wine from a magnum bottle. I had the Refreshed crab claws, mango and radish dish. The crunchy and extra mild dish was served with a Saint Saphorin wine.
For a main we both tried the Meuniere style sole with potatoes from Noirmoutier. It had a slightly rubbery texture and a lovely flavor. It came with mashed truffled potatoes (a favorite) prepared with chunks of truffle and a side salad. Despite the mashed potatoes' bold flavor there was harmony in the dish. It was served with a Condrieu – Faury, a crisp and cleansing wine.
The Camembert cheese was ripe, gooey and delicious. There were baguette slices in a metal breadbasket.
We sampled three desserts: Mr. Rech: hazelnut ice cream and hot chocolate sauce made in the Alain Ducasse chocolate factory in Paris, one of the signature dishes; French toast of Pastis d'Amelie, sea salt caramel ice cream; and an XL vanilla eclair filled with Chantilly cream (rather than the more common pastry cream). The cream itself had a well rounded vanilla flavor. While my dinner partner fell in love with the eclair my favorite part of dessert was the chocolate sauce which I scooped up with a spoon. For post dessert nibbles to accompany the espresso there were fragrant chartreuse marshmallows, two mini financiers and two crunchy milk chocolate bites. We had Jurancon wine with dessert.
Other In February 2014 Rech received one Michelin star.
Date of Review
November 2014
Number of Visits Two
Reviewers
Article by Elena del Valle
Photos by Gary Cox
Service Our English speaking staff were attentive, friendly and willing to make recommendations at our request.
Would You Dine Eat There Again-Recommend It? Yes
Previous Review 2013
Contact Information
Address:

Rech
62 Avenue des Ternes
75017 Paris
France

Phone:
Website: