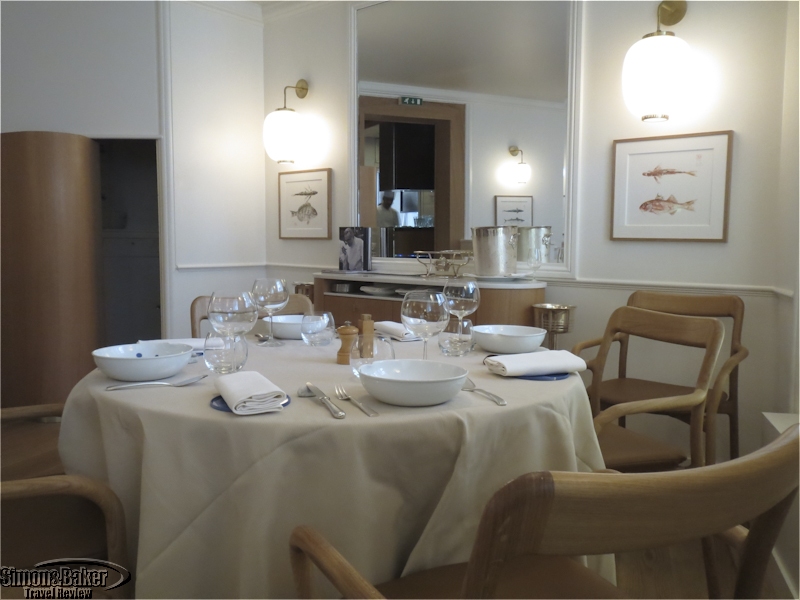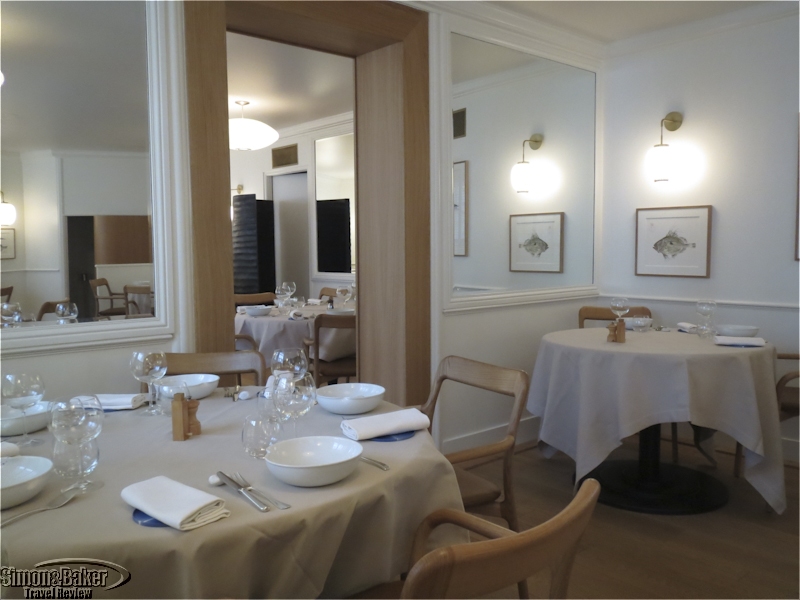 This restaurant appears to have closed.
Friendly English speaking staff, good service, pretty tableware and a surprisingly delicious, satisfying and well presented meal with generous portions made fans out of us.
Overall Impression
The employee wearing a rubber apron and processing shellfish at the entrance and the bistro style ground floor dining area belied the refined ambiance we found once we climbed a narrow staircase to the first floor of Rech, long known for its seafood in a city preoccupied with eatable treasures from the seas. As the first to arrive for lunch we were thrilled to have the dining room to ourselves for a few minutes until the next guests appeared.
We loved the upstairs sunlit two-section salon with wood floor, pale woods, off white walls and framed fish illustrations where we were seated. While both dining areas were informal the recently renovated upstairs area was our favorite. Friendly English speaking staff, good service, pretty tableware and a surprisingly delicious, satisfying and well presented meal with generous portions made fans out of us.
Chef De Cuisine
Adrien Trouilloud joined the team at Rech March 2012 after working with Benoit Witz at the Hostellerie de l'Abbaye de la Celle, Crayères in Reims, Louis XV in Monaco, Jules Verne in Paris, and the restaurant of the Dorchester in London where he became sous-chef.
Executive Chef Jacques Maximin
Handicapped Access Handicapped guests were invited to dine on the ground floor.
Head Sommelier Gérard Margeon, head sommelier of Alain Ducasse restaurants, worked with Olivier Leblanc, executive sommelier.
Location On a busy avenue in the upscale seventeenth arrondissement in Paris.
Manager Eric Mercier, a warm and welcoming host, had been at the restaurant since 2008. Prior to working at Rech, he earned his culinary badges with Gaston Lenôtre, Alain Passard and Joël Robuchon at the brasserie Relais du Parc where he met Alain Ducasse. He is an avid fan of history and culture.
Opened-Renovated Established in 1925 by Adrien Rech the last renovation, by Marie Deroudilhe, an architect, occurred in September 2012. The concept behind the work was to bring "freshness and modern accents while keeping the original identity of the place."
Pastry Chef Christophe Devoille was entrusted with desserts. The 28-year-old trained as pâtissier-chocolatier-glacier. He acquired experience at La Côte Basque in New York among others. In 2004, Alain Ducasse asked him to work as pastry chef of the restaurant Alain Ducasse au Plaza Athenee in Paris. Then beginning in 2006, he worked for Buerehiesel of Antoine Westermann.
Size The two-story 120 square meter restaurant was able to accommodate 80 guests and employed 16 people.
Type Of Restaurant French seafood
Owned
and managed
Alain Ducasse took over ownership and management of the well known restaurant in 2007. Hailing from the southwest of France, Ducasse was at the time of this writing at the helm of three restaurants, each awarded three Michelin stars, in Monaco, Paris and London. Over his thirty year career he has been chef, restaurant developer, innkeeper, trainer and publisher.
He is known for leading twenty restaurants internationally, three inns in Europe, an association of independent hotels, a culinary publishing house, an international education division with cooking school open to the public in Paris as well as a pastry school for professionals and amateurs, and a culinary training center for chefs. He describes as his honor code as ruled by twelve values: passion, pleasure, sharing, harmony, leadership, rigor, curiosity, melting, excellence, respect, audacity and origins.
Decor-Ambiance The restaurant design was meant to remind dinners of a seaside setting within a "chic atmosphere." There were fiber reed plates signed by Shinichiro Ogata and the framed fish artwork was hand painted by Jean-Pierre Guilleron with an Asian stamp. Wood floors and blonde wood accents blended well with the white walls to create a warm ambiance. Accents were subtle such as comfortable tan armchairs, shaded lamps, matching tablecloths, silver cutlery, wood pepper grinder and salt container.
Cellars Wine And Alcoholic Beverage Selection
The restaurant's wine list had 150 white and red references. Gérard Margeon sourced the wines from "respectful and responsible" vineyards. The restaurant offered a Naturelly Rech selection of wines available by the glass, by the two half glasses and in a 45 centiliter half carafe. Rech has a collection of absinthe and beverages flavored with aniseed.
Meal Following a glass of Ayala Brut champagne and a pumpkin soup with pollack teaser we had starters of langoustines for me (Délicat velouté de langoustines, d'autres marinées a cru au citron vert); and for my lunch partner Artichokes risotto, black truffle (Risotto aux artichauts épinaux, tuber melanosporum). From the metal bread basket at our table we could select white, wheat or sliced seaweed bread to accompany the salted butter. The basket was refilled before we thought to ask for more.
For my main dish I had a tender and memorable Grenobloise-style skate fish (Aile de raie a la grenobloise ) and my partner ordered Port-en-Bessin scallops served with endives and shaved black truffle (Saint-Jacques de Port-en-Bressin, endives de pleine terre, rapée de truffe noire). Following the staff's recommendation we had a 2010 Mersault Grand Charons Prunier Bonheur
We then had the restaurant's Camembert (Le fameux Camembert de Rech), a creamy, flavorful and decadent cheese we wished we had more room to enjoy.
The restaurant's chocolate Eclair XL (Le fameux éclair XL de Rech au chocolat ou) and Mont Blanc composition with vanilla poached pear with chestnuts and rum raisin ice cream (Mont Blanc de tradition, poire Pochée a la vanille) completed our meal to perfection. We were also served lovely aged prunes, homemade lemon marshmallows, bite size vanilla financier cake and milk chocolate praline to accompany our hot beverages at the end of the meal.
Special Menus For lunch, there was a three course Marin Malin menu for 34 euros, renewed every Tuesday. It featured line-caught wild fish, simply cooked with seasonal vegetables. For diner, there was a four course seasonal menu, featuring items such as the fall vegetable tart with wild mushrooms, the Scottish salmon by Jacques Maximin, Rech Camembert, and the French pastis toast with salted butter caramel ice cream, for 54 euros. A five course Best of Jacques Maximin seasonal menu was on offer at lunch and dinner for 68 euros.
Other Two floors made up the entire restaurant, sharing a common menu and staff although the décor was significantly different. When booking reservations it was possible to request an upstairs or downstairs table although, according to a spokesperson, a location was not guaranteed (as was the case when we visited Le Jules Verne).
Date Of Review
December 2012
Number Of Visits Once
Reviewers Article by Elena del Valle
Photos by Gary Cox
Service Our English speaking staff were attentive, friendly and willing to make recommendations.
Would You Dine Eat There Again-Recommend It? Yes
Contact Information
Address:

62 Avenue des Ternes
75017 Paris

Phone:
Fax:
Website:
Email: