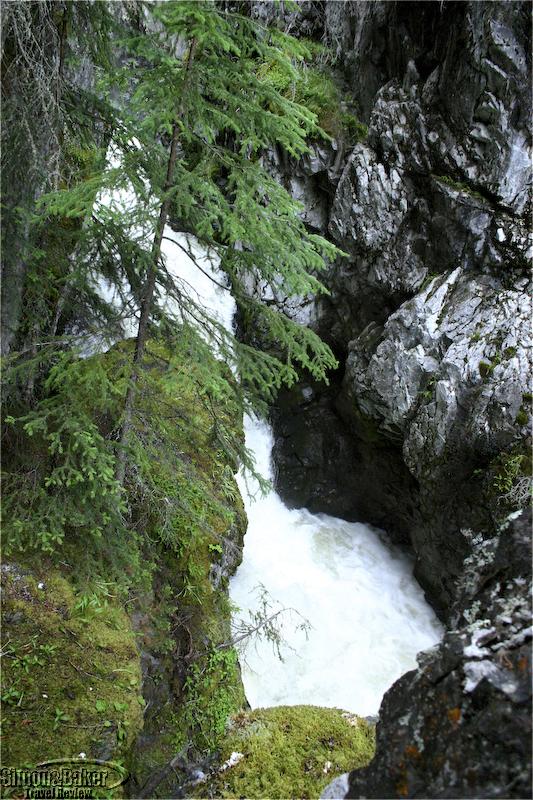 What we liked about this lodge was the quiet remoteness of its location and the raw unspoiled beauty of the surrounding nature which allowed us to focus on relaxing and recharging our batteries.
Overall Impression
At Perfect Earth Tours we found the accommodations to be excellent and the staff very friendly and helpful. During our stay we were able to hike, canoe, enjoy the company of other guests, and recharge our batteries. We experienced a healthy, organic and luxurious travel experience and thought it offered great value for the money.
On our first day we hiked up to a water fall through a trail that wound through a beautiful scenic Yukon pine forest on a carpet of soft northern moss so thick and springy that we almost bounced as we walked. It was an easy two hour hike to the waterfall. This trail also included some interesting flora like a large aspen grove, and lots of mountain wild flowers. On the way up to the waterfall we spotted wolf scat on the trail. For wildlife we sighted a wild chicken, which looked a little like a grouse, and many Arctic ground squirrels in the forest.
In the afternoon of our first day it rained, so we stayed inside and enjoyed playing board games. From the great room, we could see ducks and loons swimming up and down the Teslin River. Previous to this trip we had become somewhat familiar with the calls of loons because Native Americans have often used the calls in their music and we enjoy this type of music. So it was a thrill for us to be able to hear the call of a loon in the wild.
On the following day we hiked up to the three lakes, which had become two lakes because of all the rain. On this hike we saw lots of mountain wild flowers including the vivid purple fireweed which is the official flower of the Yukon. In addition we saw fresh large moose tracks on the hiking trail.
Later in the day, we paddled a canoe about 1.24 miles (2 kilometers) along the banks and into the backwaters of the area. This gave us a much better opportunity for wildlife viewing. We saw kingfishers, redhead ducks, a mallard hen with babies and loons. The backwaters of the river were very calm and quiet, offering a relaxing canoeing setting. After dinner we took a second canoe trip at 9:30 p.m. to find the sun was still shinning brightly. At this time of the year it is light almost all day long in this region. Finally, after a long day of hiking and canoeing we were able to soak and unwind in the candle lit Jacuzzi tub in our room.
What we liked about this lodge was the quiet remoteness of its location and the raw unspoiled beauty of the surrounding nature which allowed us to focus on relaxing and recharging our batteries.
Class Of Accommodation
Luxury lodge.
General Manager Mike Muller
Handicapped Access Yes they had accommodated some handicapped guests, but they didn't have wheelchair access.
The rooms were very close to the driveway entry and they had three ground floor rooms when we visited the property.
Internet Access There was high speed Wi-Fi Internet service in our room as well as in the common areas of the lodge.
Length Of Stay Three nights
Location The property was a 90 minute drive south and east from Whitehorse along Highway 1.
Owned And Managed Perfect Earth Tours is a privately owned family property belonging to Mike Muller and Alana Nelson.
Size The property occupied two acres and was home to five guest rooms. There were four employees.
Year Opened New owners purchased the property in early 2008 and opened it in the spring of 2008. They were in the process of adding accommodations and new guest facilities.
Lobby And Common Areas The inn had a Western log home lodge style with massive log beams in the structure. The common area was approximately 30 x 50 feet (1,500 square feet or 140 square meters). A casting of a grizzly bear paw print taken from a print found near the lodge was included in the common area as an art piece.
Bathroom
We had a private indoor bathroom with a separate locking door which connected to our bedroom. Inside the bathroom there was a sink, shower, and toilet. The bathroom was about 6 x 14 ft (84 square feet or 7.8 square meters).
Room We stayed in a comfortable log lodge room on the upper floor. Our lodge bedroom was about 16×28 feet (448 square feet or 41.6 square meters). It had a balcony with a sliding glass door which faced north and overlooked the Teslin River.
There was a king size bed with mosquito netting, a small sitting chair, a comfortable cushioned chair with an ottoman, a night stand, and a Jacuzzi tub. We enjoyed afternoon naps in the room. We also enjoyed the view of the Teslin River and watching the midnight twilight setting from our balcony.
Meals
We decided meal times by a consensus vote from the group of guests. The meal times chosen while we were there were close to normally accepted meal times. Three meals a day, made with organic and locally grown ingredients, were served. The meals were delicious, healthy and nutritious.
Dinner was a family style setting where we shared the experience with the other guests. We enjoyed spending time with people from other parts of the world including Germany and the United Kingdom, sharing travel stories and information about our respective countries.
Breakfast was served buffet style. There was organic bacon and organic eggs; sliced tomato; strawberry; avocado; and toast with blue berry jelly; a locally provided organic mixed herb mint tea ; pancakes with a local favorite sweet lingon berry syrup, cranberry juice, orange juice and apple juice; sourdough bread with butter; sourdough rolls with butter; a specialty German farmer's dish of potatoes, eggs, and onions; fresh organic rolls; fresh apple juice, cranberry juice, orange juice; and organic coffees.
We sampled the following lunch items:
Organic split pea soup; chicken salad sandwich on sourdough bread and wheat bread; chips and crackers with salsa; olives, grapes, celery and cucumbers; organic mixed herb mint tea; pasta salad; deviled eggs; smoked lox; and sweet muffins
We sampled the following dinner items:
A local favorite delicious wild salmon; rice; steamed broccoli; cucumber salad; white wine; mushrooms and prawns; baked chicken; rice; noodles; garlic bread; and Yukon Gold a locally brewed English style pale ale.
Amenities
There were nicely scented local organic toiletries in unmarked bottles. There were candles, tissue, flowers, and his and her bath robes.
Soaps were made by a local vendor using a proprietary recipe of organic ingredients.
Facilities There was a common area great room and kitchen. At the main entrance there was an entry room with tables where guests could play games and take off their shoes.
There was a dock on the river and the property had a canoe and paddles guests could use to paddle around the Teslin River. Outside was a screened in gazebo where guests could relax or read. There was a volleyball court and net on the property.
Activities It was possible to enjoy canoeing, hiking; fishing, dog sledding, ice fishing, cross country skiing, and view the Aurora Borealis (Northern Lights).
Other
Foods and materials on site were organic. The property was a clean energy based facility. Clean renewable solar panels and a diesel generator provided the energy to power the lodge. The lodge is too remote to be tied to a utility company based power which made the property an "off the grid" lodge. Electricity was available in the rooms. We ran our hair dryer in the mornings on the 120 volts North American power outlets.
Government owned wilderness surrounds all sides of the property.
For all of our hikes the lodge supplied us with gloves, netting and an organic bug spray repellent which when used together proved effective against mosquitoes. This year was the wettest in 50 years for this region, and the unusually large amounts of rain caused a larger than normal mosquito population.
During our visit, the owners were focused on providing guests a totally organic experience. We tried different locally supplied organic foods and amenities during our stay. Examples included the organic soaps and shampoos that were in our bathroom facilities.
Cleanliness
Excellent.
Date Of Last Visit July 2008
ReviewersArticle by Chester Godsy
Photos by Joni Johnson-Godsy
Service The staff members were friendly and helpful.
Our room was serviced more than once per day.
Would You Stay Again? Yes
Contact Information
Address:
Perfect Earth Tours
P.O. Box 31298
Whitehorse
Y1A – 5P7
Yukon, Canada
Phone:
+1-888-527–6208
+1-867-390-2151
Fax:
Website:
http://www.perfectearthtours.com/
Email: