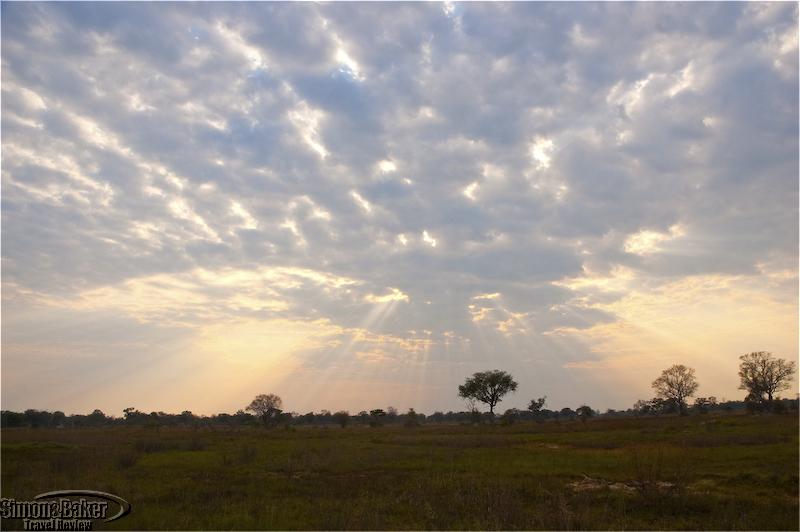 I have already recommended it for its romantic setting and glorious pampering to friends considering a Southern African honeymoon.
Overall Impression
When traveling to remote locations it is a rare experience for me to reach a place where everything is unerringly right. Xudum Okavango Delta Lodge was such a place. Built deep within a 62,000 acre (25,000 hectare) wildlife concession, Xudum appeared like a remote Eden when I first approached it from the water. The peaks of its impeccably thatched roofs peered among the treetops of a lush riverine forest at the edge of a lagoon carpeted with water lilies in full bloom. The tri-leveled main lodge was designed to showcase the endless vistas of reed and papyrus beds of the southern Delta, made all the more striking by the witty blend of sophisticated luxury and whimsy of the stylish contemporary décor. Sectional sofas mingled with local craft and, introducing the property's recycling theme, tire swings and sculptural end tables that turned out to be made of soda cans. I immediately coveted the Xudum kitchen with its battery of professional cooktops and ovens, its tall wine refrigerator and the latest in kitchen appliances. It even had a gleaming Italian espresso machine and a long granite serving bar with a sweeping view of the Delta!
My own unassumingly labeled "guest suite" turned out to be lovely villa with a private plunge pool large enough to swim in, and an air-conditioned bedroom. Its upper level deck under thatch went from being a superbly comfortable hide during the day to offering optional open-air sleeping quarters at night. I spent an entire siesta time there watching a herd of elephants browsing about the camp before trundling off to a copse of mopane trees at the end of the property.
The staff was consistently gracious and attentive, with everyone's demeanor unequivocally expressing how happy they were I had come to visit. The attention to the smallest detail was amazing. My wake-up calls came with a carafe of freshly squeezed orange juice. Morning drive coffee was French-pressed. When I walked from my suite to the main lodge shortly after the elephants' passage, I noticed that the pathways had already been raked clear of any signs of their visit. And after I complimented the chef on the delicious savory herbed shortbread served with cocktails, a copy of the recipe materialized on my desk the next morning.
The quality of the guiding was on par with the hospitality. I had come to Xudum to experience the remote waterways of the Delta and enjoy its bountiful birdlife. My guide Ona Basimani ensured that I did that, from marveling at the expertly woven straw cup of a warbler's nest threaded between three reeds to repeatedly spotting elusive Pel's fishing owls. I was pleasantly surprised to find some game as well. In addition to the omnipresent elephants, hippos, and lechwes, I enjoyed sighting the occasional giraffe, and a rarely seen side-striped jackal howling at the moon.
My one regret about Xudum was that I hadn't planned to stay longer. There were not enough hours in the day, nor days on my itinerary to take full advantage the outstanding offerings of this luxurious property, its superb food and munificent hospitality. I long for an opportunity to return. I have already recommended it for its romantic setting and glorious pampering to friends considering a Southern African honeymoon.
Class Of Accommodation
Luxury wilderness lodge
Communications There was no mobile phone service in the area. Short-wave radio was the lodge's main means of communication. A satellite phone was available for emergencies. For guests with their own laptop, there was good WiFi Internet access in the main lodge.
General Manager Johan van der Merwe and the Lodge Manager is Florence Potgieter
Handicapped Access No
Length Of Stay Two nights
Location In the southern Delta; a 20-minute flight by light airplane from Maun the main gateway into Botswana's safari areas.
Owned-Managed &Beyond, previously known as Conservation Corporation Africa (CC Africa), with headquarters in Johannesburg, South Africa, owned and managed the property. At the time of this writing &Beyond itself is owned by two major shareholders, Capricorn (the Enthoven family, originally from South Africa) and the Getty Family Trust.
Power The camp had diesel-generated power . The tents had electric lighting and air-conditioning, and sufficient power to charge batteries for cameras, computers and other electronic devices.
Size The 18.5 acre (7.5 hectare) camp consisted of nine guest suites capable of accommodating up to 18 guests. It employed a staff of 35, including four guides and four trackers.
Year Open-Renovated Xudum was built in 2008. It was inaugurated and opened for guests in August 2008.
Lobby And Common Areas
The dramatic tri-level main lodge offered a panoramic view of the Delta. It consisted of three spacious lounges, one on each level. On the middle level, a state-of-the-art kitchen faced an open deck with indoor-outdoor dining and seating areas. To the right of the deck, a staircase led up to an upper lounge under thatched roof that doubled as an observation deck and dining area, and to the lower-level lounge and bar. Flooring was dark hardwood throughout. To the left of the central deck, a few steps led down to a campfire pit surrounded with director chairs. The lower-level lounge bar was built into the wood-paneled back wall. Seating was a combination of sectional and straight contemporary tuxedo-style sofas, upholstered in anthracite gray cotton with coordinated toss pillows. The sofas were arranged around a grouping of occasional tables made from an assortment of reclaimed African stools and various metal containers. A modern chrome and green canvas swing armchair teamed up with a tire swing side table, both hanging from a ceiling beam. Credenzas and benches were made of distressed painted wood. Rustic African wood carvings surrounded a contemporary black and white wall-size photograph of the Delta to complete the décor.
On the middle level, seating area was a dark gray wicker and chrome sofa framed by matching armchairs with light brown toss pillows, arranged around a glass-topped coffee table. End tables were constructed of brown-lacquered soda cans. A line of rough-hewn natural wood logs stood against the back of the sofa to serve as a credenza. The dining room was furnished with square tables, their white wooden tops set on various reclaimed bases. Dining chairs were of gray molded resin and chrome. The upper level lounge followed the theme of the lower levels with two gray upholstered sofas facing each other across a distressed white bench coffee table. In a corner, a table with four resin chairs could be used as a writing table or set for intimate dining.
Bathroom
Two steps down from the bedroom, the bathroom ran the width of the suite. Its grand proportions (290 square feet or 27 square meters) dwarfed the oversized free-standing bathtub and the open shower with its large recycled tin backsplash. The double-length sink topped by two square wood-framed mirrors and chrome wall sconces with square parchment shades rested against a paneled partition. It separated the bathroom from the water closet with flush toilet, and from a walk-in storage area with clothes-hanging space and shelves. All bathroom fixtures were made of white porcelain. The rear mesh panel of the bathroom slid open onto a large wooden deck with an outdoor shower and plunge pool overlooking the bush.
Room My 1,625 square foot (151 square meter) suite, Number Three, was a two-story structure with terrazzo and thatch roofing and wrap-around veranda. The outer walls were made of mesh screening with brown sliding canvas privacy panels. The floors were dark polished wood covered with gray jute runners and throw rugs. The sliding front door opened onto a long foyer. A wood-paneled partition with a long built-in credenza, topped by a wall-size black and white areal photograph of the Delta flanked by two wall sconces, separated it from the bedroom. On the left, the foyer led into a seating area with a tuxedo sofa upholstered in gray cotton and a polished wood coffee table. Two end tables were glass slabs supported by stacked tires. In the corner, a brown-lacquered metal drum held bar utensils and three black leather boxes filled with snacks. An ice chest covered in black canvas held ice and an assortment of cold drinks. On the right, the foyer opened onto the sleeping area where a king-size bed facing the bush was draped in cappuccino-colored linen. The drapes could be drawn to double as mosquito netting fully enclosing the bed and the two bedside tables topped by sconces that matched those in the foyer. The overhead air conditioning unit was remote-controlled. Bedding was white high-count cotton with brown embroidered trim. A sidewall alcove had a built-in writing desk with a square, wood-framed wall mirror to double as a dressing table and a bench seat.
The rear and side exterior mesh partitions slid open, allowing access to the deck that ran along the rear of the suite and wrapped around the right side of it to form a deep veranda. The veranda was furnished with a large circular sofa made of a gray wicker base and brown canvas upholstered cushions. Near the entrance door to the suite an outdoor staircase led to a second floor thatched deck. At the center of the space, a queen-size platform bed with a thick mattress was covered in brown canvas and a profusion of matching pillows. The deck was surrounded with brown linen draperies that could be drawn for privacy and mosquito protection. A ceiling fan hung from the peak of the ceiling.
Food
In the interactive, open kitchen, guests were welcome to step in and take part in food preparation or observe as they wished. The food was worthy of a starred restaurant.
A breakfast buffet was served before the morning game drive. It included cereals, yoghurts, fruit, and freshly baked breads with fruit juices, tea and coffee. Full English breakfast was available on demand. Lunch was served at individual tables, each set with assorted meat dishes and salads, breads and a tray of well-ripened cheeses. Teatime was around 4 PM, prior to departure for afternoon activities. It was a combination of savory snacks and cakes with tea, coffee and juice. The three-course dinner was formally served plated and featured a choice of entrees, usually a choice of meat, game or fish main course, and a vegetarian option. Deserts were decadent offerings such as an excellent, rich but light chocolate mousse or poached fruit on a bed of brandied crème anglaise .
Amenities
Xudum offered an exceptional array of amenities. The sitting area had a bottle of house cordial, assorted drinking glasses, an ice bucket filled with ice cubes, stacked boxes filled with cashews, dry mangoes and banana chips, fresh lime on a cutting board with knife. An ice chest held bottled water, soft drinks, white wine and beer. There was a box of tissues and a folder with an assortment of stationary on the desk and an intercom handset for communicating with the main lodge. Upper deck amenities included binoculars, a copy of
Birds of Southern Africa
(Ian Sinclair, Phil Hockey & Warwick Tarboron), a deck of playing cards and backgammon and scrabble games.
In the bathroom there was a hair-dryer, a generous supply of thick cotton bath and hand towels, washcloths, two each blue and white cotton sarongs, white cotton bathrobes and slippers, and black pool towels. The shower and sink area had face soap, laundry soap, bath soap, pump bottles of body scrub, bath oil, shampoo, conditioner and body moisturizing cream, shower caps, cotton balls and cotton swabs. Votive candles were arranged around the room. The storage closet had an electronic safe large enough to accommodate a laptop computer in addition to smaller valuables. There was mosquito and insect repellent spray, two high-density flashlights, an emergency horn and two golf umbrellas. A wicker tote bag was filled with exercise equipment, including a yoga mat, Pilates elastic ropes, and sets of two and five pound free weights.
All meal, soft drinks and house alcoholic beverages were included, as were all daily game viewing activities, and daily laundry service. Top brand alcoholic beverages such as vintage wines, French champagnes and luxury whiskies where available for an additional charge.
Gift Shop There was a well-stocked gift boutique within the main lodge area. It carried an assortment of chic Xudum-branded safari wear, a variety of souvenirs, mainly local wood carvings, wrought-iron knickknacks, baskets and jewelry, and a few safari-related books.
Spa Although Xudum didn't have a dedicated spa facility, there was licensed masseuse on staff who offered a range of treatment options, including Swedish and aromatherapy massages in guest suites.
Swimming Pool My suite had a private 6 foot x 14 foot (1.8 meter x 4.25 meter) plunge pool overlooking the bush.
Game Viewing While at Xudum I saw: elephant, hippo, Cape buffalo, giraffe, zebra, lechwe, bushbuck, steenbok and side-striped jackal. Bird sightings included: spurwing goose Pel's fishing owl, giant eagle owl, African fish eagle, brown snake eagle ground hornbill, great grey shrike, black-bellied korhaan, black-billed buffalo weaver, swallow tail bee eater, southern black tit, black-collared barbet and reed warbler.
Activities In addition to game and bird viewing drives in open land cruisers through the varied landscape of the Delta, the twice-daily activities included river cruises in electrically powered "eco-boats" or mokoros (flat dug-out canoes commonly used to navigate the Okavango waterways) and bush walks through the riverine forest around the camp.
Cleanliness
Excellent
Date Of Last Visit October 2009
Reviewers Article and photographs by Josette King
Service Excellent. Every member of the management and staff I met was thoughtful, enthusiastic and eager to please. Attention to details was outstanding. My suite was serviced three times daily.
Contact Information
Address:
&Beyond
Private Bag X 27
Benmore, Johannesburg
2010, South Africa
Phone:
+ 267 686 1979
Emergency 24×7
+ 267 716 92997
Fax:
Website:
http://www.andbeyondafrica.com/luxury_safari/botswana/okavango_delta/and_beyond_xudum
Email: