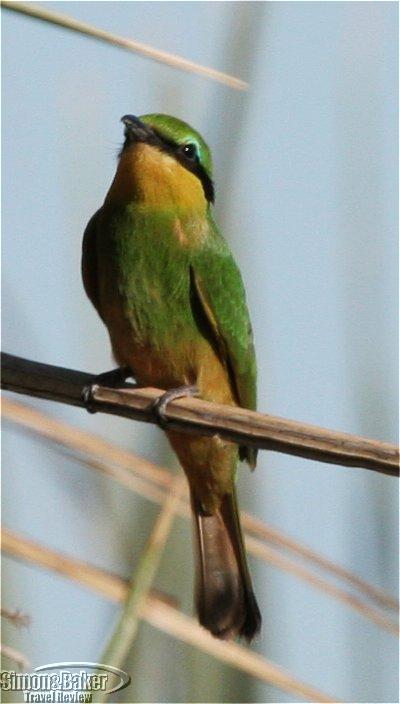 Overall, we enjoyed Xigera's elevated design, the private setting of our honeymoon tent, the copious quantities of well prepared buffet meals, and our guide's determination and outstanding tracking ability which led to exceptional game viewing. Our stay at Xigera was memorable.
Overall Impression
Problems with the landing strip at the camp we planned to visit caused a change in our travel program and a last minute change of camp to Xigera, pronounced kee-jeh-rah. From the beginning, one of the things that appealed to us at Xigera was the guest diversity. We were the sole Americans among a group of Europeans and Aussies. Our fellow guests there, more even than at other camps, seemed especially eager to chat with everyone else and learn about them and their game viewing experiences. We quickly struck up conversation with several couples and found we especially enjoyed the meal times and social moments at the Camp.
Although the towering and handsome Camp manager explained when we arrived that Xigera was more of a plains game and bird viewing sort of place and that it was unlikely we would spot and predators, we had excellent game viewing experiences. Our guide/driver was determined and diligent driving for three hours one morning on the scent of a leopard until we spotted her and her cub. The sighting was so special the staff radioed each other and brought guests across the property interrupting their various activities (motor boating, walking, mokoro ride) to see them.
While we were observing the mother leopard and her three-month old cub, the cub threw caution to the wind after seeing our vehicle a few feet away and began stalking it. The mother, sitting a few away next to a tree, yawned deeply. Curiosity drove the cub closer and closer until a few minutes later it was crouching next to our tires and staring straight into my eyes. Ready to pounce on my lap it looked at its mom for a signal. By then the mom was bored and hot, napping with one eye open. The cub was too adorable for words and we all continued looking at it, although we were under no illusions of what would happen if the mother leopard felt her cub was in danger. Fortunately, neither was our driver. As soon as he started the engine, the cub retreated in a slight panic and cautiously assumed a nonchalant position a few feet from our vehicle. When we left we asked our guide if our being there had disturbed the leopards; he said, laughing, that if the mother leopard had been in discomfort at any time she would have disappeared without a second glance.
We also were close up and personal with a large heard of elephants who took a middle of the night stroll through our camp. Thanks to the elevated walkways on which most of the camp was raised, we were about 10 feet above the ground in our tents and when we walked about. This meant we were higher than the elephants the morning they came through and we could see them easily while they fed and walked around without much ceremony from one corner of the camp to the other. It was an marvelous experience.
Overall, we enjoyed Xigera's elevated design, the private setting of our honeymoon tent, the copious quantities of well prepared buffet meals, and our guide's determination and outstanding tracking ability which led to exceptional game viewing. Our stay at Xigera was memorable.
Class Of Accommodation
Luxury raised tented camp
General Managers Wade McKenzie
Handicapped Access While the camp was not designed with handicapped guest needs in mind, disabled guests had stayed there in the past. There was only one step up to the main dining,bar and lounge area which was not too difficult to negotiate and the walkways were wheelchair friendly. In the tents, the restroom design featured a narrow doorway. Guests in wheelchairs had to be carried into boats and vehicles.
Length Of Stay Two nights
Location On Paradise Island, in the Moremi Game Reserve in the central region of the Okavango Delta of Botswana and part of the Jao Concession.
Managed Wilderness Safaris
Owned Wilderness Safaris had a significant share in Xigera Camp with local partners, Hennie and Angie Rawlinson. The camp was operated together under Wilderness Safaris policies.
Size There were 10 rooms including two honeymoon suites for a maximum of 20 guests and 50 employees.
Year Established-Renovated Xigera, established in 2000, recently re-did the roof of the main area by patching some spots with new thatch. They built a brand new huge back of house office. The existing front of house office was earmarked for a guest liason office and an education and information center. In the rooms, the outside showers were redone with cement bases, replacing the wooden flooring. The kitchen area was resurfaced.
Lobby And Common Areas
The lodge was designed to be environmentally friendly on the ground and from the air. The main area was made of thatch, canvas and wood. The tented units and the entire camp were raised off the ground on saligna decks. The main area was designed to create a sociable "home from home" feeling. From the air, we were told, it had the shape of a seed pod; at the same time as the accommodation units were shaped like fish. The main area had an elegant yet comfortable ambiance. It was populated with overstuffed fabric couches, with wicker, wooden and leather furniture and artifacts including woven baskets from Africa, particularly West Africa. There were several "mini lounges" or comfortable seating areas next to the cozy and rustic.
The center of the dining room, itself an extension of the common area, was occupied by a long, wide wooden and wrought iron table for 24. The "fire deck" in front of the common area had wooden chairs and small mosaic tables where guests could sit outside under the trees or the stars at night. The main area and interiors were designed by a South African interior decorator, Marion Allen and Angie Rawlinson, the lodge owner. Their goals was to make the area tranquil, organic, comfortable, and "with no harsh corners or lines." Wooden walkways led through and around the "indigenous forest" to the sleeping units.
Just behind the main area there was a rustic "boma" on the ground for traditional African evenings. The poles used for the boma were collected on site and the furniture was built from old tree stumps and branches; metal and canvas directors' chairs were one of the highlights. There was a canvas and thatch reception area centrally situated behind the main area as well as a curio shop and guest "loo with a view" overlooking a small lagoon.
Bathroom
The bathroom facilities were located in the back of the tent. Separate sinks stood in the corner on the left and a vanity was on the right. There was a door-less, though private, water closet (flushing toilet) behind them to the right side. To the left side there was a tiled floor shower and behind it there was an outdoor shower. Both had hot water. The bathroom had a privacy enclosure so passing guests on the walkway could not see the interior.
Room Our honeymoon tent (#7) was one of the furthest removed from the main areas of the camp. Although this meant a long walk on the elevated walkway, it also meant privacy and quiet. Except for the cleaning staff the morning we left, we hardly heard any human sounds while we were in our tent. Beyond the privacy chain, a short length of the walkway led to our tent, a small front porch with a wood table and two canvas chairs; and a view of the plains in the background. Inside, past the glass and wood sliding doors, there was a king bed leaning against a wood headboard and framed by night tables with battery operated lamps on either side. At night, the mosquito net was lowered to cover the entire bed. A coffee and tea service and fan were perched on a wicker chest. It barely alleviated the stifling daytime heat; a luggage rack with a wood and cloth design provided a place for our clothes and housed an electronic safe. Small touches like wood racks for our towels, double sinks and double mirrors, a vanity, a cloth chair, magazine rack and adjacent foot rest made the room homey.
Food Meals were well prepared by local staff and served buffet style.
Amenities
Included in the nightly rate were the meals, water, local beverages and laundry service. Also included were shampoo, mosquito repellent, body lotion, shower gel, soap, shower cap, cotton balls and swabs, and sewing kit. The toiletries were biodegradable, non-toxic and eco-friendly. They contained only vegetable products and had not been tested on animals.
Facilities A plunge pool, dining room, lounge, bar, and curio shop (which was undergoing a renovation or refurbishment and looked very large).
Pool The plunge pool was three meters in diameter and approximately 1.2 meters deep. The swimming pool was small and circular, in keeping with the "no harsh lines" directive, and black in color to reduce visibility from the air. Part of the pool deck had wooden chairs and mosaic tables. There were wooden pool loungers, large green canvas patio umbrellas and a "star gazer" wooden chair.
Game Viewing Teco was our guide. During our visit to Xigera we saw the following animals: bushbuck, southern giraffe, impala, kudu, red lechwe, sitatunga, waterbuk, Cape Mountain zebra, warthog, leopard, elephants, chacma baboon, great and slaty egrets, green-backed heron, black-shouldered kite, African fish eagle, crowned lapwing plover, African skimmer, Cape turtle dove, emerald spotted wood-dove, Meyer's parrot, grey lourie, Senegal coucal, malachite kingfisher, little bee-eater, lilac-breated roller, African grey hornbill, crested barbet, fort-tailed drongo, dark-capped bulbul, zitting cisticola, red-billed oxpecker, red-shouldered widow, and Okavango hinged terrapin.
Activities Options available were morning and after activities: game viewing, walks, sun bathing by the plunge pool, speedboat and mokoro rides.
Curio Shop
It was closed for remodeling during our visit.
Other The Camp was built on land leased by the Botswana Department of Wildlife and National Parks and the Tawana Landboard. It offered exclusive use of the area to its guests. The camp used generators for electricity and a septic tank.
Wilderness Safaris received the 2005 U.K. Telegraph Travel Award for Ethical Tourism for the company's "outstanding work in sustainable safaris, which invest in local communities and ensure the protection of African wildlife."
Check-In-Check-Out
Excellent
Cleanliness Excellent
Date Of Last Visit November 2005
Reviewers Article by Elena del Valle
Photos by Gary Cox
Service There was twice daily room service: Morning cleaning and evening turn down service. At meal times, the staff would serve us drinks, bring and remove dishes and see to anything we needed.
Would You Stay Again? Yes
Contact Information
Address:
In the United States
Eyes on Africa
Nicky Glover
1743 West Fletcher St
Chicago, IL 60657
Phone:
1-800- 457-9575
(773) 549-0169
Fax:
Website:
Email: