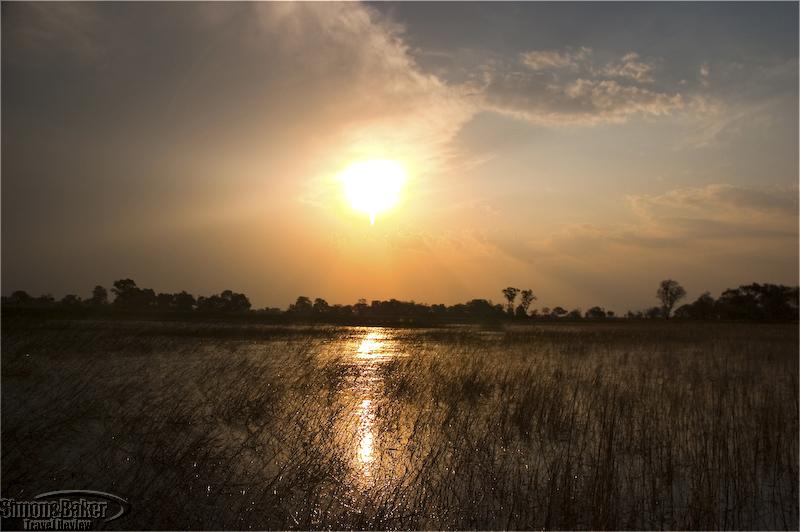 What I most enjoyed was the peaceful bird-filled environment, the excellence of the service and the luxury and romance of the accommodations.
Overall Impression
My visit to Xaranna began with a quintessential Delta experience, an exhilarating boat ride through a watery labyrinth of papyrus-bordered channels and floating islands of water lily pads. Secluded in the pristine wilderness of a 62,000 acre (25,000 hectare) wildlife concession in the southern Okavango, Xaranna can only be reached by boat most of the year. Birds soared as we went by and tiny painted frogs clung to their reeds; bulbous eyes emerged at water level, attached to a large bull hippo unflinchingly claiming right of way. We detoured. Across the lagoon, pale pavilions materialized among the trees. We landed to the warmest of welcomes from the management and staff.
From the dock, a family of carved wood hippos showed the way up the stairs to the main lodge, and set the stage for the whimsical lagoon theme of the property. The spacious lounge was a raised wooden platform opened on all sides to a panoramic view of the stunning patchwork of lagoons and channels that surrounded the camp. My tent, more like an oversized bungalow under a tented roof, was a delightful cocoon of luxury filled with thoughtful details that brought bush camp pampering to new heights. From the luxurious bathroom that opened onto a deep private veranda and swimming-size plunge pool with a view of the lagoon to the air-conditioned sleeping area, the comfort of the appointments was exceptional. There was a "gym in a bag" complete with Pilates elastic ropes and free weights to exercise away the delicious camp food, binoculars and a book on local birds for lounge-chair observation of the abundant bird and water-fowl population. Massages could be scheduled in my tent with the resident masseuse. And there were thoughtful attentions at every turn, from the wake-up call carafe of freshly squeezed orange juice to the bubble bath dotted with flower petals drawn in my oversized bathtub when I return from my sundowner drive.
While the customary bush camp twice-daily game drives were available and the guides and trackers of Xaranna were remarkably friendly and capable, they cheerfully indulged my preference for quietly drifting along reed-lined channels in a mokoro (flat dug-out canoe commonly used to navigate the Okavango waterways). I spent many contented hours taking in jewel-bright kingfishers darting in and out of the reeds, and hundreds of iridescent dragonflies hovering about, while giraffes browsed on the far side of the lagoon and the occasional elephant waded across. Judging by the glowing reports of fellow guests (a bird-watching couple declared themselves in heaven, others came back from a game drive bursting with the excitement of having spotted a cheetah with her cubs), there was something to satisfy a variety of pursuits in Xaranna. As for me, what I most enjoyed was the peaceful bird-filled environment, the excellence of the service and the luxury and romance of the accommodations. In addition to bird-watchers, I will recommend Xaranna to honeymooners, and to weary travelers looking for a relaxing introduction to the beauty of the Okavango Delta at the start of a safari itinerary. Or as I did, one serene last look at the end of an extended trip, before starting on the long journey home.
Class Of Accommodation
Luxury river camp
Communications There was no mobile phone service in the area. Short-wave radio was the lodge's main means of communication. Satellite phone was available for emergencies. For guests with their own laptop, there was good WiFi Internet access in the main lodge.
General Manager Johan van der Merwe, and the Lodge Manager is Nicolene Schoeman
Handicapped Access No
Length Of Stay Two nights
Location In the southern Okavango Delta; a 20-minute flight by light airplane from Maun, the main gateway into Botswana's safari areas.
Owned-Managed &Beyond, previously known as Conservation Corporation Africa (CC Africa), with headquarters in Johannesburg, South Africa, owned and managed the property. At the time of this writing &Beyond itself is owned by two major shareholders, Capricorn (the Enthoven family, originally from South Africa) and the Getty Family Trust.
Power The camp had diesel-generated power . The tents had electric lighting and air-conditioning, and sufficient power to charge batteries for cameras, computers and other electronic devices.
Size The 18.5-acre (7.5 hectares) camp consisted of nine guest suites capable of accommodating up to 18 guests. It employed a staff of 35, including four guides and four trackers.
Year Opened-Renovated Xaranna was inaugurated and opened for guests in August 2008.
Lobby And Common Areas
The main lodge was a two-level wooden platform under ecru canvas with the dining room to the right and the lounge to the left. Both had wide front decks that faced the flood plain. The dining room was level with the entrance. To the rear, it was partitioned from the kitchen and service area by a series of wall-size wooden alcoves, each holding a white chest of drawers under a poster-size areal view of a Delta scene. White-painted carvings of grinning hippos were lined up on top of the alcoves. Dining furniture was a row of matching square pedestal tables and lime green molded resin contemporary dining chairs. There were similar tables and chairs on the open deck for al fresco dining.
To the left of the entrance, seven steps led up to the raised lounge. It was open on all sides. However, canvas panels could be rolled down to enclose the entire space. Flooring was polished wood covered with room-size natural jute rugs. There were three distinct areas in the lounge, decorated in a playful mix of contemporary design furnishings and quirky Delta-inspired accessories. The bar area had a back wall that held a built-in bar. In front of it, seating included two overstuffed sofas with pastel green canvas slipcovers and a long matching bench with a multitude of assorted pastel throw pillows. An eclectic grouping that mixed Lucite cubes, trunks covered with a collage of Delta images and trays held by fat-bottomed hippos formed a large center coffee table. The other end of the lounge doubled as a library. It housed a large semi-circular high-back sofa, with identical green canvas cushions and pastel pillows. The coffee table was a similar grouping of disparate flat surfaces. It held piles of books on safari-related topics, with more stored in a metal spiral hanging from a horizontal beam. A large metal wood stove offered a cozy spot to meet for evening drinks and exchange adventure stories with other guests. On the Delta side, the open deck was furnished with groupings of contemporary chrome and white wicker armchairs and sofas, with matching glass-topped coffee tables. End tables were rough-hewn wood cubes. Two modern chrome and green canvas swing armchair hung from a ceiling beam. After dark, large pillar candles in green glass hurricane lamps, and tall wooden candlesticks offered filled the tent with a romantic glow.
Bathroom
To the left of the bedroom, the bathroom ran the width of the tent. It featured an oversized, freestanding center bathtub and an open shower with a large curved metal backsplash. A vanity with twin sinks rested against a curved paneled partition that separated the bathroom from the bedroom. Two rectangular mirrors framed with distressed wood and chrome wall sconces with parchment shades hung above the sinks. All bathroom fixtures were pristine white porcelain. The back wall held a floor length mirror and the door to the water closet with flush toilet. Storage shelving separated the sink area from the bath and shower. A sliding panel in the outer wall opened onto a large veranda with an outdoor shower and a large circular sofa facing the plunge pool and the lagoon.
Room My 1011 square foot (94 square meter) tent with wrap-around deck and side veranda, Number Two, was a natural canvas pavilion with a double-peaked roof held by tree-sized pillars. The outer walls were made of mesh screening. Tan canvas Roman shades could be lowered for privacy. The floors were dark polished wood covered with natural jute runners and throw rugs. The sliding front door opened onto a long foyer. A wooden partition separated it from the bedroom. It was decorated with a credenza covered with a collage of black and white Delta vignettes. A wall-size color close-up of a water lily bloom flanked by two wall sconces hung above it. At the far right of the foyer, a counter-height green pedestal held bar utensils and stacked black leather boxes with snacks. An ice chest covered in green canvas held ice and an assortment of cold drinks.
On the right, the foyer opened onto the sleeping area where a king-size bed on a white wooden platform faced the bush. It was draped in cappuccino-colored linen that could be closed to serve as mosquito netting at night. The platform also held two tall reading lights. The overhead air-conditioning unit was remote-controlled. Bedding was white high-count cotton with green embroidered trim. A large circular sofa upholstered in green canvas occupied the right corner of the tent. A full-length mirror in a large natural burlap frame was propped up against the wall behind it. An arc lamp, its shade covered with a cluster of felt water lilies hung above it. In front, a black and white collage-covered writing table and lime green molded resin and chrome chair completed the ensemble.
Food The food was excellent, fresh and well prepared. A breakfast buffet was served before the morning game drive. It included cereals, yoghurts, fruit and freshly baked breads with fruit juices, tea and coffee. Full English breakfast was available on demand. Lunch and dinner were served at individual tables. Lunch was assorted cold meat dishes and salads, breads and a tray of cheeses. Teatime was around 4 PM, prior to departure for afternoon activities. It was a combination of savory snacks and cakes with tea, coffee and juices. The three-course dinner was formally served plated and featured a choice of entrees, usually a choice of meat, game or fish main course, and a vegetarian option. Deserts were scrumptious, (a sinfully rich chocolate fondue immediately springs to mind!).
Amenities
Xaranna offered an exceptional array of amenities. The sitting area had assorted drinking glasses, an ice bucket filled with ice cubes, a fresh lime on a cutting board with knife and stacked boxes with cashews, trail mix and banana chips. The ice chest held bottled water, soft drinks, white wine and beer. There was a canvas bag with binoculars, a copy of
Birds of Southern Africa
(Ian Sinclair, Phil Hockey & Warwick Tarboron), a deck of cards, backgammon and scrabble games. In the bedroom there was a box of tissues and a folder with an assortment of stationery on the desk and an intercom handset to communicate with the main lodge. There was also a large pillar candle in a glass vase and a jar of marshmallows.
In the bathroom there was a hairdryer, a generous supply of thick cotton bath and hand towels, washcloths, two each cotton sarongs, terrycloth bathrobes and slippers, and pool towels. The shower and sink area had face soap, laundry soap, bath soap, pump bottles of body scrub, bath oil, shampoo, conditioner and body moisturizing cream, shower caps, cotton balls and cotton swabs. Votive candles were arranged around the room. The storage partition had an electronic safe large enough to accommodate a laptop computer as well as smaller valuables. There was mosquito and insect repellent spray, two high-density flashlights, an emergency horn and two umbrellas. A wicker tote bag was filled with exercise equipment, including a yoga mat, Pilates elastic ropes, and sets of two and five pound free weights.
All meal, soft drinks and house alcoholic beverages were included, as were all game viewing activities and daily laundry service. Top brand alcoholic beverages such as vintage wines, French champagnes and luxury whiskies where available for an additional charge.
Gift Shop There was a well-stocked gift boutique within the main lodge area. It carried an assortment of chic Xaranna-branded safari wear, a variety of wood carvings, antique trinkets, local crafts and jewelry, and a few safari-related books.
Pool My suite had a private 6 foot x 14 foot (1.8 meter x 4.25 meter) plunge pool overlooking the bush.
Spa Although Xaranna didn't have a dedicated spa facility, there was licensed masseuse on staff who offered a range of treatment options, including Swedish and aromatherapy massages in the guest tents.
Game Viewing While at Xaranna I saw: elephant, hippo, Cape buffalo, giraffe, lechwe and bushbuck. Bird sightings included: purple heron, African fish eagle, pied kingfisher, squacco heron, African jacana, Pel's fishing owl, African darter, malachite kingfisher, black-bellied korhaan and Marshall eagle.
Activities In addition to game and bird viewing drives in open game-watching vehicles through the varied Delta landscape, the twice-daily activities included river cruises in electrically powered "eco-boats" or mokoros and bushwalks through the riverine forest around the camp.
Cleanliness
Excellent
Date Of Last Visit November 2009
Reviewers Article and photographs by Josette King
Service Excellent. My suite was serviced three times daily. Every member of the management and staff was thoughtful, enthusiastic and eager to please. Attention to details was outstanding. When an unexpected rainstorm the night prior to my departure cast doubt whether the usual airstrip used by Xaranna would be operational, I was immediately informed not to be concerned. A helicopter pickup was being scheduled to take me to an alternate airstrip to ensure I wouldn't miss any connection.
Would You Stay There Again? Yes
Contact Information
Address:
&Beyond
Private Bag X 27
Benmore, Johannesburg
2010, South Africa
Phone:
+ 267 686 1979
Emergency 24×7
+ 267 716 92997
Fax:
Website:
http://www.andbeyondafrica.com/luxury_safari/botswana/okavango_delta/and_beyond_xaranna
Email: