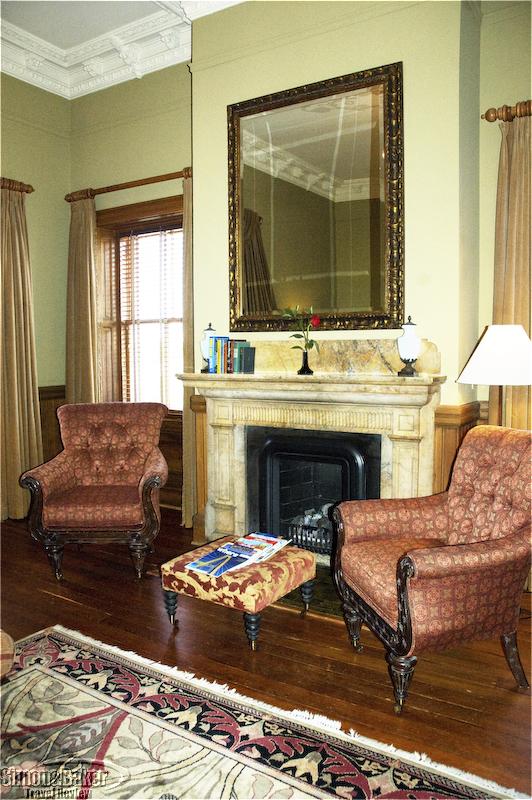 It was an exceptional experience that made the Wentworth Mansion a destination unto itself.
Overall Impression
At the Wentworth Mansion any previously held notions on romantic residences were immediately surpassed; and the word had clearly gotten around. As I arrived, I met a local couple checking in. They shared they had chosen the Mansion to celebrate their 40
th
wedding anniversary. A few hours later, when I went up to the rooftop cupola to enjoy the sunset, a young couple was already there, sipping a glass of vine. They confided they had come from Virginia to celebrate their first wedding anniversary. Our conversation was soon interrupted by an exclamation of joy coming from the other side the cupola, followed by sobs of happiness. A marriage proposal had just been accepted. Two anniversary celebrations and a proposal; and I had been here barely half a day!
Obviously, these happy couples already knew what I was about to discover. What could be more romantic than a visit to the great antebellum mansions of Charleston? A stay at one of the grandest. The Wentworth Mansion was built in 1885-1887 as the private home of a wealthy industrialist. The magnificent four-story Second Empire-style manor stands in a quiet residential neighborhood shaded by ancient magnolia trees. When the original owner, Francis Silas Rogers, built the 14,000 square foot (1,300 square meters) mansion, he commissioned a masterpiece of old world opulence for his family of 13. The Mansard roof of the four-story structure was topped by a cupola surrounded by a roof-deck that revealed a panoramic view of the Charleston skyline. The front entrance double-doors were a masterpiece of jewel-toned stained glass panels by Louis Comfort Tiffany.
In every room, the marble fireplaces were hand-carved; the double parlor chandeliers were custom made of Austrian crystal. One century later, the present owners have meticulously returned the property to its Gilded Age splendor (with the welcome addition of twenty-first century amenities such as central air conditioning and oversized whirlpool bathtubs). The 850 pound (385 kilogram) carved mahogany pocket doors that divided the parlors still glided smoothly at the touch of a finger. And the legendary Southern hospitality of the staff, unfailingly courteous and attentive to the smallest detail of my comfort was still in evidence.
I treasured my stay as a rare opportunity to feel a welcome guest in a magnificent private home of a gracious bygone era. It was an exceptional experience that made the Wentworth Mansion a destination unto itself.
Class Of Accommodation
Luxury boutique hotel
Connectivity It was easy to connect to the internet with the Mansion's complimentary wireless internet access which was fast and reliable. My cellular phone connection was excellent.
General Manager Robert (Bob) Seidler
Handicapped Access The building was wheel-chair accessible via a ramp to the back door. Guest rooms were accessible by elevator. Room Number Three also featured wheel-chair friendly wide doors and a roll-in shower.
Length Of Stay Three nights
Location The Wentworth Mansion was located in heart of Charleston's Downtown Historic District at the corner of Wentworth and Smith streets, within easy walking distance of most historic attractions, museums and shopping.
Owned-Managed Richard T. Widman
Size The four-story mansion housed all common areas, 17 guest rooms and four suites. It employed a staff of 40, including 20 restaurant staff. Circa 1886, and a 1,000 square foot (92 square meter) spa were located in the former carriage house, separated from the main house by a small garden.
Year Opened-Renovated The property opened in 1998, following a complete 18-month restoration and is the object of ongoing minor renovations
Lobby And Common Areas
The entrance foyer was, literally, breathtaking! It took self-control not to gasp at the museum-quality Tiffany stained glass double doors. The L-shaped heavy mahogany concierge desk became irrelevant, as my eye was drawn to the right, where the front parlor revealed sparkling crystal chandeliers hanging from the sky-high boxed ceiling, their reflection diamond-bright in the soaring mirror above the elaborately carved marble fireplace.
To the left of the foyer the cozy Harelston Parlor was a favorite with guests. The gleaming mahogany wainscoting and shelving, and the19 th century grandfather clock cheerfully marking time in the corner made the room especially inviting. To the left, a heavy Victorian chest held a lemonade and ice-tea service in the afternoon. A gray velvet high-back sofa served as a divider in the center of the room. It faced the marble fireplace and was flanked by two dark rose velvet overstuffed armchairs. Behind the sofa, an oval table framed by two salmon-colored upholstered armchairs displayed a large arrangement of flowers color-coordinated to the chairs. The flowers were replaced in the late afternoon, when wine and hors d'oeuvres were served in the parlor, by tempting tidbits brought warm from the Circa 1886 restaurant kitchen. The floor was covered by a room-size Aubusson rug in shades of black and pale gray.
Behind the parlor, a wall of windows running the length of the sunroom overlooked the back garden. The sunroom was furnished with grouping of white wicker wingchairs upholstered in sage green and cream windowpane print cotton. The windows were decorated with roman shades in white and green florals. Along the interior wall, a harvest table was permanently set up with crystal glasses and decanters of brandy and whisky.
Bathroom
The 200 square foot (22 square meter) bathroom was exceptionally spacious and luxuriously appointed, with an oversized whirlpool bathtub sharing a wall with the large glass-enclosed walk-in shower. The opposite wall accommodated a clothes closet and a mirrored vanity. The water closet was in a separate room at the end of the bathroom. The ceramic tiled floor was an interesting plaid-like pattern of brown, black and white tiles; the walls had a subdued beige and pink striped wall paper over white-lacquered wainscoting. A large window provided a lot of natural light and overlooked the top of tall magnolia tree in bloom.
Room My 465 square foot (43 square meter) room, Number 15, was nearly square in shape, and large enough to dwarf the king-size sleigh bed centered on the left wall. It was flanked by two bedside bureaus with reading lamps. One of the bureaus concealed a small refrigerator. A tufted rose and burgundy velvet bench outlined the foot of the bed. On the opposite wall, a large armoire held the television and sound system and storage drawers. A large marble gas fireplace topped by a wall mirror was framed by two large windows that soared to the 14 foot (4.25 meter) ceiling. In front of the fireplace, two carved Victorian armchairs and a footstool upholstered in rose jacquard material were an inviting place to relax after exploring the town. A black oriental writing desk and a comfortable upholstered antique desk chair completed the décor. The walls were mahogany wainscoting topped by sage green painted plaster. The wide planking polished hardwood floor was covered with an oriental rug in mellowed shades of sage green and burgundy on a pale gray background.
Restaurant
Complimentary morning breakfast was a generous buffet served in the carriage house, in the Circa 1886 dining room. Offerings included fruits, cheeses, charcuterie, smoked salmon, hard boiled eggs, hot breakfast strudels, breads and pastries, cold cereals, waffles made on demand, and the most delicious grits I have ever tasted.
At dinner time, Circa 1886 became a superb AAA-Four Diamond, Mobile Four-Star restaurant. See separate story.
Amenities
In the Harelston Parlor, afternoon tea and lemonade were served from 2 to 4 PM, followed by wine and hors d'oeuvres from 5 to 6 PM. A whisky and brandy service was permanently set in the sun room. Complimentary breakfast was served in Circa 1886. There was complimentary parking.
In room amenities included complimentary wireless internet access and a daily newspaper. The in-room refrigerator was stocked with complimentary bottled water, soft drinks and peanuts; following the turn down service I found home-make chocolate truffles. The room was serviced twice a day. In the bathroom, there were bathrobes, an ironing board and an iron. There were Gilchrist and Soames toiletries: shampoo, conditioner, cleansing oatmeal bar, facial soap, bath gel, loofah body scrubber, body moisturizer and shower cap; cotton swabs, cotton balls, fingernail file, make-up cleansing towelettes, a make-up magnifying mirror, and a hairdryer.
Facilities Circa 1886 Restaurant and Bar, and The Spa at Wentworth Mansion
Spa Open in 2004, the spa consisted of one facial and two massage rooms, including one for couples, a dressing room and a seating area. Located in the former carriage house, the Spa at Wentworth Mansion was operated by Urban Nirvana, a local day spa company. It offered a range of treatments including massages, wraps, scrubs, and skin care treatments. Most treatments could also be administered in-room for guests at the Mansion by prior arrangement.
I had the pleasure to visit the spa, where manager Rebecca Roberts, an expert massage therapist with over 1,000 hours of training, customized a massage for me. She integrated several techniques to sooth away from my body two days of intense exploration of the historic district to leave me energized for more discoveries. Pure bliss!
The spa used all natural products, including a line of natural marine products from Phytomer, a pioneering marine cosmetology laboratory from Saint Malo, France.
Other The Wentworth Mansion was a member of Small Luxury Hotels and Historic Hotels of America. At the time of this writing it was the only hotel is Charleston to hold the coveted AAA-Five Diamond rating. It also held a number of high ratings from several prestigious international travel and tourism publications.
Cleanliness
Excellent
Date Of Review July 2008
ReviewersArticle and photos by Josette King
Service Outstanding. Every member of the staff I encountered was genuinely gracious, efficient and proactively helpful.
Would You Stay There Again? Yes
Contact Information
Address:
149 Wentworth Street
Charleston, South Carolina,
29401
Phone:
+ 1 888-466-1886 and
+ 1 843-853-1886
Fax:
Website:
Email: