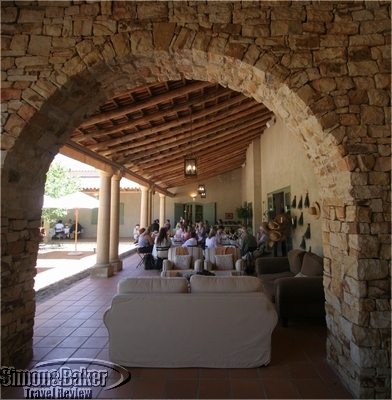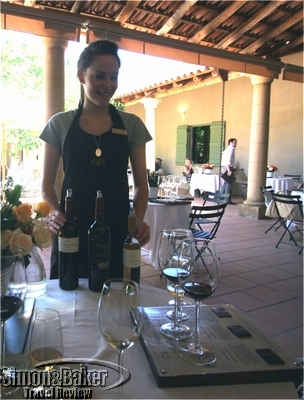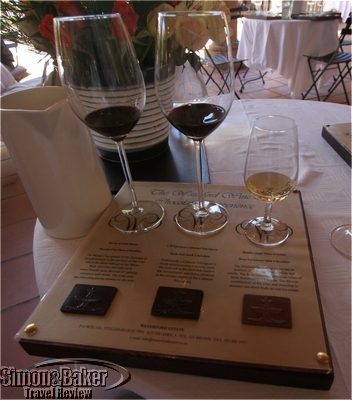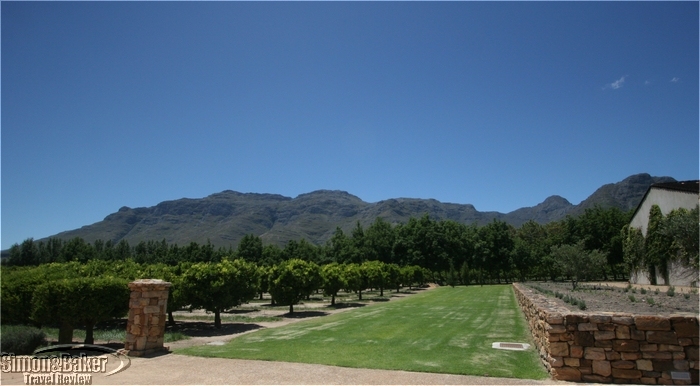 We will recommend the Waterford tasting to our friends and acquaintances visiting South Africa's wine area who want to sample some lovely Stellenbosch wines and try a chocolate wine tasting combination in a picturesque setting.
Overall Impression
A short scenic drive from Cape Town led us to Waterford Estate, best known for its Shiraz and most recently for The Jem, a premium blend of eight varietals. Time was short and we could only visit one or two cellars. A local oenophile who directed us to Waterford said that the wine and chocolate tasting was not to be missed.
After leaving the main road, we drove down a side street that eventually became a dirt road, leaving us wondering if we had taken a wrong turn. Eventually we were rewarded with the citrus tree lined entrance to the 120 hectare Waterford Estate surrounded by picturesque mountains. The winery and cellar were designed in a Mediterranean style, reminiscent of Northern California. Although the exterior was flat local timber and stone, when while passing under the simple arch we found a wine shop facing onto an inner courtyard.
Once inside, a cheerful young woman led us to a small table set on the edge of the winery's sunny courtyard under the shade of the overhanging roof. The area was nearly filled with other visitors at nearby tables and we felt lucky to have been seated immediately. She offered us a tasting of five wines or nine wines including a chocolate tasting.
We opted for the chocolate tasting, but chose only five wines including the Waterford Sauvignon Blanc and Chardonnay plus the Belgian chocolate specialty: Kevin Arnold Shiraz with Masala Chai Dark Chocolate, Waterford Cabernet Sauvignon with Rock Salt Dark Chocolate and the Noble Late Harvest Heatherleigh Natural Sweet with Rose Geranium Milk Chocolate. Our server was knowledgeable of the wines and how best to enjoy the tasting experience.
The idea of the chocolate and red wine tasting piqued our interest although it seemed the two flavors would be inherent opposites. Each of the wine and chocolate pairings was a delight, with the flavored chocolate and the wine complimenting each other smoothly. According to Kevin Arnold, who founded the Estate with the Ord family and his wife Heather, the wine and chocolate combination is very popular and helps young adults better relate to wine. He explained that the reason the two seemingly incongruous flavors work together is due to chemical similarities in the cocoa bean and parts of the red grape skin.
"Excellent quality wine to me is an expression of the soil and climate in which the vine grows. The well-being of the vineyard is more important than the winemaker or his oak barrels and winemaking equipment. Great wines to me are about refinement, finesse and a portrayal of an experienced understanding of how nature should be understood and respected," said Arnold.
We enjoyed the tasting experience and liked the wines so much we bought a few bottles to take home and as gifts. Our visit to the Waterford Estate was enjoyable, and the chocolate wine pairing distinctive and memorable. We will recommend the Waterford tasting to our friends and acquaintances visiting South Africa's wine area who want to sample some lovely Stellenbosch wines and try a chocolate wine tasting combination in a picturesque setting.
Average Duration Of Visit
The amount of time spent depended on the interest of the visitor in the wines. We were seated right away and chose to sample five of the nine wines available in the tasting room. Our visit lasted about 40 minutes.
Description Between 20,000 and 25,000 travelers visit the winery every year. In 2006, Waterford was recognized as having the Best Cellar Door experience worldwide by the Great Wine Capitals of the World. In addition to dedicating time and effort to making visitors experience on the estate the best they can provide, Waterford executives are keen to make premium wines and only produce wine form their own grapes. It's noteworthy that 20 percent of their overall wine sales are at the estate. Cellar visitors are predominantly from United Kingdom, United States and German speaking countries.
During our visit to South Africa we had an opportunity to meet Arnold who is managing partner and senior winemaker at Waterford. Although he grew up in the Karoo, three months after moving to Stellenbosch to attend the university he fell in love with wine. After one year of animal husbandry and agronomy studies he switched career paths and dedicated himself wholeheartedly to wine, a passion he has pursued for 20 years.
Waterford wines, only available for purchase at the estate, fine restaurants and wine shops, are most popular in Sweden, United States and United Kingdom. The winery planted the following types of grape varietals: Cabernet Sauvignon, Shiraz, Merlot, Cabernet Franc, Mourvedre, Barbera, Petit Verdot, Malbec and Sangiovese and planned to add Tempranillo and Grenache. Vineyards in the 12 to 14 year old category included Cabernet Sauvignon, Chardonnay, and Sauvignon Blanc.
Established The Company Waterford Wines was founded in 1998 and the wine tasting room opened in 2000.
Handicapped Access There was a wheel-chair friendly entrance.
Location In Stellenbosch in the wine area near Cape Town, South Africa
Open The wine tasting room is open year round except for Christmas Day New Years day and Good Friday
Owned-Managed Company Waterford Wines (Pty) Ltd, a joint effort of Jeremy and Leigh Ord as well as winemaker Kevin Arnold.
Size When we visited, the estate occupied 120 hectares and produced a maximum of 35,000 cases of wine a year, 80 percent of them red and 50 percent for export. The winery had 33 employees, 13 tasting room staff and 20 farm workers.
Transportation When we were there driving was the best alternative, especially since tour buses were not welcome.
Souvenir Shop The only items for sale were house wines, Belgian chocolates to pair with the wines and related products.
Tours Cellar tours were available. To ensure an intimate experience tour buses were not allowed
Date Of Most Recent Visit
November 2007
ReviewersArticle by Elena del Valle
Photos by Gary Cox
Would You Visit This Property Again? Yes
Contact Information
Address:
Blaauwklippen Road
Stellenbosch 7600
Phone:
Fax:
Website:
Email: