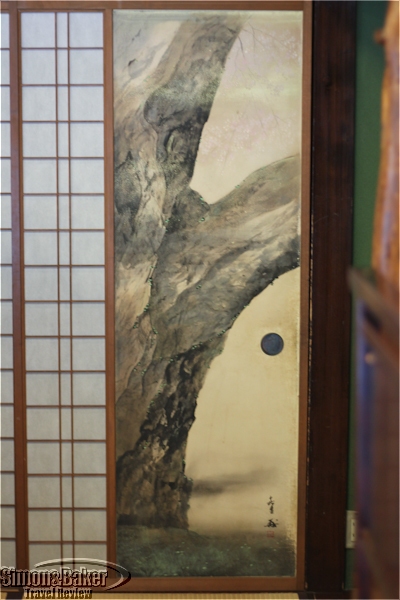 Their service sprouted from the heart.
Overall Impression
The history of Japan reveals a seesaw battle of power between the east and west areas of the country. The Imperial court moved from Kyoto in the west to present day Tokyo in the east. The rivalry between Osaka, western Japan's major city, and Tokyo, the eastern capital, fumes to this day although never rising anywhere near fisticuffs. Located in the middle is Gifu Prefecture, the heart of central Japan. The Nakasendo Road and other trade routes between east and west Japan had passed through here. It is a strategic area that samurai lords always valued. In Gifu's Takayama city lies Wanosato, a lovely and luxurious ryokan, a traditional Japanese inn. I recently experienced a most soothing stay at Wanosato far beyond the warfare and tension of the past. The property charmed me with its excellent service, beautiful scenery and art, and delectable meals.
Out of the dozen or so ryokans I have encountered in Japan, Wanosato was of one of the best I have stayed in. The inn, although recently built, was modeled after old traditional Japanese architecture of the area: houses called minka (house of the people) with thatched roofs called gassho-zukuri (praying hands style) and earthen walls. The property had four cottages to choose from. I stayed in the main building that also contains wonderful public baths and a lobby area with a traditional hearth in its center. Here I relaxed, dined, bathed, and appreciated outstanding examples of a variety of Japanese arts.
Dinner and breakfast were provided, as is customary at ryokans. I was served fine Japanese cuisine that included locally grown mountain vegetables and fish caught only hours before in the Miya River. At every dinner I indulged in Hida beef, the highest grade of beef in Gifu, an area known for its cow muscle. If fact, Hida beef tasted as delicious as its more famous cousin from Kobe.
The Wanosato service was superb. Although only one staff member I met could communicate in basic English, each and everyone at the inn made me feel at home. I felt as if I were visiting long lost relatives here. Their service sprouted from the heart.
Children
The inn welcomed children and child rates were available
Class Of Accommodation Luxury ryokan
General Manager Naoe Kabeya
Handicapped Access No
Internet Connectivity I was able to access the internet with Wanosato's Wi-Fi network. Although the staff warned me that reception might not be good, and that I might have to go to the lobby for a strong signal, I connected my iPad and MacBook without issue.
Length Of Stay Three nights
Location Wanosato is situated in the center of Japan, accessible from the major cities of Tokyo and Osaka. Travel time between Tokyo Station and Wanosato was about five and a half hours. While over five hours of traveling time might sound daunting, I was rewarded with a scenic train ride during the last leg of the trip from Nagoya to Takayama Station. The train meandered around gorgeous terrain, alternating between sleepy towns and majestic mountains. After I arrived at Takayama Station, Wanosato provided a complimentary 20-minute shuttle to the property.
Owned And Managed Yoshihiro Matsuda of Chiyoda-Kankou-company, Ltd.
Pets No
Size The inn employed six staff and had 15 rooms divided among four traditionally styled cottages called minka on a 15,000 square meter property. The main building had six rooms.
Year Opened-Most Recent Renovation Opened in 1992. Although no recent renovations were mentioned, I thought the property was well maintained.
Lobby And Common Areas
At first, my footsteps paced onto earthen floors. Above, wood beams, massive and beautiful, spanned the large, rectangular room. At the center of the lobby was an open hearth that Wanosato called
Irori
. I was checked in there and was welcome to return later in the evening. As I checked in I enjoyed tea, and warmed myself by the fire, whose flames constantly burned during my stay.
The hallmark common area of a ryokan, in my experience, is its public baths. As is usually the case in ryokans, baths were separated by gender. Wanosato staff invited me to visit both when no other guests were using the facilities to appreciate the difference between the two. Here the women's bath won out: I dipped in two natural stone pools: a piping hot one and a cooler one nearby. The men's bath was more straightforward, but equally relaxing: it had one large pool encased in a wooden bath. Both baths featured striking views of the Miya River.
Bathroom
The bathroom, unlike the rest of the room, was not extra special. However, it was clean and its design elements matched the ryokan's: lots of wood, earth-toned colors, a calming atmosphere. The four square meter bathroom had a sink, an open wooden shower area that was was not separated by a curtain or a door with a rectangular wooden bathtub immediately next to the shower area, and a Washlet, a high-tech brand of toilet in Japan. Green and brown colors dominated the bathroom decor, and these balanced nicely with exposed wood beams that framed the bathroom. The shower and bath seemed superfluous considering the spectacular public bath facilities in the main complex. It was nice to have the option to bathe privately although I couldn't imagine myself relaxing in this bath for hours on end reading a book.
Room I stayed in Miyanoma, a spacious room with a breathtaking view, and filled with great examples of Japanese art. It measured 28.5 square meters and was located on the second floor of the main building. It was divided into a sitting room, a main room where I slept, and a bathroom. The main room and sitting room featured views of the Miya River. I felt as if I were staring at a Hokusai print by the famous ukioy-e woodblock print artist, framed by the large windowpanes. Tatami, bamboo reed mats, covered the room while fine samples of Japanese scrolls hung from the walls. It was a natural style of accommodation that made me feel transported back in time. However, the room also had modern conveniences: if it were not for the heating technology in the room, I would have felt very chilly. The room also had two gas heaters, a kotatsu, a heated table with blankets in the sitting room, and heated floors in the main room. There was a medium-sized closet with two yukatas, cotton Japanese robes, a TV, refrigerator with drinks, tea set, electric kettle, telephone, and a Japanese style table near the main window. At night, the staff set out a single sized Japanese futon where I slept. It was soft and comfortable.
Restaurant
I took traditional Japanese meals in three different dining rooms of the main building. Each room featured different examples of Japanese arts including beautiful scrolls, ceramics, painted sliding doors, and ikebana, Japanese flower arrangements. My favorite room to dine in was the main dining room that featured several large panoramic views of the Miya River. It was sublime enjoying each bite of food while contemplating the mystery of art and nature that surrounded me.
My first dinner was an 11 course tour of local foods: a yamayasai or mountain vegetable appetizer; sesame tofu with mountain roots; tofu soup with white radish; local Iwana fish with vinegar miso; three succulent slices of Hida beef; yuzu, a Japanese citrus fruit, sorbet; smoked Iwana; manju, a rice-based sweet, with lily root; fried Iwana skin, salmon sashimi wrapped in Yuzu jelly with a rice porridge, and finally strawberries with a citrus jelly and mint leaf for dessert.
The following morning I had a Japanese style breakfast, which usually involves vegetables, rice, fish, and miso soup. Wanosato provided a nice surprise: candle heated miso atop a banana leaf with two bamboo shoots that resembled a small bunny. I also enjoyed julienned apples with a spoonful of jelly and mint leaf on top.
Five courses arrived for my second dinner. I had locally brewed sake and grilled katsuo fish with grated bonito flakes; abalone sashimi; Hida beef nabe, or Japanese hot pot cooking; vegetable tempura, and a fruit with jelly dessert.
The next day, my stomach called for an easy to digest breakfast. The chef knew exactly what to cook and prepared some Japanese healing foods. I had a soothing basic rice porridge with miso soup.
My final dinner was a superb version of Japanese sukiyaki, thin slices of the spectacular Hida beef slowly cooked in a pan with vegetables. With a beautiful array of ingredients including tofu, scallions, Chinese cabbage, konyaku jelly noodles, shitake mushrooms, and onions, Aya Tochimoto, a Wanosato staff member, helped cook the meal. Thinking about each egg soaked bite of beef and vegetables makes my mouth water to this day.
Before I departed Wanosato, my stomach craved Western style foods. The chef obliged and baked croissants, whipped a green tea smoothie, and assembled a fruit plate of strawberries, bananas, apples, yuzu, and mint leaves. My stomach was well comforted before hitting the road.
Amenities
Room amenities included two Japanese style bathrobes, slippers, toothbrush, toothpaste, razor set, and hair dryer. Non-branded hand soap, shampoo, and conditioner were also available. The refrigerator had two of each: beer, juice, sake, tea, and a pitcher of water. The tea and water were complimentary. Dinner and breakfast were included with my accommodations.
Facilities There were public baths and a dining room.
Cleanliness
Very good. My room was spotless. However the men's public bath had some small areas of mold and one small eight-legged guest. Considering Wanosato's proximity to a river I felt this was understandable, and actually added to the natural feeling of the space. Part of the reason I felt so comfortable and relaxed there was because of the cleanliness of the facilities.
Date Of Review February 2012
Reviewers Article and Copyrighted Photos by Joachim Castellano
Service The service at Wanosato was top notch. Although as a non-Japanese speaker I had difficulty communicating at times, not many words were necessary for the staff to anticipate my needs. During my stay I fell ill and it was in part as a result of staff's warm concern and menu adjustment that I regained strength.
Would You Stay There Again? Yes
Contact Information
Address:
1682 Ichinomiya-cho
Takayama-shi
Gifu-ken
Japan 509-3505
Phone:
Website:
Email: