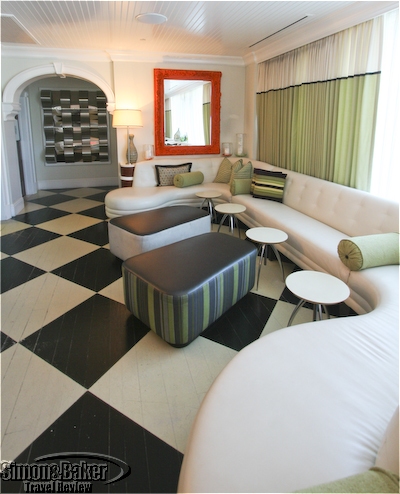 Congratulations to Vintner Grill!
Overall Impression
We were surprised to discover Vintner Grill tucked in an office building in a strip mall in Summerlin, an elite Las Vegas suburb. Once inside, the décor was modern and inviting, full of gentle waning sunlight. Although the patio looked positively alluring with its tented theme we chose to remain indoors for dinner. The staff were welcoming and before we knew it we were sipping the most delicious peach and blueberry cocktails at Table 32, which we later discovered is the restaurant's best table, known as the "Power Table."
That's when the feast began. After glancing at the menu, we invited the staff to make recommendations. In the end, we issued them carte blanche for the meal and only discovered what was in our surprise menu as each dish arrived and it was described by our knowledgeable and friendly server. We expected two or three simple courses. Instead, the chef selected an amazing diversity of delectable dishes in seven courses with a worthy international wine pairing on the part of the wine steward. Every dish was surprisingly good, with an attractive presentation and most importantly, well balanced flavor combinations.
If we lived in Las Vegas we would be Vintner Grill regulars. Since we don't live in that desert city we plan to return to the suburban restaurant the next time we are in the area. Congratulations to Vintner Grill!
About The Executive Chef
Chef Silverman is corporate executive chef for the Michael Corrigan Restaurant Group, where he provides the direction for the company's restaurants: the RoadRunner Restaurants, Agave Comida y Tequila, and Vintner Grill.
In his youth and prior to becoming a chef, he was an aspiring musician. Silverman ended his musical career before he was even old enough to vote and followed his heart into the kitchen of Wolfgang Puck. When he was 18, he moved to Las Vegas to enroll in the Community College of Southern Nevada's culinary program. He began his career working as a dishwasher in one of Wolfgang Puck's local restaurants where he quickly moved up the ranks. Seven years later, Silverman was the youngest person ever within the Wolfgang Puck organization named executive chef. His tenure with Puck's restaurant group included the opening and managing of nine restaurants across the country.
Eventually, Silverman tired of traveling and began work as executive chef of the Michael Corrigan owned RoadRunner restaurants. Six months later the company opened Agave Comida y Tequila, in Las Vegas and he became corporate executive chef for the company's restaurants. In November 2007, Chef Silverman presented his cuisine at the James Beard House in New York City. In 2008, he was selected to be a Chef Ambassador for the Wisconsin Artisan Cheese Council.
Chef De Cuisine Lyle Kaku
Class Of Restaurant Moderate to expensive
Executive Chef Matthew Silverman
Handicapped Access There was a ramp to facilitate access.
Head Sommelier Troy Kumalaa
Location In an office building in Summerlin, a suburb of Las Vegas
Manager Peter Varela
Opened-Renovated December 2006
Owned Michael Corrigan
Pastry Chef Antonieta Munoz
Size The 6,000 square foot restaurant could accommodate up to 280 guests with a staff of 70.
Type Of Restaurant Neighborhood restaurant serving Contemporary American cuisine with Mediterranean influences
DÉCor-Ambiance The style of décor was "casually elegant" featuring contemporary custom artwork such as The Wedding Cake by Maryanne Davis. The idea was to offer a setting that was "light and airy." There was an attractive Moroccan inspired patio anchored by two dining cabanas.
Cellars Wine And Alcoholic Beverage Selection There were multiple wines by the glass and half bottles to allow guests "to feel that they can try things." Also, it was possible for guests to purchase wine directly from the restaurant via the sommelier. Our aperitif drinks, White Peach Bellini made with floris prosecco and fresh white peach purée, and Blueberry Crush made with Stoli Blueberi, fresh blueberries, a squeeze of a lime, and rock candy syrup were memorable.
Meal
We enjoyed the following dishes with wine pairing: First a wonderful White bean hummus served with olive relish and spicy pita chips. We were served fresh tasting and delicious fruit mixed drinks, at the wine steward's suggestion. Although neither of us favors mixed drinks we loved these.
Next, Endive salad with marinated figs, gorgonzola, green apples, frisee, and mustard vinaigrette accompanied by Stellina di Notte pinot grigio, IGT Venezie from Italy, 2006. Then there was Tagliatelli pasta with wild boar bolognese, topped with truffle pecorino, and finished with fresh nutmeg and opal basil was served with Artero grenache, DO La Mancha from Spain, 2005. Just when we thought we were done, the chef surprised us with Wild California halibut served over cous cous with, toasted orzo, spinach, lemon gremolata, and sweet tomatoes. It was served with Poppy pinot noir, Monterey, California, 2006. Then there was Grilled tri-tip with eggplant caponata served over truffled-dried cherry polenta cake and finished with basil-chili infused olive oil and Rock Rabbit syrah from the Central Coast, California, 2006.
Although I was quickly running out of space, I welcomed the cheese. Our Cheese plate had Humbolt fog, a Cypress Grove, California goat's milk cheese aged eight months; an Italian sheep's milk black truffle Pecorino Cacao di Bosco; and a 90 month old cranberry chipotle cheddar from cow's milk from Carr Valley, Wisconsin. They were served with Pascal Toso Reserve Cabernet "Las Barrancas," from Mendoza, Argentina, 2005.
The dessert: Peach cobbler pound cake with baked peach and carmelized peach compote served with gelato and fresh berries and a glass of Elderton botrytis semillon from Australia, 2004.
Other
The restaurant offered one of the largest selections of cheeses in Las Vegas. The chef paired meats and cheeses with assorted artisan breads, dried fruits, nuts, and house made jellies. Also, it was possible to order cheese as an appetizer or dessert.
According to someone in the know, Table 32 is "the" table to have. The restaurant doesn't reserve it for anyone other than Oscar Goodman, the mayor of Las Vegas, who frequents the restaurant. Local celebrities and entertainers pop in sometimes and and many of the Strip chefs come up on their day off (Sunday and Monday).
Date Of Review
September 2008
Number Of Visits One
Reviewers Article by Elena del Valle
Photographs by Gary Cox
Service Staff were knowledgeable, attentive, friendly and efficient.
Would You Dine Eat There Again-Recommend It? Yes
Contact Information
Address:
10100 W. Charleston Blvd
Las Vegas, NV 89135
Phone:
Website: