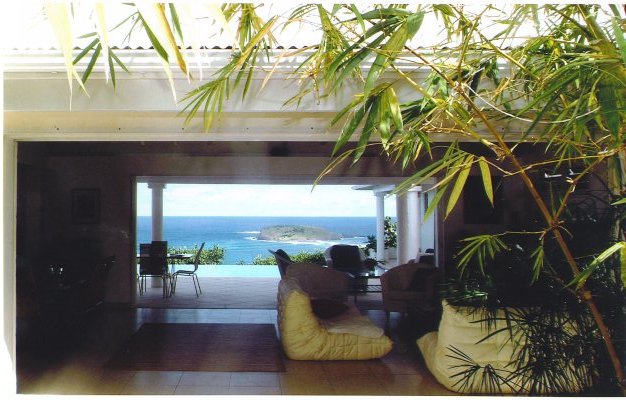 We look forward with anticipation to a return stay in Villa Bel'Ombre whenever we can.
Overall Impression
Turning off the main road onto a non-descript private street that would have made a mountain goat feel at home, we arrived at Villa Bel'Ombre. We were pleasantly surprised to find it was more comfortable and prettier than the photos we had seen online and the postcard view was even more stunning than we could have imagined. The $3 million villa was spacious, open and full of thoughtful features we liked such as a shaded deck area facing the bay, comfortable lounge chairs in the sun and shade, indoor and outdoor dining areas, a partially open kitchen facing the bay, and a Jacuzzi by the master bedroom. Marble landscape skies with a moon, pink and purple sunrises, the sound of birdsong and the surf, the impeccable swimming pool where we could linger while enjoying the view from the infinity edge and a welcome sense of privacy were some of the extras we discovered onsite.
Just down and across the hill from our villa there were several homes under construction. This meant hammering and banging through most of the day. We could also hear the constant flow of traffic through the main road. As darkness fell on the island, these unwelcome intrusions retreated, and the sounds of birds and the ocean surf below created an entirely different music.
We felt at home at Villa Bel'Ombre. Its hillside location provided an enviable view of Marigot Bay , Turtle Island , the nearby Mont Jean residential neighborhood and the Hotel Guanahani . We enjoyed our time there it so much we had to tear ourselves away to explore the island and go out shopping and for meals. We could imagine more luxurious villas and accommodations on the island; we couldn't think of any place we would rather stay.
We fell in love with the Villa's mixture of elegance, every day and high tech conveniences, privacy, comfort, and open design with emphasis on a mesmerizing Marigot Bay view. We look forward with anticipation to a return stay in Villa Bel'Ombre whenever we can.
Class Of Accommodation
Private luxury villa
Connectivity High speed Internet connectivity was excellent and for those times we had to stay in touch by phone, there was inexpensive VoIP (voice over IP) direct dial calling.
Handicapped Access There was a ramp for luggage or a wheel chair and other than that no stairs in a the single story house.
Length Of Stay five nights
Location On the Grand Cul de Sac on the northeast end of the French island of Saint Barthélemy
Owned-Managed Philippe & Nicole Enault
Pets Allowed Yes
Size Three bedrooms, three bathrooms on 270 square meters (170 square meters under the roof and a 100 square meter pool area) in about one eighth of an acre
Year Opened 2002
Common Areas
The entrance to the house was an Eastern influenced garden with a water feature and a statue. Bamboo clusters and pebbles in the garden were softly lit at night for a romantic, evanescent effect. Beyond the stone entrance path and the open sliding glass doors we found the living area to the right and the kitchen to the left. The living area included a beige leather couch, a white fabric love seat, two matching fabric chairs, a wood corner table with vase and a wood cocktail table, and a small selection of books and DVDs. There was regular and recessed lighting. We preferred the latter because it seemed to attract fewer mosquitoes. There was also a 36" Sharp satellite TV, DVD and an AIWA multimedia sound system. Four original artworks with varying blue hues hung in the living room.
A rattan floor mat divided the living room and kitchen, where we found a six seat glass dining room table and rattan chairs and overhead track lights. The large kitchen faced the bay. It had a double door Samsung stainless steel new looking refrigerator with ice and water dispenser and an easy access door, a dishwasher, brown and black granite countertop, microwave and conventional ovens and the usual appliances. A fax machine/phone and VoIP sat on a small table. There was an electronic safe in the corner under the ovens.
Just beyond the living room where another set of sliding doors would be there was a second living area with a white fabric love seat, two white rattan armchairs and a black metal glass top table. Behind that area there was a small dining table for four in a cubby hole. The master bedroom, although connected by the roof overhang, was a stand alone structure.
Just in front of the kitchen and to the other side of the second living area, there was a dining table for six identical to the one in the kitchen. To the other side of the table, there was a large porch area with four lounge chairs which could be positioned in the shade or sun according to our mood and the sun's position in the sky. Next to the pool, a shaded wood deck with two lounge chairs faced the bay and a small landscaped area from which we could see the neighborhood road.
DÉCor Contemporary with comfortable, practical furniture and decorative elements including original art work from Ya Nen Hsu and two local artists, Stan Defize and Michele Geiss.
Bathroom
The master bathroom was large. It had an open shower stall, wood and silver color his and her sinks and a separate W.C. A door led from the W.C. to the terrace, a welcome convenience when making use of the facilities or returning to the room after taking a swim. The other two bathrooms were inside the two bedrooms. Though slightly smaller, they were similar in design and style including a shower and double sinks.
Rooms All the bedrooms had air conditioning, separate entrances and en suite bathrooms.
Master bedroom: this room was separate from the main building and adjacent to the pool. It occupied the portion of land abutting the furthest north from the house with a lovely view of Marigot Bay through sliding glass double doors. White walls and dark wood provided a clean, cool look framed by navy blue and white curtains and a matching bedspread. A four poster queen bed sat in the center of the room facing a mirror half the height of the wall. A small TV (which showed the same programs broadcast on the main TV in the living area) hung on the wall in the back corner of the room. Next to the entrance, there was a walk-in closet.
First main house bedroom: decorated in white, it was between the kitchen and the second guest bedroom. A queen size bed with a white bedspread faced the ocean which could be seen through the double glass doors beyond the large porch and deck area. Wood night tables with lamps (including light switches that could be reached while in bed) sat on either side of the bed. A VoIP phone was on one of the night tables. Three large yellow and white orchid photos decorated the eastern wall which faced the ample closet. A small wood table and chair were next to the entrance. We left the glass doors open day and night to enjoy the view and hear the sounds of the surf in the distance. Past the closet there was an en suite bathroom.
Second main house bedroom: it was the furthest from the common area and was similar in design and furniture to the first main house bedroom with a blue and white bedspread and white walls. A queen bed faced the screened sliding glass doors. There was a blue chair and small table to one side. Past the closet there was an en suite bathroom.
Amenities
We found terry cotton bath robes There were small Palmolive and non-branded bathroom soaps as well as Sephora brand shower gel. A set of two medium size beach towels was available per room.
Pool And Jacuzzi The pool was one of our favorite places to spend time. Whether swimming, dunking our feet or just sitting by it we longed to be in or next to it and looking out beyond. The 10 x 4.4 meter infinity pool covered with ocean blue tile was the center point of the house. It was 1.5 meters deep and from it the view to the nearby bay and ocean was magnificent. It was spotlessly clean thanks to a sophisticated three filter system and water feeds from municipal and cistern sources. It had night lights, a jet current and safety device. There was a terrace adjacent to the main bath room shower area where an outdoor Jacuzzi was located. The Jacuzzi temperature was set permanently at 97 F.
Other
Recent rains had resulted in a mosquito overpopulation. These pesky insects were more than happy to spend time in our idyllic surrounds. This meant we had to cover ourselves with mosquito spray from head to toe several times a day and use liberal doses of aerosol spray and anti-mosquito coils.
Due to water restrictions, the laundry room was only available to the cleaning lady. Guests were invited to avail themselves of a Laundromat.
Although there were houses all around us, the landscaping and house design provided privacy and a sense of seclusion. Being close to our neighbors also meant we had to be aware of the level of noise and the volume of the music, especially at times when our names might be asleep.
Long distance calls using Voice Over Internet Protocol ( VoIP ) made it possible to stay in touch with work and family by phone. The rate in effect during our stay was 0.036 U.S. cents per minute. Guests were only required to pay if they exceeded 20 euros per week.
Cleanliness
Very good. Although the cleaning lady was on bereavement leave when we visited, maid service was usually included in the rental fee.
Date Of Review May 2005
ReviewersArticle by Elena del Valle
Photos by Gary Cox
Welcome Owners Philippe and Nicole collected us at our nearby hotel and showed us around the villa.
Would You Stay There Again? Yes
Contact Information
Address:
Marigot
97133 Saint Barthélemy
Guadeloupe F.W.I.
Phone:
Website:
http://rentalo.com/116317/villabelombre.html
Email: