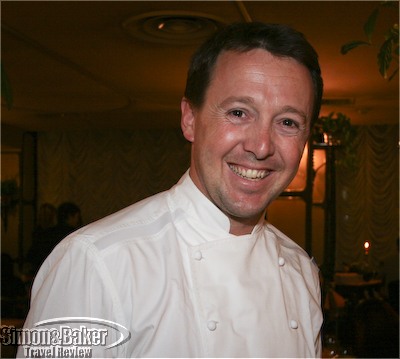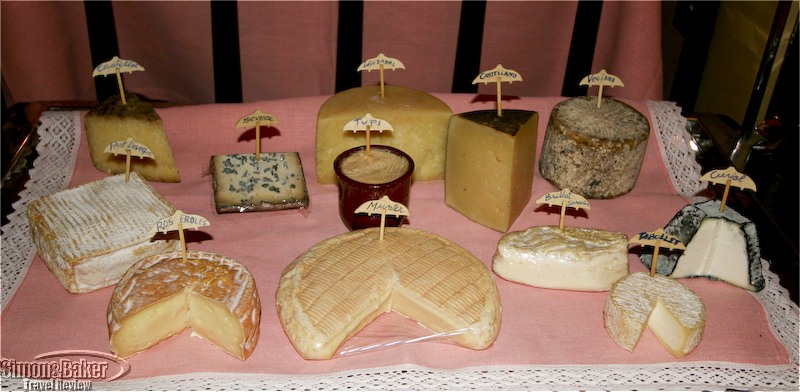 Soon I discovered the restaurant offered a contemporary interpretation of Catalan dishes within a nostalgic setting designed during the Italian Dolce Vita era.
Overall Impression When I first heard the name Via Veneto I thought of the famous shopping street in Rome, Italy and wondered what kind of cuisine the restaurant served. Soon I discovered the restaurant offered a contemporary interpretation of Catalan dishes within a nostalgic setting designed during the Italian Dolce Vita era.
About The Executive Chef
Born in Terrassa Carles Tejedor worked in California, at the Hotel Savoy in London, and the Restaurant Ristol de Terrassa before joining Via Veneto.
He strived to showcase and be an ambassador of the New Catalan Cuisine. In preparing his dishes he relied on fresh local ingredients, strong flavors and modern cooking techniques. His approach was to cook with fresh seasonal products purchased daily from local markets such as the La Boqueria and Barcelona markets and the Palamós fish market. His emphasis was on "the great forgotten traditional dishes" of Catalan cuisine served side by side with innovative dishes, light sauces, natural flavours and beautiful presentations.
Most recently he attended the 2009 The Art of New Spanish Cuisine in Tokyo and the conferences of the Culinary Institute of America in 2008.
About The Head Sommelier Born in Barcelona in 1974, Jose Martínez González received his wine expert degree following two years of studies at Escuela de Restauración y Hosteleria de Barcelona where he was the top student in his class. Since he joined Via Veneto in 1999 he continued his education by attending worships and seminars. According to his biography, he regularly visits the major wine regions of the world to stay abreast of the latest innovations and trends. He is a member of Impitoyable, the oldest wine tasting association in Barcelona and has been a contributor to Periódico de Cataluña , Descubrir Cuina , and Club de Chefs .
Chef De Cuisine Jaume Monje, cousin of the restaurant's owner.
Executive Chef Carles Tejedor
Handicapped Access The restaurant welcomed handicapped guests. The bathrooms were in the basement.
Head Sommelier Jose Martínez González
Location In the Sarrià San Gervasio area of Barcelona near the Turó Park Gardens.
Opened-Renovated The restaurant first opened in 1967. According to a spokesperson, the restaurant undergoes a soft renovation annually.
Pastry Chef Rafael Delgado Salvador
Restaurant Manager As a young man Pedro Monje was an intern at the kitchens of Pierre Orsi in Lyon, France and La Pyramide in Vienne, France. In 2001, he joined Via Veneto as manager. After attending the Asociación Española de Sumillería he became a sommelier. In 2009, he was recognized as professional of the year by the Academia Catalana de Gastronomía (Catalan Academy of Gastronomy).
Size The 1,000 square meter restaurant had capacity for 50 guests in the main room and 100 in the private rooms and employed a staff of 50 including a kitchen staff of 20. Service in the dining room was led by two managers, a sommelier and fourteen waiters. Additional staff included administrative personnel, doorman, wardrobe personnel, cellar staff and mechanics.
Type Of Restaurant The restaurant served local Catalan and Spanish dishes made with local products.
Owned And Managed
Josep Monje and Pedro Monje
Josep Monje i Canut was born in 1943 in Pobellà, a small village in the La Vall Fosca area of the Lleida Pyrenees. The son of a farmer he left for Barcelona at the age of 14 where he worked as an apprentice in kitchens and restaurant dining rooms. Over the years he worked at Restaurant Mediterrani, Ritz Hotel, Hotel Avenida Palace, Restaurant Milan and Restaurant Reno. On April 19, 1967, he was hired as a waiter at Via Veneto, the same day the restaurant was opened. By 1969, he was the restaurant director and room maître. Over the next nine years he bought stocks of Via Veneto until 1978 when the became the sole owner of the restaurant.
His wife Blanca has been working with him since 1978 and is in charge of the administrative and accounting tasks of the restaurant, as well as the table flower decorations.
Their son, Pedro Monje i San, born in Barcelona in 1973, went on to work in the family business as managing director after receiving a graduate degree in Business Administration and Management and working in the marketing department of Nabisco.
DÉCor-Ambiance Fine dining was the order of the day at this restaurant. Tables were close enough to feel cozy and far apart to permit discreet conversations. Crisp linen napkins were refreshed anytime I stepped away from the table. The restaurant had Belle Epoque decoration with a beige, putty and red color theme. The floor was covered with a flower patterned carpet and the table cloths were pink, adding a touch of warmth to the somber ambiance. Decorative touches included plants, oil paintings and artwork from local painters, eye windows, silver candelabra and wine bottle holders, silver silverware, Villeroy & Boch dinnerware, and fresh flowers. The restaurant catered to business groups and private functions. In addition to the main dining room there were three private dining rooms Pink, Blue and Golden.
Cellars Wine And Alcoholic Beverage Selection
Via Veneto housed a notable two-story underground wine cellar with 15,000 bottles and 1,000 different wines. Specialities included a collection of more than 30 different years of Vega Sicilia Único and one of the best collections of Burgundy and Bordeaux in Barcelona.
Meal Our seven-course Tasting Menu with wine pairings included a touch of showmanship as our duck dish was prepared table side. It began with a glass of Cava, Spanish sparkling wine. There were a handful of pre-appetizers for each of us: asparagus with cheese gel, scallop in a cone, salmon and salmon egg, Pilota Catalana which was a pig and veal combination usually served in a soup, and sea urchin croquette. Next there was a bite of pork neck and mushroom with grissini, light with subtle flavors. I especially liked the crunchy grissini. The restaurant had its own pastry chef who prepared breads and desserts. There were four types of bread to accompany our meal, olive croissant, whole grain, white and nut breads. The olive oil was from La Broella Arbosana.
Our first course was Dim Sum (Chinese ravioli) of red prawns from Palamos with tuna and seaweed dashi broth paired with Cava Sumarroca Brut Nature Gran Reserva 2006 from Sumarroca. The next courses were: Sauteed "Ceps" mushrooms served with Cava Celia Brut Nature Gran Reserva 2003 Rosado from Cavas Ferret; Taglioni with eggs from Calaf cooked at low temperature with preserved black truffle (least favorite) served with White Wine D.O. Rias Baixas Zarate Albariño 2009 from E. Pomares Zarate e Hijos; Oven-browned supreme of hake from Celeiros (trawl line) with Catalan region beans and crispy vegetables Via Veneto style (a favorite) served with White Wine D.O. Penedès Pardas Xarel.lo 08 from Celler Pardas; and a lovely pressed Roasted duck a la presse (a favorite) served with Red Wine D.O. Bierzo El Castro de Valtuille 07 from Bodegas y Viñedos Castro Ventosa. Our dining companion who turned down the duck was served baby goat. Before dessert we enjoyed an Assortment of Catalan cheeses served with Jerez D.O. Xerez Amontillado Tradicion 20 Años from Bodegas Tradición. It had a dry amber color, fruity nose and dry palate. The cheeses were followed by tiny strawberries, supple and delicious, and a raspberry coulis.
Dessert was a symphony of contrasting flavors. There was a chocolate sheet with cream filling, Chocolate and hazenut fritters with cocoa veil and Thai coconut ice cream served with Sweet Wine D.O. Yecla Dulce Monastrell 04 from Bodegas Castaño followed by coffee and petit fours.
Special Menus The menu was changed once or twice every season and the Sampling Menu changed daily. A five course Black Truffle Menu with truffles from Graus near Huesca in the Pyrenees Mountains was available between January and March; there was a six-course Historic Menu for 125 euros; and from October to December the restaurant offered an Italian White Truffle Menu.
Other The bathroom was spotless and overseen by an attendant. At the time of our visit the restaurant had one Michelin Star. Famous figures who had dined at the restaurant included Salvador Dali, the King of Spain, Gabriel Garcia Márquez, Vargas Llosa and Richard Nixon. The Catalan Academy of Gastronomy held working lunch events and other celebrations in the Private Rooms of the restaurant.
Date Of Review
May 2011
Number Of Visits One
Reviewers Article and Photos by Elena del Valle
Service The staff I observed came across as experienced professionals with years of work and the authority of those who know what they are doing and do it with pride. They were attentive, service oriented and friendly yet never under foot, allowing us time to enjoy our dishes and share our thoughts at leisure in between courses. They were happy to make recommendations and answer questions in English and even share anecdotes. One waiter shared that he had grown up in the same town as Salvador Dali, the famed painter. Dietary restrictions seemed to be accommodated with ease. When one of our dining companions declined the duck as it was being brought to the table, the staff immediately prepared a replacement dish and served it within minutes so that she was able to enjoy her course while we were still eating the duck. The replacement of the dish was seamless and gracious.
Would You Dine Eat There Again-Recommend It? Yes
Contact Information
Address:
Ganduxer 10-12
08021 Barcelona
Spain
Phone:
Fax:
Website:
Email: