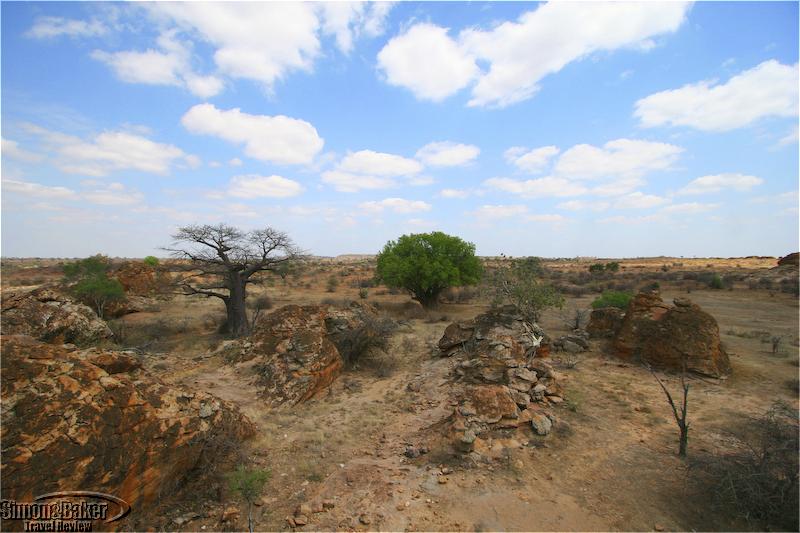 The family oriented four star bush lodge offered excellent value for money and many pluses including a location on the banks of the Limpopo River, luxury Category 5 accommodations, tasty meals, excellent game viewing with a knowledgeable and experienced guide and friendly staff focused on providing us a positive bush experience.
Overall Impression
We reached the Tuli Safari Lodge Reserve, missing the border closing at Pont Drift by a hair (our transfer service was two hours late picking us up), after a five hour drive from Johannesburg, South Africa. A representative of the lodge (later we discovered he was to be our constant companion and fearless guide for the next five nights) met us at the border and escorted us through. Within minutes we were seated in an open Land Rover crossing the dry river bed of the Limpopo River, one of the most important rivers in Southern Africa, beginning our five night Tuli Adventure Trail. During our stay we spent time at Nokalodi Tented Camp, Tuli Safari Hide and Tuli Safari Lodge all of which were property of the Tuli Safari Lodge.
Named for the Tuli Block (the town of Tuli is in Zimbabwe), a large area of land bordering South Africa on the south and Zimbabwe on the east, the Tuli Safari Lodge Reserve was home to a lodge, two bush camps and a hide with overnight accommodations for several guests. The Tuli Safari Lodge Reserve is situated within the 71,000 hectare Northern Tuli Game Reserve.This area of Botswana is distinctive because of the hilly, arid terrain which differs significantly from some of the more famous areas of the country like the Delta, Moremi, Chobe and Savute.
We found the Tuli area worth a dedicated visit for several reasons including the game viewing. From the time we arrived at Nokalodi (which means near the river in Setswana) until we left from the lodge, the game viewing was excellent. We saw leopard four out of five days including one lengthy daytime sighting with a very relaxed leopard. It was the quality as well as the quantity of the bush experiences that we remember fondly.
Music and singing are a part of life in Africa. At Tuli the staff formed a lovely sounding choir. When we arrived at Nokalodi the choir welcomed us with a song, leaving us moved and glad for the pure pleasure of their voices. Following dinner at the lodge one night the Tuli Choir sang and danced to the delighted surprise of guests including us.
Tuli was home to some of the friendliest Botswana people I have met. All the staff members we encountered at this property (managers, guides, wait staff, barman and conservationist) made us feel genuinely welcome. Although the game viewing was outstanding, the food savory and well prepared, and the facilities and accommodations comfortable and spacious the single most notable feature at Tuli for me was the friendliness and warmth of the staff.
In particular our guide, Abraham Ramonwana, who in addition to being born in a nearby village had 15 years of bush safari experience, made our visit special by sharing his knowledge and enthusiasm for the bush, finding and telling us about game animals and plants during our drives and bush walks, and showcasing local life during a village tour. Thanks to his passion for the bush we looked forward to every outing. We also had an opportunity to spend time with Tuli Safari Lodge Manager Cornel Reis, a dedicated and welcoming host who was very familiar with and interested in the optimum management of the Northern Tuli Game Reserve.
We especially enjoyed our visit to this outstanding reserve and the Tuli Adventure Trail, which gave us a taste of the different ways to experience the bush: in a tented camp, at an overnight hide and in a comfort oriented lodge with air conditioned rooms. The family oriented four star bush lodge offered excellent value for money and many pluses including a location on the banks of the Limpopo River, luxury Category 5 accommodations, tasty meals, excellent game viewing with a knowledgeable and experienced guide and friendly staff focused on providing us a positive bush experience.
Children
The property welcomed children of all ages and offered kids activity packs, children's meals and babysitting services. Bushwalks were only available for children 12 and older.
Class Of Accommodation The lodge was a four star facility per Botswana government guidelines. There were also two tented camps and a hide capable of accommodating guests overnight within the Tuli Safari Lodge Reserve.
Connectivity There was access to the Internet through a computer available for guest use in a small un-airconditioned room. Although the WiFi connection was down during our visit I was able to download emails by connecting the lodge ethernet cable directly to my notebook computer. That allowed me to check on urgent issues at home and was more than I've been able to do at many other safari properties.
General Manager Cornel Reis
Handicapped Access The property had ramps and hand rails in important access areas and the main lodge area (lounge, bar, boma ) was wheelchair accessible although a property representative clarified that "we are not specifically geared up to welcome handicapped guests."
Length Of Stay Five nights of which we spent two at Nokalodi, one at the Tuli Hide and two at the Tuli Safari Lodge.
Location The lodge was a few minutes drive from the Botswana South Africa Pont Drift Border Post and about five and a half hour drive from Johannesburg, South Africa along mostly highway type roads. Tuli is close to Mapungubwe World Heritage Site in South Africa and within the proposed Limpopo-Shashe Transfrontier Conservation Area expected to extend to 300,000 hectares in Botswana, South Africa and Zimbabwe.
Owned And Managed Tuli Safari Lodge (Pty) Ltd owned the Tuli Safari Lodge Reserve. Individual owners hail from South Africa, Switzerland and Great Britain.
Pets Allowed No
Size There were eight suites and a pilot's room in the 2,500 hectare private lodge property with traversing rights to 17,000 hectares. There were 32 employees, including four guides and four trackers, at the property.
Year Opened-Renovated The lodge was established in 1964. In 2008, there were structural upgrades to rooms, including additional lounge areas and patios for four ele suites at Tuli Safari Lodge. That same year new tents were bought for Nokalodi and there was soft refurbishment in the camp. In 2009, there were soft refurbishments at Tuli Safari Lodge.
Lobby And Common Areas Tuli representatives designed the property to be warm and welcoming. Rustic rondavel buildings were the central features of the lodge main area. They were painted in ochre colors to match the surrounding sandstone outcrops, with thatched roofs. The bar was built around an ancient Nyala berry tree. Dining was in an indoor lounge, under the shade of a tree in the center of the lodge property or in the boma for dinner. Among our favorite features were the gardens and the presence of very relaxed bushbuck and warthogs on the grounds who came to feed daily on the lodge's deep green lawns and flowering trees. The Tuli area which surrounds the lodge is filled with basalt formations, sandstone hills and ridges, (mostly dry) riverbeds and riverine forests, open grasslands and marshy areas, making the deep green of the watered lodge grounds stand out and attract animals.
Bathroom
In Warthog there was a walk in shower with a translucent ceiling at the far end of the bathroom, a stand alone bathtub on a stone base in the middle; a toilet in the corner and a sink on a wood base with a framed mirror above it. During our stay several dassies walked on the ceiling of the bathroom, making loud noises and startling me until I realized what they were making the noise. For décor there were six small wood framed rectangular mirrors on the wall. The shower was extra large and doorless. Because the floor was slippery the walk-in concrete and stone shower required caution. In Elephant, the bathroom was slightly smaller than in Warthog and the layout had the shower with a similar ceiling to the one in Warthog to the left of the entrance, the bathtub facing the entrance and the sink and toilet on the right side of the room.
Rooms We stayed in two category 5 rooms, Elephant, near the center of the lodge, and Warthog, set in an outlying area a two-minute brisk walk from the lodge main area. They were luxury oriented with comfortable beds, a cool interior thanks to fans and individual air conditioning units, and Africa themed. Although there were common decorative elements between the two suites each one had its own layout and slightly different features.
The 50 square meter Elephant room, the cozier of the two rooms where my travel companion stayed, had two single beds under mosquito nets, two sets of doorless concrete shelves on either side of the bathroom entrance and a single area for hanging clothes. There were two dark wicker armchairs with white cushions and a small tray table in the middle on the right side of the room. The entrance to the bathroom, a wooden door, was in the middle of the circular room.
To reach Warthog, my 80 square meter rounded double suite situated nearer to the Limpopo River than the main building, I crossed the sandy parking lot then continued through a stone pathway, over a rickety small bridge and back along the pathway to a building shared with another room. Inside, it was spacious with sleeping and living areas. It had polished and painted concrete floor with stone accents and a khahi and brown rug in the living area. It had a thatched roof and ceiling and a double concrete closet with shelves and hanging space. A partial wall with high relief artwork divided the sleeping and living areas. There was similar high relief artwork on the bathroom walls.
To the left of the entrance there was a concrete table with a framed mirror, pitcher of water, and shoe polish kit. A luggage rack was set against the opposite wall from the concrete table. My suite had lots of windows in varied sizes that allowed limited amounts of sunlight in, keeping the room dark and cool inside. There was a coffee and tea service table set against a wall. The living area, to the right of the entrance, had a large glass and wood coffee table, two large beige armchairs, as well as a wicker stool and a wicker table. The main feature of the sleeping area, to the left of the entrance, was a queen bed with a wood headboard and mosquito netting hanging from a frame from the ceiling (it covered the bed at night) and identical wood night tables on either side. There was a bench at the foot of the bed.
Meals
The food at Tuli was savory, freshly made and served with a smile. Locations seemed to vary with every meal. We had meals at the
boma
in the camp or lodge, by the river, at the hide, in the open terrace at the lodge, and in the Summer Lounge at the lodge. About 30 minutes after wake up time there was a hot beverage service as well as fruit and muffins in the dining room. Breakfast was served following our morning game drive at about 9:30 a.m. Breakfast items on offer in the buffet included two types of cereal, milk, yogurt, and fruit salad. It was also possible to request hot made to order eggs with tomato, mushrooms and bacon.
A light buffet lunch (we had fish cakes, pancakes and ground meat lasagna, and salads) was served at 1 p.m. Dinner was served before or after the second game drive of the day. On our first night at the lodge the staff served a grilled self service dinner in the boma: spinach soup, curried chicken, rice, and steamed vegetables.
Amenities
There were Green Theme travel size toiletries including body lotion, shampoo, soap and shower gel as well as a shower cap, mosquito spray, electronic safe, flash light, sewing and shoe cleaning kits. There was complimentary bottled water at night. There was also complimentary self service in room coffee, hot chocolate and tea.
Facilities There was a Summer Lounge or in indoor dining area, bar, gardens, conservation center, two hides (requiring a drive), curio shop, star deck and a swimming pool.
Pool There was a swimming pool with a shallow children's section, several lounge chairs and umbrellas. Because a herd of elephants had plunged into the pool shortly before our arrival, it was in the process of being cleaned during our visit. Depth ranged from .5 a meter to 1.8 meters.
Tuli Safari Hide After two fun nights at the camp our afternoon bush walk led to a hide where we spent the night in the hope of hearing and seeing game in their natural surroundings. As we approached on foot with Abraham in the lead the hide looked inviting, lit with the subtle shades of sunset. The hide was bigger and more elaborate than we had expected. Several staff members had arrived before us to set up the hide for our sleepout. There was a bar and a roaring fire in the boma and the promise of dinner (brought from the lodge) was in the air. Access to the three level hide was via ladders. A tall ladder led to the highest level of the hide furnished simply with two mattresses on the floor, a couple of night lamps and a spot light within an enclosed space. A shorter ladder led to a middle level with a double mattress. A tall step above the bed there was an open platform where we had a plated dinner under the stars.
On the ground level past the main area of the hide there was a two-sided enclosed bathroom housing a flush toilet and sink with running water on each side. After dinner the staff departed leaving us a two-way radio (we declined Abraham's offer to spend the night with us) and we settled down. Too excited to sleep we listened for hyena which we were told often visited the area in the early evening and searched the vicinity with the powerful spotlight from our perch atop the hide. Unfortunately it was a very windy night and we saw no animals. In the early morning, just as the sun was rising, Abraham picked us up for our morning game drive.
Game Viewing
Game drives were in an open Land Rover (some groups preferred to have a top on the vehicle but we enjoyed the topless drives) with space for six guests (nine by guest request) on three rows of three seats each. To our delight as the sole participants in the Tuli Adventure Trail that week we were the only ones in our vehicle. This also meant we had Abraham Ramonwana, our guide who had been with Tuli for 15 years, and Johannes Namakonde, his young assistant, to ourselves. Although we would see other vehicles sometimes, we were usually the only vehicle at sightings, except when there was a leopard. Tuli guides were accredited by the Botswana Training Authority and qualified at the Okavango Guiding School. They also received in-house training with the property conservationist.
Animals we saw during our stay: leopards on four different occasions, bat eared fox, spotted hyena (with cubs), large and small spotted genets, bushbuck, vervet monkeys, chacma baboons, kudu, steenbuck, elephant, impala, scrub and spring hares, tree squirrel, warthog, giraffe, eland, klipspringer, rock and tree (yellow-spotted) dassies, African wild cat, lesser bushbaby, duiker, black-backed jackal, banded mongoose, white-tailed mongoose, steenbook, waterbuck, blue wildebeest, zebra and Nile crocodile.
Birds we saw or heard: crested barbet, white-fronted bee-eater, tropical boubou, golden-breasted, cinammon and rock buntings, kori bustard, spotted dikkop, Natal and namaqua doves, African fish eagle, Verreaux' (black) eagle, spotted eagle owl, cattle egret, Natal francolin, Egyptian geese, helmeted guinea fowl, hammerkop, grey heron, African hoopoe, red billed and southern yellow-billed hornbills, sacred and hadeda ibises, rock kestrel, sabota lark, grey go-away bird (loerie), speckled mousebird, fiery-necked nightjar, eastern black-headed oriole, ostrich, Pearlspotted owlet, redbilled oxpecker, blacksmith lapwing, three-banded and crowned lapwing plovers, red billed quelea, lilac breasted and purple roller, common sandpiper, secretary bird, crimson breasted, white-crested and magpie shrikes, Cape glossy and longtailed starlings, black-winged stilt, marabou stork, white-backed vulture, blue waxbill, lesser masked and white-browed sparrow weavers, and night jar.
Activities
Our five-night Adventure Trail included bush walks and game drives depending on the day. The bush walks were rewarding because, although we didn't usually see animals up close, we had an opportunity to see things we were unable to see during the game drives. During one morning drive we saw two faded bushmen paintings on a rock. In addition to the twice daily game activities we could spend time in our tents at the camp or air conditioned rooms at the lodge during the day, at a hide, or poolside (naughty elephants had dunked in the pool while we were at the reserve and the pool was out of order during our visit). Optional activities on offer included a visit to a local village and a long morning drive to the confluence of Shashe and Limpopo rivers where Bostwana, South Africa and Zimbabwe meet. We enjoyed this six-hour excursion especially.
During the tour of the local village we drove through the unpaved roads of the village, stopped at a basket vendor's roadside spot where she had a couple dozen woven items for sale between 10 pula and 150 pula; went to the lapala palm wine area where a rather inebriated proprietor greeted us. We could see local customers gathered in a corner drinking the fermented liquid. She was friendly and showed us very informally how she makes the brew by chopping off the stem of the plant with a short machete and letting the liquid drain into containers. She laughed and made jokes, offered us a taste of the wine from a leaky plastic container after she and others shared its contents.
Conference Facilities
There was a 42 square meter Winter Lounge with air conditioning. There was also a 77 square foot partially open Summer Lounge available for meetings. Business equipment available included TV/DVD, white boards, flip charts, and overhead projector. Photocopies, fax, phone, email, and Internet were available. There was the possibility of combining conferences with Tuli Bush Business themed game viewing activities to link with conference messages by focusing on parallels between the bush and the business world.
Curio Shop There was a small curio shop that sold branded clothing, locally made crafts and jewelry, toiletries and the Tuli Choir CD.
Nokalodi Tented Camp The first place we stayed at and our home for the first two nights was Nokalodi, a small unfenced camp two kilometers from the lodge with outstanding accommodations, activities, service and meals. We especially liked the setting of the camp near the famed Limpopo River and adjacent to a distinctive sandstone cliff. From the comfort of the Nokalodi boma under the shade of a large tree we observed birds, monkeys, elephants, klipspringers, and baboons. Our spacious and clean tents had regular beds and linens, a small night table, a closet and an en suite partially open bathroom with running hot and cold water (and good water pressure), toiletries, towels, shower, toilet and sink. Although at night there was no electricity there were kerosene lamps and candles. The only challenge at the camp was staying cool within the tent in the heat of the afternoon.
Other Tuli Safari Lodge, voted Botswana's Leading Safari Lodge in the World Travel Awards in 2008 and 2009, has been actively involved with several community development projects for several years. When we were there the property had a resident conservationist and policies for sustainable use of natural resources. There were community programs to support children in neighboring villages, including the donation of computing equipment to schools and hosting orphans from the region for an annual environmental awareness day. Using funds raised at a dinner to celebrate the 40 anniversary of Botswana's independence and working closely with social workers in the Bobirwa district, Tuli Safari Lodge sponsored the building of a fully-furnished house for a family of eight orphaned children. The company formed a joint venture with three local villages to create a new self-catering camp in the Tuli Block at Molema, providing the communities an opportunity to participate in and benefit from tourism to the region designed to generate income, employment and training for their community members.
Tuli staff members formed a choir and regularly entertain guests at the lodge. The choir recorded a Tuli Choir CD that was available for purchase at the curio shop and on iTunes. All proceeds go to the Tuli Health Care Fund which provides medical care for the property staff and their families.
The resident conservationist conducted research, monitoring and species/ecosystem conservation projects including game population assessments, investigations of animal behavior patterns and soil and habitat conservation projects were organized. The Lodge, a member of Birdlife Botswana and Birdlife South Africa, recorded and submitted data about threatened birds. Tuli staff also worked closely with local wildlife department on snare-clearing and anti-poaching patrols.
There were policies at Tuli to ensure sustainable use of the property's natural resources, including limiting wood collection, minimizing off-road driving, recycling waste and reducing the use of electricity. Registered with the Botswana Training Authority (BOTA) as a conservation and hospitality training center, Tuli provided, in association with the Okavango Guiding School, training for guides, rangers and hospitality staff.
In addition to the Tuli Adventure Trail we participated in, there was: Wildguides @ Tuli, a four-day safari guide type course for guests; Botswana and Mapungubwe, a four-night stay at Tuli Safari Lodge and Mopane Bush Lodge emphasizing history and cultural heritage; and Transfrontier Safari and Luxury Escape, a five-night Southern African transfrontier visit to Botswana's Northern Tuli Game Reserve and South Africa's Limpopo Province
Cleanliness
Very good
Date Of Review October 2009
Reviewers Article by Elena del Valle
Photographs by Juan Cooper
Service Throughout the five nights and three types of accommodations of the Adventure Trail program we participated in staff were efficient, punctual, pleasant, friendly and welcoming.
Would You Stay There Again? Yes
Contact Information
Address:
PO Box 83
Lentswe le Moriti
Northern Tuli Game Reserve
Botswana
Phone:
Website:
Email: