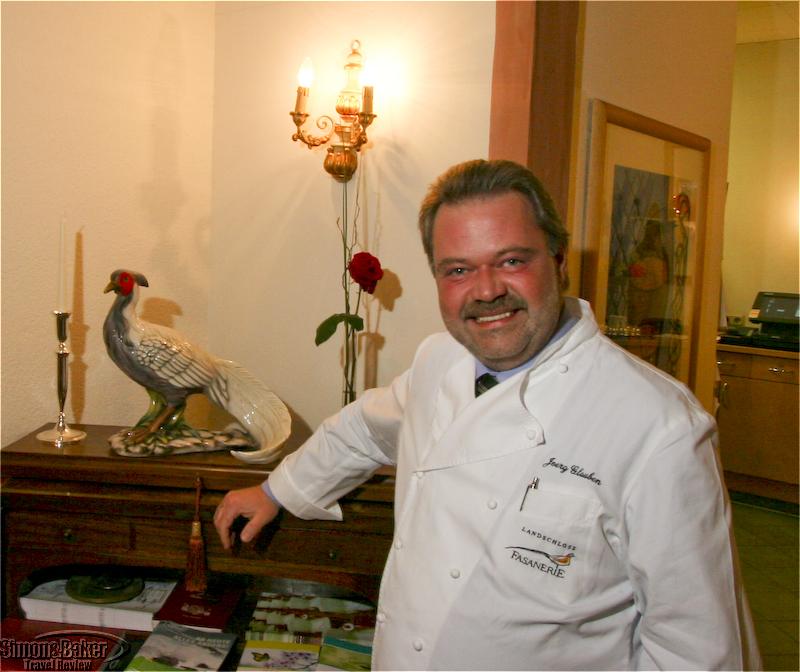 We would definitely return to this gourmet spot in Germany's Palatinate Pfalz region.
Overall Impression
Named Tschifflik, meaning small palace in Turkish, for the former property built on the grounds by the Polish king who had it constructed it, this small restaurant was the most sophisticated of several attractive places to entertain the palate at the Romantik Hotel Landschloss Fasanerie. Everywhere we ate during our two-night stay at this woodside hotel was a delight. From the breakfast buffet to the hotels' Mediterranean (Restaurant Orangerie) and regional (Restaurant Landhaus) restaurants every meal was a success.
Tschifflik, the hotel's pride gourmet restaurant, was the height of the chef's culinary skills and playful designs on food for the eye and the mouth. Dishes were artfully prepared and presented. Staff were service oriented and the dining room was cozy and pleasant. We would definitely return to this gourmet spot in Germany's Palatinate Pfalz region.
About The Executive Chef
He trained as cook at Parkhotel Adler in Hinterzarten, a five star hotel in the Black Forest. He had been at Gourmetrestaurant Tschifflik since 1999. The year of our visit, 2009, marked the 15 consecutive year he received a Michelin star.
Chef De Cuisine Jürgen Süs
Executive Chef Jörg Glauben
Handicapped Access No
Head Sommelier Hermann Kopp
Location In the Fasanerie Park on the outskirts of the town of Zweibrücken in western Germany near France.
Opened-Renovated The restaurant was established in 1999.
Owned-Managed Roland Zadra
Pastry Chef Michael Meyer, who was selected Pâttisier of the year 2008 by Aral Gourmet Guide.
Restaurant Manager Birgit Neumueller
Size The 75 square meter restaurant employed 12 and could accommodate 32 guests.
Type Of Restaurant French gourmet
DÉCor-Ambiance The restaurant was decorated in an "elegant French regency" style. It had red walls which added warmth to the room in the late winter of our visit. Our chairs were comfortable and handsome in striped cloth of khaki, green, red and orange. Large windows made the room seem expansive while a corner fire place and wood flooring lent it character and a graceful look. The table setting was refined including attractive Bavarian Rosenthal porcelain dishes and Christofle silverware.
Cellars Wine And Alcoholic Beverage Selection
There were 450 different wines in the hotel's 25,000 bottle cellars.
Special Menus A six course and palate cleanser Menu Jardin for 75 euros (68 euros without cheese), a six course and palate cleanser Menu des Saveurs for 85 euros (78 euros without cheese), and a seven course and palate cleanser Menu Desgustation for 98 euros (90 euros without cheese), and a seven course and palate cleanser Menu Gastronomique for 110 euros (102 euros without cheese).
Meal
We began our four-course dinner with a glass of bubbly and several
a
muse bouche:
a lobster ball and a regional Palatia specialty of pork belly with sauerkraut foam and an apple sliver. There was also a Champagne soup with octopus and mineral water gelee and peas; a Greek salad decomposition with paprika confit, dehydrated olive crumbs, shallot drops, cucumber caneloni and feta molecular (liquid feta cheese within a gelee ball). We were offered had three types of bread.
Then we began the meal proper with Tschiffliks variation of goose liver, a goose liver composition service with "ice cream," apricot with popcorn, brioche, "creme brulee" and a mini sandwich of sorts. Fish followed in the form of Pikeperch with pears, beans and bacon. The pike perch was wrapped in pastry served with cubes of pear, bean, dehydrated bacon, and apple compote. Our next course was Saddle of lamb with mixed beans and thyme jus which included a confit of lamb leg, olive tapenade, olive sauce, white bean puree with a slice of bacon.
Then we were served pannacotta with San Pellegrino and passion fruit ragout before our first proper dessert. A tray of candy arrived as well with chocolate dipped gooseberries, mini lemon tarts, cassis balls, coconut chocolate, and Fasanerie nut chocolate. Manjari-chocolat "Part 2" was our surprisingly fun and flavorful chocolate dessert. It consisted of a series of small items: a chocolate "cone," a praline chocolate ice cream sandwich, hot cocoa, "won ton," crème brulee, and an opera (chocolate covered ice cream bar), We especially liked the "won ton," crème brulee and hot cocoa.
For the wines we placed our trust in the restaurants wine steward who selected the following: 2004 Etoile Sekt Spaetburgunder & Weissburgunder Cuvée Reichsrat von Buhl, Pfalz; 2007 Scheurebe und Huxelrebe Kabinett Weingut Benderhof, Kallstadt, Pfalz; 2006 Grauburgunder Kabinett trocken Weingut E. Spindler, Pfalz; 2007 Spaetburgunder trocken Weingut Reichsrat von Buhl; and Domaine La Yole Carthagéue Vin de Liqueur.
Other At Restaurant Orangerie, a more informal restaurant, we enjoyed two meals including a very satisfying dinner of Composition of tuna and veal Vitello tonnato 2009; Mediterranean gilthead with ginger spinach and sauce vierge; Tournedos of deer in a thyme crust, carrots in cinnamon caramel, broccoli-curry tempura and aubergin galette; and Hazelnut mousse with parfait of white chocolate and mocha sauce.
Date Of Review
March 2009
Reviewers Article by Elena del Valle
Photos by Gary Cox
Service Staff were efficient and helpful, making sure to describe our dishes in English. The service was even throughout the meal although the restaurant became increasingly crowded as the evening wore on.
Would You Dine Eat There Again-Recommend It? Yes
Contact Information
Address:
Romantik Hotel
Landschloss Fasanerie
Fasanerie 1
D – 66482 Zweibrücken
Germany
Phone:
Fax:
Website:
Email: