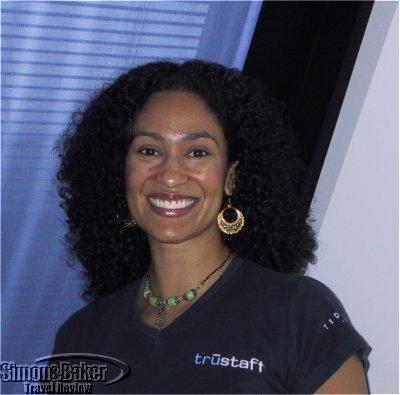 Tru's attention to detail, appealing ambiance, superb service and dedication to providing top rate services made it a champion spa for us.
Overall Impression
: Tru lived up to its name. The ambiance, treatments and service we received were as described and better. Our treatments and overall experience were rewarding and memorable. The facilities were aesthetically pleasing and spotless, the treatments excellent and a good value, and the staff competent, polite, and client oriented. The decorative style, centered on crisp, clean contemporary lines, enhanced our confidence. Every room, including the bathroom, we were in was immaculately clean and there was a pleasant scent throughout.
We loved the manicure and pedicure featuring fresh home made organic scrubs and the tempting complimentary snacks and champagne offered in between treatments. The massage, performed in a color enhanced treatment room, was thorough and de-stressing. The masseuse was qualified and competent. The facial was comprehensive and skin appropriate including relaxing hand and foot massages and a peel. Here the emphasis was on effective individual treatments. Tru's attention to detail, appealing ambiance, superb service and dedication to providing top rate services made it a champion spa for us.
Handicapped Access
"All areas of the spa are handicapped accessible"
Location central San Francisco
Number Of Staff 40
Owned-Managed Craig Fossella
Size 5,500 square feet
Treatment Rooms The facial and massage rooms we were in were spotless. The contemporary style and custom design emphasized clean lines and stark features where the focus was the client. Treatment materials were set in a hidden area or closet giving the room a hygienic, soothing and uncluttered feel.
Year Opened-Renovated July 2003
Common Areas
Original design features included custom waterfall sinks, custom giant floor-to-ceiling light sconces that illuminated the hallway, computer controlled color blast light system capable of emitting 16.7 million different colors to enhance massage through chromatherapy or colored light therapy. 
Custom designed manicure and pedicure stations included removable stainless steel basins for state-of-the-art sanitation. The Rainforest treatment room was custom designed by owner Craig Fossella and architect Chris Kofitsas.
Amenities
Bathrobes, slippers, complimentary champagne and
mojito
(spearmint drink), bottled water, snacks such as cheese, fruit and brownies.
Facilities There were five private massage and six private facial rooms; a Signature Rainforest Room, three manicure/pedicure stations, a retail apothecary space and men and women's lounges including locker and private shower facilities.
Pool No
Lockers And Bathrooms
A silver colored bead curtain guarded the ladies lockers and bathroom entrance. Inside, there was a small locker room area, a modern sink area, two w.c.'s and a shower.
Other Tru required a credit card to secure and confirm appointments. Two days prior to the appointment they contacted clients to remind them. No shows or reservations canceled within 24 hours of the appointment were charged the full amount of the appointment. Guests were advised to arrive early enough to check in, change or shower and be in the waiting area on time. Parking ($5 for the first hour with validation) was in the building basement. We asked the hotel (Holiday Inn) doorman to find us a cab. Frequent visitors were invited to join a rewards point system called the Tru Club to be eligible for treatment freebies.
Cleanliness
Excellent
Date Of Review December 2004
Number Of Treatments Four
Treatments Experienced Massage, TruO2 Facial, Vanilla Sky Manicure and Moji-Toe Pedicure, TruTherapy75
Would You Return? Yes
Contact Information
Address:
750 Kearny St .
San Francisco, CA 94108
Phone:
Fax:
Website: