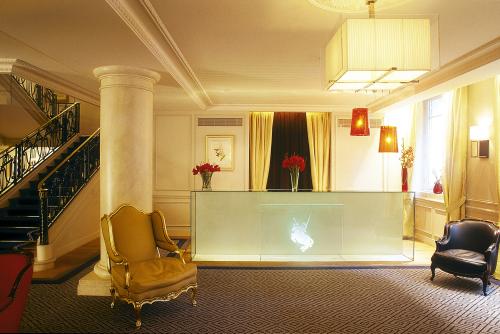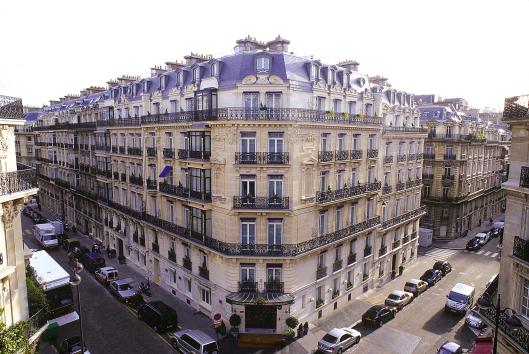 Senso was closed on Sunday, so only bar snackswere available that day.
See our most recent review
here
Overall Impression
We liked La Trémoille's ideal location in the coveted eighth arrondisement just off the popular and ritzy Champs Elysees shopping district.We appreciated the relaxed and quiet atmosphere, a contrast to the hustle and bustle at larger properties. We found the staff friendly and attentive, from the doorman to the concierge.
The property was recently rennovated, beautifully decorated and modernized. Our impression was that no shortcutshad been takenin materials or workmanship, maintaining the charming qualities of the original building, while catering to a modern clientele. As business travelers, we found the free high speed Internet connection, international DVD player (i.e. can play any zone) and modern televisions to be welcome comforts.
La Trémoille has a small fitness center with cardio machines and a spa that offers a variety of services.High fashion shoppers may appreciate the location and special shopping packages. Dining options are somewhat limited within the hotel, with room service and restaurant Senso as the only options. Senso was closed on Sunday, so only bar snackswere available that day.
Class Of Accommodation
: Four stars
Concierge Gilles Pizzolato
Connectivity Our room offered complimentary high-speed DSL Internet connections through television keyboards or laptop computers for those who had brought their own.
General Manager Pascal Dupuis
Handicap Access Elevators take guests to all the floors.
Length Of Last Stay 3 nights
Location In the heart of one of the most desirable neighborhoods of Paris, the 8th arrondissement
Metro Alma-Marceau, Franklin Roosevelt or George V
Owned-Managed The Scotsman Hotel Group Ltd.
Size 88 rooms and junior suites and 5 deluxe suites
Year Opened-Renovated Originally established in 1883; reopened in June 2002 following a 24 million euro renovation.
Lobby And Common Areas Modern and classical were juxtaposed throughout the hotel, including the common areas. The registration desk featured a beautiful glass depiction of the Renaissance knight the hotel is named after – Louis II Sire of La Trémoille. Modern square shaped lamps hung from the French ceiling above inviting leather furniture in the lobby. Glass windows and nature inspired drawings could also be seen while walking up the stairs. The hallway on our floor was lined with terrific photographs of buildings throughout Paris.
Bathroom A spacious black and white marbled bathroom offered all the conveniences of a separate bathtub and multiple jet shower. A large mirror divided into three parts reigned above the sink next to a heated towel rack. Our only discomfort was a leaky shower door which caused small amounts of water to escape. A strategically placed phone was also available in the bathroom. In addition to the perennial small toiletry bottles, there were six varieties of Molten and Brown shower gels.
Room Our room was comfortable, quiet and spacious (for Parisian standards) with a small sitting room between the bathroom and bed. We were especially appreciative of the sound proofing which provided almost complete quiet. It included two large chairs in faux suede and a chest/table facing a decorative fire place. To the right of the chairs were a desk and lamp where we instantly set up our laptop computer via the hotel's complimentary high speed Internet connection. Behind the chairs and desk we found a table (somewhat scratched) and a faux dresser that served as the home for the 28-channel television, DVD player and mini bar. To our surprise the DVD player was able to play various formats including the U.S. format we had with us. After connecting the player to the television, we were able to watch a couple of our DVDs on cold and rainy nights when we just felt like staying in. There was a second television in the bedroom to the side of the large and comfortable bed (made up of two small mattresses fit into a single frame to mimic a king sized bed). Soothing cream and chocolate colors along with small touches like light dimmers, plenty of pillows, cushy furniture and a room service hatch (a small closet allowing room service items to been delivered without anyone having to enter the room if we chose to stay in our pajamas) made us feel like staying in, especially during inclement weather.There was a phone in the sitting room and another on one of the night tables. The closet housed a small safe and there was a trouser press near the entrance.
Restaurant Senso Restaurant was decorated by Sir Terence Conran. We enjoyed a lovely continental breakfast there in the mornings.
Amenities
Molten and Brown shower gels, toiletries, bathrobes. Hair dryer in the desk.
Facilities 24-hour room service and concierge. Spa and fitness center, restaurant and bar.
Fitness Center: We found a small (four machines and some light weights) fitness center in the basement (-1 in the elevator). Only once during our stay did we encounter other guests there. Each time we visited the fitness center we were able to work out right away. Though there were no attendants, the room was clean. Each machine had a television set in front of it and there were towels on the individual machines or nearby. Just outside the work out area there was a house phone, additional towels, a tea service and fresh fruit.
Spa There was a spa adjacent to the fitness center.
Conference Facilities
Two small meeting rooms were available with capacity of 20 and 10.
Other Affiliated with Preferred Hotels and Resorts and Hotels & Préference. Decorated by Cabine Martinent/Richard Martinent. The imposing Haussmann façade is listed as a historical monument.Reputedly, over the years many a celebrity has briefly called this stately hotel home.
Check-In-Check-Out Process Ease
Quick, cordial and efficient
Cleanliness Every area of the hotel we visited including the fitness center and spa was clean.
Date Of Last Visit December 2003 2010
Service In every encounter we had with hotel staff either on the phone or in person, they were welcoming, helpful and efficient. We mentioned a broken light bulb to one of the staff on our way out. By the time we returned, it had been replaced. Minor oversights such as old fruit in the fitness area fruit bow; and an empty entrance and lobby on some occasions gave the impression there may have been a shortage of staff. The room was clean, but not all the amenities were refreshed and the garbage bin left full one day.
Would You Stay Again? Yes
Contact Information
Address:
14, rue de La Tremoille
75008 Paris, France
Tel:
Fax:
Email:
Website: