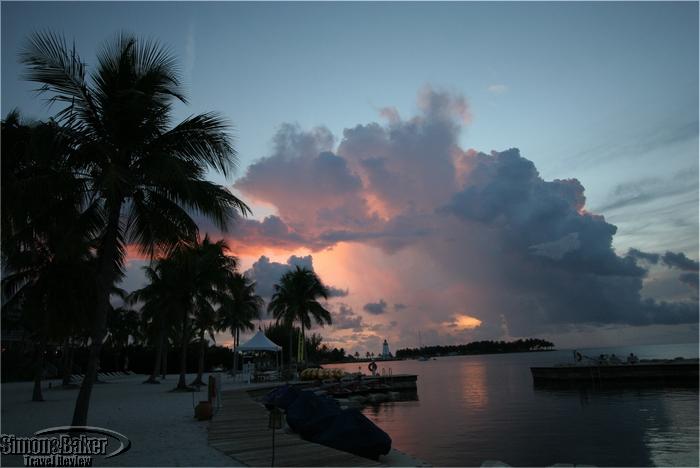 We would recommend this property highly, especially to friends with small children and adults wanting comfortable, spacious and luxury oriented self catering accommodations in the Florida Keys.
Overall Impression
We arrived at Tranquility Bay, a family friendly waterfront property in Marathon, late in the afternoon on a Friday in September tired from driving and a day of fun activities. The reception area was refreshingly cool, small and bright. A smiling attendant greeted us and in a jiffy we checked in. A cheerful staff member accompanied us to our suite on the far side of the property.
Once inside our suite we were pleasantly surprised. It was new looking, spacious and filled with sunlight. From the door, kitchen, dining and living room we could see the beach. Coming in from the humid and hot summer heat, the suite was refreshingly chilly inside, spotlessly clean and homey. Our two story three-bedroom unit was more like a self contained apartment home than a resort suite. As we made our way around exploring our accommodations for the weekend we found small touches that confirmed our initial impression.
Our suite was, in many respects, the best suite or room we had had the pleasure of calling home in the Keys. Although we had visited larger properties with more staff, more amenities and facilities, the suite itself was the most appealing, comfortable and overall attractive place to spend time indoors.
As it turns out Mother Nature made sure we spent plenty of time indoors that weekend. By the next morning, Friday's afternoon sunshine turned into grey skies and rain, making us cancel our morning dive. We took advantage of the opportunity to sleep in, enjoy the view from our two beach facing porches, make a run to the grocery store and have a leisurely breakfast. In suite massages and a gourmet dinner at the Butterfly Café completed a most enjoyable day. We had planned to take a ride on the property's wave runners Sunday morning before going home. Rain woke us at dawn and continued on and off until our departure at 11 am. We left relaxed and slightly more rested than when we arrived, wondering when we might return to Tranquility Bay.
We found many of Tranquility Bay's features appealing including its waterfront location, seemingly insect free environment, property wide high speed WiFi Internet access, friendly staff, in suite massage services, fitness center, water sports options, powder white shallow beach with lots of comfortable lounge chairs, extra large free form pool, and gourmet restaurant with take out and room service. We particularly liked the option available to us: prepare our own meals in the well appointed kitchen or take advantage of the delicious preparations of the Butterfly Café, the resort's in house restaurant, in our suite or at the restaurant. In spite of the property's name, there were many playful children the weekend we visited. They migrated between the shallow beach and the pool from early morning until early evening, making quiet outdoor corners scarce.
We loved our spacious and cozy beachfront suite. It had oodles of space, a conveniently equipped kitchen, delightful water views, guest friendly porches, comfortable furniture, washer and dryer, a large plasma TV and DVD player (they had a few loaner DVDs at reception). We enjoyed the original artwork scattered through the resort and inside our suite. We would recommend this property highly, especially to friends with small children and adults wanting comfortable, spacious and luxury oriented self catering accommodations in the Florida Keys.
About The Executive Chef
James Henahan, professionally known as Chef Shadow, was in charge of food service and the Butterfly Café. Over the past 25 years, he built a reputation as a culinarian. Touted as the man behind the success of restaurants and inns in California, the northeastern United States and Europe, he spent more than a decade in Quechee, prior to working in Florida.
Connectivity There was Wi-Fi high speed Internet access property-wide, allowing guests online access with laptops poolside, beach front or from their porch. The WiFi connection in our suite was very low.
General Manager Peter Policastro
Handicapped Access According to a property spokesperson, the resort's handicapped friendly houses have ADA compliant bathrooms, private elevators, and kitchen appliances and electronics built to the right height to accommodate wheelchairs.
Length Of Stay Two nights
Location The property is 90 miles south of Miami and 45 miles north of Key West, at Mile Marker 48.5 on the bay side. The resort is less than a mile from Marathon Airport.
Owned And Managed Singh Resorts
Pets Allowed No
Size The 12-acre property occupied by 87 homes was nestled on 12 acres of waterfront property.
Year Opened-Renovated Tranquility Bay opened to the public January 2006.
Lobby And Common Areas Tranquility Bay was designed by the Peacock Design Group, interior designers, and architectural firm Grassi Design Group to emulate Key West architecture with a distinctive design motif to exemplify ship-building practices adapted from the Caribbean and New England. Beach homes and resort buildings featured millwork detail, shady porches, decorative railings, white picket fences and wood shutters. There was original artwork and sculpture throughout the resort. At the entrance to the reception building there was a sculpture by Indian artist K.S. Radhakrishnan entitled "Human Globe." Four other large-scale works by the sculptor adorned the grounds. "Touch of Ivory," a painting by Bill Brauer, a Boston-based artist known for his sensual figurative paintings could be seen in the reception building lobby. Metal wall sculptures of mermaids, tropical fish and fruit by native Haitian artists were scattered around in unexpected places. A graceful clay sculpture by Vermont artist Barbara Kaufman called Lisa Stratta found a home in the Butterfly Café courtyard garden.
Bathroom
The master bathroom was beige. Notable features included a granite sink top and a shower with a see through glass door. The second bathroom upstairs was shared by two bedrooms. It had a shower and bathtub with a shower curtain. Downstairs there was convenient half bathroom.
Suite Our beachfront two story three bedroom two and one half bath suite, unit 77, occupied 1,320 square feet of space. An open design gourmet kitchen with Kenmore appliances was to the right of the entrance. It was fully equipped with a side by side stainless steel refrigerator with water and ice dispenser, granite countertops, Cuisineart double toaster and Black and Decker coffeemaker (with coffee and tea); remote controlled Sony mounted radio/CD player, dishwasher, microwave, and full size oven. In the cabinets and counters we found Crate & Barrel dinnerware, cutlery and glassware, a blender, Calphalon cookware, and Wusthof German knives.
To the left was a half bathroom and carpeted stairs leading to the bedrooms. In front on the kitchen, there was a combined dining and living area for six. A wood dining room table and armless chairs was first. The living area had cloth furniture; two beige armchairs and a striped loveseat with beige wood tables on each side faced a wood coffee table. On the opposite wall facing the dining room there was an oversize oil abstract painting. A 42 inch LG high definition flat screen plasma TV with remote control hung from the next wall. Below it there was a DVD player on a wood cabinet. In the corner there was a wicker armchair with matching footrest (a favorite). The floor was tiled and felt good on bare feet, cool but not hard. The walls were painted yellow giving the interior a warm feeling. This was enhanced by original colorful artwork on the walls by Vermont artist Sally Carpenter. French doors led to a wood porch facing one side of the beach. Four wood armchairs and small tables populated the porch. A powerful air conditioner kept the inside chilly and there were ceiling fans to spread the cooling air.
Upstairs there was a master bedroom facing the beach. A king bed with twin night tables, a firm mattress and warm duvet was the center of the room facing a remote controlled Toshiba television. The en suite master bathroom was in a corner. Across the hall from the master bedroom there were two bedrooms, one with a double bed and the other with two single beds. The one with the double bed had a Panasonic television. At the end of the hall, in the closet, there was an upright stacked Kenmore washer and dryer set. The hallway was carpeted and the bedrooms were tiled. The rooms had high ceilings enhancing the sense of space. White walls and white furniture created a crisp clean ambiance while color accents provided a touch of warmth..
The two-story house had a casual, open floor plan and charming seaside cottage decor. The first floor living space invited socializing with comfortable, overstuffed seating surrounding a 42-inch plasma TV and a cozy dining area nearby. Upstairs bedrooms featured painted furniture with deluxe bed linens.
Food And Restaurants
The Butterfly Café offered fine dining, casual meals and room service (8 am to 10:30 am breakfast, 11:30 am to 2:30 pm lunch, and 5:30 pm to 10 pm, dinner). After a day of travel we felt like dinner and a movie so we ordered room service. A few minutes after we placed our order of Florida Lobster Bisque, Keys Crab Cakes, Grilled Portobello, and Stir Fry Coconut Curry Vegetables it was ready for pick up. For a 20 percent surcharge it was possible to have the meal delivered to our suite but we felt like picking up the order at our own pace. We liked the option of picking up our order or having it delivered to our room.
Our three appetizers and one entrée dinner hit the spot. The bisque was thick and rich with a hint of something special and a dash of pepper. The stir fry was savory and delicate with coconut rice, bok choy and a touch of heat. The expertly prepared crab cakes were my favorite dish; served with a salad and smoked tomato jalapeno relish, they were light and savory, juicy and without fishiness.
Amenities
Australian Lanovera toiletries included 30 millimeter bottles of shampoo, conditioner, and body lotion as well as hand soap and shower caps. There was individual size laundry detergent. In the kitchen there was dishwashing liquid and paper towels. DVDs, including a large selection of children's movies, were available on loan from the front desk.
Beach Our suite faced the child friendly Gulf facing shallow beach. Powdery white sand and about a foot of warm water greeted the bather at the water's edge followed by a sea grass covered area beyond it. The tranquil waters of the bay and sandy shore made a fun area to relax in one of the many beach chairs and two beach hammocks. Four sought after canvas umbrellas provided shade from the scorching tropical heat.
Facilities There was a reception building, restaurant, lagoon swimming pool with beach-style entry, 1,100 feet of shoreline with 2.5 acres of private sandy beach, fitness center and beach front tiki bar.
Fitness Center And Spa Tranquility Bay had a fitness center with ample room for pre-workout stretching, yoga and free weight lifting. There was a 42-inch plasma TV with cable service, two 115v Cybex Treadmills, one Cybex Arc Trainer, one Cybex Cyclone Recumbent Bicycle, and Cybex weight lifting machines, including chess press, lat pull-down, seated leg curl and leg extensions.
Pool A free form pool occupied the center of the property and faced the beach. There were lounge chairs and pool umbrellas scattered around the gated pool area.
Butterfly CafÉ
On our last night at Tranquility Bay we enjoyed a gourmet dinner at the Butterfly Café. First we had a light and fresh tasting Florida lobster tostada; followed by an Asian inspired surf 'n' turf served with Szechuan beef Carpaccio, tasty seared sea scallops, braised greens, and a soy yuzu vinaigrette. Next, we had a pan seared local hogfish on seafood risotto with passion fruit sauce. We finished with chocolate crusted key lime pie with white chocolate mousse, and the house specialty TDF (to die for) sticky toffee pudding which we loved. This little restaurant that could showed great promise. We look forward to sampling chef Shadow's inventive cuisine with an emphasis on local ingredients again.
Other There was premium cable TV service and DVD/CD stereo systems. The company's other luxury resorts in Marathon Key were a five minute drive away. Resort guests had access to the amenities offered at sister properties managed by Singh Hotels and Resorts in the Florida Keys. It was possible to charge dining and services to a guest account at Tranquility Bay Beach House Resort while visiting sister properties.
Cleanliness
Excellent
Date Of Review September 2007
ReviewersArticle by Elena del Valle
Photos by Gary Cox
Would You Stay There Again? Yes
Contact Information
Address:
2600 Overseas Highway
Marathon, FL 33050
Phone:
1-866-643-5397
+1 305-289-0888
Fax:
Website:
Email: