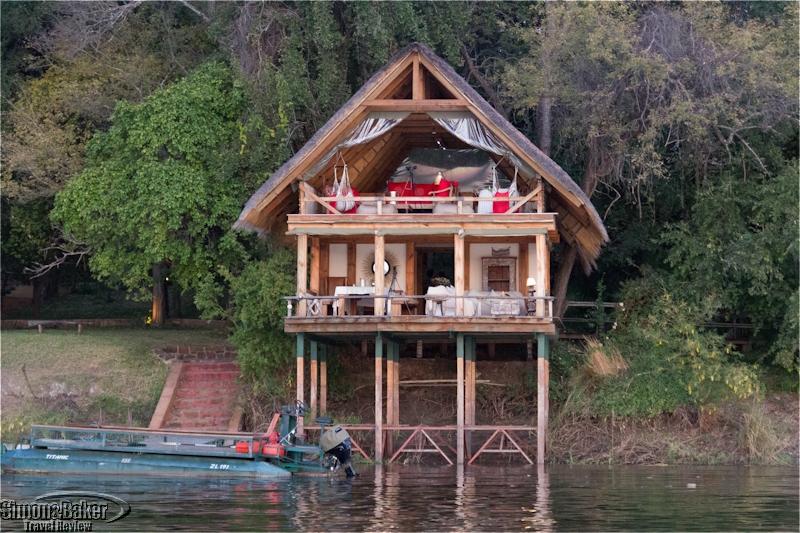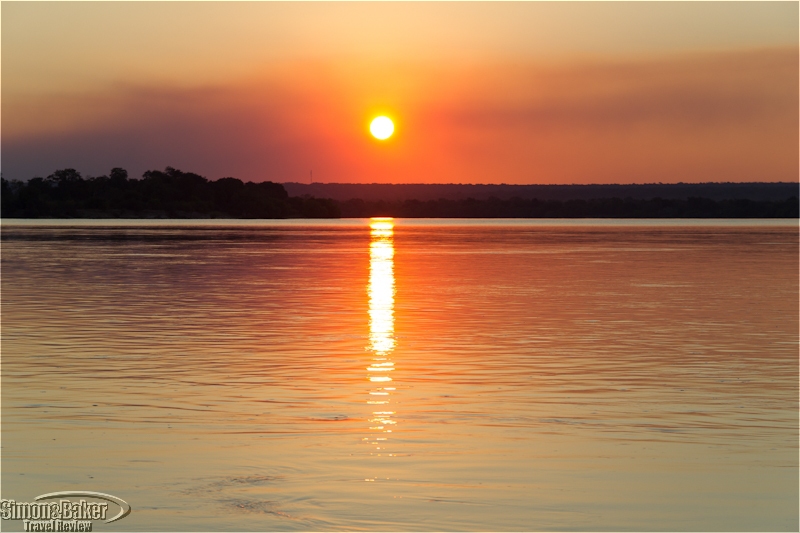 Should I be in Zambia again, I look forward to returning with my husband for a romantic getaway and pampering.
Overall Impression
When I think of my stay at Tongabezi Lodge in Zambia, I can't help but feel a sense of nostalgia. Tucked away in a lush green setting along the Zambezi River 40 minutes upstream from Victoria Falls, this luxury lodge with eleven rooms included meals, drinks, and an impressive array of activities. With a ratio of three staff members per guest, the personalized care was top notch.
I had my own personal valet, Japhet Nawa, the only one allowed in my room and whose primary responsibility during my stay was taking care of me (and he did an outstanding job). Along with Japhet, I had the opportunity to get to know a number of the staff members during activities, such as river guide, Captain Victor, and safari drive guide, Fabias. Each provided excellent service, always with a smile. I enjoyed fascinating conversations with them about their years growing up in the African bush.
The food was consistently tasty and healthy, made with organic ingredients, and served with thoughtfulness and care. My room was on the edge of the river and shaded by large water berry trees. It was a good spot to relax, especially while soaking up the sun in a lounge chair on my private terrace looking out onto the beautiful Zambezi River and listening to birdsong.
Opportunities for viewing river wildlife were outstanding. Never had I gotten so close to crocodiles as I did during a sunset cruise at the lodge. I felt in good hands with Captain Victor, who in his lifetime had captured over 800 crocodiles and set them free in areas of the river where they were less likely to be hunted. Bird viewing was also fantastic during river outings and the river guides offered informed explanations of the many varieties we saw. I saw vervet monkeys along the groomed pathway on the way to my room. I also saw "Henry the hippo" munching on grass at night. He had been a nightly visitor of Tongabezi for the last several years. I got a kick out of being told to peak out of my room in the late evening hours before stepping outside because hippos sometimes liked to rest on my terrace.
All in all I thoroughly enjoyed my stay at Tongabezi. It offered thoughtfully designed luxury accommodations on the banks of the Zambezi River with outstanding personalized service. The lodge was an ideal haven where I enjoyed adrenaline-pumping activities just as much as quiet moments appreciating the natural surroundings. Should I be in Zambia again, I look forward to returning with my husband for a romantic getaway and pampering.
Children
Youngsters aged seven and older were welcome at Tongabezi.
Class Of Accommodation Luxury river lodge with an array of inclusive activities
Connectivity Though slow, I always had Wi-Fi while in the Lookout Building (Wi-Fi was also available in the pool area and by the reception area).
General Manager Rudy Boribon
Handicapped Access No
Length Of Stay Two nights
Location Situated on the bank of the Zambezi River, Tongabezi Lodge was approximately 12 miles (20 kilometers) from Victoria Falls, a UNESCO World Heritage Site, and about 27 kilometers from the city of Livingstone.
Owners Benjamin and Vanessa Parker
Size Tongabezi occupied 105,000 square meters (26 acres), of which 300 meters were on the bank of the Zambezi River. The lodge had eleven rooms, five Cottages and six Houses that, in total, could accommodate up to 32 guests. Tongabezi had 60 employees.
Transportation There were a number of nonstop daily flights from Lusaka and Johannesburg, South Africa to the Livingstone airport, along with multiple weekly flights from Nairobi, Kenya and Nelspruit, South Africa. Tongabezi provided transportation to and from the airport, which took a little over 40 minutes. The driver explained that there were slight delays because of construction, and that usually the ride took about half an hour. Though the majority of the ride was on tarmac roads, the last 15 minutes was on a dirt road in the bush.
Year Open-Renovated Tongabezi opened in 1990 with five rooms. Since then, it expanded to include The Honeymoon House, the Tree House, Bird House, Dog House, the Nut House and the Garden House. During my stay they were renovating the Dog House. All of the Cottages were renovated two years prior to my visit. The renovation included an extension of the deck area made of flagstone tile.
Lobby And Common Areas
The lobby was in an open circular thatched roof structure. Plush cushions sat on top of stoned seating that aligned the edges of the lobby with throw pillows covered in Africa-style prints. Opposite the reception desk was a small gift shop with African wooden carvings, jewelry, purses, t-shirts and other memorabilia.
Behind the lobby was a well-tended garden with huge ebony trees and other native greenery. A flagstone-tiled walkway with stairs led to the central common room where guests could enjoy wonderful views of the bank of the Zambezi River. There was a two-story wooden Lookout Building with a thatched roof and an open back wall that offered outstanding river views. In the entryway sat a desk and computer where guests could access the Internet. In the adjoining room, there was a wooden dining table covered in a tablecloth and wooden bench-style seating that could accommodate 10 guests. The room was tastefully decorated with wooden lamps, stools, and a decorative table with an attractive mirror above it. On the day I arrived, I enjoyed a delicious three-course private lunch while looking out onto the serene river landscape. Next to the building was a small wooden dock where Tongabezi boat activities began.
A walkway connected the Lookout Building to a deck made of flagstone tile and wooden floors in the central common area. The deck housed a fire pit surrounded by several wooden director's chairs with canvas seating. It also served as a dining area where I immensely enjoyed sunrise breakfasts along the riverbank. The common area also included a bar, dining and lounge areas, under a tall thatched roof with a triangular-shaped entryway. The lounge had a lovely fireplace, surrounded by earth-tone plush couches and throw pillows.
Bathroom
The 15.7 square foot bathroom was in a separate room from the sleeping area and had a thick cloth curtain that served as a door. I found the décor of the bathroom to be charming. It had terracotta floor tiles intermixed with Mediterranean-style blue tiles. A circular stone wall surrounded the shower area. An attractive iron frame outlined the mirror above the ceramic sink, and similar to the bedroom, small iron animal-shaped knick knacks hung on the walls. An oversized sunken bathtub was next to the large window, where I enjoyed watching the African sunset while taking bubble baths. The bathroom had plenty of plush white towels.
Room I stayed in Cottage Five, about 300 meters from the bar and dining area. The 74 square meter circular room had a large thatch roof that covered an outdoor sitting area in the entryway. The room had plenty of natural light thanks to several large windows and double glass wooden doors leading out on to the patio. The windows had off-white curtains that were pulled back during the day. In the middle of the room two twinned-beds were pushed together to make one oversized bed under a mosquito-netted canopy. There was an air conditioner and heater unit above the bed. Room staff turned on an electric blanket for me during the turn down service. Near the door there was a standing fan and a wooden desk with a chair next to it.
There were small metallic decorations of animals and framed photos on the off-white plastered walls. A full-length wall mirror hung next to the bathroom. The white bedding was offset by colorful throw pillows that matched a black and rust-colored bed cover with images of animals. There were wood night stands on either side of the bed. A beige two-seater couch sat at the end of the bed. From it I could see onto the patio and river just beyond. There was a patterned deep red throw rug on top of a beige throw rug covering most of the copper-colored floor. Minor marks on the carpet and couch in front of the bed suggested wear and tear.
Food
The food was another highlight of my stay at Tongabezi. It was consistently nutritious and scrumptious, made with organic ingredients, and served with class. I had the chance to meet Chef Zuwi Nawa, a native of the area, who on my first day, introduced himself and asked me to choose from the lunch menu after carefully explaining the different dishes. I appreciated that he knew I was a vegetarian and asked if I was okay eating eggs and cheese. It made me feel as if he really took on board my dietary requests. Breakfast was served from seven until nine, lunch from one to three and dinner from seven thirty until nine.
Something that I liked about dining at Tongabezi was that I could request a specific location for my evening meals. As per my request, on the first night Japhet set up a lovely candlelit dinner with tablecloth on the deck of my room. I enjoyed a tasty pea soup as a starter followed by a vegetarian's delight of mushrooms, sautéed greens, zucchini and a sweet potato mash. The caramel pudding cake for dessert was delicious. On the second night I enjoyed another candlelit dinner with tablecloth seating on the second floor of the Lookout Building. Dinner started with a roasted tomato and ginger soup (loved those vegetable purees!), followed by fresh tilapia with spinach, asparagus and mashed potatoes, and finished with a scrumptious chocolate cake for dessert. All dinners were served with a bottle of house wine of my choice. I opted for a South African Sauvignon Blanc.
Breakfast was my favorite meal of the day not just because of the outstanding options, but also because it was so pleasant to watch the sunrise over the Zambezi River while sitting in the outdoor dining area. Breakfast started with a visit to a self-serve cart filled with a selection of fresh fruits and juices, cereals, cottage cheese, jams, yogurt and delicious Zambian coffee. Though this in itself would have been enough, after sitting down at my table a timid but friendly waitress handed me a menu that included one mouth-watering choice after another. I opted for the French toast with coconut. It was so good that I ordered it the next day without taking a glance at the menu.
Amenities
Room amenities included daily complimentary laundry service, a safe big enough to fit a small laptop computer and SLR camera, room and body insect repellant spray, bathrobes made of Chitenage, soap, shampoo, shower gel, and body cream in large dispensers labeled Tongabezi. Skin brand toiletries were made with organic ingredients. There was bottled water in a mini-fridge in the outdoor seating area of the entryway. Additional drinks could be stocked in the fridge upon request. I especially liked the complimentary bottle of sparkling wine I found in a bucket of ice. It went perfectly with the candlelit bubble bath Japhet had waiting for me on my return from a full day of activities. Meals and drinks were included in the nightly room fees. Guests could request massage treatments in their room for an additional fee.
Gift Shop Opposite the reception desk was a small gift shop with African wooden carvings, jewelry, purses, t-shirts and other memorabilia.
Pool The outdoor pool was set near a rocky ledge next to the main dining and bar area. The pool was 10 meters long by seven meters wide and three meters deep. The deck area was made of earth-tone flagstone tile and a beautiful massive ebony tree shaded the entire pool area. Guests could enjoy river views from the pool. Because of the cooler weather, I did not spend any time there.
Game Viewing Though technically not a game lodge, while at the property I saw hippos, crocodiles, monkeys, and a variety of birds: hammerkops, white-fronted beeaters, cape doves, red cormorants, Egyptian geese, and hadeda ibis. At Mosi-Oa-Tunya National Park I saw buffalo, impalas, zebras, pukus, giraffes, monkeys, baboons, vultures and other birds.
Activities
Fishing, canoeing, lunch on an island in the Zambezi River, a walking tour of Victoria Falls, game drives in the Mosi-Oa-Tunya National Park, sunrise and sunset boat cruises, and a visit to the neighboring school initiated by Tongabezi co-owner, Vanessa Parker were complimentary for lodge guests. Third party activities, such as a gourmet lunch and tour of Livingstone Island, were available for a fee.
While I was having lunch on the day of my arrival in the Lookout Tower, Quentino Mbingi, the activities director, introduced himself and shared a list of activities included in my accommodations rate, as well as others available at additional cost. Quentino explained each of the activities before stepping away to give me time to decide. He popped by after lunch to help me devise an itinerary that would allow me to squeeze in the many activities I wished to experience during my three-day stay. I was impressed at how accommodating and how quickly he put together a splendid activities program that hit all of my requests. He was friendly, professional and efficient. In the end, I chose a sunset boat cruise, a game drive at Mosi-Oa-Tunya National Park, lunch on an island in the Zambezi River, a fishing excursion, canoe trip and a visit to the Trust Fund School.
I enjoyed all of the activities, including a surprise visit to Livingstone Island. During the excursion I had the unique opportunity of sitting in a natural bathing pool in the Zambezi River on the edge of the 100-meter drop of Victoria Falls.
Other
Although I could come and go as I pleased during the daytime, at nighttime I used a walkie talkie to request an escort from my room since animals were known to walk around the grounds.
Tongabezi was on the electrical power grid and ran on 220 volts electricity. In my room, I used a three-prong adapter, compatible with United Kingdom plugs.
I appreciated Tongabezi's commitment to the education of local children. Upon entering my room, a welcome card, hand-written in crayon by a child, sat on my bed surrounded in rose petals. I soon learned that it was from one of the children attending Tujatane, the Tongabezi Trust School, a two-minute walk from my room. Vanessa Harper, the wife of Tongabezi owner Ben Harper, created and directed the school for children of staff members and children living in neighboring rural towns. Since its inception in 1996, the school has had bragging rights to outstanding school performance compared to other neighboring schools, thanks to its rigorous curriculum, effective school management, and necessary financial support from Tongabezi guests. I toured the school on my last day and heard numerous success stories about alumni. To name a few, one of the students from the original pre-k class had just finished his third year of medical school in the United States. Another had just gotten his commercial pilot's license. What impressed me about the school was its comprehensive approach to addressing the developmental needs of students. In addition to formal schooling, Tujatane also ensured that the students' medical needs and overall health issues were addressed. At the time of my visit, the school had over 200 students and had classes up to ninth grade.
Throughout my stay, staff members described a number of ways in which the Tongabezi owners invested in their employees, as well as efforts to support the local community. For example, Fabias told me that the owners had built of number of housing units within walking distance of Tongabezi for staff members who lived too far away to commute on a daily basis. Living in the mini-village meant staff members could be with their families during the workweek. The property also provided transportation for employees commuting to and from Livingstone. Quentino appreciated the additional training the property provided its employees. He started out as a mechanic, for example, and worked his way up to becoming a certified river guide thanks to Tongabezi's support. Guides, waiters and housekeeping staff, I was told, were given an opportunity to engage in interactive online training. The chef received ongoing training every three years either from a visiting chef or by traveling overseas for a month at the company's expense.
Tongabezi received the 2012 Travel + Leisure Global Vision Award for community building. The lodge had 2012 and 2013 Trip Advisor Certificates of Excellence.
Cleanliness
Excellent
Date Of Last Visit June 2013
Reviewers Article and Photos by Laura Scheiber
Service One of the most outstanding aspects of Tongabezi was the service. I could not have asked for a better personal valet. Japhet was consistently attentive while not being invasive. He always seemed to be two steps ahead of me in terms of planning out my days and ensuring I had everything I needed. Before I set off on a full day of activities, he asked what time and where I wished to have dinner. My room was serviced at least twice a day, and every time I came back it had been tidied up.
I had the opportunity to chat in depth with a number of staff members during activities, and found them to be consistently friendly, attentive and helpful. While trying to decide between a fishing trip or sunset cruise on my way back from Livingstone Island, Fabias phoned Tongabezi to find out which activities had available slots. When I got a late start to my private canoe trip Captain Victor and Quentino adjusted to my schedule without a bat of an eye. During all of the activities, the staff offered me refreshments and they often checked in with me to ensure I was having a good time.
Would You Stay Again? Yes
Contact Information
Address:
Private Bag 31
Livingstone
Zambia
Phone:
Fax:
Website:
Email: