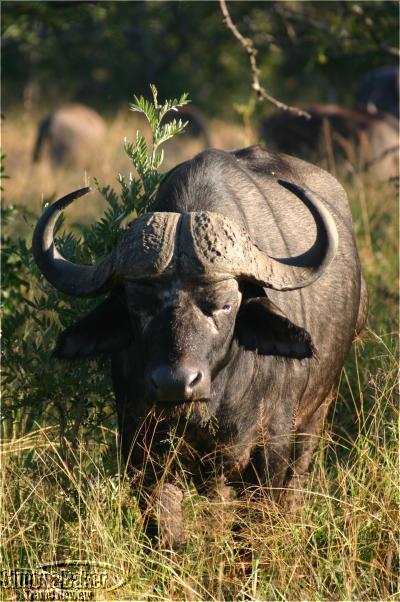 Though it was difficult to leave the comfort of our spacious African design suites, with private plunge pools, in the cold of early morning winter, our drives were rewarding.
See our most recent review
here
.
Overall Impression One of the oldest game lodges in South Africa , Thornybush was also one of our favorite for game viewing and a pleasure to visit. As in other lodges, we started our game viewing drives around dawn. Though it was difficult to leave the comfort of our spacious African design suites, with private plunge pools, in the cold of early morning winter, our drives were rewarding.
Children
: Had to be five years or older for game drives and 12 or older for bush walks
Class Of Accommodation 5 stars (Awarded by South African government entity)
General Manager JB Burger
Handicapped Access Not fully wheelchair accessible. Inquire for specific needs
Length Of Stay Two nights
Location Thornybush Reserve is adjacent to the Timbavati Reserve and near the Kruger National Park Orpen gate
Managed Inzalo Exclusive Safari Destinations
Owned Thornybush Inzalo , Ltd. Directors: J Fox, CRM Napier, RS Napier, AF Payne, AG Payne, D Stadler and G Van Heerden
Size 18 luxury rooms and 2 family suites for up to 40 guests. Serviced by 80 (25 percent of which are on leave at any time) staff members in 13000 hectares
Year Opened-Renovated Originally built in the 1960's Thornybush was redesigned; partially rebuilt and re-opened in August 1998
Lobby And Common Areas: Understated African décor including original B & W Donald Heywood (South African artist) sketches in the lobby and prints in the rooms. Also, wood crafts and baobab tree fruit.
Bathroom
: Our spacious bath room had large glass windows on two sides allowing us to shower or bath while looking out at the bush with complete privacy. It had concrete flooring; an inviting bathtub facing the bush with an adjacent shower. A wood and glass door led to a partially enclosed space facing the bush which was the outdoor shower. On the other side we found twin sinks and a separate water closet. A sign invited guests to conserve water by showering instead of bathing and reusing towels.
RoomOur 13 m x 5 m (65 square m or 650 square feet) Safari Suite (#19) had stone concrete flooring. It included air conditioning/heat, a king bed with night stand and lamp on each side, a small desk and mirror with two lamps, a phone with international dialing capability, one two and one three seat sofa and a large coffee table, a mini-bar and black and white African wildlife prints.
Food A la carte lunch selections we sampled included chili and papaya cold soup; Caesar, chicken and Greek salads; and a Thornybush club including a fried egg, bacon, chicken and tomato. A la carte dinner courses included: main courses of beef, salmon, ostrich, sweet potato curry soup; and Parma ham. Breakfast was a combination cold buffet options and a la carte hot plates. We especially enjoyed the cozy dinner in the "library," where we chatted and satisfied our hunger by the fireplace. The tap water was safe to drink and there was bottled water in the mini-bar.
Amenities
Thornybush toiletries including shampoo, conditioner, body lotion, bath salts, shower gel, two bath robes and candles. There was also a mini bar.
Facilities Swimming pool, two of the family suites had their own plunge pools (ours was one of these), curio shop, small Guerlain spa, library, conference room
Pool Yes
Game Viewing
The Thornybush reserve, one reserve away from Greater Kruger National Park, housed five lodges plus the Main Lodge. There were no fences within the property which improved game viewing opportunities. The reserve was more than 100 square kilometers in size and about 580 meters above sea level. The Monwana River, which dried out during part of the year, meandered through the Big Five reserve, which was also home to some 250 species of birds. There were eight rangers including our 20-year veteran guide, Joseph Mabunda, and eight trackers, also with years of field experience. Sightings within the Reserve were limited to two vehicles, which improved our viewing experience and seemed to stress the animals less than the ten or twenty vehicle sightings allowed elsewhere.
We saw: Mammals: kudu, lions, blue wildebeest, cape buffalo, grey duiker, waterbuck, Chacma baboons, vervet monkeys, elephants, Burchell's zebras, cheetah, and giraffes.
Birds: Burchell's coucals , forktailed drongo , crested, natal and Swainson's francolins, grey and yellowbilled hornbills, redcrested korhaan , grey lourie , green African pigeon, lillacbreasted roller, and glossy starling.
Activities
Activities included early morning and evening game drives, walking safaris, a swim in the pool, and spa treatments. There was also a selection of off-site excursions to elephant back safaris, a cheetah project, white water rafting, a reptile park, hot-air ballooning, a village experience, a scenic tour of the area, an animal rehabilitation project and golf. By prior arrangement, it was also possible to schedule team building activities. A corporate group, checking in as we departed, had requested such an activity program.
Our spa visit though brief was relaxing and fun. Audrey Prinsloo, a trained masseuse, looked after us with a deep tissue massage and waxing. We had a light and delicious lunch salad which we enjoyed in the quiet of the treatment room in between sessions.
Conference Facilities
For a maximum of 40. Audiovisual equipment available: Overhead projector and screens.
Curio Shop One of the largest (13 meters x 5 meters) and best supplied curio shops we visited in the bush including painted ostrich eggs; animal and mask wood carvings. There was also a selection of Thornybush brand clothing; fleece blankets, costume, gold and silver jewelry from Swaziland; impala horn cutlery; warthog horns; toiletries; and swimming pool fancy slippers.
Other Thornybush had regular power and a back up generator. It was disappointing though not too surprising that our cellular phone did not work. Satellite Internet service was available at the reception office. There were plans for a guest dedicated connection to be set up in the library.
For direct fly-ins, a 1200 meter hard top landing strip was close to the lodge. Eastgate airport was within 20 minutes drive from the reserve with flights arriving daily from Johannesburg and Cape Town to that airport.
Check-In-Check-Out
Check-out was at 11 a.m. Due to faulty phone lines they requested guests allow extra time for the credit card payment process.
Cleanliness Excellent
Date Of Last Visit 2004 2011
Reviewers Article by Elena del Valle
Photographs by Chester Godsy and Joni Johnson-Godsy
Would You Stay Again? Yes
Contact Information
Address:
Main Lodge
P.O. Box 169
Hoedspruit 1380
Timbavati Reserve
Limpopo Province
South Africa
Phone:
+27 11 883 7918/9
+27 15 793 1976
Fax:
+27 11 883 8203
+27 15 793 2230
Website:
Email:
Map of Property :