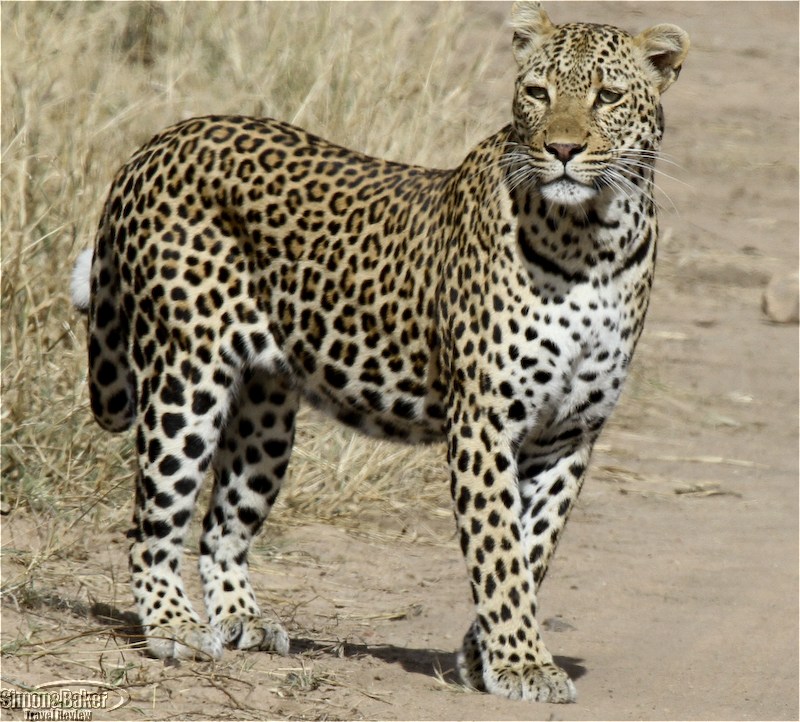 Most importantly our outings focused on quality versus quantity, allowing us to linger when we encountered something interesting to view regardless of the size.
Overall Impression
A family friendly Big Five property Thornybush is in the heart of the Thornybush Nature Reserve, a private 11,500 hectare game reserve near Kruger National Park. The small lodge faced north onto the dry riverbed of the Monwana River and offered spacious and comfortable rooms with a riverbed view, modern amenities, meals and twice daily game drives.
In between game drives we saw warthogs and nyala feeding on the lawn near the lodge main area. I spotted two dwarf mongooses in the bush area adjacent to my room. I sat on the steps and they approached to three feet away from me. One of the best and closest sightings of a male nyala we have had was in the bush near the lodge pool while walking back to our rooms in the late morning.
Our stay at Thornybush was memorable in great part due to private game drives with Gregory de Klerk and July Ngobeni, our ranger and tracker team who had worked together for four years. In their company we saw the Big Five, cheetah, burrowing asp and African rock python snakes and countless birds. Most importantly our outings focused on quality versus quantity, allowing us to linger when we encountered something interesting to view regardless of the size.
Children
The property welcomed children of all ages. Children six and older were welcome on the game drives.
Class Of Accommodation Luxury Five Star safari lodge
Connectivity There was 3G internet access was via a desk top Dell computer in the library. The day we arrived the connection was down so we were unable to connect. The second day I was able to go online after breakfast. There was a notebook where guests wrote their room number, the date and the amount of time they were online so they could later be charged (20 rand for each 15 minutes). The connection, although slow, worked well for basic needs.
General Manager JB Burger, who was in charge when we visited Thornybush, was promoted to an executive position. Grant and Melanie Parker, managers of Simbabili, a sister property, were appointed managers following our visit.
Handicapped Access To reach the dining areas it was necessary to walk down stairs or walk around through the pool area. Paved pathways led to the rest of the common areas and rooms. Wheelchair bound guests were welcome at the property and two of the rooms were wheelchair friendly, according to management.
Length Of Stay Three nights
Location The lodge was located within the Thornybush Nature Reserve, about three hours from the Kruger Mpumalanga International Airport. The global positioning system (GPS) coordinates for the lodge were S24.24.41 E31.10.02,2.
Owned- managed Inzalo Investment Holdings (Pty) Ltd
Pets Allowed No
Size There were twenty rooms at the lodge, eight rooms to the left of the dining and bar area, nine to the right of it and three to one side of the spa. Two of those rooms (rooms 19 and 20) had private plunge pools. We estimate there were about 35 staff employed at the lodge. Thornybush Game Lodge shared the 11,500 hectare Thornybush Nature Reserve with several other commercial properties owned by the same company and other privately owned lodges open to the public as well as private use lodges.
Year Opened-Renovated The lodge was established in the late 1960s, making it one of the oldest in the area. The property was redesigned and refurbished in 1998 and 2000. In 2007, there was a soft refurbishing.
Lobby And Common Areas The property, built in a classic bush lodge style with soaring thatched roofs, open design and safari memorabilia, was divided into several buildings. From the arrivals parking area we first entered an open building that housed the reception area, office, gift shop, public rest rooms and library. The dining room, bar and swimming pool were at a lower level and across the lawn from the main building facing the dry riverbed. The spa was immediately to the right of the main building as were two rooms. The other rooms, each in individual buildings, stretched along the riverfront to either side of the dining room and pool area.
Bathrooms Double wood doors with large glazed glass in the center led to a spacious bathroom with indoor and outdoor showers, a bathtub and a riverbed view. To the right of the entrance, double sinks occupied the space adjacent to the wall, below a wood framed rectangular mirror. A bathtub next to an oversize curtainless window with a lovely river view occupied the other side of the room. A partial glass wall separated the bathtub from a doorless shower with a pebble floor which was also next to an oversize window facing the river. Across from the shower there was a water closet. Between the two a door led to an outdoor shower area. There were signs of age in the decor in the worn corners of the wood in the shower, and the large putty colored towels had a slight musty odor.
Rooms
We stayed in Standard Suites 9 and 10 which faced each other across two paths and a small brush area. The rooms, decorated in a classic safari style, had a bush and river view, high ceilings reaching up to a thatched roof, polished concrete floors, rough surface walls and spacious bathrooms also with a view. Rooms 9 and 10, the nearest to the swimming pool on the right side of the main area, faced the Monwana River, a seasonal river that ran about two days a year on average. The nearly identical rooms were 52 square meters in size indoors with a 3 square meter outdoor shower and a 15-square meter outer deck facing the river. Sliding wood framed glass doors in both rooms led onto a river facing balcony with two wood armchairs and a table, my favorite part of the rooms.
Room 9 had a queen bed, framed by identical wood night tables with lamps (and one phone) and enclosed by mosquito netting at night. Two chairs stood across from each other near the entrance. A mirror facing vanity table (we used it as a desk) and stool occupied the left corner of the room. The bottom of the table housed a mini refrigerator. On the top there was a plant, a lamp and a folder with information about the lodge.
Room 10 was furnished with twin beds set close together and framed by identical wood night tables with four drawers and lamps on the sides and a bench at the foot of the bed; all of which was under an oversize mosquito net at night. There were two armchairs near the entrance, a cushioned wicker chair and a cloth and wood chair. Across the room there was a wood table top and a stool facing the wall which had a large wood framed mirror. On the table, there was a plant and a lamp; at night the staff would set a coffee and tea service tray (the rest of the time it was in the closet). Below the table top there was a minibar.
Meals
As with many safari properties meals were scheduled around game drives and served on the riverbed side deck. One night we had a lovely starlit
brai
(grilled) dinner on the lawn. Except for breakfast and the
brai
which were self service lunch and dinner were plated. Meals were "bush nature together with continental influences." Breakfast on our return from the morning game drives at about 9 a.m. was a cold buffet of fruit juices, cereal, yogurt, fruit salad, ham, cheese, muffins and croissants. At the table the staff brought us hot beverages, toast and made-to-order eggs. There were daily breakfast specials. The special Wednesday, for example, was eggs Benedict.
For lunch (between 1:30 p.m. and 2:30 p.m.) we ordered from an a la carte menu. One of the servers brought rosemary flavored fresh bread. We started with a Rocket salad with a light citrus dressing. For mains we had Fried fish and French fries and Chicken kebab with potato wedges and chili sauce. There was ice cream for dessert. For our second lunch the staff brought a platter with beetroot and feta cheese and garden salads, cous cous, cold roasted chicken and cold spare ribs. For dessert there was milk tart.
A plated dinner from a two choice per course menu was served on the river facing terrace. For the first course we had Mozambican prawns; for mains we had springbok shank with mashed potatoes and salad; and for dessert we had Malva Pudding.
During game drives breaks were possible. This allowed us to stretch out legs, make a "pit stop" and have a beverage and snack. One evening during sundowner drinks we were offered South African sausage and popcorn.
Monkeys were rather cheeky. One shameless monkey stole a bread roll from my plate just after the server brought it then sat on the nearby roof to munch on it at leisure.
Amenities
The following were in my room: electronic safe, blow dryer, house brand toiletries in full size glass bottles (shampoo, conditioner, body lotion), two candles, bath salts, shower cap and house brand still and sparkling water. On the table there was a cutting board, a lemon and a green apple as well as a corkscrew (for the red wine from the mini bar) and a knife. There was a vanity set in the closet, mosquito repellent, insect spray and a flashlight. Sometimes when we returned from the game drives a staff person provided us with moist towels. At night on our return from the game drives there was a welcome beverage like sherry or Amarula liqueur.
Facilities There was a curio shop, spa, bar, terrace dining area, library and conference room.
Fitness Center And Spa There was a two room Amani Spa.
Gift Shop At the entrance there was gift shop which was open during the day. It was manned, on request, by one of the staff. There was branded clothing, costume jewelry, books, and household items on sale.
Pool The swimming pool, sandwiched between the bar and the first set of rooms, faced the river bed. There were cushioned lounge chairs scattered around the pool. The water was a bit murky and there were leaves at the bottom of the pool. An automated pool cleaner was in the pool every time we walked by.
Game Viewing
At the lodge, field and lodge staff had training qualifications and standards that "meet or exceed legislated" Field Guide Association of Southern Africa (FGASA) regulations and some were licensed for walking trails.There were five open game viewing vehicles at the property, each assigned to a ranger and tracker team. A maximum of eight guests was seated per vehicle. When we first arrived we were assigned to a game viewing vehicle shared with four other guests plus Ocean, the ranger, and Ishmail, the tracker. The Land Rover 4 x 4 had cushioned seats and the vehicle rails were wrapped in canvas.
After that Greg and July, who had worked as a team for four years, were our ranger and tracker. July, whose specialty were big cats, had been at Thornybush for 17 years. Greg, a birding enthusiast who had seven years of experience, had worked at a snake and reptile farm among other places before joining Thornybush. He was knowledgable and took the time to stop for birds, insects, and plants as well, of course, as the big animals. A photography enthusiast he was adept at positioning the vehicle for optimum advantage even though he refrained from bringing his photography equipment on game drives with guests to avoid being distracted, a courtesy we greatly appreciated. Greg and July worked with a silent radio, making the drives pleasantly quiet. Only two vehicles were allowed per sighting within the reserve.
Animals we saw: Cape buffalo, common duiker, impala, greater kudu, nyala, blue wildebeest, chacma baboon, vervet monkey, elephant, Burchell's zebra, cheetah, leopard, lion (male and female), lesser bushbaby, giraffe, spotted hyena, Cape porcupine, scrub hare, white rhinoceros, tree squirrel, common warthog, African civet, dwarf mongoose, flap-necked chameleon, marsh helmeted terrapin, foam nest frog nest, lung fish. We also saw two snakes: burrowing wasp, African rock python, African monarch butterfly, millipede, golden orb-web spiker, and community nest web spider.
Birds we saw or heard: arrow-marked babbler, crested barbet, dark-capped bulbul, lizzard buzzard, steppe buzzard, rattling cisticola, Burchell's coucal, bronze-winged courser, long-billed crombec, Cape turtle dove, fork-tailed drongo, bateleur, tawny eagle, Wahlber's eagle, black-crested snake-eagle, red-footed amur falcon, African paradise flycatcher, spotted flycatcher, crested francolin, Natal francolin, grey go-away-bird, dark changing goshawk, helmeted guinea-fowl, hammerkop, white-crested helmet-shrike, grey heron, red-billed hornbill, yellow-billed hornbill, purple indigobird, brown-hooded kingfisher, woodland kingfisher, red-crested korhaan, blacksmith lapwing, red-faced mousebird, eastern black-headed oriole, African scops-owl, pearl-spotted owlet, three-banded plover, red-billed quelea, European roller, lilac-breasted roller, woodland sandpiper, common scimitarbill, magpie shrike, red-backed shrike (male and female), southern white-crowned shrike, Swainson's spurfowl, Burchell's starling, Cape glossy starling, marabou stork, woolly-necked stork, marico sunbird, barn swallow, southern black tit, white-backed vulture, long-tailed whydah, emerald-spotted wood-dove, green woodhoopoe, and golden-tailed woodpecker.
Plants: They pointed out acacia knobthorn and yellow tree orchid.
Conference Facilities
There was a room with meeting space for 40.
Other On arrival we were asked to sign an indemnity form. There was no fence around the property. At night we had to be escorted to and from our rooms to the lodge for meals. I sent my laundry out before the morning game drive and one of the staff delivered it before noon. There was a private airstrip very near the entrance to the lodge at 24° 25 ́50 sec S 31o 09 ́30 sec E. There was a satellite television and DVD player in the library. There were also books, a local insect display, historic newspaper articles and photos. While we were there there was a party of two adults and two young children. When I was in my room and they were playing at the pool I could hear them clearly from my balcony. The rooms were sprayed with insecticide regularly which kept the number of insect low; although I saw a handful of insects in the room they were not a bother.
Cleanliness
Very good
Date Of Review March 2011 2004
Reviewers Article by Elena del Valle
Photographs by Gary Cox
Service Our rooms were serviced twice daily. Donna, the front desk person, looked after us when we had questions during our stay.
Would You Stay There Again? Yes
Contact Information
Address:
Thornybush Nature Reserve
C/O The Thornybush
Collection
P O Box 1672
Rivonia, 2128
South Africa
Reservations:
Lodge:
Fax:
Website:
Email: