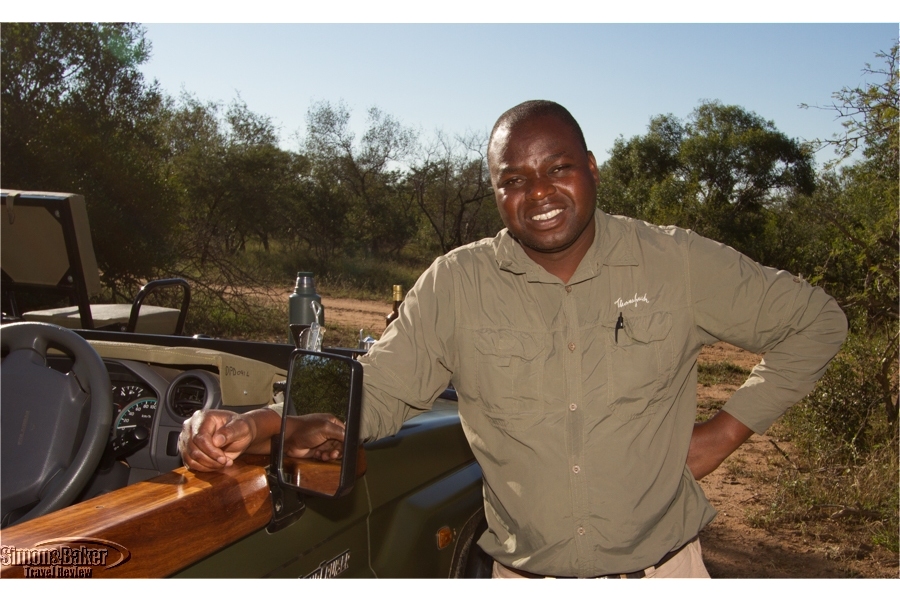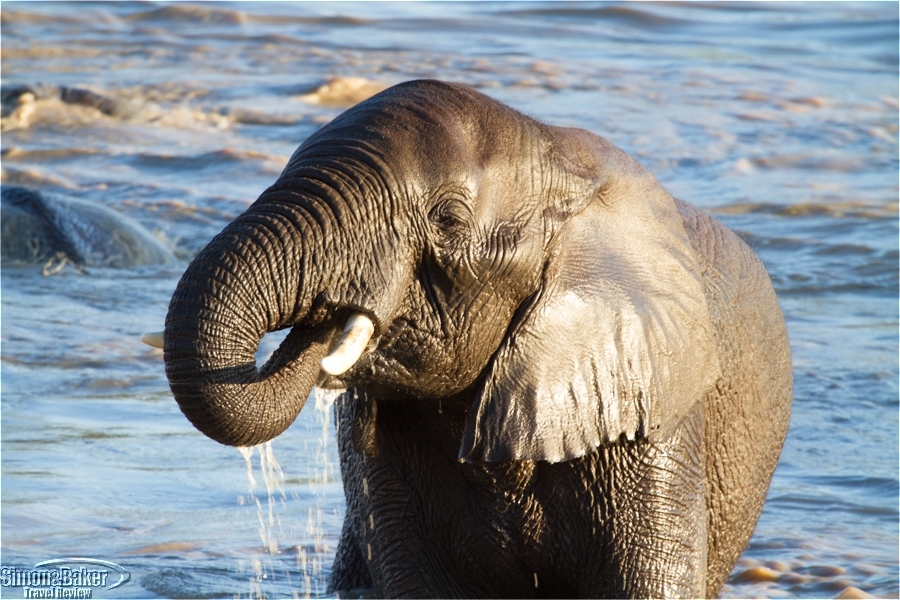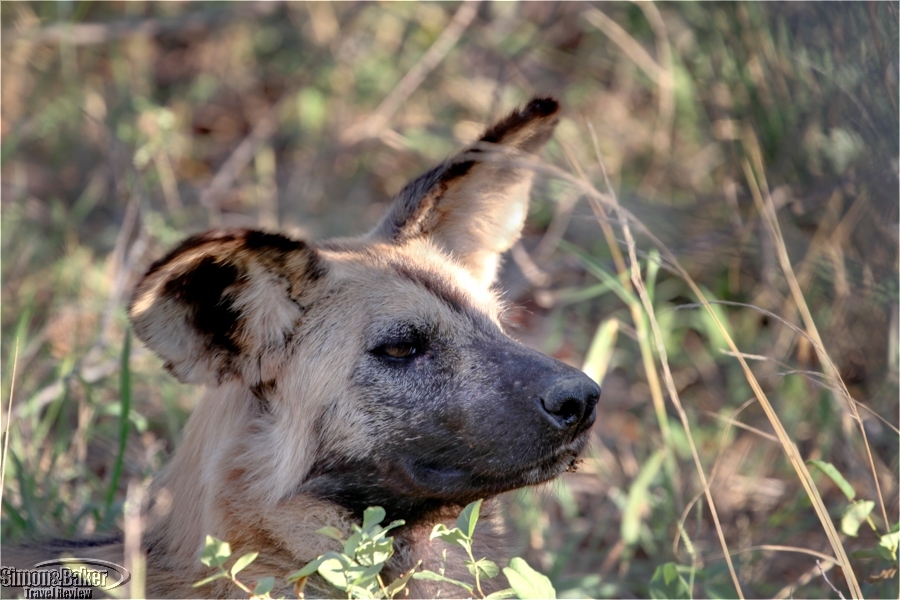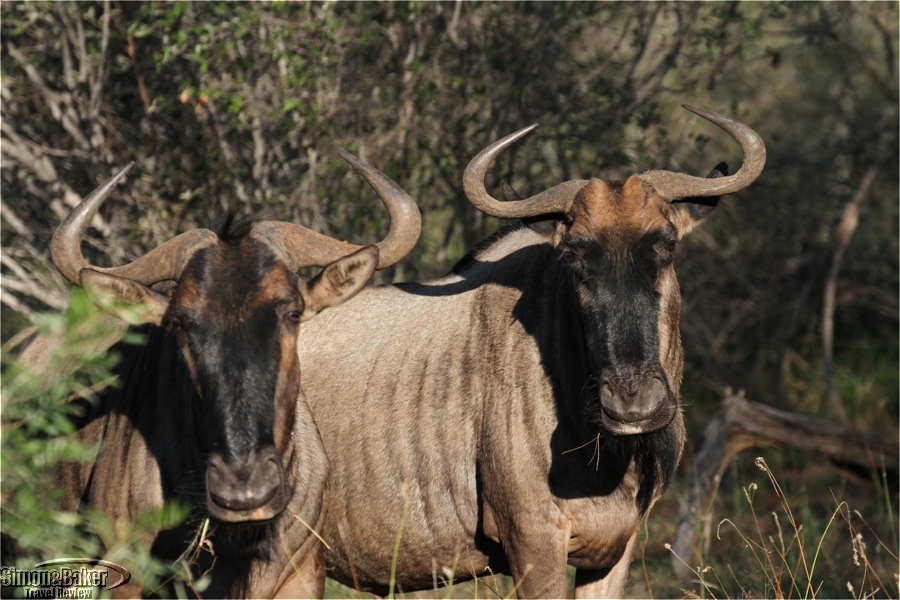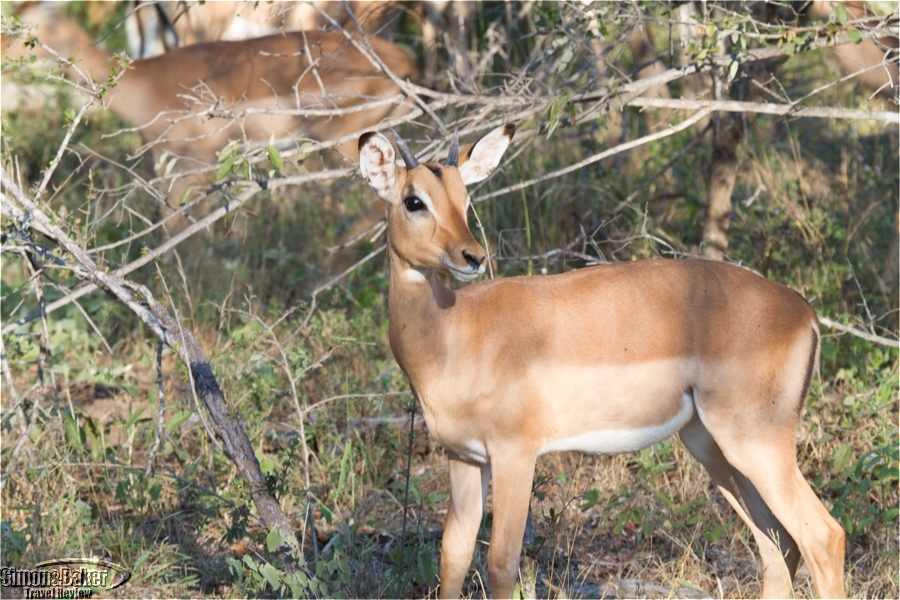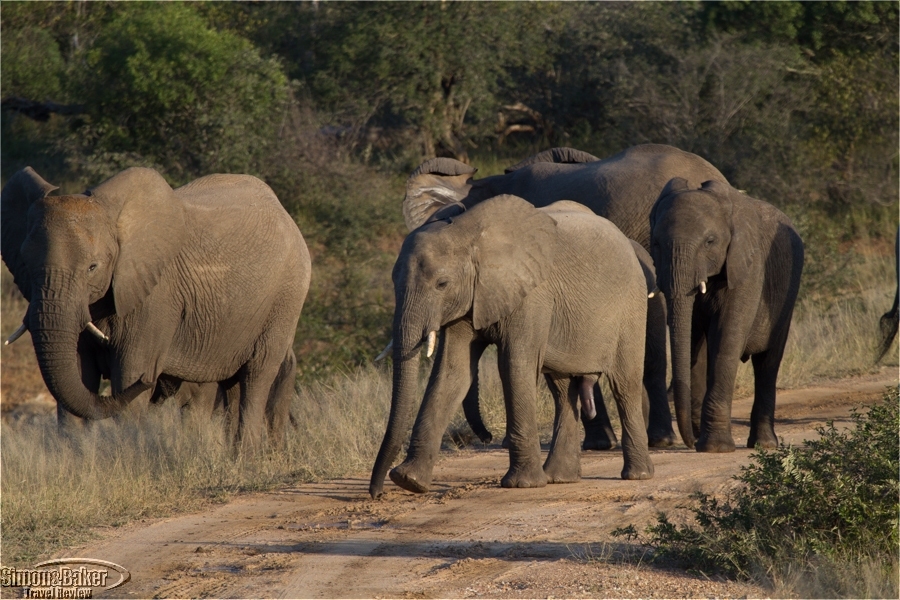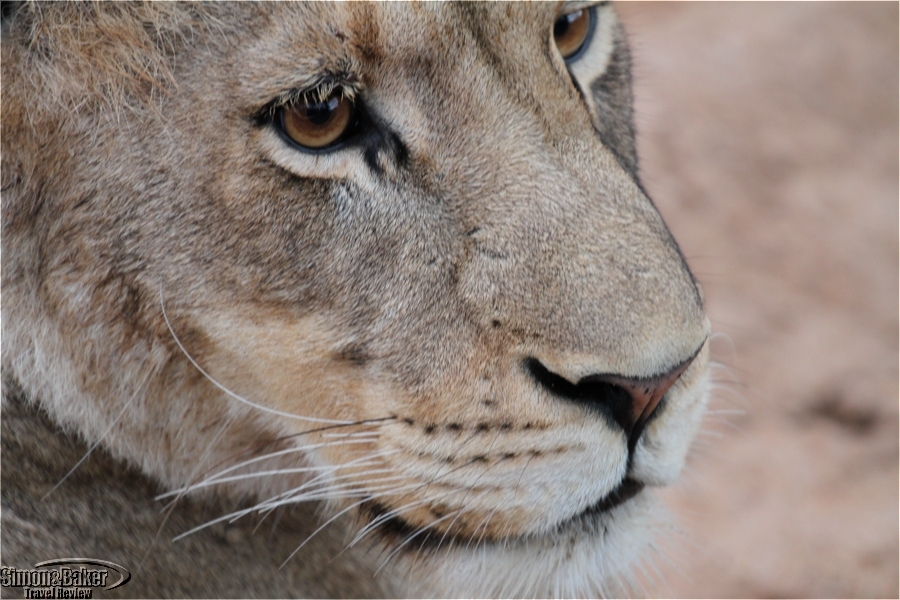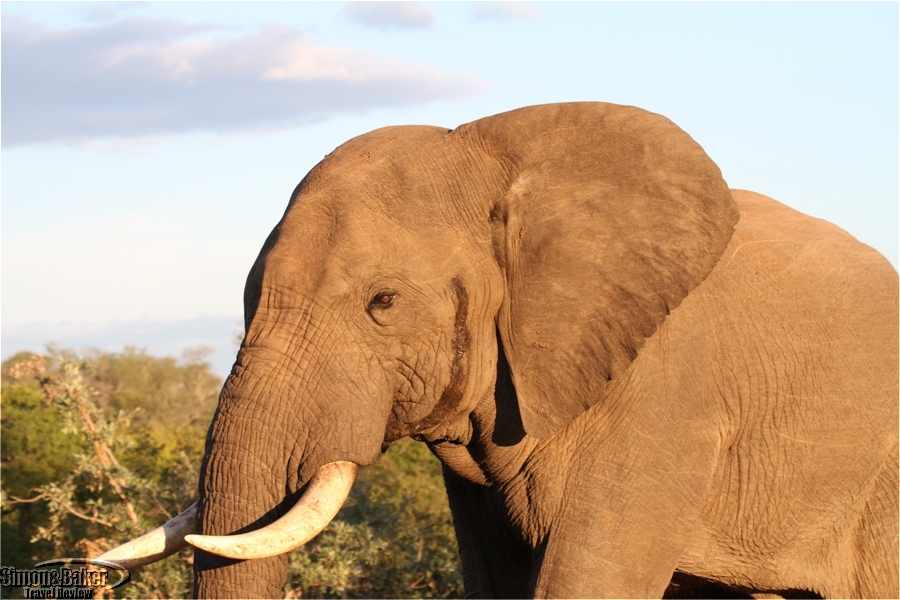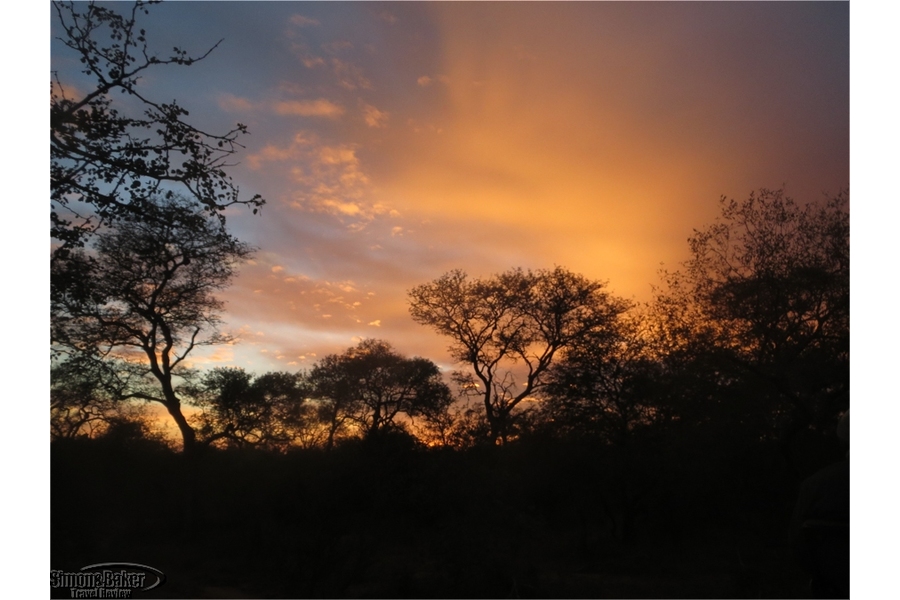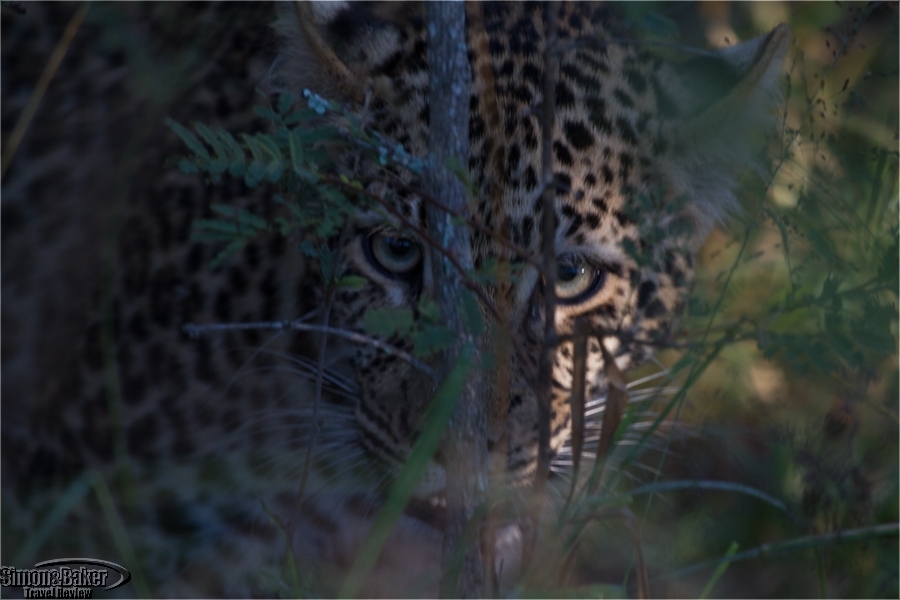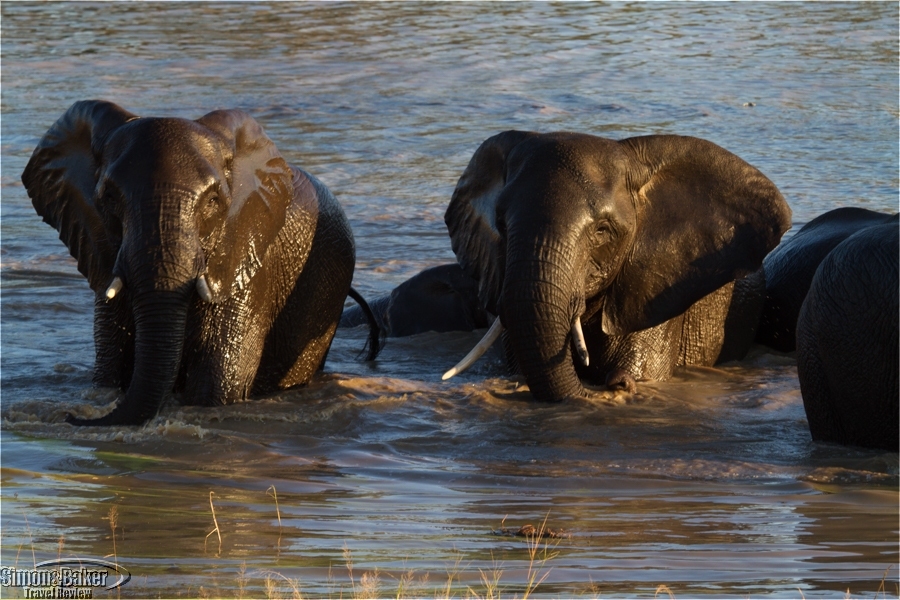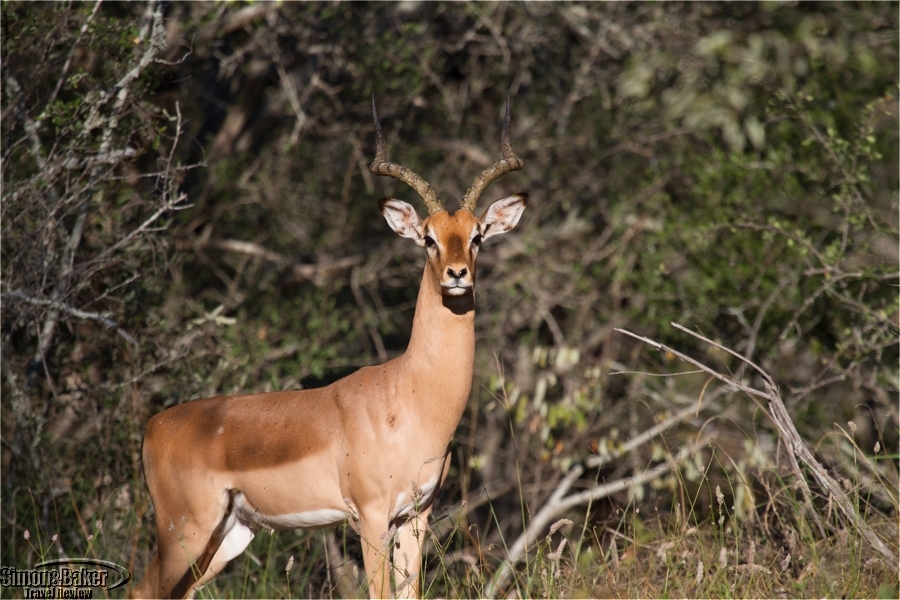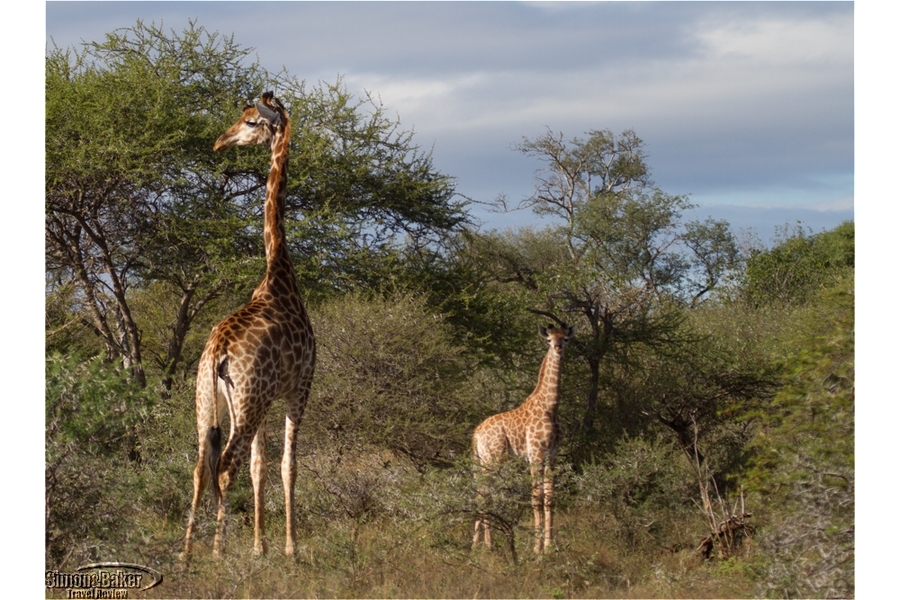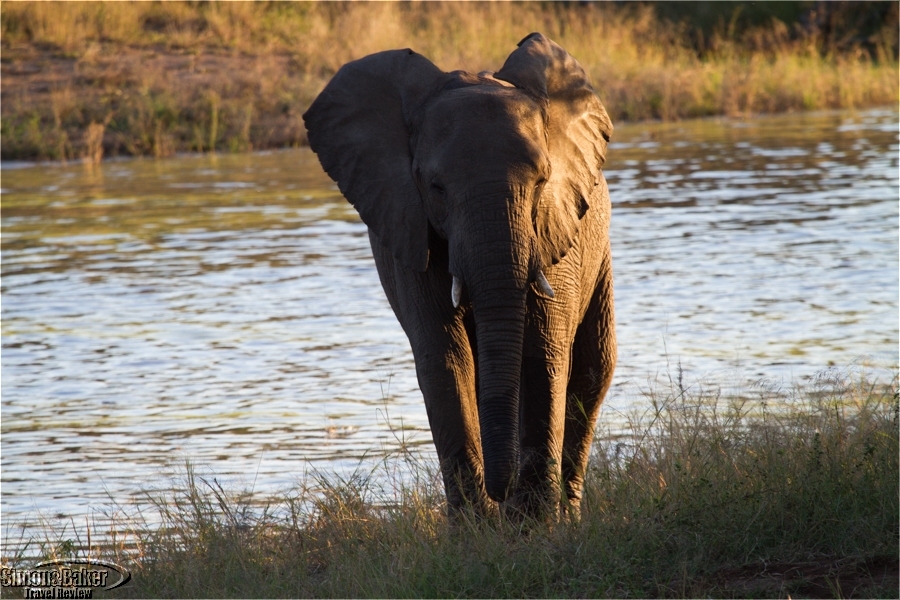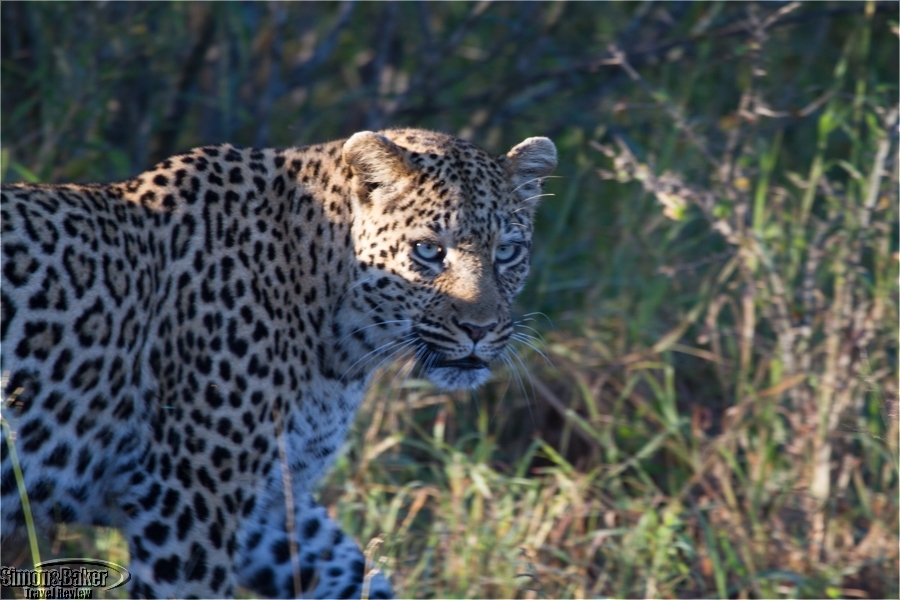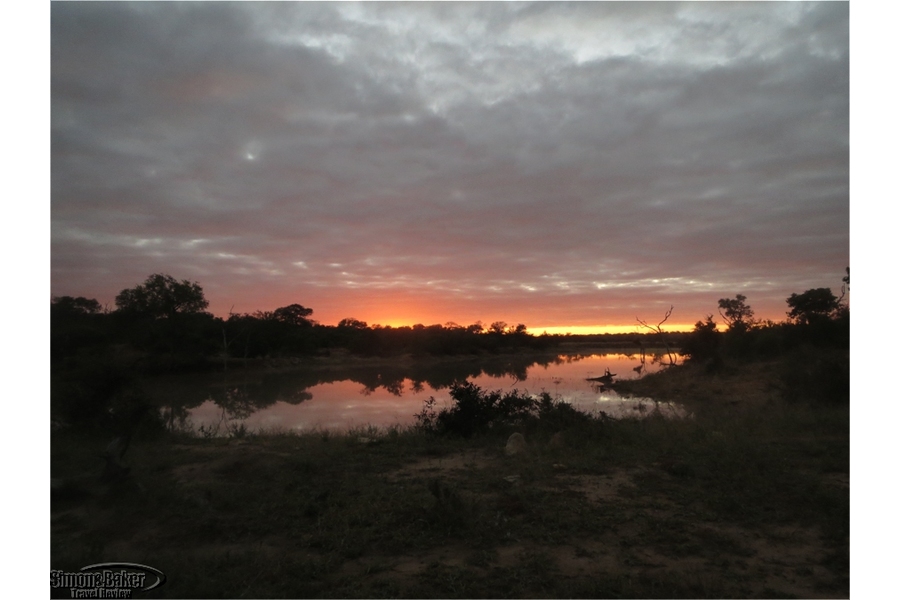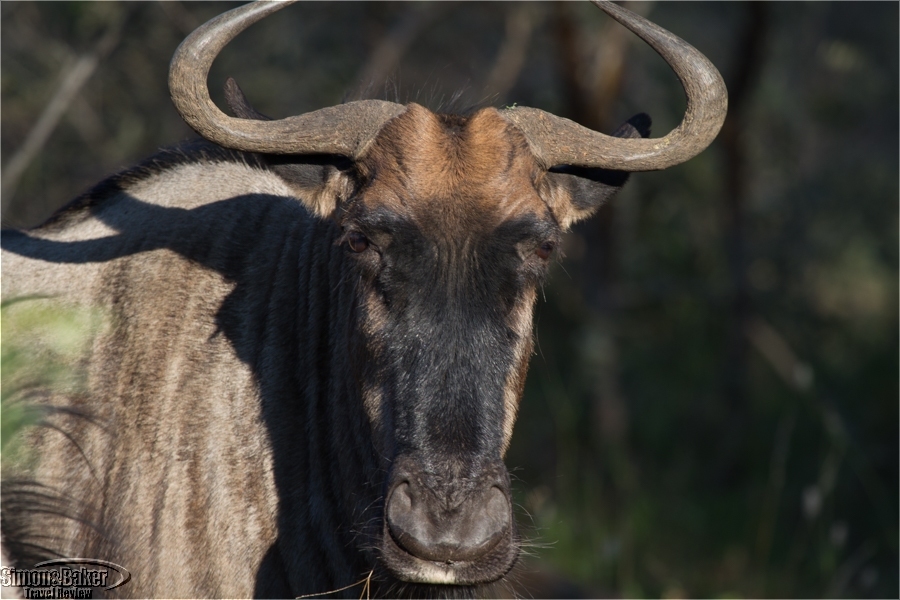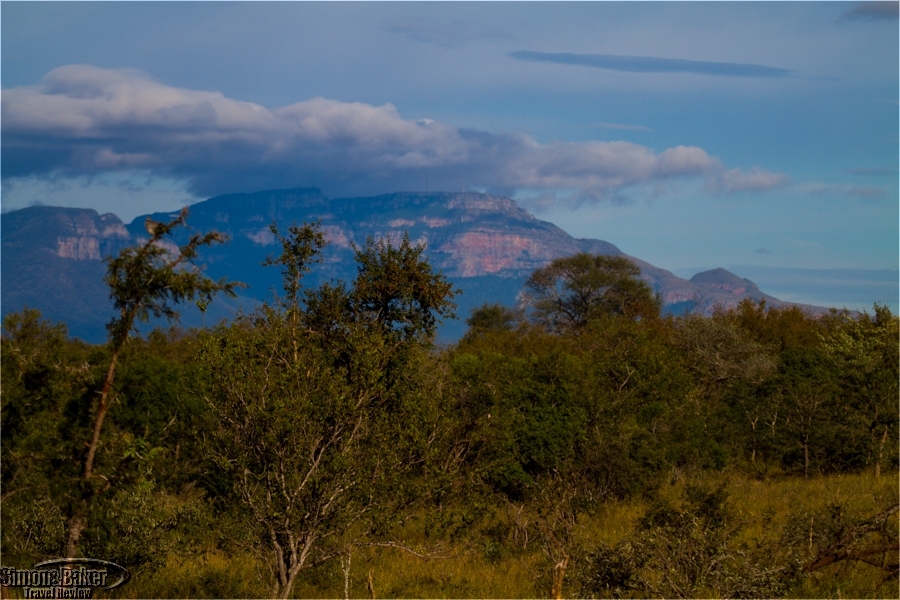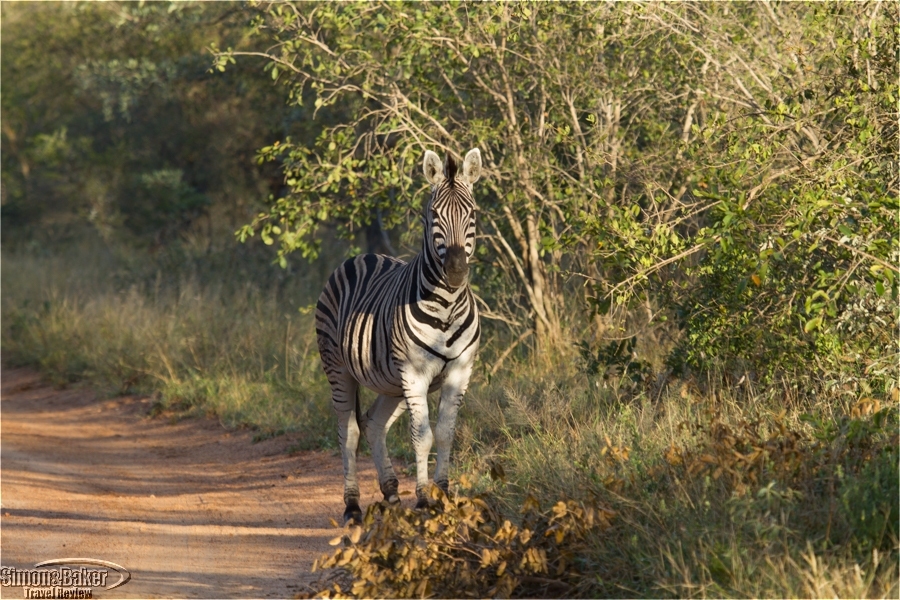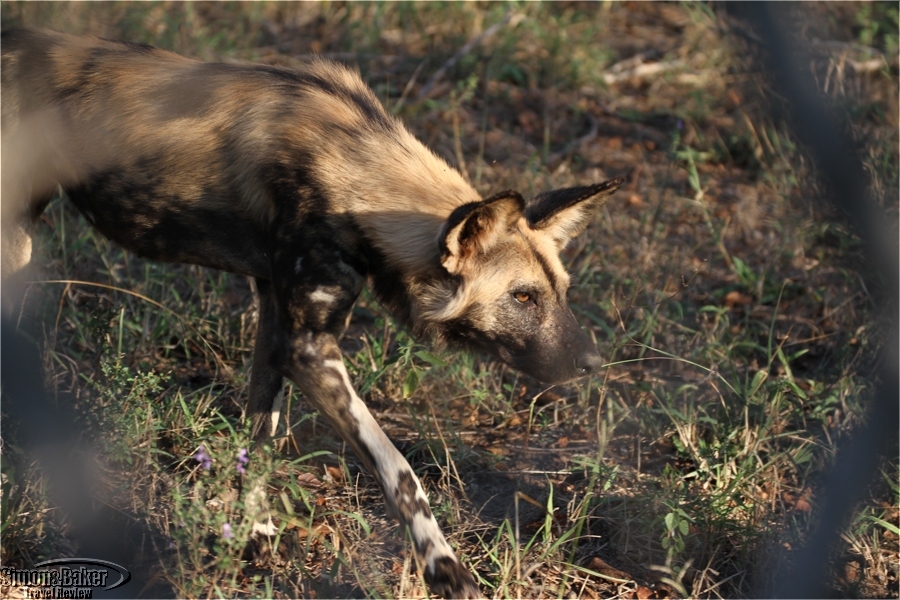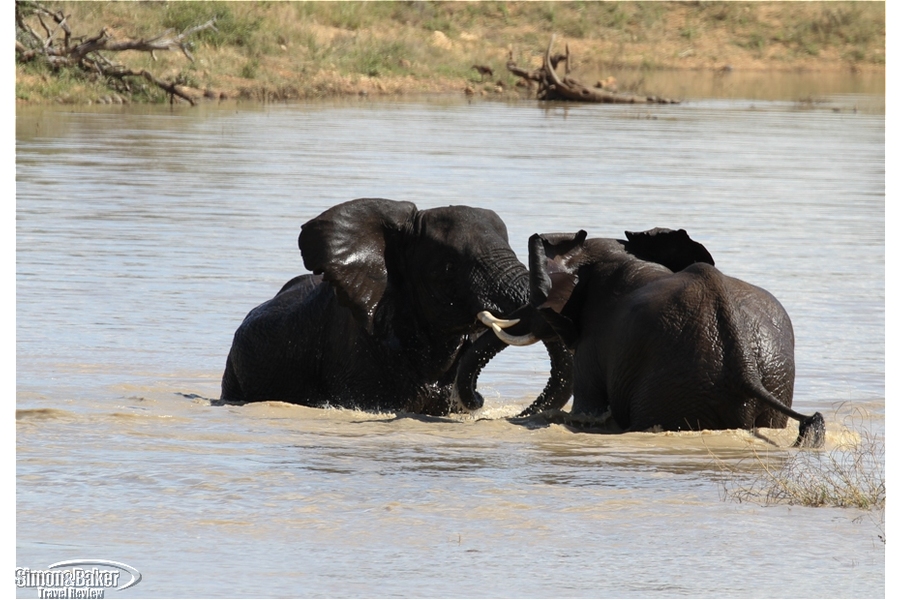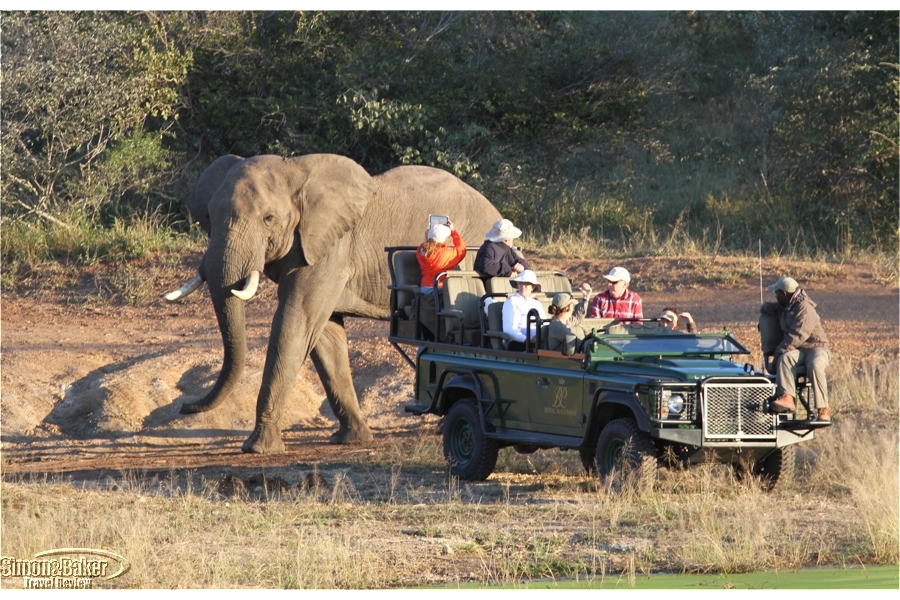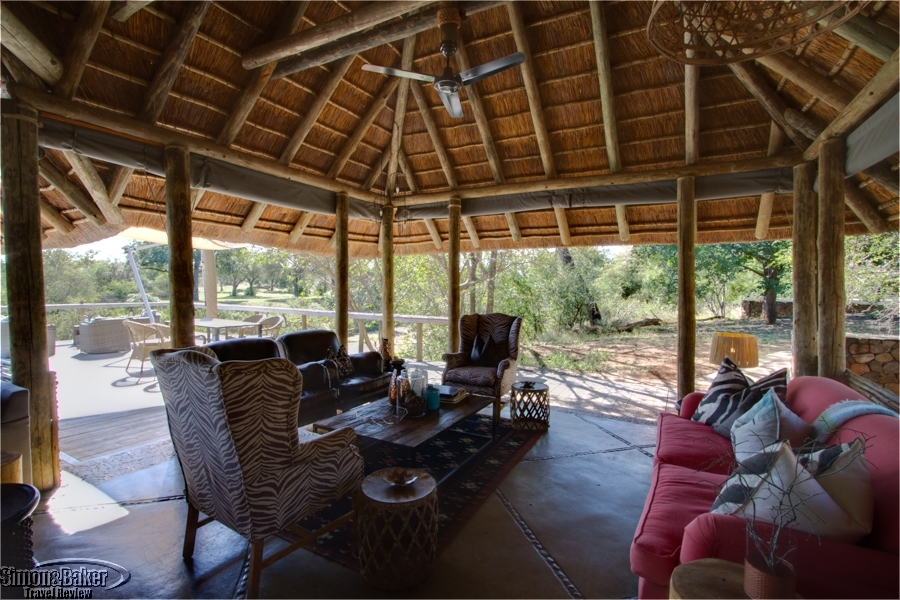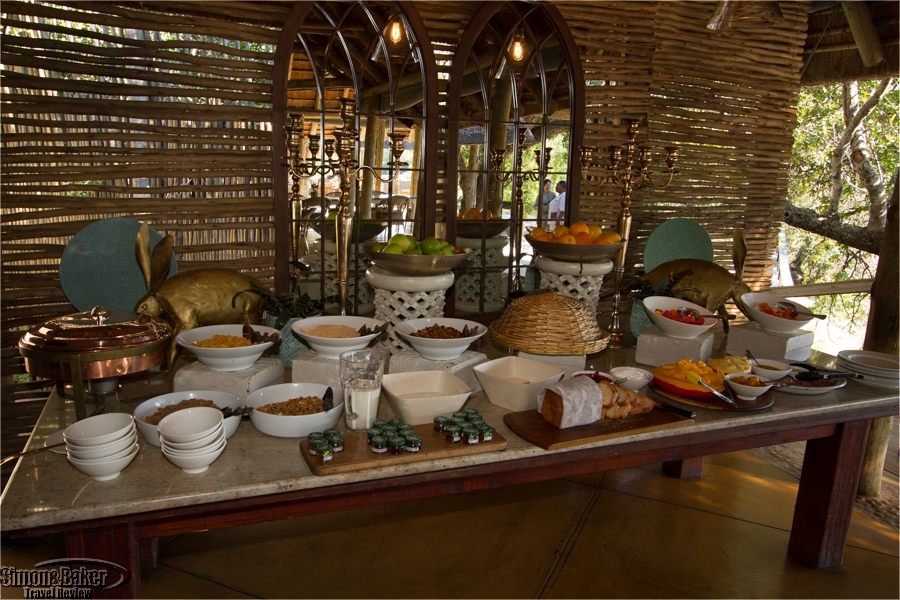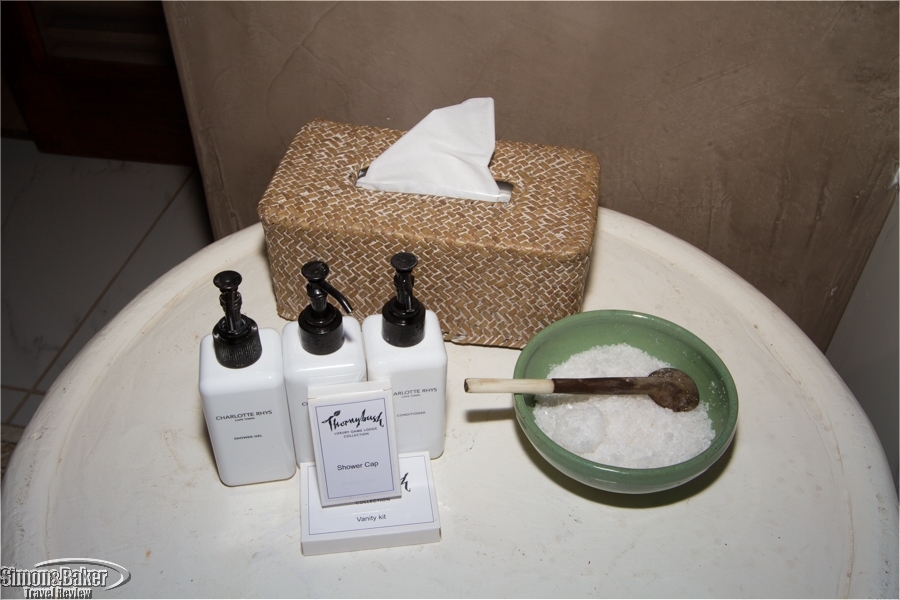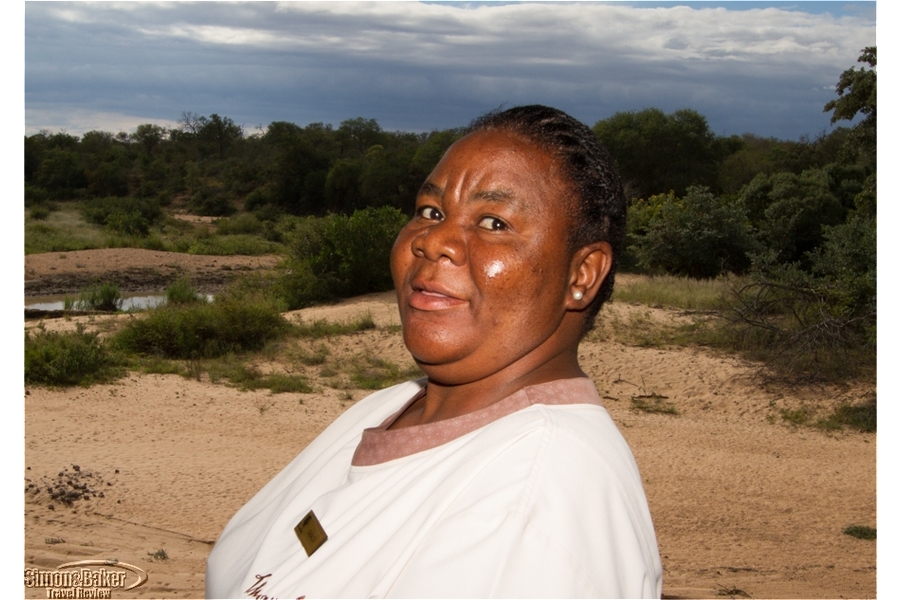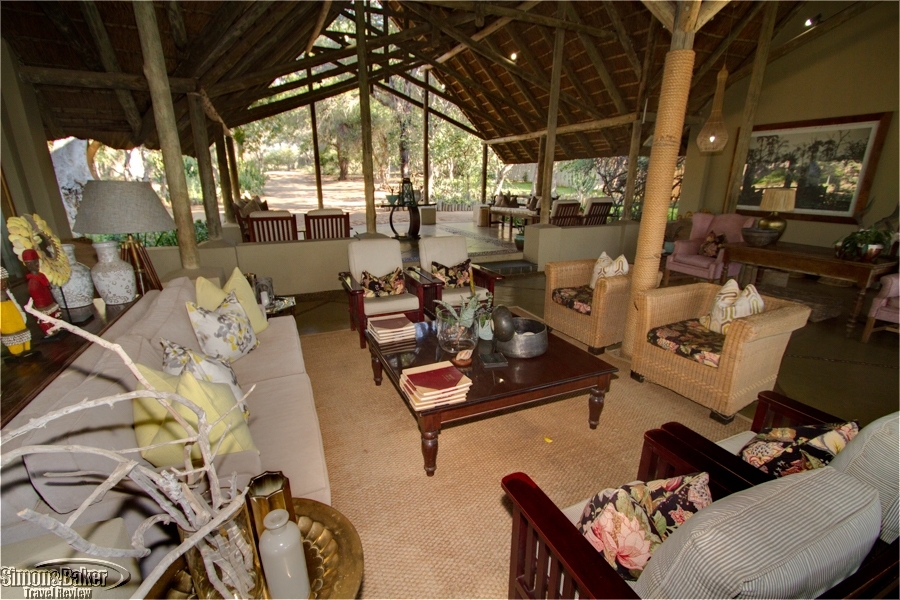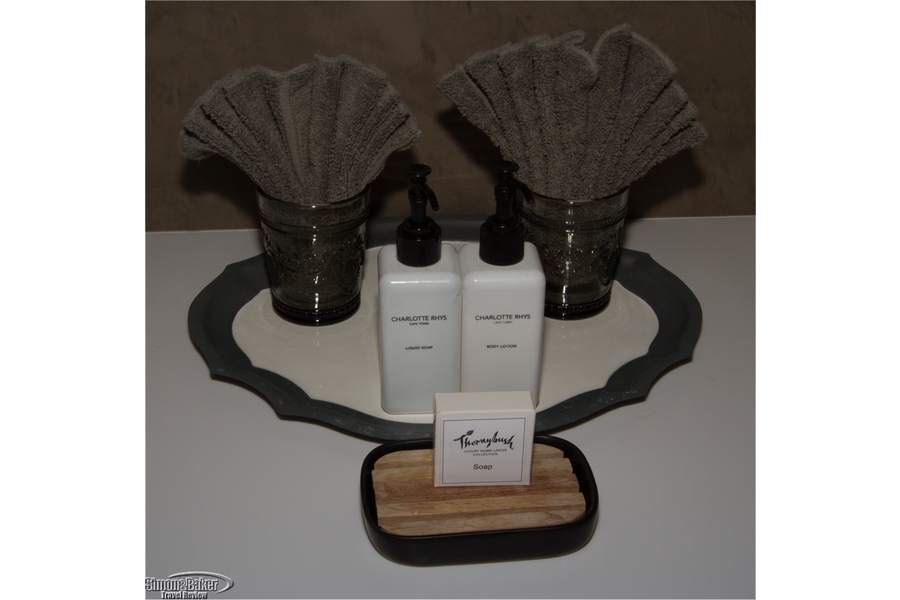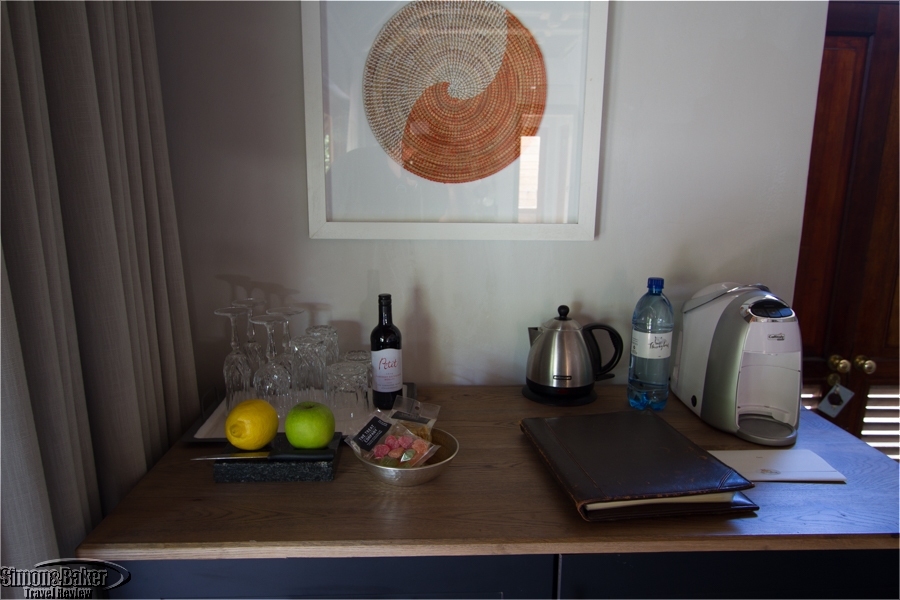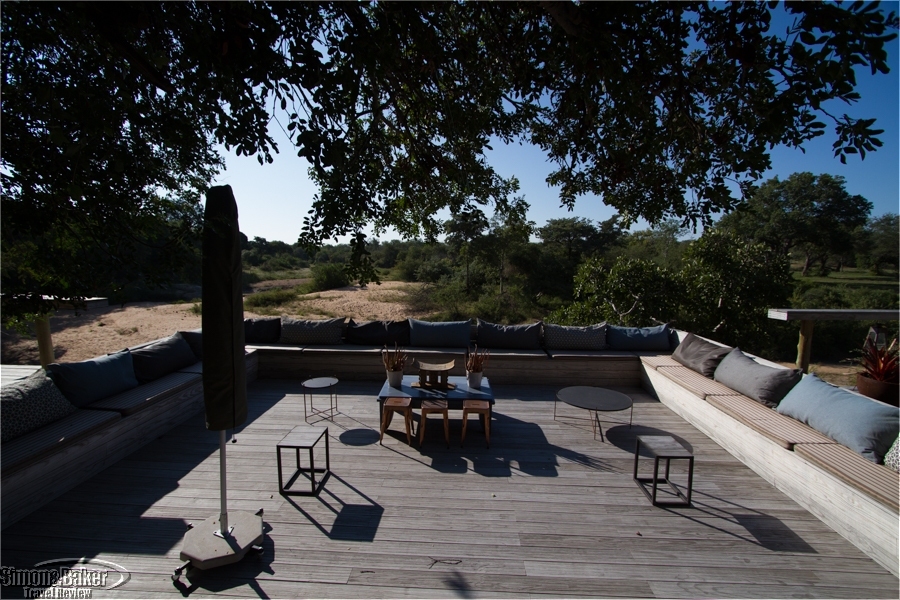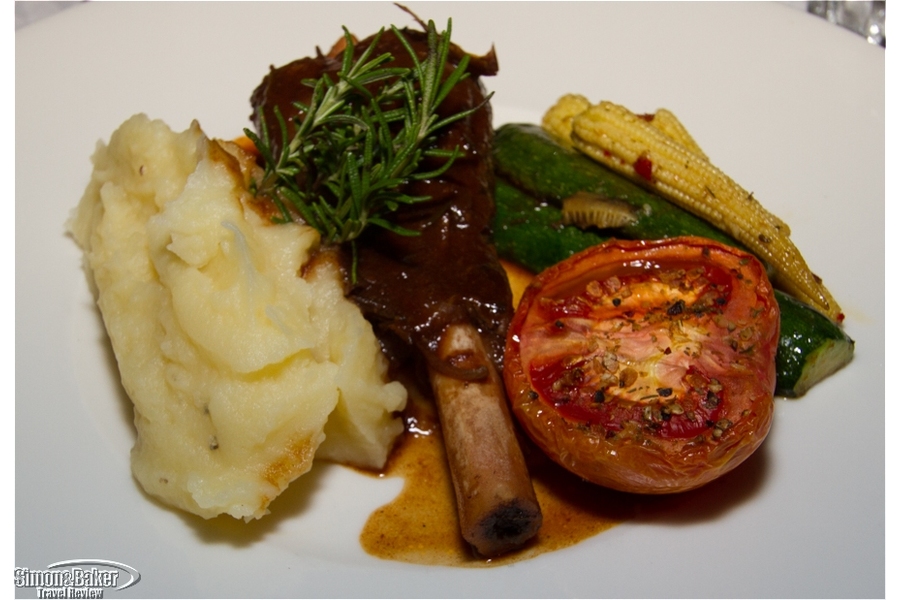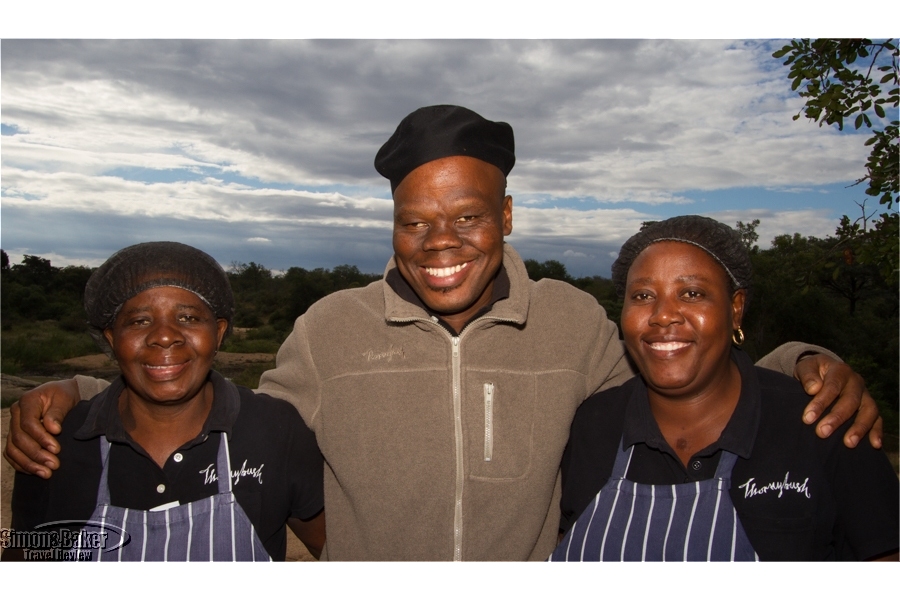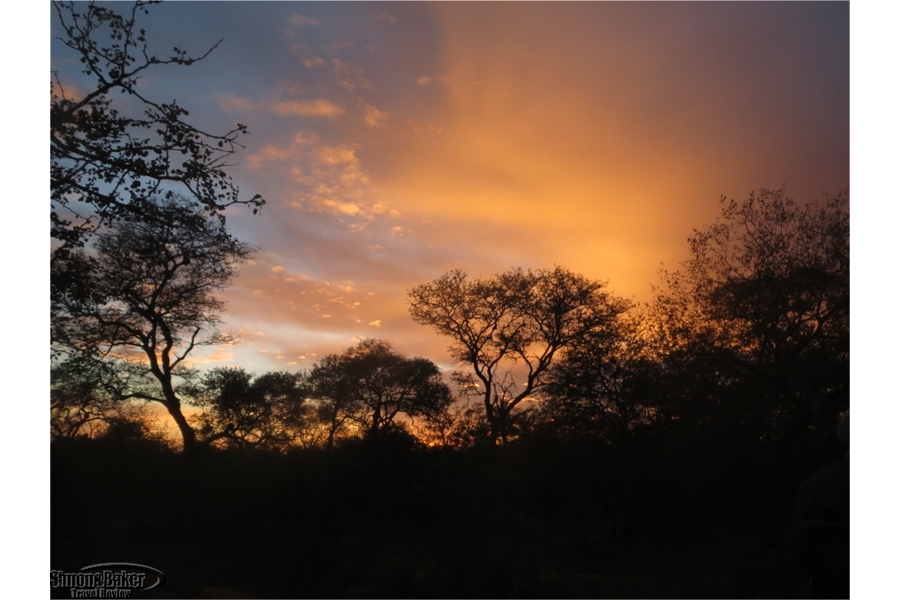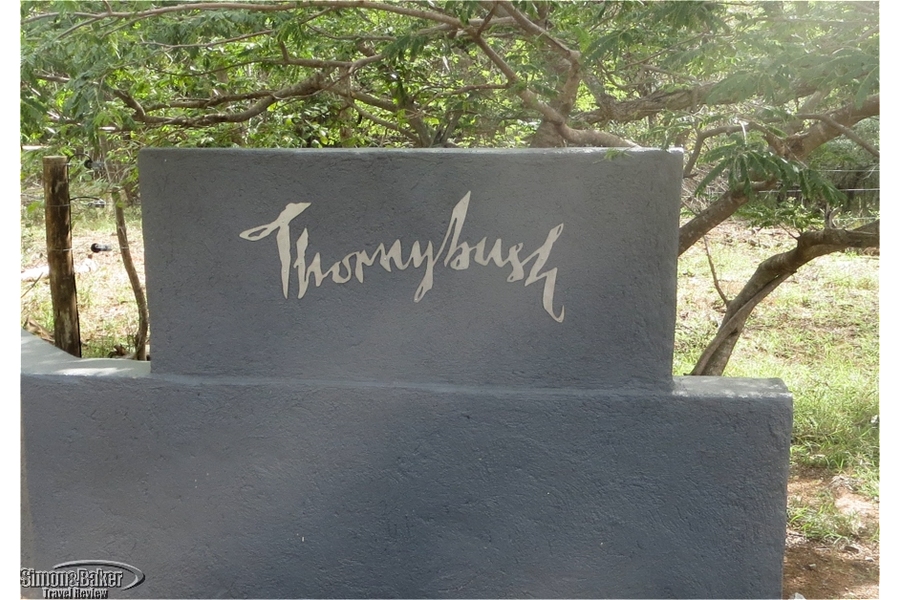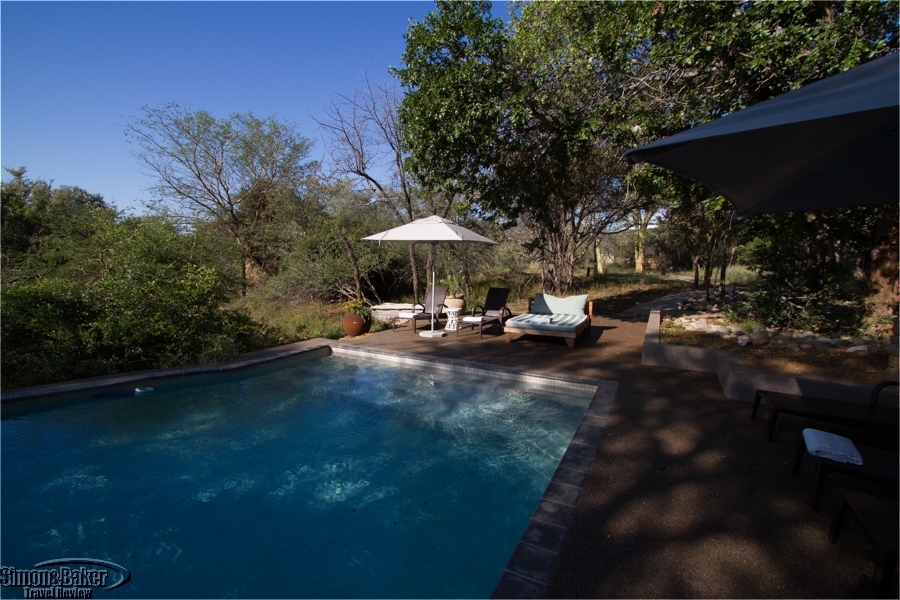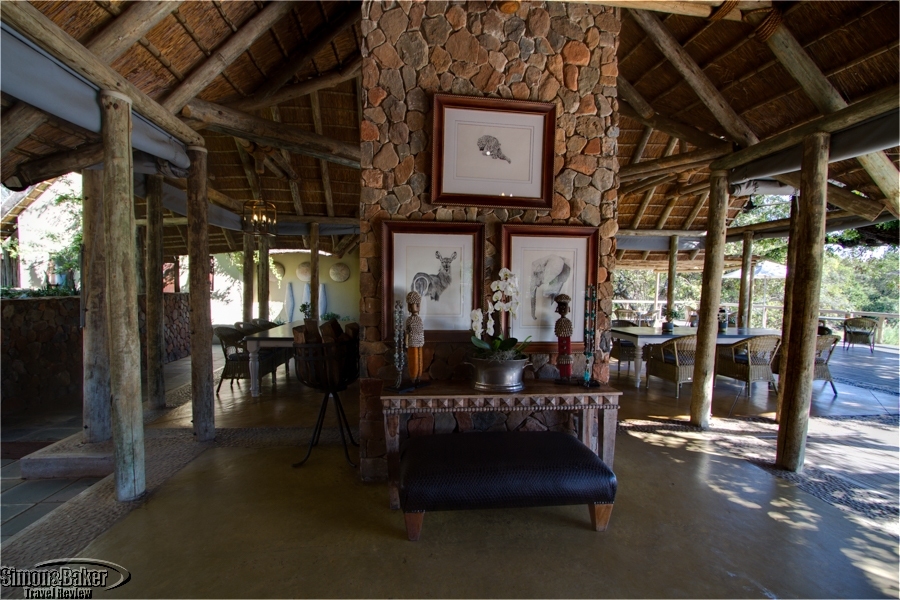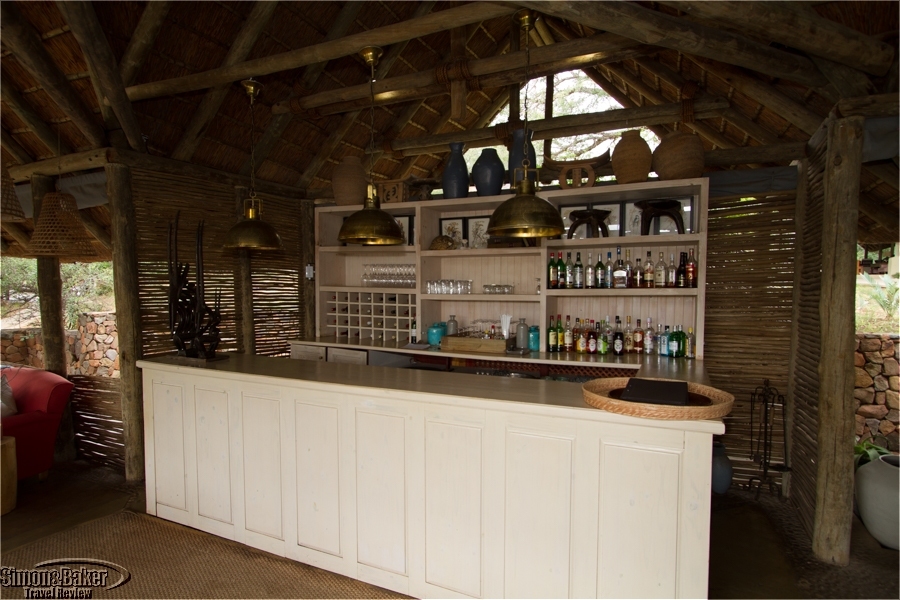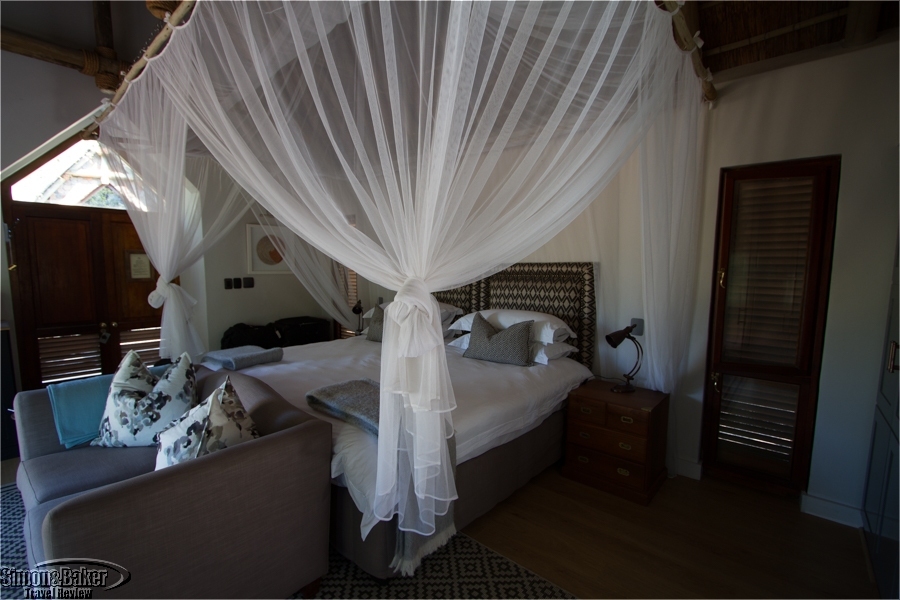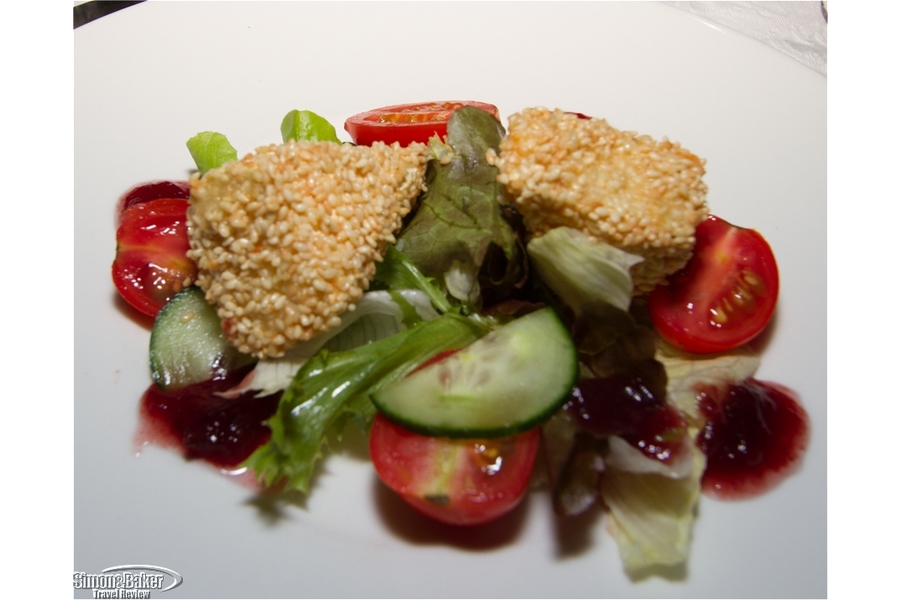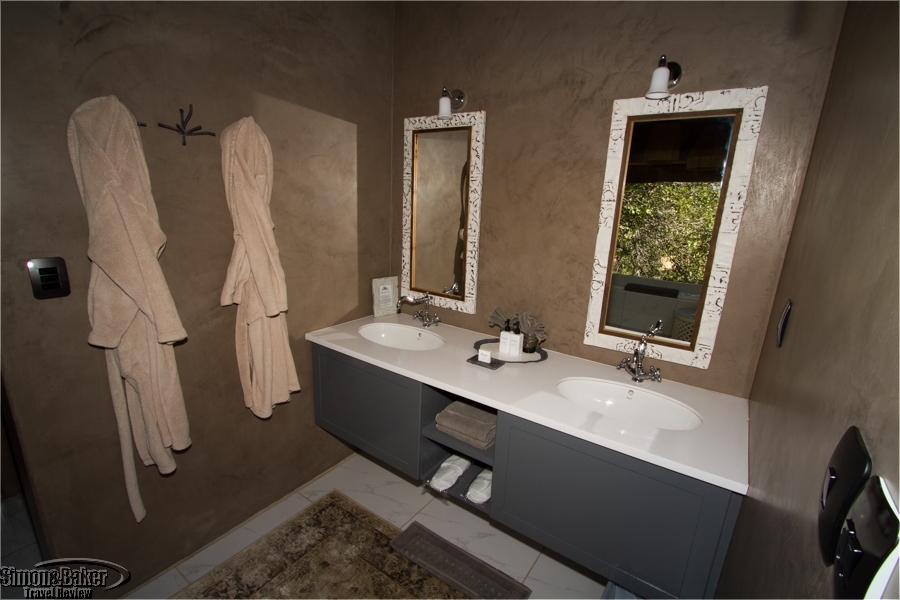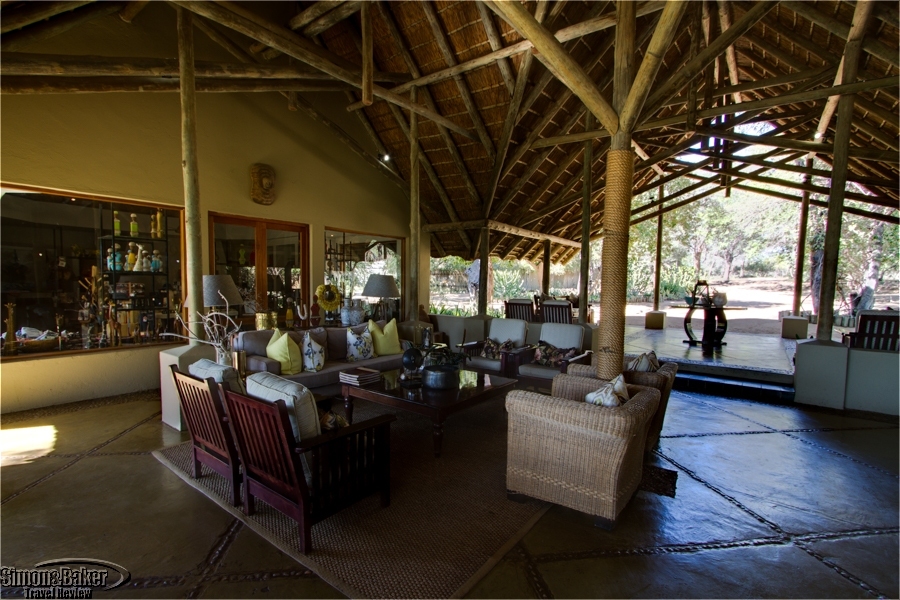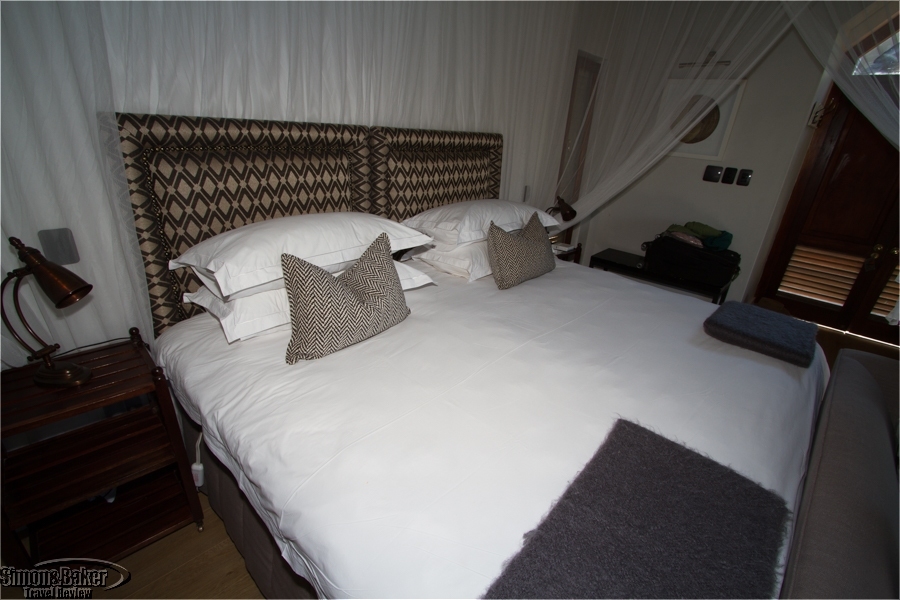 I liked my well appointed room, the wildlife viewing (we saw four of the Big Five), including outstanding lion and elephant sightings, comfort food, and attentive service.
Overall Impression
Thornybush Game Lodge, a Five Star property within the Big Five Thornybush Private Nature Reserve in South Africa, faced the seasonal Monwana River (at the time of our visit the riverbed was dry). The handsome lodge was named for one of the original farms in the area. I remember it best for its outstanding game viewing, made even better because we had an experienced private guide, tracker and open safari vehicle to ourselves.
We were glad to be staying in two of the ten renovated rooms, but beginning at 7 a.m. and throughout the day anytime I was in my room I could hear worker conversation and loud  pounding and drilling at the adjacent room undergoing renovation, which was active on the Sunday of our arrival and an eyesore on the way to and from our rooms. The noise detracted from my enjoyment of the room, making it impossible to relax while the site was active. We could hear the hammering across the property on the outdoor deck where we had meals and afternoon tea.
After hours, animal sounds and visits enhanced my stay. For example, the wonderful insistent roaring of a lion woke me in the middle of the night. The following morning, I discovered a male lion, the one roaring the previous night, had walked through our lodge common areas. Also, there were baboons barking in the early morning and later climbing on my roof and outdoor shower.
I liked my 45 square meter well appointed contemporary style room, the wildlife viewing (we saw four of the Big Five), including outstanding lion and elephant sightings, comfort food, and friendly and attentive service. I would return and recommend it to friends.
Children
Children over the age of six were welcome on game drives, but not walks. Decisions were at the discretion of the lodge manager and ranger. Families in a private vehicle were welcome to take children under six years of age.
Class of Accommodation Five Star Luxury Game Lodge
Connectivity There was complimentary WiFi with speed of one megabyte per second in and out. In my room at times it was down.
General Manager Melanie Parker
Handicapped Access Yes, the property welcomed guests in wheelchairs. There were steps in the common areas.
Length of Stay Two nights
Location The lodge was within the Thornybush Private Nature Reserve, about a 30 minute drive to Eastgate Airport.
Number of Employees 65
Owned and Managed Inzalo Investment Holdings (Pty) Ltd doing business as The Thornybush Collection
Size There were 20 guestrooms and several buildings scattered across the property located within a 14,000 hectare reserve.
Year Opened and Date of Most Recent Renovation The lodge had operated commercial leases in the 1960s. A rebuilding and renovation took place in the 1990s ending in 2000. A major refurbishment began in March 2016 and was taking place during our stay. Ten of the twenty rooms had been refurbished.
Lobby and Common Areas The decorative style of the property and rooms was Contemporary Safari. The property, divided into several buildings, had soaring thatched roofs, open air common areas and safari memorabilia. From the arrivals parking area we first entered an open building housing a sitting room, office, gift shop, public rest rooms and library. The dining room, bar and swimming pool were at a lower level and across the lawn from the main building facing the dry riverbed. The spa was in its own structure to the right of the main building. Guestrooms, in individual buildings, stretched along the riverfront to either side of the dining room and pool area.
Bathroom A partial wall and double wood and glass doors divided the bedroom and the bathroom. The bathroom was pretty and designed to emphasize exterior views. It had a gray color theme, faux marble tile flooring, gray polished concrete walls, and large glass walls on two sides, providing views of the surrounding bush and wildlife. On the side facing the bush there was a standalone bathtub, small round wood table and a doorless shower with wood floor. On the opposite side, twins sinks sat on a Corian counter base beneath rectangular wood framed mirrors. There was an area rug in the middle of the bathroom. In the corner opposite the shower a separate room housed the toilet. A glass and wood door led to an outdoor shower with a rock privacy wall. The outdoor shower also had bush views.
Room
To reach our rooms we walked through the dining deck, making our way across a suspended wood bridge and several wide steep steps. After passing an active and loud construction site we arrived at our rooms, which were mirror images of each other. They were handsome, had luxury amenities and would have been comfortable except for the loud daylong noises from the adjacent construction. We stayed in neighboring 45 square meter open plan Luxury Suites 6 and 7 that looked onto thick brush and the Monwana River dry riverbed. The entrances faced each other, making it convenient as we were steps away from each other's doors.
Each room was a standalone structure with a thatched roof ceiling and concrete walls. Double wood doors with low hard to open handles (to keep monkeys and baboons from opening them) led into our new looking rooms. Inside, they had wood laminate flooring, high ceiling, white walls, and contemporary décor with classic safari elements (such as the thatched roof). The room was divided into three main areas: Indoors there was a bedroom and a bathroom, divided by double wood and glass doors; outdoors there was a partially covered wood deck and an outdoor shower to one side of the bathroom.
Two individual beds set together and framed by matching square wood night tables atop an area rug took up the center of the bedroom. They were beneath mosquito netting hanging from the ceiling. Although there were insects I didn't see any mosquitoes. The night tables had identical lamps and one of them had a telephone. There was a comfortable love seat at the foot of the bed. To one side there was a low table that served as a luggage rack. A cabinet in the corner housed a mini bar and hot beverage service. In the opposite corner, there was a vanity with a fabric armchair. Sliding glass doors divided the bedroom and the exterior deck. Blackout curtains provided privacy and kept out the sun in the early morning in case we wanted to sleep in. We had to keep the doors closed at all times to keep monkeys and baboons out of the room. There were two wood armchairs and a table in the outdoor deck, which had wood flooring and railing and a partial view of the Monwana River, obstructed by much thick brush.
The temperature was controlled via a wall-mounted air conditioning and heating unit, and heated pads under our sheets (a favorite). During the day, sunlight filtered through the sliding glass doors filling the room. In the evening, ceiling and wall lamps provided sufficient lighting to read.
There were four synthetic pillows and a synthetic duvet as well as two polyester throws on the bed. Although the mosquito netting wrapped around the bed and night tables, forming a large enclosed space around the bed, it had a whole large enough for mosquitoes to enter.
Food
Breakfast was buffet style. Lunch and dinner were sometimes plated and sometimes buffet style. We dined at private tables, usually on the main outdoor deck next to the dry riverbed. Solly, the Head Chef, had been at the property for 15 years. "Our style of cooking is very much influence by South African flavours, with the use of a lot of fresh produce sourced from local community gardens," the property manager explained.
At lunch the first day, we ordered from a three course menu. Our salad greens were fresh and crispy. I had a rocket salad with mild soft Bocconicini cheese and my travel partner had a house salad with olives and feta cheese. Lunch the second day was served in a buffet table including lettuce, tomatoes, feta cheese, sliced cucumbers, olives; roquette and roasted pear with cheese salad; green beans, red peppers and corn salad; quail with sweet chili sauce, and vegetable quiche. For dessert the options were cheeses and pecan pie with cream.
Afternoon tea consisted of iced beverages (lemonade, tea) and butter cookies. Dinner our first evening was served in the boma buffet style. Our ranger sat with us at dinner that night. The first course, tomato basil soup, was plated. The remainder of the meal was self-service and consisted of salad items, three choices of meat from the grill (springbok, chicken skewers, South African style, beef sausage), a polenta style dish, spicy Indian tagine, and other side dishes. For dessert there was apple crumb cake, a selection of cheeses and fresh fruit. An a la carte dinner the second night was served on the deck. We tried both starters, the Fried brie cheese with sesame seeds on a salad and the Butternut with cinnamon soup. For mains we sampled the impala shank and the chicken stuffed with sun dried tomatoes. For dessert there were three choices, including cheese and fresh fruit. We had fresh fruit.
Amenities
In addition to accommodations, the nightly fee included meals, bottled water, hot beverages, snacks, two daily game drives, an optional bush walk, and beverages during the game drives. In our rooms there were South African lifestyle and wildlife magazines and complimentary bird and animal checklists. Via the telephone in my room I could connect within the lodge and make outside calls. There was limited to 24 hour laundry service.
In each room, there were two polyester bathrobes, slippers, two house brand individual size soaps, bath salts, shower cap, and South African Charlotte Rhys toiletries in refillable plastic bottles (liquid soap, shampoo, conditioner, bathroom deodorizer). There were also two bags of The Treat Company snacks (rosemary and rock salt potato chips, honey macadamia nuts, and chewy candy), insect repellent, odorless insect spray, electronic safe, flashlight, blow dryer, complimentary house brand still water, Caffitaly espresso coffee maker (coffee capsules and tea bags), hot water pitcher, one lemon and one apple, and a mini bar with beverages and snacks for sale.
Facilities The lodge had a 50 square meter library with satellite television, bar, spa, pool, boma (enclosed open air outdoor dining area usually with sand floor) and curio shop.
Pool There was a 70 square meter four foot deep (estimated) outdoor pool adjacent to the dry riverbed of the Monwona River. While it looked inviting it was too chilly during our stay to go swimming. There were some ten lounge chairs and a handful of umbrellas.
Shop There was a limited selection of branded clothing for men and women in synthetic and natural fibers, costume jewelry, and curios.
Spa Operated by a separate company the spa was made up of a waiting area and two 25 square meter treatment rooms. The towels were fresh smelling. Emily provided an adequate deep tissue and foot massage.
Game Viewing
Joe Ngwenya was our ranger and Alson Masiya was our tracker. Joe had been a ranger for about 15 years, he was a Field Guides of South Africa (FGASA) Level 2 guide with Full Trails.
We saw the following animals: baboons, buffalo, Burchell's zebra, elephants, giraffe, grey duiker, hippopotamus, impala, kudu, large spotted genet, leopard, lion, nyala, scrub hare, vervet monkey, warthog, wildebeest.
We saw or heard the following birds African fish eagle, African hoopoe, brown-hooded kingfisher, Burchell's starling, common quail, crested barbet, fork-tailed drongo, go-away-bird, helmeted guineafowl, jacobin cuckoo, lilac-breasted roller, rattling cisticola, red billed hornbill, southern white-crowned shrike, Wahlberg's eagle, white-backed vulture, white-crested helmet-shrike, Yellow breasted appalis, Gabar goshawk.
Activities
Twice daily game drives about three hours long and optional bush walks were available. We went on four game drives during our stay. We were the only passengers aboard a new open top Toyota LandCruiser safari vehicle. It was equipped with blankets and rain ponchos. For bush stops there were paper bags and tissue paper. We liked that Joe also had a bird book to identify birds we encountered on the drives.
Our wake up call was at 5:30 a.m. and departure for the morning game drive was 6 a.m. In the afternoon, tea was at 3:30 p.m. and departure for the game drive was at around 4 p.m. The lodge was one of many within the reserve. Only two vehicles were allowed per sighting. At every major sighting we had to wait or there were vehicles waiting for us to move on for them to have an opportunity.
Other
We were required to sign a broad disclaimer of liability form on check in. Although the tap water was potable it didn't taste very well so the lodge provided complimentary bottled water for our use. Tipping was discretionary. The lodge provided tipping recommendations as follows: ranger, 170 rand per person per day; tracker, 100 rand per person per day; butler, 50 rand per person per day; and general staff, 75 rand per person per day. Check out was at 11 a.m.
The lodge was in a malaria zone and strongly suggested visitors take appropriate precautions before arriving. Guestrooms were sprayed frequently with insecticide, according to the in room folder. Reception was open from 7:30 a.m. to 10 p.m. According to the in room folder, the lodge was a member of a medical rescue organization, which provided emergency response by fixed wing planes and helicopters.
The lodge was open to animals within the reserve, including predators. Although a fence surrounded the property to prevent elephants from entering they could and did break through often. At night we had to be escorted to and from our rooms by a designated property representative (an outside company provided security staff).
The Thornybush Nature Reserve covered 100 square kilometers and was 580 meters above sea level near the Kruger National Park. The habitat was described as predominately savanna and grassland with deciduous and evergreen trees.
The lodge was listed in the Conde Nast 2015 Readers Choice Awards Best in the World Resorts under South Africa Top as the 11 placed lodge. As part of The Thornybush Collection the lodge supported The Thornybush Community Projects, a nonprofit organization, which according to the company website, supported a variety of initiatives such as herb and vegetable gardens to supply lodge kitchens, educational programs for local children, and assistance for farm workers with HIV/Aids and tuberculosis.
Cleanliness
Very good
Date of Last Visit May 2017
Reviewers
Article by Elena del Valle
Photos by Gary Cox
Service Our rooms were serviced twice daily, in the morning and for turn down. Grace, our server in the dining room, who had been at the lodge for 23 years, was service oriented and friendly. So were our ranger, the gift shop attendant and the spa staff.
Would You Stay Again? Yes
Contact Information
Address:

Thornybush Game Lodge in The Thornybush Private Nature Reserve
Thornybush Nature Reserve
Guernsey Road, Hoedspruit 1380
South Africa

Phone:

Reservations +27 011 253 6500
Lodge +27 015 793 1976
Fax +27 015 793 2230
Phone:

Website:
Email: