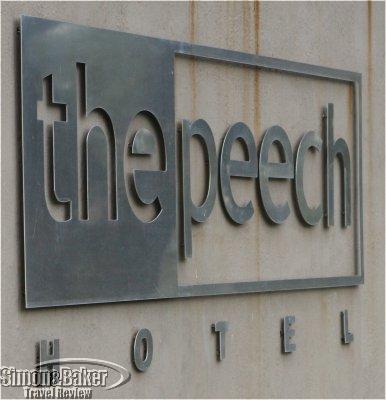 I will recommend it to friends who appreciate the advantages of small, luxury oriented and friendly accommodations.
Our most recent visit can be found
here
.
Overall Impression
There's something wonderful about home. It's familiar and comfortable. Staying at The Peech Hotel was a little like being home. Waking up in a comfy and cushy bed with the lazy early morning light filtering in through the window blinds to the sound of birds reminded me of home. Being greeted by name by the hotel staff when I arrived back from an excursion or settled in for dinner made me feel especially welcome, particularly in a city of 10 million souls like Johannesburg.
It was fun to sit at the bar downloading emails with the Ethernet cable and chat with staff and likeminded guests, who appreciated the laid back informal ambiance at The Peech. The intimate setting and small size of the hotel made it easy to meet fellow guests and hear about their adventures in Africa. I met one adventurous American beginning a three month African sojourn that included South Africa, Ethiopia, and Namibia among other exotic locales; and a European professional heading to Cape Town after several days of game viewing.
During my short stay I had an opportunity to meet James Peech, the young and handsome English entrepreneur who founded the hotel. Through his hotel he hopes to facilitate and further the "affordable but chic" ethos in South Africa. Judging by what he has accomplished so far, the concept holds much promise.
I liked The Peech for its spotlessly clean new room, nonsmoking policy, diverse domestic and international guests, easy chic style, yummy meals, friendly staff, desirable location, high speed Internet access, neighboring fitness center and homey intimate ambiance. I will recommend it to friends who appreciate the advantages of small, luxury oriented and friendly accommodations.
Class Of Accommodation
Rooms were luxury doubles with en suite bathrooms that feature a bath and separate shower. The hotel had four stars.
Connectivity The hotel offered complimentary wireless broadband 24 hrs a day. Due to a lightning strike the week before my arrival, the WiFi access was limited to the main areas of the hotel while they repaired the damage. I was able to connect easily from the bar with an Ethernet cable the hotel staff provided.
General Manager Heinrich Geriche
Handicapped Access The hotel design was "wheelchair friendly with easy access to the ground floor bedrooms and restaurant." Hotel staff indicated that wheelchair users can access the main facilities of the hotel (reception, lounge, bar, bistro restaurant) and four of the bedrooms with ease.
Length Of Stay Two nights
Location In Melrose, an upscale residential neighborhood of Johannesburg
Owned James Peech and The Peech Hotel Pty Ltd
Pets Allowed No. There was a resident cat on the premises during my stay.
Size There were 10 rooms and 30 employees. The property occupied an acre of land (3,700 square meters).
Year Opened-Renovated The Peech Hotel opened in November 2004 with six bedrooms. A second annex housing four bedrooms was opened in August 2006.
Lobby And Common Areas
The décor was contemporary, fueled mainly by James Peech. The main areas of the hotel (reception, library, lounge, bar, bistro restaurant and conference room) were in the original house. Two of the rooms were in the main house and the remainder (8) were in two adjacent two story buildings in the garden. These buildings were newly built to match the style of the hotel.
The lobby had a mix of African and modern design with locally sourced sculpture and Nguni cow hides. Designer couches for guests to rest shared space with modern pop-art paintings by South African artist Nuno da Cruz. The library had a collection of hotel books that were the inspiration for the hotel. The bar and bistro were designed with an "understated yet sophisticated feel." Latte was used for the roofing. The hotel's signature feature was the log wall in the reception area. The "environmentally friendly" logs were cut from an invasive Australian gum tree found on the property.
Bathroom
Turquoise tile, accenting the bathroom fixtures, was the most striking feature in the bathroom. There was a bathtub against the wall, a shower near the entrance and a rectangular white sink. There was an oversize mirror behind the bathtub and mirror above the sink.
Room I stayed in room 10 which was located on the second floor of the newest annex that was completed in August 2006. The room was bright, comfy and attractive. The 45 square meter (450 square feet) room area had Africote polished and painted concrete flooring; white walls, high ceiling, and many windows. Double doors led to a small porch with two outdoor chairs. There was a remote controlled air conditioner/heater, satellite 24" Samsung remote controlled TV, and an electronic safe.
Furniture consisted of a comfortable queen bed with a fluffy duvet and feather pillows (fiber pillows were available on request); wood and metal night tables with lamps; a table at the foot of the bed; a faux suede red love seat and matching bench; and a wood table in one corner where I set up my laptop computer creating an impromptu work space.
Decorative touches included two blesbok skins on the floor; wood colored blinds on windows and doors; bright orange and burgundy colored pillows; and an original oil painting of jars. Three large wood shields from the Bras tribe in Cameroon hung on the wall and were available for purchase.
There was a door-less closet with shelves, hanging space and an electronic safe in the corner next to the entrance. A full length mirror hung on the wall next to the closet. The light switches were all on dimmers.
Food And Restaurants
The cuisine was a blend of North African, French and Mediterranean styles. The meals I had were playful, tasty, satisfying and well served. Meals were available at The Peech Bistro or in the guest rooms. The Bistro offered indoor and terrace dining. At night the tables had candles and fresh daisies in recycled Coke bottles giving them a touch of romance. I tried the Truffled Cheese with Ostrich Carpaccio, cold fruit soup, Bangkok Prego, three-fruit sorbet and Prosciutto Salad (a favorite).
There was a Veuve Clicquot champagne bar stocking a wide range of Veuve Clicquot champagnes as well as some innovative cocktail recipes. The "Veuve Mixology" offered a combination: a bottle of Veuve Yellow Label and all the ingredients and recipes for a enjoyable evening of champagne cocktails such as Peech Bellini, Kir Royale, and Chambord and champagne.
Amenities
There were complimentary 50 ml bottles of Rooibos and Marigold Shampoo and Conditioner, hand and body cream and foam bath. There was also a bar of natural vegetable soap with rooibos and tea tree extract. There were cotton bathrobes and slippers for guest use during the stay. There was complimentary bottled water as well as in room coffee and tea self service.
Facilities The hotel had a pool, conference room, library, bistro and bar. Spa treatments were available, from a third party, in guest rooms. For a fee guests had access to Planet Fitness gym next door.
Pool The pool was 2 meters deep and 3.5 x 7 meters in size. There were several lounge chairs by the pool. A swinging chair hung from the ceiling hear the pool.
Conference Facilities
The Peech had a conference room for up to ten people with a projector and screen, WiFi Internet access and a conference phone.
Other A Bose iPod hub was available for guest use with advance notice.
Cleanliness
Excellent
Dates Of Review 2006 2011
Reviewers Article and Photos by Elena del Valle
Service Cristinah, Tarryn, Rum, and all the staff I spoke with had a welcoming and pleasant attitude.
Would You Stay There Again? Yes
Contact Information
Address:
61 North Street
Melrose
Johannesburg, 2196
South Africa
Phone:
Fax:
Website:
Email: