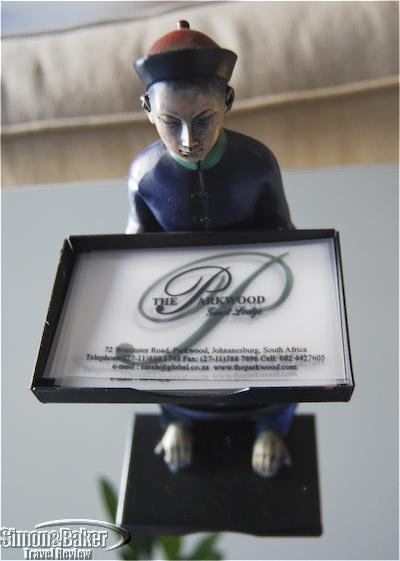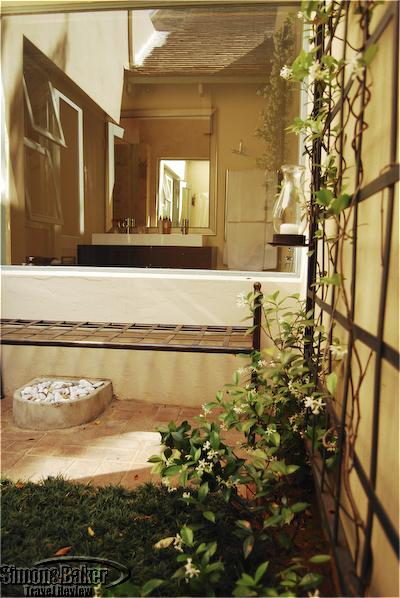 The well priced property will be on our list of candidates for a return visit when we are looking for business oriented accommodations with a luxury touch in Johannesburg.
Overall Impression
This small lodge, well situated within walking distance of Rosebank Mall in an upscale residential area of Johannesburg, stood out for its spacious and well appointed suites and offered many advantages for the independent traveler. In spite of being in a very big city inside the adult oriented lodge (guests with children 12 and older were welcome) there were few noises beyond the usual staff cleaning and other daytime sounds of a small guest house.
After several days in the bush returning to an urban setting can be jarring so we especially appreciated the quiet and tranquil setting. While we were at The Parkwood, we took advantage of the opportunity to catch up on work and reconnect with colleagues and family. Since the only meal available at the lodge was breakfast and we had no car we explored our options. On the night of our arrival we were too tired to venture out; using our local cell phone number (there were no phones in our suites), we ordered dinner easily from the lodge's list of restaurants offering take out and third party delivery. Our order arrived quickly and hot! On the second day, we walked to the nearby shopping center for a late lunch. We returned in a taxi (the lodge staff shared the number of a local driver) and brought back snacks.
We especially liked the well furnished, handsome, and comfortable suites. Other features that appealed to us were the convenient location within walking distance of two malls, work out room, pretty common areas furnished with a decorator's eye, original art, and complimentary WiFi. Although we didn't need it during our visit it was nice to know we could take advantage of the in-house computer with internet connectivity set aside for guest use. The well priced property will be on our list of candidates for a return visit when we are looking for business oriented accommodations with a luxury touch in Johannesburg.
Children
Children 12 and older were welcome.
Class Of Accommodation Luxury five star guest lodge
Connectivity There was a computer and printer in a designated area for guest use. We took advantage of the complimentary and excellent internet connectivity in our room. There were multiple Wi-Fi spots.
Handicapped Access There were no special features designed to welcome guests with disabilities.
Length Of Stay Two nights
Location In the Parkwood residential neighborhood of Johannesburg.
Owned And Managed Dean and Sarah Shonfeld
Pets Allowed No
Size There were 18 employees at the 4,000 square meter large guest house with 16 rooms.
Year Opened-Renovated The guest house opened to the public in 2004.
Lobby And Common Areas Sarah Shonfeld was responsible for the interior design which she based on natural stone. There was solid teak parquet flooring in some common areas, and tactile designer fabrications to combine "glamour and comfort for a relaxed, homely feel." She focused attention on flowers, coffee table books, magazines, candles and original art, mostly by South African artists Lindy Schlozz, Luanna Shonfeld–Hellmann, Norman Catherine and Eduardo Villa, a sculptor. Belgian architect Pierre Lombart and co-owner Dean Shonfeld designed the buildings. Dean Shonfeld was in charge of the design and layout of the green areas.
Bathroom
In the right rear side of my suite double white doors led to a spacious and inviting bathroom. It had a stand alone bathtub to the right with heated towel racks in the corner. To the left of the entrance, there was an oversize plastic rectangular sink set on a wide wood base beneath a large framed mirror. Large beige tiles covered the floor and some of walls. In the left corner there was a water closet and next to it a shower with a curtain. Directly across from the bathroom entrance there was a large enclosed and roofed outdoor shower.
The bathroom took up the far right corner of my travel partner's suite. It was home to a glass enclosed shower next to a stand alone bathtub to the right of the doorless entrance. A large rectangular sink on a wood base beneath a framed mirror stood across from the bathtub. There was a water closet at the end of the bathroom.
Suites
My travel partner and I stayed in neighboring suites in a corner of the lodge, Suites 10 and 11. Our suites were handsome in appearance, well maintained and spotless. They were comfortable to spend time in for work and relaxation. From our suites we had a clear view of a pool and a partial view of a shaded pool sitting area with lounge chairs. Suite 11, my 41 square meter suite with a 22 square meter enclosed outdoor patio, was at the end of the building and the limit of the lodge made from the joining together of three houses. Double glass and wood doors (there was an identical set on the other side of the room leading to the enclosed patio) led into the suite which had parquet floors, two Chobes (Persian carpets), one classic and one modern; as well as eggshell color walls, a white ceiling and one partial stone wall. From the entrance I stepped into a comfortable and attractive living area with a gray cloth sofa, two gold armchairs and a mirrored coffee table. An opening in the stone wall on the left side of the room was home to a flat screen LG television. Further down along the same wall there was a dainty antique wood desk facing a small mirror. Nearby there was an armoire with double doors,hanging and shelf space, an electronic safe and sundry amenity items inside. On the opposite side of the room and behind double white doors, there was a small pantry with a mini refrigerator and coffee and tea service. The contemporary furnishings were upholstered in luxurious cropped pile velvets in deep coppers and old golds.
To the right of the entrance there was a comfortable king bed set against a cushy headboard and between matching wood night tables with lamps. A red cushioned bench was at the foot of the bed. A rectangular framed mirror hung on the wall near the left side night table. There was an alarm clock with an iPod dock on the right side night table. Two luggage racks were conveniently available to place my suitcases. A remote controlled modern looking wall air conditioning unit and underfloor heating provided temperature control.
Suite 10, a 48 square meter room with a six square meter enclosed patio, the next to the last suite suite in that part of the lodge, had a cozy living room just inside of the glass and wood entrance. It was decorated in faded amethyst and deep scarlet tones. The living area had a multicolor rug over parquet floors, two wicker tables, a partial rock wall with an LG flat screen television in the center and a mini bar in the corner. Across from the television there was a gray cloth sofa with an oil on canvas painting made up of four panels by Luanna Hellmann, a South African artist based in Cape Town, each in a color inspired by the antique Sumac rugs in the bedroom and lounge areas. A mirrored cabinet was against the wall past the sofa and a square wood desk faced a framed mirror hanging on the wall. There was an armless beige chair at the desk and a matching armchair of the same design.
Double wood doors led to a bedroom and an inner courtyard with a shower. The floor here was a mix of wall to wall carpeting with a small tiled section. The center of the room was taken up by a king bed set against a cushioned gray headboard and framed by identical wood night tables with beige lamps. A pale red bench sat at the foot of the bed. A beige armchair stood in the corner next to a wood closet (with an electronic safe) and framed by luggage racks. There was a small wood table and armless matching beige chair in the corner facing the wall. A full length framed mirror hung on a wall near the entrance to the bathroom.
Food The only meal available at the lodge was breakfast which consisted of a cold buffet of sliced fruit (papaya, pineapple and grapes), cereal (two types of muesli and packaged cereals), yogurt, milk, orange juice, jams and honey; and a made to order egg and sides (tomato, mushroom, bacon and toast).
Amenities
There were house brand full size toiletries including conditioning shampoo, body lotion, shower gel, and bath salts. There were also power adaptors, hair dryers, electronic in-room safes, swimming towels, cotton bathrobes, slippers, complimentary sherry, minibar stocked with beverages and snacks, complimentary tea and coffee (there were in suite facilities and additional self serve options in the lodge kitchen), and an honor bar in the kitchen.
Facilities There was a small in-house gym for guests use, a small library with current titles for leisurely reads plus books on art and the history of Johannesburg. There were also two slender pools and a conference room.
Fitness Center There was an exercise room on one side of the lodge with a treadmill, rowing machine, stationary bicycle and some free weights. There was a television set and some towels.
Pools There were two pools: one was 22 meters in length by 2.5 meters in width and 1.6 meters deep; the second pool was 16 meters by 2.5 meters and 1.5 meters deep.
Other
In 2009, the guest house received a Gold Achiever award from AA Travel Guides and American Express based on "extensive research carried out within the travel trade in South Africa and the U.K."
It was a tranquil setting. Except for the sound of fruit falling on my bathroom roof the most noteworthy sounds I noted was early morning beautiful bird song and the chatter of neighboring guests sitting by the pool.
According to the owners, the staff endeavor to make check-in on arrival as simple and speedy as possible by pre-checking guests at the reservation level. The lodge staff proactively procured services from BEE companies (Black economic empowerment ) for services such as tour and taxi operators, carpet cleaning and garden services. The lodge donated used slippers and soaps to a local hospice.
Cleanliness
Excellent
Date Of Review October 2009
Reviewers Article by Elena del Valle
Photographs by Juan Cooper
Service Staff were pleasant and helpful. Nicki, one of the executive staff, was friendly and helpful, making recommendations for nearby eateries and facilities.
Would You Stay There Again? Yes
Contact Information
Address:
72 Worcester road
Parkwood, 2193
Johannesburg, South Africa
Phone:
Fax:
Website:
Email: