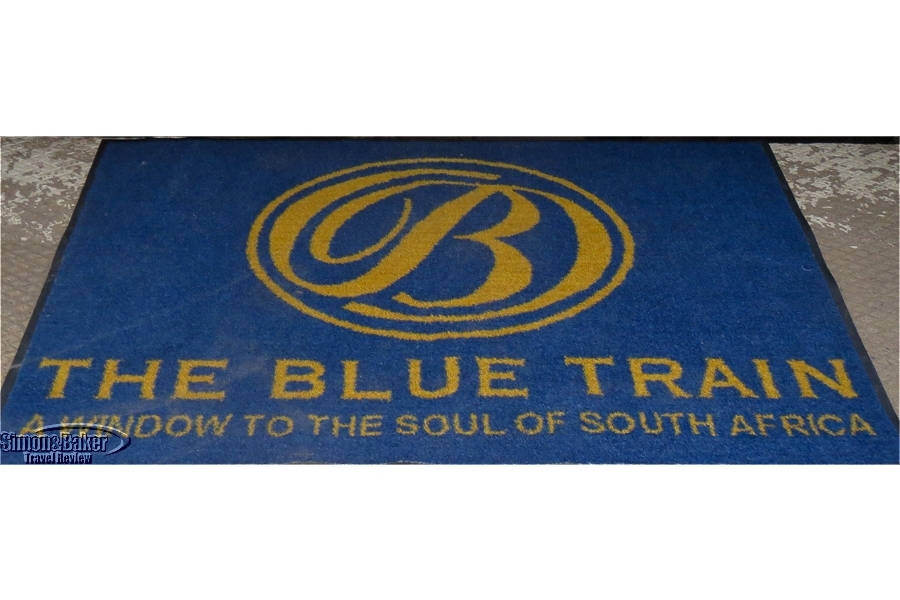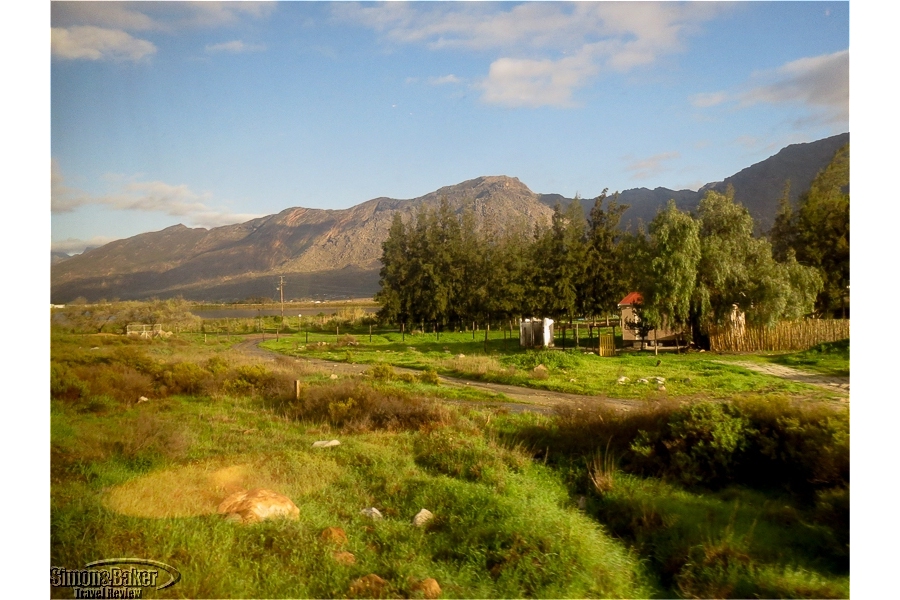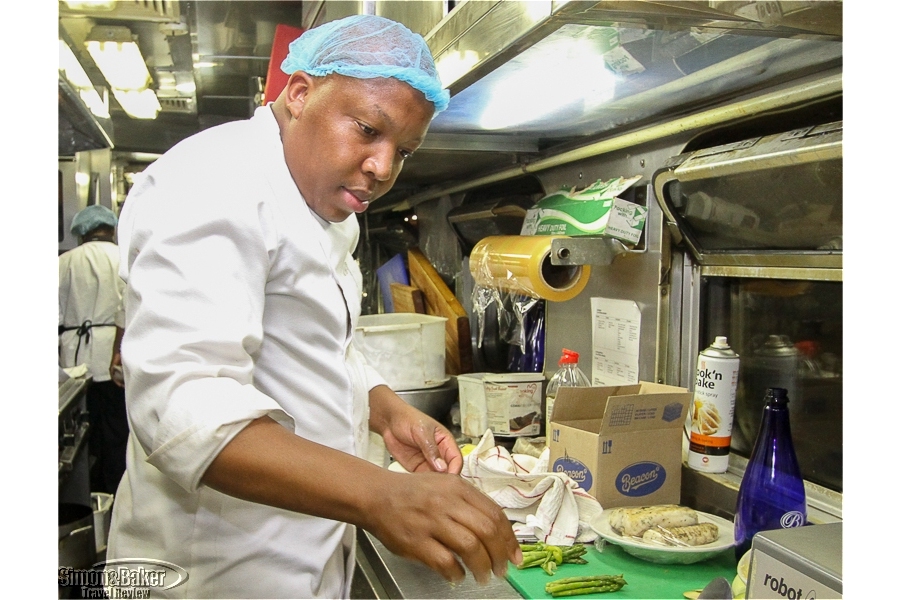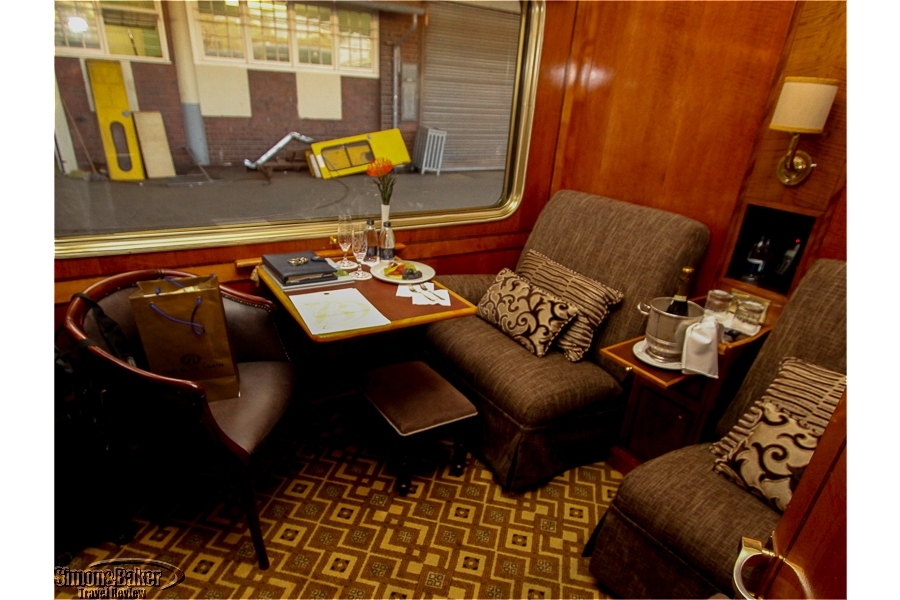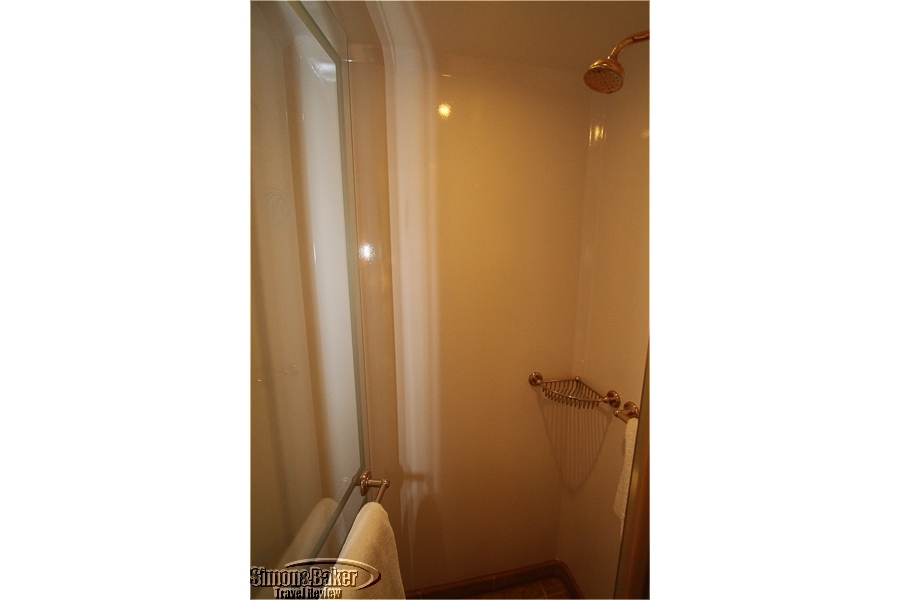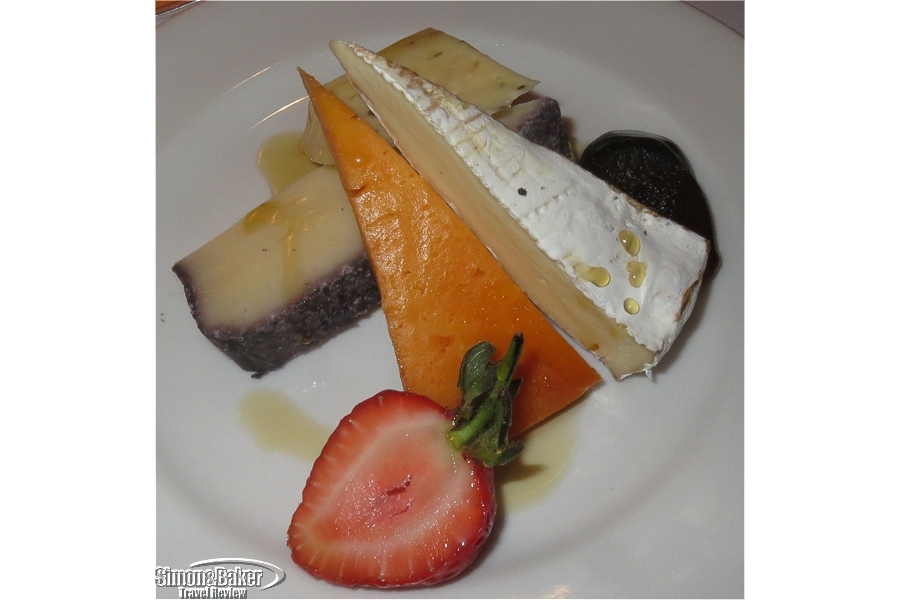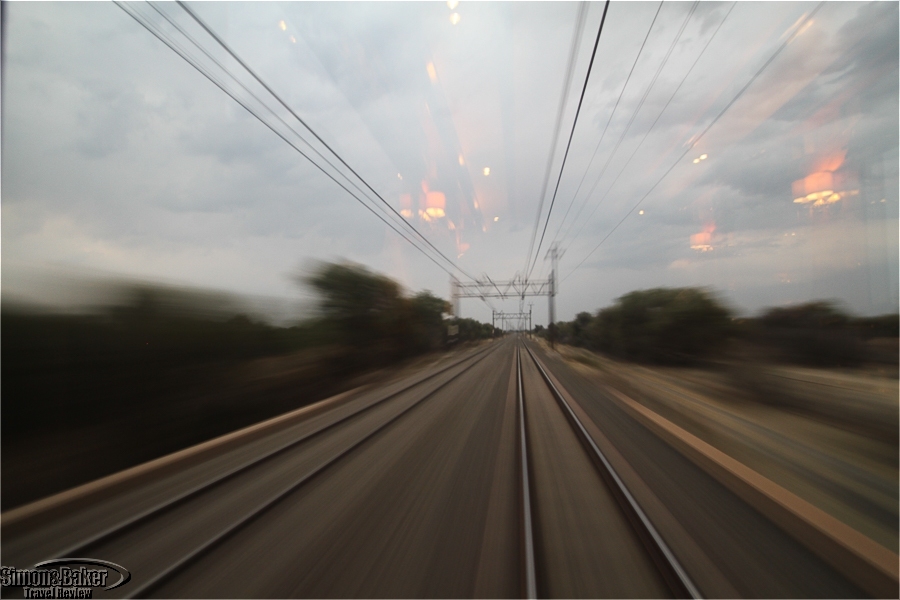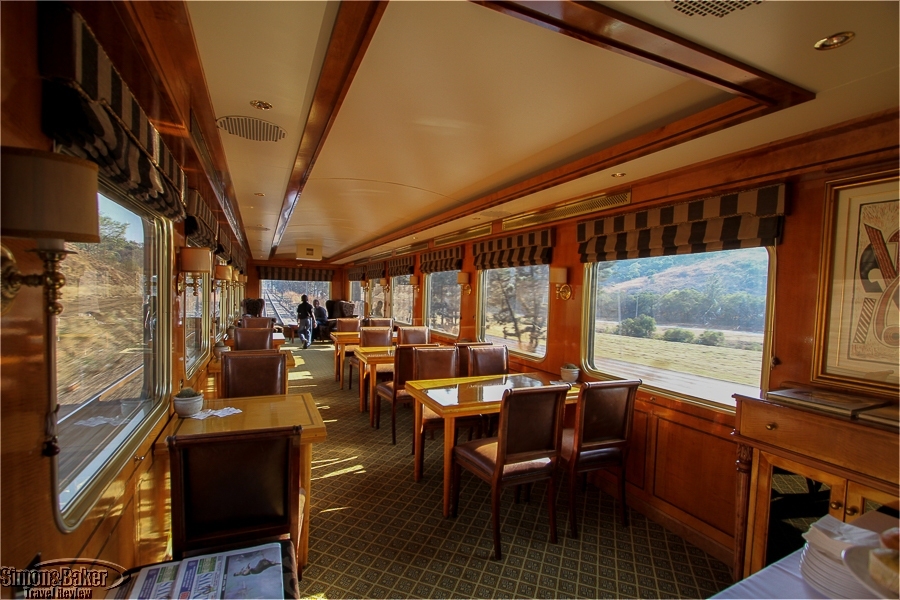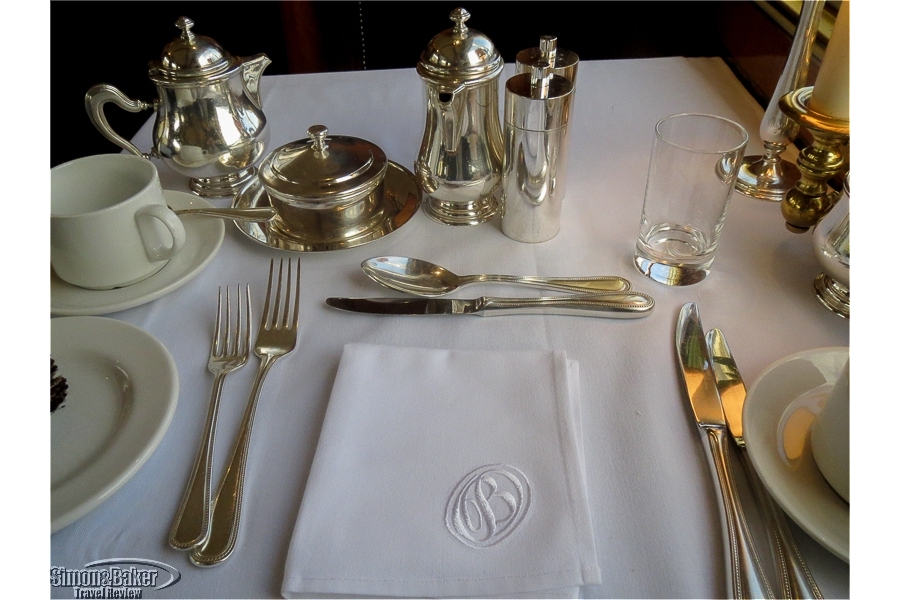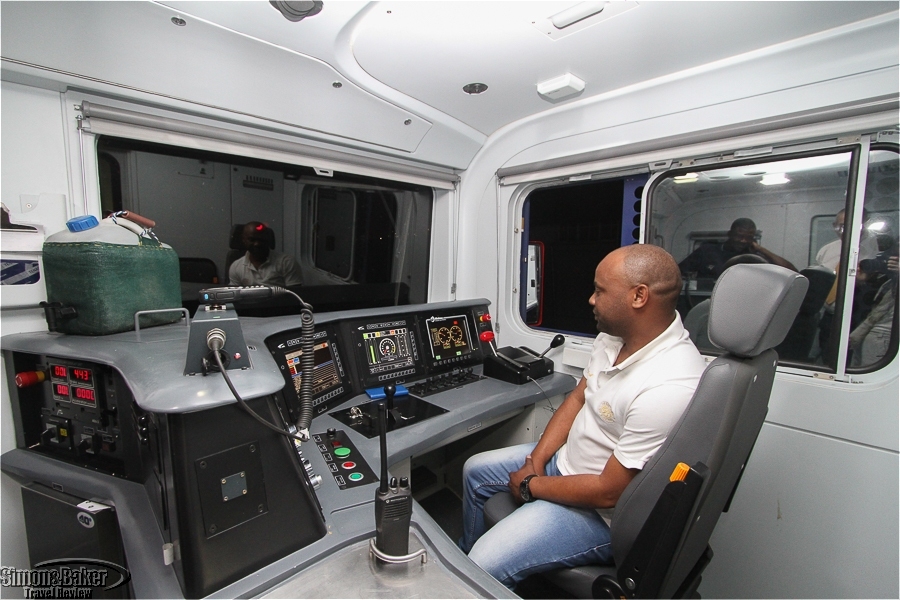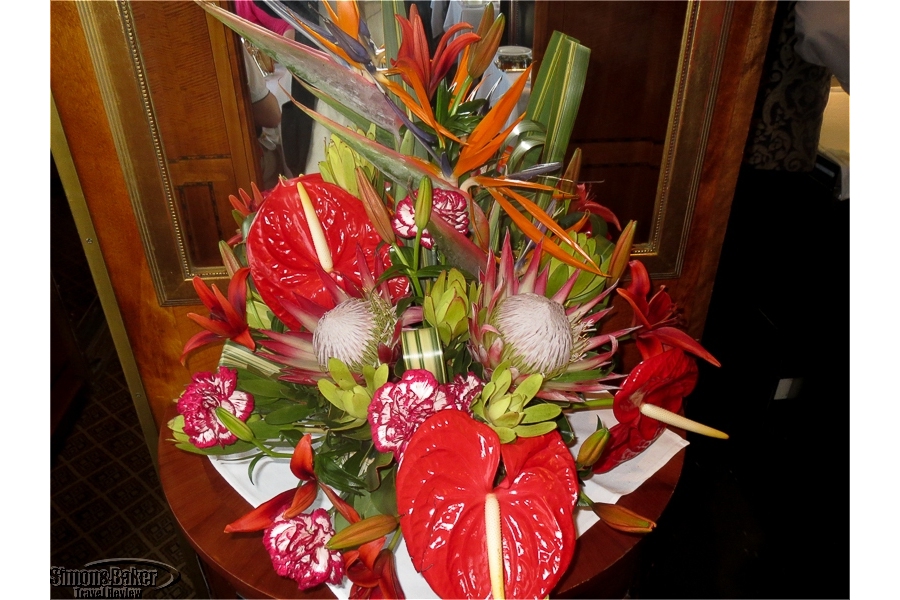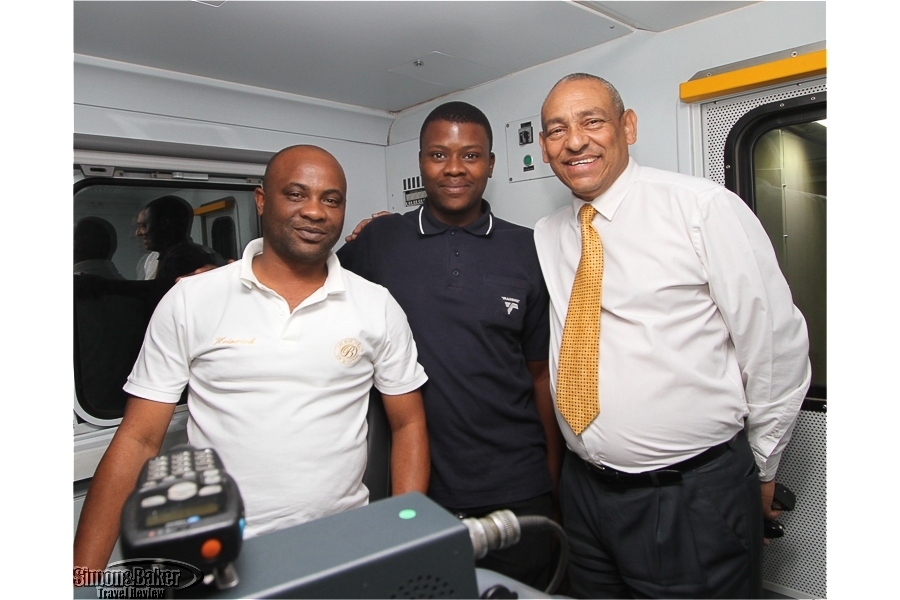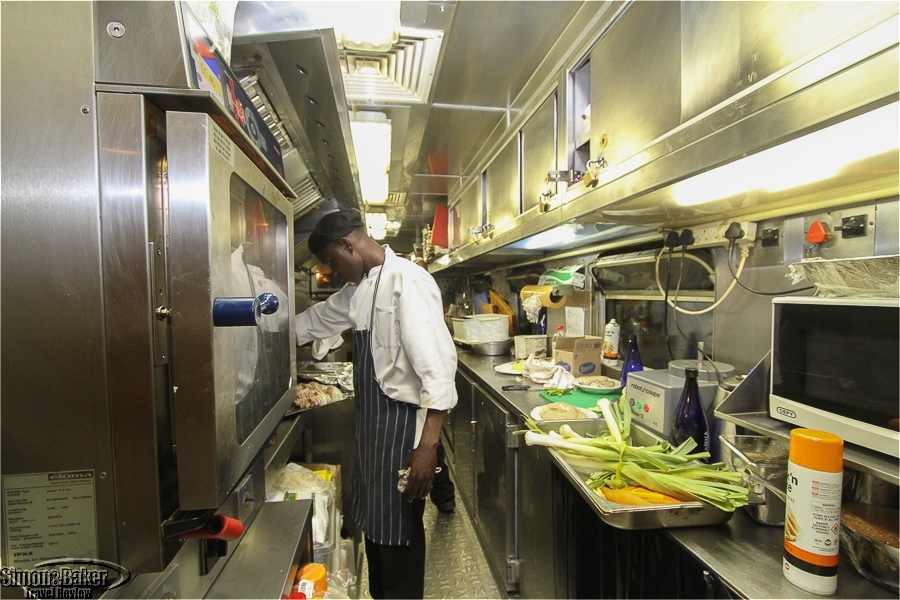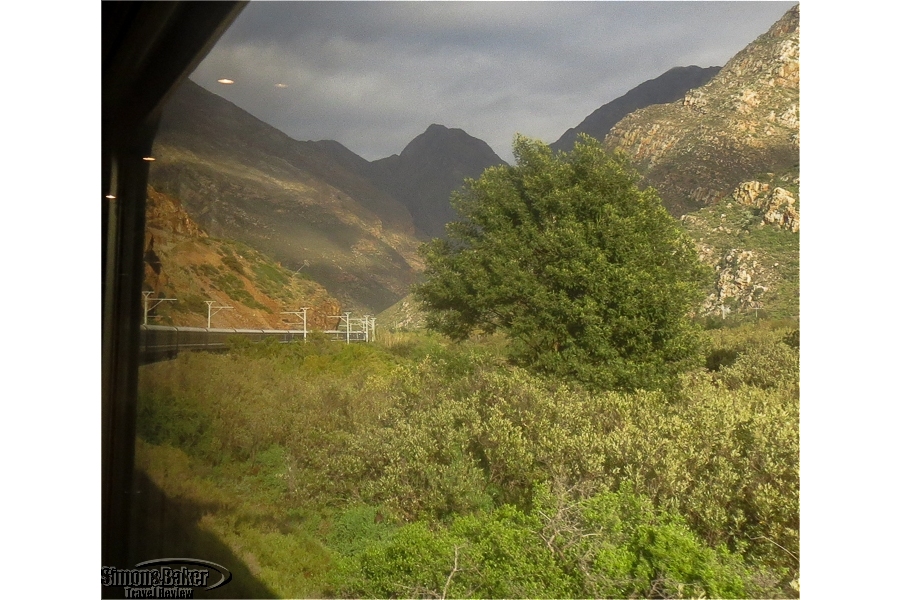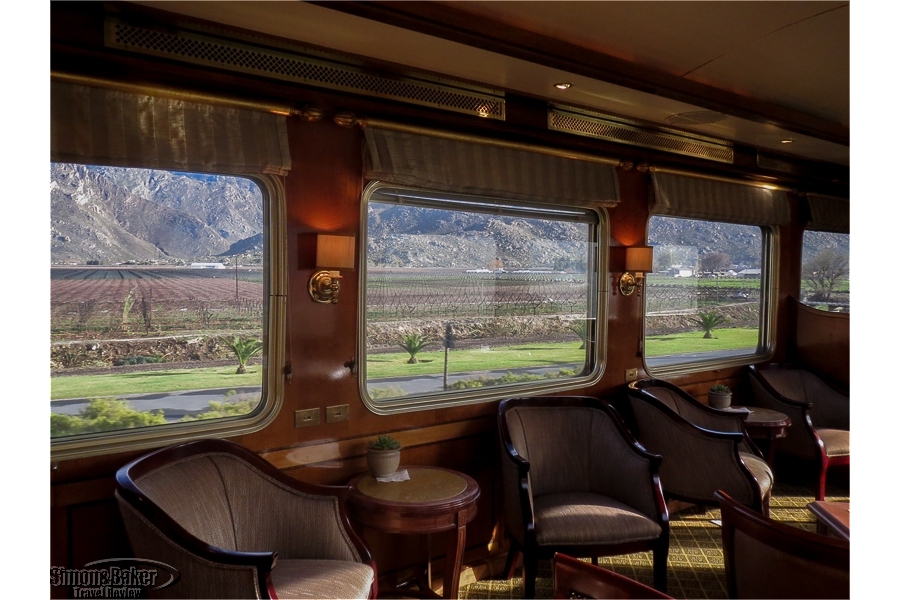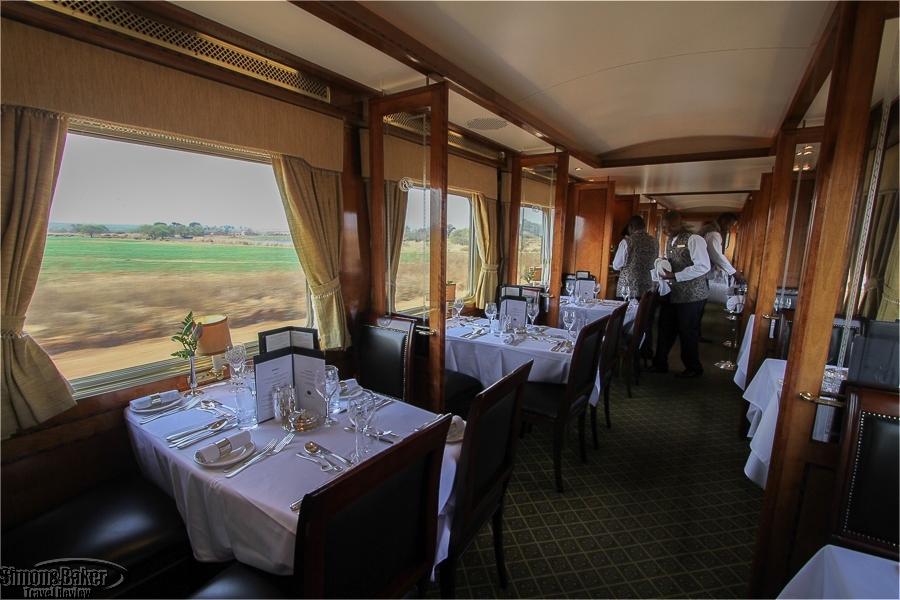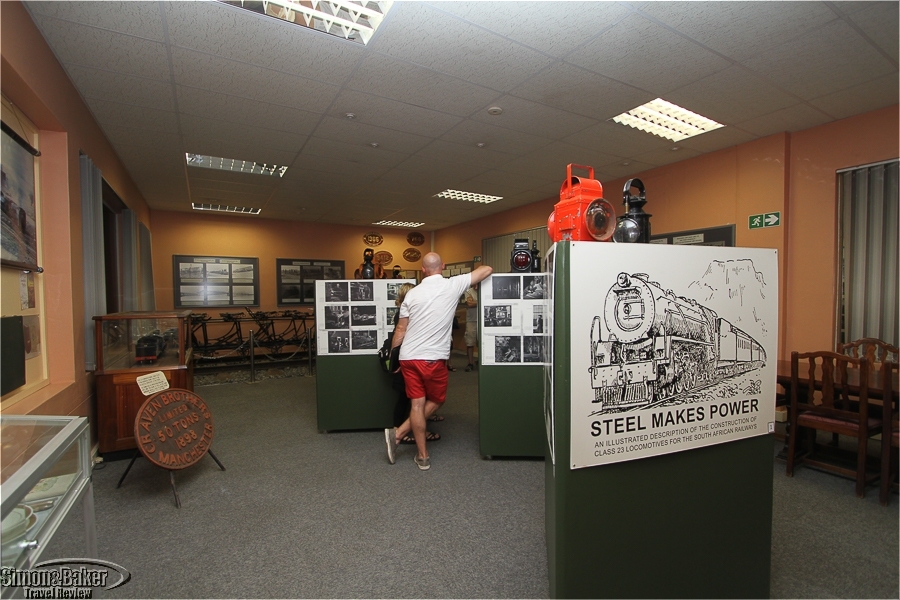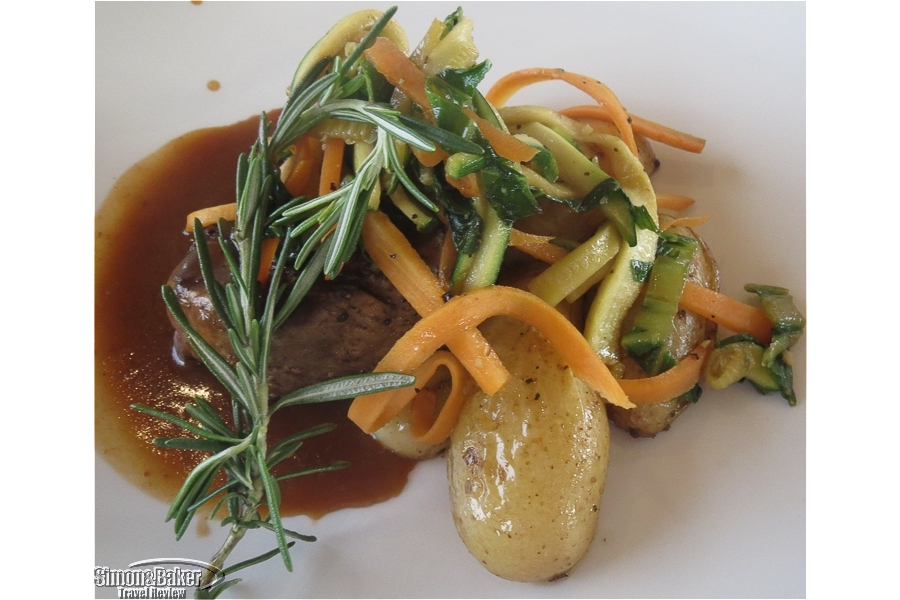 I loved the indulgence of time on board thanks to The Blue Train's serene pace because it was conducive to meeting travelers and stimulating conversations, sometimes with folks who on departure felt like long lost friends.
Overall Impression
As I arrived at the 420 square meter welcome lounge for The Blue Train at the Pretoria, South Africa train station, steps away from the entrance to the popular mass transit Gautrain railway, I saw a sea of expectant and excited faces and heard a variety of English accents. Among my fellow passengers I met South Africans, expat residents of South Africa, and American, Australians and New Zealand tourists. Despite the early hour, 7:15 a.m., we were enthusiastic about riding the train together. More than a mode of transport from the Gauteng Province south to Cape Town, The Blue Train was a medium for many of us to meet and share quality time in a private luxury vessel while enjoying Five Star service and amenities.
Weather conditions and construction caused delays in the first part of our journey. As a result we arrived past the opening hours for the Diamond Mine Museum and famous The Big Hole, our one hour excursion (our informational materials clearly indicated on time arrivals could not be guaranteed). In lieu of the cancelled tour the staff organized a brief talk and visit of the small Kimberley Transport Museum at the Kimberley train station. The stop allowed time to refill the train's water tanks, causing water on board to be shut down for about one hour. While some of the passengers were at the museum, I accepted the train manager's invitation to see the modern locomotive car at the head of the train. It was an unexpected treat and one of the highlights of the trip for me.
Our Pretoria to Cape Town Trip, the most popular of the journeys offered, took 27 hours and covered 1,600 kilometers or 994 miles. There were 40 en suite compartments (about 8 square meters each, to judge by mine) in 19 cars with accommodations for 74 guests and 31 staff during the leisurely jaunt between two of the country's best known cities. Anyone in a hurry would have been better off flying. Train enthusiasts explored the cars and facilities with keen interest. Many spent quiet time in the comfort of their compartments, their butlers an easy call away. Others soaked up the views of passing train stations and the varied scenery while finding companionship in the train's common areas such as my favorite, the rearmost Observation Car.
I liked my compartment, its furnishings with an eye on comfort and elegance and overlarge windows with expansive exterior views (I especially enjoyed the passing scenery of the Cape Winelands), and the common areas such as the Dining, Lounge and Observation cars as well as the foodie and service orientation. I loved the indulgence of time on board thanks to The Blue Train's serene pace because it was conducive to meeting travelers and stimulating conversations, sometimes with folks who on departure felt like long lost friends.
Area Covered
From Pretoria to Cape Town, South Africa
Cell Phone Signal The few times I tried to make calls or send emails there was limited or no signal. Cell phone use was discouraged in the common areas.
Children Although the train welcomed children of all ages the activities on offer were for adults. Children were not allowed in the Club Car. There was one young boy on board who frequently ran along the aisles and common areas. There were no special meals available for children or infants on the train. The official policy was that children should be kept under strict adult supervision and should not inconvenience other guests. The management requested that Guardians sign an agreement to the Child Policy before boarding.
Connectivity On arrival we received a voucher with a username and password valid for 50 megabytes of internet access. WiFi connectivity was erratic. Most of the time I was unable to connect. Many of my fellow travelers expressed having similar experiences. A spokesperson indicated the speed varied from 8 megabyte per second (in urban areas) to 1 to 2 megabyte per second in remote areas. I was never able to connect in my compartment. Although I connected on and off (more off than on) in the Observation and Lounge cars, the emails I thought had gone out only did so once I arrived at my Cape Town hotel.
There was a WiFi 3G usage map for the journey relative to the cities we passed: Pretoria to Johannesburg Soweto, Potchefsstroom, Kierksdorp, Wolmansranstad, Warrenton, Kimberley, De Aar, Three Sisters, Beaufort West, Prince Albert Road, Laingsburg, Matjiesfontein, Touwsriver, De Doorns, Worcester, Paarl, Bellville, and Cape Town. The information in my compartment indicated the speed varied as follows: Very Fast 3G from .5 megabytes to 5 megabytes, when passing through one of the towns or cities on the list; Fast Edge from .2 megabytes to 2.5 megabytes; Medium Edge or dial-up speed; and Slow Edge, which was not recommended.
Crew Herbert Prinsloo was the train manager. According to the information in my compartment, the train, which included between two and four diesel and six electrical locomotives for each journey, was operated by a driver, an assistant and two technicians. In addition to the train manager the hospitality staff were made up of executive chef, restaurant manager, rooms manager, 17 Butlers, and six kitchen staff. A ground crew of mechanics, electrical and air conditioning specialist, plumbers and wheel toppers maintained and serviced the train.
Duration About 27 hours
Established The Blue Train was established in 1946. In 2013, the company repainted the exterior of the train, reupholstered furniture, and re-carpeted; upgraded the driver's eye view camera; added WiFi throughout; added new and improved butler mobile phones; and upgraded the braking and air-cushion suspension systems, and the fire and smoke detectors. The staff coach was refurbished and fitted with an entertainment system. The train's entertainment system was upgraded to allow guests to select movies, as well as rewind, pause and skip from one movie to the next.
Handicapped Access Suite 20 was capable of accommodating paraplegic passengers. There was a train wheelchair designed to fit the vessel's corridors. One of the passengers who had mobility restrictions made use of the wheelchair during our journey. A spokesperson explained, "We have never had deaf or blind guests, but would encourage that they bring along their aids when they come on board. Our butlers would also be on hand to assist and make the journey as comfortable as possible."
Location The train departed from central Pretoria and arrived in central Cape Town, South Africa
Number of Employees There were 31 staff, including two technicians, on board.
Owned-Managed The Blue Train was a business unit of Transnet Freight Rail, a division of Transnet SOC Limited (owned by the South African government)
Pets No
Size and Main Features of Vessel There were 40 Suites in 19 cars which transported 74 guests. While the train could travel at up to 90 kilometers per hour, during most of the day of departure we moved slowly and in spurts, only to stop intermittently for varying lengths of time. The coaches were 21.17 meters long (68 feet and 11inches) and 2.9 meters (9 feet and 5 inches) wide.
Description
After I heard my name called I, along with several fellow passengers, followed my butler from the welcome lounge through the busy Pretoria train station for our 8 a.m. boarding. The ticket indicated no firearms, flammable substances, fireworks, poisonous or toxic substance were allowed on board without prior permission. Our departure from Pretoria at around 8:30 a.m. was slow and unobtrusive, allowing me to easily become accustomed to the movement of the train. As soon as my butler described the amenities and shared instructions with me I made my way to the Observation Car, where a handful of friendly passengers had already settled in and ordered beverages. One of the staff members informed me I would be seated at brunch at 12:30 p.m. and the final dinner seating at 9 p.m. as the other times were already full.
Once we left Pretoria, Johannesburg and the gold mining region behind us, we entered the Kalahari Thornveld known for its corn and cattle farming. After lunch, there was an announcement indicating our arrival in Kimberly, originally scheduled for 5 p.m., would be delayed due to slowdowns on the train tracks. The announcer said the excursion to Kimberley was canceled. He also indicated that while the water tanks were being refilled at around 7 p.m. there would be no running water for about one hour. Later, there was a second announcement indicating that we would be able to visit Kimberly, but that the museum and the shops might not be open. It was very hard to hear the public address system clearly. I had to ask one of the staff to tell me what the speaker had said as no one else near me was able to hear the announcement well either.
Kimberley, the region capital of the Northern Cape and home of one of the world's most famous former mines, followed the Vaal River. By the time we approached Kimberley the weather had clouded and darkened. Try as we might none of our group in the Observation Car saw any of the Campher Dam flamingos we had heard we might see.
After departing from Kimberley we picked up speed, especially during the evening, which allowed us to arrive on time at our final destination. By then it was too dark to see much of the passing scenery, including the towns of De Aar, Victoria West and Beautfort West. Following dinner, many passengers scattered in the common areas playing cards, reading and chatting. I was delighted to have a hot shower. The thin mattress and occasional jerky movements made sleep fitful and I awoke a bit tired, yet looking forward to our passage through the Hex River Pass to the Cape Winelands and lowlands of the Swartland, and midday arrival in the Mother City (Cape Town). Before leaving I received a personalized certificate of graduation souvenir. At the station, there were many moist eyes and warm good-byes as we all went our separate ways into the city and beyond.
Bathroom
The bathroom, while small, was functional and elegant, featuring rare Gialo Royale Italian marble on the floors and vanity spaces, and 24 karat gold platted fittings. It had a stone top sink, glass shower door, and mirror the full width of the bathroom wall. In terms of linen, there were: two towels, two wash cloths, a floor mat, and two bath towels.
Room My 8 square meter (86 square foot) compartment, De Luxe Suite Number 32, had a single sleeping and sitting area and a pretty en suite bathroom with a shower. During the day, there were seats, which were converted into Twin Beds at night. The sleeping area had wall to wall carpeting with a diamond design in khaki and brown. The staff announced that the beds would be made on request or as the day progressed. When I returned from brunch, I found someone had turned down the interior twin bed, revealing white monogrammed linen and leaving the remaining half of the compartment for me to sit window side. The following morning when I returned from breakfast my bed had been put away.
Beneath the large double glass window, which was almost the full width of the wall, there were two chairs, including a comfortable armchair, small built-in table, and foot rest. Across the compartment, there was a built-in wood closet with hanging space beneath a small LG television, which displayed the view of the train tracks visible from the first car of the train. It could also play movies. Additional creature comforts included individual temperature control (ranging from 18 to 24 degrees Celsius), glass flower vase with a fresh flower, wood veneer and birch, and décor created by Wilson and associates, according to the booklet in my compartment.
Meals
There were hot and cold beverages on offer in the arrivals lounge in Pretoria. Once on board the train, the small snack arrangements in the common areas disappeared quickly. Because the Dining Car had capacity for 42 and there were 74 passengers there were two seatings per meal. One group was served breakfast at 10:30 a.m. The following group had brunch at 12:30 p.m. By the time I learned about meal times only the brunch seating was left and likewise I was only able to dine at 9 p.m. (the 7 p.m. seating was full). Passengers were expected to dress for dinner, the meal highlight of the trip.
A staff of six, ranging from 24 to 51 years old, worked in the kitchen. On board chefs prepared South African meals from locally sourced organic ingredients. There was a frenzy of activity when I peeked in the kitchen at dinner time. A glass window allowed me to watch the amiable pastry chef prepare dessert in her spotless and chilled section.
There were two options for each course plus a soup and dessert. We could select the wines of our choice from the wine menu. For brunch there were Camembert and scallop dishes as well as a cauliflower and truffle soup. For mains there was salmon or beef fillet with a blue cheese sauce. I ordered the scallops, cauliflower soup and fillet. Tea began at 3:30 pm. There were cucumber sandwiches, salmon sandwiches, cheese pastries, cookies, cake, meringue topped with fruit, and fresh fruit.
On the second day, breakfast was served in the Dining Car between 7:30 a.m. and 10 a.m. It was also possible to have a continental breakfast in our compartments. According to promotional materials, the staff could accommodate special and vegetarian meals on request. My check-in notation for foods free of black pepper or chili had no effect at dinner. The appetizer was langoustine in curry sauce served with phyllo dough with a spicy filling. The soup was spicy and the springbok and lamb dish was sprinkled liberaly with black pepper. At my fellow passenger's request, the server brought a spice free appetizer. He returned with a single langoustine without garnish or sauce of any kind. In lieu of the soup and main course the server brought me a small cheese plate.
Specialty Five Star train
Amenities
Accommodations, meals, snacks, beverages including wines and alcoholic drinks, and one excursion in Kimberley were part of the cost of the ticket. Gratuities, imported French Champagne, caviar and telephone calls outside the train were excluded.
Compartment amenities were: en suite bathroom, soundproofed double glazed panoramic windows, individually controlled temperature (via air conditioning and underfloor heating), closed-circuit television in the armoire, which displayed the conductor's real time view as well as movies (there was a TV guide), telephone to reach train staff and for long distance and international phone calls, remote controlled textured blinds in the compartment and bathroom, 24 hour Personal Butler Service, goose down duvet and pillows, 100 percent percale cotton bedding, in-room safe, comfortable cloth furniture, and recessed soft lighting. There were The Blue Train post cards and stationery in the folder in my compartment. The train offered complimentary postage and staff mailed the postcards. There were four 250 milliliter bottles of train brand still water in my compartment when I arrived. On the second day, there were three additional bottles in the same size of aqua Bella still spring water. There was shoe cleaning and valet service for limited quantities of washing, drying and ironing. Although I did not take advantage of the option, among the amenities listed was the possibility of ordering light snacks and beverages in the Suite.
There were Duke and Forsyth toiletries: shower cap, Vanity Kit, 35 milliliter Bath and Shower Gel, Conditioning Shampoo, and Hand and Body Lotion. There was also tissue paper, one bar of soap, and room deodorizer.
Gifts included a battery charger for electronics and a train branded miniature souvenir clock. At turn down, there was a box of three chocolates in a train branded box. On departure, I found a wonderful four inch wide fondant frosted spice cake in my compartment. It was one of my favorite desserts on that trip.
Facilities The Club Car Lounge, Lounge Car, Dining Car, Observation Car, and Boutique.
Souvenir Shop The boutique was open from 10:30 a.m. to 5:30 p.m. on the first day and from 9 a.m. to 10:30 a.m. on the second day. Products for sale included tie rings, metal key rings, miniature clocks, business card holders, playing cards, postcards, toweling robes, and Double Decker Lunch Coolers. There were also leather goods: cases for iPad, Lipstick, and CDs, Luggage Tags, Mini Note Pads, Travel Document Bag, Ladies Purse, Picture Frame, cellphone, Ladies Toiletries Bag, Photo Frame, and men's wallets.
Other
The temperature in public areas was preset at 20 to 22 degrees Celsius (68 to 72 degrees Fahrenheit). In 2015, The Blue Train was recognized by the World Travel Awards as Africa's Leading Luxury Train for the seventh consecutive year since 2009. The electric supply was in 220 volts. The train used electric locomotives. There was a plug beneath the table in my compartment convenient to charge my electronic devices. The dress code was smart-casual during the day and elegant (a jacket and tie were required for gentlemen) for dinner. Given the size of the compartment small suitcases or overnight bags were best. Additional suitcases and large baggage could be stored in the luggage carriage. When I went to shower before dinner there was no water. It was only on returning to my compartment after dinner that I discovered with relief that there was water in my shower again.
Styled after a traditional gentleman's club the Club Car Lounge at the front of the train (thanks to its location non smokers never had to pass through that area to reach any other parts of the train) had cognacs and cigars. It was the only area on the train where smoking was permitted. It had a wide screen television on the front wall connected to the camera on the first car of the train, which provided a view of the tracks and scene ahead of the train. The Club Car Lounge had a bar, newspapers, magazines and board games.
The staff served High Tea in the Lounge Car. The Observation Car (my favorite) at the rear end of the train was available on select dates. It had windows on three sides for maximum enjoyment of the passing scenery.
Sitting by the rear most window was a favorite activity for a number of passengers. We took turns sharing the four most comfortable armchairs nearest to the back window. The prettiest scenery we saw was while crossing the Winelands on the morning of the second day. Parts of my Directory of Services were damaged and illegible. There were two South African police personnel on board. Thirty minutes before our arrival at our destination, the train manager announced the procedure for luggage collection and disembarkation.
Date
August – September 2015
Reviewers
Photos and Article by Elena del Valle
Service My compartment was serviced multiple times during my stay. Although I only saw my butler, Joyce, when I arrived and when I called her a couple of times, more than once I noticed someone had serviced my compartment like when I returned to find my bed was made, and when I noticed extra water. After I discovered, with little time to spare, that my linen blouse had gotten too wrinkled to wear I called Joyce. She returned my pressed top within 10 minutes. Mosa, who looked after the meal service sometimes, was friendly and service oriented. Butlers were on duty from 6 a.m. until 11 p.m. The instructions in my compartment indicated I should contact the train manager for anything after 10 p.m.
Would You Take This Voyage Again Yes
Contact Information
Address:

The Blue Train
2nd Floor, NZASM Building
6 Minnaar Street (Corner Paul Kruger)
Pretoria Central, Gauteng
South Africa

Phone:

+27 (0) 12 334-8459
Fax +27 (0) 12 334-8028

Website:
Email: