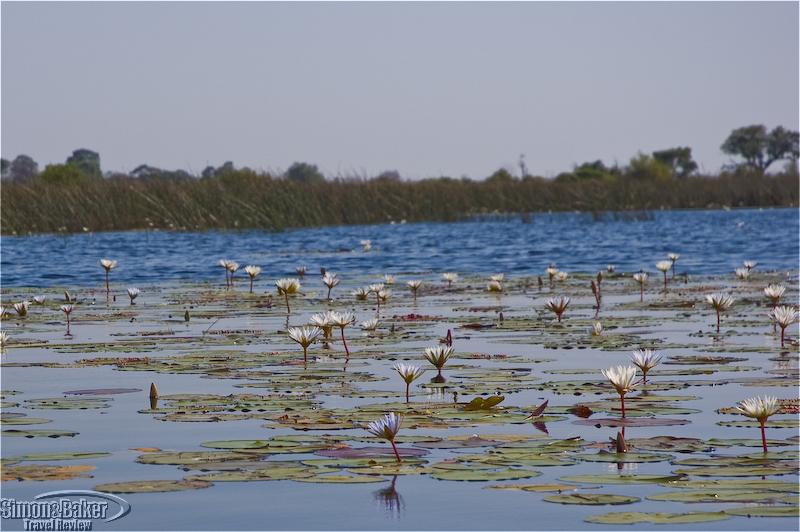 Its superior accommodations, attentive management and well-trained staff made it a place where I will gladly return whenever tourism or business travel take me to the area in the future.
Overall Impression
Stretched along a verdant bank of the Thamalakane River on the outskirts of Maun, the gateway city to the Okavango Delta, Thamalakane River Lodge was quite literally a breath of fresh air after my extended stay in the parched wilderness of the Kalahari. Built in a grove of tall riverine trees filled with abundant bird life, the lodge was resolutely turned toward the river. All guest chalets and common areas had terraces that took full advantage of the cooling breezes and serene 180 degree view of the riverbanks lined with fluttering reeds visited by an ever changing array of water fowl and birds. Dusk was spectacular, with the sun setting the river ablaze as it slowly dipped behind trees.
Thamalakane River Lodge was blessed with an exceptional location. Because of its proximity and easy access to Maun via a newly paved, four-lane road, this tranquil river retreat with decidedly urban touches (such as elegant à-la-carte international dining and thoughtful concierge services) appealed to the city's elite as well as leisure visitors. For local residents, the lodge was a favored spot for business meetings and special-occasion dining. For safari tourists, it was a welcoming enclave of peace close to the city, to ease the transition to and from the bush or to settle in while exploring nearby eastern areas of the Okavango Delta. The latter was the purpose of my visit.
Working with a local safari tour company, the friendly staff of Thamalakane River Lodge arranged a program of activities tailored to my interests. A daylong excursion to the Moremi Game Reserve, a diverse environment of flood plain, permanent water, forest and savannah, made for outstanding game viewing. The next day found me cruising in a mokoro (flat dug-out canoe commonly used by local residents to move around the Okavango swamps) with my guide and pole man, across vast expanses of water lilies in full bloom and enjoying the exceptional bird life along the papyrus-bordered channels. I also visited Sexaxa, a nearby village of the local Bayei tribe. I spent a most rewarding morning there, not only exploring the cultural and domestic aspects of village life, but also communicating (through an interpreter) with several villagers who had as many questions about my world and daily life as I had about theirs.
With its easy proximity to Maun and the airport was well as the Moremi Game Reserve and the Okavango eastern flood plains, Thamalakane River Lodge was an ideal introduction to my visit of the Delta. Its superior accommodations, attentive management and well-trained staff made it a place where I will gladly return whenever tourism or business travel take me to the area in the future.
Class Of Accommodation
Thalamakane River lodge held a three-star rating from the Botswana tourism board.
Communications Mobile phone service was readily available at the lodge as well as in and around Maun with GSM a 900/1800 compatible international cellular phone. A desktop computer connected to the internet was available for guest use in the reception area. Connectivity was erratic at best.
General Manager Jacques Van Der Merwe
Handicapped Access Motion impaired guests could be accommodated by previous arrangement.
Length Of Stay Four nights
Location On the Thamalakane River, a 20 minute drive northeast from Maun Airport, on the road to the Moremi Game Reserve.
On-Site Managers Tanja Von Kaschke and Neill Robberts
Owned The lodge was owned jointly by six private investors: Killor Ledimo, Robert Riggs, Jacques Van Der Merwe, and Sieg, Reinhardt and Marius Van Regburg.
Size The 21 acre (87,500 square meter) lodge consisted of 10 guest chalets capable of accommodating up to 20 guests. It employed a staff of 34 including two on-site managers.
Year Open-Renovated The property was built and began welcoming guests in 2007.
Lobby And Common Areas
From the upper level reception chalet and parking area, a stone stairway hugged the edge of a rock waterfall and aquatic garden to lead over a small wooden bridge to the open-plan multi-level main lodge. The lodge was built of beautifully crafted stonework under a soaring thatch roof that unobtrusively blended into the slope of the terrain. It was open on three sides to ensure a panoramic view of the river. To the right of the entrance bridge, the bar occupied the center of the lounge area. It had a horseshoe-shaped stone base topped by a thick slab of polished exotic wood. It was surrounded by tall wrought iron ladder-back chairs. On either side of the bar, intimate groupings of rattan sofas and armchairs with natural canvas cushions were gathered around square coffee tables on thick oriental rugs. Toss pillows were made of local textiles, color-coordinated to the rust and deep red tones of the rugs.
The library was in a quiet corner of the lounge. Its three overstuffed rolled-armed sofas angled around a wrought iron and slate coffee table were an especially cozy spot to settle with a book and a cool drink. An ancient wooden mokoro hung horizontally against the stone wall to provide an interesting sculptural shelf to store reading material. To the left of the entrance bridge, three steps led down to the dining room, which occupied the entire front of the lodge. Its square wrought iron tables were topped with slate. Matching metal chairs with high ladderbacks and coral canvas cushions provided the seating. Rough-hewn tree trunks supporting the roof served as backdrops for a collection of local masks and wood carvings. Beyond the dining room, square teak tables and armchairs were arranged around a tree-shaded flagstone terrace overlooking the river. The terrace was a popular spot for relaxed al fresco meals and sundowner drinks, as was the large boma (fenced flagstone terrace with an open air cooking area) at the far end of the dining room.
Bathroom
The bathroom occupied the left side of the chalet. In addition to the flush toilet, bathroom fittings included a half-round vanity with a polished mahogany countertop that held a white porcelain sink. Above it a square mirror was built into the slate wall. The oversized slate-tiled shower stall was closed with glass doors.
Room My 280 square foot (26 square meter) chalet, Number Five, featured a deep thatched covered veranda with a wicker loveseat and a small iron and slate coffee table. I especially enjoyed lingering there over my early morning coffee while observing the bird activity in the trees above. From the veranda, double sliding glass doors led into the chalet. Above them a triangular screened opening followed the pitch of the roof to ensure plentiful airflow. There was also a ceiling fan in the peak of the ceiling to keep the room comfortably cool at all times. The chalet was built of rustic stone. The back wall was white plaster with embedded slabs of slate that provided a visual headboard for the double bed. Two wood and wicker beside tables held reading lamps with beaded shade. Mosquito netting hung from a hoop above the bed. Furniture was made of local wrought iron. To the left of the door, a tall shelving unit provided storage and served as a luggage stand. In the center of the right wall, a half-round table topped with a large mirror and a high-back wicker chair served as a writing desk and dressing table. A wicker barrel armchair provided additional seating. At the foot of the bed, a large oriental throw rug covered the slate flooring. A stone and wood partition separated the sleeping area from the bathroom.
Food The lodge had an excellent full-service restaurant with an à-la-carte menu that featured a variety of well prepared dishes, and an extensive, well priced wine list. Organically grown local produce was especially delicious, often served grilled with various cuts of local beef, fresh fish or seafood (flown in twice weekly from South Africa). I particularly enjoyed the oven-roasted bream, and the succulent prawns served grilled to perfection with lemon butter. Especially on weekend nights, the restaurant was a favorite with Maun residents. However, guests of the lodge always enjoyed reserved seating.
Amenities
Room amenities included daily laundry, an electric kettle with coffee and tea service and bottled water. A wicker basket held mosquito and insect repellent, a flashlight and an emergency horn. An electronic safe was built into the wall. Bathroom amenities included tissue paper, bath and hand towels, face cloths, face soap, and individual size bottles of body wash and shampoo.
Gift Shop There was a small gift shop in the reception chalet. It carried a limited assortment of locally created crafts, mainly textiles, jewelry and basket wares.
Pool In the center of a well-kept lawn, a 20 by 20 foot (six by six meter) free form swimming pool was surrounded by six lounge chairs with natural canvas cushions. Under a matching canvas umbrella, six teak folding chairs arranged around a slate-topped coffee table provided additional seating. The attentive bar staff was prompt to deliver drinks and snacks, and constantly replenish the supply of pool towels.
Game Viewing
In addition to the constant bird viewing within the lodge's grounds, my visit to Moremi Game Reserve and my
mokoro
cruise provided excellent game viewing opportunities.
Game I sighted included: black-backed jackal, elephant, zebra, giraffe, buffalo, hippo, red lechwe (including a startling snow-white albino specimen within a herd of its red brethren), tsessebe, steenbok, impala, waterbuck, kudu, red-painted frog.
Birds included: red eye dove, Cape mourning doves, swallow-tailed bee eater, carmine bee eater, red hornbill, gray hornbill, yellow hornbill, gray heron, saddle-billed stork, open-billed stork, slaty egret, gray egret, yellow-billed egret, little egret, blacksmith plover, lilac breasted roller, hadada ibis, sacred ibis, black-winged stilt, reed cormorant, African jacana, hammerkop, pygmy goose, African fish eagle.
Activities Lounging poolside, bird-spotting and reading were favorite activities around the lodge. While Thamalakane River Lodge did not directly provide activities or excursions, it maintained a close relationship with an established local mobile safari organization (Mosu Safari Tours) that had a staffed desk in the lodge's reception chalet. They had prepared a suggested program of daylong excursions prior to my arrival, all in private vehicles and with knowledgeable private guides, at competitive prices. Although I opted for half and full day excursions, overnight or longer tours could also be arranged.
Other
At the time of my visit, under the leadership of lodge manager Tanja Von Kaschke, who holds a degree in nature conservation from the Nelson Mandela Metropolitan University (NMMU) in George, South Africa, Thamalakane River Lodge was engaged in an extensive program to meet or exceed international responsible tourism guidelines.
With the exception of the general and on-site lodge managers, all staff was from the local community. Management and training programs were in place, and supervisory positions were being filled through promotion from within staff ranks. Local farmers had been contracted to organically grow produce for the lodge, thus ensuring top quality ingredients for the restaurant, while enhancing the relationship with the local community, and reducing the need for air-freighting food supplies (and the carbon footprint of the lodge). An effort was well underway to revert the landscaping of the grounds from exotic species to exclusively indigenous vegetation. In addition to its esthetic value, the new landscaping was resulting in a substantial reduction of ground upkeep and water consumption.
Cleanliness
Excellent
Date Of Last Visit October 2009
Reviewers Article and photographs by Josette King
Service The room was serviced once daily. All the staff I came in contact with had good English language skills, and were well trained, friendly and attentive.
Would You Stay There Again? Yes
Contact Information
Address:
Sexaxa Ward
PO Box 888
Maun, Botswana
Phone:
+267 680 0217
+267 7250 6184 (cell)
+267 751 3300 (emergency)
Fax:
Website:
Email: