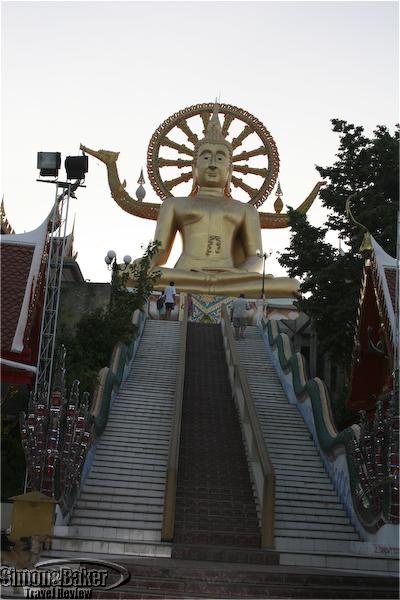 I thoroughly enjoyed my visit there and found it to be an ideal introduction to Southeast Asia.
Overall Impression
There are actually three Thailands. Bangkok first of all, a frenzied 600 square mile (1,575 square kilometer) megalopolis that is home to over 10 million residents, and where sky-high glass towers coexists with centuries-old gilded temples and palaces. From art and culture to shopping to nightlife, its many attractions are well documented and draw upward of 14 million visitors per year, many of whom make it a few days' stopover after the long flight in from their far-away homeland, on their way to other parts of the country.
Then there is the North, a vast mountainous, fertile region where the ancient Lanna Kingdom once flourished with Chiang Mai as its capital. Successive Burmese invasions caused its kings to abandon it in the 18 th century in favor of Bangkok, 435 miles (700 kilometers) to the south. But even stripped of its capital status, Chiang Mai traversed the centuries with its historic charm intact. Its medieval moat still surrounds the historic city, although little remains of its fortification walls. Contemporary Chiang Mai counts over 300 Wats (Thai for Buddhist temple), the oldest dating back to the 14 th century. Most of them are still in use, their stunning wooden structures and elaborate scalloped rooflines painstakingly maintained. The city is surrounded by steep hills covered with lush rainforests that are still home to a few isolated hill-tribes. While the city's popularity has increased in recent years and it now welcomes close to one million visitors per year, it has retained its provincial laid back atmosphere.
Lastly, there is Southern Thailand, the long, narrow stretch of land between the Gulf of Thailand and the Andaman Sea, running 750 miles (1,200 kilometers) southward from Bangkok to the Malaysian border. This is the land of deserted white sand beaches lined with groves of coconut palms, made famous in the 1970's by a generation of back-packing European students and American GIs (military visitors). Much has changed in the intervening decades. The stunning tropical paradise land and seascapes remain, from the sheer limestone cliffs of Krabi to the many coral reefs that endure in the waters off both coasts, and many areas have been declared National Marine Parks (although their status is often only casually enforced). The quaint fishing villages and back-packers bungalows have been crowded out by luxury seaside resorts. The largest of the islands, such as Phuket and Koh Samui now have convenient international airport that can receive commercial jets filled with vacationers directly from Europe and various parts of Asia. However, in spite of this influx of tourists, the Thai people I encountered have retained the serene and dignified demeanor deeply rooted in their Buddhist traditions. They remain warm and welcoming to visitors and proud to share with them their rich natural and cultural heritage. Small wonder that many consider Thailand the most popular tourist destination in the region. I thoroughly enjoyed my visit there and found it to be an ideal introduction to Southeast Asia.
Cost Of Visiting
Even with the unfavorable exchange rate of the U.S. dollar at the time of my visit, cost of visiting was very reasonable.
Currency The baht is the currency of Thailand (THB). At the time of my visit the exchange rate was 30 THB to the U.S. dollar.
Electrical Current 220 Volts. Wall receptacles accommodated the flat prongs used in the U.S. and Japan as well as the round prongs in use in many parts of Europe.
Health And Vaccinations As is the case in most tropical countries, Thailand has its share of exotic diseases. Malaria is not a problem in any of the major tourist areas, but it is endemic in rural areas along the borders with Myanmar, Cambodia and Laos. Although rare, Dengue fever could conceivably be encountered. The easiest protection was to avoid mosquito bites by wearing long pants and long sleeves and use repellent at dusk in mosquito areas. As always when traveling in far-flung areas, I made sure to use only bottled water for drinking and oral hygiene.
How To Get There Bangkok is the largest air travel hub in Southeast Asia. With most airlines that serve Asia flying there, there were many available flights, with competition keeping fares reasonable. A few international flights from Europe and parts of Asia also flew directly into Chiang Mai, Phuket, Koh Samui and Krabi.
Location At the heart of Southeast Asia. Thailand is bordered to the northeast by Laos and Cambodia, to the northwest by Republic of the Union of Myanmar (formerly Burma) and to the South by Malaysia.
Measures Metric system
Money Issues Currency could easily be exchanged at banks located at the airports and in tourist areas. In addition to a commission they charged a fee for each traveler's check cashed. Money could also be conveniently withdrawn at ATMs. This was a good way to avoid the exchange commission, but in addition to the transaction fee for overseas withdrawals now charged by most banks to their cardholders, there was a 150 baht surcharge for use of foreign cards at all banks' ATMs in Thailand. When shopping in the many markets and bazaars, it was best to carry small denomination notes as vendors did not carry much change.
Technology Comparable to that of western countries. Reliable and often complimentary WiFi was available wherever I visited, most often in my room as well as in public areas. Connection speed ranged from moderate to fast. My quad band cell phone consistently had clear connections.
Time GMT/UTC plus seven hours
Transportation The country's modern infrastructure made it easy to get around Thailand. In addition to reliable and reasonably priced local airlines that served major tourist areas of the country, there was a good and inexpensive railroad network. Trains were punctual but very slow. For visitors who preferred to drive, there was a network of paved roads and highways, and a number of international car rental agencies in the main tourist centers. Traffic in Bangkok was congested and at times very slow moving.
Climate Thailand is located just north of the equator. Some variation of tropical climate prevails throughout the country. In Bangkok, the "cool" season runs from November to February, when temperatures are around 85 degrees Fahrenheit (30 Celsius), typically reaching their highest (over 100 degrees Fahrenheit or 40 Celsius) in April and May. The north (i.e. Chiang Mai) is at its coolest from November to January when the daytime temperature average is in the high 70's Fahrenheit (or high 20's Celsius). The resorts on the Gulf of Thailand are affected by the northeast monsoon from October to December when heavy rains can be expected at any time, while the Andaman Sea is subjected to the monsoon from May to October.
Shopping
From designer goods to local crafts and antiques to downright kitschy items, choices were endless, and I thoroughly enjoyed shopping for crafts in Chiang Mai. But mindful that counterfeit and pirated goods are widely available in Thailand, I avoided designer branded items and DVD in the bazaars where I couldn't verify their authenticity.
The Southern Beaches This once quasi-deserted tropical paradise has experienced enormous changes over the past decade. With jumbo jets providing easy and affordable air-travel, these beaches are now a one non-stop flight away (albeit a lengthy one) from many European and Asian capitals. To accommodate this influx of tourists, sprawling luxury resorts have multiplied along the coastline, offering a wide range of activities to their guests, from water sports to Thai cooking lessons, spa retreats and gourmet dining. Many of these resorts have become destinations onto themselves. This development has come at an environmental cost however, starting with the impact of the resorts on the beaches. Most of the beaches are public property which means that except for the rare exceptions were resorts have private beaches, even in otherwise secluded areas guests can expect to share the sand with day-trippers, often brought there by local diesel-powered longtail boats. Therefore the most popular areas get crowded and sometimes are no longer deserving of the adjective "pristine" long used to describe them.
Tourism Highlights
Bangkok
In this vibrant modern megacity where past and present are closely interwoven, tourism choices can easily be made on the basis of personal preferences. Mine were focused on the historic and religious highlights of the city. Most of my points of interest were located near the banks of the Chao Phraya River that intersects the city and is in itself a major traffic artery. I quickly became familiar with the Chao Phraya Express Boat system with stops at most of the places on my list. I started with the Grand Palace, a stunning example of classic royal Thai architecture, and the adjacent Wat Phra Kaew, a sprawling complex of gilded temples and statues, with at its core the famous Emerald Buddha (which is actually carved from jade and the number one attraction in the country). Then a short walk away, I visited Wat Po, the largest and oldest Buddhist temple in the city, home to more Buddha images than any other Bangkok temple, including the famous reclining Buddha. With a length of 150 feet (46 meters) and height of 50 feet (15 meters), it is the largest Buddha in Thailand. I had also considered visiting a floating market on the outskirts of the city, where vendors on flat bottom boats used to ply their produce along the canals. However, having been forewarned by knowledgeable friends that the area had evolved into a tourist bazaar (albeit a colorful one), I instead hired a longtail boat to take me on a private tour of the
khlongs
(Thai for canal) of Thonburi on the west side of the river. We stopped at the rare Khmer-style Wat Arun (Temple of Dawn) before heading for the sleepy ramshackle neighborhood of criss-crossing narrow canals lined with shacks on stilts and old wooden townhouses, where local life appeared to have stood still for many decades.
Chiang Mai Set in superb mountain surroundings, this easily walkable city of 400,000 people was filled with colorful wooden temples that gave an interesting insight into its heritage as the capital of the historic Kingdom of Lanna (Sanskit for "land of a million rice fields"). It was also a center of rich artisanal traditions that still produced outstanding crafts such as tribal weavings and embroideries, lacquer and celadon ceramic ware and woodcarvings. The craftspeople sold their work in stalls at the Night Bazaar and the Sunday Market, which made for a friendly and colorful shopping experience. The Bazaar and the Market had large open-air food courts with a broad variety of local delicacies, which I couldn't always identify but sampled just the same without any noticeable side effects.
Other There was no visa requirements for tourists with passports from most western countries staying for less then 30 days, but the passport was required to have at least six months of remaining validity.
Mindful of reports by several reliable news organizations including the London Times and the BBC of a scam having been perpetrated on tourists at the Bangkok international airport duty free shops, I avoided browsing there. According to these 2009 news stories, several tourists had reported being falsely accused of shoplifting then held until they paid sizable sums to obtain their freedom. I settled instead in one of the many restaurants and coffee shops that offered complimentary WiFi Internet access to their patrons.