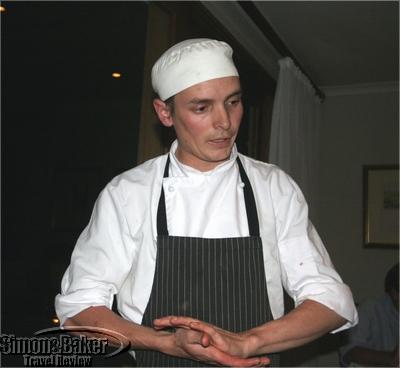 We had a marvelous dinner worthy of a top restaurant in any major city in the world and look forward to returning to this jewel of a restaurant the next time we're in the Cape Winelands.
Overall Impression
We arrived at The Tasting Room in the early evening courtesy of our hotel's private transport following a pleasurable day exploring the village of Franschhoek. At our request, one of the staff escorted us on a brief walk around the pretty hotel grounds. Knowing we wouldn't have to drive or find the way back to our hotel in the evening dark through the village's unfamiliar streets should we choose to partake in the copious quantities of scrumptious sounding food and tempting local wines listed on the menu allowed us to relax and savor the meal.
We were seated comfortably at a window table facing an outdoor water feature. The menu offered a la carte and set menu choices of three, five and eight courses as well as a broad selection of local wines. After a brief discussion with the staff, we left our dinner selections in the capable and enthusiastic hands of Sous Chef Chef Ryan Shell, who was in charge of the restaurant that evening.
The restaurant's combination of friendly staff and surprisingly sophisticated cuisine in a quiet, intimate and comfortable setting made us fans. We also appreciated the company's personnel policies dedicated to hiring local staff and promoting from within. We were impressed with the culinary team's ability to whip up refined dishes using a combination of products from its own garden, local producers and imports.
We spent the entire evening tasting succulent and savory dishes during our nine course meal at the aptly named restaurant. Toward the end of our meal we toasted with the staff to congratulate them on the receipt of a culinary award announced that very evening. We had a marvelous dinner worthy of a top restaurant in any major city in the world and look forward to returning to this jewel of a restaurant the next time we're in the Cape Winelands.
About The Executive Chef
Margot Janse, 38 at the time of our visit, lived in Franschhoek with her husband, Duncan and son, Thomas, three. Born and educated in The Netherlands, she discovered her interest in food and at the age of 23. She approached Ciro Molinaro, a Johannesburg restaurateur who agreed to teach her in his own kitchen. During a two year apprenticeship, she learned about managing a kitchen. Her mentor encouraged her to experiment and play with food, inspiring her to explore beyond traditional food boundaries.
In 1995, Chef Janse joined the culinary team at Le Quartier Français and shortly after her arrival she was invited to become executive chef. She travels extensively in search of new ideas and to stay abreast of emerging trends. Her menu changes are based on the seasonal fresh produce she sources from Le Quartier's organic garden and small local producers. She received the inaugural Relais and Chateaux Rising Chef Trophy 2007.
Chef De Cuisine Chris Erasmus
Executive Chef Margot Janse
Handicapped Access The restaurant staff welcomed handicapped guests although the facilities were not designed to be handicapped friendly.
Location In Le Quartier Français hotel in the heart of Franschhoek in the Cape Wineland
Manager Linda Coltart
Opened-Renovated The Tasting Room was established in 2004
Owned Susan Huxter, Richard Friedman and Pauline Friedman
Pastry Chef Kim Fenner
Size The Tasting Room occupied about 104 square meters and could accommodate up to 45 guests who were taken care of by a staff of 12.
Type Of Restaurant Innovative continental
About The Manager
Born and educated in South Africa, Linda's career first revolved around the hospitality industry. She focused on large-scale corporate and social events while running her own catering operation. More recently she provided exposure to South Africa guesthouses and hotels.
In 1998, she became assistant general manager at Le Quartier Français and shortly afterwards became general manager. During the past nine years Linda has traveled extensively. She conceptualized and implemented the hotel's in-house training program which focuses on advancement from within of young adults from the surrounding community through training in the hospitality industry.
Along the way, Linda discovered a passion for wine. Evidence of her knowledge of South African wines may be the Diners Club International Excellence Award received by Le Quartier every year since 2005. She promotes extensive wine training for her staff including visits to the surrounding wineries where they are able to gain insights on local styles and trends that help them make informed recommendations regarding food and wine pairing to guests.
DÉCor-Ambiance Designed by owner Susan Huxter, the dining room was filled with warm sun colors. Our table for two with comfortable cushy armless chairs faced an inner courtyard with a water feature. Tables were close enough to each other that we could clearly hear our neighbor's conversation. A very low tone of voice was necessary to maintain a private conversation.
Cellars Wine And Alcoholic Beverage Selection
There were more than 200 wines, mostly local, on the wine list. Although there was no formal wine steward the restaurant staff assisted guests as necessary.
Meal Our nine course menu began with watermelon and feta pre-appetizers. Then we had light and lovely Pan seared scallop, roe parfait, caramelised ginger and pumpkin velouté and Vrede en Lus Sauvigonon Blanc 2007. Next we had Saffron poached marries peer potato, crab and asparagus Caesar salad (a favorite) with Ernst & Co Chenin Blanc 2007; Wild mushroom and potato lasagna, fig glaze and GlenWood – Vigneron's Section Chardonnay 2006.
A delicate and savory "Fruit Salad" poached foie gras , open ravioli of samp and bacon was served with Cederberg Bukketraube 2007. Warthog with dauphin potatoes and caramelized onions were a surprise course Sous Chef Ryan Shell invited us to sample. Then there was Quail and pistachio terrine, liver parfait, pomegranate jelly, plum salad with Moreson Pinotage 2006; followed by 36 hour " sous vide " lamb neck, spiced aubergine pomme puree, cep jus (another favorite) with Stony Brook – Ghost Gum Cabernet Sauvignon 2004.
Cheese helped us transition: Gongonzola, walnut and red wine "trifle," poached pear, spiced nuts served with Pinehurst Rosé Sec 2006. Then there was Thyme bavarois and strawberry sorbet. For dessert we had Chocolate mint marshmallow soup, Turkish delight ice cream, banana gel served with Pierre Jourdan Brut bubbly.
Other The Tasting Room was listed in Restaurant Magazine 's the Worlds 50 Best Restaurants 2005, 2006, 2007. The owners emphasized promotional opportunities of local staff 99 percent of which were local. They offered in house ongoing training including a three year management course in hospitality.
Date Of Review
November 2007
Number Of Visits One
Reviewers Article by Elena del Valle
Photos by Gary Cox
Service Staff were attentive and cordial. We were looked after well through the entire meal.
Would You Dine Eat There Again-Recommend It? Yes
Contact Information
Address:
16 Huguenot Road
Franschhoek, 7690
Cape Winelands
South Africa
Phone:
Fax:
Website:
Email: