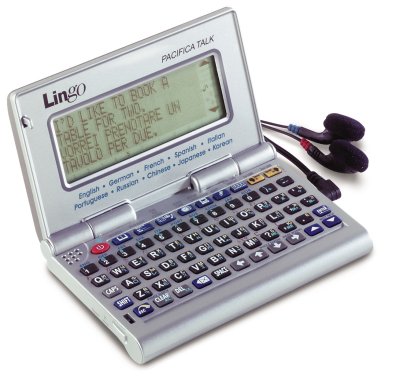 We plan to take the Talking Translator on future trips.
Overall Impression
We looked at a number of options before settling on the Lingo Ten Language Talking Translator. Though we could understand many words in writing and we could understand parts of a conversation when native speakers addressed us, we struggled to express ourselves properly in a foreign language.
One reason was theconcern that our sentence construction, grammar and pronunciation mightbe wrong and others would not be able to understand us.
We loved the ability the Talking Translator provided us to communicate with others in their own language in writing or verbally. Though the sound could have been better (the small speaker and electronic recording sometimes made it difficult to understand the exact words) the ability to select a phrase that was automatically translated and available to be played when trying to communicate with others was empowering. We plan to take the Talking Translator on future trips.
Batteries
Two AAA batteries (included)
Color Steel gray
Made In Manufactured in Japan , assembled in China
Manufacturer Lingo Corporation ( New York , Hong Kong )
Retail Price $199
Size 4-3/8 x 2-7/8 x ¾"
Type Of Product Electronic translator with a talking feature
Warranty 12 months from the date of purchase
Weight 5 oz
Features More than 200,000 words, 23,000 useful phrases, world time in 200 cities, eight currency conversions, eight metric conversions, euro converter, 12 digit calculator, 32k databank, backlit display, leather case and ear buds included.
Country(S) Tested
U.S.A. and Holland
Date Of Review February 2005
Number Of Days Tested Two weeks
Would You Use This Product Again? Yes
Contact Information
Address:
World Headquarters
Magellan's International
110 W. Sola Street
Santa Barbara , CA 93101
U.S.A
Phone:
805-568-5400 (International)
1-800-962-4943
Fax:
1- 800-962-4940
+1 805-568-5406 (International)