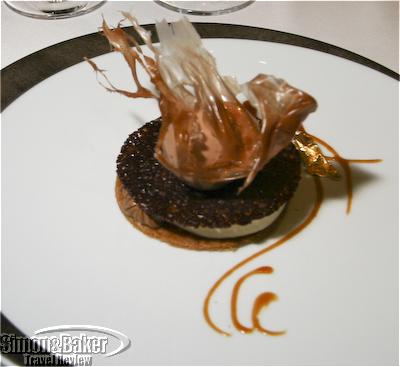 Taillevent provided a satisfying and pleasant meal worth repeating.
Overall Impression
Since our last visit to this well known Parisian restaurant in the posh eighth arrondissement the property had been revamped and the meal service improved. We appreciated the warm and cordial service and tasty meal during our recent lunch there and were pleased with the changes.
The redecorated interior was contemporary, in shades of brown and gray, contrasting with the historic building. In the same way, the classic dishes and attentive service worked well with the subtle modern décor and historic setting, they had just enough modern touches to play off traditional flavors and styles without ever being edgy.
From our corner table in the downstairs first salon we could observe the quiet dining room. To our right there was a single Japanese man (he spoke no English) eating his way quickly through what looked like a tasting menu. A large table against the far wall was temporary home to a mixed group of French and English speakers. Around the room everyone seemed to be savoring their meal and having a good time.
Staff were attentive and helpful, adding a personal touch to our dining experience. Our visit was pleasant and emotionally nourishing. Our four course lunch was well prepared and handsomely presented. Taillevent provided a satisfying and pleasant meal worth repeating.
About The Chef
Alain Solivérès arrived at Taillevent in 2002. Prior to that he worked at Les Elysées du Vernet in Paris beginning in 1993. Prior to that, he worked at La Bastide de Gordes (1989 to 1992), Le Grand Hotel (1986 to 1988 with Chef Bruno Cirino), Negresco Hotel, l'Oustau de Baumanière, Lucas Carton (1986 to 1986 with Chef Alain Sederens), and Louis XV (1988 to 1989 with Chef Alain Ducasse), and served as a cook in the military from 1984 to 1985.
Chef Alain Solivérès
Location Off the Champs Elysees area in the prestigious 8 th arrondissement
Owner Valérie Vrinat and Sabine Vrinat (mother and daughter)
Pastry Chef Arnaud Vodounou
Restaurant Manager Jean-Marie Ancher
Size The restaurant, 1,450 square meters in size, had space for 80 guests who were looked after by a staff of 47.
Sommelier Jean-François Lemoine although Manuel Peyrondet selected our wines the day we visited the restaurant.
Sous Chef Eric Prowalski
Type Of Food Classical French
Year Opened-Renovated The restaurant opened in 1946 and the most recent renovation took place in 2004.
Style Of DÉCor Modern décor with wood paneling. The dining rooms are on two floors and included original paintings, prints and sculptures by modern artists. The silverware was Christofle
Special Menus
The restaurant offered two set menu options (prices included taxes and service, excluded drinks): a four course Lunch Menu, only available at lunch, for 80 euros per person; and an eight course Discovery Menu for 190 euros per person served for lunch and dinner.
Specialties Epeautre du pays de Sault en risotto, cuisses de grenouilles dorées;
Rémoulade de tourteau à l'aneth, sauce fleurette citronnée; Selle d'agneau piquée à la sarriette, jus pimenté; Foie gras de canard au Banyuls, fruits et légumes caramélisés; Langoustines royales croustillantes, marmelade d'agrumes et thé vert; and Tarte renversée au chocolat et au café grillé.
Wine And Spirits Details Taillevent, closely affiliated with the Taillevent Caves wine cellars in the nearby Fauburg St. Honoré street, had 3,316 types of wine and 400,000 bottles. The two-page wine list we saw was divided by region: Alsace, Bordeaux (reds and whites), Burgundy (reds and whites, Loire Valley, Southwest, Rhone Valley, Savoy and Jura, Languedoc Rousillon, Provence and Corsica as well as foreign wines from Australia, Germany, New Zealand, Spain, South Africa, Italy, Portugal and Lebanon. We spotted several bottles for 28 euros and a 2,000 euro bottle of 1982 Chateau Lafite Rothchild Pauillac.
Meal
We began with a glass of champagne as an aperitif. Soon a plateful of small cheese puffs and a bottle of Chateldon mineral water appeared. We placed our selections in the chef's hands with the only restriction being no raw oysters for me. He served us a
foie gras
and artichoke pre-appetizer; it was light with a pudding like texture and slightly smoky, reminiscent of chestnuts.
Our first course was a finger-licking-good prawn dish (we were invited to hold the prawns with our fingers and provided finger bowls to rinse our hands), Epeautie du Pays de Sault en risotto aux Gambas et Curry . This dish had a comfort food like feel. The wine: a Rhone Valley Condrieu "Cherry" Domaine Perret 2004.
Next, there was a scallop dish, Noix de Coquilles Saint-Jacques dorees aux salsifis . The scallops were delicious, perfectly cooked with a savory brown sauce, fried strips of black radish and goatbeard (taproot). The wine: Chablis "Valmur" 2002 Domaine Raveneau.
Our final main was a coriander lamb, Gigot d'Agneau des Pyrenees a la Coriander served with flavored crunchy flavored mashed potatoes. The wine: Domaine de l'A 2002 Cotes de Castillon, a lovely 20 year old red and white blend from Cypress.
In lieu of our choice of cheese from the traditional cheese cart, the chef sent us a delighgtul creamy ewe's milk cheese with almond bits and pumpkin gelee and pumpkin slices , Frommage de Brebis, amandes et Potiron .
Dessert was Sable perfume au yuzu, sortet au chocolat (a favorite). The wine: Caommandaria «Centurion» Domaine Etko.
The coffee and tea service sweets were brought in plates: butter cookies, macarron (coconut, cream pie and vanilla flavors), chocolates and sesame nougat and lemon zest.
Conference Facilities-Private Meeting Rooms There were two small meeting rooms.
Most Recent Visit
2003
2008
Reviewers Article by Elena del Valle
Photos by Gary Cox
Service Service staff were efficient, knowledgeable, warm and polite .
Would You Dine There Again? Yes
Contact Information
Address:
15, rue Lammenais
Paris 75008
France
Phone:
Fax:
Website:
Email: