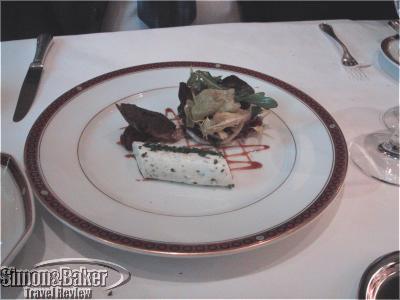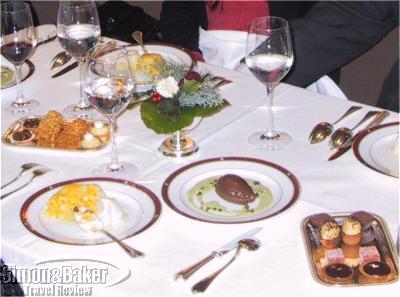 The service was mostly professional but at times inattentive, smug and even surly.
Our most recent review can be found
here
.
Overall Impression We were disappointed. The food left us uninspired and wanting more. Expecting to enjoy delicate, creative and delicious food, we found these qualities elusive at best. Perhaps a long-standing reputation has made them lazy. Many of the dishes were mediocre and lacked harmony. The wine selection was fabulous, and seems to be the strongest point of this restaurant, although the sommelier did not seem adequate for the cellars. The dining room, china and glassware were more beautiful than the food. The service was mostly professional but at times inattentive, smug and even surly.
Chef
Alain Solivérès
Chef&Rsquo;S Background: Alain Solivérès arrived at Taillevent after nine years at Les Elysées du Vernet in Paris. Prior to that, he worked at the Negresco Hotel, l'Oustau de Baumanière, Lucas Carton, and Louis XV.
Class Of Restaurant Gourmet
Days-Hours Of Operation Week days
First Head Waiter Jean-Marie Ancher
General Manager: Jean Charles Chareyre
Location: Off the Champs Elysees area in the prestigious 8th arrondissement
Metro Line 1 – George V or Charles de Gauelle Etoile
Owned Jean-Claude Vrinat
Sommelier: Nicolas Bonnot
Type Of Food Classical French
Year Opened-Renovated:1946
Style Of DÉCor Modern décor with wood paneling. The dining rooms were on two floors and include
Special Menus-Pricing
130 or 170 Euros
Wine And Spirits Details An especially good selection of wines and champagnes. We were pleased with their champagne by the glass options.
Conference Facilities-Private Meeting Rooms
: Two small meeting rooms
Other Though we were under the impression that there was a fixed price menu of 70 Euros available for lunch, when we arrived we were only offered two options that were double and triple the price we were expecting. Closely affiliated with the Taillevent Caves wine cellars in the nearby Fauburg St. Honoré street.
Preferred Reservation Method Phone, fax or email
Ease Of Reserving
Advance reservations necessary
Most Recent Visit 2003 2008
Number Of Visits Two
Reviewers Article by Elena del Valle
Photos by Gary Cox
Would You Dine There Again? It would not be our first choice.
Service When we were there we found the service to be adequate and even accommodating to special requests. At the same time, we perceived a surly attitude, especially toward English speakers. We found that interesting in light of the significant number of tables where we heard English spoken. One of the diners did not like the lobster dish at all and left it nearly untouched. The waiter asked about it, and she told him she did not like it. From this point forward, our service became less attentive and almost hostile.
Contact Information
Address:
15, rue Lammenais
Paris 75008
France
Phone:
Fax:
Website:
Email: