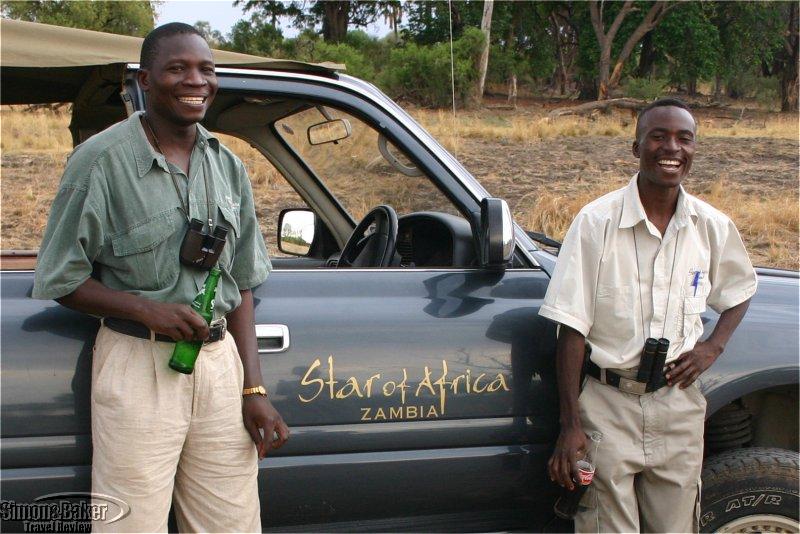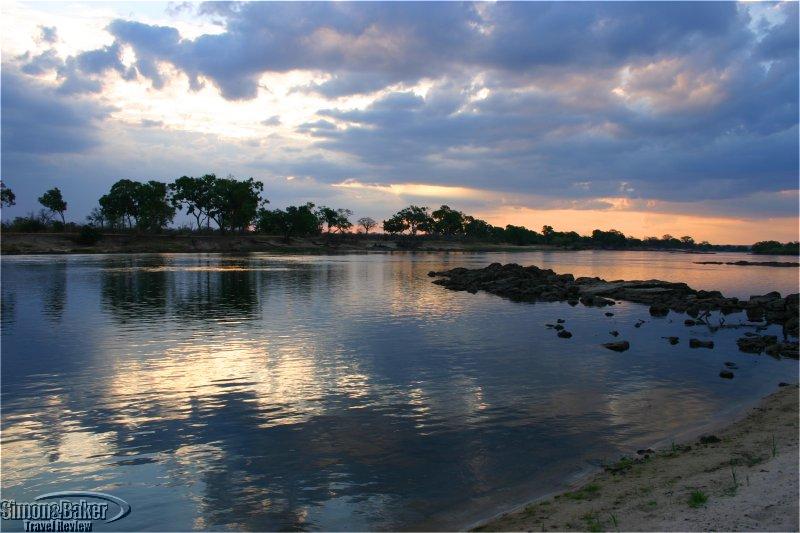 During our stay at Sussi Lodge, we enjoyed open air evening camp fires, raised bar and lounge deck, open air dining, swimming pool and massage spa area on the bank of the river.
This property is under new management and under renovation
Overall Impression
The wide range of activities available at this lodge set it apart from many other camps. While at Sussi, we experienced game drives in the Mosi-oi-Tunya National Park, a trip to the world famous Livingstone Falls, and riverboat rides at sunset where we viewed wildlife from the river. The sunsets on the upper Zambezi River were some of the most stunning we have ever seen. Because Sussi Lodge was within the Mosi-oi-Tunya National Park there was an abundance of wildlife that came into the camp area, and the wildlife viewing from the common areas overlooking the upper Zambezi River was outstanding
The staff at Sussi, always polished and professional, was warm and friendly. The food was equally good, served on a flexible schedule to accommodate the many different activities guests could choose from during their stay. The open air dining area provided a great view of the Zambezi River from which we were able to watch a variety of wild life including, Nile crocodile, hippos, and water birds while we ate our meals.
Mosi-oi-Tunya National Park was the home of the only two rhinos in the entire country of Zambia. We had sightings of these rhino on both of our safari game drives. It was the best viewing of wild rhino we have experienced to date. Although it is a rather small national park, it had plentiful wildlife allowing us to enjoy a good overall safari experience. There were no predators there. Since the Park is not large enough to accommodate a fully intact eco system, visitors eager to see lions, hyena, cheetah and wild dogs may feel a bit disappointed. On the other hand, the birding was exceptional and we were amazed by how many animals we spotted in this park. We enjoyed our first game drive so much that on our second day when it came time to choose an activity, we chose a second game drive to this park rather than one of the many other activities available.
We visited Victoria Falls which is always a treat. Our stay was during the dry season so the falls were much different on this trip than on previous trips. We enjoyed the falls during the dry season because we were able to see the canyon created by the falls better than we could during the wet season.
Our room, a luxury tree house built into the living canopy of the giant ebony trees along the bank of the Zambezi River, had a wonderful view of the river which was teaming with wildlife.
During our stay at Sussi Lodge, we enjoyed open air evening camp fires, raised bar and lounge deck, open air dining, swimming pool and massage spa area on the bank of the river.
Class Of Accommodation
Luxury tree-houses built into ebony trees
General Manager Rob and Ellen Walker
Length Of Stay Three nights
Location Sussi was located near Victoria Falls and Livingstone in Zambia. The lodge was 9 kilometers outside of Livingstone. It was approximately 20 minutes by car from the international airport.
Owned And Managed Star of Africa Ltd.
Size The Sussi Lodge occupied 20 acres in the Mosi-oa-Tunya National Park which is 66 square kilometers in size. Within the Lodge 48 staff members looked after the property and its guests. There were 10 en suite tree houses including seven twin rooms and three double bed rooms. The Chuma house which was also part of the lodge property had two en suite bedrooms. Sussi could accommodate up to 24 guests sharing, or 12 people in single units.
Handicapped access This camp was not handicapped accessible. They were willing to accommodate handicapped travelers by providing on site staff support.
Year Opened-Most Recent Renovation The Lodge, under new management, was being renovated when visited. A second Chuma house was being added.
Lobby And Common Areas The Lodge was decorated with traditional African Art. In the common areas we noticed there were Giclee art prints from paintings of regional and nationally known wild life artists. There were a variety of wood carvings of local birds and other animals distributed around the property.
Bathroom
There was an en-suite toilet, basin, shower and bath tub within our circular tree room. The bathroom facilities were located on the back side of the room behind our bed. The toilet had solid wooden walls and a private door. The shower was located along the wall next to the toilet and was enclosed with glass doors. The bath tub was inside the main room as were the his and hers sinks. There was hot water for showers and electricity for shavers and hair dryers was available.
Room We stayed in Room 5, which was 120 square feet in size. Our room was a luxury tree house that was built into the living canopy of the giant ebony trees along the bank of the Zambezi River. Our viewing deck looked out onto the Zambezi River which was teaming with wildlife. Our room was circular shaped with hardwood floors, solid wood walls and a thatched roof.
It had a canopy bed with mosquito netting and a ceiling fan. We especially appreciated that the room always had utility power available, making it possible for us to run the ceiling fan which helped keep us cool during the hottest part of the day.
Our room had a refrigerator stocked with water, sodas and beer, two double beds, two indoor and two outdoor chairs, a small table and chair, two night stands, and a free standing clothes closet. We enjoyed watching wildlife from our private viewing deck with cool drinks from our en suite refrigerator.
Food
Meal times varied depending on game drives. Meals were served outdoors in the raised lounge area where we were able to view wildlife along the Zambezi River while we ate. They served three meals a day. Soft drinks, local beers and house wines were included in the daily rate. Meals were served at a private table.
Breakfast was English style with bacon, eggs, baked tomato, baked beans, sausage, homemade toast, fresh juices, coffee or tea, a fruit and cereal bar and fresh homemade muffins. For lunch we had beef kabob, pasta herb with green spinach and vegetable salads. For desert a light flakey pastry with diced applies was served. For dinner we had baked fish (bream) over rice, with sliced vegetables, corn and carrots, potato soup, moist chocolate cake (called pudding by the locals) and hot homemade rolls.
Amenities
Our room had the following complimentary amenities: mini bar, bath robes, toiletries, liquid and bar soap, shampoo, conditioner, body lotion, a candle with matches, bottled water, Coca Cola, MOSI Beer (an excellent local beer), Sprite, tea and coffee making facilities in the form of a hot water maker, Five Roses English Tea, sweeteners (white sugar), Nescafe Rocoffy Instant Coffee, and Nestle Cremola Creamer. Road transfers from Victoria Falls town and laundry service were also provided.
Facilities Lodge facilities included, safari spa, library, bar, swimming pool, curio shop, and conference facilities.
Pool The circular outdoor swimming pool had a 30 foot diameter with flowing water running over the sides. The pool was filled with filtered water, which had an inviting appearance and temperature. It was about four or five feet deep. There were lounge chairs with umbrellas.
Spa The masseuse we met was Mercy Banda, who had more than eight years of experience. The one hour massage, given on a table in a spa facility situated on the edge of the Zambezi River, a relaxing setting for a massage, was excellent.
Game
We rode in a 4×4 game vehicle with a covered top. One guide drove our vehicle and also spotted wildlife. On a subsequent game drive one guide drove, and another guide, who was in training, spotted wildlife. The river boat rides had one driver and one assistant who helped people on an off of the boat.
There was great wildlife viewing in this Lodge. We spotted the following animals at the Mosi-Oa-Tunya National Park, cormorant, Nile crocodile, hippo, African darter, pied kingfisher, waterbuck, impala, yellow billed kite, giraffe, white spotted weaver, white browed sparrow weaver, buffalo, frog hopper, duiker, blue wildebeest, baboons, monitor lizard, white rhino, lilac breasted roller, crested barbet, red billed horned bill, blacktit, wart hog, palm thrush, brown hooded king fisher, elephant, grey horned bill, Franklin birds, vervet monkey, Egyptian goose, spar winded goose, red billed ox pecker, fish eagle, blacksmith plover, African black stork, clawless otter, giant king fisher, guinea fowl, Crawshay's zebras
Activities
We were able to choose two activities per day from the following: A guided tour of Victoria Falls and rain forest on the Zambian side; game drive in the Mosi-oa-Tunya National Park where Zambia's only white rhino can be spotted; a cultural tour of Livingstone including a visit to the Livingstone Museum and the Maramba Village; nature walks in the surrounding area; a shopping tour in Livingstone town; an early morning or sunset river cruise on a 12-seat boat; and fishing in the Zambezi River. We chose the game drive in the Mosi-oa-Tunya National park and the sunset river cruise on boat on the Zambezi River. We especially liked the game drives.
For an additional cost these activities were also available: White water rafting, canoeing, sunset cruises, helicopter and microlight adventures, horseback and elephant back safaris, bungi jumping, and spa services. We chose to try a massage at the spa.
Curio Shop
The curio shop stocked African fabric items, books, clothing, and travel sundries like sunscreens and lotions.
Other The library contained some good wild life game viewing books. We used them on several occasions to find more information about an obscure animal we saw during a game drive.
Children under six years were only accepted through prior arrangement with management.
This Lodge ran on utility power. The rooms had 220 VAC power at 50 Hz with NW-135C adapters. There was also a backup generator in camp in case utility power was lost. Utility power was lost during our stay and we heard the backup generator turn on during this power outage. It was during this time that we enjoyed the ceiling fan in our room. There was satellite Internet computer access available from 5 to 10 p.m. in the front office.
Check-In-Check-Out Process
Excellent
Cleanliness Very good.
Date Of Last Visit November 2005
Reviewers Article by Chester Godsy
Photographs by Joni Johnson-Godsy
Service The service was seamless and outstanding. Our room was tended to every time we left for an activity which turned out to be three to four times per day. The staff did a nice job of checking in with our daily experiences to make sure we found them to our liking. And they did a great job communicating with us about options available during our stay. Guides did a good job of staying with us and helping us into and out of airports and onto connecting flights. We traveled to other Star of Africa camps and found that booking the camp and the travel charter through the same company smoothed the way.
Would You Stay Again? Yes
Contact Information
IMPORTANT:
NOTE
We have been informed that this property has changed ownership.
Address:
Star of Africa
Postnet Box 218
Private Bag E891 Manda Hills
Lusaka, Zambia
Phone:
+260 1 271366
+260 1 271508
+260 1 271509
Fax:
Website:
Email: