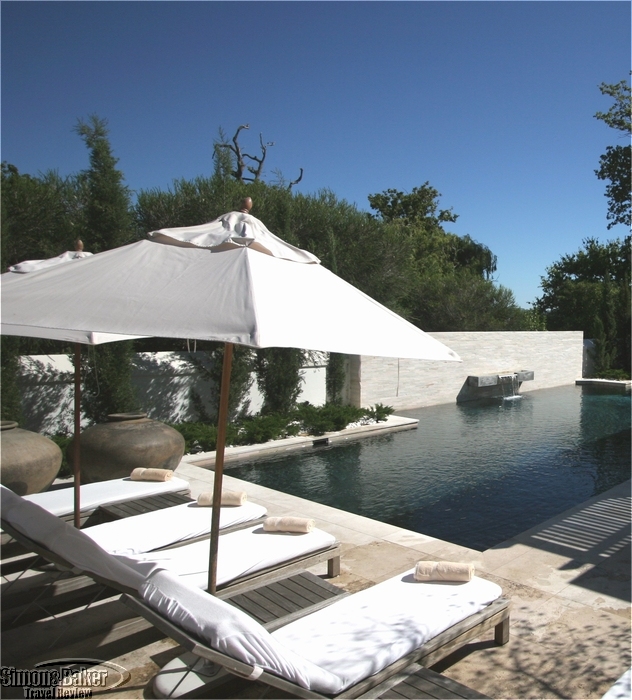 These quality placed the Cape Colonial Suite among the best villa hotel accommodations in the Cape Town area.
Overall Impression
We returned to the Steenberg Hotel after a two year absence to find the property much enhanced and the setting more beautiful than we remembered. Smiling staff members greeted us at the security gate and again at reception making us feel especially welcome. The grounds and manicured gardens were green and thriving and soon the cloudy skies turned to stunning blue. The mountain and vineyard setting once again took our breath away. This time we stayed at one of the property's three new Heritage Suites set on a vineyard facing corner of the property, each with distinct décor.
Our $2.5 million villa, known as the Cape Colonial Suite, was much more than a classic suite. Although it shared a wall with the neighboring suite allowing the two to be shared by one group and making it more like a townhouse than a villa; it was bigger than a standard hotel suite. Handsomely decorated in a Cape Colonial design, the stylish and comfortable 166 square meter villa included many thoughtful touches. Because we had to work during part of our stay, we especially appreciated the office features: a desk, three direct phone lines, handheld and speaker phones, a fax machine with dedicated fax line and complimentary high speed ADSL Wi Fi internet access.
In addition to the beautiful self contained accommodations of our villa, being part of the historic Steenberg Hotel estate enhanced our stay. Catharina's, the Steenberg's gourmet restaurant open for three meals a day and room service, was two steps from our villa entrance. Dedicated staff and butler service were assigned to our suite and available through a direct dial number. Other tempting features included an adjacent golf course, a newly built spa and a full size swimming pool with a poolside bar.
We loved the Cape Colonial Suite with its many smart features, including butler service and friendly staff; an outstanding location within a wine producing estate on the outskirts of Cape Town; a splendid and tranquil setting nestled between the majestic Steenberg Mountains and the property's vineyards; executive business features; the services and advantages of a hotel; and the privacy and spaciousness of a one bedroom villa. These quality placed the Cape Colonial Suite among the best villa hotel accommodations in the Cape Town area.
Class Of Accommodation
Five stars
Connectivity There was a complimentary Diginet line available 24 hours a day from the guest computer in the Barn Lounge of the hotel. In addition, there was high speed Wi-Fi Internet connectivity from our suite.
General Manager Gaby Gramm
Handicapped Access There were no special features for wheelchairs or handicapped guests.
Length Of Stay Four nights
Location In the Constantia Valley at the foot of the Steenberg Mountain, a short drive from Cape Town
Owned-Managed Graham Beck/Kangra Group
Pets Allowed No
Size There were 24 rooms (21 rooms and three Heritage Suites) in three one-story and two two-story buildings and 76 staff on a 40 acre property.
Year Opened-Renovated Built in the 1700s and developed into a hotel in 1996. The Cape Colonial Suite was built in 2007.
Downstairs Living Area
Each of the three Heritage Suites had its own distinctive decorative style. Ours was decorated in a traditional Cape Dutch style with antiques, Persian rugs, Dutch style Batavian Tile floors as well as modern comforts and high technology gadgets. Handsome woods and classic Cape design elements were the centerpiece of the décor.
The lovely iroko wood staircase, wood doors, granite tops and Dutch Flemish chandelier replicas (by Pieter van Dijk) were made by South African craftsmen as was the art. Upstairs was the sleeping area. Downstairs was the living area with ample space for visitors. The suite was quiet and although we were near the central parts of the hotel, having our own living, dining, kitchen and office areas offered exceptional privacy.
Downstairs terracotta floors contrasted with the crisp white walls and high wood beam ceilings. There was a working fireplace and the television with international channels, a DVD player and speakers did double duty as a mirror.
Large wood doors in the rear led to a private patio, small rectangular garden and beyond it the vineyards and neighboring Steenberg residential community. There were two lounge chairs and an umbrella. A private pool was under construction and due to be complete by the end of 2007.
To the right of the two part entrance door, there was a rectangular shaped living area with period wood furniture including a desk with chair, a china cabinet, an end sherry table, two small sand colored sofas, two pale green armless chairs and an oversize fireplace. The entertainment center was against a side wall and had what looked like a mirror above it. In fact it was the cleverly concealed screen for a television. There were two large French windows, one on each side of the room, one facing the vineyards in the back and the other facing the entryway.
Across an ample hallway with a vineyard facing window we found a working cubby hole in the corner of a spacious kitchen. The kitchen had a full size refrigerator/freezer stocked with beverages. There were the usual appliances including Bosch stove, microwave and conventional ovens. There was also a water filter, Jura espresso maker, toaster, water heating pitcher, and blender. There was Royal Worcester china, glassware and wine glasses.
Large windows invited natural light while wood shutters provided privacy after hours. Some of the restored furniture dated from the original building and additional complimentary pieces were added when the suite was furnished. Notable woods seen in the suite included camphor, stinkwood, Burmese teak and yellowwood or combinations of corremandle and stinkwood. The designers believe the furnishings reflect the Dutch Flemish dominant influence over the German or the British, because their occupation was, in historic terms, longer than the others.
Although peppered with antiques and period pieces, the furniture in the suite was attractive and functional. The sofa was hand crafted in Franschhoek by an English couple trained overseas. Next to the living area fireplace there was a yellowwood meelkas or "meal bin," which traditionally would have been used to store flour in Holland, Provencal France, and Cape Dutch homesteads. In the suite, it was used to store wood and pine cones in winter, and as a table in summer.
The table in the kitchen and dining area was made of a yellowwood and stinkwood combination. Existing chairs from the estate, of a well-known traditional Cape Dutch design and of quality stinkwood were stripped of varnish and stained to their natural state. In the dining area, there was a small genuine meerkas , a storage cupboard built into the wall. The doors were found in a derelict house and restored by a local craftsman.
The villa's two story design made the three televisions convenient, allowing us to watch TV from the living and sleeping areas. In addition to the handheld phone, there were phones in the bedroom, upstairs bathroom and two phones in the office area. There were many small luxuries like recessed lights, a divan in bathroom, fireplace, and iPod set up connected to the lounge sound system.
Bathrooms
On the ground floor there was a half bathroom we found convenient for downstairs use and for guests. The upstairs bathroom was roomy with khaki colored tile floor. There was a small vanity area with divan, a table, stool and mirror next to the entrance. To the side opposite the ceiling window was a combination shower and bath area. A glass pane separated the open shower from the rest of the room. There was also a claw foot bath tub and stool next to the shower. A sliding wood and mirrored door led to a separate corner room with twin sinks, WC and bidet.
Upstairs Sleeping Area The second story of the Cape Colonial Heritage Suite was the loft sleeping area, housing a large rectangular bedroom and an extended bathroom area. Immediately to the left of the entrance a wood staircase led upstairs. To the right there was a comfortable king size bed with large feather pillows and a duvet cover, framed by night tables with lamps. There was an armoire, chest at the foot of the bed and additional storage space against one corner. Against the far wall there was a small wood vanity set and a wall mirror.
Sun light filtered through the many windows making the space bright and airy. The décor was in neutral colors with pale walls, low ceilings and soft colors. The sleeping area was carpeted and the bathroom floor was of large tiles with under floor heating. From our bedroom windows we could see the vineyards and beyond them a neighboring residential community with a private golf course. On the other side we had a view of the restaurant, hotel grounds and the Steenberg Mountains in the distance.
We set the temperature in the room with the remote controlled air conditioning/heating unit. It was also possible to turn on the heated floor boards which made the floor warm and pleasant when the weather was chilly as it was during our visit.
Food And Restaurants
Catharina's served breakfast, lunch, dinner and room service. Capetonian chef Garth Almazan's creations and the former 17 century winery now the hotel's dining room were an appealing combination. For breakfast we served ourselves from the cold buffet: cereal, fresh and preserved fruit, cold cuts, salmon, cheese, and pastries. It was possible to request a made-to-order hot breakfast. There were also several fruit juices and chilled Graham Beck Method Cap Classic wine.
For lunch we ordered room service one afternoon, a hearty beef and egg Steenberg club sandwich and a hamburger. We enjoyed the chef's tasting menu one night:
First course options included Creamy West Coast Lobster Broth with salmon caviar and chives; Poached Oyster with velouté and spaghettini; Char grilled Calamari and Seared Scallop with lychee aioli; and West Coast Mussels in a Malay curry sauce accompanied by a Steenberg Sauvignon Blanc Loire Clone 2007.
For the main course there was Char grilled Beef Fillet with thyme potato gnocchi, porcini mushrooms and truffle flavored hollandaise; Karoo Lamb, sauté potato, pea puree and sauce verge; Springbok Loin, spinach spätzle, beetroot and springbok liver; or Tortellini of Escargot with bone marrow and a red wine sauce accompanied by a Steenberg Catharina 2005.
Dessert options were: Lime Bavarois, Citrus Salad and burnt orange sauce; Raspberry Clafoutis on bitter chocolate sauce; or Dark Chocolate Terrine with sauce anglaise accompanied by a Rhona Muscadel 2003.
The tasting menu cost was R400 and R475 with wines.
Amenities
Extra touches we enjoyed included complimentary snacks, daily hors hors d'oeuvres platters in the early evening and surprise amenities. One night there were flowers scattered around the bathtub, another night there was a small box of Lindt chocolates for each of us. Other gifts included Charlotte Rhys scented candles, hand made ironwood book markers and a set of playing cards with South African themed photos. There were fresh flowers arrangements and fresh fruit platters, refreshed daily, as well as sherry and a fully stocked refrigerator, gourmet coffee and wine bar.
There were medium size bottles of scented bath and shower gel, conditioning shampoo, body lotion and bath salts from Charlotte Rhys, cotton swabs and balls, shower caps, branded cotton bathrobes, slippers, electronic safe, complimentary bottled water, and tea and coffee self service. There was a well stocked minibar downstairs in the kitchen along with a Juga espresso machine. The nightly rate included breakfast, butler service, complimentary in-suite bar and laundry.
Facilities Suite guests had access to the Steenberg Hotel facilities. In addition to the main building reception area, there was a swimming pool, restaurant, cigar bar, pool bar, spa and working winery. With advance planning Hotel guests had access to the neighboring residential championship golf course.
Pool The pool area was enclosed on one side of the property. The pool itself was 50 feet by 15 feet. There were comfortable lounge chairs in the sun and shade as well as a pool bar in the pool area.
Conference Facilities
There were two meeting rooms capable of hosting between 16 and 30 people. A screen and flip chart were available.
Other The hotel buildings, which date back to 1682, were restored to their former glory and are a National Monument. Steenberg is one the oldest wine farms in the picturesque Constantia Valley. The land was originally granted to widow Catharina Ras in 1682. Wines were first produced on the farm in 1695. The farm was first known as Swaaneweide, Afrikaans for the feeding place of swans and was later renamed Steenberg, in honor of the imposing mountain which towers over it.
We were the first guests to stay in the villa. During our stay, the private pool was unfinished and we encountered a handful of minor glitches which the staff attended to with alacrity. We left confident the next time we stay at the Steenberg's Cape Colonial Suite everything will be running smoothly and we will be able to bask in the shade of the vineyard abutting the backyard and take a dip in the suite's pool.
During our stay, we visited the property's winery where 62 hectares were under vines, with cultivars including Chardonnay, Semillon, Merlot, Cabernet Sauvignon, Cabernet Franc, Shiraz, Nebbiolo, Pinot Noir and Sauvignon Blanc.
A Peter Matkoviche championship 18-hole golf course belonging to the Hotel's neighbors was accessible to guests.
The Steenberg Hotel was selected of the Top 10 Best Luxury Hotels in Africa by TripAdvisor in its 2008 Travellers' Choice awards 2008.
Related See our previous review of the Steenberg Hotel.
Check-In-Check-Out
Excellent
Cleanliness Excellent
Date Of Review November 2007
Reviewers Article by Elena del Valle
Photos by Gary Cox
Service Staff were friendly and helpful. Property Manager Gaby Gramm and Queeneth from reception, in particular, stood out for their welcoming and pleasant attitude. When we had a visitor, one of the staff members escorted him to our suite door; when we reported Internet connectivity problems, the staff ensured the issue was resolved as efficiently as possible.
Would You Stay There Again? Yes
Contact Information
Address:
Steenberg Hotel
10802 Steenberg Estate
Tokai Road
Tokai 7945
Phone:
Fax:
Website:
Email: