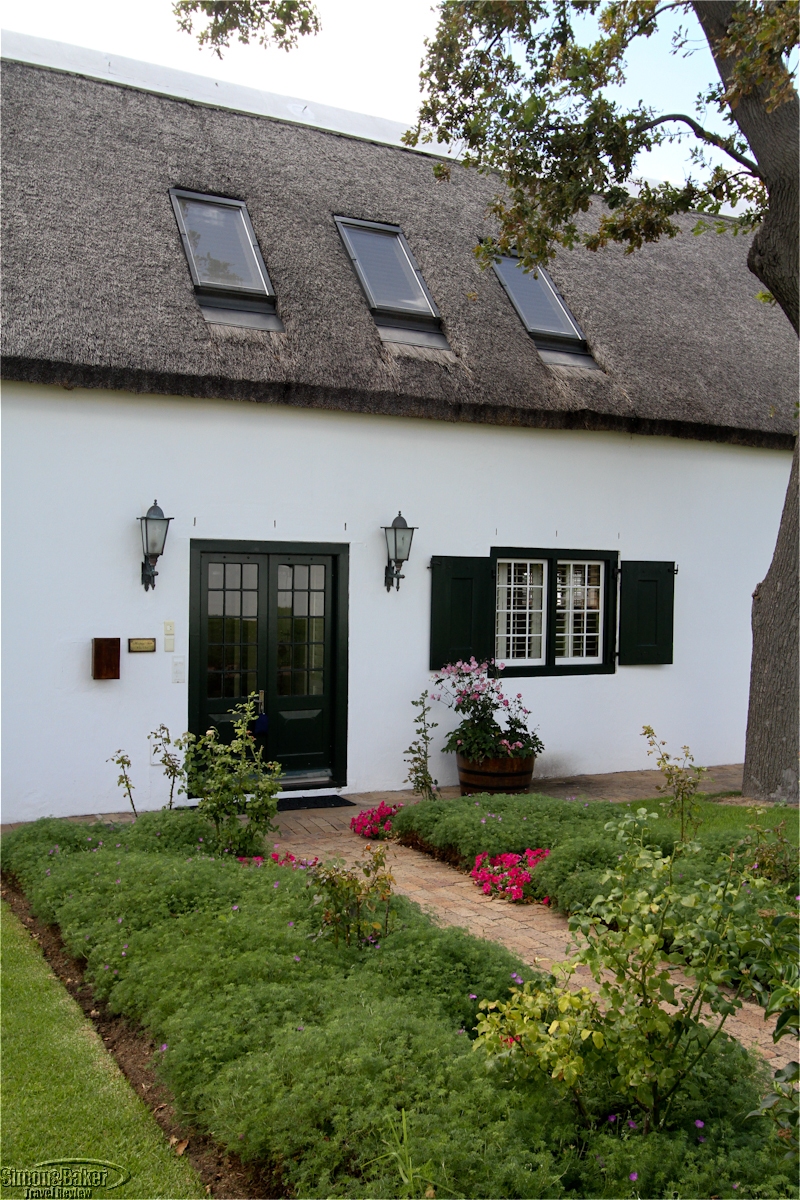 Our most recent stay exceeded our expectations.
Overall Impression
Over the years we have stayed at this Western Cape hotel named for the Steenberg Mountains, part of the Constantia Berg Mountain Range, three times and each time has been more rewarding than the previous one. On our last summer time visit we stayed at the two-story Khoi Khoi Suite with a private pool, one of three Heritage Suites. The accommodations and facilities were outstanding.
The suite itself offered comfortable and luxurious furnishings and amenities, privacy, a quiet interior, a high standard of service, a full size kitchen, a work space, technological conveniences, and a large secluded vineyard side garden and lawn with its own swimming pool. It was convenient to have a spa on the grounds and in spite of many local activities temptations we made well deserved time for spa treatments.
On the dining side we revisited Catharina's, the hotel's popular main restaurant which looked ever more attractive having been renovated since our previous stay. We discovered Bistrosixteen82, the hotel's new informal restaurant adjacent to the wine tasting venue, as well as the newly opened Gorgeous by Graham, a glitzy bubbly bar next to Catharina's. Pool time was limited due to intermittent sun and showers and with all the fun activities and meals we never made it to the gym or for a walk in the vineyards. These will have to wait until our next visit. In the meantime, we congratulate the Steenberg and its staff. Our most recent stay exceeded our expectations.
Children
Families with children 12 and older were welcome in the Khoi Khoi Suite. In other areas, the hotel welcomed children of all ages.
Class Of Accommodation Five Star small hotel with spa on a wine producing estate
Concierge Reception and duty managers assisted with concierge services 24 hours a day
Connectivity There was complimentary wireless connectivity in all rooms, public areas and Catharina's Restaurant. There was a 4 Meg ADSL line. As one of the Heritage Suites our accommodations also included a complimentary Diginet LAN line. The complimentary WiFi internet access in our suite required a password (we received two on arrival). The connection was fast and we connected easily. There was a computer in the reception building with internet access for guest use. I used it the morning as we were checking out to look up our flight departure time.
General Manager Gaby Gramm
Handicapped Access Limited access
Length Of Stay Four nights
Location In the Constantia suburb of Cape Town, South Africa
Managed Graham Beck Enterprises Pty (Ltd)
Owned Graham Beck Enterprises
Pets Allowed No
Size The 24 room and suite hotel was part of an 80 hectare wine producing estate which provided a place to work for 80 full-time and 40 part-time employees.
Year Opened-Renovated The hotel opened in 1996 and the most recent soft renovation of the rooms took place in 2011.
Lobby And Common Areas
Six separate buildings, some two stories tall, and vineyards comprised the property. There were common areas in the reception building, the restaurant building which housed Catharina's and Gorgeous by Graham Beck, the swimming pool and bar, the wine tasting and Bistrosixteen82 building, meeting space and the spa. In addition to the natural background and vineyards that were home to the stone mountain property natural and man made elements, including large metal sculptures, shared space. There was a water feature at the entrance to Catharina's; lush green lawns, tall trees and gardens were spread across the hotel area and walkways connected most of the buildings except for the wine tasting and Bistrosixteen82 building which was in a separate area of the estate.
The decorative style was Classic Cape Colonial with a contemporary twist and a considerable collection of art. There were many antiques from the 1900s in the Manor House, where the reception was situated. Cecil Skotnes artwork and a collection of Edoardo Villa sculptures sculptures dating from 2000 to 2005 was on display on the estate: Triangular Tension II, Energetic Figure III, African Astraunut, Energetic Figure VI, Balanced Darkly, Cones in Tension, and Potential Movement.
Bathrooms In the master bedroom, double sliding matte glass and wood doors led to a large bathroom. The stone tile master shower, in the left corner, was extra large with a built-in seat and a window. The showers in both bathrooms had a glass wall and glass door. There was a window side long Corian bathtub against the far wall next to the shower. There were two skylights, one over the bathtub and the other in the shower. A shelf divided the bathtub from a bidet and toilet. Across the room there were twin white Corian rectangular sinks on a Corian base, and a large mirror. The bathroom in the guest bedroom while smaller was similar to the master bathroom in style and amenities. There were vanity mirrors in the master and guest showers and master bathtub. Other bathroom amenities included heated towel racks, underfloor heating and full length mirrors. There was a guest bathroom conveniently located downstairs with a toilet and sink.
Room
We stayed in Room 34, the 163 square meter two-bedroom Khoi Khoi Suite. The handsome suite was one of three Heritage Suites, offering the highest level of luxury on the vineyard estate. Named for the Khoikhoi, the first inhabitants of the Cape area, the two story suite was steps away from and directly across the garden from Gorgeous by Graham, the hotel's new bubbly bar.
The décor of the suite was designed to honor the "men of men," as the Khoikhoi were described, while providing luxurious comfort and modern amenities. There were paintings on rocks and cave walls found throughout South Africa of the Khokhoi who were peaceful, nomadic herders and among the first pottery makers according to the archaeological record books. There were many windows and some skylights in the suite.
The suite was decorated in pale tones and off white with exposed wood beams on the upper floor and tatami style ceiling in the living area. There were large tile stone floors, off white walls, high ceilings with recessed lights, wood furniture, carpets upstairs, original artwork and sculpture and fresh flowers. The windows and doors had shutters that provided privacy and shelter from the blazing summer sun. We could adjust the interior temperature thanks to a central air conditioning system with individual thermostat controls for each room. Central light controls and water feature controls were a plus. The entrance Dutch doors were of wood and glass. Identical Dutch doors faced a back lawn with an open terrace, lounge chairs and a view of the vineyards and neighboring golf community. To the right, there was a private pool deck with a swimming pool, lounge chairs and umbrellas.
To the right of the entrance, double wood doors led to a living area with a large working fireplace set in the rear stone wall flanked by two large glass framed nude drawings of a san woman and a san man by Greg Lourens dated 2007. There was a set of comfortable white furniture (a sofa and two tall armchairs), four square coffee tables (two in wood and two in white facing the chairs) atop a large rug. Rectangular wood tables occupied the near corners of the room while a television with satellite receiver designed to look like a mirror when off took up the right rear corner. There was an ipod dock. A rectangular table in the same wood as the others nestled next to the sofa. Another wood table stood against the left wall beneath a wood framed mirror. There were decorative items, books, a port and sherry crystal set and a chess set on top of the tables.
To the left of the entrance, there was a wood veneer desk with a wood cushioned armchair facing a window. It housed two telephones, a standard wired Toshiba and a wireless Ghertz. There was an information folder, brochures and an HP All-in-One printer, fax, scanner and copier. There were several electrical outlets on the desk. Behind the work corner there was a guest bathroom. Past the work corner, within the open kitchen, there was a glass dining table with eight armless wood chairs. A narrow rectangular stone counter took up one side next to a water feature set against the right wall. On top of the counter there was a Boston CD player and alarm clock, a large vase with two large protea flowers and a fruit bowl with plates, napkins and silverware. Beneath it there was a small rug. The kitchen cabinets were white, dark brown and glass. The central wall was covered in tiny tiles. The Bosch appliances were a refrigerator and freezer, stove and oven, microwave and dishwasher. A large Jura espresso coffee maker filled with coffee was in the middle. The sink was in the left corner. Dinnerware, cutlery, glasses, pots and pans were stored in the cabinets. There was also a Kenwood Smoothie Pro, a toaster, and a hot water pitcher.
A spiral staircase led to an upper floor with khaki carpeting (showing minor signs of wear) and two bedrooms. To the right there was a master bedroom with a king bed and large bathroom; to the left there was a guest bedroom. The rooms could be configured to have one large bed or two smaller beds next to each other against cushioned headboards with feather pillows and no bedcovers. Each room had a flatscreen television hanging on the wall facing the bed (different channels could be watched at the same time throughout the suite) and there was another television in each of the bathrooms. There were Bonnie Prica wildlife drawings in the master bedroom and Lorrae nature sketches in the guest bedroom.
In the master bedroom a long luggage bench provided ample space for our suitcases. There was a vanity in front of the bathroom with a stool and large mirror. There was an armchair in the master and a white cloth mini divan in the guest bedroom.
Restaurants And Meals
Most meals at the hotel were from Catharina's Restaurant (see a separate article on Catharina's Restaurant), the main restaurant at Steenberg which served breakfast, lunch, dinner, room service, complimentary suite canapes and tapas for Gorgeous by Graham Beck. Catharina's was open for breakfast (7 a.m. to 10:30 a.m. except Sundays when breakfast ended at 10 a.m.), lunch (12 noon to 2:30 p.m.) and dinner (7 p.m. to 10 p.m.). We also dined at Bistrosixteen82, a new tapas venue next to the tasting room on the estate that offered dining until the early evening.
Breakfast, served indoors and in the vineyard side terrace, was a cold buffet with hot made to order dishes. There were three types of juice, house brand Cap Classic sparkling wine, hot beverages on request, four types of cold cuts, smoked salmon, cheese board, pastries and breads, sliced fresh fruit (watermelon, cantaloupe, green melon, kiwi, grapefruit and orange), fruit in syrup (lychee and guava), several types of yogurt and cereals. There were several a la carte options for breakfast including pancakes, fruit smoothie and eggs to order.
On a pretty day the vineyard setting at breakfast was extra special. Every morning on our way to the day's activities we made time for breakfast from the buffet. One morning we sampled a tasty ham and cheese omelet with a sharp cheddar and pancakes with blueberries and sauce anglaise. Catching a glimpse of one of the resident Cape eagle owls at the end of our our breakfast was an unexpected bonus.
Bistrosixteen82 was sold out mainly with locals and many children, loud and full of activity. Thankfully the hotel had recommended reservations and although we arrived early they were able to accommodate us. Natalie, our server, was friendly and her suggestions were outstanding. We sampled the Deli Platter, Grilled gambas (prawns), Steak tataki (raw beef slices) which was delicious with an Asian touch; Papas Bravas served with mayonnaise and pasta sauce; and profiteroles with a praline base and caramel sauce. We washed dinner down with one glass of Catharina and Nebbiolo estate wines.
Every afternoon during our stay we received complimentary canapes delivered to our suite at the time of our choosing. The chef sent two trays: one with green and black olives and a variety of nuts of nuts, and another with bite size snacks which varied daily. One day there were freshly made figs, brie and jam, and fried rice balls in a sweet sauce.
Amenities
There were Charlotte Rhys full size bottles of shampoo, conditioner, shower gel, bath gel, liquid soap, room spray, body lotion and one full size bar of soap. There were also oversized bathrobes, slippers, professional style hairdryer, electronic safe, complimentary in-room refreshment bar including bottled water, Steenberg Wine, soft drinks, and local alcoholic beverages, complimentary tea bags and coffee, and complimentary laundry service.
On demand complimentary chauffeur services within a five kilometer radius were available as well as a shuttle to the Victoria and Albert Waterfront at set times. These services had to be requested in advance.
Luxury features specific to the suite included a vineyard fronting location, entrance lobby, under floor heating, guest restroom, lounge, dining room, open plan kitchen, original artwork, fireplace, oversized work desk, Frette Egyptian linen and duvets, multi-media stereo system, iPod station, wireless email and internet access, fax machine, multi-line phone system, PC data and power outlets, oversized bathrobes, slippers, extra length and width king size beds, professional style hairdryer, Mirror TV in lounge, flat screen TV in bedroom, individual heat and air conditioning system, smoke detectors and sprinkler system, bathroom with walk-in shower, mini TV, mist-free mirrors and lighted magnifying mirrors, audio entertainment system, complimentary in-room refreshment bar (including water, Steenberg Wine, soft drinks, local alcoholic beverages etc), and complimentary laundry service.
Our fruit bowl and milk were refreshed daily. In the suite minibar there were four 40 gram packages of Steenberg brand snacks: Roasted and Salted Cocktail Nuts, Chocolate Coated Shortbread, Mixed Dried Fruit Strips, and Sliced Beef Biltong. In the same basket there were 50 milliliter bottles of Johnnie Walker Red Label, Amarula, Bertrams Brandy, Gordon's Gin, and Smirnoff Vokda (two of each) as well as a full size bottle of 2009 Steenberg Merlot and Steenberg Chardonnay sparkling wine.
Our suite amenities included two phones at the desk, one in each bedroom and one in the bathroom. There were daily complimentary late afternoon canapes. We often found scented lavender branches and rose buds at turn down. One night with turn down service we received a kitchen glove with a South African recipe for bobotie and a sunhat and toiletries bag.
Facilities Ginko Spa, swimming pool with bar, Catharina's Restaurant, BistroSixteen82, Gorgeous by Graham Beck (bubbly bar) and wine tasting area. The hotel was adjacent to and part of a golf residential community and the Steenberg Golf Course (special rates and tee-off time available to hotel guests). Hotel guests could request complimentary vouchers and transfers to the nearby Virgin Active Gym.
Fitness Center And Spa The Virgin Active Gym in the Westlake Business Park, a few minutes drive from the hotel, was accessible to hotel guests with complimentary vouchers available at the hotel reception. The hotel provided complimentary on demand transport to the gym. See separate article on the Ginko Spa.
Pool The Main Pool and Khoi Khoi Pool were 90 centimeters deep and 2.2 meters by 6 meters by 12 meters. There were cushioned lounge chairs with towels and umbrellas in both pool areas.
Conference Facilities
Meeting room options were available in boardroom, U-shape, schoolroom and cinema styles with capacity ranging between 24 and 40 guests. The Meeting Room offered the following: fireplace, air-conditioning, block out blinds, motorized screen, complimentary WiFi, laser pointer, Optoma EX530 DLP Display Projector, Pioneer Multi Zone DVD Player (capable of playing independently from two sources), Video Conferencing for Easy meeting, and tele conferencing.
Other To enter the Steenberg property where the hotel was situated it was necessary to pass through a security gate (manned 24 hours a day by Alexa Security). Once we checked in we were provided with a gate opening device to enter and exit speedily.
The tap water, according to the in room folder, was safe to drink. Complimentary bottled mineral water was available in our refrigerator and at turn down. The floor in the reception area and the porte cochere was very slippery.
We were pleasantly surprised to discover a family of Cape eagle owls had made the hotel its own and were fortunate to enjoy several good sightings during our short visit.
According to in-suite materials the property supported the Christine Revell Children's Home that cared for 49 abandoned, orphaned, abused, neglected and HIV infected or affected and partly physically and mentally handicapped babies.
The hotel had the received the 2011 Conde Nast US Readers' Choice Awards, Top 100 and Number One Hotel in Africa, Tripadvisor Travellers Choice 2011, Best Luxury Hotel in Africa Tripadvisor, and Travellers Choice 2006 to 2010 Top 10 Best for Luxury in Africa. There was a worm farm on the property and the farm relied on biodiversity principles.
Cleanliness
Excellent
Date Of Review March 2012
Reviewers Article by Elena del Valle
Photos by Gary Cox
Service Our suite was serviced more than twice daily and included butler service. Whenever we needed anything we dialed 9 to reach someone. On arrival Rudolph, a personable young man and the duty manager that day, escorted us to our suite and ensured we were settled in comfortably by sorting out a room service order, internet passwords and other issues. Staff had enquired about our preferences in advance and booked dinner and spa reservations for us prior to our arrival. Service was personalized and outstanding thanks to staff that were friendly, helpful, and service oriented.
Would You Stay There Again? Yes
Contact Information
Address:
Steenberg Hotel
10802 Steenberg Estate
Steenberg and Tokai Road
Tokai 7945, Constantia Valley
Western Cape, South Africa
Phone:
Fax:
Website:
Email: