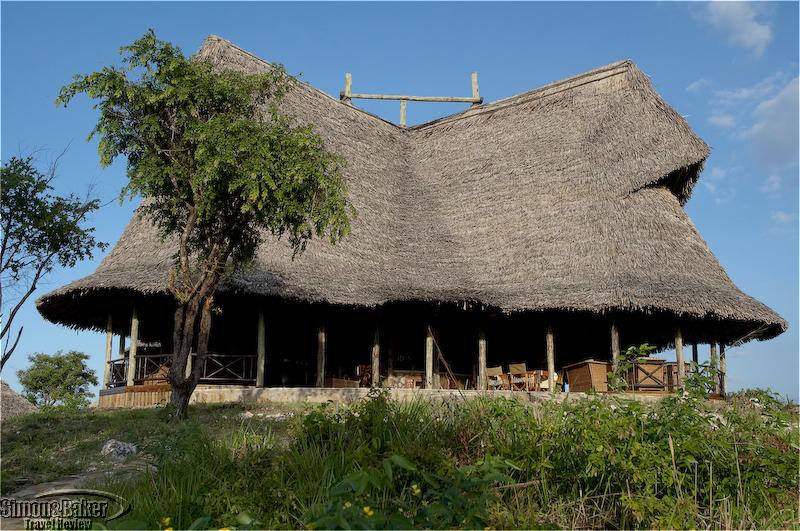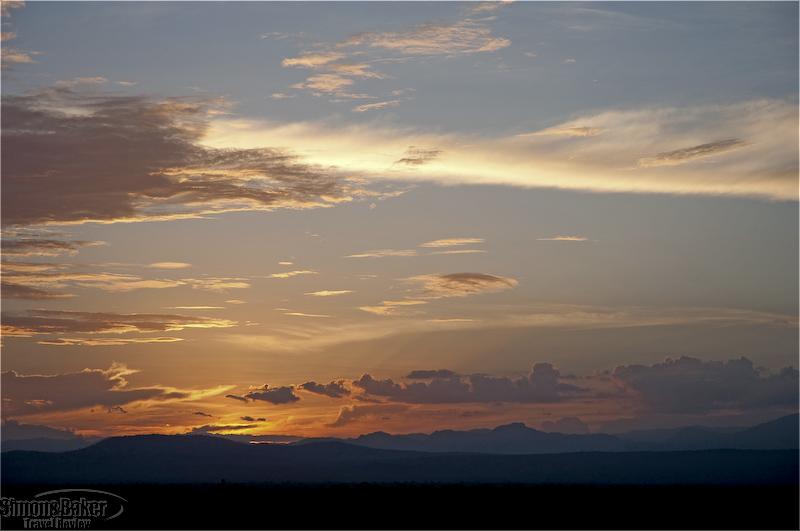 I especially enjoyed Stanley's Kopje for its rustic comfort, casual atmosphere, friendly and efficient staff and the gorgeous views of its central location overlooking the game-rich Mkata Plain.
Overall Impression
Perched on a rocky knoll in the heart of the Mikumi National Park in southeastern Tanzania, Stanley's Kopje was a vivid reminder of what compels me to endure endless flights in crowded airplanes and chaotic airport layovers to return time and again to the African bush. It had only been a few hours since the Cessna light plane had delivered me to the tiny airstrip at the edge of the park, but it could have been light-years earlier. I was lounging on the broad thatch-shaded veranda of my tent, taking in the sweeping view of the Mkata Floodplain below as it slowly melted into the dusk. At the far edge of the plain, the sunset sky was ablaze against the distant outline of the Udzungwa Mountains. Now and then, a powerful roar rippled up the hill, and with it recollections of our exciting lion sighting earlier in the afternoon.
When Yusine Kayombo, my guide, had met me at the airstrip, he had thoughtfully given me the option to either go straight to Stanley's Kopje (a short one hour ride) and settle in, or take a leisurely game drive to the camp. I had opted for the latter, and it had been a worthy introduction to the vaunted game viewing of Tanzania. In addition to the journey of giraffes that welcomed us practically at the gate of the park, followed by a large herd of buffalos still slick from their mud bath, we came across several breeding herds of elephants, a few lionesses, an abundance of the predictable antelopes and zebras and more birds than could be recorded. But it was a pair of tiny lion cubs, less than a month old Yusine noted, that stole the show. Doubtless bored with the hiding place where their mother had tucked them before going hunting, they were frolicking in the grass at the edge of the trail like mischievous kittens.
We eventually made our way to the base of Stanley's Kopje (a kopje is a rocky outcrop in local parlance; Stanley is a nod to famed 19th century explorer Henry Morton Stanley who visited the area several times). There, I was warmly greeted by Karen Oakes, the camp manager, who promptly gave me a tour of the property before escorting me to my spacious, sun-filled tent. It was built on a large wooden platform raised high on a hill for a panoramic view of the plain and the mountains beyond. Meanwhile, at the very top of the kopje, the vast open-sided lodge offered the ultimate perspective: a circular bird's eye view of the Mikumi landscape.
Because of its relatively easy road access from Dar es Salaam, Tanzania's largest and most cosmopolitan city, Stanley's Kopje appeared to be a favorite with self-drive visitors (who were accommodated at the camp on a room and board basis) as well the traditional "all-inclusive" safari guests, who usually flew in and whose accommodations included game viewing activities. This mix of guests made for a laid-back, family friendly atmosphere, with meals served on a more flexible schedule than is customary at most safari camps. As an all-inclusive guest, I was fortunate to have Yusine to myself for all my game drives, which allowed me to set my own pace and thoroughly enjoy the dense game and bird population of the park.
I especially enjoyed Stanley's Kopje for its rustic comfort, casual atmosphere, friendly and efficient staff and the gorgeous views of its central location overlooking the game-rich Mkata Plain.
Camp Manager
Karen Oakes
Children Stanley's Kopje was a family friendly camp that welcomed children two and older. Three of its tents were family accommodations that featured one double and two single beds.
Class Of Accommodation Luxury tented bush camp
Communications My GSM 900/1800 compatible international cellular phone service was fully operational at the lodge and throughout the park.
Handicapped Access No
Internet Connectivity No
Length Of Stay Two nights
Location In Mikumi National Park, 175 miles (283 kilometers) west of Dar es Salaam.
Owned-Managed The Fox Family
Pet Allowed No
Size The property consisted of 12 guest tents. It could accommodate a maximum of 34 guests. It employed a permanent staff of 15 including two guides. There were two game-watching vehicles. Seasonal staff was added as needed during the high season.
Year Open-Renovated Stanley's Kopje was entirely rebuilt in 2009 on the site of an existing camp that had been damaged by fire.
Lobby And Common Areas The lodge was a high thatch roof held by rough-hewn tree-trunks over a platform of dark polished hardwood located at the very top of a kopje. It was a vast open space that housed the lounge, dining area and a central circular bar. The bar had a base of local flagstone with a dark wood top. It was surrounded by a few randomly placed barstools. The lounge consisted of three groupings of brown leather Victorian-style rolled arm sofas and matching wingback armchairs. They were arranged around square coffee tables with natural wood tops over woven rattan bases. The dining area had rectangular tables covered in peach-colored linen and director chairs with tan canvas backs and thick black and white seat cushions. The lodge was surrounded by a flagstone walkway that led to a main stairway down the hill to the guest tents and the parking area at the base of the kopje. A few steps away from the lounge a small terrace with a central fire pit was a favorite gathering spot for sundowner cocktails and late evening fireside chats.
Bathroom
The bathroom occupied the rear third of the tent. The dividers separating it from the sleeping area were fitted with storage shelves, a clothes-hanging rod and a towel rack. A central masonry wall held a vanity with twin white ceramic sinks set into a wood countertop. A framed mirror and a light fixture with a circular parchment shade hung above it. Behind the wall, there was a doorless water closet on one side and a shower stall on the opposite side.
Room My 375 square foot (35 square meter) tent, Number Six, was located a short walk down from the lodge. It sat on an oversized raised platform that also included a large front veranda. A high peaked thatched roof shaded both tent and veranda. The tent had the usual zippered front entrance and sidewalls with three sets of large netting windows which were covered with peach cotton draperies. The bedroom area occupied the front two-thirds of the tent. It was decorated in rustic safari style with two beds, one queen size and one twin size, separated by a purple cotton throw rug and a small bedside table and a reading lamp with a parchment shade. The beds were covered with cotton spreads where purple and brown stripes alternated with prints of the big five (lion, leopard, buffalo, rhino and elephant) on an ecru background. A writing desk, two director chairs similar to those in the dining room and a luggage bench completed the décor. At the rear of the bedroom, partitions covered in brown canvas and natural woven rattan stood on either side of a central doorway leading to the bathroom.
Meals The food was wholesome and plentiful. Breakfast, served from 7 a.m. to 10:30 a.m., featured a full English breakfast menu as well as a plate of cut fresh fruit and a basket of freshly baked rolls. Breakfast beverages were tea, coffee and assorted fruit juices. Lunch was served buffet style from 1 p.m. to 2:30 p.m. It consisted of an assortment of salads, cold meats and savory pies and dessert. The three-course dinner was served plated from 8 p.m. to 9:30 p.m. It usually started with a flavorful soup followed by a main course of meat, poultry or fish served with vegetable, and cake or trifle for dessert. A vegetarian meal option was available by prior request. In addition to scheduled meals, complimentary coffee and tea were available throughout the day in the dining area.
Amenities
Room amenities included daily laundry, bottled water for drinking and oral hygiene, insect control room spray, flashlight and small electronic safe. Bathroom amenities included bath and hand towels, face cloths, individual size bottles of house brand shower gel and hand soap.
All meals and daily game viewing activities were included in my all-inclusive safari package. Other than the water provided in the room, which was replenished daily, soft drinks, bottled water and alcoholic beverages were available at the bar and priced individually.
Facilities There was a swimming pool, bar, a lounge and a dining area.
Gift Shop There were a few local craft souvenir items at the reception office.
Pool The 225 square foot (21 square meter), 4.5 foot (1.40 meter) deep swimming pool was located at the top of the kopje, a few steps down from the lodge, so that the pool area too enjoyed a stunning view of the park. It was set within a flagstone terrace with an open-sided pool house (or banda in Swahili) to one side. Two lounge chairs and four canvas armchairs were arranged around the pool. There were built-in stucco benches in the banda, and a stack of self-service pool towels.
Game Viewing
Bird and game sightings were consistently excellent throughout Mikumi National Park. All my game drives took place in one of the camps custom-designed canvas-topped and open-sided vehicles. Although there were three tiered rows of seats that could have comfortably accommodated six guests, I was fortunate that I never had to share my vehicle during my stay at Stanley's Kopje, which made for a most relaxed and rewarding safari experience.
Game I sighted included: buffalo, bush baby, Dirk's dikdik, eland, elephant, giraffe, impala, lion, reedbuck, spotted hyena, warthog, blue wildebeest and zebra.
Birds included: northern pied babbler, European bee eater, black-bellied bustard, white-browed coucal, ring-necked dove, red-necked francolin, crested francolin, African hawk eagle, southern ground hornbill, von der Decken's hornbill, grey hornbill, white-crowned plover, yellow-throated longclaw, lilac-breasted roller, super starling, long-tailed fiscal shrike, red-backed shrike, marabou stork, white stork, open-billed stork, red-billed buffalo weaver and pin-tailed whydah.
Activities In addition to twice-daily game drives, an all-day game viewing option with a picnic lunch was available.
Other
Electricity was provided from 9 a.m. to 1 p.m. and 6 p.m. to 10:30 p.m. by a diesel-powered generator. My tent had a convenient outlet that could be used to charge my camera, phone and computer batteries. There was a powerful flashlight in the tent for use when electricity was not available during the night. Water was solar-heated.
At the time of my visit Stanley's Kopje was a seasonal camp that closed during the rainy season from March until June.
Cleanliness
Excellent
Date Of Visit January 2011
Reviewers Article and photos by Josette King
Service My tent was serviced daily. Staff were consistently friendly and efficient. Yusine, my guide, was knowledgeable and unfailingly patient.
Would You Stay There Again? Yes
Contact Information
Address:
Foxes Safari Camps
P.O. Box 10270, Tazara
Dar es Salaam
Tanzania
Phone:
Mobile:
Emergency:
UK Phone:
Fax:
Website:
Email: