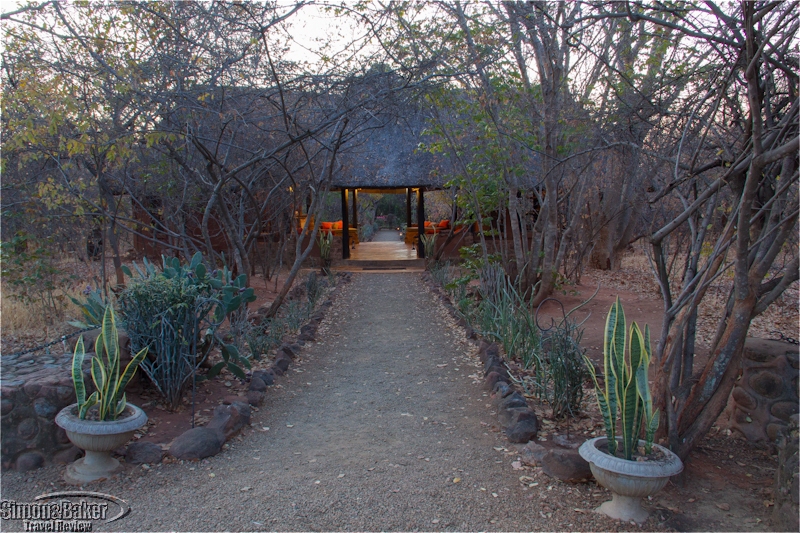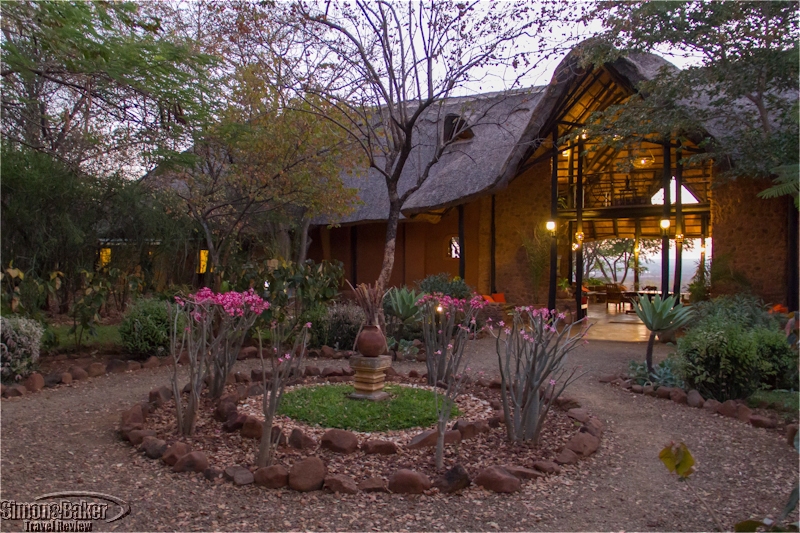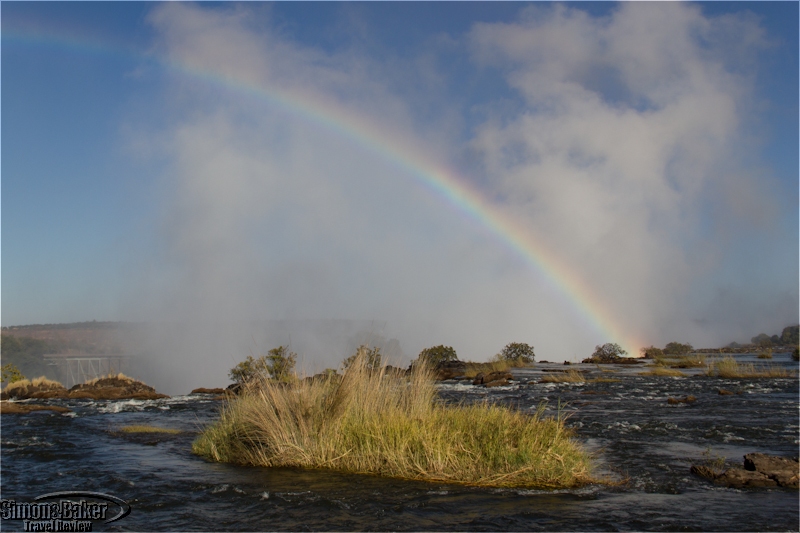 Combining the attractive design of the Lodge with its tranquil setting and the attentive yet unobtrusive hospitality, Stanley Safari was the perfect way to end my safari holiday in Zambia.
Overall Impression
One of few lodges in the Livingstone Zambia area with striking views of Victoria Falls, the Stanley Safari Lodge was a tranquil haven of beautifully landscaped gardens and uniquely inspired architecture that blended naturally with its African bush surroundings. Located on a hillside away from the hustle and bustle of Livingstone it was a few minutes drive from Victoria Falls.
The design of the ten room Lodge was charming and unique. Architect and co-owner Vinciane Geelhand who designed the lodge ensured that the layout took full advantage of the incredible hillside views. The primary common area was housed in a massive stone structure with thatched roof and an open back wall, looking out onto an infinity pool that reflected the open blue Zambian sky. The pool had a spectacular backdrop of the African bush along with clouds of spray from the falls. The two story structure had many cozy sitting areas that were thoughtfully decorated with African adornments and furniture that blended well with the building's stone walls and thatched roof. For reading, I especially liked the area near the stone fireplace that was decorated with antique safari relics. My favorite spot to relax was the meticulously landscaped lawn and garden surrounding the pool with plenty of lounge chairs. It was the perfect spot to take in the stunning Zambian sunsets that lit up the sky with vibrant shades of red, orange and yellow.
For me, the hospitality at Stanley Safari was an ideal balance of attentive yet unobtrusive. I felt well looked after while given the right amount of space to relax, which I appreciated after spending a number of nights in intimate quarters at other safari camps in Zambia. Staff organized meals served at the location and time that I specified, they serviced my room twice a day, and organized a personalized itinerary with two activities for me on the day of my arrival. Anytime I went to the main lodge, my personal guest relations specialist, Gelina Mubebila, asked if I wanted any refreshments.
I simply loved my accommodations. The 600 square-meter Family Suite was housed in a traditional thatched roof structure with stone walls, and an open back wall offering marvelous views of the African bush. It was a wonderful way to feel in touch with nature while enjoying all the comforts of a luxurious room. I will never forget hearing the sound of lions roaring in the distance while admiring the Zambian sunset from the comfort of one of couches built into the stone structure and topped with plush cushions. In the mornings, I awoke to breathtaking sunrises from the comfort of my king-sized bed with views of cloud like spray from the majestic Victoria Falls. My open plan split level room had a plunge pool, plenty of comfortable sitting spaces, an oversized bathtub, desk area and private lawn space. African decorations tastefully adorned the walls, which added to its charm.
Combining the attractive design of the Lodge with its tranquil setting and the attentive yet unobtrusive hospitality, Stanley Safari was the perfect way to end my safari holiday in Zambia.
Children
Children of all ages were welcome
Class Of Accommodation Luxury nature lodge
Connectivity Internet service was available in the main area only. Though a slow connection, I consistently was able to access Wi-Fi.
General Manager Clara Ibara was the general manager. During my stay, Wietz du Plessis was the stand-in manager while Clara was temporarily away.
Handicapped Access No
Length Of Stay Two nights
Location Stanley Safari Lodge is three and a half kilometers (two miles) upstream from Victoria Falls and about 20 minutes from downtown Livingstone. There were a number of nonstop daily flights from Lusaka and Johannesburg, South Africa to the Livingstone airport, along with multiple weekly flights from Nairobi, Kenya and Nelspruit, South Africa. The property provided transportation to and from the airport. When I was there the usual 15 minute-ride from Livingstone airport was more like 30 minutes due to construction on the main road. The last leg of the journey was on a dirt road, surrounded by trees and in a quiet and noticeably more secluded setting away from central Livingstone.
Managed In spring of 2013, Robin Pope Safaris took over the management of Stanley Safari Lodge.
Owned Reinout de Gruijter, Vinciane Geelhand and Robin Pope Safaris.
Pets Allowed No
Size Stanley Safari Lodge had ten rooms, four Suites and six Cottages spread out over 11 hectares of land on a hillside in the middle of 100 acres of private land in the African bush. In total, the lodge could accommodate up to 22 guests. Of the 36 employees, the majority were local Zambians.
Year Open-Renovated Stanley Safari Lodge opened in 2002. In addition to continuous renovations and maintenance, a back wall had been added to the previously opened wall of one of the cottages and two of the suites. Three other accommodations also had a canvas wall added to them that could roll down at nighttime. Four of the rooms still had an open back wall facing out onto the African Bush for those wishing to get a bit closer to nature.
Lobby And Common Areas
The first thing I noticed when pulling up to Stanley Safari Lodge was the tidy landscaped grounds of flowers, bushes and a dirt path leading to an open circular lobby with thatched roof. A wooden reception desk with African decorations above it had built-in circular stone benches with cushions on either side. Opposite the reception desk there was a small gift shop with locally crafted African wooden carvings, jewelry, and other memorabilia. Travel necessities, such as toothpaste were also for sale.
Behind the lobby, there was a well kept gravel pathway surrounded by beautiful gardens of brightly colored flowers, trees and shrubbery common in the region. The path led to the main common area, a stunning two-story thatch roof structure with stonewalls that was 6,500 square feet in size. It housed the dining room, bar, lounge area with a stone fireplace and a number of pleasing sitting areas thoughtfully decorated and fun to explore. The oxidized concrete floor had an attractive burnt orange finish. A massive open entryway provided beautiful views to the jewel of the lodge, the infinity pool surrounded by gardens and the African bush. The upstairs had a library with a comfortable large bed looking out onto the landscaped grounds, the African bush beyond and the mist of Victoria Falls even farther off in the distance. The décor of the main area was classic safari with original antiques and African artwork throughout. The overall effect was an inviting atmosphere and peaceful surroundings. I found it so appealing that I opted to relax and take advantage of the surroundings of the lodge instead of partaking in the many river activities available to guests.
Bathroom
My room had an open layout, so the bathroom was just a few steps down from the sleeping area. The dominant feature was a grandiose oxidized cement and stone bathtub built into the wall. I climbed up the stone step leading to the bath and enjoyed a glorious hot bubble bath before dinner. On either side of the bathtub there was a countertop, made of oxidized cement that matched the floors and stone, with double washbasins. The bathroom also had a separate shower. For privacy, the flush toilet was in a separate room, a short walk down an open hallway behind the main structure of the building.
Room I stayed in the Family Suite, which was a pleasant one-minute walk to the main lodge on a well-groomed gravel path. The open-plan 600 square feet room was housed in a stone and thatch split-level structure with an open back wall that offered lovely views of the African bush and Victoria Falls. Near the entrance two twin-sized stone benches built into the wall were covered with plush cushions and an abundance of throw pillows that could be used as sleeping quarters for kids. Also in the entryway there was a mini-fridge with water and other beverages, a wooden desk and a chair. Two small stone steps led to the main sleeping area where a king sized bed protected by mosquito netting was positioned against a wall. It offered optimal views of the landscape. There was an attractive wooden armoire with shelves and a security box. Waking up in my room to a striking sunrise and the mist from the falls is a memory that will last me a lifetime. Between the bed and the open lawn there was a private stone plunge pool large enough for six guests. Around the pool, there were curved stone-sitting benches with comfortable cushion tops and a bunch of throw pillows.
Food And Restaurants
The European cuisine with hints of African influence was consistently tasty and satisfying. For breakfast I chose from a number of options such as eggs and toast, a traditional English breakfast, or French toast. I opted for fruit, yogurt, toast, coffee, and juice. The Zambian coffee was so robust in flavor that half a cup usually did the trick. On my first day, I arrived at the lodge in the late afternoon and enjoyed a traditional Mediterranean style tuna salad with a side of delicious warm sweet corn bread. Light and refreshing, it was the perfect lunch after many heavier meals at other lodges. Dinners at Stanley Safari were yummy and substantial three course meals. While I was there there was spanakopita, vegetable curry with a thick gravy base that had a comfort food touch, tilapia and vegetables, and crème brulee for dessert.
One of the delights of eating at Stanley Safari was choosing a spot to dine. So long as another guest had not already reserved a location, the staff happily set up a table wherever I wished. With so many nooks and crannies offering lovely views of the meticulously landscaped grounds and the African Bush in the background, it was hard to choose. For lunch and dinner I dined in the neatly manicured garden near the swimming pool. I appreciated the thick wool blanket the staff placed on the chair and the personal stove filled with hot coals they set next to my chair to keep me warm on the cool Zambian nights. For breakfast I dined on the upper deck overlooking the pool and garden area.
Amenities
When I arrived at Stanley Safari Lodge, I was greeted by my personal guest relations specialist, Gelina Mubebila, who offered me a cool wet washcloth and a glass of refreshing lemonade. Meals and drinks were included in the room rate, along with daily laundry service (limited to ten articles of clothing a day), and transfer to and from the airport. Room amenities included: soap, shower gel, foam bath, and shampoo in large dispensers. There were plenty of plush bath towels of varying sizes, and room and body insect repellant sprays and lotions. Stanley Safari could arrange an outside spa specialist to offer treatments in the comfort of the guest's room.
Facilities Opposite the reception desk there was a small gift shop with African wooden carvings, jewelry, toiletries and memorabilia.
Pool The pool area was so delightful that, other than the two tours I took, I spent most of my time there. From the 20 by 40 feet infinity pool I could see the African bush and the mist from Victoria Falls in the distance. Surrounding the pool, there were lounge chairs with comfortable canvas padding, perfect for napping in the sun. Anytime I sat in a pool lounge chair, like clockwork a staff member cordially offered me a beverage of my choice. Two large white canvas umbrellas that matched the chairs were available for those desiring shade. While it was too cold to swim, I enjoyed watching birds flutter about in the landscaped surrounding garden area. The pool was also a spectacular location to enjoy a sundowner while watching the Zambian sunset reflected against the water.
Activities The property offered fee based activities and excursions that took advantage of the Zambezi River and Victoria Falls, including: bungee jumping, canoeing, white water rafting, fishing river cruises, and tours of the Falls via walking, helicopter or ultra light flights. During my stay at the lodge I went on two tours. Because I happened to be visiting during the super moon, I went on an evening tour of the falls to get a glance of a moonlit rainbow. Although it was interesting, I much preferred my walking daytime tour of the falls.
Other Stanley Safari Lodge was on the electrical power grid and ran on 220 volts and 50 hertz electricity. In my room, I used a three-prong adapter, compatible with United Kingdom plugs.
Cleanliness
Excellent
Date Of Last Visit June 2013
Reviewers Article and Photos by Laura Scheiber
Service The service at Stanley Safari was consistently helpful yet understated and personalized. Stanley Safari driver and Victoria Falls guide, Effeso Hammabola, picked me up at the airport. He had a laid back disposition, which I found calming. While we chatted on our way to the Lodge, I asked how to properly pronounce several words in his native Tonga language. He was ever patient with my horrific accent and we shared a lot of laughs during the drive. Effeso was also my guide to Victoria Falls and provided interesting tidbits of information throughout the tours.
When I arrived at the Lodge, I was introduced to Gelina Mubebila, a guest relations specialist who arranged my meals, activities and addressed any questions or needs I had. Unassuming by nature, she was courteous, attentive, and seemed to magically appear whenever I was in the main area to offer me a refreshment or anything else I might need. She also served all of my meals.
Would You Stay There Again?
Contact Information
Address:
P.O. Box 60439
Livingstone, Zambia
Phone:
Website:
Email: