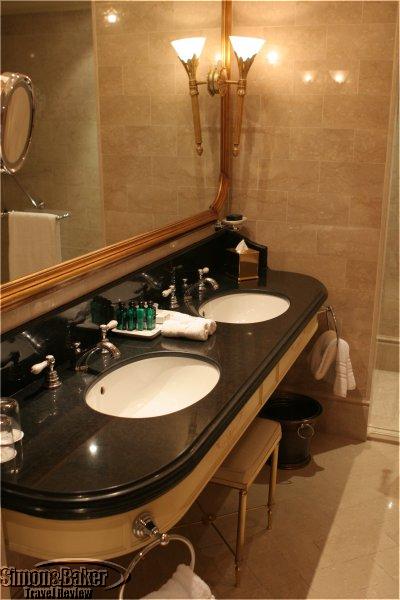 Regis will be at the top of our list for a future visit to Rome.
Overall Impression
Established by famed hotelier Cesar Ritz at the request of the Italian president in 1894, this Roman jewel is said to have its foundation over the Baths of Diocletian. The hotel, built on land belonging to Pope Sistus V, recently underwent a $35 million renovation requiring 450 workmen, including 151 skilled craftsmen and one million man hours of work.
By the time we visited the "Hotel Grand," as many Romans know it, the St. Regis had been transformed many times over from the time long ago when one night cost 52 Italian lira. Walking around the lobby, we could only imagine how impressive, modern and beautiful it must have seemed when it opened. Although it was a little removed from the heart of Rome where many tourists like to stay, the St. Regis offered many advantages to lure us.
We enjoyed the "regular neighborhood" feel at the hotel's doorstep. Although there were plenty of people and a few tourists peppered in between, the mobs of high season tourists were nowhere to be seen. In addition to the beautiful renovated look and luxurious accommodations, we appreciated the warm and welcoming attitude and the staff's efficient manner. From the door man when we entered, to the reception desk, concierge and dining room staff, we saw smiles, friendly greetings, and a helpful and hospitable mindset that was refreshing. The St. Regis will be at the top of our list for a future visit to Rome.
Class Of Accommodation
Five stars
Concierge Augusto Sbaraglia
Connectivity There was high speed Internet connectivity in the rooms (via cable for $15 per day) and Wi-Fi in the public areas. We connected quickly and easily from the room and were able to download all our emails and search the web as usual.
General Manager Michele Frignani
Handicapped Access Some rooms were especially designated and offered a larger bathroom and larger shower equipped with a special chair.
Length Of Stay One night
Location Near the train station in Rome
Owned-Managed Starwood Hotels & Resorts Worldwide, Inc.
Pets Allowed Pets weighing a maximum of 10 kilos were welcome
Size The five-story St. Regis had 161 room including 23 suites
Year Opened-Renovated Established January 11, 1894, renovated and reopened January 11, 2000
Lobby And Common Areas The Salone Ritz had frescoes by the famous painter, Mario Spinetti. There was a small vineyard in an interior courtyard known as the Adornetto. The work of original architect Giulio Podesti resulted in the hotel looking like a private estate; that made for an interesting combination of a grand and cozy ambiance. The renovation made visible intricate marble mosaic, newly cleaned precious candelabra and Murano chandeliers in the five story building. The renovation was conducted by, among others, architects Intertechno from Rome and Milan; Hirsch Bedner and Associates from Atlanta did the interior design and Pha from Atlanta did the light designs. There were antique chandeliers in the lobby and other common areas. We liked the regal style of the hotel and felt relaxed in the common areas, which remained uncluttered even when the hotel was full.
Bathroom
The white marble bathroom was spacious. It had a bath tub and a separate extra large shower. There were also twin sinks and a bidet.
Room Our Deluxe Room (#435) faced the hotel's courtyard. It had a king bed with adjacent wood night tables and lamps, a small vanity with a chair and mirror, two courtyard facing windows, a courtyard facing desk and ceramic base lamp, an entertainment center where the 19 inch remote controlled Phillips TV rested, a sofa and two tables. A crystal chandelier hung from the ceiling. There was an electronic safe in the closet. The room was decorated in classic Italian style with beige, gold and red colors including a patterned carpet. We appreciated having the option of controlling the room temperature through the individual thermostat. Other than some humidity stains around the entrance door, the room was handsome and comfortable. Once we opened the double heavy curtains, sunshine poured in.
Food And Restaurants The main dining room, where we had lunch and breakfast served a la carte and buffet style meals. There was room service and for gourmets Vivendo offered exotic options. Although Vivendo's regular menu is Italian, during our stay the restaurant was hosting an Asian and Thai food festival.
Amenities
Our room came with 24-hour butler service, Hermes toiletries including soap, shampoo, conditioner, body lotion and shower gel, two bathrobes, a shower cap, cotton swabs and complimentary bottled water.
Facilities Fitness center, Vivendo restaurant including a wine cellar and champagne bar, Le Grand Bar, and Caroli Health Club spa.
Fitness Center And Spa There was a cozy fitness center on the fifth floor. It included a spa section although there didn't seem to be any permanent staff. To schedule a message, the attendant explained, we had to plan at least one day in advance in order for the therapist to come it for the treatment.
Conference Facilities
There were 15 meeting rooms with seating starting at 10 guests. Internet service was available in the meeting rooms for a supplementary fee.
Other Over the years, numerous personalities have stayed in the Hotel. A partial list includes Richard Burton, Elizabeth Taylor, Maria Callas, Sofia Loren, Richard Gere, Federico Fellini, Franco Zeffirelli, Sharon Stone, Woody Allen, Mia Farrow, Madonna, Kirk and Michael Douglas, George Clooney, Brad Pitt, Matt Damon, Andy Garcia, Monica Bellucci, Vincent Cassel, and Nicholas Cage.
For those times we were in the mood for Americana, the Hard Rock Café was within a short walk.
Check-In-Check-Out
Although we arrived early, the front desk staff tried to find us a room right away. After two failures (the rooms we were escorted to hadn't been cleaned), they treated us to lunch to make up for the inconvenience. We particularly appreciated this gesture since we hadn't complained. By the time we finished lunch, our room was ready.
Cleanliness Excellent
Date Of Review September 2005
Reviewers Article by Elena del Valle
Photos by Gary Cox
Would You Stay There Again? Yes
Contact Information
Address:
Via Vittorio Emanuele Orlando, 3
00185 Rome
Phone:
Fax:
Website:
Email: