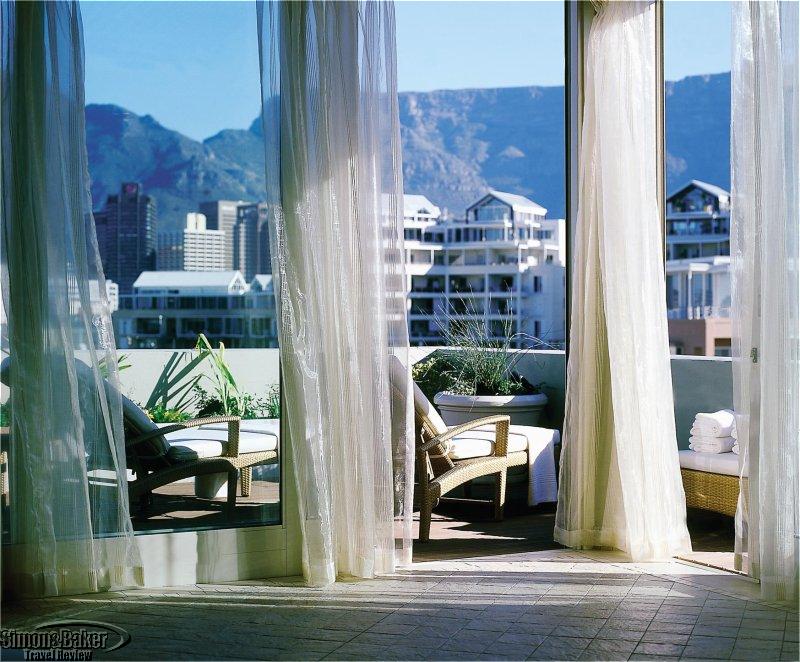 Staff were cordial and friendly, the services professional, the ambiance soothing and the location couldn't be better, especially for hotel guests.
Overall Impression
After a few days of game viewing and a long drive into town nothing feels better than a massage and beauty treatments. It was especially nice to change into on a bathrobe and oversize slippers in our Cape Grace hotel room and walk down the hall to the hotel spa for a much needed respite. A large and colorful mosaic greeted me behind the glass doors of the spa. Beyond it a young lady welcomed me politely and showed me to a waiting area nestled between therapy rooms. The common room had a marvelous view of Cape Town and its famous Table Mountain. Being the only one in the room, I sat down in a cushy lounge chair, sipping herbal tea and enjoying the million dollar private view.
Fifteen minutes later my therapist led me to a treatment room for a relaxing massage. When I arrived I also requested a couple of impromptu treatments, crossing my fingers that someone could squeeze me in. They graciously accommodated my request making me feel dust free and "civilized" in time for dinner.
The Spa at the Cape Grace was a quiet, spacious and welcoming oasis on the top floor of the hotel. Staff were cordial and friendly, the services professional, the ambiance soothing and the location couldn't be better, especially for hotel guests.
General Manager
Alex Bochnig
Handicapped Access The spa welcomed disabled guests. There was a paraplegic bathroom in the hot spa area.
Location On the top floor of the Cape Grace Hotel on the waterfront in Cape Town
Number Of Staff Fifteen frontline, therapists, stylist, and house keeping staff looked after the spa and its guests. When scheduling became over busy, the spa also called on freelance therapists.
Owned And Managed Cape Grace Hotel
Size There were five treatment rooms in 230 square meters (2,300 square feet) of space
Special Training Therapists had at least two years of training and were internationally and nationally qualified. International certificates were from the Comite International D'Esthétique et de Cosmétologie (CIDESCO) ITEC and Confederation of International Beauty Therapy & Cosmetology (CIBTAC). They received intense training on site to uphold five star standards. Some staff had international experience.
Treatment Rooms The spa housed hair salon (9 square meters), dry treatment room 1 (9 square meters), wet treatment room 2 (8 square meters), dry treatment room 3 (8 square meters), wet treatment room 4 (14 square meters), post treatment room (15 square meters), and hot spa area (48 square meters).
Year Opened-Renovated Established in 2003
Common Areas
A huge colorful African themed mosaic greeted entering guests. It was made up of panels of different colors reflecting a thematic expression of the spices: saffron yellow, cinnamon bronze, paprika red, cilantro green and calendula orange. The mural mosaic was meant to reflect the trade routes and boats which have carried spices for centuries around the Cape of Good Hope, "evoking far off lands, precious laden cargoes of aromatic blends and fragrances, distant memories and earthy hot pleasures." I thought it was cheerful.
Other visual effects included running and still water features, hanging artwork, standing sculptures, rich mahogany timber floors, fresh flowers, specially designed hand-woven rugs, and custom designed furniture.
Amenities
Complimentary amenities were still and sparkling water, fruit juice, tea, and fruits. Guests could order from a health menu. In the changing rooms there were creams, eau de toilette, and shower caps.
Facilities The Spa had a sauna, steam room, body shower, rain shower, and individual spa bath.
Lockers And Bathrooms
There was one shower and one toilet per change room. The ladies change room had six lockers and the men's change room had four lockers. I changed in our hotel room and walked down the hall to the spa to my appointments, which is apparently what most guests do.
Other African accents included rooibos tea, shea butter, snowbush, beads and the use of African techniques.
Cleanliness
Excellent
Date Of Review October 2005
Number Of Treatments Three
Reviewers Article and photos by Elena del Valle
Treatments Experienced Manicure, wax and African Cape massage
Would You Return? Yes
Contact Information
Address:
Cape Grace Hotel
West Quay,
Victoria & Alfred Waterfront
PO Box 51387,
Waterfront 8002
Cape Town, South Africa
Phone:
Fax:
Website:
Email: