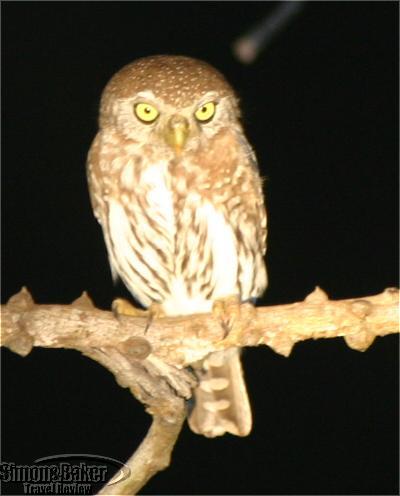 We look forward to returning to Singita.
Our most recent visit is
here
.
Overall Impression
Named for the neighboring Mozambique Lebombo Mountains , this remote and architecturally distinctively Singita property was perched on a hill overlooking a stunning gorge near the confluence of two rivers. We found it ideal for a tranquil, sophisticated, service oriented get away with game viewing options. We appreciated the wilderness area's game viewing possibilities, including the famous Big Five, and Singita's emphasis on aesthetically pleasing surroundings, comfort and relaxation. The magnificent vistas, from the main building and our room, and the excellent service were among our favorite features.
The "Village" with an art gallery/curio shop, work-out and steam rooms, and small spa offered desirable options for those wishing to sleep in and be pampered. In spite of a remote location, we were delighted to find international direct dialing and a dedicated computer terminal with satellite Internet access for guests, like us, who had to stay in touch. We look forward to returning to Singita.
Class Of Accommodation
Five stars (awarded by South African government)
General Manager Jason Trollip
Handicapped Access Yes
Length Of Stay Two nights
Location Inside the Kruger National Park on the eastern edge (east of Satara) of the park nearest the Orpen gate.
Managed The Singita Group Cape Town
Owned Singita Group
Size 15 rooms in a concession of 15,000 hectares. The concession, spa, work out facilities, wine and curio shop were shared with a six-room sister property, the Sweni Lodge
Year Opened-Renovated 2003
Lobby And Common Areas : Contemporary décor with beaded curtains, large glass lamps, and rustic wood elements in light bleached wood, clear, beige and other neutral colors. South African designer Boyd Ferguson was responsible for the distinctive interiors and Andrew Makin was the architect able to fashion a property within the concession building restrictions meant to impact the surrounding environment as little as possible while offering luxurious and comfortable accommodations.
Bathroom
: Adjacent to the bedroom and divided only by two gossamer curtains was a wonderful bathroom area including an open wood closet and electronic safe. There was a glass sink and mirror, a round backless seat in the center, a second glass sink and a deep bath tub next to the glass window. The view from the bathroom and bath tub was beautiful. On the other side of the bathtub were indoor and outdoor showers. The W.C. (water closet) was next to the indoor shower; the two areas were divided by a shower curtain.
Room Our temperature controlled (effective A/C and heating), glass enclosed room with wood floor had a magnificent view of the nearby river gorge. Our bed, surrounded by a quaint beaded curtain, consisted of two double mattress joined together to form a king bed with a night table and individual lamps on each side of it.
Food Meals were served in a dining area looking on to the swimming pool. Breakfast and dinner were served in a mixed buffet and a la carte style. For breakfast, for example, we had a choice of three yogurt flavors, several cereals, several cheeses and a half a dozen fruit from a buffet section. We could also request eggs any style from a hot food section of the buffet or place our order with the waiter. Each morning there were specials like eggs benedict and banana and mascarpone cheese covered crumpets.
Amenities
Singita branded shampoo, body lotion, body foam and rose water facial spray in refillable large bottles. There were also loose bath salts, a shower cap, two bathrobes and two sets of slippers in the room.
Facilities At Singita: Swimming pool, Long Bar, dining area. At the Singita owned "Village:" Exercise room, spa, steam room, 6,000-bottle bush temperature controlled wine cellar, African Art Gallery and souvenir shop.
Pool A long infinity swimming pool and lounge chairs were next to the dining area.
Spa We chose a combination of salt scrub, massage, facial and pedicure treatments. The two beauticians Elysa and Lisa, were good humored and efficient. They combined efforts and skipped lunch to ensure we finished the series of treatments in time for the afternoon game drive. Without rushing us, they provided the three-and-a half-hour treatment session in two hours. The treatment rooms were spotless; products included in-house essential oil blends and selections from the American Dermatologica skin care line. Our only disappointment was that in spite of the winter chill, there were no warm blankets on the treatment tables.
Game Viewing Boasting one of the highest concentrations of wildlife in the Park, Singita offered early morning and afternoon bush drives. In the morning we were collected in the early dawn hours from our rooms and escorted to the reception area where we had hot warm coffee or tea before setting out in search of animals.
Activities
Dawn and dusk game viewing drives with rangers and trackers, archery, bush walks, board games, cards, a small library (lots of Africa books), satellite TV and DVD's (in the "Village"), working out at the gym, steam room, spa treatments, gazing in the African Art Gallery shopping and tasting wine at the vintner's. A computer with a high speed Internet connection was available in a corner of the Long Bar.
Art Gallery And Curio Shop The Art Gallery stocked museum quality African artifacts including sculptures by award winning artist Dylan Lewis and paintings by Kevin Joubert. There was an attractive line of Safari oriented Singita brand clothing, furniture, high end souvenirs, batteries, sunscreen, leather goods, and glassware.
Other
When we visited Singita Lebombo, a member of the Relais & Chateaux, it was the only lodge accessible by air within Kruger National Park . The exercise and steam rooms, wine cellar, art gallery/souvenir shop and spa were all located in an area named "The Village". While still within the Singita area, it was necessary for guests to be driven there. This meant we had to request a vehicle and driver to work out, participate in a wine tasting, have a steam bath, receive a spa treatment at the spa (many of the treatments were offered in guest rooms) or purchase a souvenir. Though parts of the property had a somewhat worn appearance, we are confident minor maintenance issues will be resolved.
The lodge was named Tatler Travel Guide 2004 Hotel of the Year and top choice in Africa in the 2004 Conde Nast Traveler "Gold List."
Check-In-Check-Out Process Ease
Excellent
Cleanliness Excellent
Date Of Last Visit May 2004 / May 2008
Reviewers Article by Elena del Valle
Photographs by Chester Godsy and Joni Johnson-Godsy
Service Singita staff were welcoming, helpful, always at the ready though never obtrusive.
Would You Stay Again? Yes
Contact Information
Head Office:
Singita Head Office
in South Africa
The Oval, Oakdale House
1 Oakdale Road
Newlands, Cape Town 7700
Phone:
Fax:
Email:
Website:
North American Rep:
JG Black Book of Travel
Contact: Jena Gardner
Tel: (212) 219 0292
Fax: (212) 219 0872
Email:
Europe Rep:
Travel Consultants Africa
Oststrasse 5, D-48429
Rheine, Germany
Contact: Ingo Jacob
Tel.: +49-5971-80749-50
Fax: +49-5971-80749-51
Email: