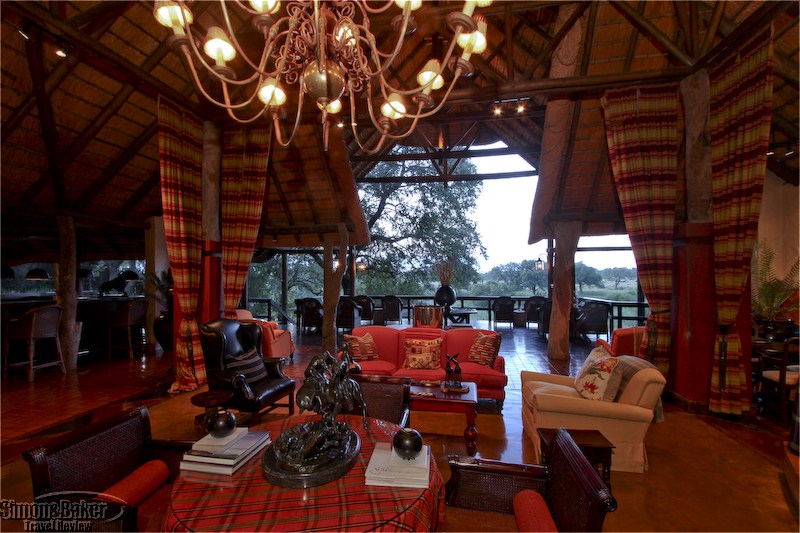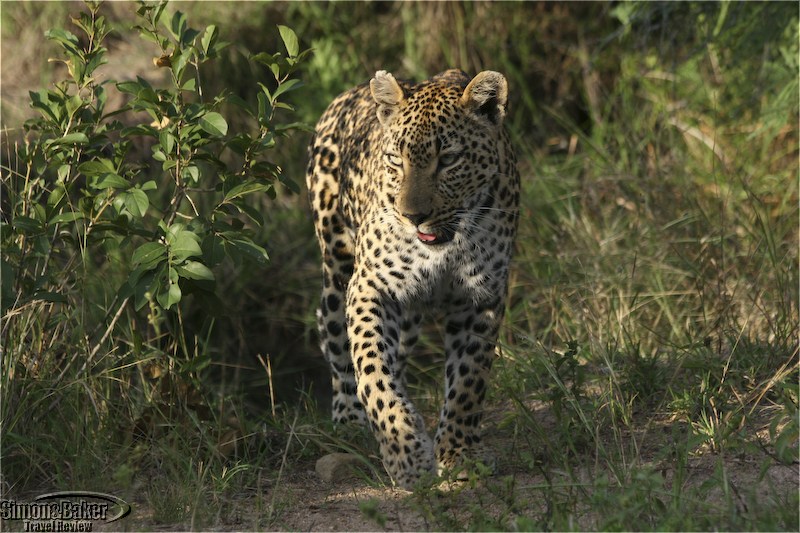 Thanks to our luxurious and spacious accommodations and facilities on the banks of the Sand River, shopping, fitness and spa options, convenient in-room internet connectivity, romantic touches, gourmet dining and wine tasting, and Big Five experience, we thoroughly enjoyed our stay at this family friendly Big Five safari property in the heart of South Africa's prime game viewing area and would gladly return.
Overall Impression
After a warm greeting from Tom Rutherford, the lodge manager, we walked from the parking area down a few steps and across a paved pathway through a garden to the doorless entrance of the main building of Singita Ebony Lodge. The first thing I noticed as we walked past the comfortable and worn looking colorful furniture in the main area was the memorable view of the Sand River across the room and the ebony tree for which the property was named that pierced through the wood deck. From where we stood we could see the ochre colored river snake by on its journey east and later south across the Sabi Sand Reserve.
Our location on the banks of the river meant, I thought right away, game viewing opportunities from the comfort of the lodge deck and from our suite. Sure enough during our stay we sighted a number of birds and animals right from where we were standing the day of our arrival. Ebony, Tom shared, was the first of the properties in the Singita bush portfolio and was maintained as much as possible as it was when it was founded.
A short while later we were comfortably settled in our spacious and comfortable suite a few steps from reception. The suite had a private plunge pool, indoor and outdoor showers and a bush facing outdoor deck with Sand River views. That afternoon at tea we met Shelley Alkema, our New Zealand born guide, and Emmanuel Makubela, our local tracker, and the other guests on our shared safari vehicle.
In their company we looked forward to our dawn and dusk game drives when we searched for the Big Five and other animals. One of the more fun game viewing experiences was the time we spent watching a lion pride stalking a heard of buffalos. We also saw elephants socializing and visited a hyena den.
During the day, there were plenty of things to do not the least of which was enjoying our suite and pool. At Ebony, there was a fitness and spa building. For oenophiles and South African wine aficionados there was a small wine cellar behind the bar in the main area. I found time to visit the gift shops shared by Ebony, Boulders and Castleton and heard from fellow guests about organized visits to the neighboring townships.
Ebony had a gourmet orientation and meal times were enjoyable. The night of our arrival we participated in a fun and educational South African wine tasting before a tasting menu dinner. Romance too was in the Ebony air. On our second night after dinner we returned to our suite to discover a bottle of sparkling Viliera wine in an ice bucket, a drawn bubble bath and dozens of rose petals strewn about and in the shape of a heart in the bathroom. It was a lovely way to end the evening.
Thanks to our luxurious and spacious accommodations and facilities on the banks of the Sand River, shopping, fitness and spa options, convenient in-room internet connectivity, romantic touches, gourmet dining and wine tasting, and Big Five experience, we thoroughly enjoyed our stay at this family friendly Big Five safari property in the heart of South Africa's prime game viewing area and would gladly return.
Children
A family with small children checked in the same day we did. We saw them at game drive and meal times when the children were running around, yelling and playing in the common areas.
Class Of Accommodation Luxury Five Star safari lodge
Connectivity There was WiFi in the lodge common areas and in the suites. In our suite, the WiFi worked well part of the time although it had a tendency to drop often. The library in the main building had two computers with internet access for guest use and an LG television.
General Manager Tom Rutherford
Handicapped Access From the parking and arrival area to the lodge proper it was necessary to traverse stairs twice. Within the reception and lodge main area the only steps were to an outdoor dining deck facing the river. Within our suite a handful of steps led to a cozy sitting area.
Length Of Stay Two nights
Location Within the Singita Reserve located in the western Sabi Sand Reserve which is adjacent to the Kruger National Park.
Owned-Managed Luke Bailes
Pets Allowed No
Size The Singita Reserve, shared by Ebony and Boulders lodges and Castleton Camp was 6,000 hectares large. The total traversing area was 18,000 hectares. The Singita Reserve was situated within the 63,000 hectare Sabi Sand Reserve which was adjacent to and fenceless from the Kruger National Park which had 2.5 million hectares of protected land. Ebony alone had 12 suites and two family units with a maximum occupancy of 28 and about 100 staff. Depending on occupancy and the season there could be as many as 240 staff working at Ebony, Boulders and Castleton.
Year Opened-Renovated Ebony was established in 1993. A month long renovation in April 2011 was scheduled to repair the roof, decks and suites and rewire.
Lobby And Common Areas The fenceless lodge was decorated in a safari style with brightly colored furniture, soaring ceilings, safari artifacts and open and partly open spaces in the main building. Walking from one area of the lodge to another was easy thanks to paved pathways that connected the arrival area, main building, suites and common areas. At night there were lit lanterns along the pathway from the parking lot to the main building passing through the pools, making the area look especially romantic. The lodge was filled with antiques in the suites and public areas; we later discovered that many of them were family air looms of the owner. The design concept consisted of "using lots of fabrics and rich colours to create a warm feel in the lodge," according to the property manager. "It has a sense of place; you know you are in Africa when you are in the lodge," he said.
Bathroom Double wood doors connected the sleeping area to a bathroom. The most notable feature of the bathroom was the glass wall facing the outer deck and the river in the background. Instead of the polished concrete floors of the bedroom and sitting room there were charcoal gray tiles on the floor. Twin sinks, set below mirrors and atop wood cabinets, faced each other. Across from the entrance to the right there was a shower with a glass door and glass walls that afforded us a view of an outdoor shower and the suite plunge pool to one side. To the left of the shower there was a bathtub. Next to the bathtub there was a wood door leading out onto the outer deck. To the right of the room a step led onto a walk-in closet with a built-in luggage space. There were also twin closets on either side of the doorless entrance and a wicker armchair on one side. At the far back, wrapping around almost to the entrance of the suite, there was a water closet with a toilet, bidet and sink.
Suite
We stayed in Suite 10, a 130 square meter suite with a private 18-square meter pool, 30 steps down a brick paved path to the right of reception. The decorative style was Africa themed with and safari decorative items such as a cow hide in the sitting area. A wood door led to a shady interior with a soaring thatched ceiling. I immediately liked that the room was was generous in size and, perhaps as important, looked comfortable. The suite was divided into several distinct areas: an indoor sitting area, a sleeping area, a bathroom, a walk in closet, a water closet and an outer deck.
Across from the entrance and down two steps was my favorite part of the suite, a sitting area divided by a partial wall from the rest of the room. It offered a view of the suite's deck, the bush and the river thanks to two oversize wood framed windows. The wall to the left of the entrance and the fireplace chimney were painted burnt orange; the other walls in the suite were white. That wall was home to thirteen framed art pieces; a metal lamp hung from the ceiling to enhance the ambiance. A comfy red cloth sofa filled with colorful pillows leaned against the wall in front of a leather stool and across from an oversize stone fireplace that rose through to the thatched ceiling. To the right of the sofa there was a round table with a glass top, game viewing and birding books, a lamp and a telephone; next to it there was a brown wicker armchair facing a sliding glass door with a mosquito screen that led outside. To the right of the stone fireplace behind a wood and reed door there was a minibar with cold beverages and snacks. Atop the minibar there was sherry and lemon liquor, lemons and glassware.
Two twin beds with wood head and foot boards took up the center of the room. Above them a mosquito net hung from a wood frame (it was draped around the bed at night). To the right there was a rectangular night table with a lamp and a cordless phone. Above it, attached to the wall, there was an iPod Nano preloaded with music. Speakers hung on either side of the room high on the wall. To the left of the bed there was a round glass topped table. In the corner, there was a wood dresser and atop it there was a hot beverage platter. When the staff found out during casual conversation that my travel partner liked espresso coffee they sent an espresso (Nespresso) machine and a supply of coffee capsules to our suite. Across from the bed there were sliding glass doors leading onto the outdoor deck that wrapped around the side of the room.
Striped curtains in mustard, burnt orange, khaki and hunter green covered the windows in the sitting room. The floors were of polished concrete with occasional runners. In spite of the punishing summer heat the interior of our suite was always comfortable thanks to three air conditioners (bedroom, bathroom and walk-in closet).
To the left of the bathroom, past a wood door, there was a pool deck with a small swimming pool, two red cloth armchairs and a wood table and two cushioned wood adjustable lounge chairs facing the ebony trees and the bush. We could see part of the river from the sitting area, the bathroom and the outer deck.
Meals
At Ebony much emphasis was placed on meals. Lunch and dinner menus, served plated, with several options and house wine pairings changed daily. The venue for dinner changed daily. Breakfast, served on the upper deck facing the river on our return from the morning game drive, was a combination buffet (cereals, two types of muffins, fresh bread, apple filled puff pastries, fresh sliced fruit, yogurt and fruit juices) and a la carte hot made to order eggs.
My favorite place for lunch was on the lower wood deck which was easily accessible from the main deck via two sets of stairs. We ordered from the day's a la carte menu while sitting under the shade of a towering tree and the oversize umbrella at our table, gazing at the river while we enjoyed a leisurely lunch. On our second day we asked if it was possible to have lunch in our suite. Within minutes our order arrived.
One day's menu listed the following choices: Slow roast tomato and red pepper soup; Crayfish tail with creamed cauliflower and vanilla lime vinaigrette; Quail breast and leg with cous cous, aubergine caviar and pepper sauce; Beetroot and goat's cheese with baby shoots and pine nut dressing; Fillet of beef, butter potato, green beans, mushrooms and thyme sauce; Pan-fried Scottish salmon with mussel linguine, asparagus and tomato vinaigrette; Pork fillet and belly with sweet and sour apple purée celery chutney and walnut sauce; Pumpkin and chilli risotto with blue cheese spring roll; Blesbok loin with braised red cabbage, root vegetable bake, baby carrots and sweet port sauce; Traditional malva pudding with cinnamon anglaise and brandied apricots; Rooibos panna cotta with white chocolate honeycomb and fresh berries; and Melon or Apple sorbet.
One day the following options were on offer: Cauliflower soup with truffle gremolata; Prawns with burnt corn, chilli and basil; Slow roast duck ravioli with creamed leeks and orange sauce; Tomato, rocket and parmesan salad with split balsamic dressing; Fillet of beef, mash potato, green beans, cherry tomatoes and rosemary sauce; Pan-fried kingklip with tomato and zucchini risotto, lime beurre blanc; Chicken breast with warm asparagus and carrot salad, mustard dressing; Open lasagna with mushroom and spinach with roast garlic cream; Kudu loin with parsnip puree, polenta, mange tout and juniper red wine sauce; Rose crème brûlée, cherry biscotti and strawberry sorbet; White wine poached pear phylo stack, with candied nuts, star anise syrup and rum and raison ice cream
Both nights the dessert wine was Graham Beck Wines Rhona Muscadel from Robertson Valley and Cellarmaster Pieter "Bubbles" Ferreira described in the menu as a three year old "fully ripe Muscat de Frontignan grape bunches hand selected and picked with "… delicate orange rind flavours and grapey freshness on the palate. Nice hints of marzipan on the palate, finishing with a lengthy finish."
Before dinner one night we joined four other guests at a South African wine tasting in the wine cellar with Francois Rautenbach who was in charge of the company's wine division. There were 230 types of South African wine and French Champagne as well as South African brandies aged five, ten, twelve, fifteen and twenty years.
Amenities
There was a hot beverage tray, refrigerated and mini bar beverages and snacks, laundry, cotton bathrobes, slippers, chocolate morsel at turn down, fruit and fudge bites (a favorite) in a glass jar atop our minibar, mosquito repellent moist towels, flashlight, converter plug, iPod Nano, and two telephones (including a cordless phone).
In the bathroom there were: bath salts, Dermalogica shampoo, conditioner (in 59 milliliter plastic bottles) facial cream (five milliliter), body lotion (75 milliliter), cotton swabs, cotton pads, and vanity kit (toothbrush, shower cap).
For coffee break during the morning game drive there were warm hand towels, hot beverages, rusks and oat cookies (a favorite) as well as hot beverages. There was an amenity kit for "toilet" stops including toilet paper, paper bags (for used toilet paper), waterless hand sanitizer and Dermalogica hand cream. On the vehicle there were blankets and ponchos as well as sun block. At sundowners one night there were chicken sausages cooked fresh during the bush stop.
Facilities Spa, gym, bar, two common pools, high and low decks, wine cellar and library.
Fitness Center And Spa The day we arrived at Ebony I had spend too much time in the sun in an open vehicle and needed some down time. Instead of a game drive I asked at tea time if it would be possible to have a massage. They said one of the therapists, Pascale, was available for a 60-minute deep tissue massage. From the main building I walked back along a brick paved pathway through the property, past two bridges and many of the suites to a double use air conditioned room housing the spa area on the right and a gym on the left. The masseuse provided me with a cotton bathrobe and slippers and I changed in a curtained shower area. From there I walked back to the reception to find her and together we stepped into the treatment room. Although the air conditioned room was standard in size through the glass I could see an inner courtyard. She offered me a choice of massage oil, body butter or cream for the massage. After a few moments I lay down with my head on a small folded towel and my legs atop a small cushion. When she entered the treatment room she made sure I was covered well with the towel and covered my eyes. I could smell the soothing scent of aromatherapy oil. After asking if there were any areas she should emphasize she began with little preamble and soon asked if the pressure was comfortable which it was. Her massage was firm but never uncomfortable. When she was nearly finished she placed warm moist towels on my back to enhance the effects of the massage. The massage was just what I needed to feel refreshed before dinner.
Pool In addition to our private pool in the suite there were two lodge pools to the right of the entrance path. The top pool was 25 square meters large and the bottom pool was 30 square meters in size. There were lounge chairs around the pool and one shaded area under roof with a lounge chair set up.
Game Viewing
Twice a day we went out on early morning and late afternoon drives in search of animals sightings in the company of Shelley and Emmanuel. They had their own assigned new Land Rover with capacity for six passengers. The open vehicle was configured with three rows of two seats each and a storage box in the middle of each row. The storage box was quite handy for cameras, sunblock and other sundry items. It provided the added benefit of protecting them from the rain. The drives at this reserve were especially smooth with very little bumpiness. This was due in part to the limited off-roading policy in place following heavy rains. While it meant we could only drive on the designated dirt roads most of the time our team was adept at finding interesting things for us to see during the game drives and the lack of off roading didn't seem to hamper our game viewing much. They kept in touch with other ranger/tracker teams and staff in the area via a silent radio and if another vehicle came across something interesting we had the option of heading in that direction.
There were 16 guide/tracker pairings at the reserve although a quarter of the staff were on leave at any one time following the properties' six week on and two week off rotation cycle. On average about eight vehicles were out on any given day depending on occupancy levels at the lodges and camp. Vehicle occupancy was a maximum of six guests except on request (e.g. a family of eight wanting to be together in one vehicle). One private vehicle from each lodge was available and included in the eight vehicle per day estimate. A maximum of three vehicles per sighting was allowed at any one time unless the situation was deemed sensitive and warranting fewer vehicles one at a time (depending on the position and nature of the animal).
Singita guides were required to have a minimum Level 2 Trails Guide qualification of the Field Guides Association of Southern Africa (FGASA). They had to be legally registered with the Department of Environmental Affairs and Tourism, a government organization, have a driver's license with a Public Driving Permit, have a firearm's competency certificate and be certified with the police in proficiency to handle and operate a rifle. The trails guide component allowed guides to walk in a potentially dangerous game area. Singita trackers were required to have a minimum Cyber Tracker Level 2.
Shelley had climbed through the Singita guide training and development course in three and a half years. That meant she had attended guide training school full time for six months before attaining a full time position within the company, training from grass route level up.
Wake up at the lodge was at 5 a.m. At 5:30 we would meet others in the main area for hot beverages and depart after that. We returned at about 10:15 a.m. on our first morning game drive and had breakfast right after our return. In the afternoon, we gathered at 4 p.m. in the main area for cold beverages and savory and sweet snacks and depart on the game drive after that. Dinner followed our return from the second game drive of the day.
At Ebony and Boulders (we spent our final night at Boulders)
Animals we saw: Cape buffalo, grey common duiker, elephant, giraffe, hippopotamus, spotted hyena, impala, greater kudu, leopard, lion, banded mongoose, vervet monkey, nyala, white rhinoceros, tree squirrel, warthog, waterbuck, blue wildebeest, Burchell's zebra, flapnecked chameleon, and legless skink.
Birds we saw or heard: bateleur, European bee-eater, grey-headed bush-shrike, bronze-winged courser, great spotted cuckoo, fork-tailed drongo, white-faced duck, crested francolin, Natal francolin, grey go-away-bird, Egyptian goose, helmeted guineafowl, African hawk-eagle, goliath heron, African grey hornbill, red-billed hornbill, yellow-billed southern hornbill, African jacana, woodland kingfisher, yellow-billed kite, Senegal lapwing, red-billed oxpecker, three-banded plover, lilac-breasted roller, magpie shrike, brown snake-eagle, Swainsons spurfowl, Burchell's starling, saddle-billed stork, purple-crested turaco, emerald-spotted wood-dove, and bearded woodpecker.
Plants we saw: leadwood, marula, pride-of-de-kaap, scented thorn, silver terminalia, and weeping wattle.
Conservation And Responsible Tourism
The policy at Singita was to be "observers in everyday events and leave nature to take care of itself." The only times staff were allowed to interfere was if an animal was injured due to manmade reasons like a snaring. Fire was allowed as an occasional management tool to simulate lighting strikes under controlled conditions in order to stimulate seed germination and new growth. Off road driving was allowed under sustainable property management guidelines.
Other There was a cotton bag with a laundry list. I filled it out the night we arrived and by the time I returned from the morning game drive my laundry sat wrapped in white paper in the walk-in closet. There were hardly any insects inside our suite because the property sprayed insect repellent in the suites on a regular basis. The well stocked shops sold items from the local community.
Cleanliness
Excellent
Date Of Review March 2011
Reviewers Article by Elena del Valle
Photos by Gary Cox
Service Our suite was serviced twice daily. Patricia, a server with an easy smile, looked after us at meal times. Antoinette looked after us the last night. Staff were attentive and service oriented.
Would You Stay There Again? Yes
Contact Information
Address:
Sabi Sand Reserve
P O Box 809
Hazyview
Mpumalanga, South Africa
Phone:
Fax:
Website:
Email: