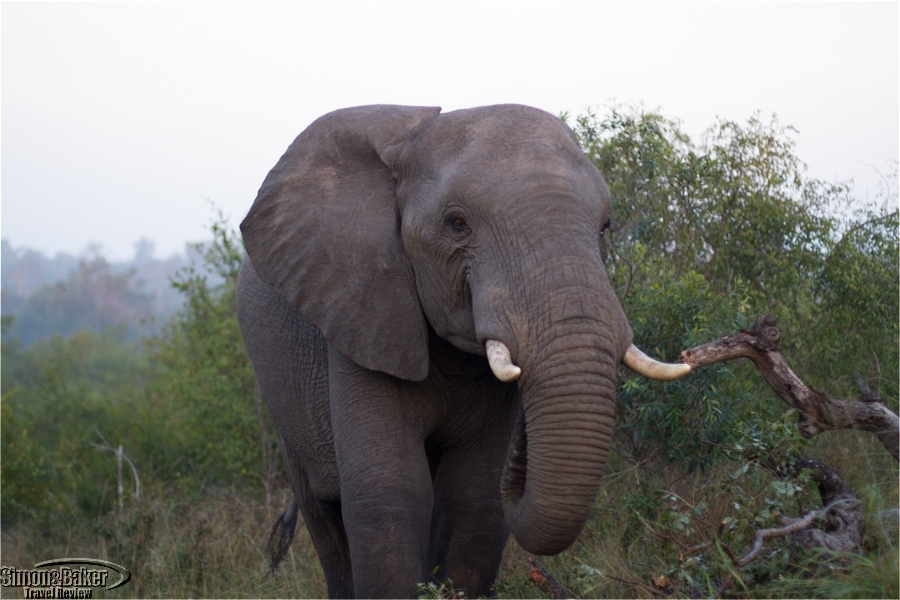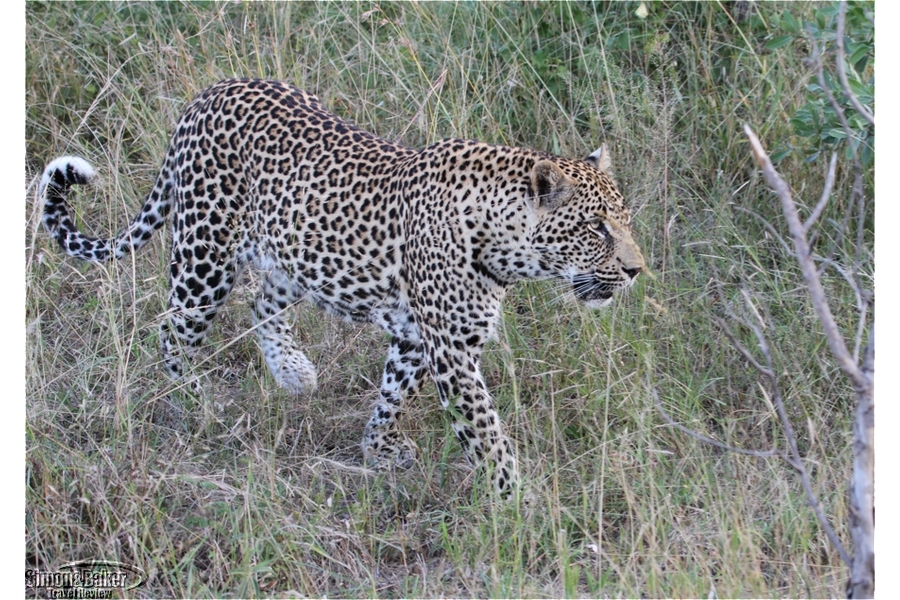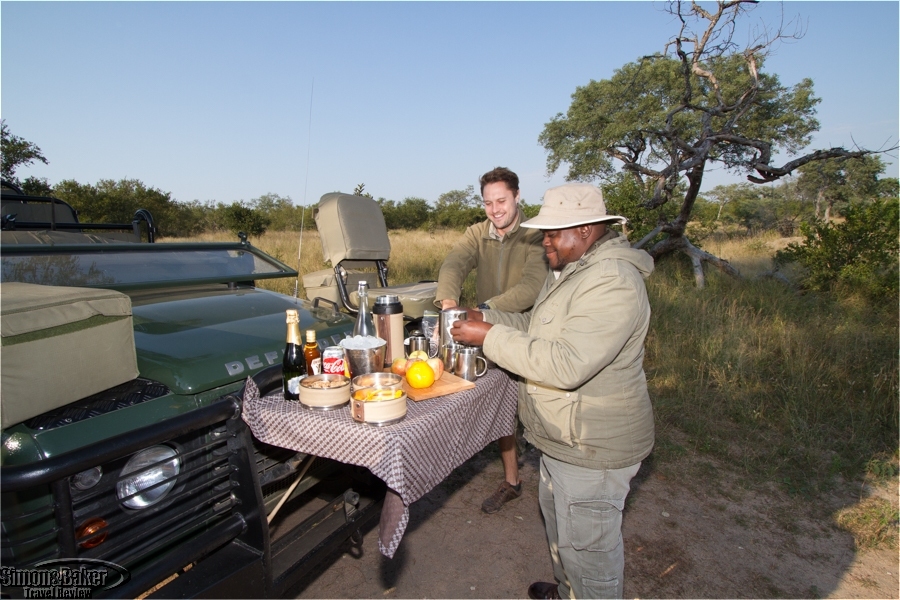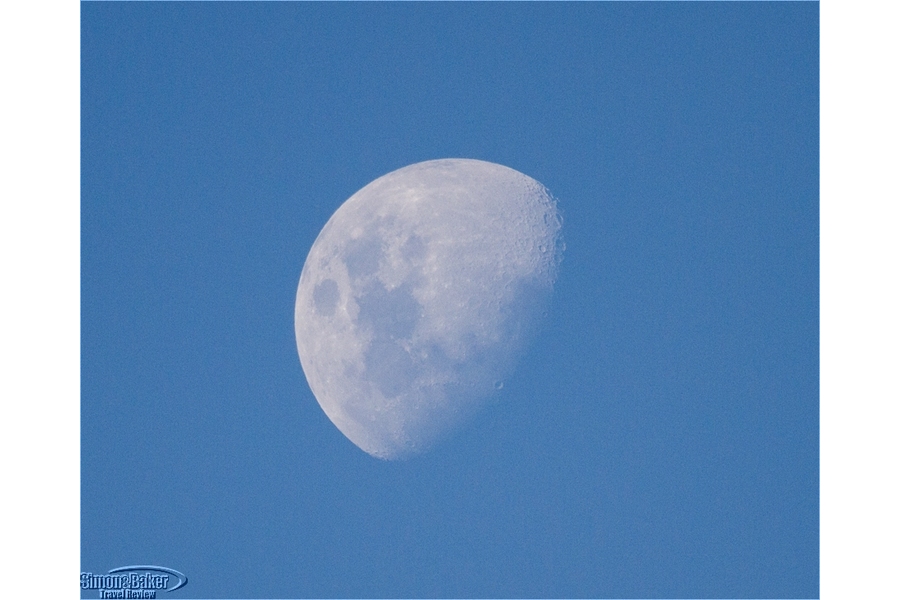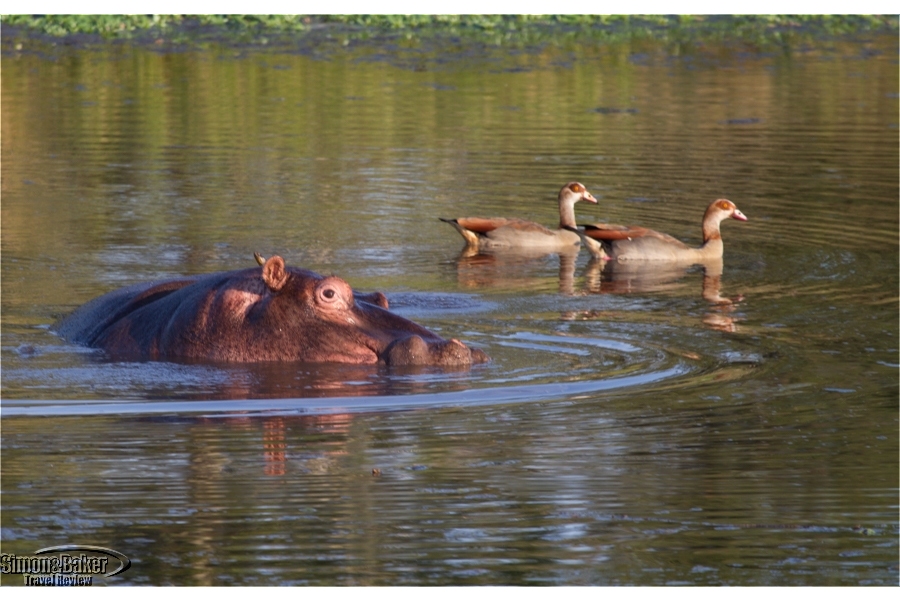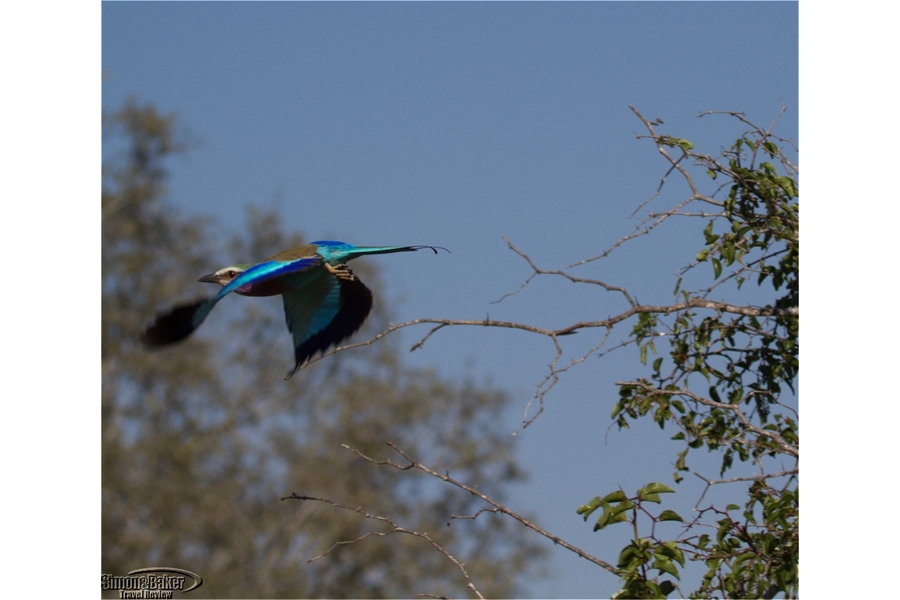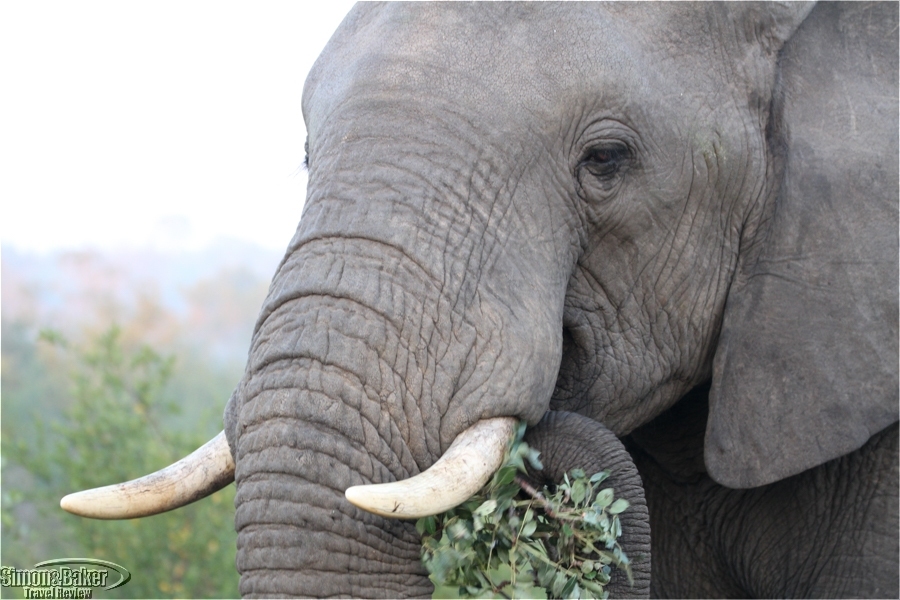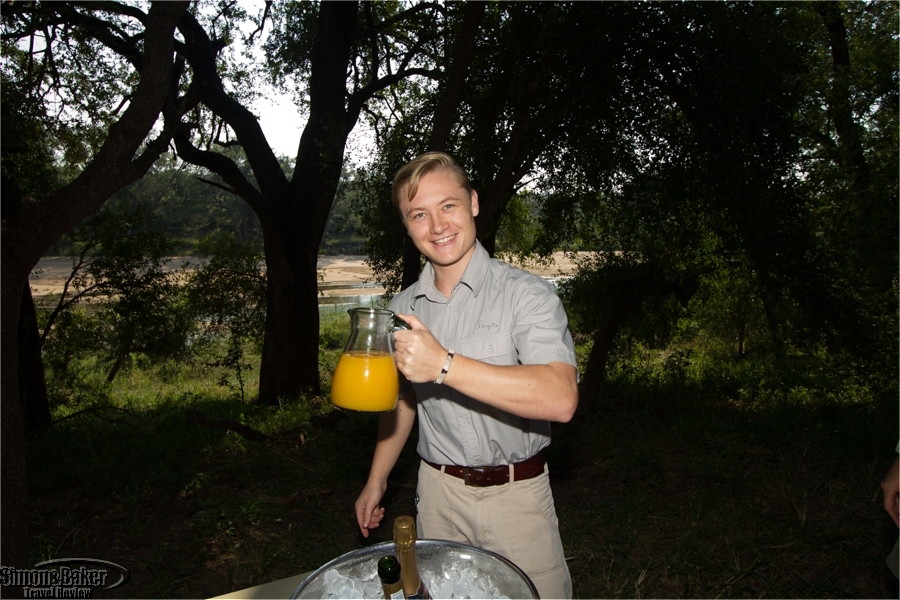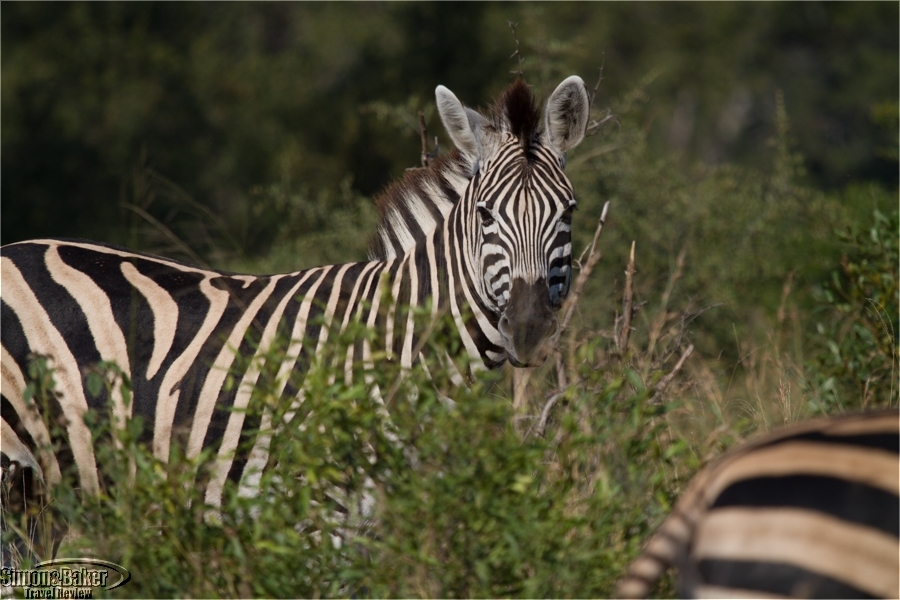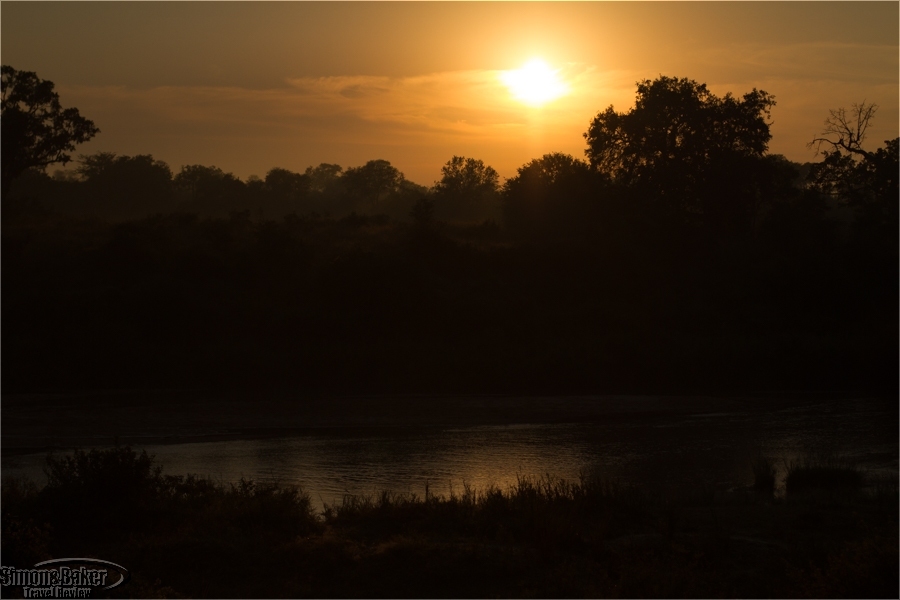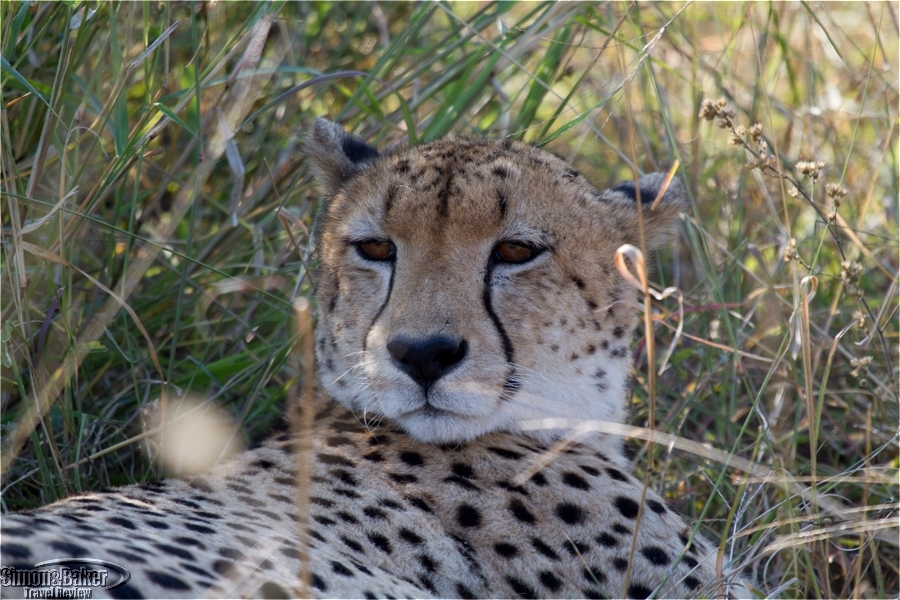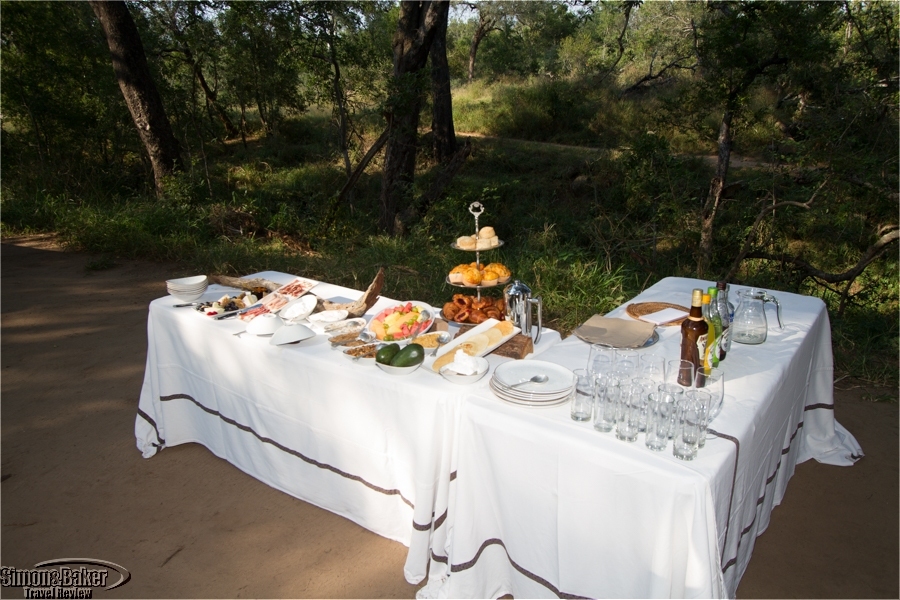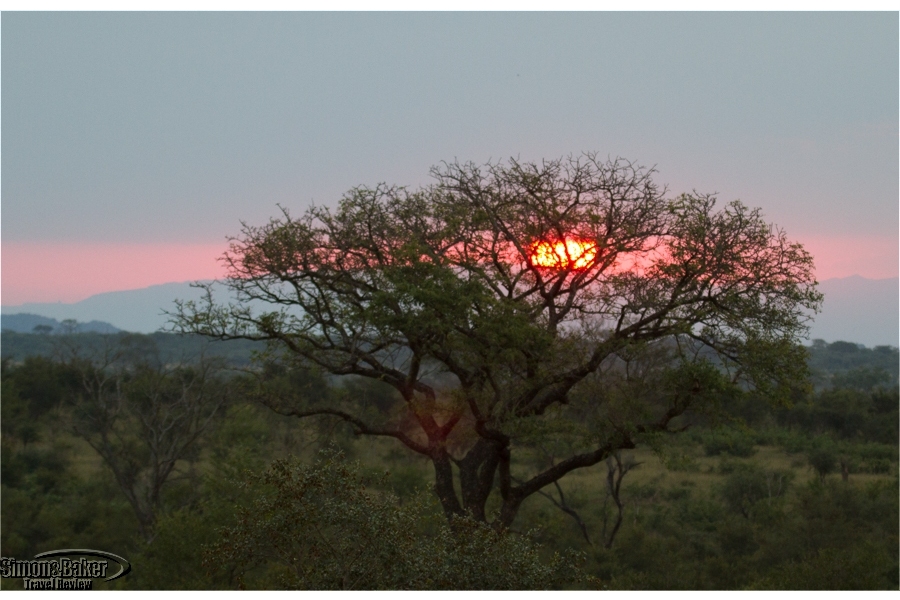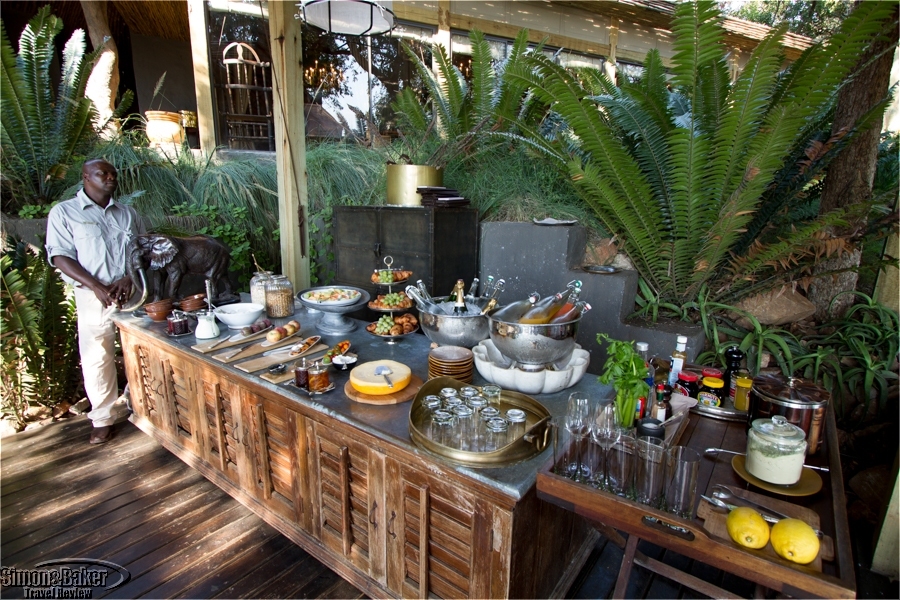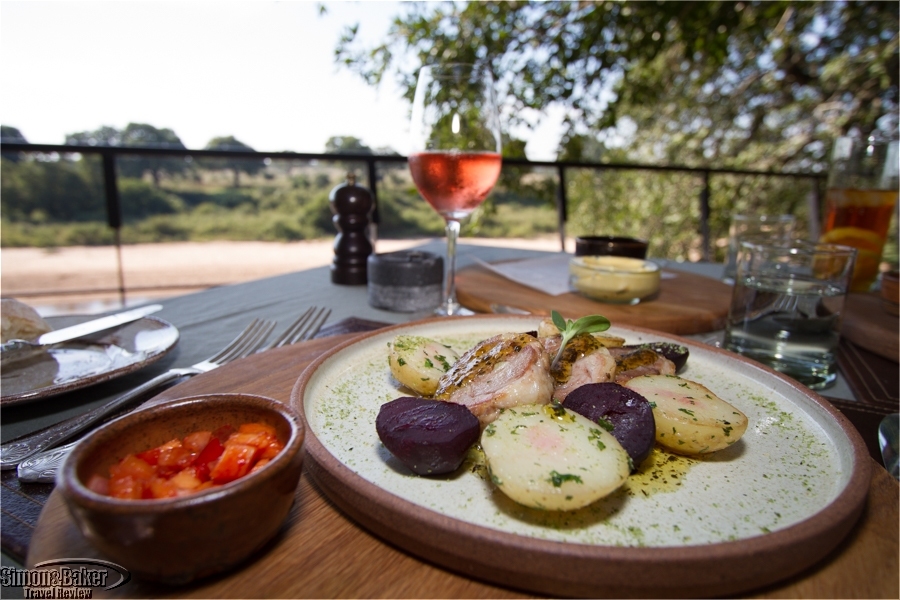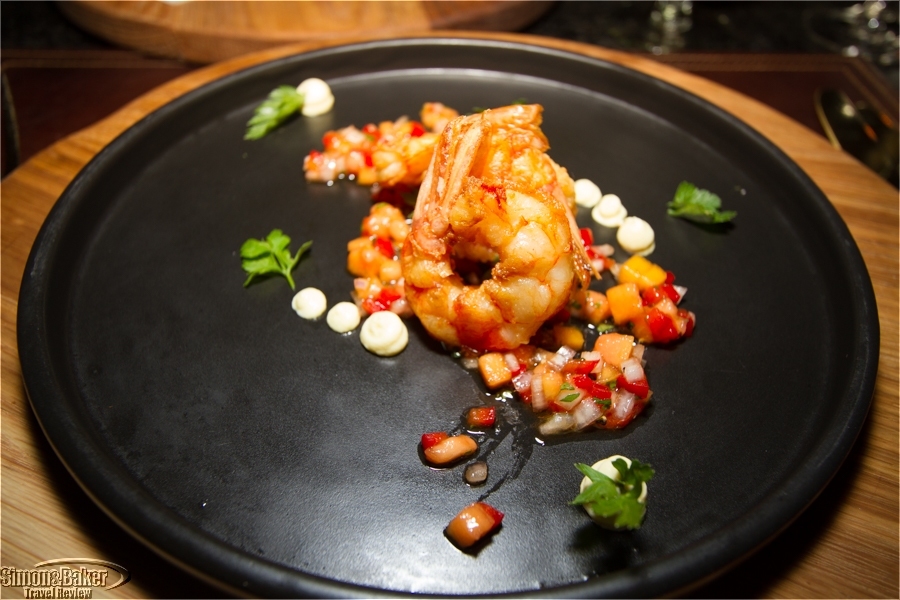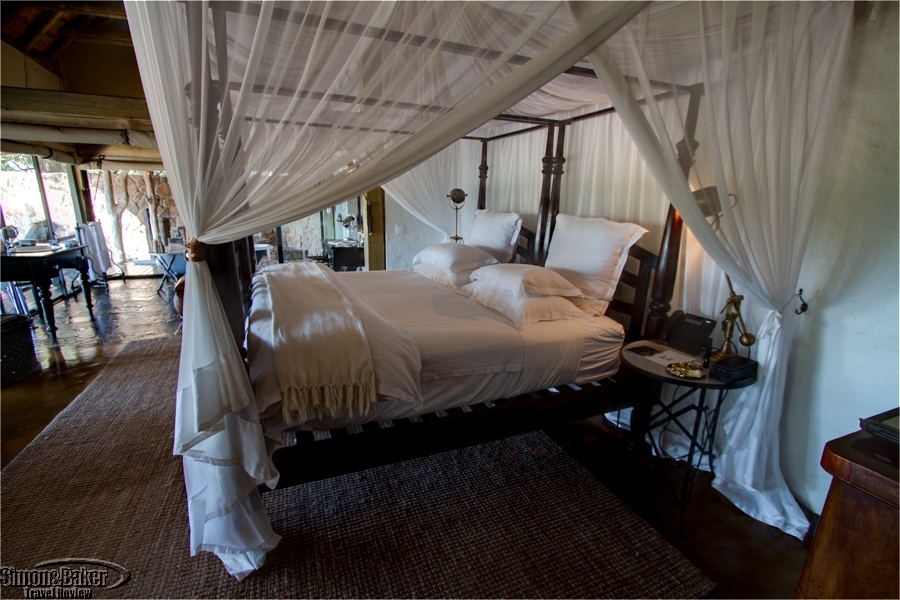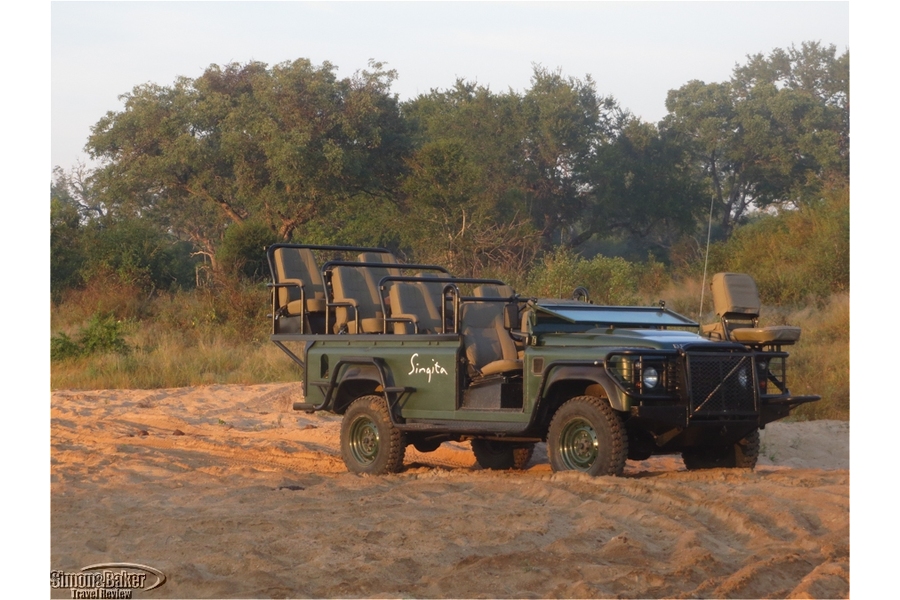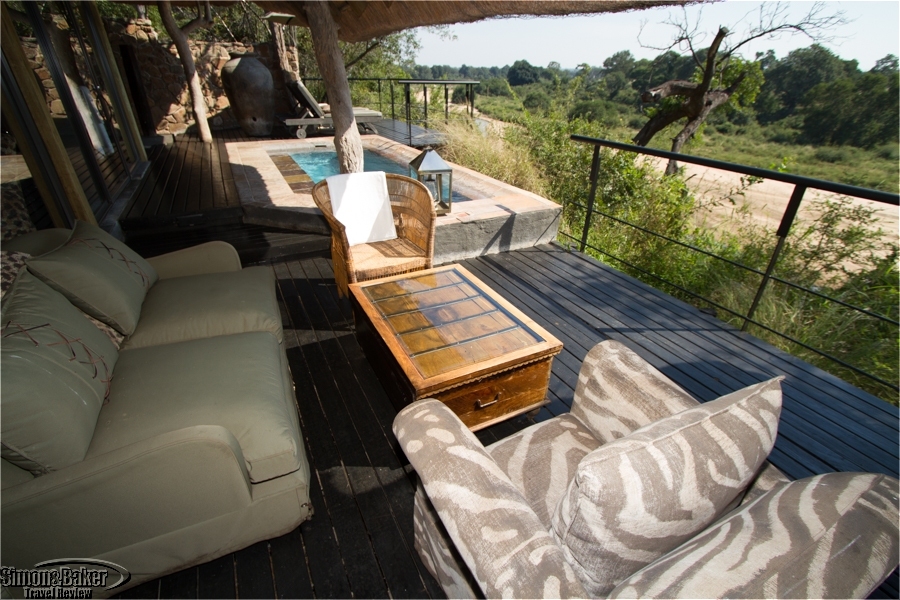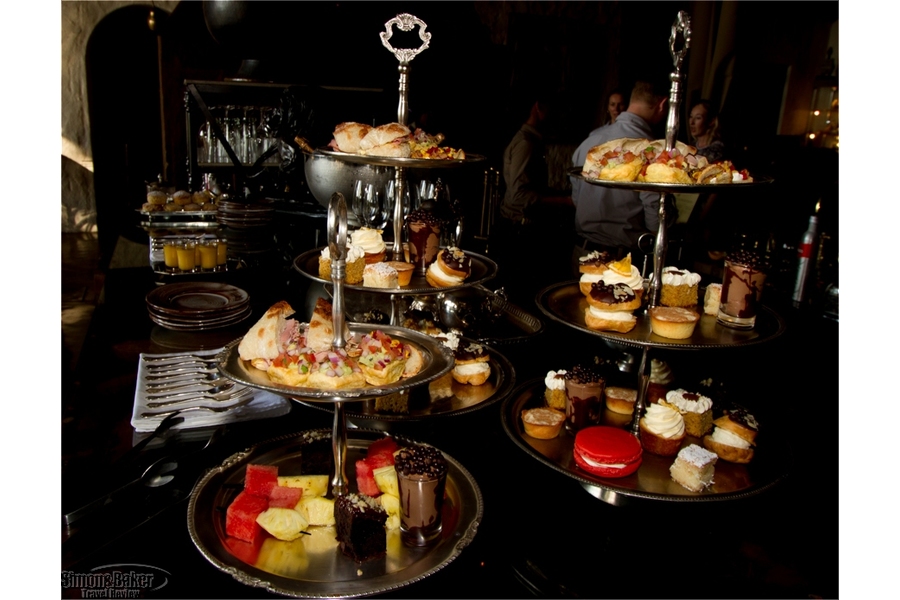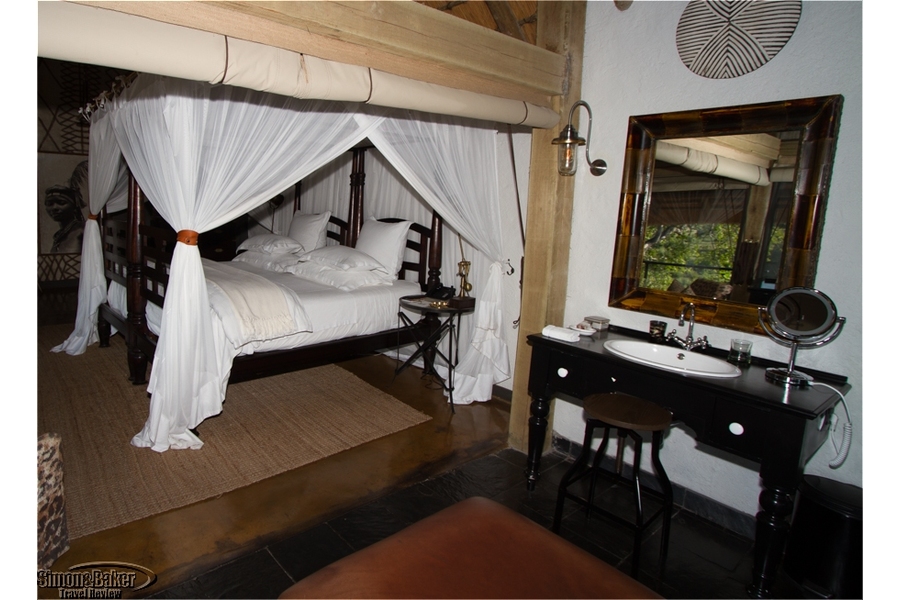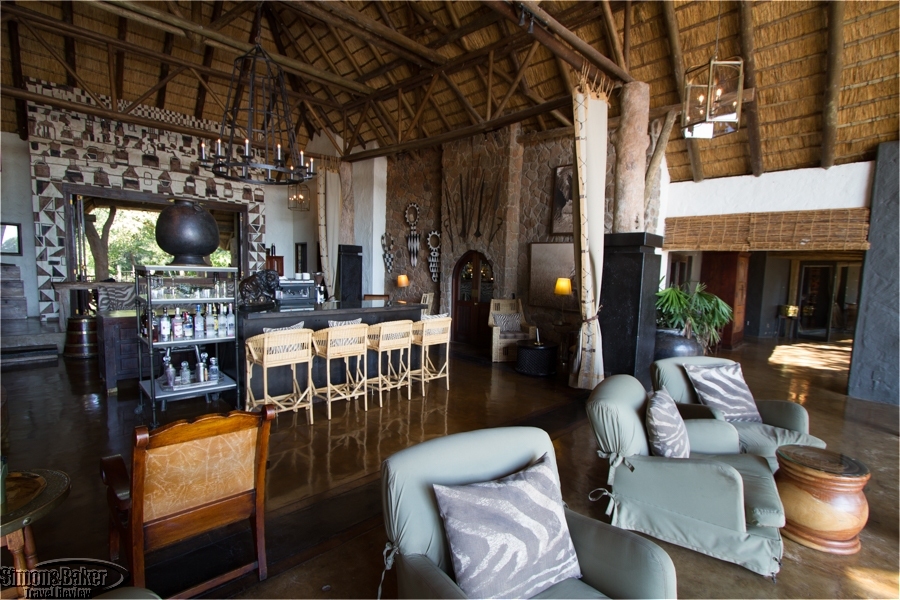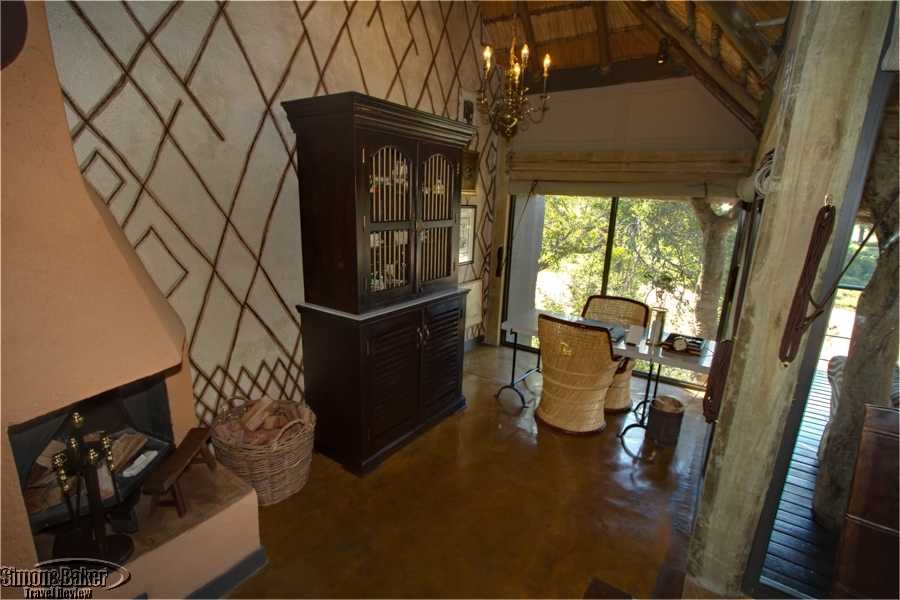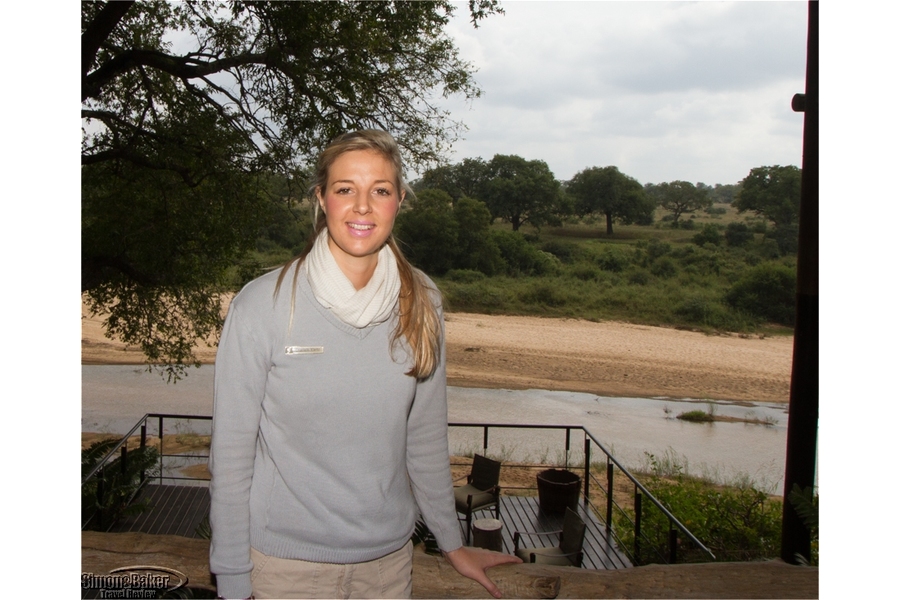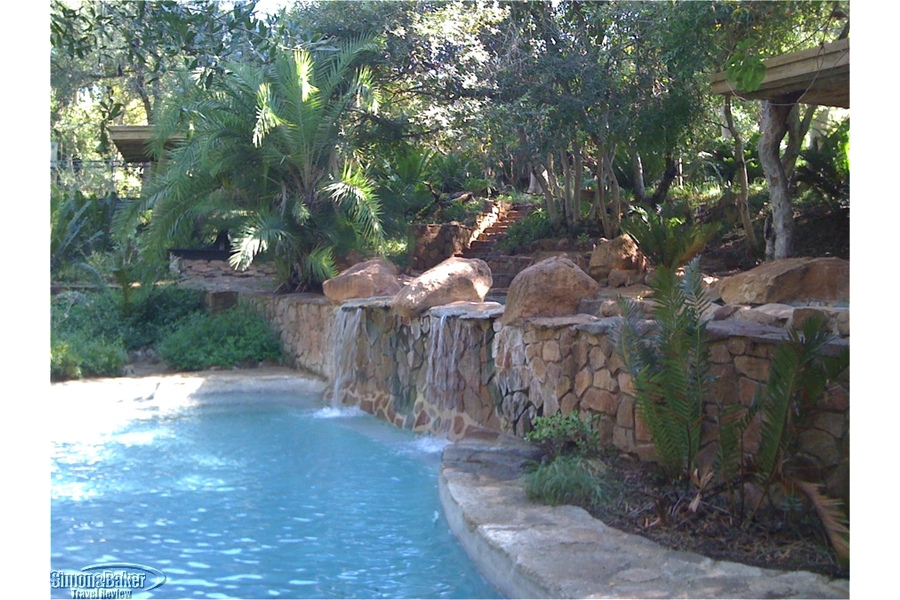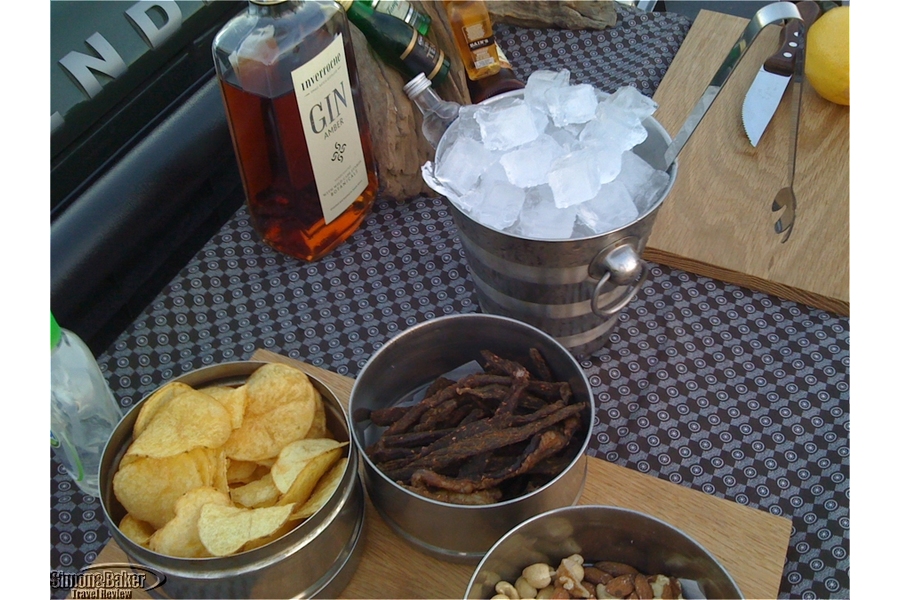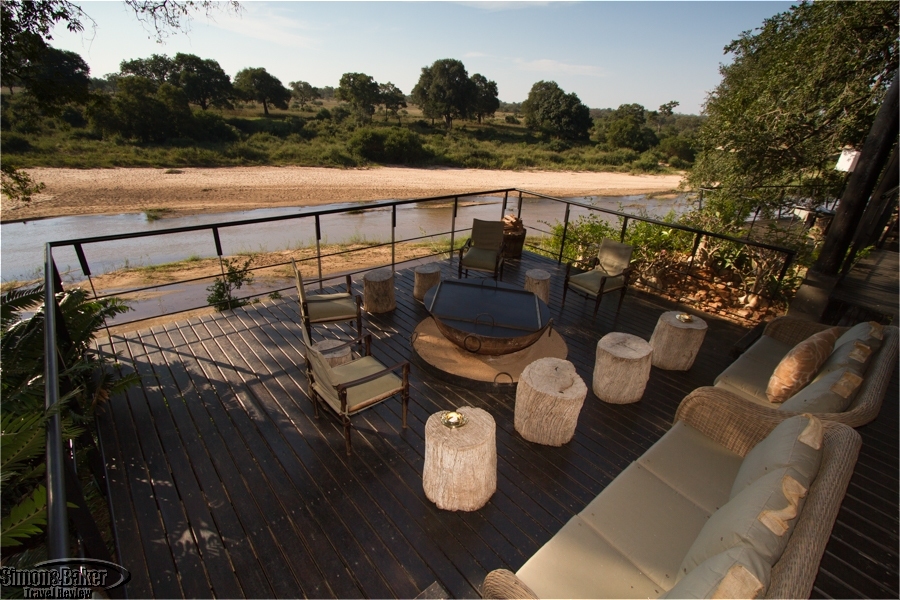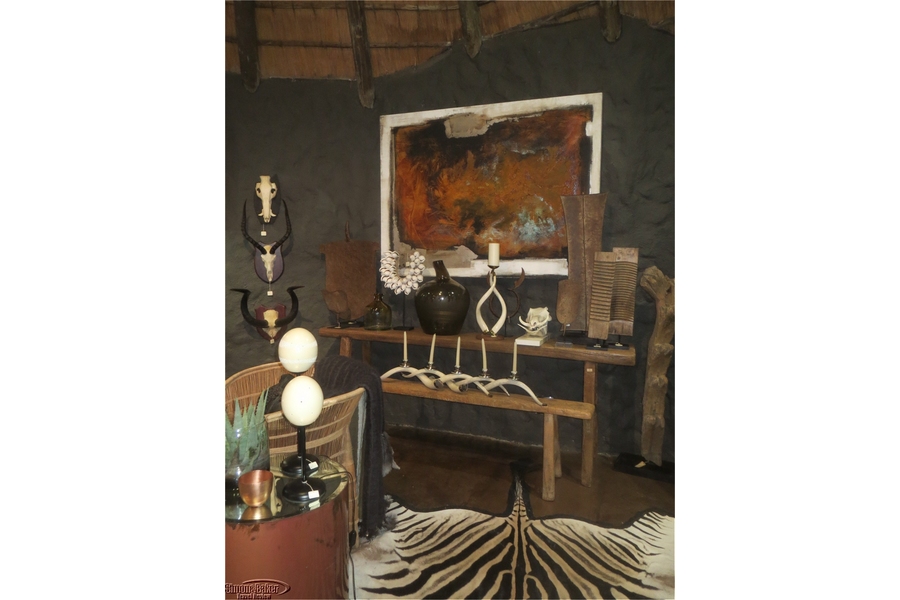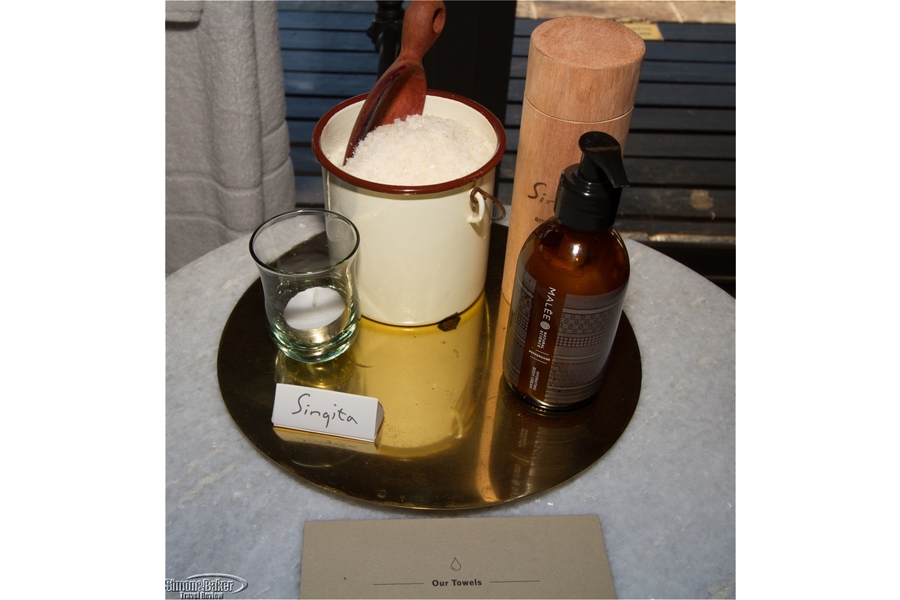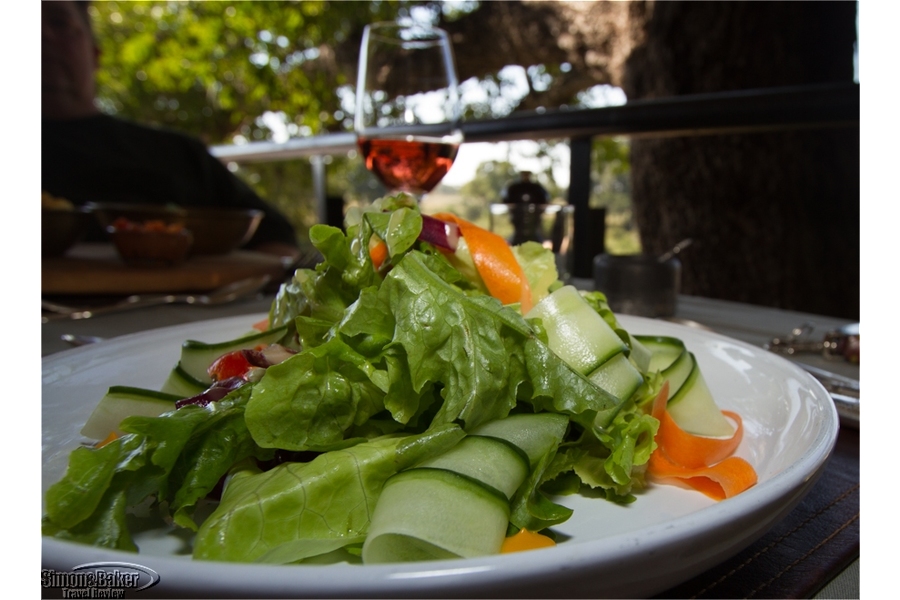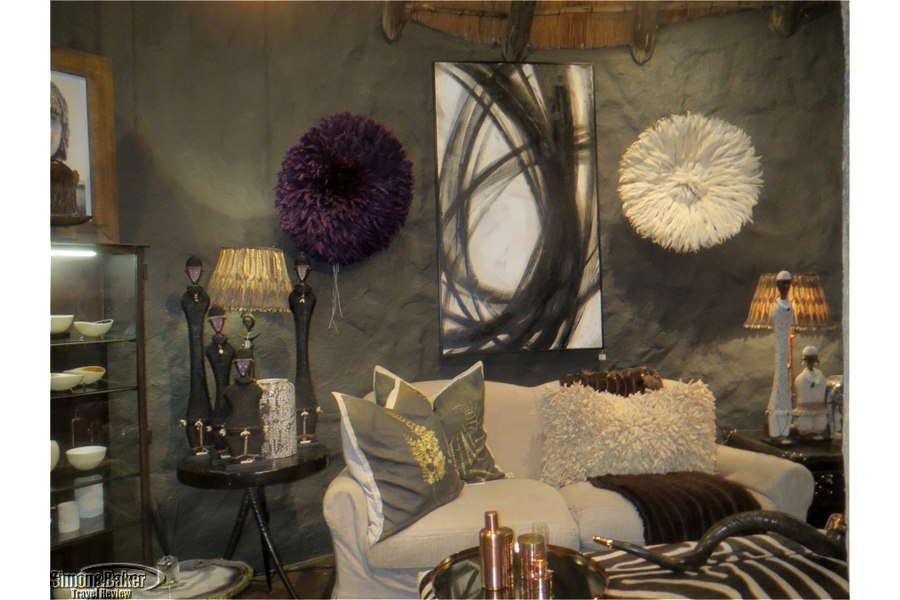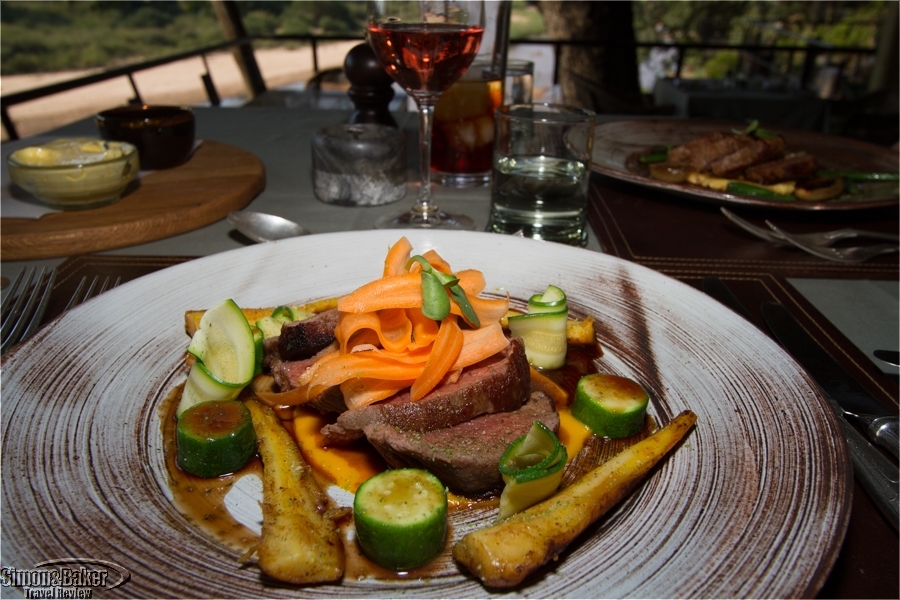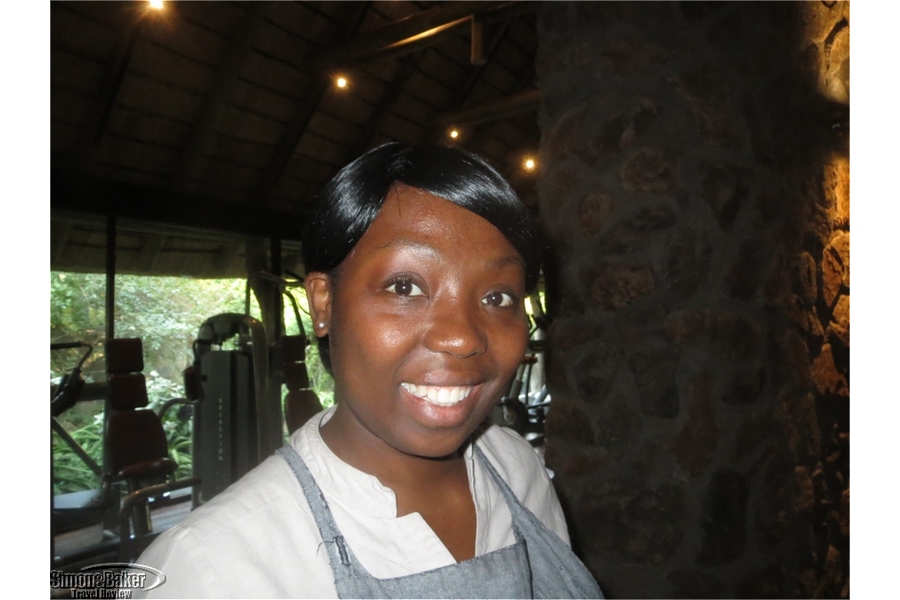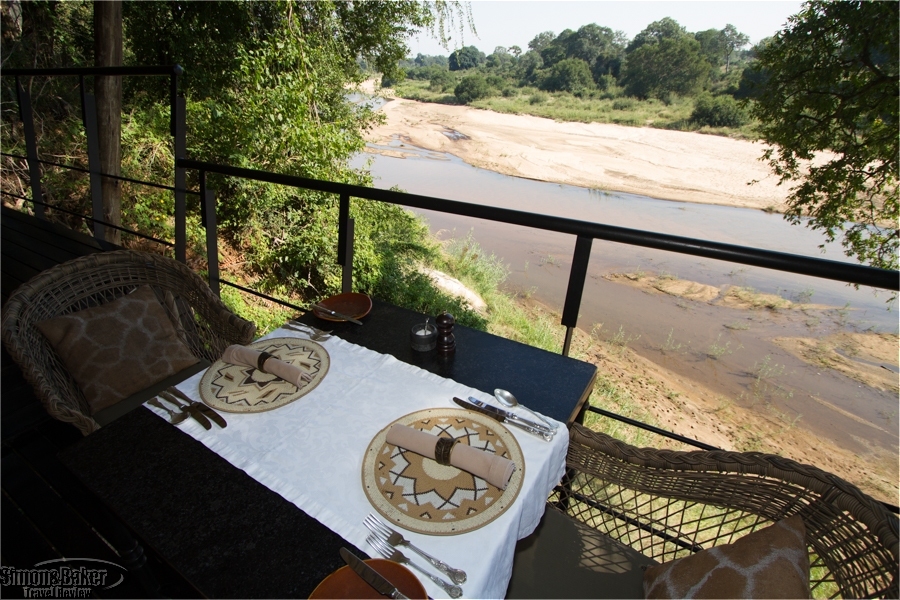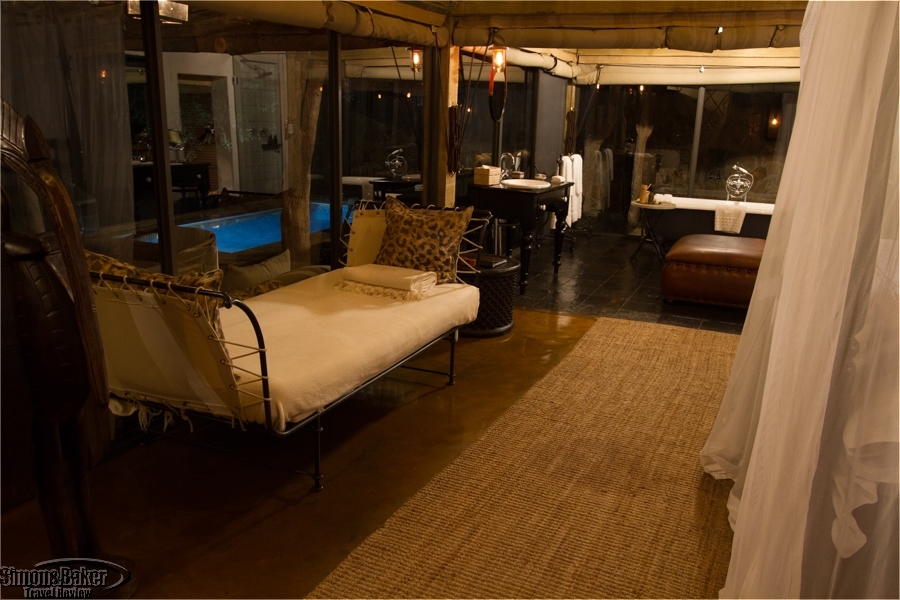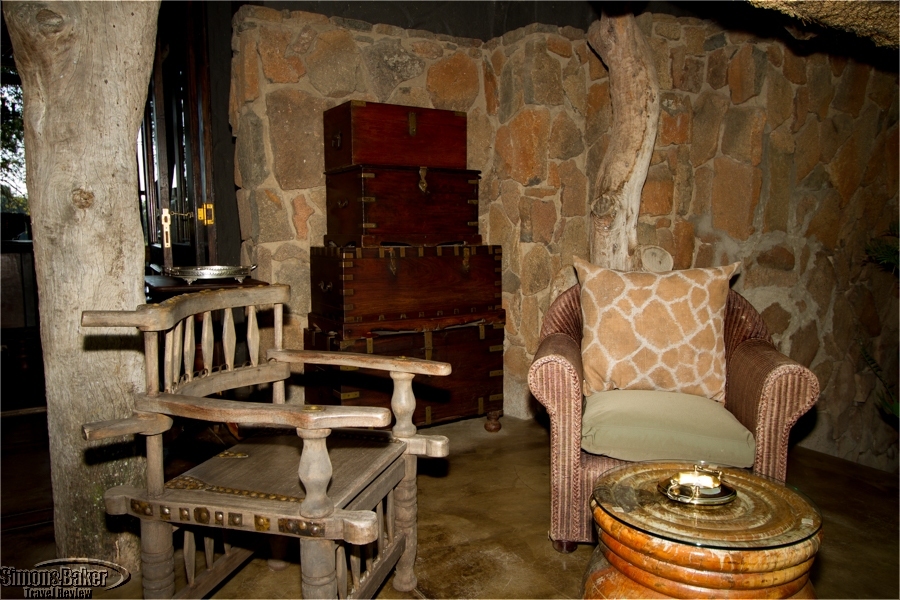 From the chocolate in the mini bar (a rare find on safari) and watercolor kit in the riverside room, to the attentive service and posh accommodations Singita Ebony set a high bar for safari luxury.
Overall Impression
It had been several years since our first stay at Singita Ebony in South Africa's popular Sabi Sand Reserve. We knew Singita had refreshed the décor and were curious about the changes. As we walked across the bridge from the arrival parking area and our host showed us around I remembered the two level swimming pools steps from the open air main building. My eyes were immediately drawn across the new bar to the Sand River. The deck, perched on the edge of the property facing the river looked familiar, but not the same. Our friendly host explained that the deck was larger as the property had expanded the multilevel platform. And, in lieu of the bright hues of the past the color theme was neutral bush tones.
Minutes later we were exploring our double suite, a stand alone structure only steps away from the main building and adjacent deck. It instantly became a favorite. A shared glass enclosed entry foyer provided privacy while maintaining a sense of openness to the bush around us. Inside, the two 56 square meter rooms, each with its own deck and heated plunge pool, were spacious and well appointed while at the same time homey. The river and bush fronting setting was fantastic. Every day we made time to take a dip in the heated plunge pool, enjoying the solitude while soaking in the views and serenity of the nearby wilderness. With difficulty I tore myself away from my luxurious cocoon for the twice daily game drives, to swim laps in the full size swimming pool, workout and enjoy a treatment at the spa, and visit the well stocked gift shop and art gallery a short drive away.
Immediately before the afternoon game drive there was an elaborate tea service with a choice of beverages and petit fours. Thirty minutes was scarcely enough time to meet new arrivals, engage in conversation and indulge in the variety of treats. We headed out on the game drive with hearts and bellies content, eager for a Big Five encounter.
In addition to the natural setting, Big Five (and cheetah) sightings, stylish furnishings and my suite, what I most remember was the efficient and friendly service. When a well worn flip flop broke we attempted to purchase a replacement at the Singita shop only to discover there were none available. On hearing about it the staff volunteered a temporary solution. A resourceful staff member glued it so well it lasted through the end of the trip.
We liked the refreshed décor, including the new deck space, especially the shady corners during the hot lunch hours, facing the partly dry riverbed. From the chocolate in the mini bar (a rare find on safari) and watercolor kit in the riverside room, to the attentive service and posh accommodations Singita Ebony set a high bar for safari luxury.
Children
The property welcomed children of all ages without any restrictions.
Class of Accommodation Luxury Safari Lodge
General Manager Chantelle Maritz, who was there during our stay, and Kobus De Kock
Handicapped Access The property welcomed blind, deaf and wheelchair bound guests.
Length of Stay Three nights
Location In the Singita Reserve within the western Sabi Sand Reserve, which is adjacent to the Kruger National Park.
Number of Employees About 80
Owned and Managed Luke Bailes
Size The lodge had 12 rooms. The Singita Reserve, shared by Ebony and Boulders lodges and Castleton Camp was 6,000 hectares in size. The total traversing area was 18,000 hectares. The Singita Reserve was situated within the 45,000 acre Sabi Sand Reserve which was adjacent to and fenceless from the Kruger National Park.
Year Opened and Date of Most Recent Renovation The lodge opened in 1993 and the most recent renovation was in 2015.
Lobby and Common Areas The décor had changed significantly since our previous visit years earlier. Open air spaces dominated during our spring stay when hot temperatures ruled the day and the thermometer dipped thirty or more degrees fahrenheit in the evenings. Decorative features included still-life collections of antiques and artifacts, vintage campaign furniture from the Bailes family collection, wood, iron, steel and aged bronze reminiscent of the 19th century, oversized sepia photography, leopard and zebra print upholstery selected to complement bold graphic tribal patterned murals. Canvas and glass replaced internal and external walls to create safari tent-style rooms.
Bathroom One of my favorite features of the bathroom was the views of the deck, riverbed and bush it offered from almost every spot thanks to the glass walls of the room. The bathing area of the bathroom was two steps away from the bed without doors dividing the two spaces. There were twins sinks, each on a wood stand, on opposite ends of the bathroom. One set against the back wall had a large framed mirror. One set against a glass wall had a hanging, round framed mirror. A square leather stool took up the center of the bathroom. There was a clawfoot bath tub against the glass wall facing the side terrace and outdoor shower. A wood towel rack was to next to it in the corner. In the opposite corner there was a glass enclosed shower. Half a level below, reached by a few steps, a separate room at the end of the walk-in closet housed a toilet and sink.
Room
I loved my room with its glass walls, doorless interior and inviting terrace, especially the heated plunge pool. Facing the main lodge building we turned left, walking at a slight upward angle on a brick path, to reach our thatched roof rooms. We stayed in adjacent Rooms 8 and 9, the Singita Ebony Lewis Suites, which shared a convenient entrance foyer with glass doors. The foyer was large enough to house two comfortable and cushioned armchairs. It provided a convenient place to wait for our staff escort at night. Oversize, self locking and swiveling wood doors lead into two Sand River fronting rooms.
The rooms, 56 square meters each, were divided into two main areas: An indoor space without interior walls and an outdoor terrace. Indoors, there was an entrance foyer and desk area, a bedroom, a bathing and ablutions space, a large walk-in closet, and a separate room with the toilet and sink. Two sliding glass doors provided access to the terrace, one next to the desk opened onto the sitting part of the porch. The other in the bathing area opened in front of the plunge pool. Outdoors, the terrace was a continuous doorless space. One side, under roof, had a comfortable sofa and two armchairs. The other had a plunge pool, two adjustable cushioned lounge chairs and a sun umbrella. In the back there was an outdoor shower. There were several vervet monkeys on my terrace the day I arrived.
The room, decorated in earth tones with safari accents, was made with a combination of concrete, glass, and canvas. The floors were of polished concrete with area rugs. The terrace floors were wood, except for the stone outdoor shower. The area of the room facing the river had glass walls, affording a river view from almost every angle. It was possible to lower a canvas cover for privacy or to shut out the daylight. The temperature was controlled via two wall-mounted air conditioning and heating units. There was also a fireplace near the desk. One night during my stay the staff surprised me with a lit fireplace on my return from the game drive. Framed photos, one oversize, on the walls broke the visual silence. There was ample lighting in the room during the day and night; during the day from soft sunlight and at night from lamps, indoors and outdoors, including a pool light. Sunlight filtered through a skylight in the darker than the rest of the room walk-in closet.
The entrance foyer had a hat stand with two hats, two cotton wraps, and a bag for guest use during the stay. Two steps led down into the desk area, which had the working fireplace, a cabinet housing the minibar and snacks, and a river facing desk with two armchairs. The staff instructed us to always lock the cabinet and minibar as the monkeys and baboons were prone to break-ins to steal the snacks.
The center of the bedroom was taken up by an oversize fourposter wood bed (from two individual side by side beds) framed by two identical round metal night tables with adjustable metal lamps. One of them also had a telephone and the air conditioning remote control. Above them hung a mosquito net from the ceiling, which the staff spread around the bed at night during the turndown service. Scent-less white linen sheets and a white duvet covered the bed. There were complemented by three pillows of different sizes and materials. The two rooms were very similar in style and furnishings. There were two animal print style armchairs, each with a cushion, on either side against the glass wall in Room 8. In Room 9, the same space was occupied by a daybed.
Beyond the two steep steps that connected a toilet room and the walk-in closet there was ample space for luggage on both sides of the doorless entrance. Above the luggage rack there were rods for ponchos and outdoor gear. An armoire also provided hanging and shelf space as well as an electronic safe. The toilet room was at the the end of the closet. A frosted window with blinds meant there was soft sunlight there. There was another window on the opposite side in the closet.
Food
Mealtimes revolved around safari activities. Kitchen staff were able to adjust to food allergies and preferences with ease. In the morning, before going out on game drive there were hot beverages and muffins. Breakfast, served after the morning game drive, included several juices, such as mint apple, fruit smoothie, and kambucha with the option of powdered wheatgrass. Although there were a few items on display in the outdoor deck our servers insisted on bringing our order to the table. When breakfast was served indoors our final morning there was a self serve buffet for the cold items. There was yogurt cereal and fruit coolie as well as a fruit platter and several whole fruits available. A hot made to order menu consisted mainly of eggs with sides such as asparagus, tomatoes, potatoes, mushrooms, sausage (pork, beef, ostrich) in various styles of preparation. There were also oatmeal, pancakes, and French toast.
The lunch and dinner menus varied daily. There were salad options with fresh and crispy greens, tacos, fish, beef, lamb, and curry dishes. We loved the Sand River riverbed views from our table at breakfast, lunch and tea.
Amenities
Nightly rates included twice daily game drives, meals, snacks, and house beverages. Our rooms had many amenities including: scale, vanity mirror, complimentary water, toiletries, slippers, electronic safe, complimentary mini-bar with coffee and tea service. I particularly liked the gourmet chocolate and homemade fudge.
Facilities Work out and spa building, wine room, Singita Boutique & Gallery gift shop (a short drive away and shared with sister properties).
Pool There were two adjacent outdoor swimming pools about twenty feet long by ten feet wide and about four feet deep with a waterfall feature. Because they were in the shade the water was bracingly chilly even at midday when it was warm. There were a handful of lounge chairs and towels. I loved having a heated plunge pool in my room (about ten feet long, three feet wide and four feet deep). I also enjoyed a swim during the day in the main swimming pool. It was an outstanding combination of pool amenities.
Shop There were Africa and South Africa souvenirs, including a large selection of upscale clothing, art, jewelry, and home furnishings.
Spa I had a good spa treatment with Nonkukuleko. The spa staff were friendly and attentive.
Game Viewing
Joshua Bell, who had been guiding for four years and had a Field Guide Association of Southern Africa (FGASA) Level 2 trails guide qualification, was our guide. Joshua completed his degree in Environmental Sciences at a university in Leeds, United Kingdom. Our tracker, Emmanuel Makhubela, had been tracking for over 18 years, and with Singita for over 10 years. On a previous stay he had also been our tracker. He held a FGASA Tracker Level 3 qualification. We saw the Big Five and cheetah as well as other animals, birds, trees and shrubs.
We saw the following animals during our stay: baboons, buffalo, Burchell's zebra, bushbuck, cheetah, civet, common duiker, dwarf mongoose, elephant, giraffe, grey duiker, hippopotamus, impala, klipspringer, kudu, leopard, lion, nyala, scrub hare, spotted hyena, tree squirrel, vervet monkey, warthog, white rhinoceros, wildebeest; and flap-necked chameleon.
We saw the following trees and shrubs: Russet bush willow, marula tree, jackalberry, knob thorn, large fruited bushwillow, sycamore fig, roundleafed teak.
We saw or heard the following birds: African hoopoe, bateleur eagle, bearded woodpecker, Cape glossy starling, Cape turtle dove, crested francolin, crowned lapwing, dark chanting goshawk, fork-tailed drongo, golden-tailed woodpecker, lilac-breasted roller, magpie shrike, rattling cisticola, red-billed quelea, redbilled oxpecker, sombre greenbul, southern yellow-billed hornbill, yellow-front canary, Eagle snake brown, Black-bellied bustard, black-shouldered kite, Senegal lapwing, black-crowned night heron, ostrich, stork black.
Activities Dawn and dusk game drives in an open Toyota LandCruiser were included in the nightly rates at the lodge. We shared the vehicle with two or three other guests during our stay.
Other The only sour note were over aggressive monkeys that stole food from tables and one group that intercepted me as I walked back to my room from the spa, stealing my carton of juice with practiced ease. At meal times there was a dedicated staff member tasked with guarding the dining deck from monkeys. The Singita Sabi Sand Reserve properties were Travel + Leisure No. 3 Safari Lodges in Africa in World's Best 2016 and No. 7 in Middle East, Africa & the Indian Ocean. The property had also received Readers' Travel Awards 2016 (United Kingdom) of Conde Nast Travellers, No. 7 in Africa Readers' Choice Awards 2016 (United States).
Cleanliness
Excellent
Date of Last Visit May 2017
Reviewers
Article by Elena del Valle
Photos by Gary Cox
Service Staff members were friendly, helpful, and guest oriented almost without exception. I appreciated the thoughtful touches like lighting my fireplace one night, repairing my travel partner's broken flip flop, petit fours at dinner on request, stocking extra fudge in my room and insights on nearby specialty shops. Singita stands out among all the five star properties in that trip for its excellent service. Kennedy, Sara, Auto, Abby and Tom were among the staff who looked after us in one way or another during our stay. Our rooms were serviced twice daily.
Would You Stay Again? Yes
Contact Information
Address:

Singita Ebony Lodge
Sabi Sand Reserve
P O Box 809
Hazyview
Mpumalanga, South Africa

Phone:
Website:
Email: