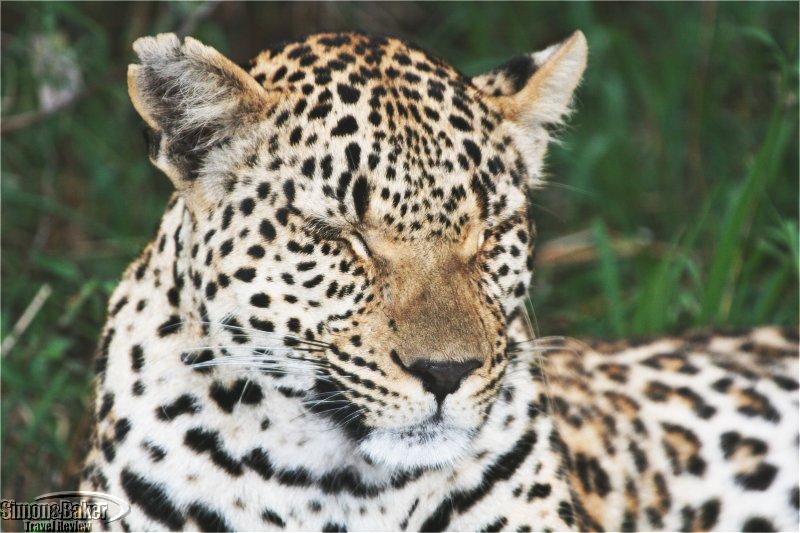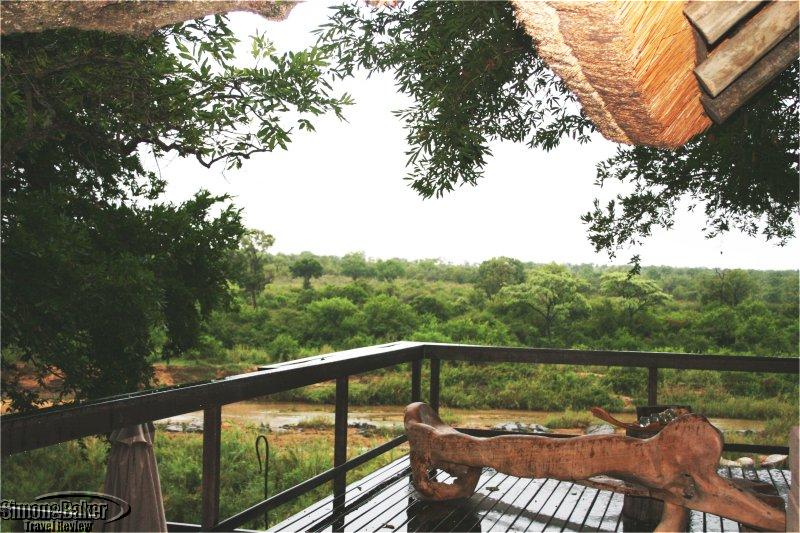 We look forward to discovering other Singita properties in the future.
Overall Impression
Singita Boulders Lodge, situated within the coveted Sabi Sand Reserve just west of the Kruger National Park, offered understated luxury in a magnificent bush setting. Singita was named for the Shangaan word meaning "The Miracle." Boulder's Lodge, a distinctive luxury property with an elegant contemporary style fronting the Sand River for which the reserve is named, stood out for its fabulous adult oriented accommodations (children were welcome in a private section of the property); rustic elegant décor; tasty dishes; and varied activities options such as twice daily Big Five game viewing drives, cellar wine tastings, local village visits, shopping, work outs a the fitness center and spa treatments.
On our arrival and following the signing of the usual indemnity release form and other check in formalities, we were assigned to Vivian and Coleman for the duration of our stay. Vivian, who stood out for her friendly attitude and sense of humor, looked after us during meal times. Coleman was our local born expert bush ranger. Although heavy rains during most of our stay kept us away from the bush, twice we went game viewing with Coleman and saw some of the Big Five. We also enjoyed an afternoon of decadent pampering at the property's spa.
We loved our newly built beautiful double suite accommodations with an open, glass framed rear section with a view to the back porch, private plunge pool and bush. The four room double suites designed for families with children offered all the creature comforts in a private and inclusive setting. For adults, it was the perfect place to lounge and relax in between activities.
In spite of a bush location, we were pleased to find international direct dialing and a dedicated computer terminal with ADSL Internet access for guests. Once again Singita has a luxury winning formula in a game viewing location with lots of activity options, stylish accommodations, friendly staff and delicious food. We look forward to discovering other Singita properties in the future.
Class Of Accommodation
Five stars. Described by Lodge staff as "the top lodge in the world." All amenities are 5 star regulation and more, according to Lodge representatives.
Concierge Carmen Walters (Amukeri)
General Manager Tony Romer-Lee
Handicapped Access It was necessary to negotiate steps, stairs, pathways and long walks from our room to get around the property.
Length Of Stay Two nights
Location In the Singita Reserve within the Sabi Sand Reserve west of the Kruger National Park
Lodge Manager Sean Ingles
Owned-Managed Singita Group/Luke Bailes
Size Singita Boulders had ten suites in the main area. There were two additional family suites with capacity for four guests each; these facilities were separate from the main lodge. Boulders was in a 8,500 hectare reserve which had additional limited traversing rights to 10,000 hectares of neighboring land. The spa, work out facilities, wine cellar and curio shop were shared with two sister properties, Ebony Lodge and Castleton.
Year Opened-Renovated The property opened December 1996. Our double suites were built in 2006. That same year there was a soft refurbishment of entire lodge including furniture, color scheme and linen. A library and three rooms were added.
Lobby And Common Areas Singita had contemporary rustic African décor. There were baskets, bowls, and other "raw" looking artifacts such as elements in wood, clear, beige and neutral colors. Property representatives described it as "modern contemporary, organic, textured, natural fibers and woods, summery, open and spacious." Patrick Mavors silver art was displayed around lodge as well as original art pieces and prints. The design was by Cecile and Boyd Interior Designers.
Bathroom A sliding wood door in the master bedroom led to a bush centered master bathroom. There was an electronic safe in one corner, a double door wood closet with luggage racks on both sides; toilet and bidet room; vanity corner with a chair and hanging mirror; twin oversize green ceramic sinks on a long stone counter with oval frameless mirrors; large bathtub (plastic); indoor shower with oversize glass doors affording a view of the bathroom, large outdoor shower area and plunge pool behind it. The bathroom had dark grey tile flooring. From inside the bathroom we could look on to the deck, pool and wilderness beyond. The outdoor shower offered a similar view. With no neighbors or passersby, it was superb to leave the shades up and enjoy the view while bathing, showering or anytime. The bathroom in the second bedroom was designed in a similar style and included an outdoor shower and glass door.
Room
Our double suite accommodations (rooms 9 and 10) were stunning. Each temperature controlled 120 square meter (1,200 square feet) two-room suite had its own spacious outdoor bush facing deck with a private infinity plunge pool and outdoor shower; two bedrooms, a lounge, and a guest half bathroom. Between the two double suites there was a shared lounge. It was divided into an open area with partial roof cover and an indoor kitchen and dining area. The lounge could be reached via an exterior door and from a door in each suite. It housed a small refrigerator, large rustic wood dining table, full dinnerware, glassware, and cutlery for a large group. The bush facing open area featured rustic furnishings. The suites could be reserved individually or together. Their location, slightly away from the main area of the Lodge, and spacious size made them ideal for groups and families with children.
The rear wall of the suite master bedrooms was glass leading us to look outward toward the porch, deck, plunge pool and bush. There was concrete with embedded stone flooring at the entrance and wood floors in the lounge area. We loved to sit anywhere in the master bedroom, lounge or master bathroom and gaze our through the glass (wall and doors) at the beauty of outdoor area and African bush.
Our bush facing master bedroom had two four poster twin beds set together with mosquito netting and nice hard mattresses. There were wood tables on each side of the bed, one of them with a wireless phone. A rustic free form wood table and large armchair were across the bed and adjacent to the large glass wall. In the corner a fan cooled the room.
The master bedroom had thatched ceiling and a combination of carpeted and concrete stone floors. A floor to ceiling double fireplace occupied the entrance corner in the master bedroom and the beginning of the lounge. A smaller second bedroom had a similar design and two separate beds.
In the hall there was a tabletop mini bar with a small refrigerator including drinks, courtesy snack food such as fruit, dried guava rolls, granola and chocolate bars, nuts and coffee and tea service.
The rear facing glass walled lounge had a built-in concrete sofa with hard cushions to sit on and fluffy cushions to lean against. There was a cloth armchair with footrest, dining table with two chairs, coffee table, lamp, table and fireplace. We especially liked the fireplace, social areas and views the suites and connecting lounge offered. Hats off to Singita for its functional and stylish suites!
Food
We had lunch and dinner in an indoor dining room. For lunch we ordered a la carte. Our choices were red pepper and pineapple soup, club sandwich with French fries and a hamburger with cheese. At night the air conditioning cooled the dining area and it was very pleasant. With the exception of the soup, the first course was served buffet style. We ordered main courses and dessert a la carte. We sampled the oxtail for dinner. A group of the staff sang and danced for about 15 minutes. It was one of the livelier "
boma
" style sessions we have enjoyed.
Breakfast was a combination of cold buffet and made to order eggs and sides. We had a choice of yogurt flavors, several cereals, several cold cuts and cheeses and a fruit from the buffet table. We could also request eggs any style from Vivian, our assigned staff waiter. We had a light lunch in our room. Vivian brought us soup and cold cuts.
Amenities
There were small containers of Dermalogica brand shampoo, conditioner, body lotion, eye and lip lotion in the bathrooms. There were also scented bath salts, herbal soaps, shower cap, two white linen bathrobes and two sets of slippers available for guest use. There were complimentary mini bar with water bottles, fruit, snacks and various wines (red, white and sparkling) and alcoholic drinks. All meals, early morning beverages, afternoon tea, and game viewing break beverages and snacks were included.
We appreciated extras such as bedside clocks, mini flashlights, mosquito repellent, hairdryer, international adapters, music facilities and selection of CD's, and heated plunge pools in winter.
Facilities There was a swimming pool with upper and lower pool decks, viewing deck, lounge and pool bars, boma and indoor dining area. There was also a wine cellar below the dining room, fitness center and spa building, steam room, extensive African souvenir shop, and library (Satellite TV, computer with Internet access, games table). The curio shop, wine cellar and spa were shared by three Singita properties.
Fitness Center And Spa Our second day at Singita it rained copiously and without interruption. Although all of the spa appointments outside game viewing times were full, we scheduled afternoon spa treatments instead of the customary game drive. Mandisi, a University of Johannesburg graduate with two years of experience, performed the treatments. They were: Restore Body Wrapping (60 minutes), Multivitamin Power Exfoliation facial (90 minutes) and a Specialised Deep Tissue Therapeutic Massage (a favorite). Although it was possible to have the massages in the comfort of our suite, the other treatments could only be performed at the spa. During the body wrap, Mandisi, gently scrubbed my body with a dry brush; she then applied a restorative gel (made in South Africa) and enveloped me in plastic for about 20 minutes while she massaged my feet. After five minutes of hot steam I showered and returned to the treatment room for the massage. She kneaded deep into the muscles using hands and elbows for a through treatment. For the facial we went downstairs to the second treatment room. It included a thorough cleansing with steam and extractions. The products were Dermalogica.
Anelle and Rebecca were my friend's therapists. She had a scrub, facial and deep tissue massage and was pleased with the results.
The fitness centre and spa building occupied about 120 square meters of indoor space. In addition to the his and her lockers, spa treatment rooms and steam room, there was Technogym Equipment, 13 pieces of weight and aerobic equipment plus free weights, mats, and balls.
Pool There was a 1,800 mm lodge swimming pool and lounge chairs in the lodge.
Game Viewing
Singita offered early morning (wake up at 5 a.m. and departure 5:45) and afternoon (4:30 p.m. departure after brief tea and refreshments at 4 p.m.) bush drives. In the morning, we were collected from our rooms and escorted to the reception area where we gathered for hot beverages and rusks prior to departure.
We had breakfast when we returned to the lodge. Evening drives set off in the early afternoon after refreshments and snacks. Dinner was served on our return. During the drives, six guests, a ranger and tracker drove around in open Land Rovers, which offered unimpeded views of the fauna and flora. There was usually a break during the drives when we could enjoy a warm drink in the mornings or a cocktail in the afternoons and snacks. For an additional fee private Land Rovers were available, with advance notice, for guests who requested them.
We saw buffalo, elephant, giraffe, hippo, impala, klipspringer, leopard (mother and two cubs), lion, white rhino, scrub hare, spotted hyena, water monitor lizard, wildebeest, and zebra.
Birds we saw: African hoopoe, bateleur, black-headed oriole, blue waxbill, Burchell's coucal, Cape turtle dove, greenbacked heron, hamerkop, Jacobin cuckoo, little bee-eater, plum colored starling, purple roller, and rattling cisticola.
Activities There were dawn and dusk game viewing drives (about two and one half hour long each) with a ranger and tracker assigned for the duration of our stay; bush walks; board games; a small library with a selection of Africa books; satellite TV in the dining room, working out at the gym, steam room, spa treatments, shopping and tasting wine. A computer with a high speed Internet connection was available for guest use in the back of the dining room.
Curio Shop
To visit the shop, we had to request that one of the Lodge staff drive us there. Although the shop was very close to the Lodge, there was no easy foot access, especially in a downpour. Fifteen minutes after we requested the service, the driver pulled up at the Singita Boulders circle. We rushed up the staircase from the lobby, with open lodge umbrellas, and onto the Land Rover in the rain. The thoughtful driver had placed a cover over the usually open vehicle. This kept us from getting too wet. Although the shop was under renovations while we were there, we thoroughly enjoyed our visit and managed to find a number of souvenirs, wildlife books and t-shirts we liked. There were many African artifacts, jewelry, branded clothing for men, women and children, silk scarves, books, handcrafted silver items and other items. It was one of the largest lodge curio shops we have seen in the bush.
Other Singita Boulders was a member of the Relais & Chateaux when we visited the property.
The main building housing the dining area, reception, wine cellar and spa was about five city blocks, via an elevated wood walkway, from our suites. This was the path we walked for every meal and game drive. In-room dining orders, brought on foot by Vivian, required advance planning.
There was no fence around the property. Although during the day we were free to roam around the property, in the early morning and post game drive we had to be escorted by one of the Singita staff members to and from our rooms. This was a safety measure in case we encountered any predators. It was easy to imagine predators visiting the camp after encountering nyala (antelopes) grazing along the walkway on several ocassions.
The thermostat on the air conditioner had to remain at 22 C to avoid damage to the unit.
The Lodge was certified by Fair Trade in Tourism South Africa (FTTSA). It received the following awards: Conde Nast Traveler (USA) Readers Choice Awards 2005 – Voted #2 in the Africa Resorts Top 20; Travel & Leisure Magazine 2005/2006 "World's Best Service Awards" – Best service in Africa/Middle East/3rd Worldwide; Conde Nast Traveler (USA) 2001/2002/2004 – "World's No 1 Destination" and Conde Nast Traveller (UK) 2004 – "Best Hotel in the World."
Cleanliness
Excellent
Date Of Last Visit November 2006
Reviewers Article and photographs by Elena del Valle
Service Singita staff were affable and accommodating. Markus, stands out for his friendly disposition. Carmen and Berdine at reception were also helpful and pleasant. Coleman, our ranger, was knowledgeable and a great bush guide.
Would You Stay Again? Yes
Contact Information
Address:
Sabi Sands Game Reserve,
Mpumalanga, South Africa
P O Box 809,
Hazyview,
Mpumalanga,
Phone:
Fax:
Website:
South Africa:
Singita Head Office
South Africa
The Oval,
Oakdale House,
1 Oakdale Road,
Newlands, Cape Town 7700
Phone:
Fax:
Email: