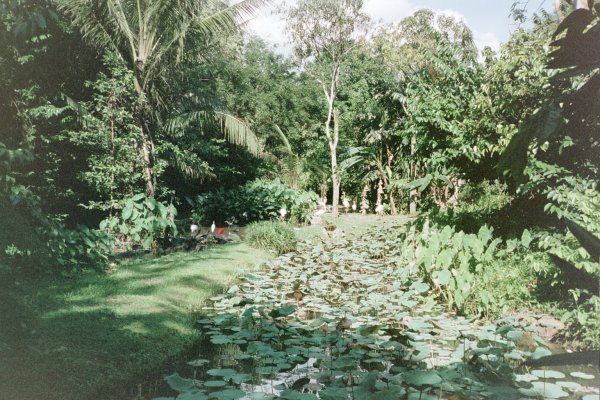 The night zoo at the Singapore Zoo was amazing.
Overall Impression
The Singapore Zoo was very modern and clean when we visited. Sitting almost right on the equator, the weather only seems to vary between wet and dry, it is always warm. The designers of the zoo have utilized the tropical conditions to full advantage with lush landscaping and open pavilions to escape the rains.
Many of the species in the zoo are allowed to wander free about this tropical paradise without the typical bars and fences. Monkeys inhabit the entire property and diners must be careful not to leave their lunch unguarded, or it may be pilfered. Various types of birds were present on the lawns and there was a large flock of flamingos in the swampy areas.
The entire zoo was designed to minimize the enclosures wherever possible and allow natural viewing of the animals. With the exception of a few big cats and other dangerous creatures, the visitor could imagine they were walking in the wild and viewing these creatures in nature.
At night, the Singapore Zoo offered one of the most amazing experiences we have seen – the Night Zoo. This environment was constructed to allow visitors to see an entirely different side of the wildlife, lit only by the bare minimum necessary for safety. Lions, tigers and leopards were all fully active and hunting, with carcasses placed to challenge them and provide additional interest. The wolf pack was also amazing to see through plexiglass in red lights – out and active which they seldom would be during the day. The night zoo at the Singapore Zoo was amazing.