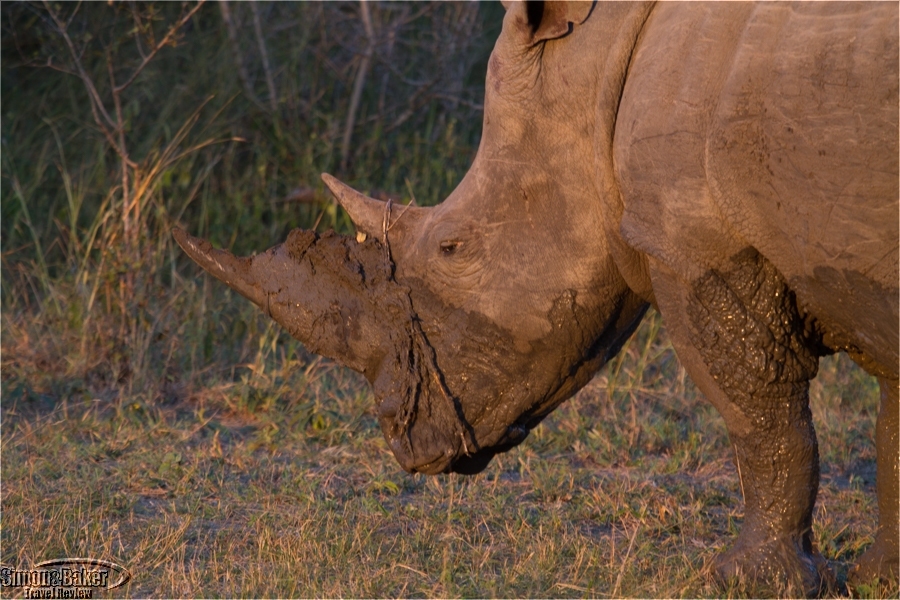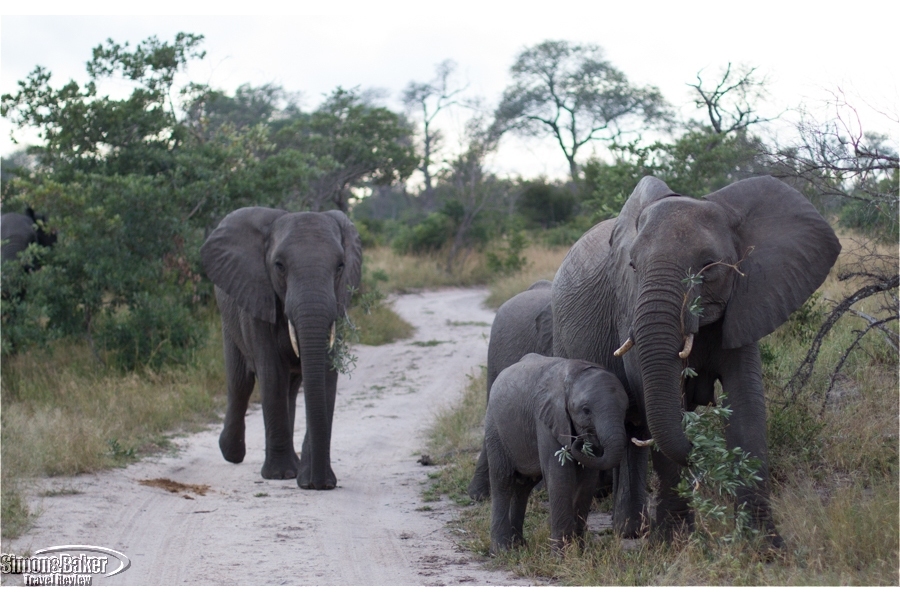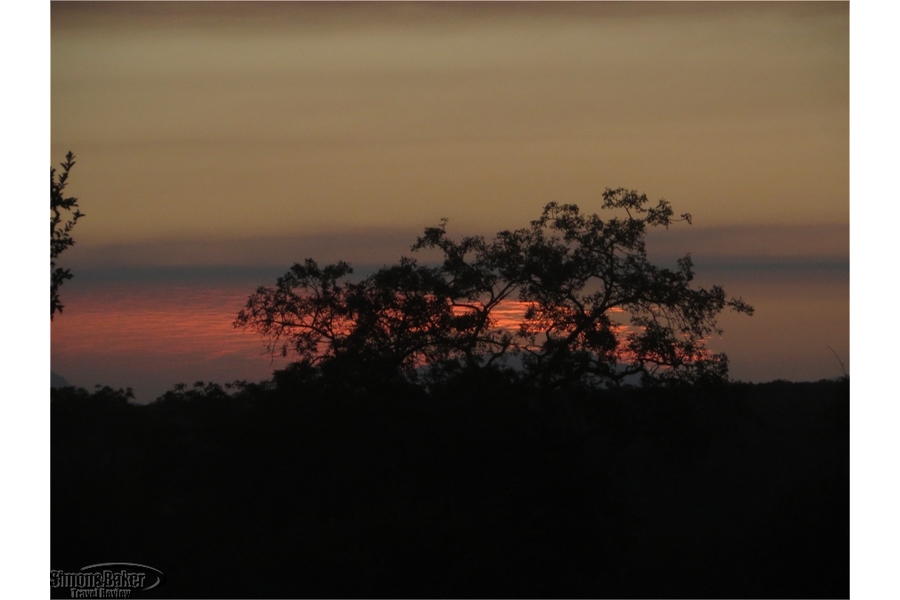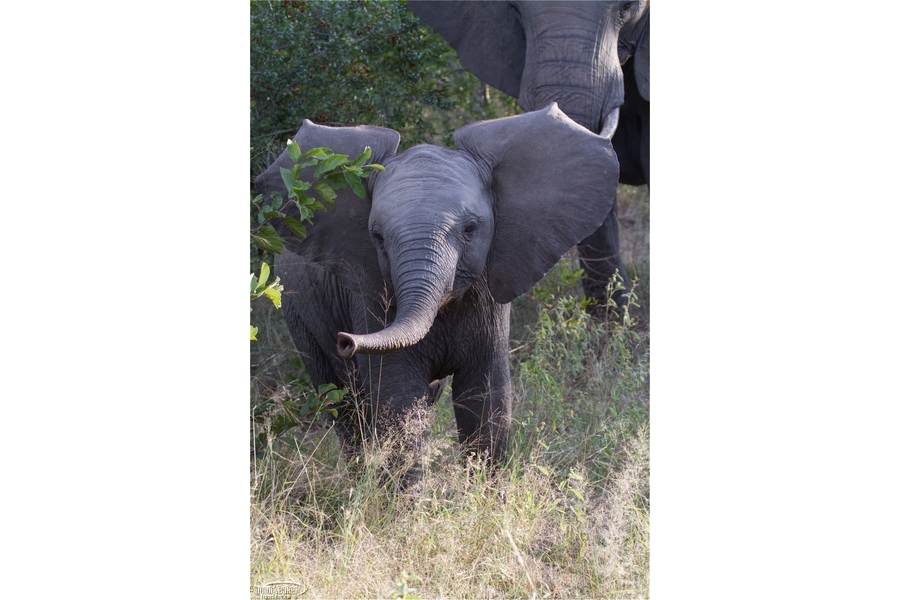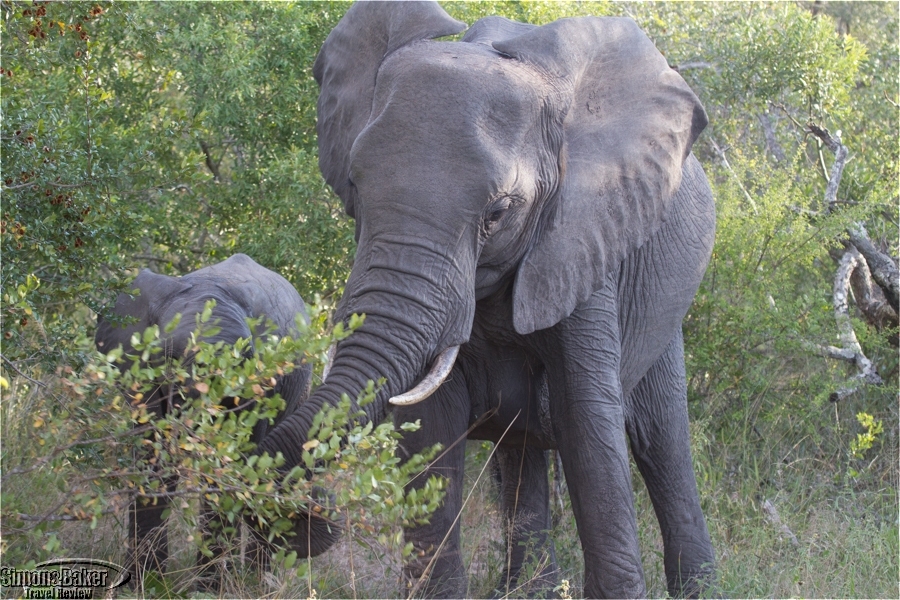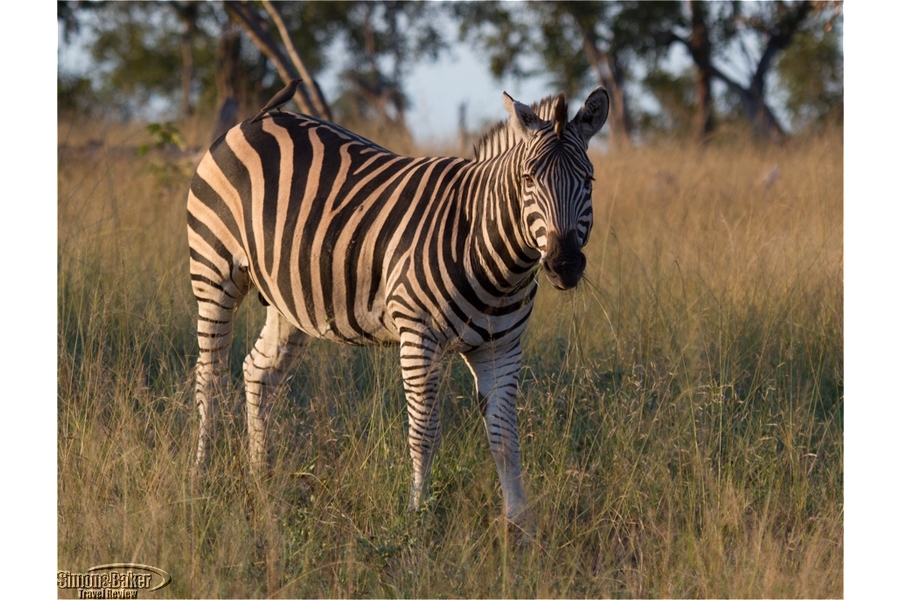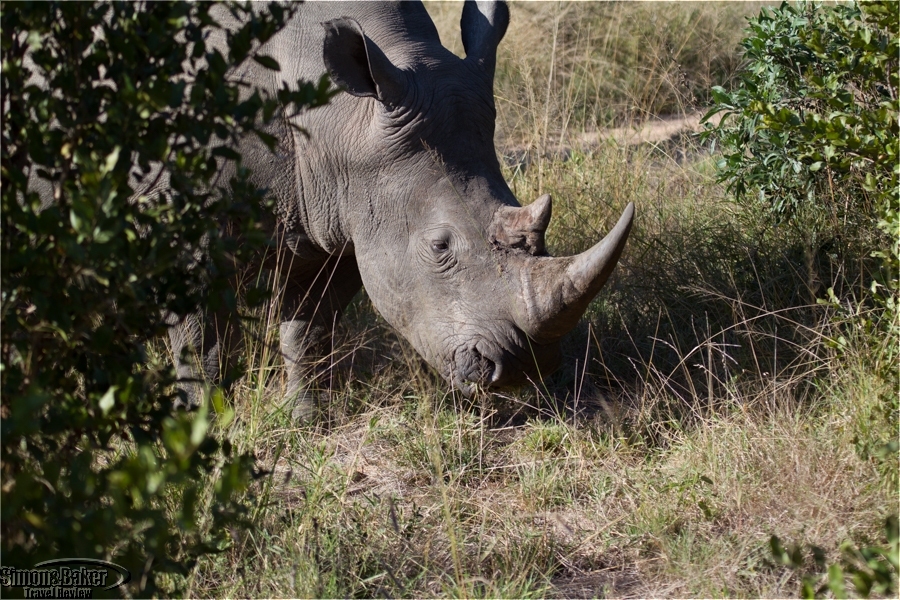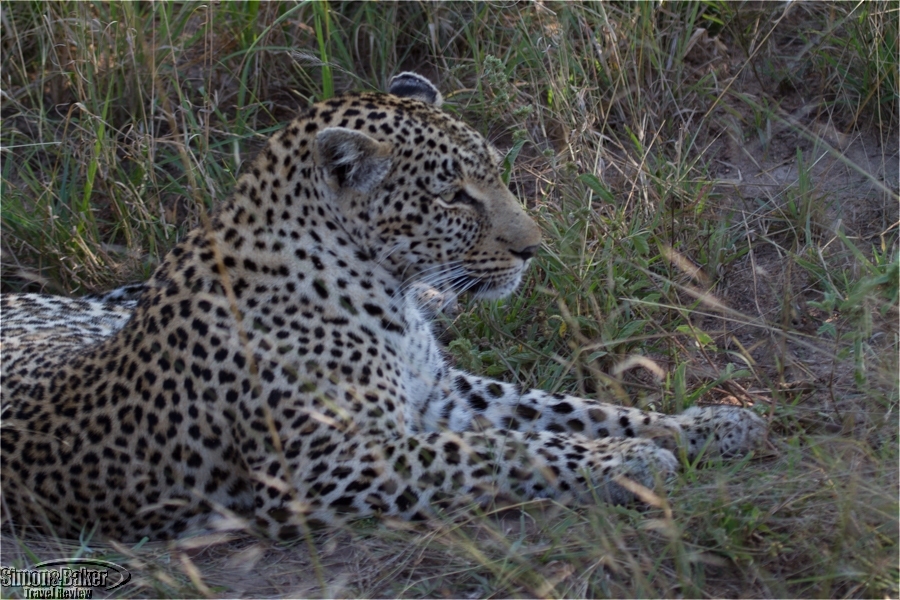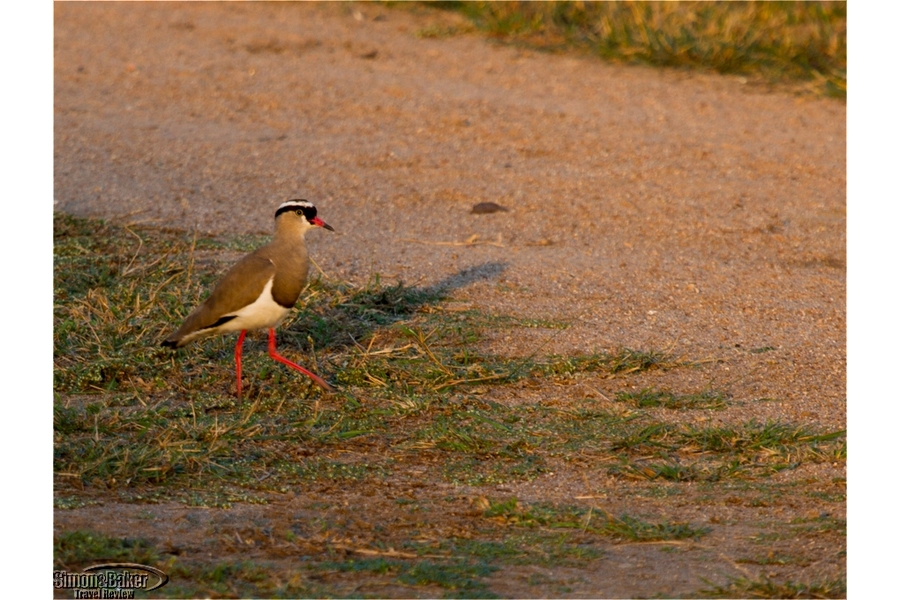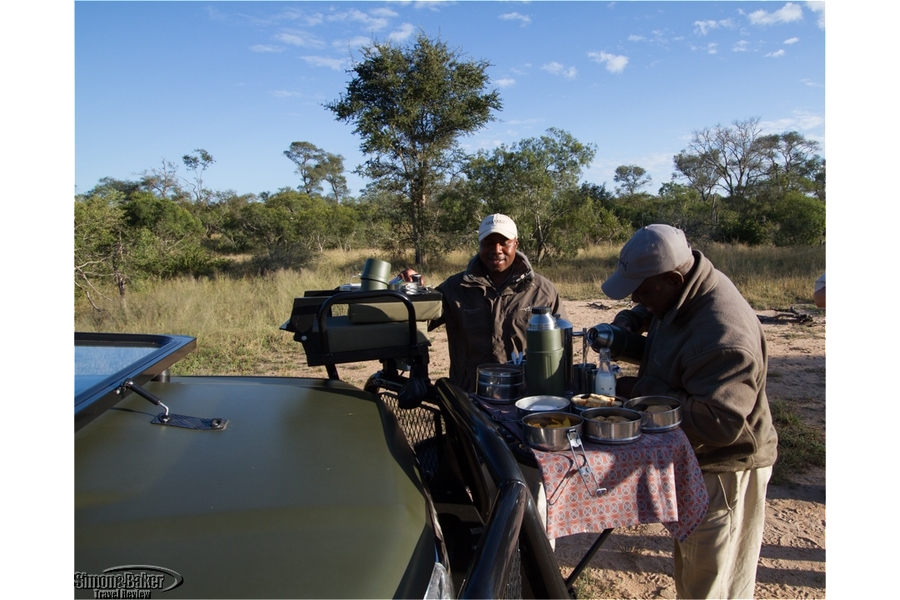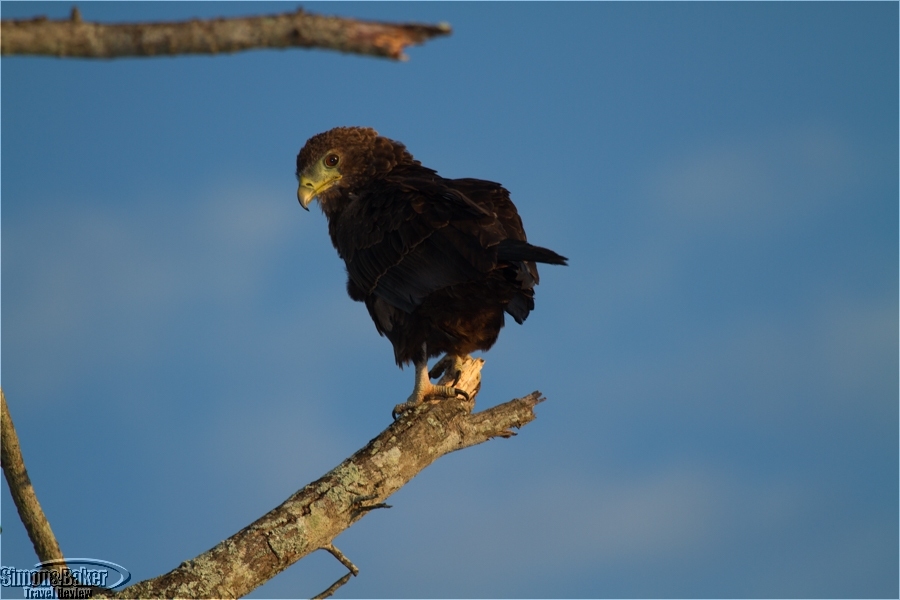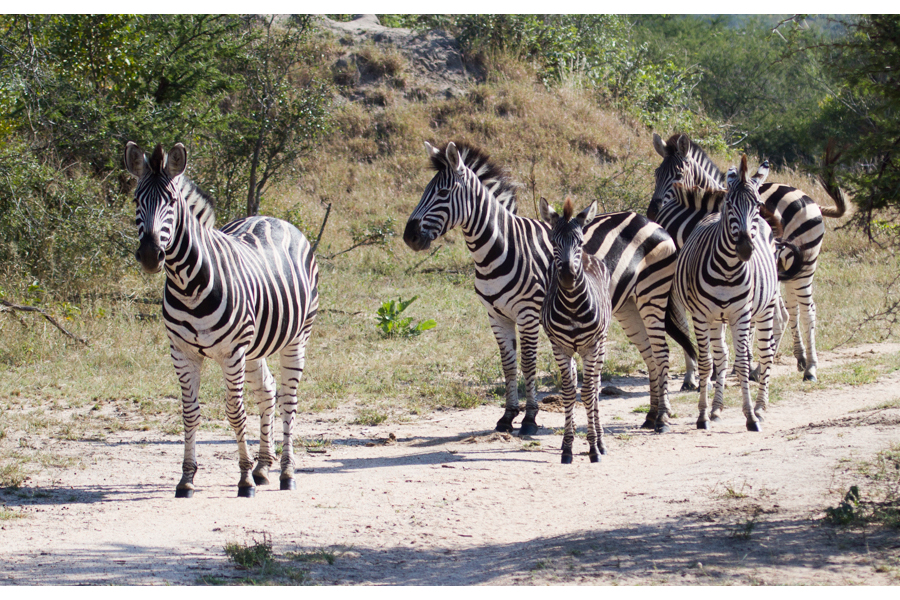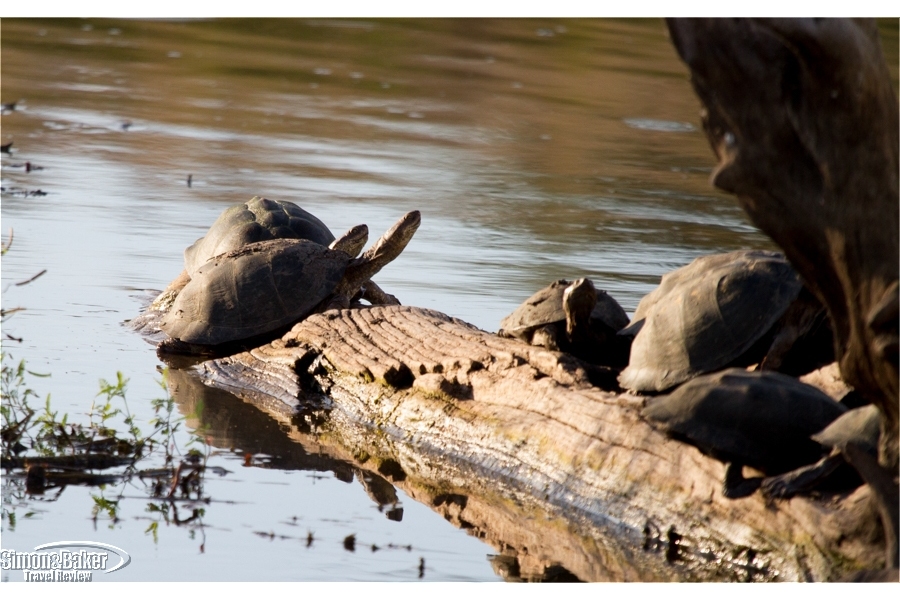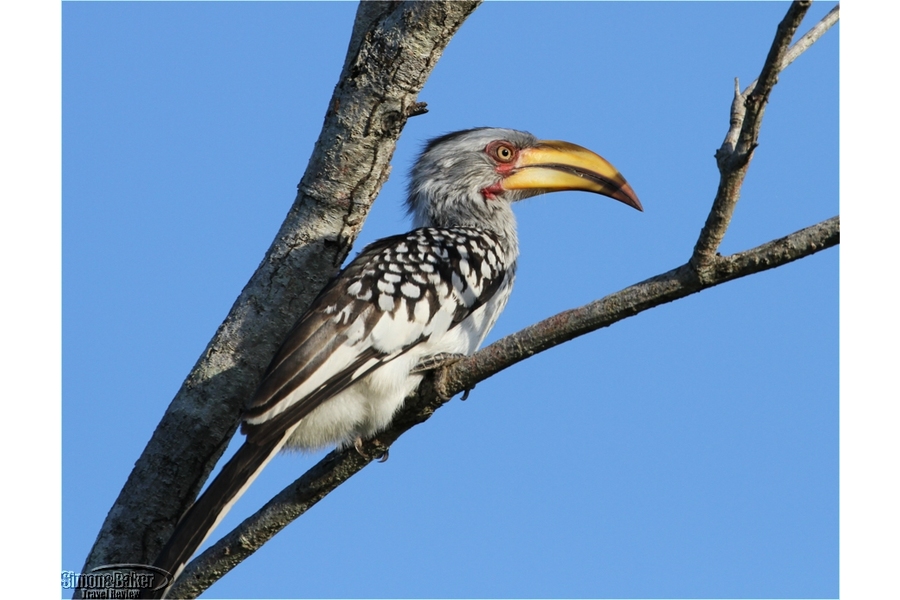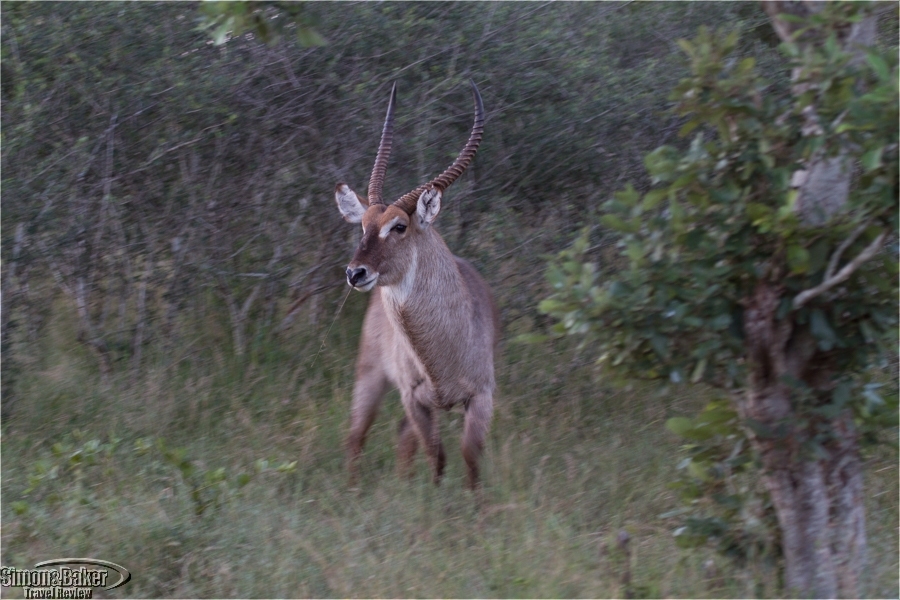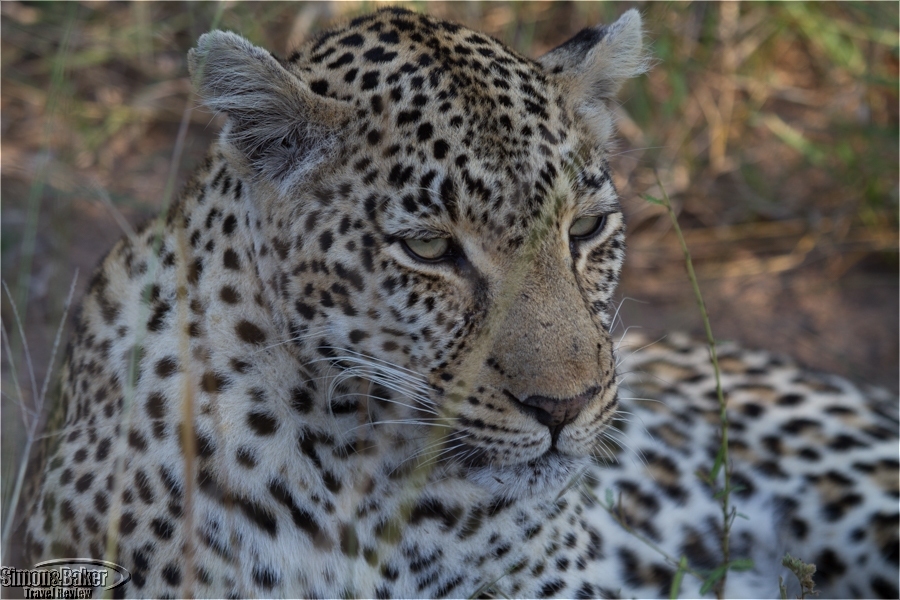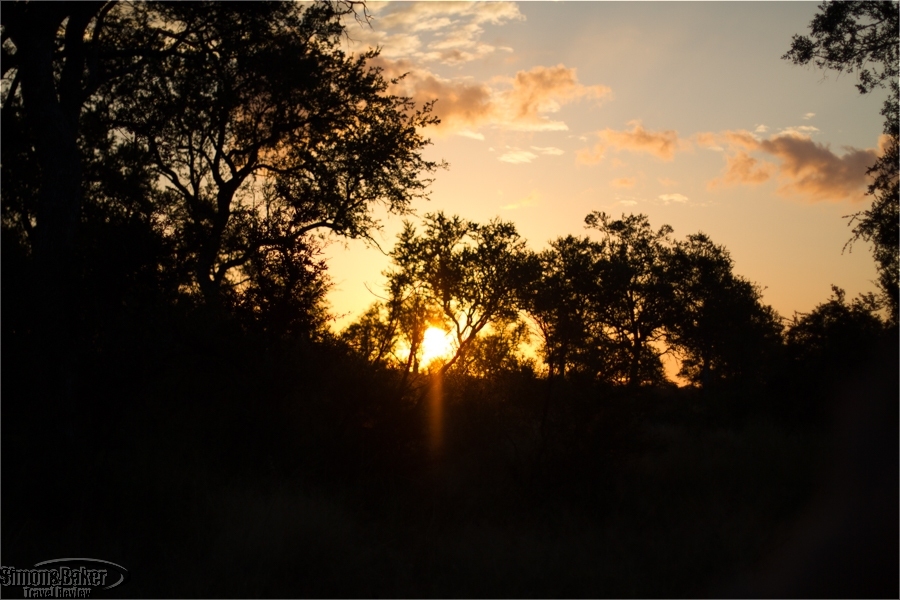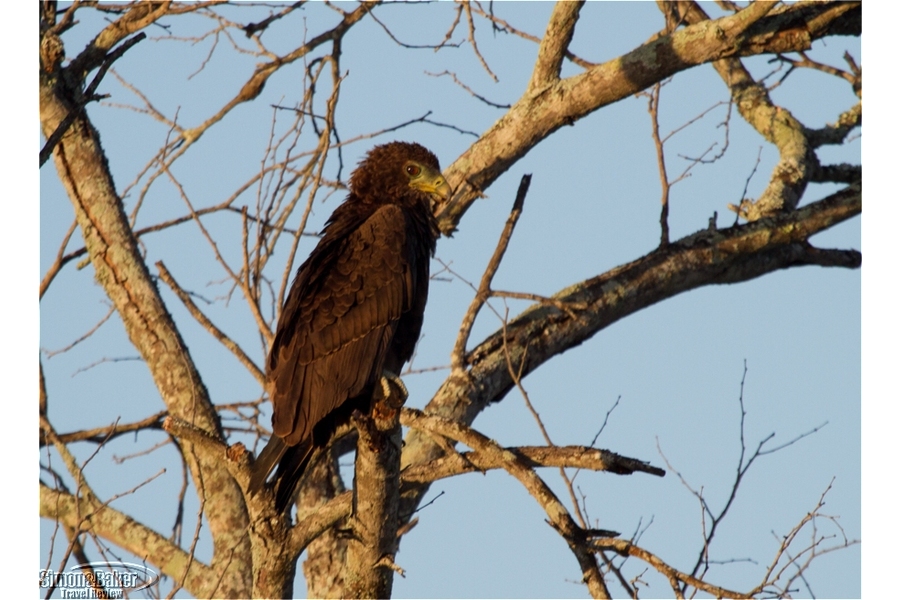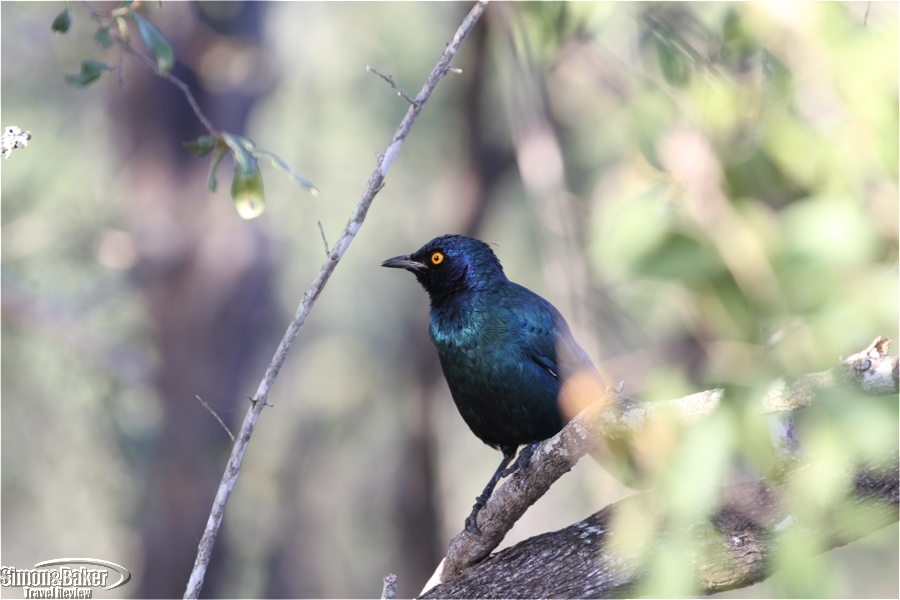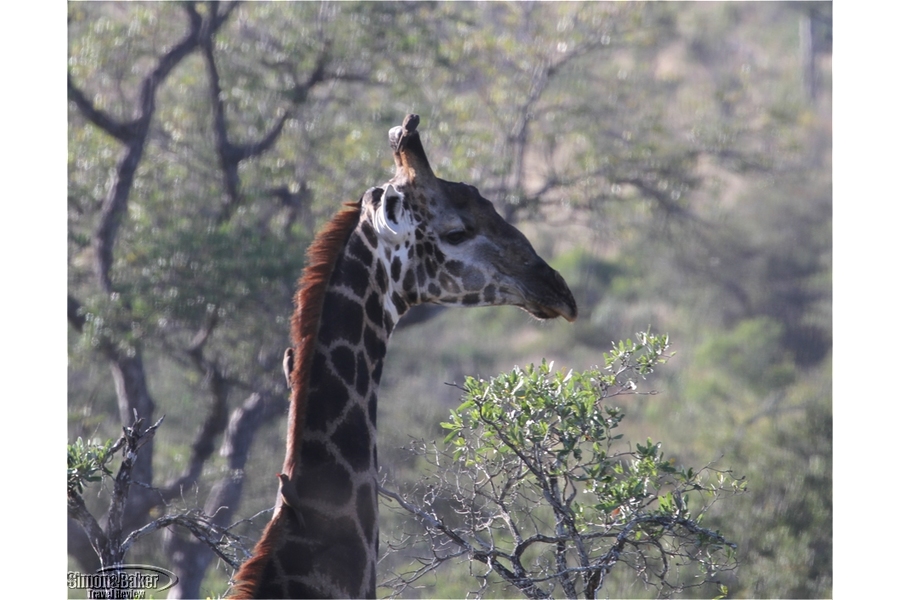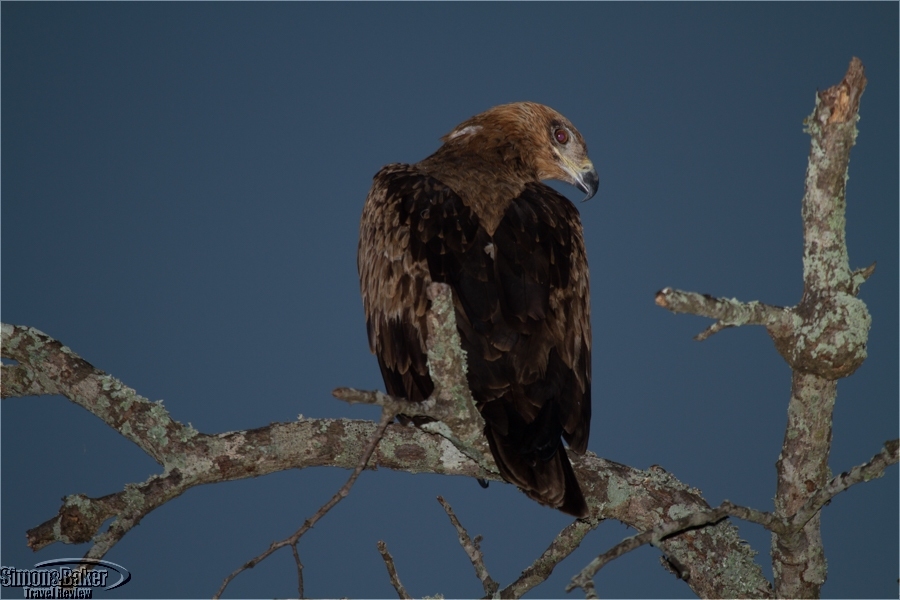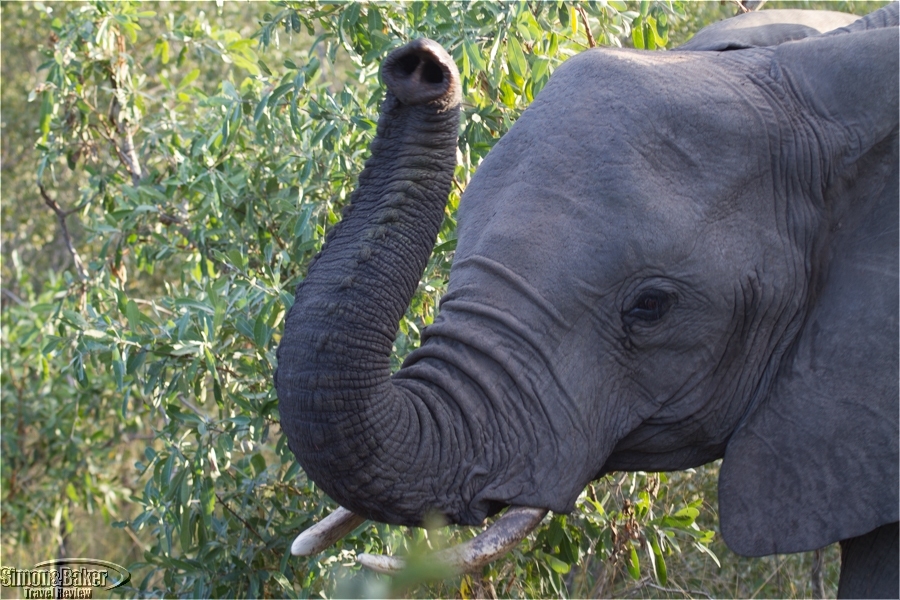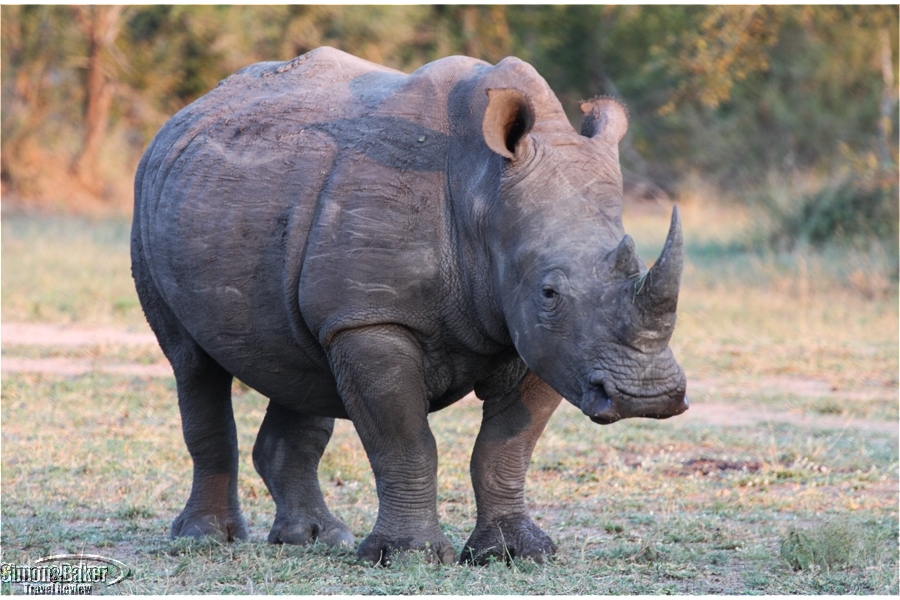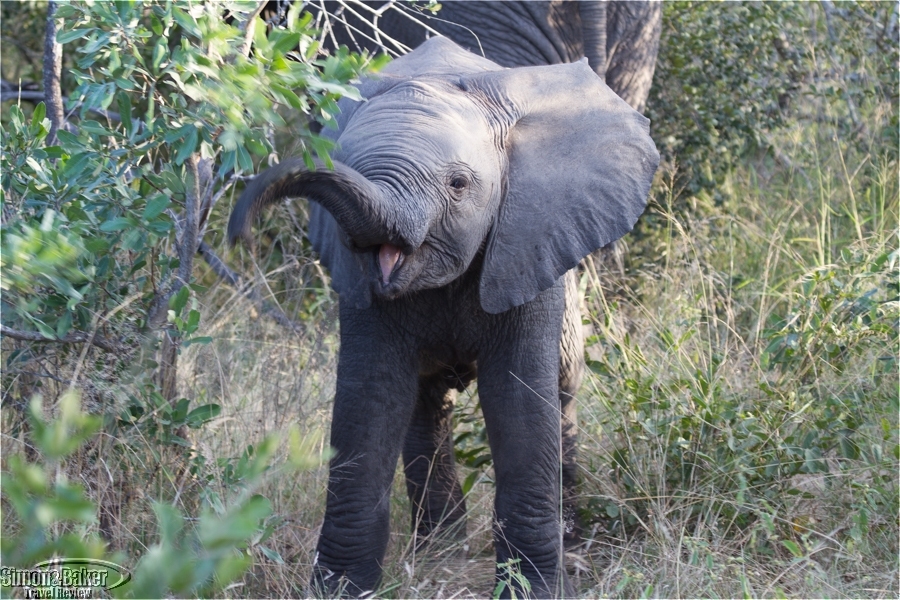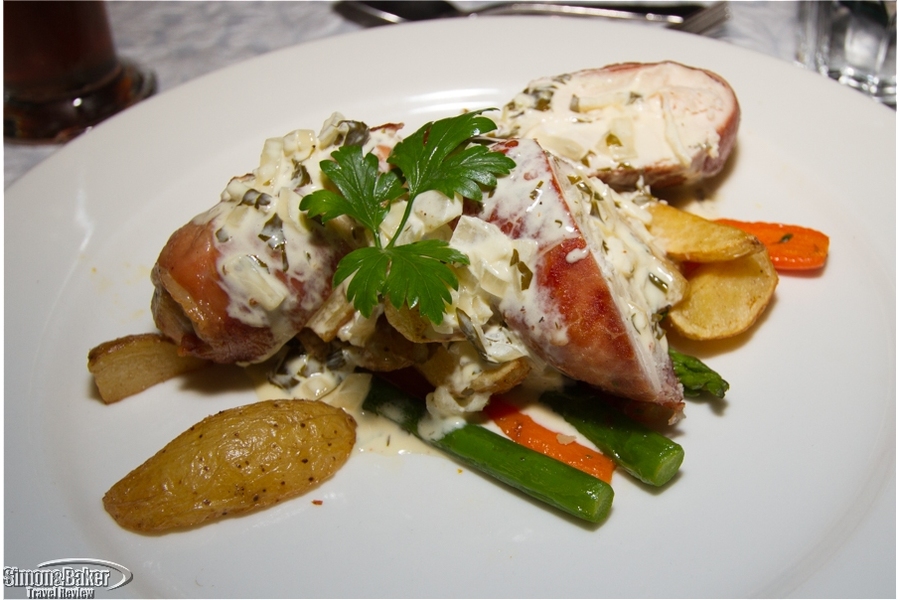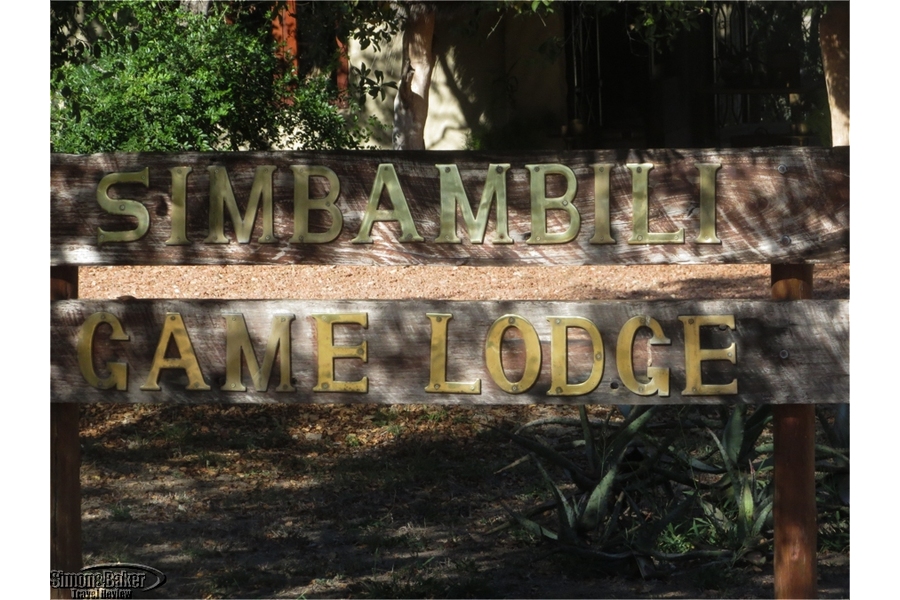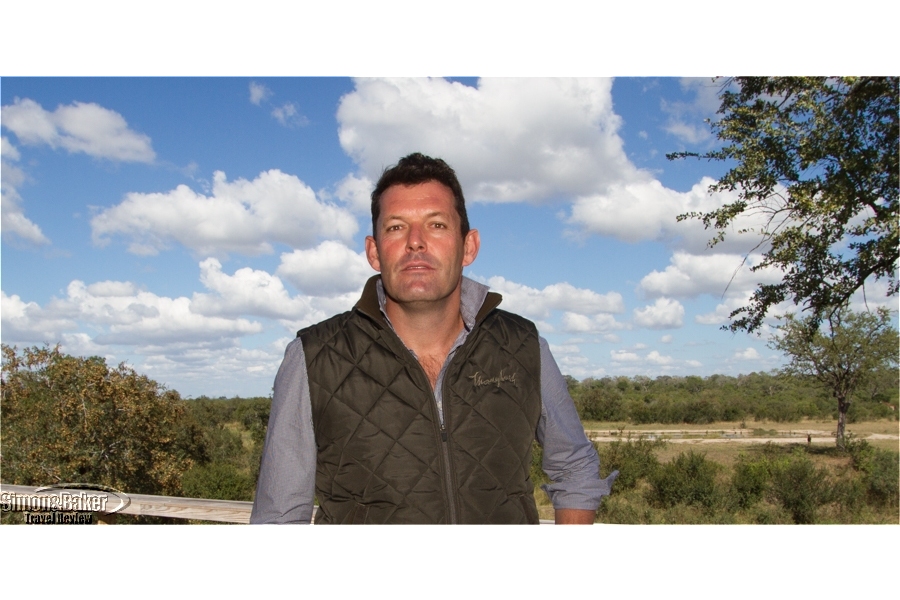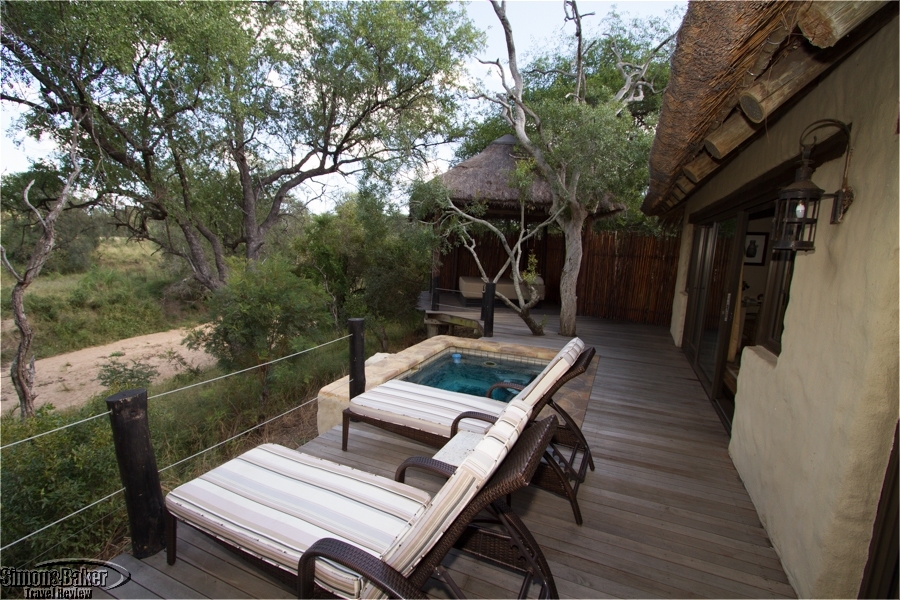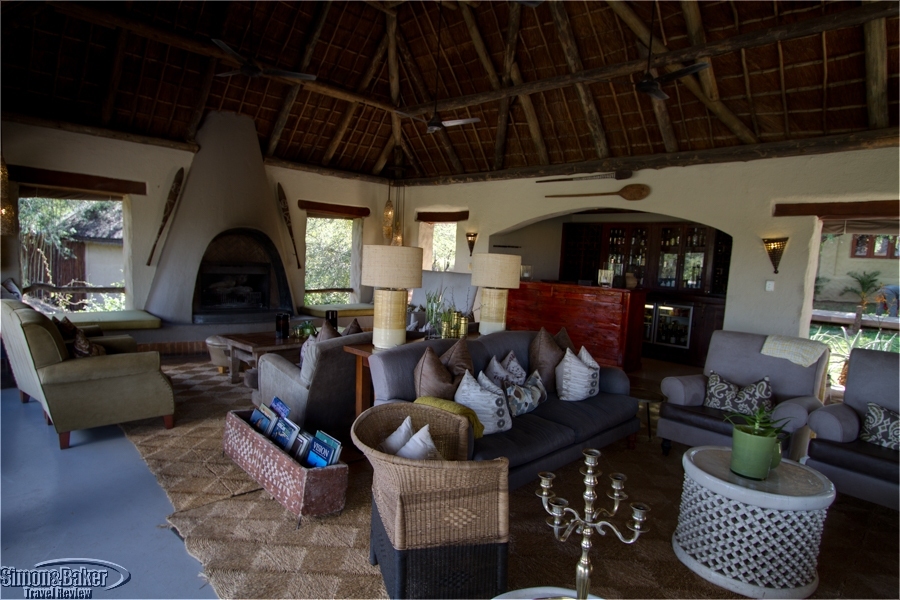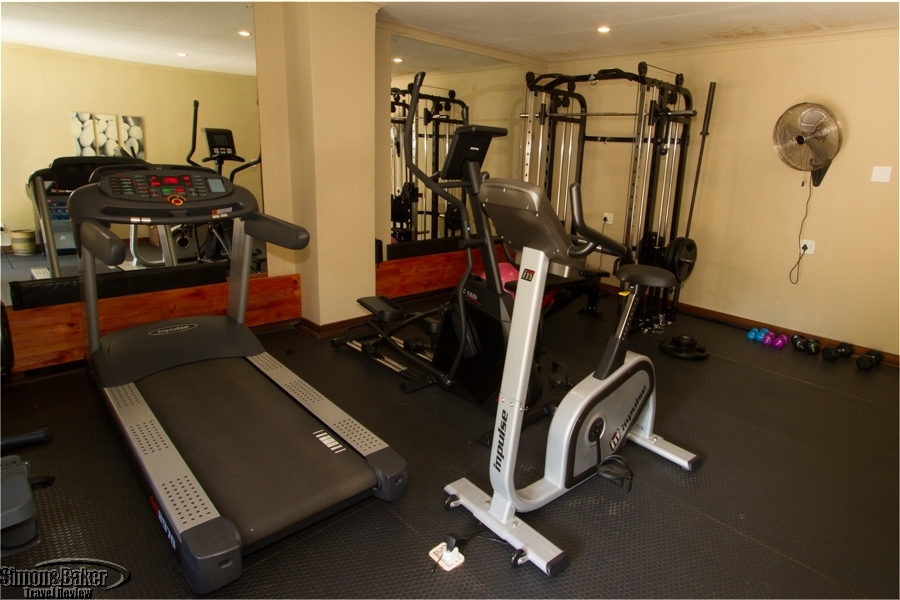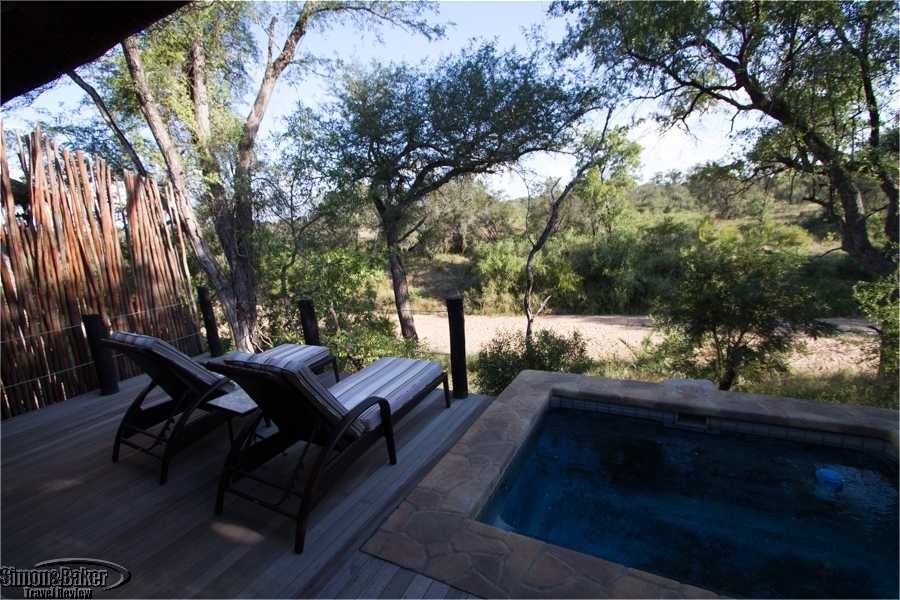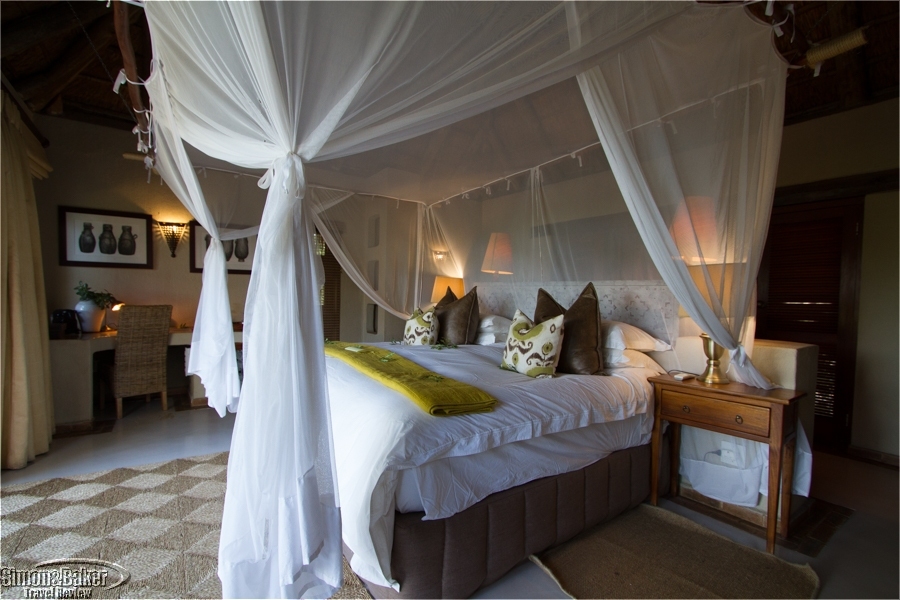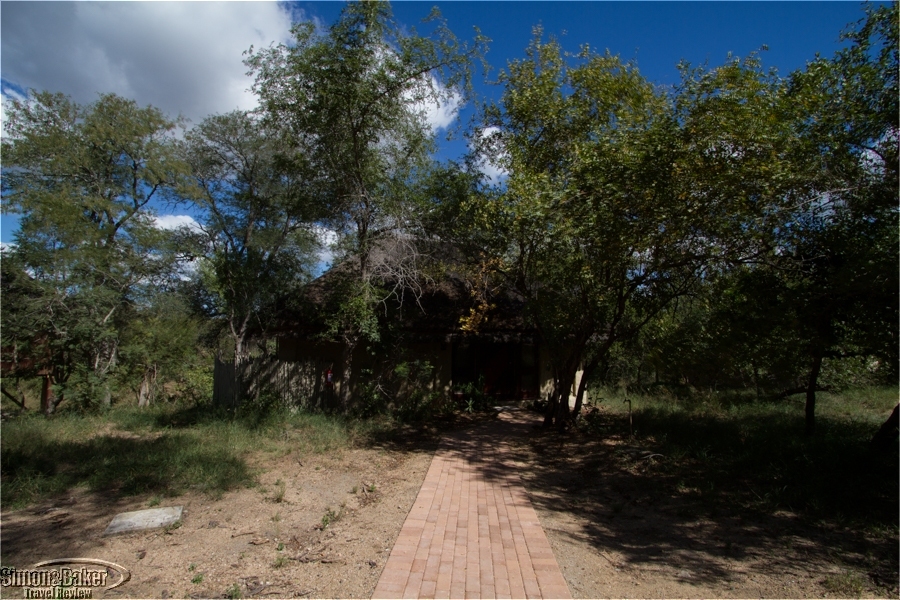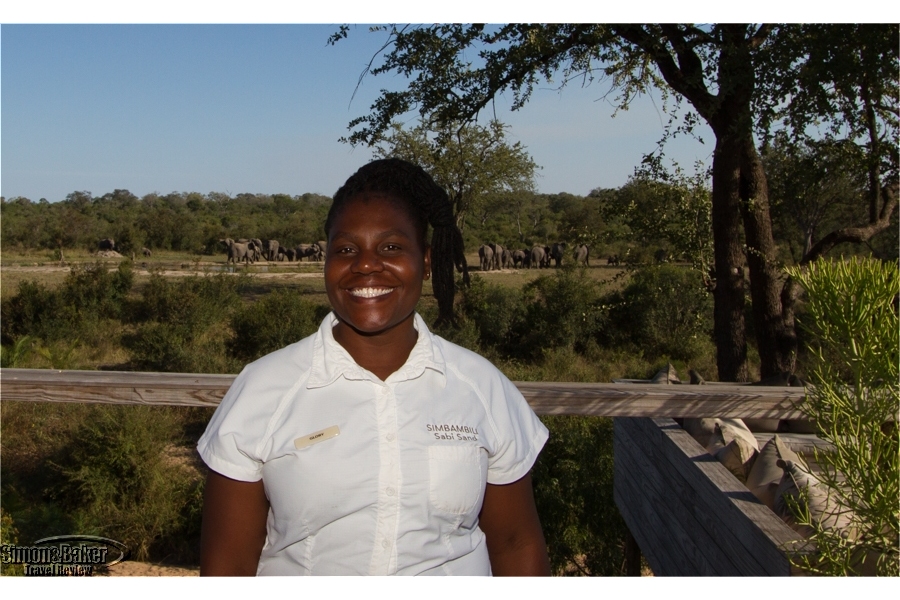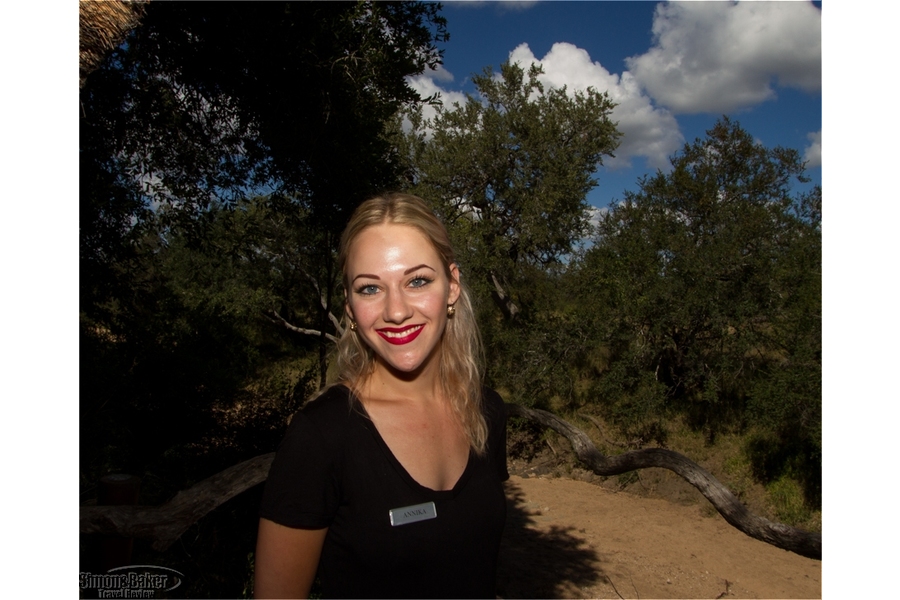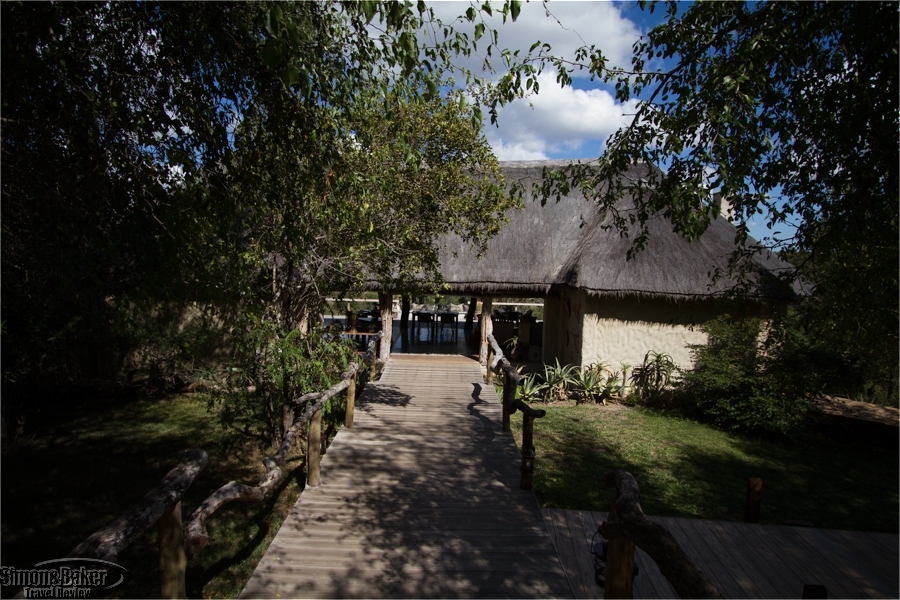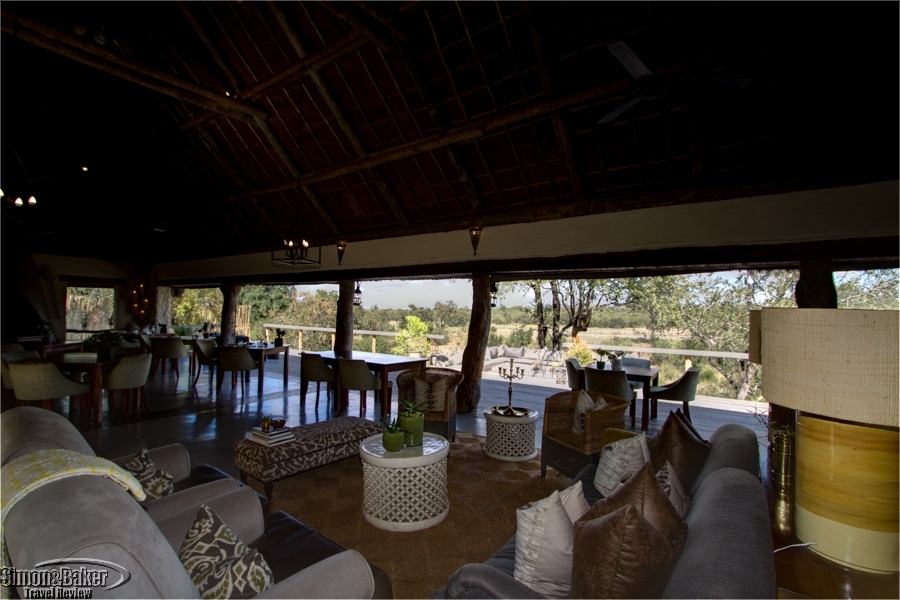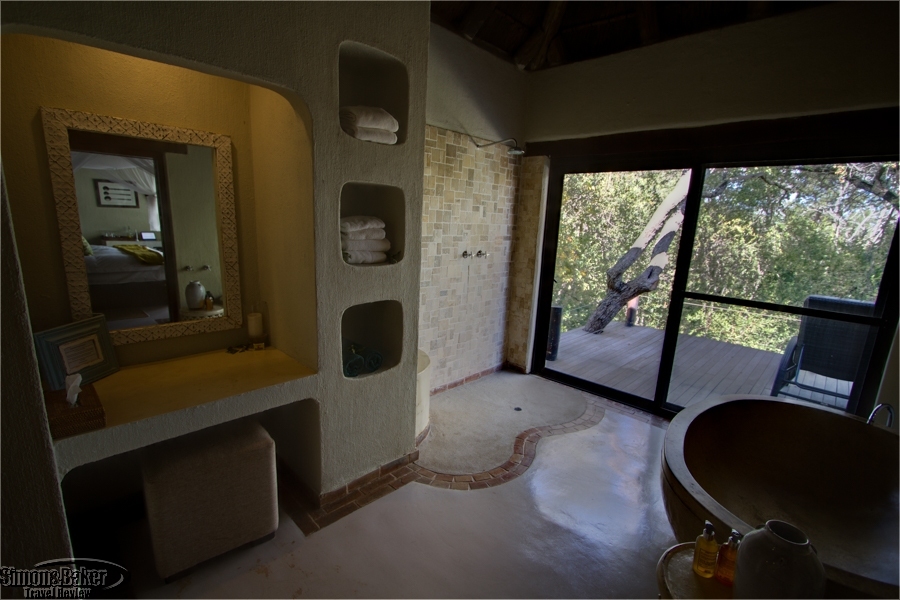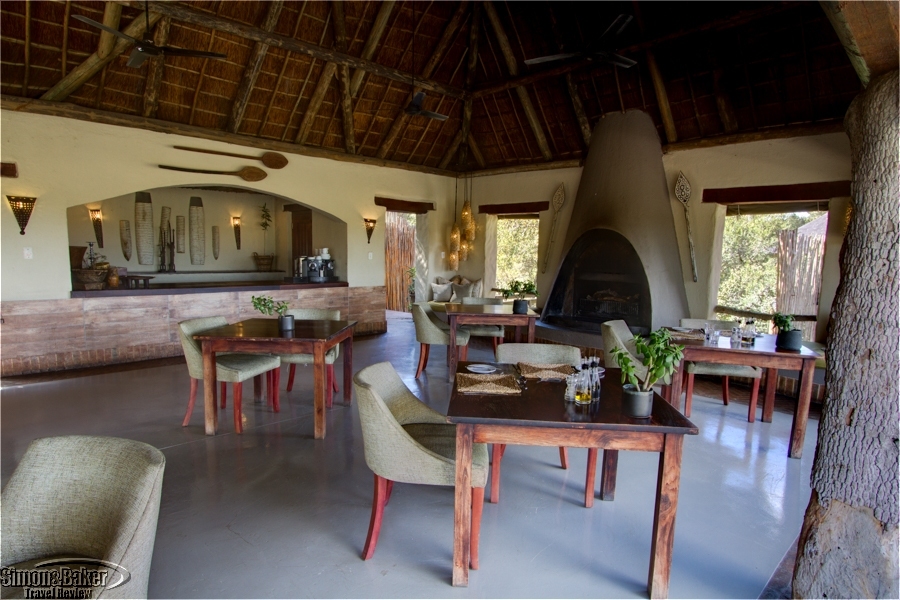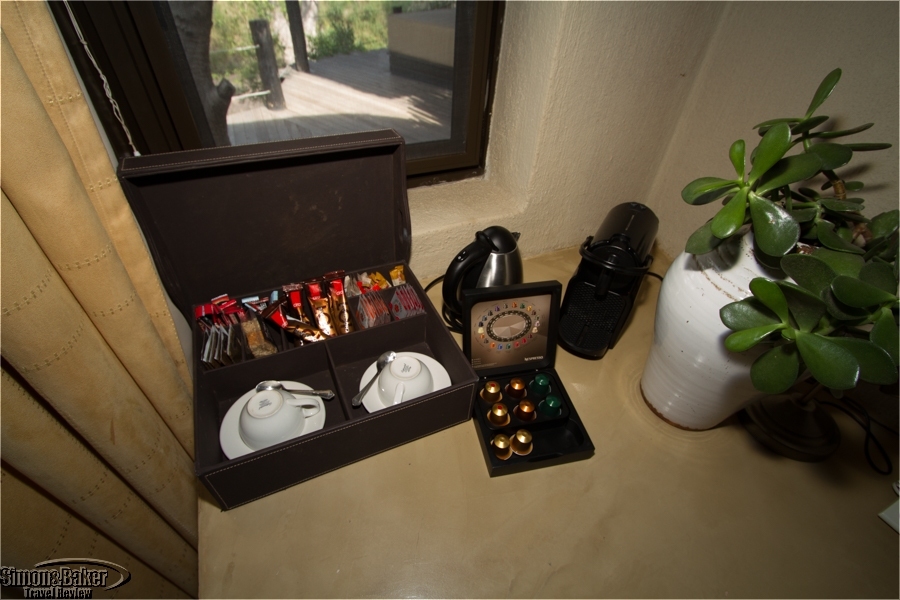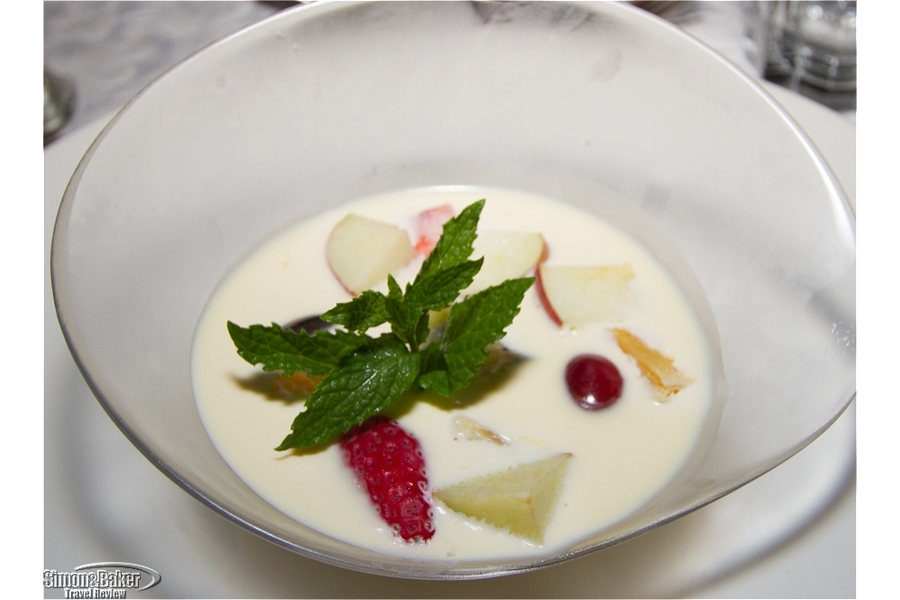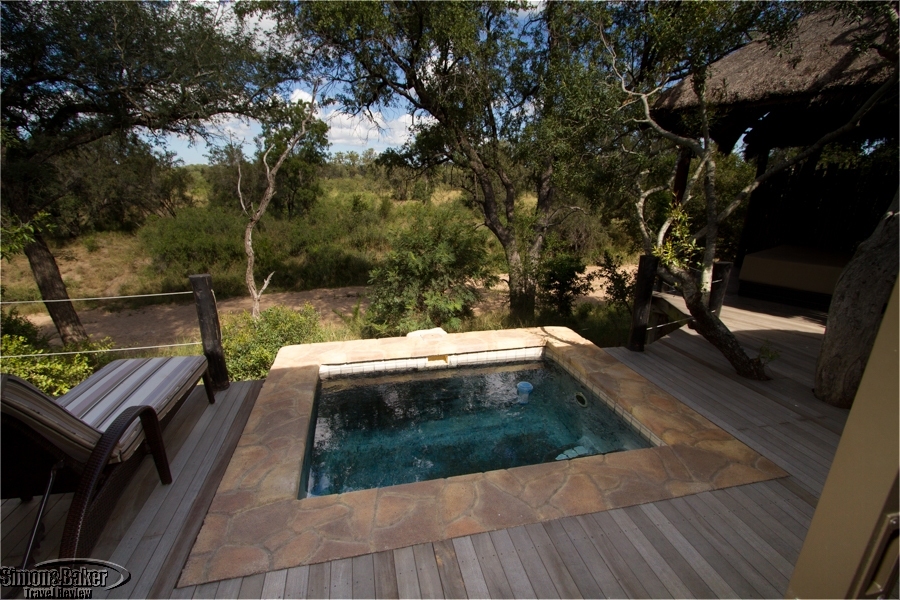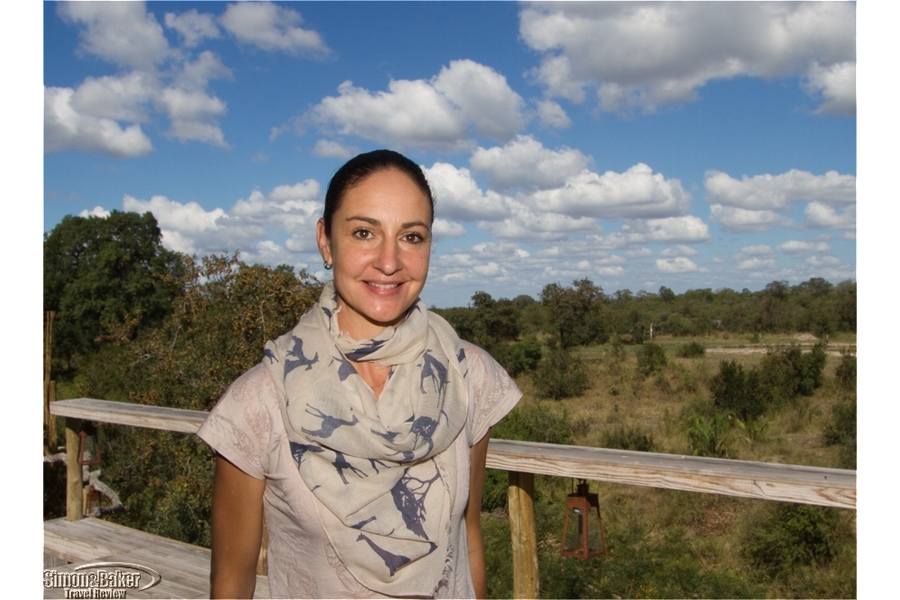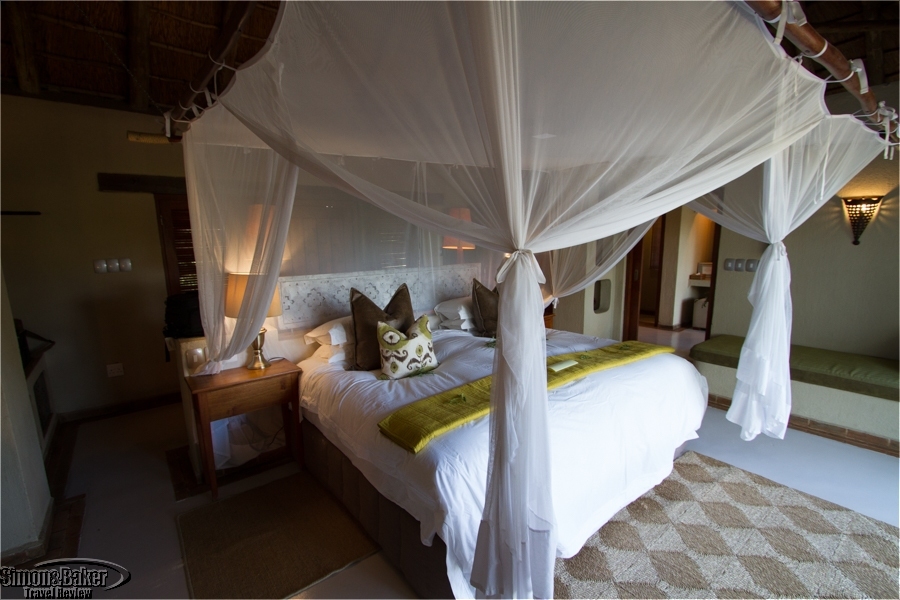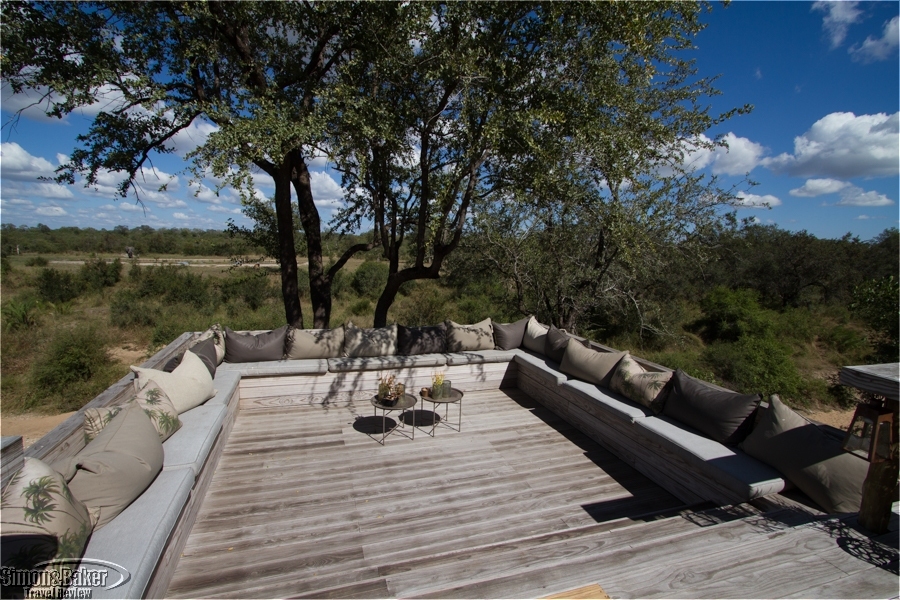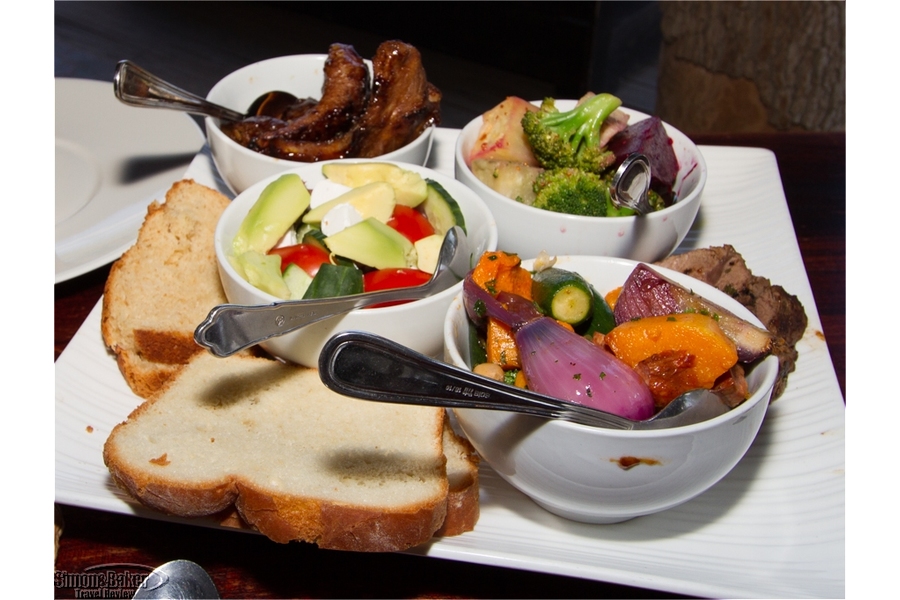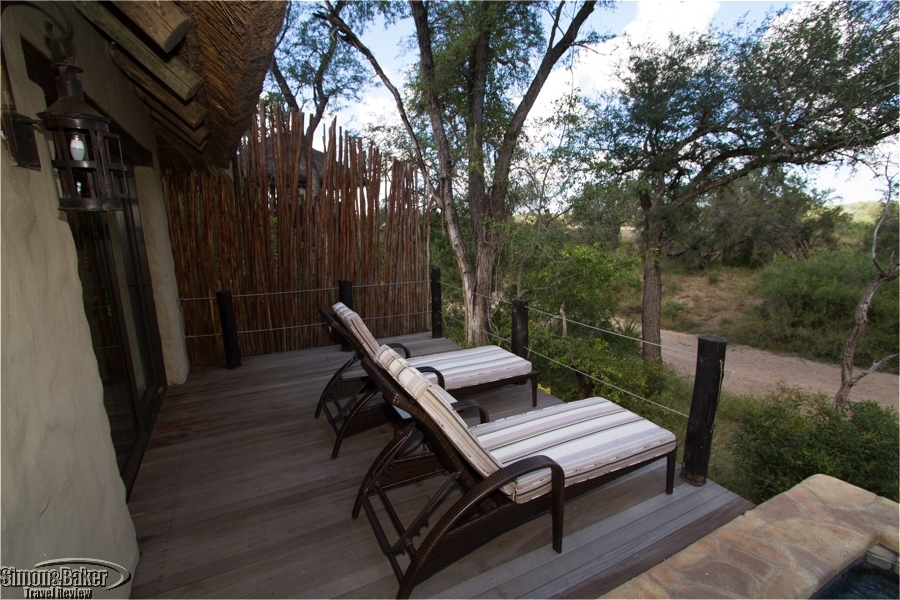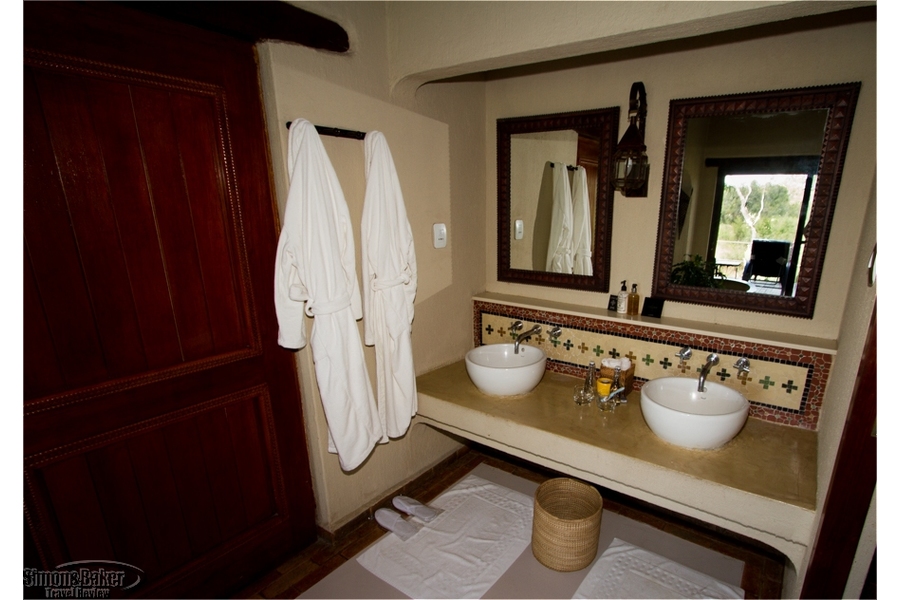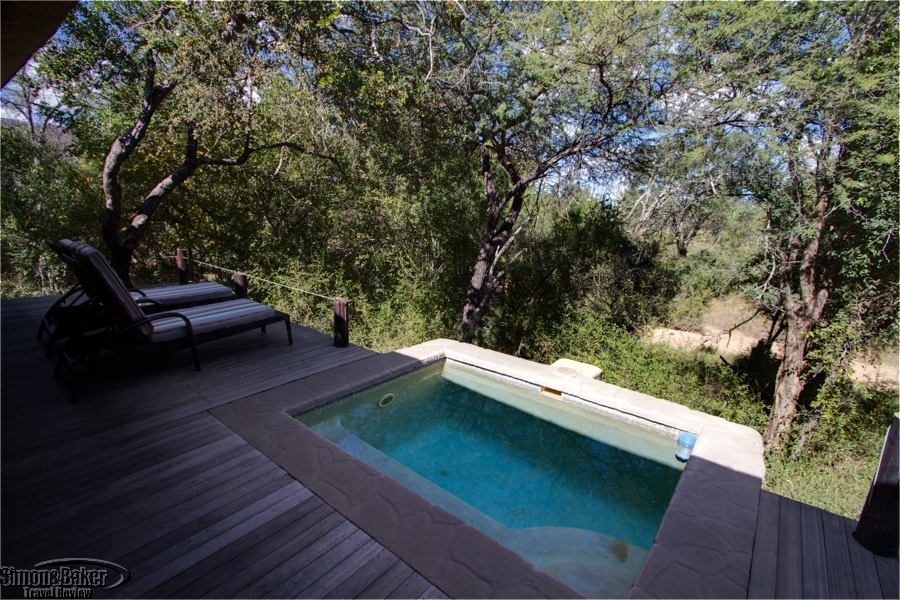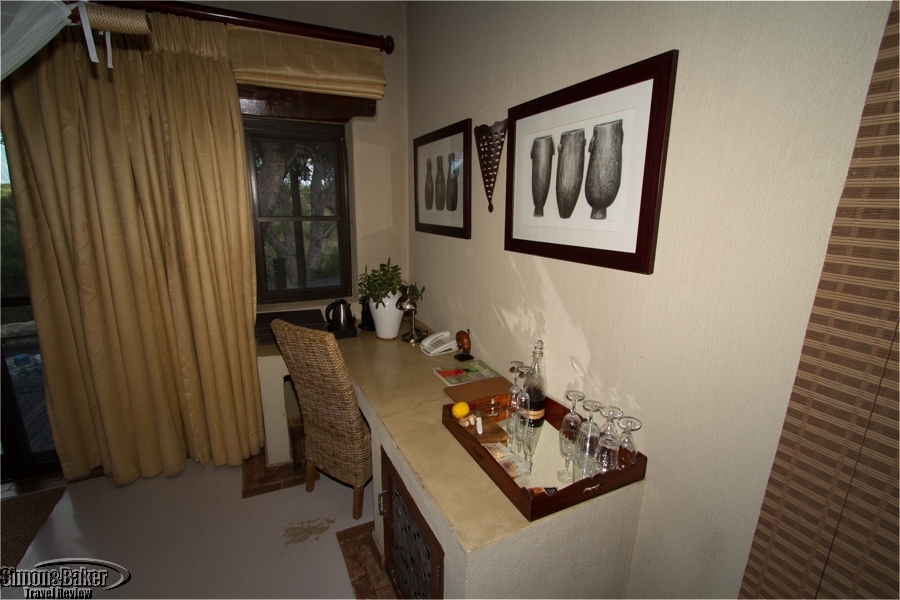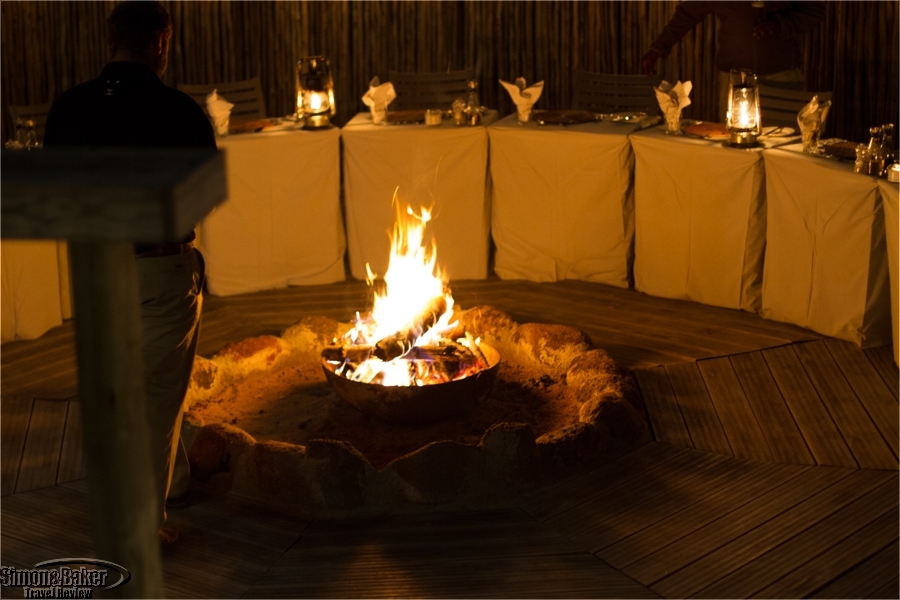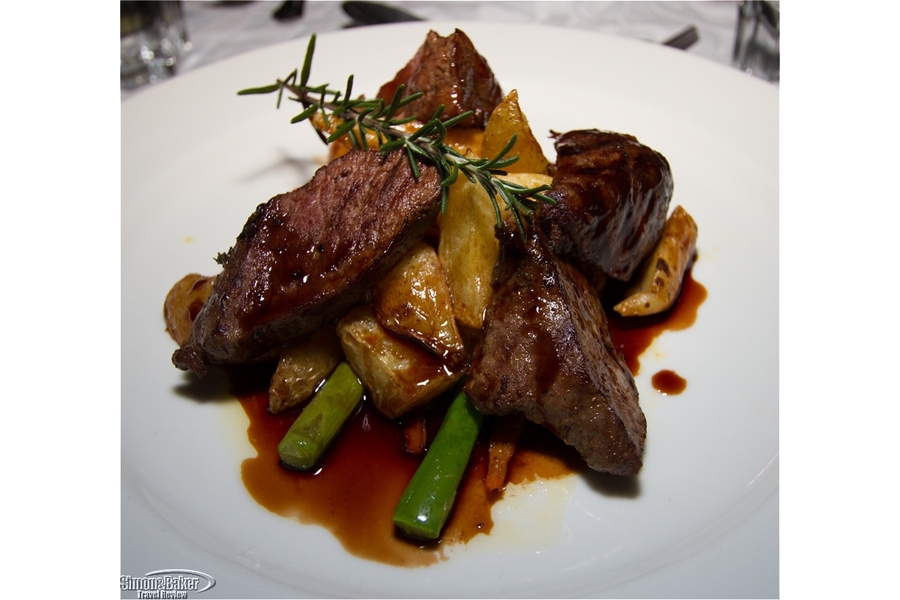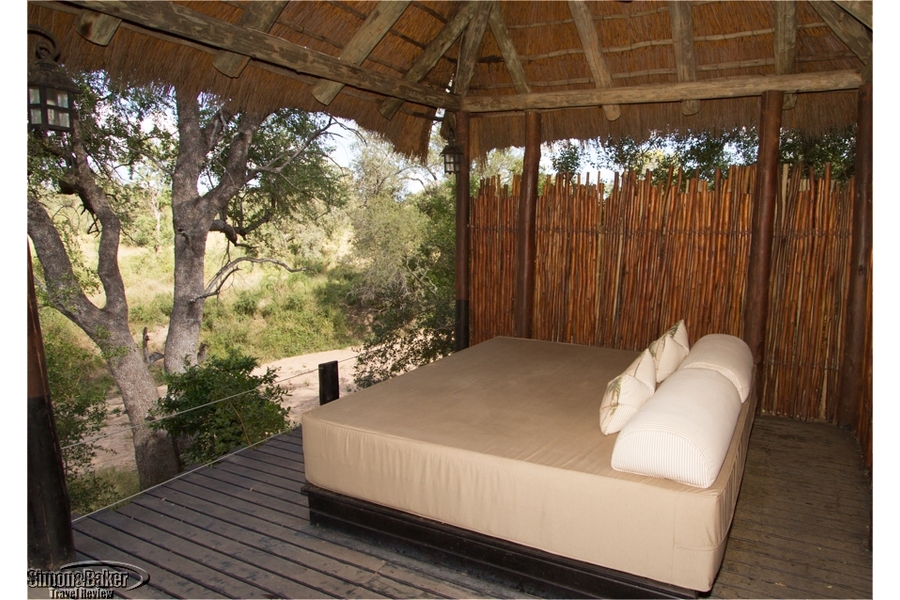 Simbambili will be on our short list of safari properties in the northern end of the Sabi Sand Reserve thanks to its combination of rewarding game viewing, luxury amenities and facilities.
Overall Impression
Built on the banks of the Manyeleti River facing the Manyeleti Plains in the north of South Africa's famed Sabi Sand Reserve, Simbambili Game Lodge offered very good game viewing, luxury amenities and facilities, attentive service, tasty meals, and comfortable rooms with outdoor decks and private plunge pools. It was named, from the Swahili word simba for lion and mbili for two, for a Bremen, Germany adventurer of legend who was said to have been attacked by two lions on his first night in the bush.
We enjoyed game drives in an open safari vehicle in the company of Enoch Temba, a knowledgeable and enthusiastic guide, Derrick Mninsi, our tracker, and two to four other guests. In his company we explored the roads of the Big Five reserve (Big Four for us as we saw no buffalo) twice daily, at dawn and dusk. Also, we occasionally sighted game by the water hole across from the dining room and common area deck. The search made meal times especially engaging.
Another highlight of our stay was an excellent bush massage, with an all natural South African product line, performed in the spa shed next to the dry riverbed. Given the abundance of food on safari and the restriction on places to walk I appreciated the availability of a fitness room. Simbambili will be on our short list of safari properties in the northern end of the Sabi Sand Reserve thanks to its combination of rewarding game viewing, luxury amenities and facilities.
Children
The property welcomed children 16 years of age and older without any restrictions.
Class of Accommodation Five Star Luxury Safari Lodge
Connectivity There was complementary high-speed WiFi via a four megabyte satellite connection.
General Manager Mike and Tania Cowden. They were on leave while we were at the property. The relief manager was Ronel Jacobs.
Handicapped Access No. There were steps between the entrance and the dining room and bar as well as between the main area and the path leading to guest rooms.
Length of Stay Two nights
Location In the Simbambili Reserve in the northern Sabi Sand Reserve adjacent to Kruger National Park in South Africa. The only entrance was through the Gowrie Gate. The lodge was 90 kilometers from Hoedspruit and 103 kilometers from Eastgate Airport. The global positioning system coordinates were S24.46.389 E31.28.590.
Managed The Thornybush Collection
Number of Employees 36
Owned Simbambili Game Lodge Pty (Ltd)
Size The 500 hectare Simbambili Reserve had nine rooms: seven regular rooms, one honeymoon room and one luxury waterhole room. It had traversing rights to 7,000 hectares.
Year Opened and Date of Most Recent Renovation The lodge first opened for guests November 1997 and in 2000 was incorporated into The Thornybush Collection. Following a year of construction during which the property was completely redone it reopened December 2001. In late 2005 there were renovations and in 2007 soft refurbishing work took place. Renovations were ongoing, a staff person indicated, including recent visible maintenance work on walkways as well as decks, bathrooms and soft renovations to room interiors and main areas.
Lobby and Common Areas The property was decorated in a Classic African Safari Style.
Bathroom A sliding wood door and a partial wall led to the bathroom on the left side of the room. There was an earth tone, polished concrete oval bathtub immediately next to the entrance. There were toiletries atop a small round table next to the bathtub. Across from it there was a door-less shower. Against the back wall there were twin ceramic sinks set on a built-in polished concrete block beneath twin rectangular framed mirrors. A separate room in the corner housed the toilet. On a built-in shelf there were khaki colored clean smelling linen (bath and hand towels, floor mats and pool towels). Next to the shelf there was a built-in vanity with framed mirror and stool. There was a water conservation message inviting guests to shower instead of bathing and to reuse their towels. Curtain-less sliding glass doors like the ones in the bedroom faced the open deck.
Room
We stayed in Suites 2 and 5, which were nearly identical except for their distance from the main building. We reached the 50 square meter rooms by walking down brick paved walkways from the main lodge buildings (reception, gift shop, dining room, bar, lounge and deck). I liked that the pathways were brick because it was even to walk on and if I wore open shoes during the hot hours of the day my feet didn't get dirty as they did on dirt pathways in other properties. To enter we inserted the key and pushed hard on an oversize wood swiveling door.
Each of our air conditioned rooms was in a stand alone building with a back terrace including a small covered outdoor area and private plunge 2 meter by 2.5 meter pool, which was 1.8 meters deep. Features included polished concrete floors with brick accents around the edges, high ceiling and thatched roof. The walls had a rough finish and a color matching the floor. During the day sunlight filtered in through the sliding glass doors. At night, there was ample lighting. The room was sprayed liberally with insecticide on a regular basis making it mostly it insect free.
One side was fenced in for privacy so that each room faced the bush and the next room's fence. Inside, the rooms were shady and cool thanks to wall-mounted air conditioners with heating capacity. There was a concrete table with twin lamps in the foyer and beyond it the rest of the room and the outdoor deck could be reached and seen. Mosquito netting (with two repairs on the one in my room) hung gathered above the queen bed. The staff spread it around the bed at night.
To one side of the entrance, there was a built-in concrete luggage wrack. To the other there was a wood closet built into the wall. The right side of the closet had shelves, and an electronic safe as well as a laundry bag and some amenities (mosquito repellent, flash light, blow dryer). The bedroom could be reached through the left and right of the entrance.
The center of the room was occupied by a large bed (two individual beds set together) with matching rectangular wood night tables and lamps on either side. It was covered with a duvet and four synthetic pillows, two with the name and lion logo of the lodge embroidered on them. To one side of the bed, against the corner, there was a built-in concrete cushioned day bed. Black out red curtains from the floor to the top of the wall covered the sliding glass doors with screen that opened on to a large wood deck. The doors had to be locked at all times to keep baboons (who would steal anything they could, we were warned by the staff) out of the room. A large baboon was capable of opening the front door if the lock wasn't turned.
Decorative accents included wood and glass framed fabric pieces on one side and similarly framed drawings by Hardi; and wall inset shelf space that contained ceramic artifacts. On one side of the room there were three vertical "windows" with an amber color material in the center.
In the corner of the room, there was a built-in concrete table facing the wall, an armless wicker chair, and a rectangular window facing the bush. On the table there were several amenities: telephone, lamp, (one room had magazines), vase with a green leaf arrangement, folder with lodge information, hot beverage tray (with coffee, hot water pitcher and beverages basket), individual size Nespresso machine and second tray with glasses and a small quantity of what looked like sherry, bottle of red wine, three individual size bags of The Treat Company snacks (peanuts, dried fruit cubes, juicy treats and gum drops), and cutting board with a knife, ginger root and a lemon from the minibar. Below that tray, under the table and behind a wood and metal door (that matched a similar designed metal piece set onto the concrete table at the entrance) there was a mini refrigerator with beverages for sale.
The outer deck faced the bush and the dry riverbed of the Manyeleti River and reached from one end of the room to the other. There were matching adjustable lounge chairs with cushions. To the right of the chairs there was a square plunge pool with clear water (a troop of baboons visited the deck the day of my arrival and drank out of the pool). A few steps away there was a bush facing shady area with a double cushioned day bed next to the privacy fence. The in-room folder warned us not to sleep there at night. From the room I could hear the sound of birds and animals.
Food We sat at a table by ourselves for all meals except one dinner. Most meals and afternoon tea were served on the open air deck. Breakfast, served on our return from game drives, was a small buffet with cereal, yogurt, fresh sliced fruit and made to order hot dishes, mainly eggs and sides. Lunch, served at 1:30 p.m., was buffet style the day we arrived and a set menu served in a tray at our table the second day. Beverages and a cake were available at 3:30 p.m. before departure for the 4 p.m. game drive. Dinner, served after our return from the game drive, was plated in a small boma (enclosed open air space) setting with a single semicircular table for all guests and guides the first night, and plated at private tables the second night. Meal related training and new recipes were introduced on an ongoing basis, according to a spokesperson.
Amenities
There were Africology made in South Africa toiletries in refillable plastic bottles (hand and body wash, shampoo, conditioner, body lotion), vanity kit, sewing kit, shower cap, and bath salts. There was an electronic safe, umbrellas, insect repellent, flashlight, hairdryer, two white cotton bathrobes hanging in the shower and two sets of slippers. In the bedroom there was a hot beverage service (tea and coffee), a mini bar with items for sale including white and red wine and other alcoholic and non alcoholic beverages, three packages of The Treat Company snacks (there was a price list in the room folder). There was a game and bird identification checklist for guest use. At turn down the staff left a printout of a short story (Tortoise and the Hare).
Facilities Gift shop, fitness room, treatment room, television room, boma (enclosure for al fresco dinners), bar and lounge with fireplace.
Shop There was a small selection of locally produced curios, ornaments, costume jewelry, gift items and branded clothing (few sizes and a limited selection of fabrics available).
Spa There was a single 20 square meter treatment room between the Gym and Room 5 facing the Manyeleti River dry riverbed.
Game Viewing
Enoch Temba was our ranger and Derrick Mnisi was our tracker. Enoch had 23 years of experience and the following qualifications: Field Guide Association of South Africa (FGASA) Guiding Level 1, Tracking Level 3 and Full Trails Guide. He had worked as field guide at Ululapa Sabi Sands (between 1994 and 2000), Lion Sands Sabi Sands (between 2001 and 2015), and Waterside Lodge Thornybush Game Reserve (from 2016 to the date of publication). Derrick had 17 years of experience and was a FGASA Level 2 Tracker.
Our guide showed us the following trees: Weeping Boerbean, Marula tree, jackalberry, Leadwood.
We saw the following animals: Baboons, Burchell's zebra, bushbuck, elephants, giraffe, grey duiker, impala, kudu, leopard, lion, nyala, scrub hare, side-striped jackal, steenbok, tree squirrel, warthog, waterbuck, white rhinoceros, wildebeest, wild cat, bat insect, serrated hinged terrapin, agama southern tree.
We saw or heard the following birds: African scops-owl, arrow-marked babbler, bateleur eagle, black headed oriole, blacksmith lapwing, bronze-winged courser, Cape glossy starling, Cape turtle dove, crested barbet, crowned lapwing, fork-tailed drongo, go-away-bird, hadeda ibis, helmeted guineafowl, magpie shrike, Natal francolin, redbilled oxpecker, southern yellow-billed hornbill, tawny eagle, Eagle martial, Fiery-necked nightjar, Barn own, Common scimitarbill.
Activities The activities on offer were morning and afternoon game drives. We went on four game drives during our stay and shared the Toyota Landcruiser with two other guests on the first two drives and with four other guests for the final two drives. There were many branches along the roads and we had to be mindful to avoid being struck by thorny branches as we drove along.
Other
As with all the safari properties we visited in South Africa, signing an exhaustive indemnity release was a required part of check-in to the property. After dark a staff person escorted us to and from our rooms.
Check out was at eleven 11 a.m. As part of the Inzalo community project local farmers grew Thousand Herbs and Vegetable Garden, which supplied the Simbambili kitchen among others properties in The Thornybush Collection.
Cleanliness
Good
Date of Last Visit May 2017
Reviewers
Article by Elena del Valle
Photos by Gary Cox
Service Our rooms were serviced twice daily. The relief property manager was service oriented. Our butler in the dining room was friendly and attentive as were our ranger and tracker and other staff we encountered.
Would You Stay Again? Yes
Contact Information
Address:

Simbambili Game Lodge
Sabi Sand Game Reserve
Mpumalanga, 1363
South Africa

Phone:

Reservations +27 011 253 6500
Lodge +27 013 735 5839

Website:
Email: