Click to enlarge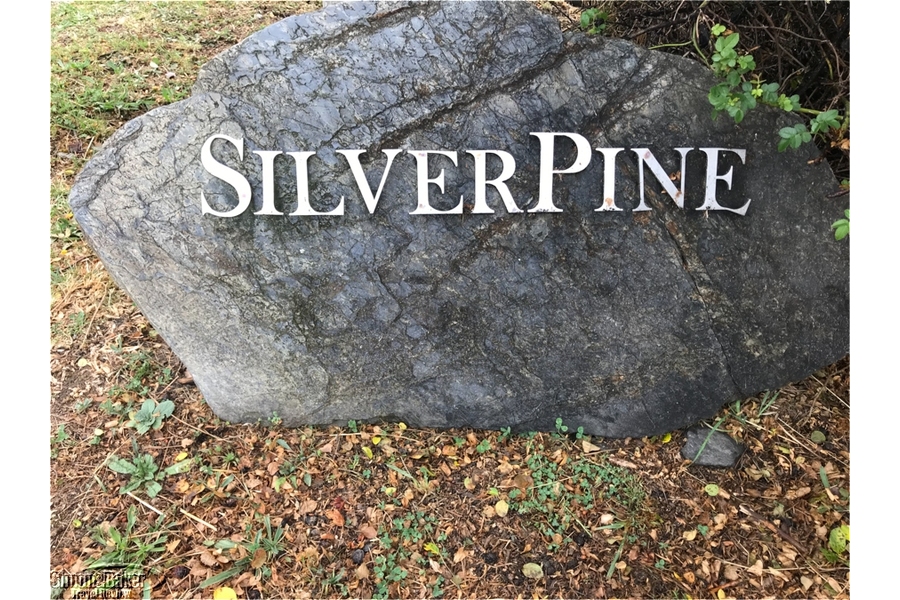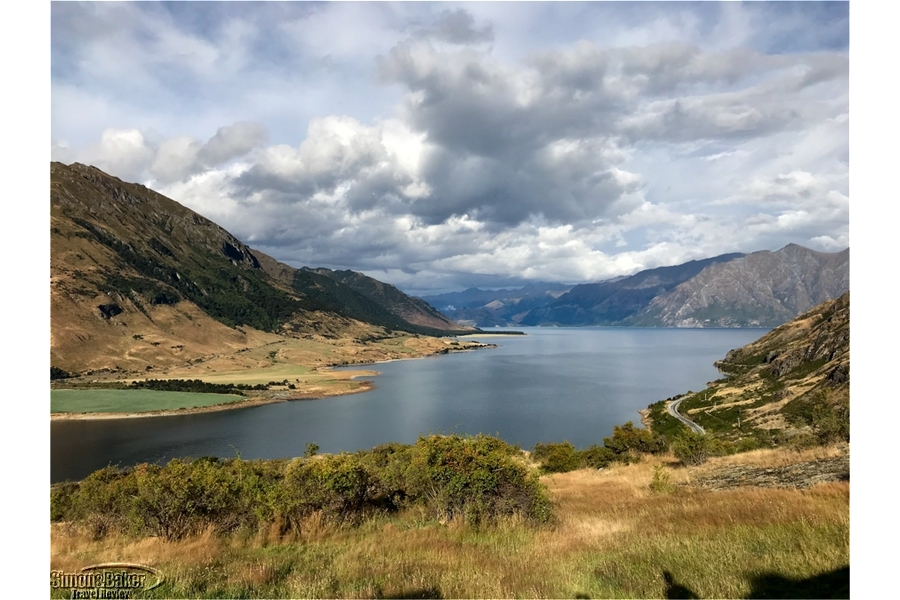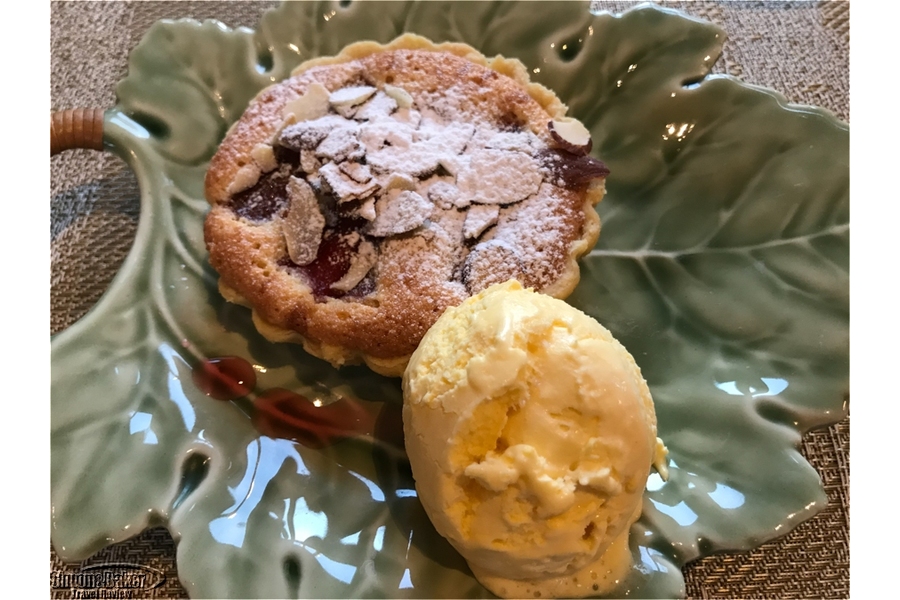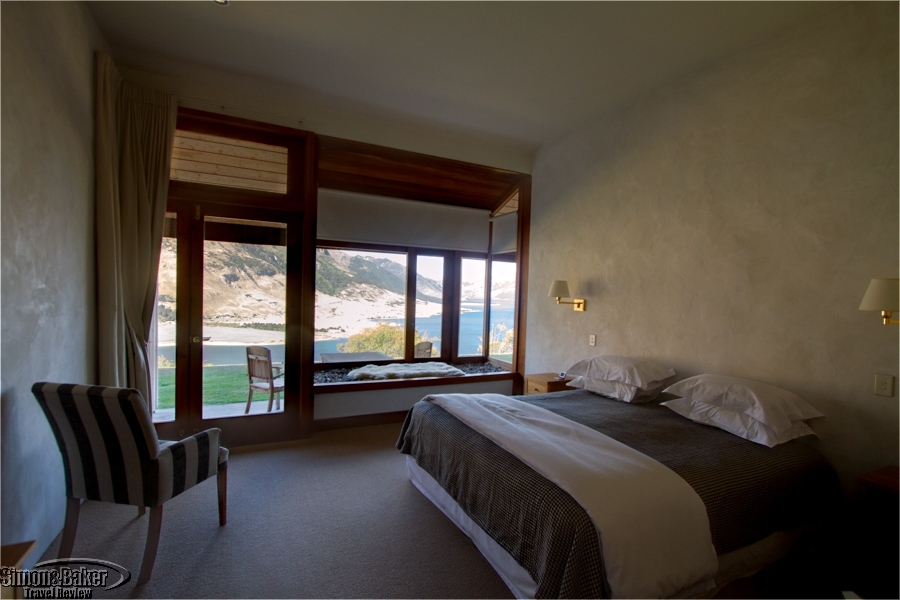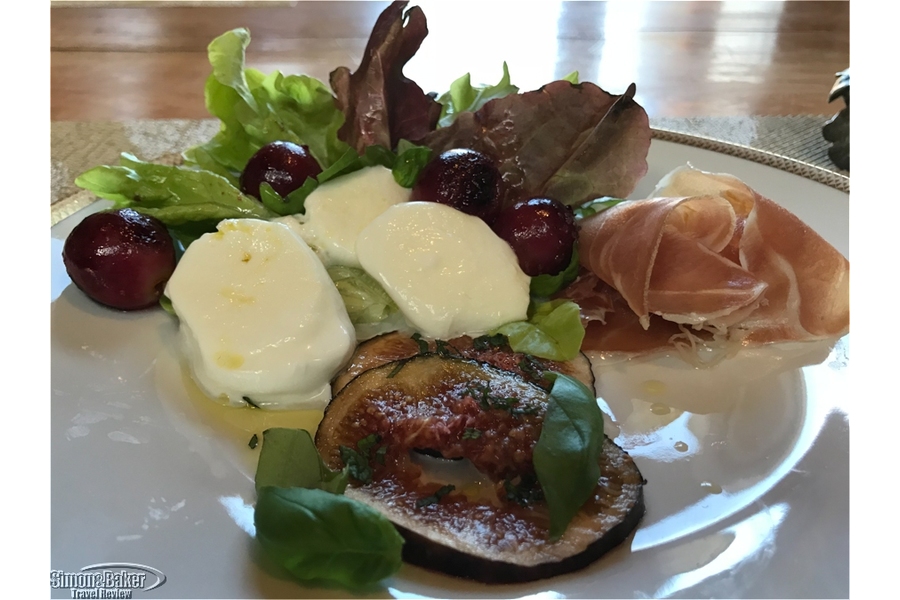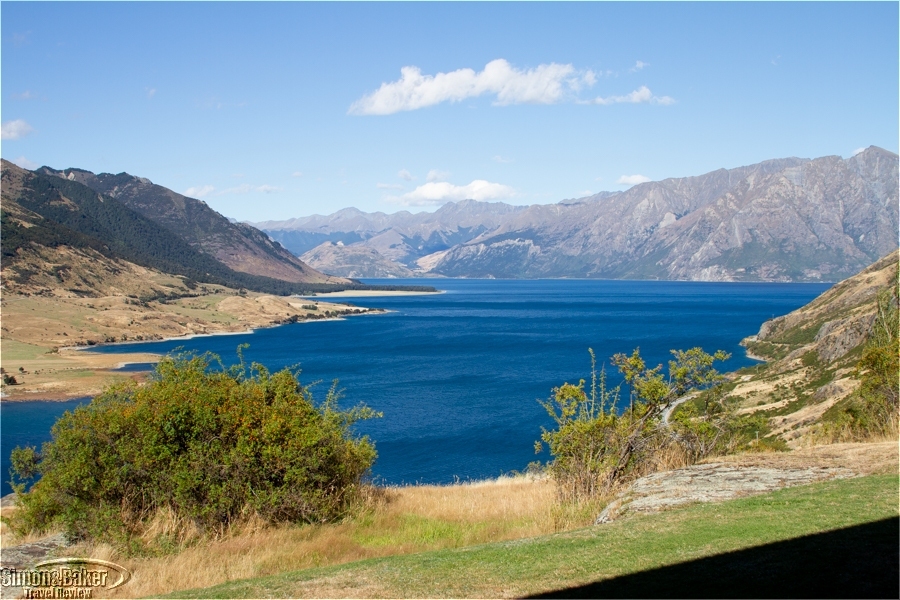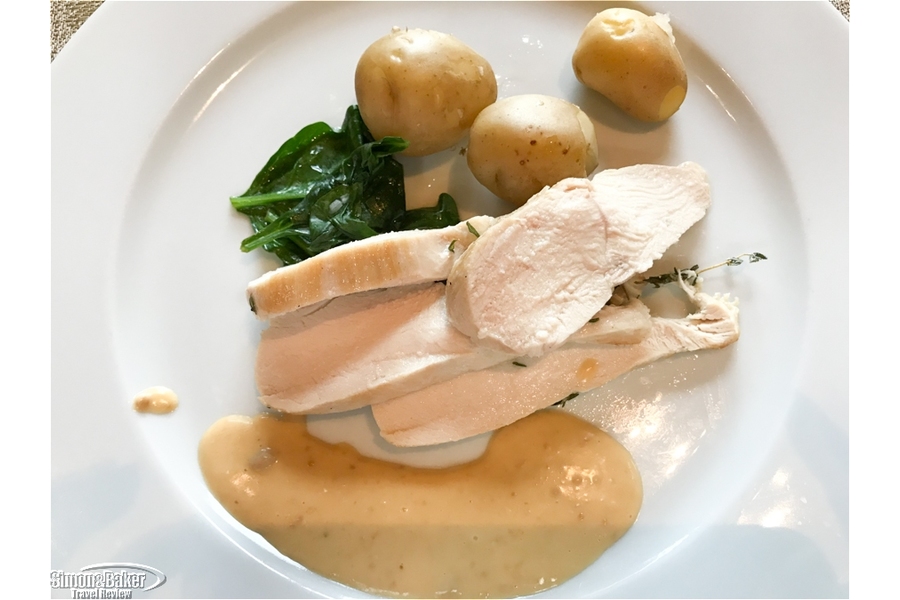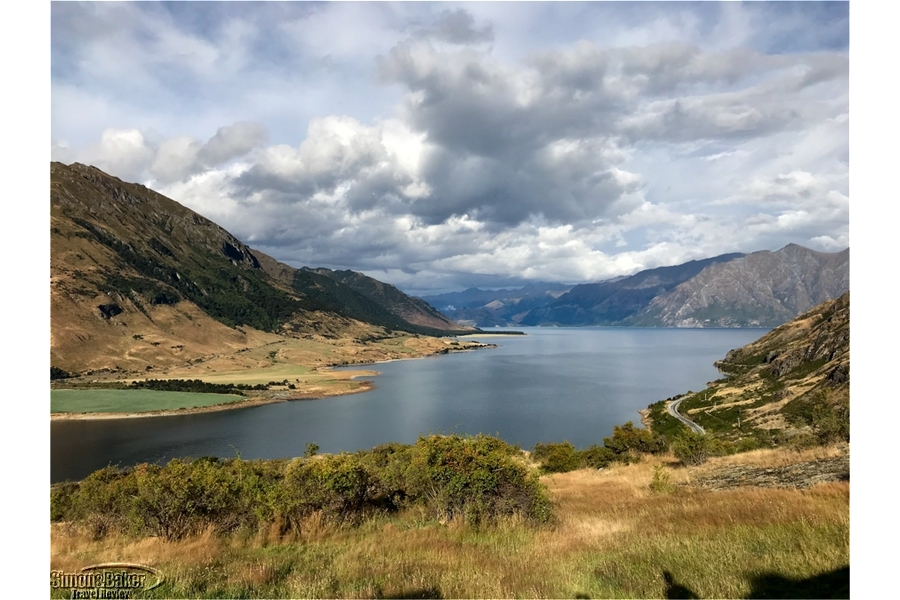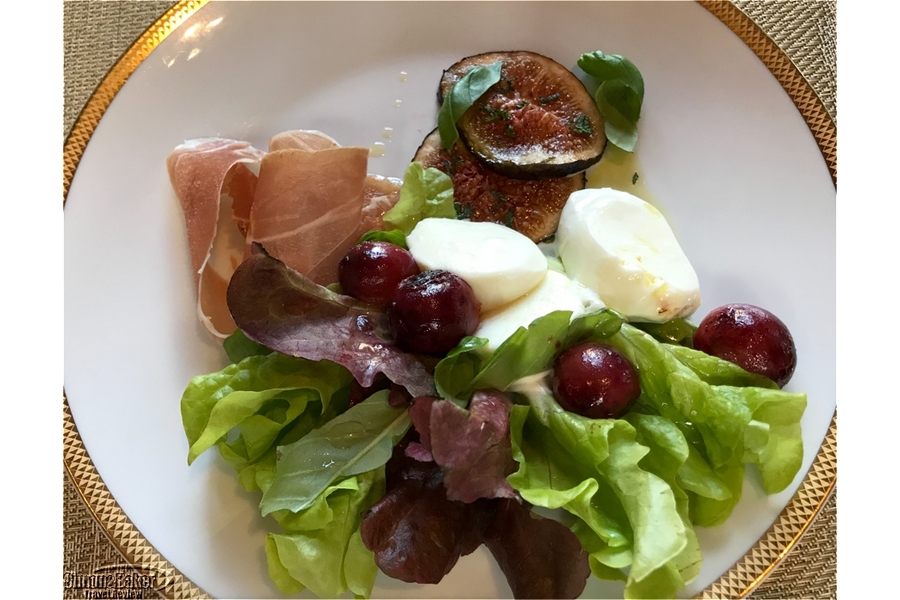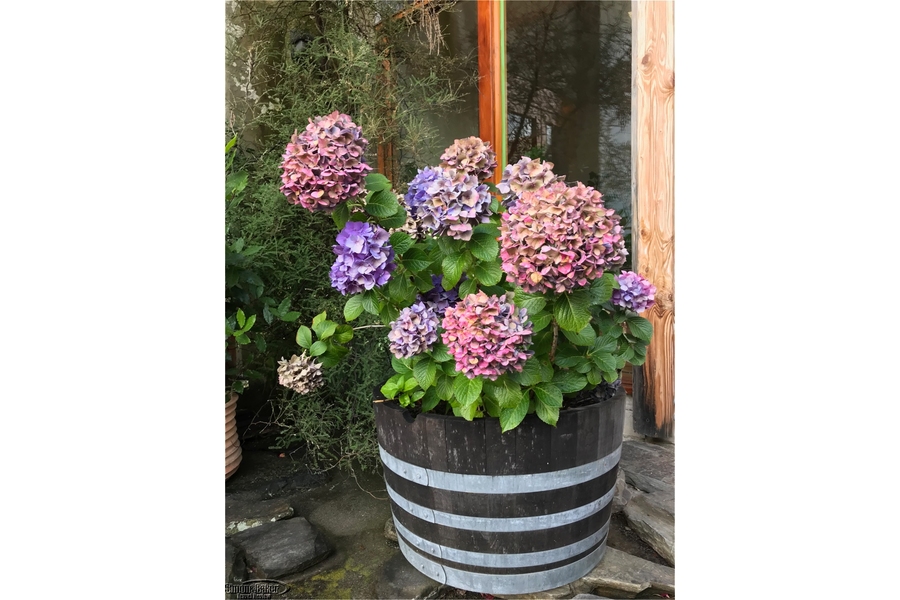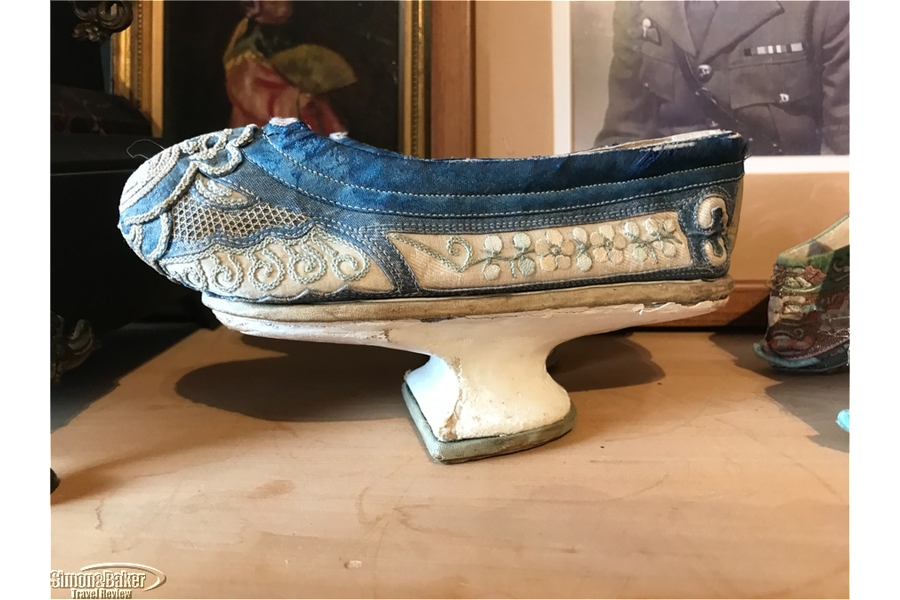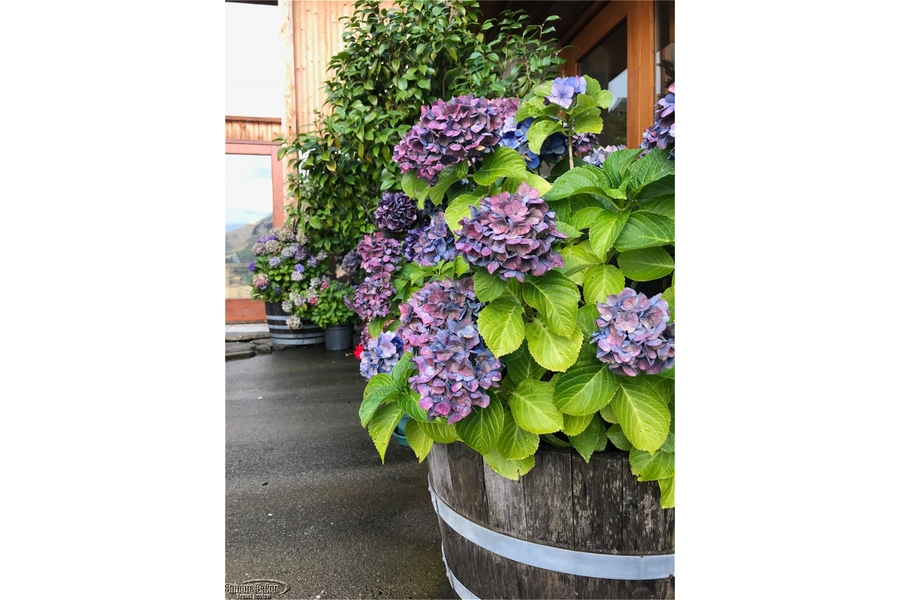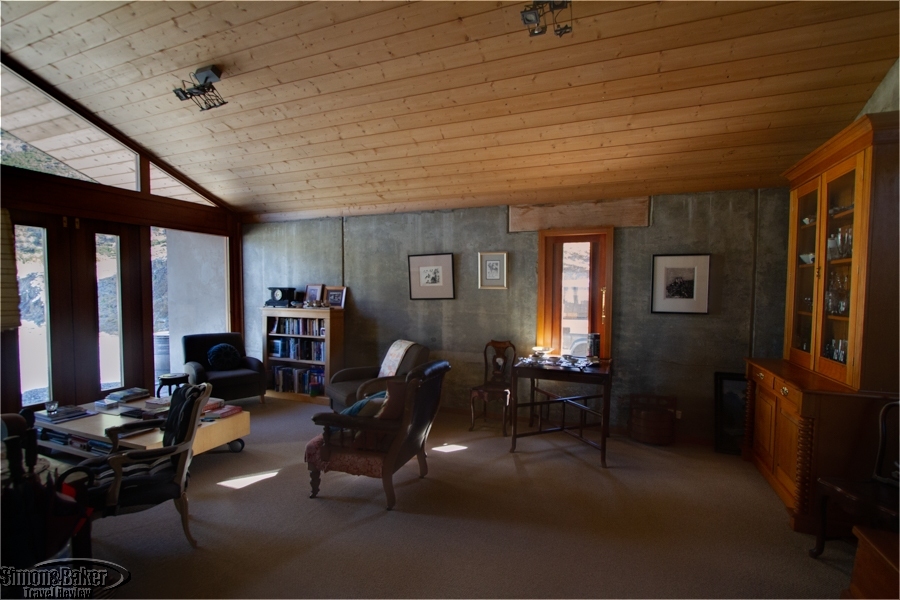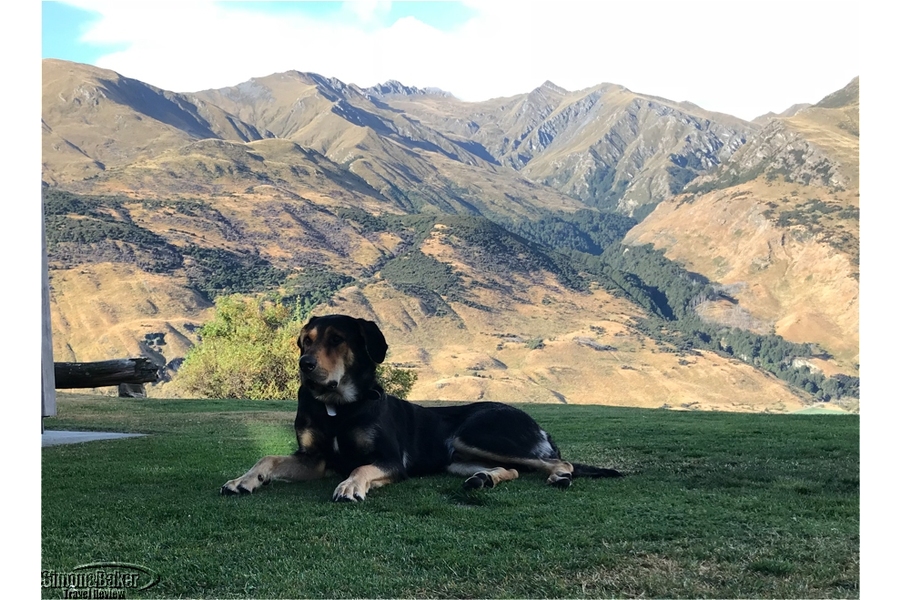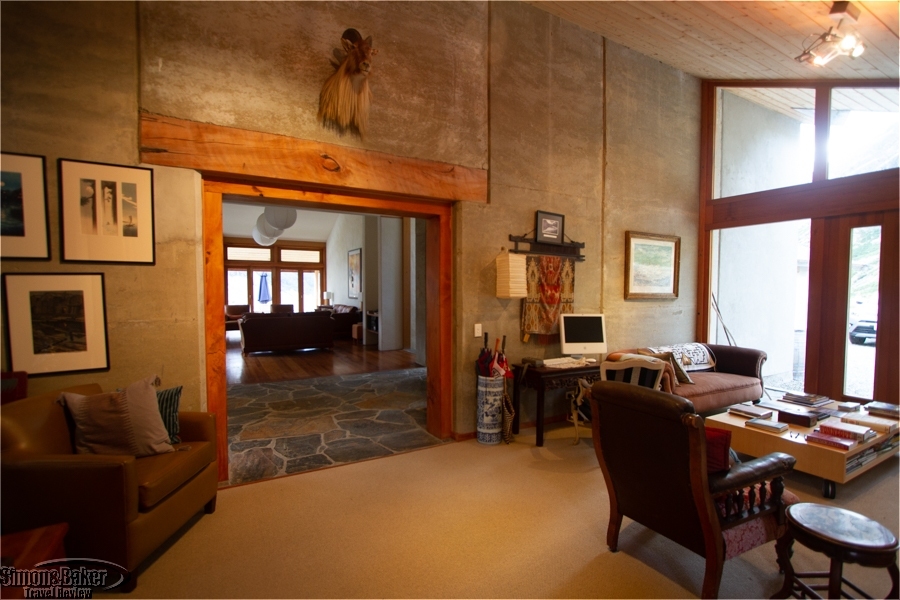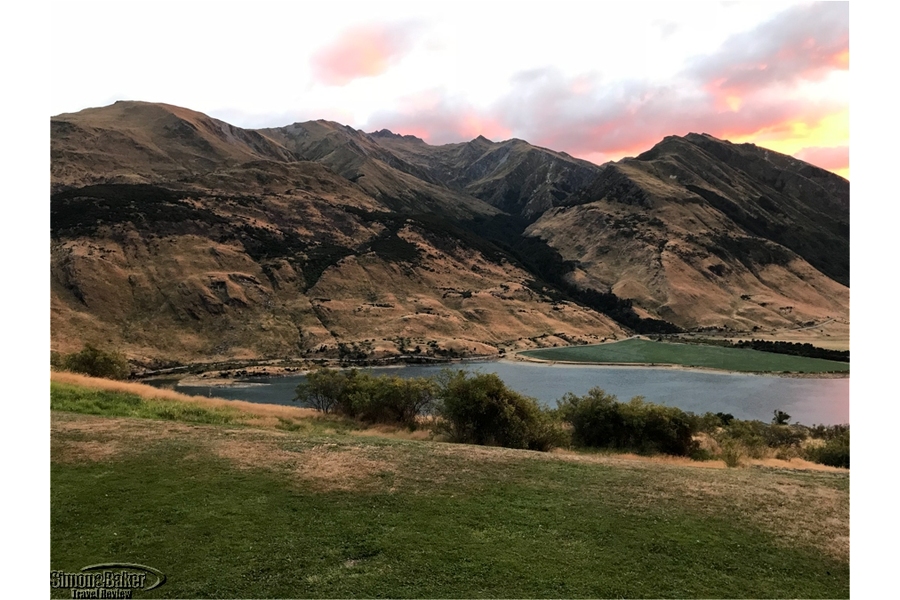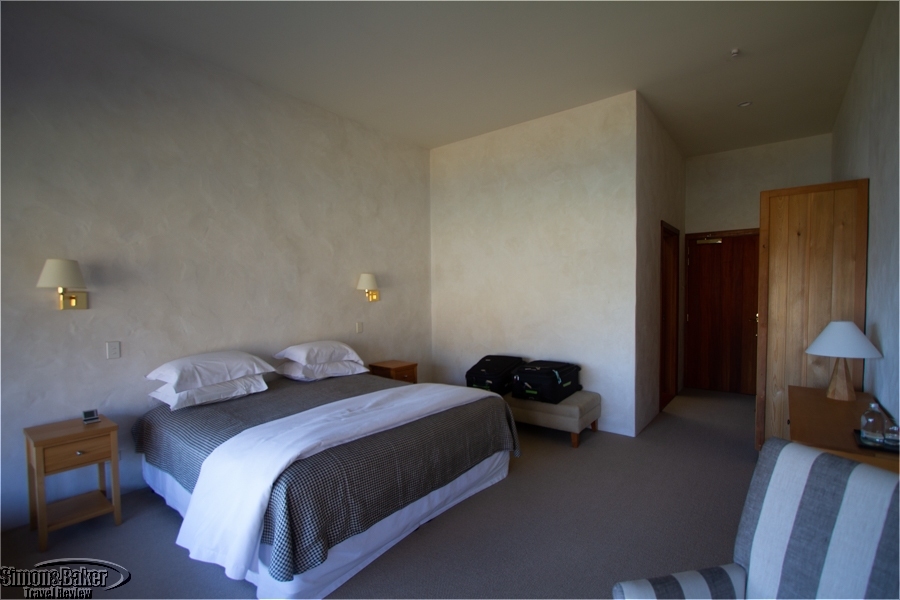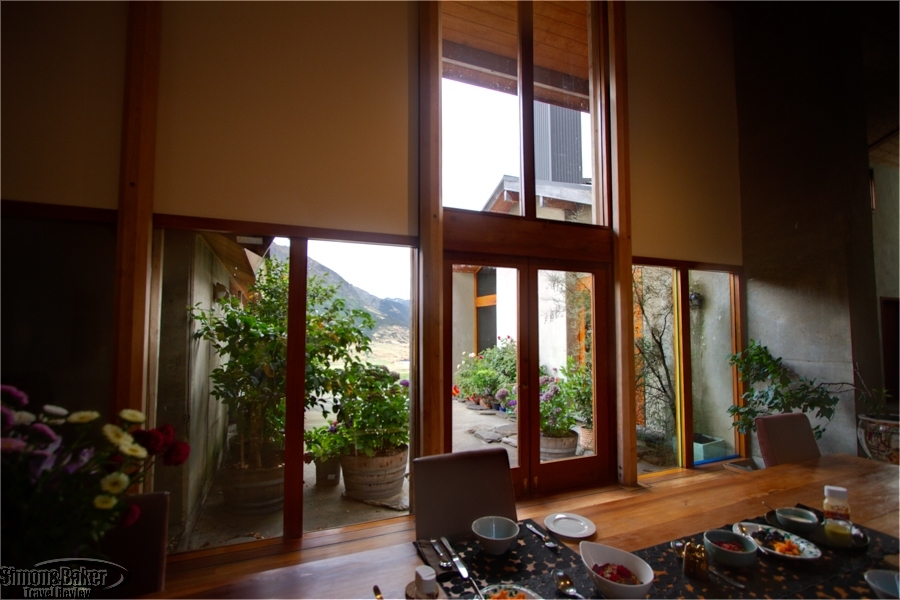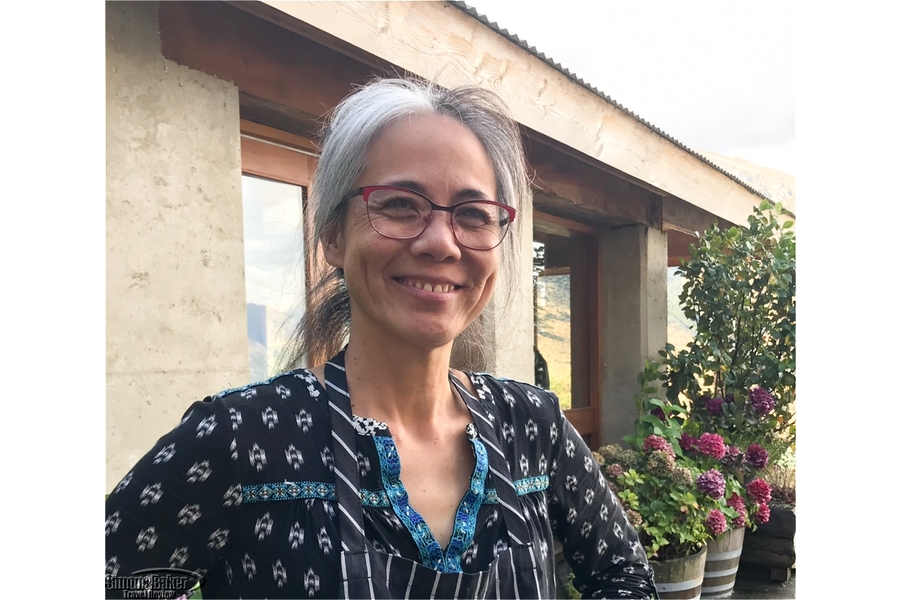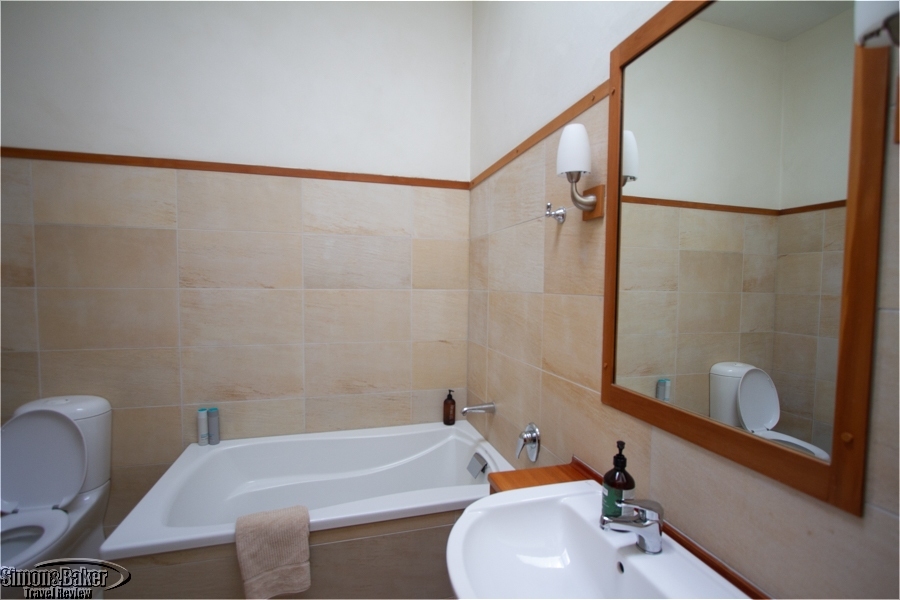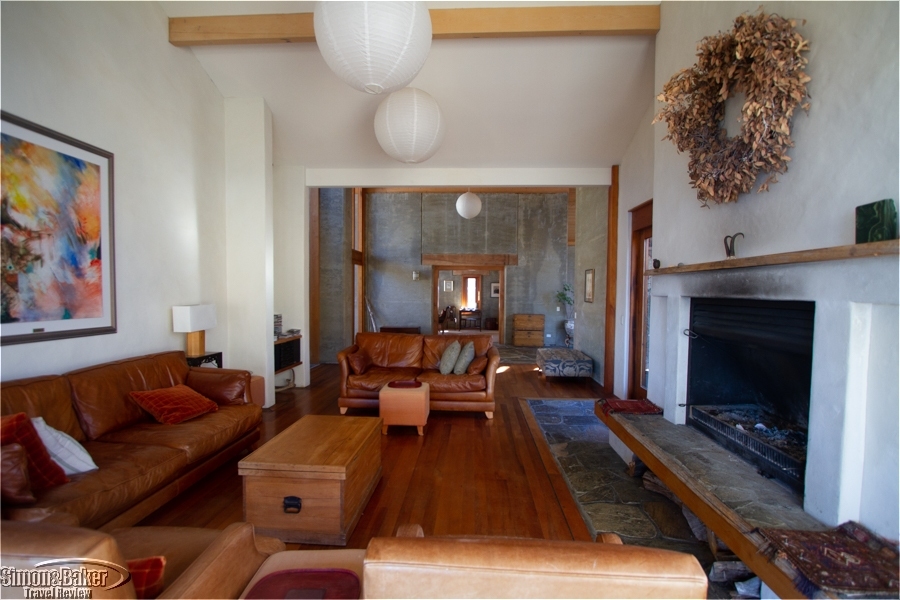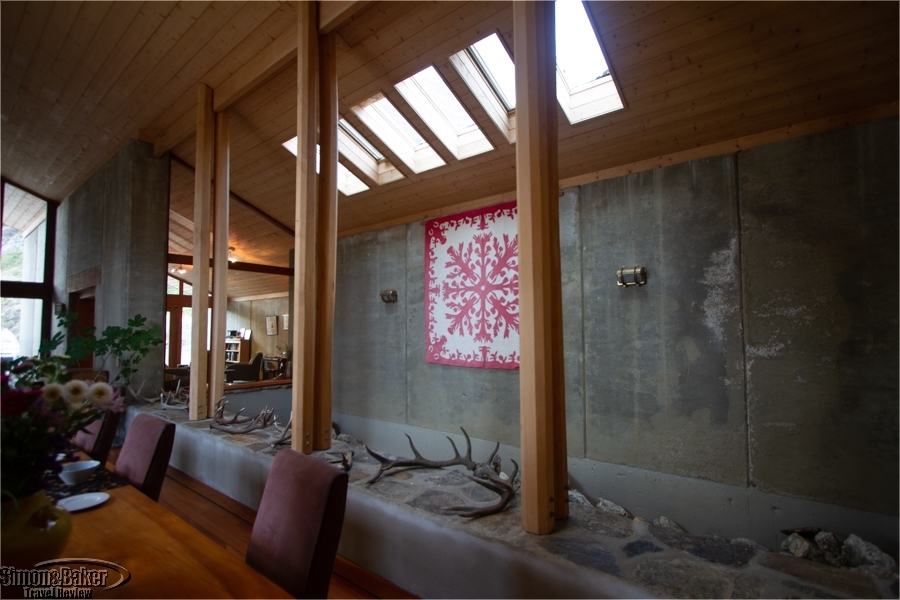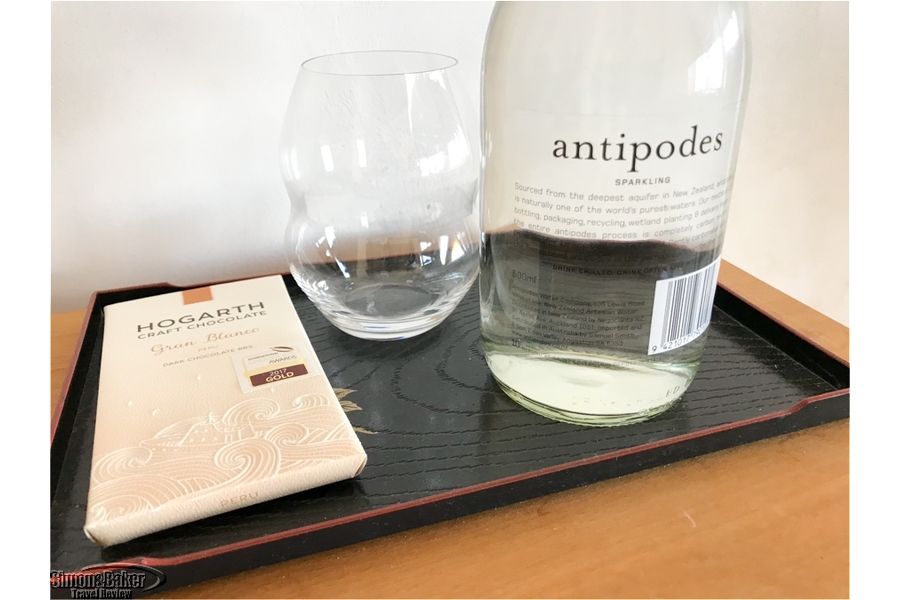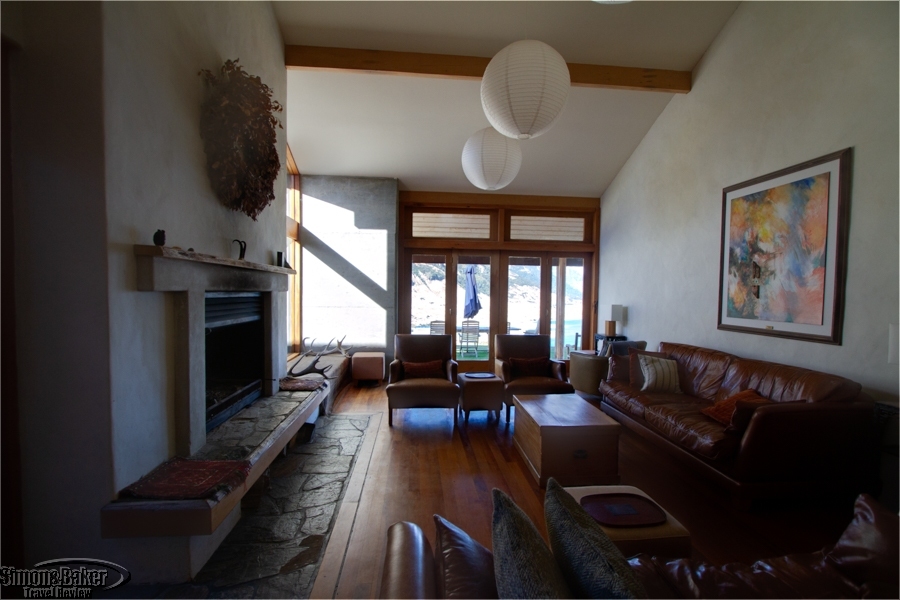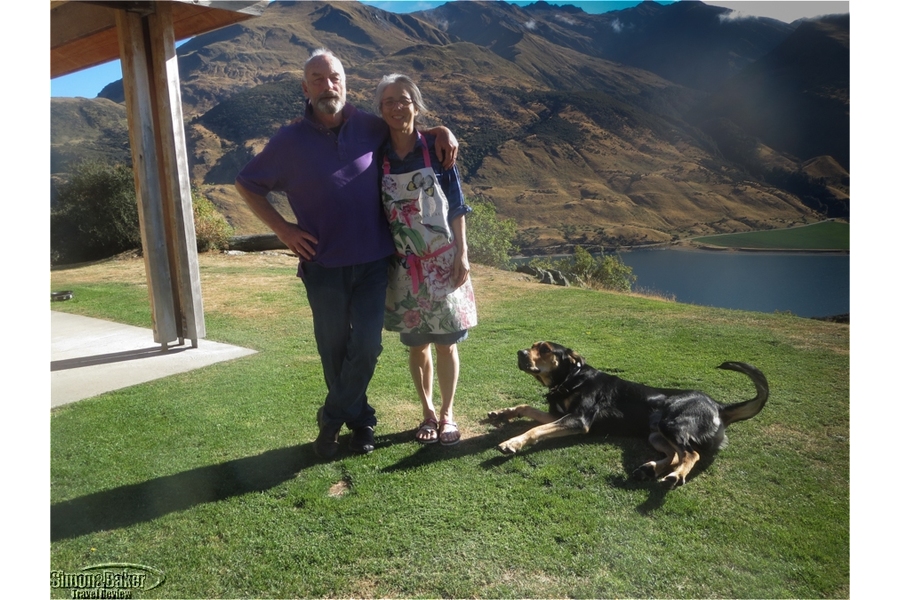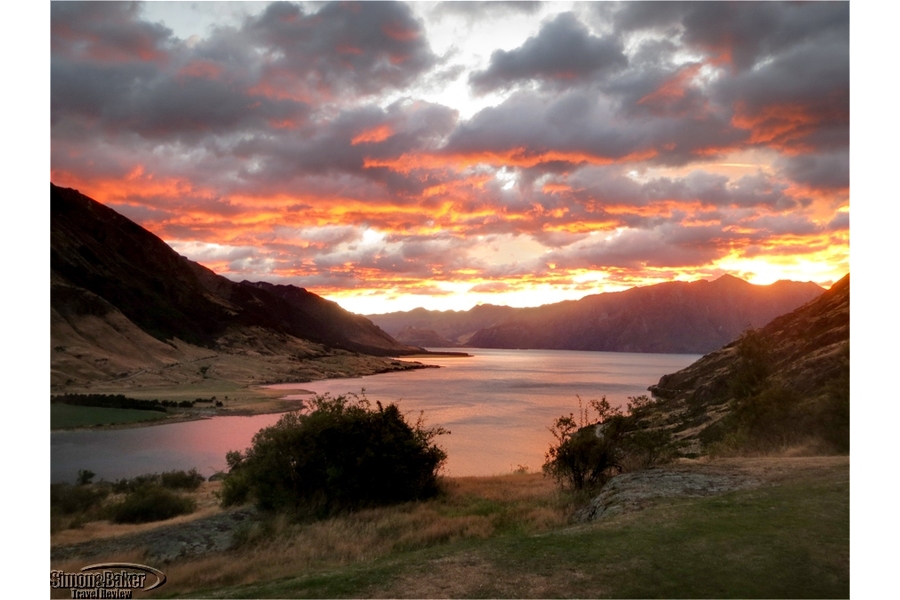 I would recommend it to friends who value serenity, appreciate being offline in their room and admire nature.
Overall Impression
On my first trip to New Zealand Silverpine, a small luxury retreat surrounded by 30,000 acres of mountain grazing land, stood out. It was on a hill facing north toward Lake Hawea in the South Island. What I most remember is the mesmerizing unobstructed lake view from my room as well as some of the common areas. Nearly everything I saw from my room was free of manmade structures. The absence of lights on the horizon and the quiet (although the resident dog barked occasionally there were no mechanical sounds) made it seem serene and remote. I felt privileged to be there surrounded by so much natural beauty.
As soon as I opened the car door Ridge, a 52 kilo huntway sheep herding dog and the family pet, was by my side wagging his tail. The 15 month old charmed me instantly. There was something endearing about his unguarded stance and his eager gaze. I had to be careful because without meaning to he could knock me down in an attempt to play. I often saw him sitting on the grass outside my room or in the garden by the dining room. One morning when I climbed up the hill behind the lodge he found me on my way back.
From the outside Silverpine looked like someone's house. Inside it did too, and that was part of what I liked about the family built and owned property, its warm and intimate ambiance. The architectural style was pleasing with high ceilings and generous art filled common areas. My guestroom, while appointed for paid stays, was cozy. Wood and glass played off each other well in a sort of yin and yang. Soft sunlight filtered into the building and while it was hot outdoors indoors was cool and comfortable. Personal items in the library, including a small display of family heirlooms and hunting trophies, were a reminder it was someone's home. The lack of some features (such as printed instructions) ubiquitous elsewhere as much as the existence of creature comforts was noteworthy.
Mike and Susan Yates, the owners, lived onsite in a private wing connected to the rest of the building via the dining room. Mike managed the property and Susan prepared breakfast and dinner. They were understated in their hosting style, authentic is the word that comes to mind. WiFi access was limited to the dining room by design. Like in a private home there were no numbers on the guestroom doors. There were no instructions or signage in my room or in the common areas. I felt almost like I was staying at the property of reclusive affluent friends of friends rather than at a lodge.
Thoughtful touches were evident throughout the house from the soft animal skin atop a pebble filled window side tub, dining room facing garden, and gourmet dark chocolate in my room to the cushy armchairs and sofas in the living room. And, often my eyes were drawn to the lake views.
Silverlodge was among my favorite properties on that trip for its splendid location with fantastic lake views, elegant design, tasty and well presented meals and low key hospitality. I would recommend it to friends who love nature, value serenity and gourmet dining, and appreciate being offline in their room.
Children
The lodge welcomed children 12 and older.
Class of Accommodation Personalized luxury hosted retreat
Connectivity There was only WiFi in the dining room. Per the owner a speed test indicated download 20.34 Mbps (megabits per second); upload 12.35 Mbps. The only cellular coverage was WhatsApp.
General Manager Mike Yates
Handicapped Access One of the guestrooms had a bathroom with wheelchair access.
Languages In addition to English the owners were able to welcome guests in French.
Length of Stay Two nights
Location It was 100 kilometers from the property south to Queenstown.
Owned and Managed Mike and Susan Yates
Pets Allowed No, wild deer and sheep grazed nearby.
Size The single story property within 70 acres housed four guestrooms and employed three.
Year Opened-Renovated The property opened to the public as full service lodge in 2006. It was new looking. Everything in my room and the common areas appeared to be in working order (although there was only tepid water in my bathroom).
Lobby and Common Areas The owner described the décor as "eclectic – lodge leather meets minimalist meets the orient." The architectural style was "themed on growing of and out of its surroundings." Mike supplied the feature wood and stone from the forests near the couple's previous home. Thick walls and changing roof pitches were included to reflect the nearby mountain flanks. There were high vaulted timber lined ceilings, natural schist stone and native timber floors. The doors and windows had natural finish wooden joinery. The carpets were woolen and the walls were of natural plaster. Mike explained that "When the architect saw the site he mused and told me 'This is a huge landscape. We shall do nothing mean here.' Not knowing what that meant, I commissioned him." And the result was a structure that emphasized the view outside while maintaining a minimalist interior that remained warm and comfortable.
Bathroom
There was a bathtub and a door-less shower in the 65 square foot bathroom. Sunlight from a skylight flooded the bathroom during the day.
Room I stayed in Room 3, a 270 square foot room with a small covered terrace facing the lawn and beyond it Lake Hawea. It was furnished with a comfortable Superking bed, side tables, wardrobe, console writing desk, armchair, ottoman, window seat with sheepskin. Oversize spotless windows and French doors that opened to the terrace and lawn made it to easy to look out. As soon as dawn appeared I opened the curtains to enjoy the sunrise, leaving them open all day. Outside there were wooden steamer chairs and tables. They were adjacent to my neighbors patio furniture. So much so that as soon as I exited my room I encountered a couple on loungers, wine glasses and books in hand. They were polite, charming and considerate of my privacy. Noticing that they too opened their curtains before sunrise I waited until after breakfast to walk on the lawn past their room. The following afternoon new far less pleasant guests were assigned to that same room.
I especially liked the window side sheepskin spot. It was like being on the terrace and soaking in the scenery while remaining indoors. I kept meaning to sit at my patio table with a glass of wine, looking toward the horizon and forgetting the clock. It was the kind of place that beckoned appreciation and contemplation. Somehow my time at Silverpine flew by before I did. Should there be a next visit I hope to have at least one day to just relax at the property.
Food and Restaurants Susan prepared meals. Mike and Susan served them, in an unobtrusive manner, on a huge wood table, where guests were seated together. Both nights I shared the table with one couple. There were two very different couples, which affected the evening conversation as we were seated side by side. On the first night she served Buffalo mozzarella, prosciutto, roasted grapes, lettuce appetizer. For mains there was organic chicken with delicious sauce, boiled potatoes, green beans, eggplant. Dessert was rhubarb frangipani pastry with honey and chamomile ice cream. The pinot noir was dry, flavorful and light. Mike kept guest glasses replenished. I especially enjoyed the conversation on the first evening of a worldly, polite and charming couple. The second evening due to a newly arrived couple's need to hog every subject dinner became a chore. There was music playing at mealtimes. Susan was attentive to guests meal preferences. For example, when she noticed I favored an item over another she accommodated her menu to suit my taste. That made me feel especially welcome.
Amenities
In my room there was a complimentary 500 milliliter glass bottle of Antipode sparkling spring water. The artisan Hogarth single origin dark chocolate made in New Zealand Gran Blanco 66 percent from Peru, also in my room, was a favorite during the trip. Toiletries were of two kinds, Antipode hand and body wash by the sink, Trilogy botanical body wash in the shower and large bathtub shampoo and conditioner.
Facilities There was a living room, dining room and library.
Other Because the only connectivity was in the dining room guests were drawn there, making it challenging to check emails alone. We would all gravitate to the dining room before and after meals. In addition to checking emails we engaged in conversation. This meant in my room I was offline, free to relax, read and soak in the splendid view. Overall I spent more time chatting with other guests as well as the owners than I might have otherwise, a positive side effect.
Cleanliness
Excellent
Date of Review February 2019
Reviewers
Photos and Article by Elena del Valle
Would You Stay There Again? Yes
Contact Information
Address:

Silverpine
Rapid 3283 SH6
Lake Hawea
New Zealand 9343

Phone:

+64 3 443 9008
Fax +64 3 443 4004

Website:
Email: