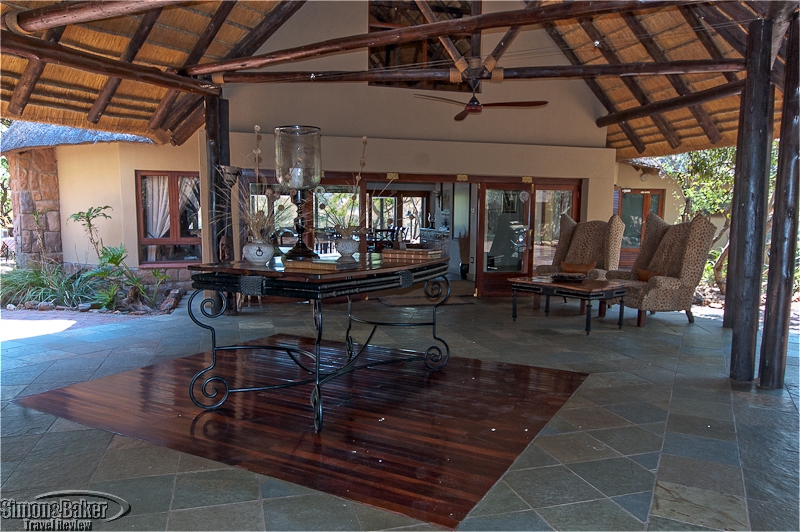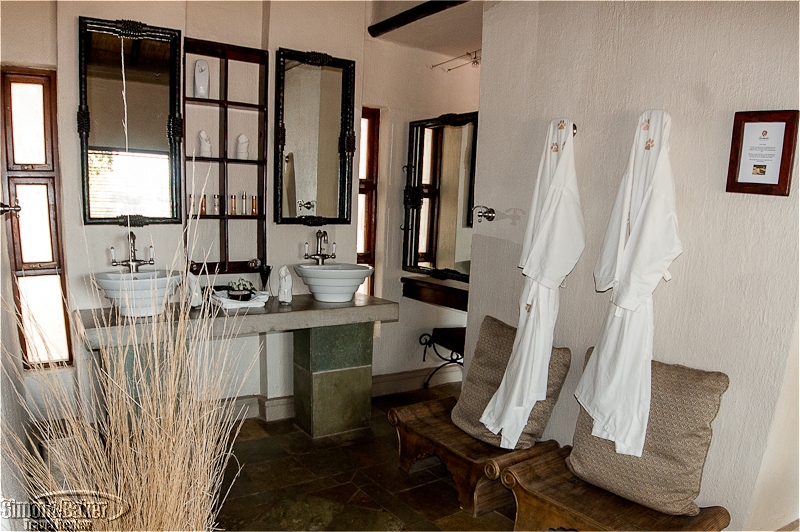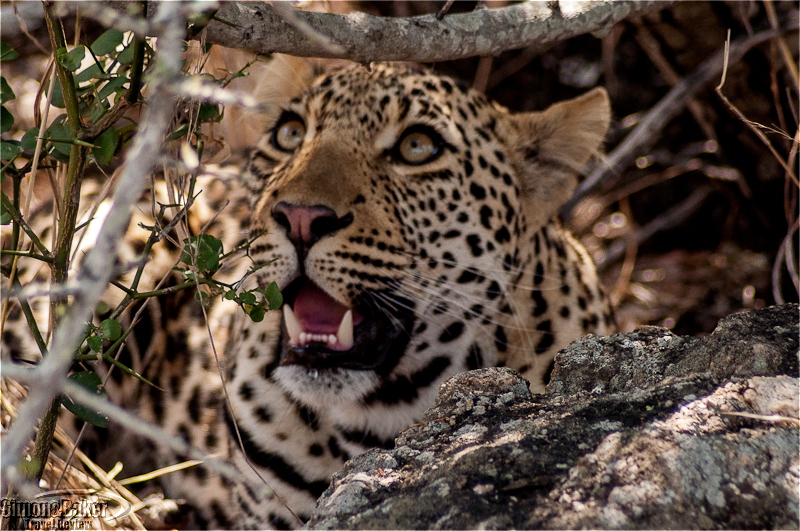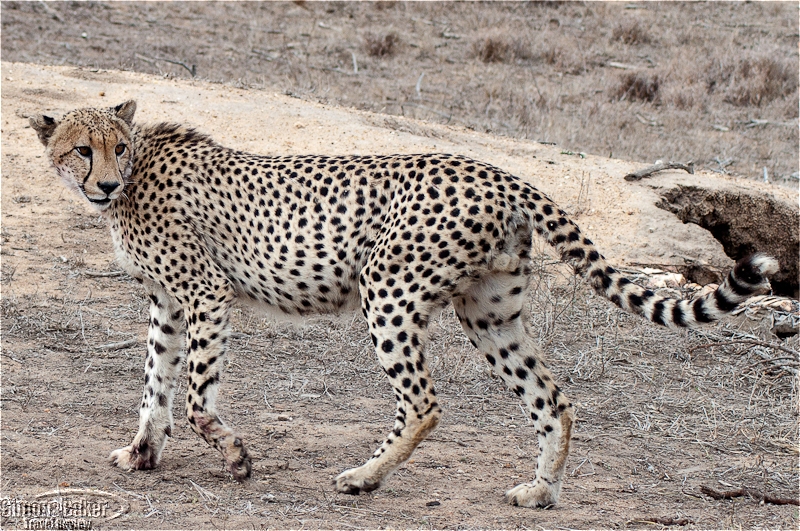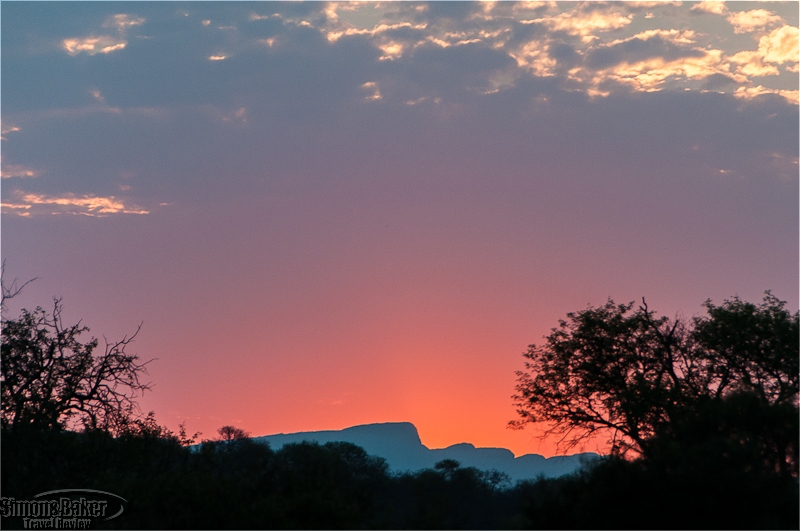 We came for its reputation for great game viewing and fell in love with the lodge." A bit of good humored banter ensued about his spouse's affinity to luxury accommodations, before the husband concluded: "so now we come to relax at the lodge, and enjoy a great safari besides."
Overall Impression
Shumbalala is within the Thornybush Game Reserve, a private fenced game reserve near the southwestern boundary of South Africa's legendary Kruger National Park. The Big Five (buffalo, elephant, leopard, lion and rhino), along with close to 150 species of mammals large and small, roam the reserve's 14,000 hectares of bush. Although Shumbalala game viewing vehicles shared space with game viewing vehicles of 11 other properties on the reserve we seldom crossed paths with vehicles from other lodges. From the instant I passed through the gate of the Thornybush Game Reserve, the game viewing was indeed exceptional. No more than a 15 minute drive into it, the Shumbalala ranger who had welcomed me at the gate (no private vehicles were allowed in Thornybush) stopped within feet of a scene that made my eyes pop: white rhinos, a half dozen of them, snoozing in an untidy heap in the shade of a roadside tree.
A few minutes later we reached our own shaded haven, the elegant thatched portico of Shumbalala. Stretched under a verdant canopy of mature trees along the bank of the seasonal Monswana River, reduced to an ever active water hole when I visited at the height of the dry season, the property was an intimate luxury retreat where the latest contemporary amenities seamlessly blended with opulent comfort and superb service to set the stage for an outstanding safari experience in the grand South African tradition.
Beyond its posh accommodations, the ultimate charm of Shumbalala was the myriad thoughtful details that made me feel utterly pampered every moment of the day. I enjoyed that in spite of the dawn wakeup call, the day started gently with an unhurried pre game drive light breakfast buffet hosted in the library by Wayne, our laidback ranger. And, I appreciated the neat row of oversized fleece lined parkas hanging within arm's reach on the way to the porch where our open game viewing vehicle stood at the ready, in anticipation of my aversion to the early morning chill. Throughout the day, in a shady spot by the swimming pool, besides the usual wicker hamper of fresh bath towels, a large silver tub filled with ice held an assortment of bottled waters and soft drinks.
Prior to the afternoon game drive, there was the sumptuous high tea served in the bar by Lynne Louise, the charming and talented resident chef. She took that opportunity to announce the evening's menu and take orders for the five course dinner. When we returned in the early evening, in addition to the customary cool towelettes, a staff member would welcome us back bearing a tray of sherry in silver goblets. Another notable feature of Shumbalala was its state of the art wine cellar created by the property's founder, the late Andre Snyman who had been a wine grower and passionate oenophile. It was a pleasure to visit the romantic candle lit cellar and select from a number of excellent South African labels a bottle to enhance my dinner selections.
And of course there was the game, so omnipresent around the reserve that it was easy to take for granted our daily sightings of the Big Five, as well as cheetahs, hyenas, warthogs, giraffes and all manner of antelopes. This, added to its superb accommodations and hospitality, made it easy to understand how the property had become the safari destination of choice for a European couple I befriended during my stay. "This is our fourth visit in the past eight years," the wife volunteered, "and Shumbalala has never failed us. We came for its reputation for great game viewing and fell in love with the lodge." A bit of good humored banter ensued about his spouse's affinity to luxury accommodations, before the husband concluded: "so now we come to relax at the lodge, and enjoy a great safari besides."
Camp Managers
Wiehan and Michelle Stapelberg
Children Children nine and older could be accommodated on a case by case basis by prior arrangement.
Class Of Accommodation Boutique luxury safari lodge. The property was graded a Five Star Game Lodge by the South Africa Tourism Grading Council.
Connectivity There was reliable, 3G enabled mobile phone service throughout the property, as well as WiFi access throughout the public areas and in my suite. There was also an Internet station in the gift boutique for the use of guests traveling without their personal computer equipment.
Handicapped Access The property had equipped one room to welcome motion impaired guests.
Length Of Stay Three nights
Location In the Thornybush Game Reserve, near the southwestern boundary of the Kruger National Park and within the Greater Kruger National Park area. It was a 45 minute drive from Hoedspruit and 30 minutes from the Eastgate Airport, or a six hour road trip from Johannesburg.
Owned-Managed Shumbalala was owned and managed by the Snyman Swan family. Jeandra and Victor Swan were the general managers.
Size Shumbalala had five guestrooms, including a two bedroom suite. It could accommodate a maximum of 12 guests. However, except in the case of large family or affinity groups, the staff indicated that the owners considered optimum occupancy to be eight guests and preferred to limit bookings to that number. It employed a staff of 14 including two guides (commonly referred to as rangers) and two trackers. There were two game viewing vehicles. The lodge was one of 12 properties offering game viewing accommodations within the 14,000 hectare Thornybush Nature Reserve, a private fenced in reserve.
Year Open-Renovated The family purchased the property in 1999 and undertook a complete reconstruction in 2001. According to management, Shumbalala has been constantly maintained and enhanced since then.
Lobby And Common Areas
The main lodge facilities were located in two wings off a central portico and foyer. The library occupied the major part of the left wing along with a small business office and a gift boutique. The right wing held the dining room, lounge and bar. The entire building had white adobe walls interspersed with natural stone pillars and floor to ceiling sliding glass panels under a soaring thatched roof. The floors were a mix of large flagstone tiles and hardwood floors polished to a rich shine. In the center of the foyer, an oversized rectangular table with a thick wooden top on an ornate wrought iron base held leather bound guest books, a tall hurricane lamp with an ebony candlestick base and a pair of low alabaster urns filled with and arrangement of dry grass.
On both sides of the foyer, near the entrances to both wings, wooden coffee tables sat in front of armchairs upholstered in tan suede with black cheetah print dots. The far wall of the library had a built in mahogany bookcase with a collection of books on wilderness related topics and a random assortment of contemporary novels. A rustic wood credenza delineated the center of the room. Matching rectangular coffee tables and end tables were surrounded by groupings of light brown leather wing chairs and tan suede barrel armchairs. Two rolled arm sofas covered in black and tan geometric tribal print canvas completed the seating arrangements. A large oil painting of a leopard hung above one of the sofas and an art deco style bronze statue of a raptor in flight sat on an end table.
The dining room furniture was made of heavy mahogany. Near the entrance to the room, a painting of a bush landscape hung above a long sideboard. In front of it, a rectangular banquet table was surrounded by ten high back chairs. In the center of the room, a tan leather rolled arm sofa and matching wing chair, and two armchairs upholstered in tan and brown geometric print faced the stone fireplace at the far end of the room. Wooden end tables held lamps with metal bases and woven wicker shade. The matching central coffee table could be replaced by a round dining table that could accommodate up to four guests for a private fireside dinner. Around the room, tooled black metal and opaque glass wall sconces provided additional lighting.
On the thatched terrace alongside the dining room, an additional banquet table surrounded by wrought iron armchairs with tan woven wicker backs and cream and brown print seat cushions was an inviting spot for alfresco dining. At the far end of the dining room, the bar was a broad oval covered deck open on three sides to the bush. The bar itself was a long slab of polished wood on a base of natural flagstones surrounded by eight high chairs of solid wood. The remainder of the deck offered an eclectic array of comfortable seating: an antique Victorian sofa, its curvy frame of carved wood enhanced by light brown leather upholstery; a contemporary rolled arm sofa covered in fawn cotton tweed and four woven rattan wing chairs with fawn and cream print canvas cushions. A large rustic coffee table sat in the center of the room on a pale pastel oriental rug.
Bathroom
The various functional areas of the bathroom were housed in separate enclosures along both sides of a central hallway. Against the front outer wall, a concrete slab vanity top held two round white porcelain washbasins. Tall mirrors hung above the basins, separated by a built in shelving unit with an ample supply of assorted toiletries. Two low carved wooden stools stood along one side wall. On the opposite wall, a small chest served as a laundry hamper. In the center of the opposite enclosure, a deep freestanding bathtub stood in front of the glass wall with a view of a water hole. Next to it, an oversized shower stall with flagstone tiled side walls shared the view. The water closet was at the far end of the hall. Across from it at the rear of the room, a door led to a secluded outdoor shower.
Room Although located only a few steps away from the public areas and central swimming pool, my spacious 75 square meter (810 square foot) room, Number Three, was a tranquil retreat resolutely turned toward the waterhole and surrounding bush. The elegant stone and thatch structure with its floor to ceiling stone fireplace and glassed in rear wall with large sliding doors that opened onto a private viewing deck had the timeless charm of a southern African country cottage; albeit one with the latest in climate control technology and this rare commodity in the bush: a round the clock WiFi connection.
Under its elegantly draped mosquito netting canopy, the king size bed with its high count white cotton bedding had a tall woven rattan headboard and bedside table. A matching bench outlined the foot of the bed. Stone shelves built into the wall held a pottery collection. At night, the display was backlit to complement the light filtering through the rattan shades of the bedside lamps and make the space warm and cozy. Two tan leather barrel armchairs stood in front of the fireplace. A small sideboard housing a mini bar and a tea and coffee service was tucked in the corner between the fireplace and the front door. The wall separating this main living space from the bathroom held a built in storage armoire. Next to it, a tall double sided mirror. also visible from the bathroom side of the room, hung above a dressing table and vanity stool with a brown seat cushion. In addition to a central fan hanging high from the peaked ceiling, the room had a quiet remote controlled air conditioning unit.
Meals
At Shumbalala, the days were an ongoing culinary feast orchestrated by resident chef Lynne Louise Stanley, every meal or snack beautifully prepared from fresh produce, meat and dairy products sourced from local farmers. Following the dawn breakfast beverages and pastries, we stopped in the bush a couple of hours later for another round of similar treats to ward off any hunger pangs we may had developed during the early part of the morning game drive. When we returned to the lodge in the latter part of the morning, a generous menu of continental and English breakfast selections awaited to be assembled into a bountiful brunch.
By mid afternoon guests seemed to be spontaneously drawn to the bar where Lynne Louise was laying out a lavish spread of high tea salads, dainty sandwiches and skewers (coconut battered shrimp was my favorite), savory tartlets and scrumptious desserts. Then there was the de rigueur sundowner cocktail and appetizer break during the afternoon game drive, while we admired the huge African sun dipping behind the Drakensberg Mountains in the distance. But the best was yet to come: dinner was an elegant, formally served five course affair that routinely featured such unusual local fare as ostrich carpaccio with beetroot and kudu goulash as well as international cuisine. In addition to the dining room and veranda, dinner could also be served under the stars next to the fire pit on the bank of the river. At breakfast, seating was open. At lunch, we all shared a single large table. The standard arrangement for meals at dinner was for guests to share a table.
Amenities
Room amenities included white cotton bathrobes, bedroom slippers, votive and pillar candles, electronic safe, house phone, a tea and coffee service including an electric water kettle and an assortment of caffeinated and herbal teas, French press coffee maker with ground coffee, insulated pitcher of iced water, ice bucket, tin of freshly baked cookies, and assortment of stemmed and tumbler glasses. There also was a well stocked mini bar and bottles of white and red Mount Andre wines from the family's Franschhoek Valley vineyard available at an additional charge.
Bathroom amenities included hair dryer, facial tissues, cotton swabs and pads, oversized personal size bottles of high quality Rooibos Natural shampoo, conditioner, shower gel and body moisturizer, bubble bath, bath salt and glycerin facial soap as well as insect repellent lotion, PF15 sun block, and body and room insect repellent sprays.
Facilities There was a dining room, a bar, a wine cellar, a library and a swimming pool.
Gift Shop A well stocked gift boutique carried a selection of local crafts and lodge branded quality safari clothing.
Pool The nine meter by three meter (30 foot by 10 foot) oval swimming pool was set in a stone terrace in the center of the property. It was surrounded by six wrought iron lounge chairs with thick beige canvas cushions under ecru market umbrellas.
Game Viewing Daily morning and afternoon into early evening game drives took place in a custom-built open safari vehicle that accommodated the eight guests in residence at the time of my visit. Our tracker was Herman Ndlovo and ranger was Wayne Myburgh. In addition to daily sightings of the Big Five, game I saw included baboon, blue wildebeest, bushbuck, cheetah, eland, giraffe, hippo, hyena, impala, kudu, nyala, vervet monkey, warthog and zebra.
Activities To complement the twice daily game drives and guided bushwalks in the Thornybush Reserve, there were promotional materials indicating a number of activities could be arranged at nearby attractions for an additional cost, including elephant back safari, dawn hot air balloon flight, Blyde River Canyon boat cruise, and horse riding safari along the trails of the Moholoholo Mountain View Game Reserve (bordering Blyte River Canyon).
Other Electricity ran on 220 volt current. There were several outlets in my suite, conveniently fitted with universal adapters to accommodate North American and European plugs.
Cleanliness
Excellent
Date Of Visit October 2013
Reviewers Article and photographs by Josette King
Service My room was serviced twice daily. Every member of the staff with whom I came in contact was friendly and attentive.
Would You Stay There Again? Yes
Contact Information
Address:
Thornybush Reserve
P.O. Box 344
Hoedspruit 1380
South Africa
Lodge:
Reserve:
+27 (0)15 793 2228
+27 (0)11 253 6500
Fax:
Website:
Email: