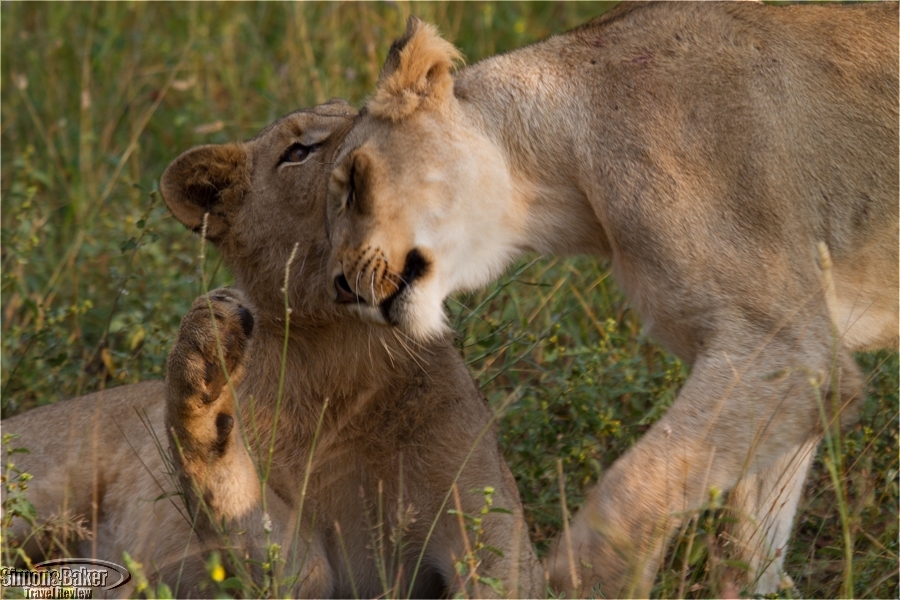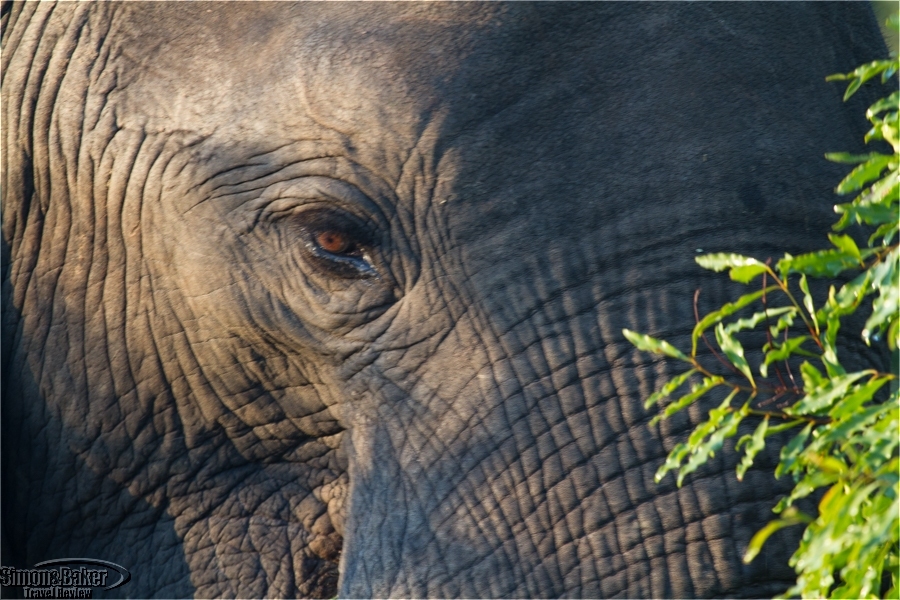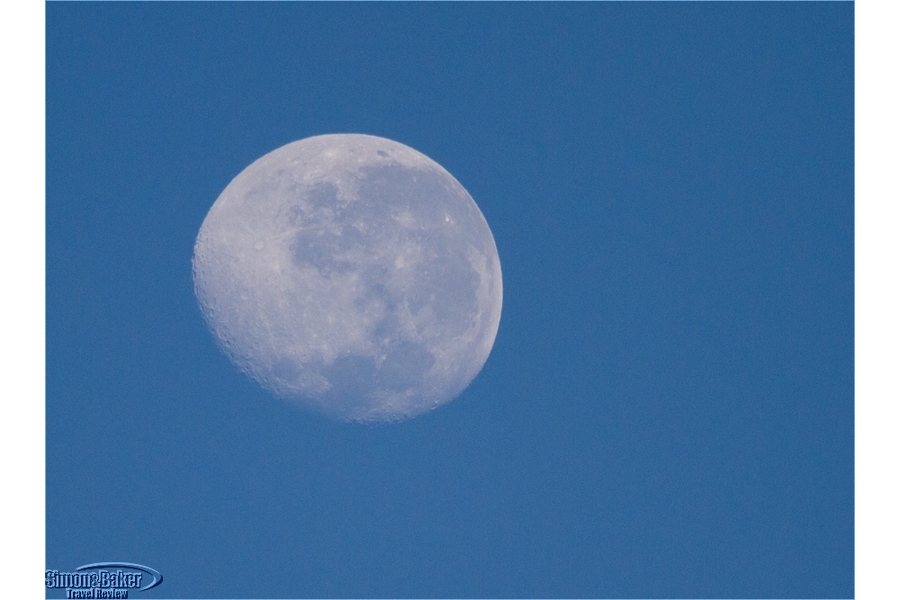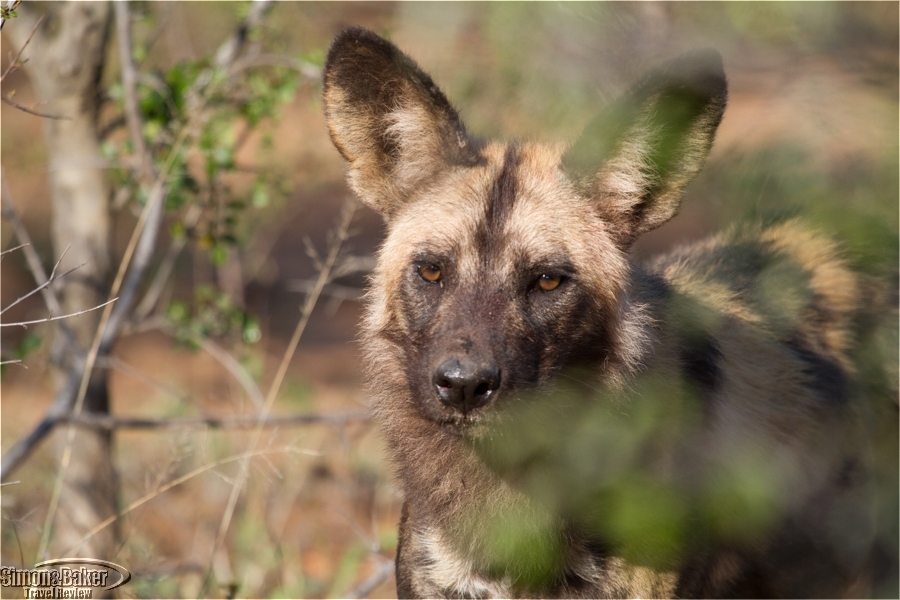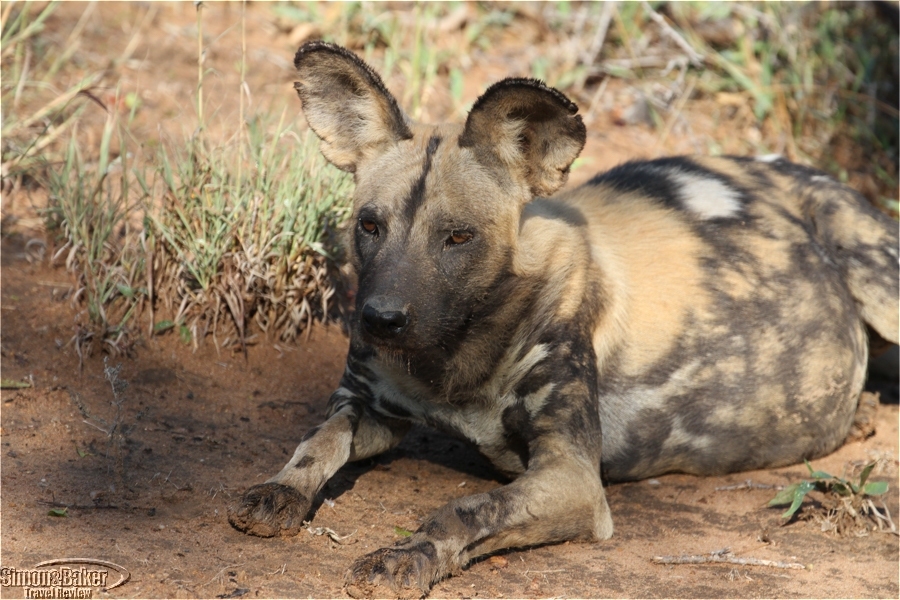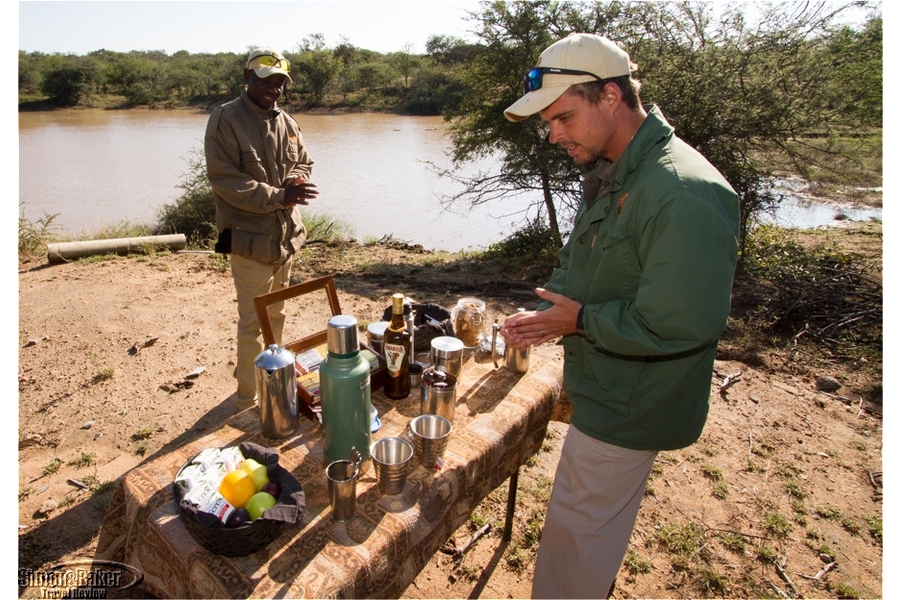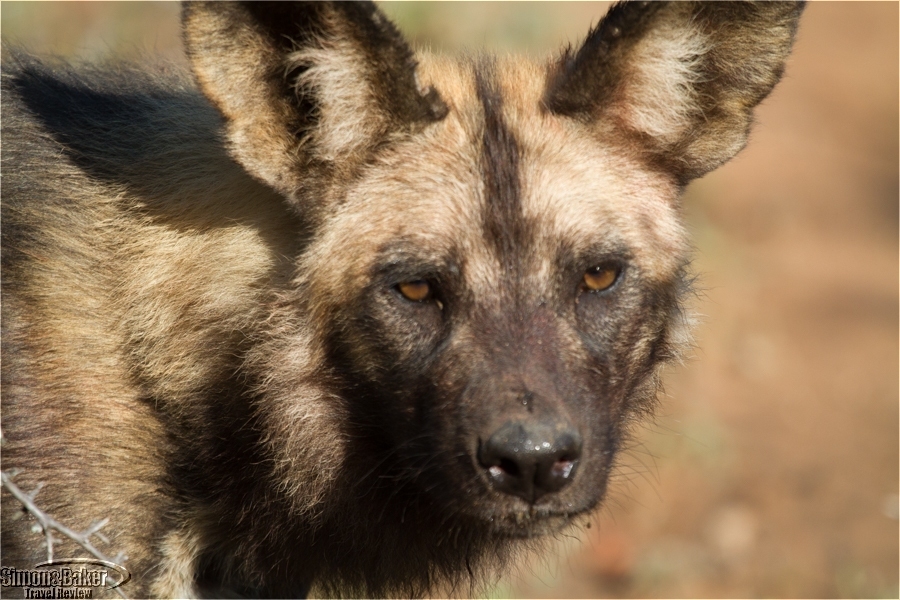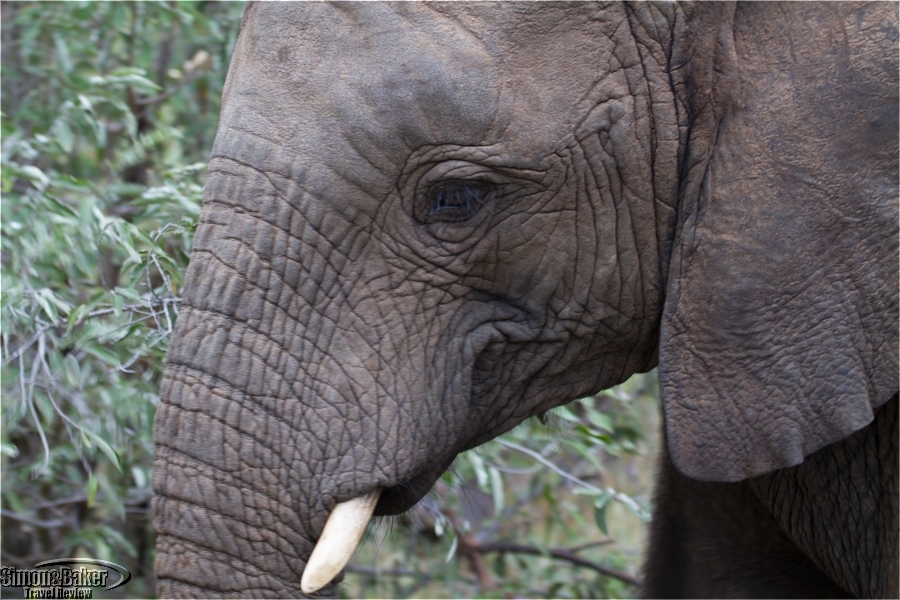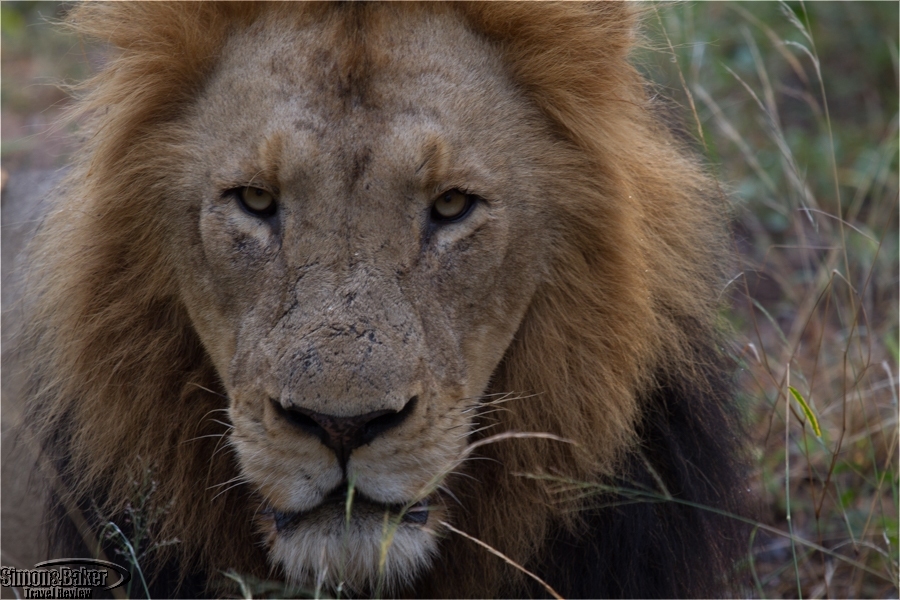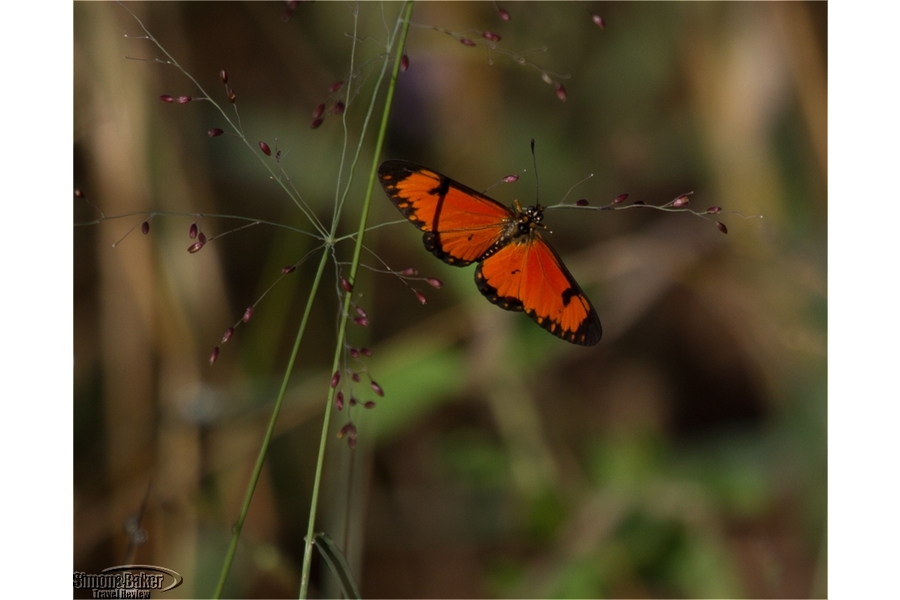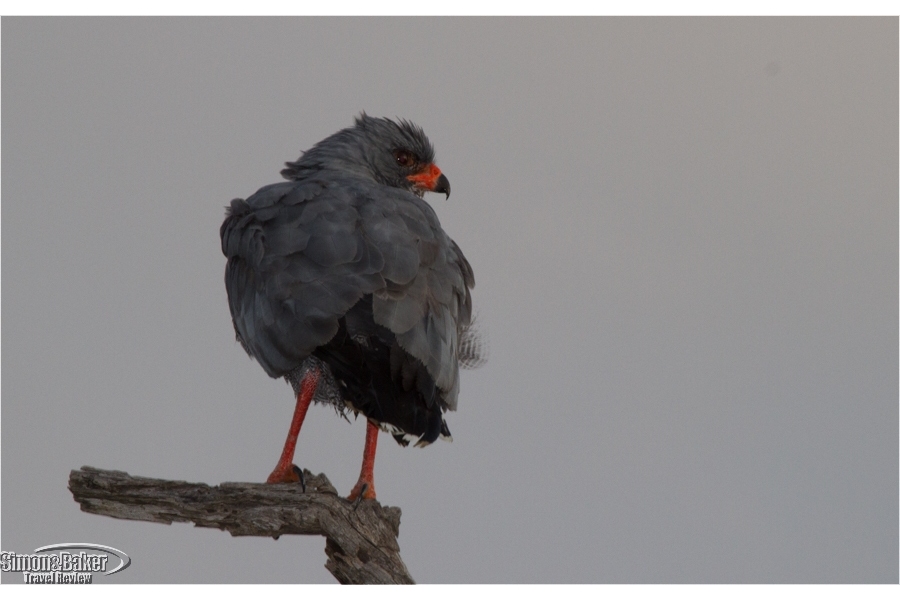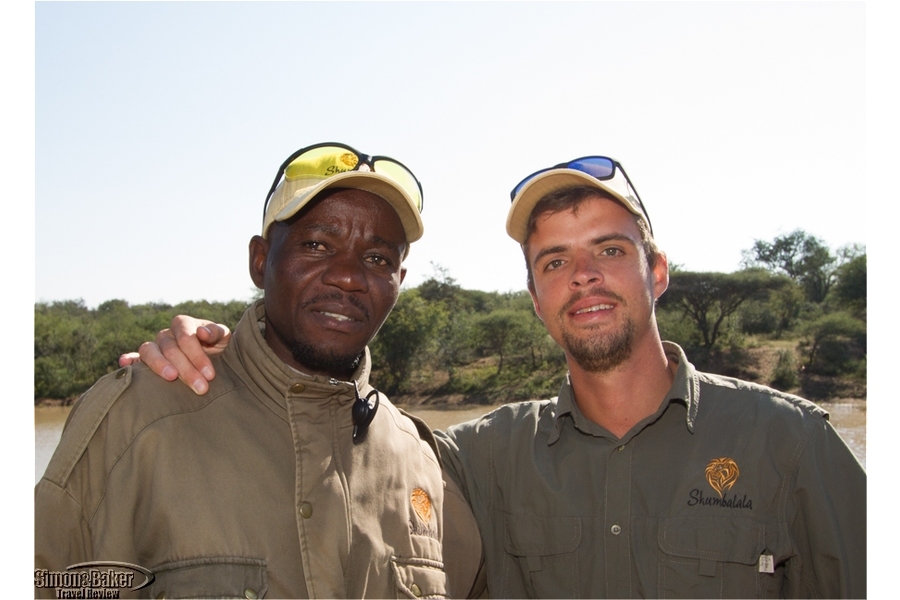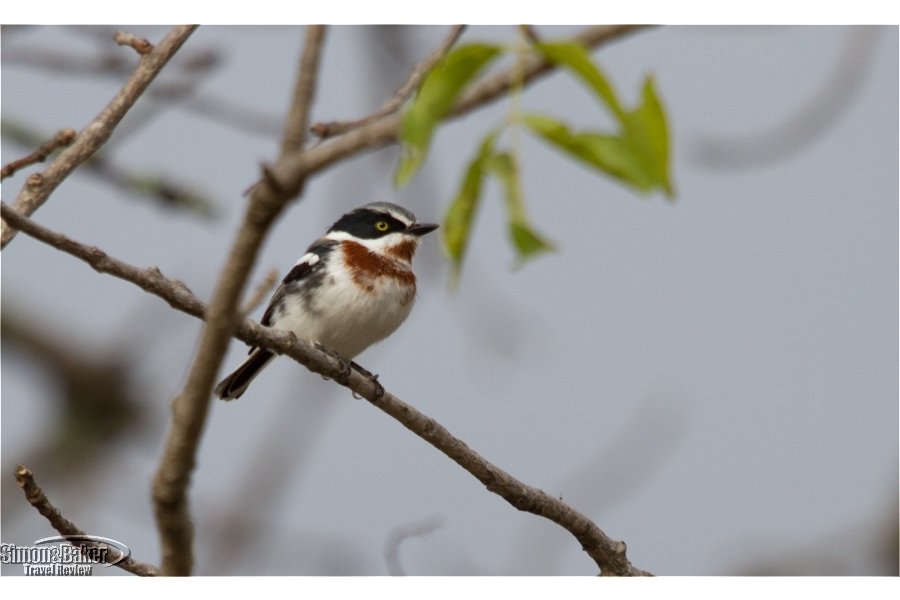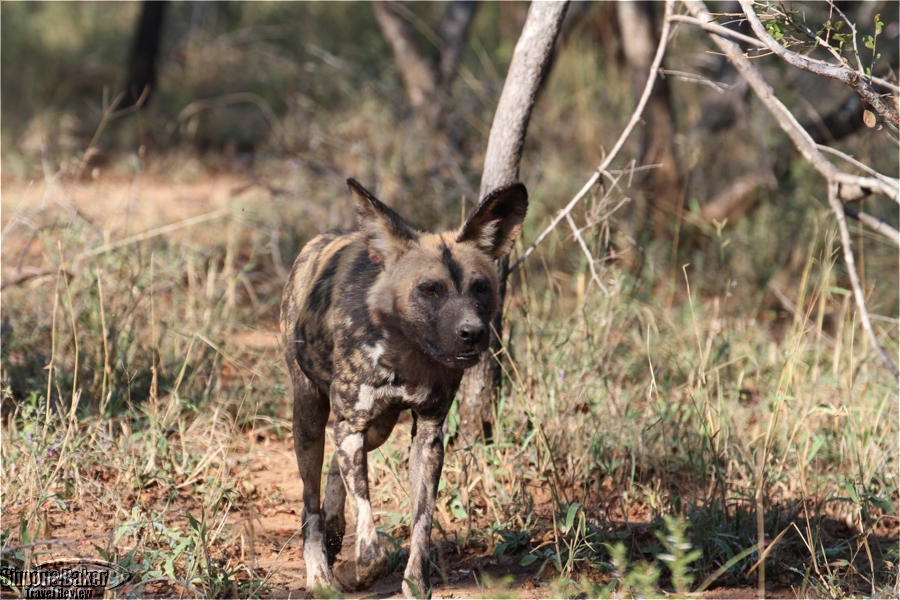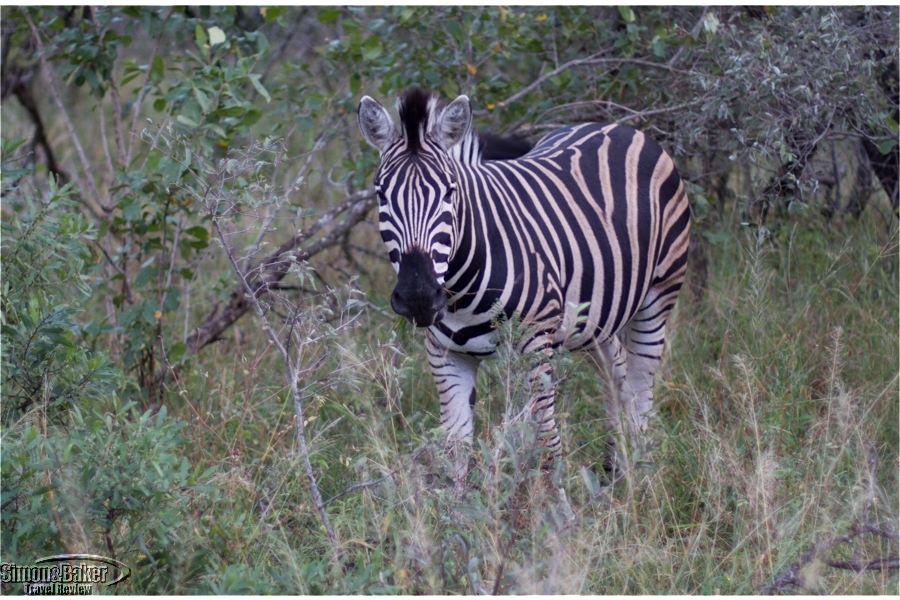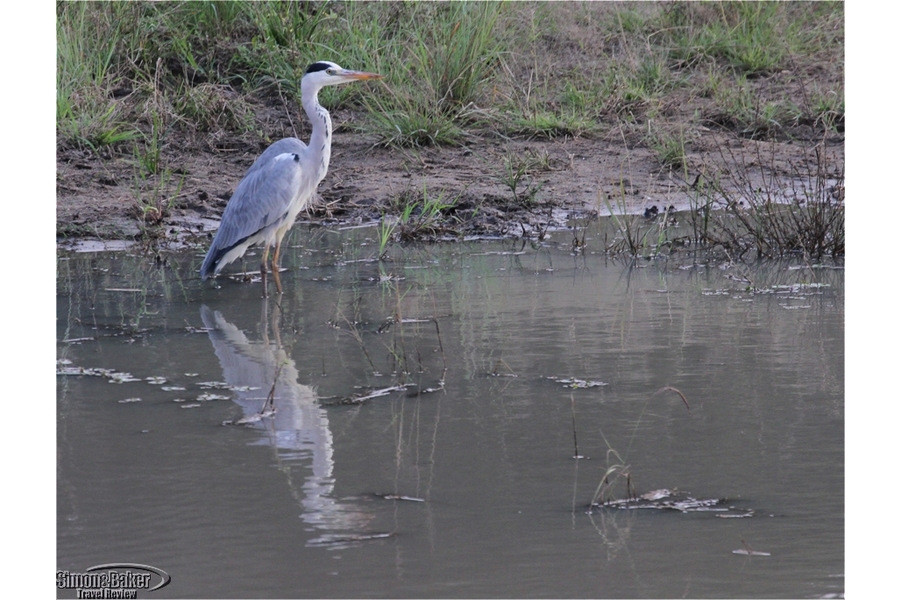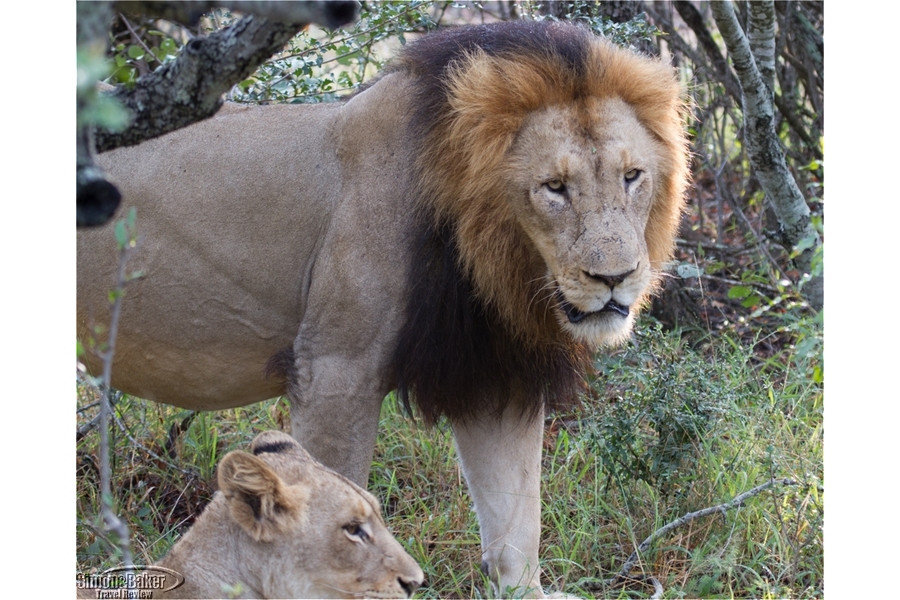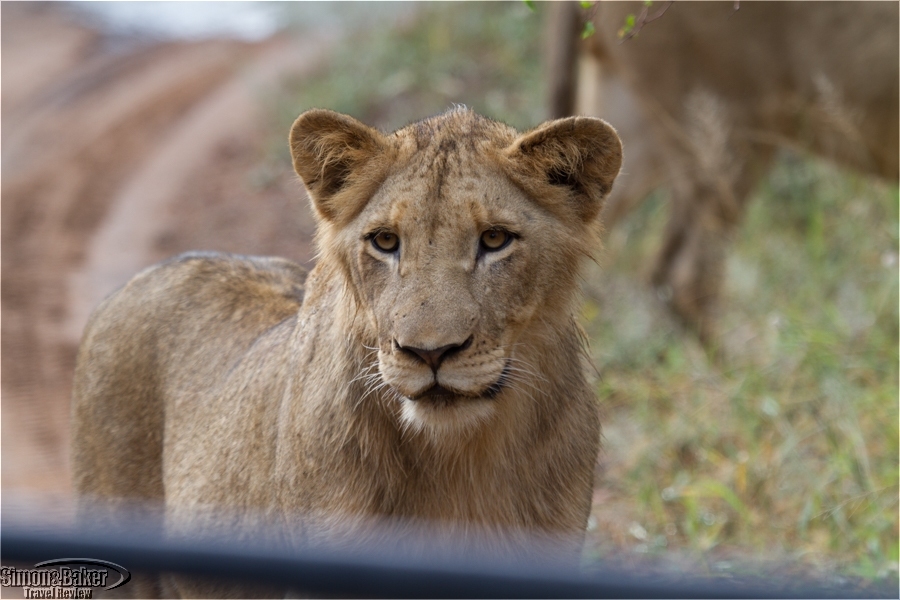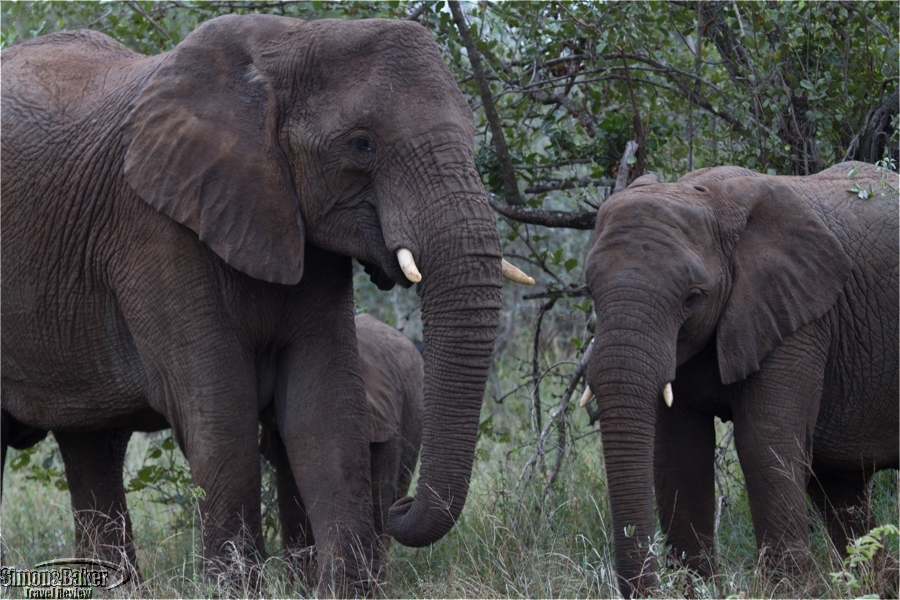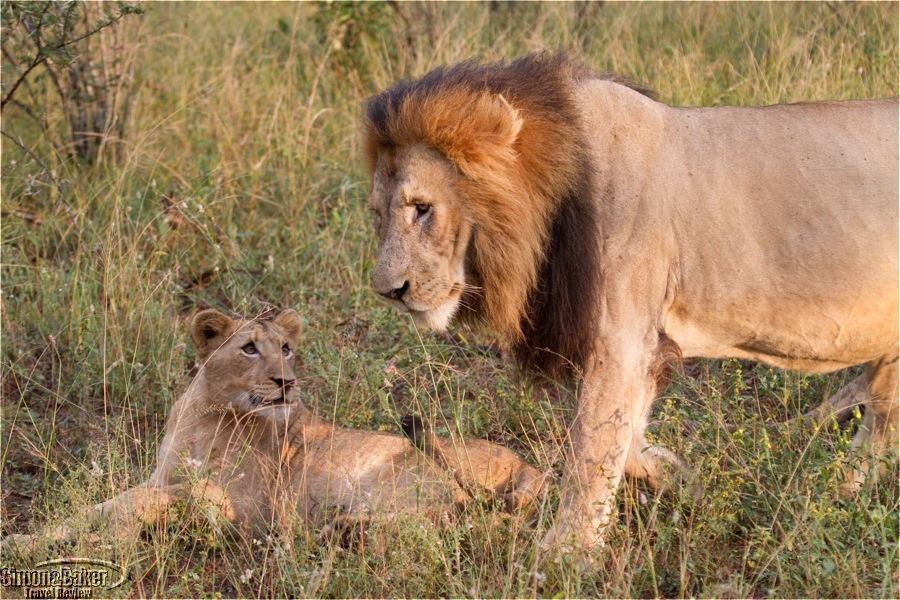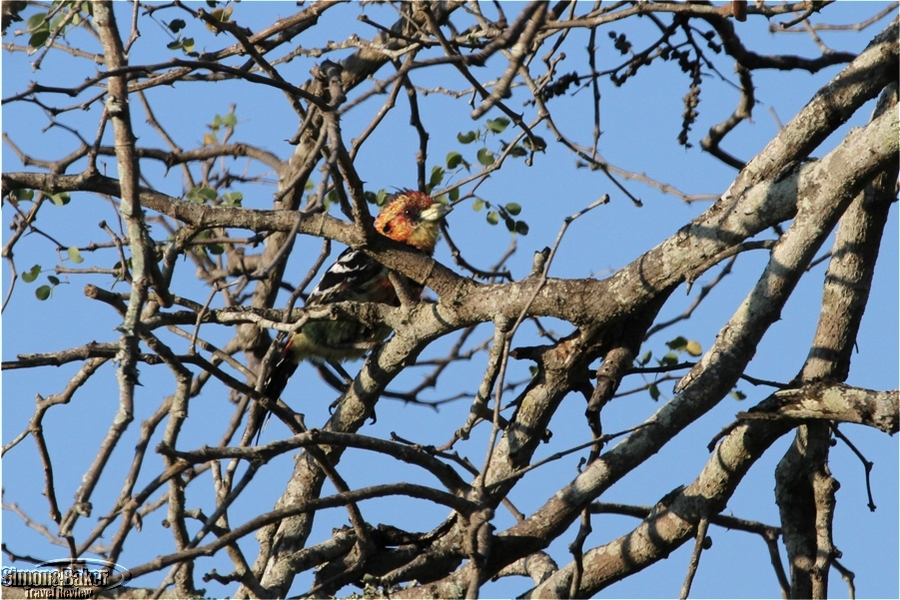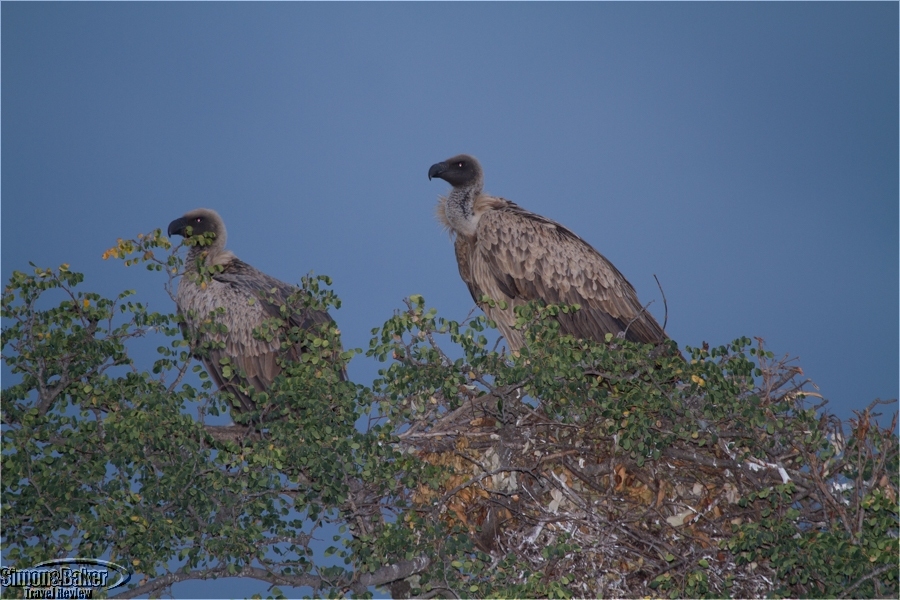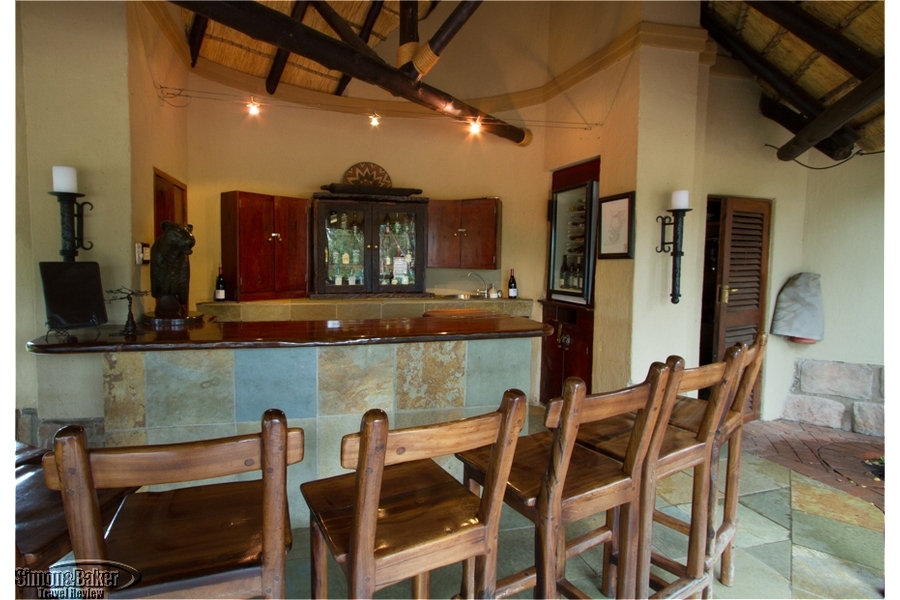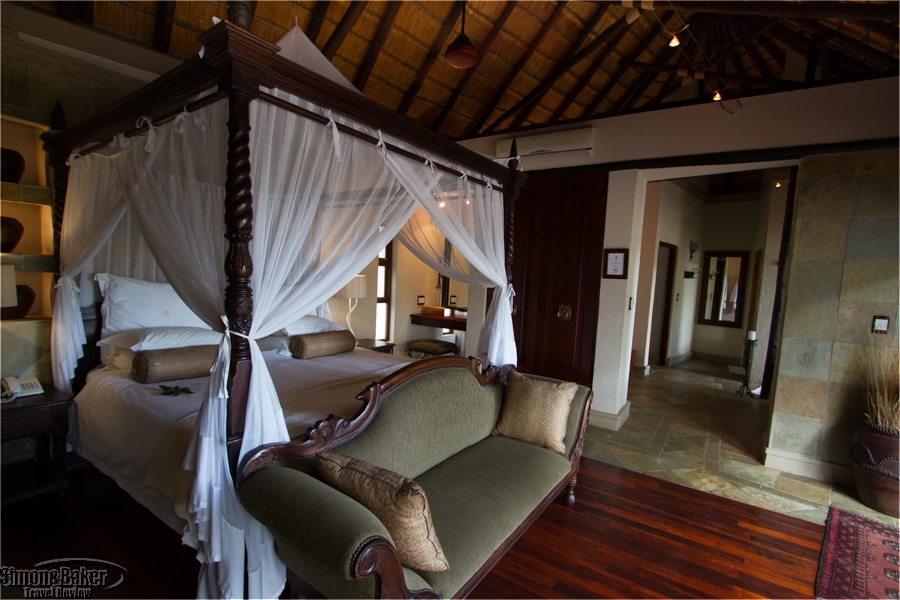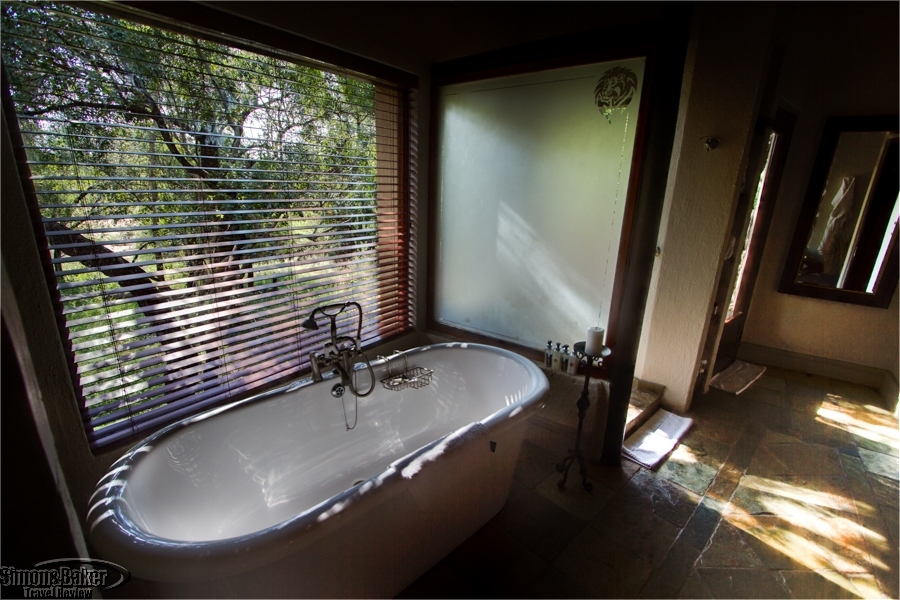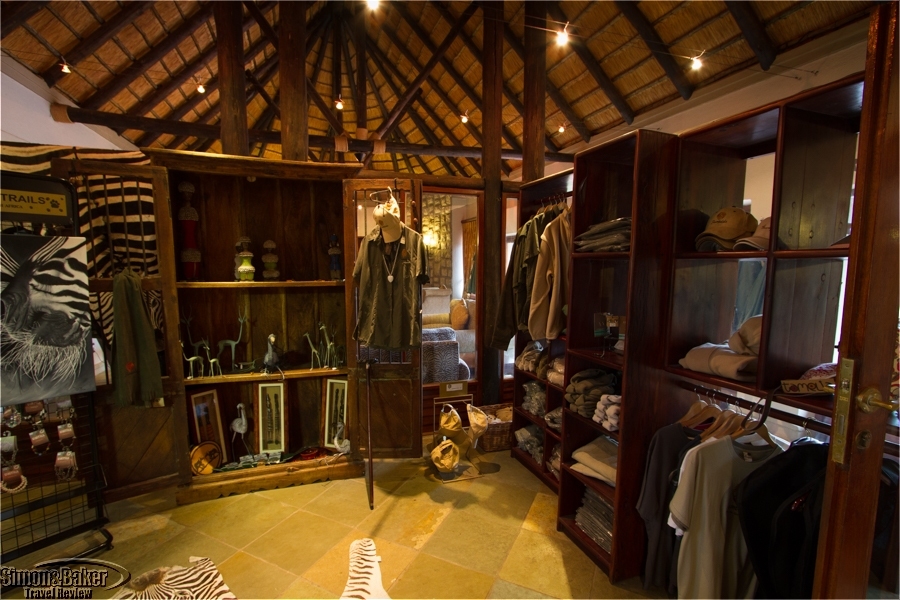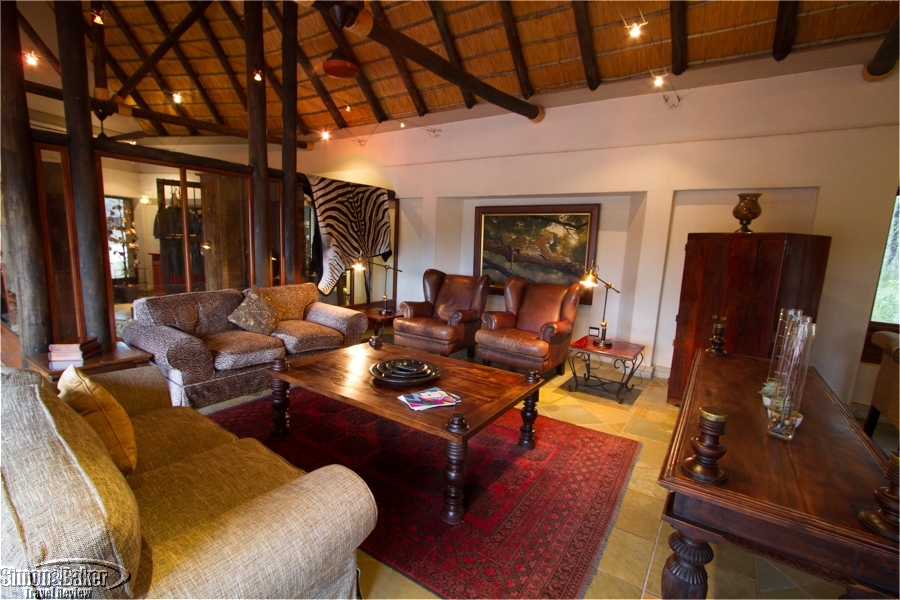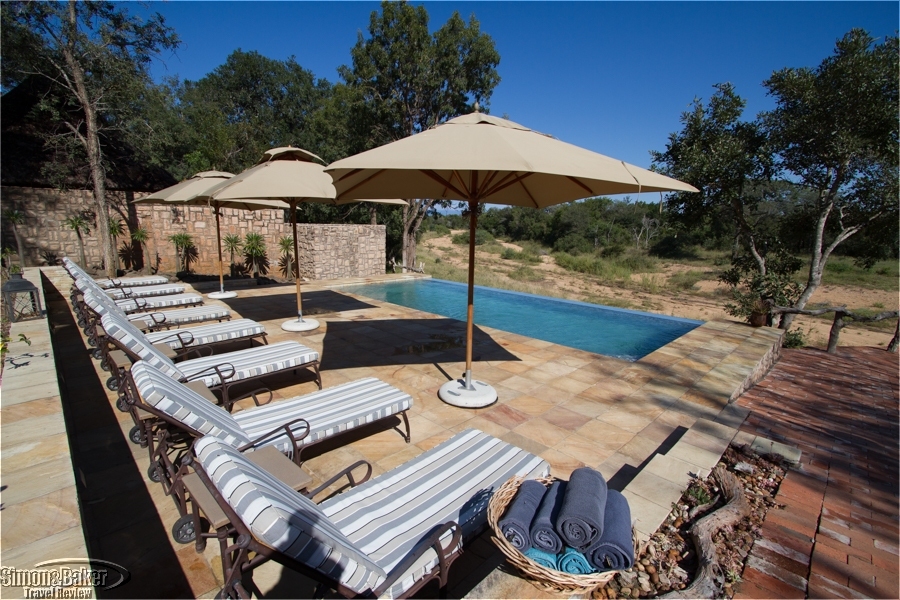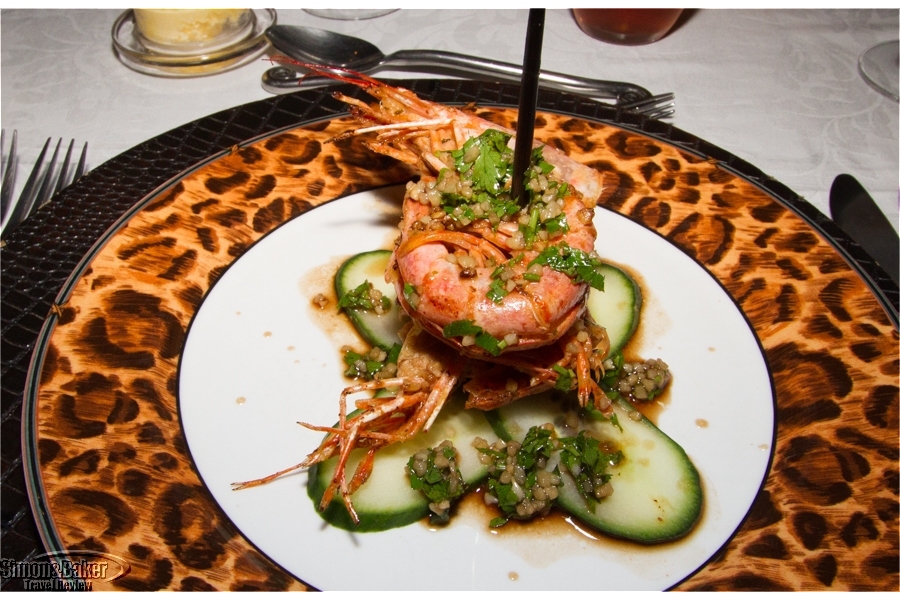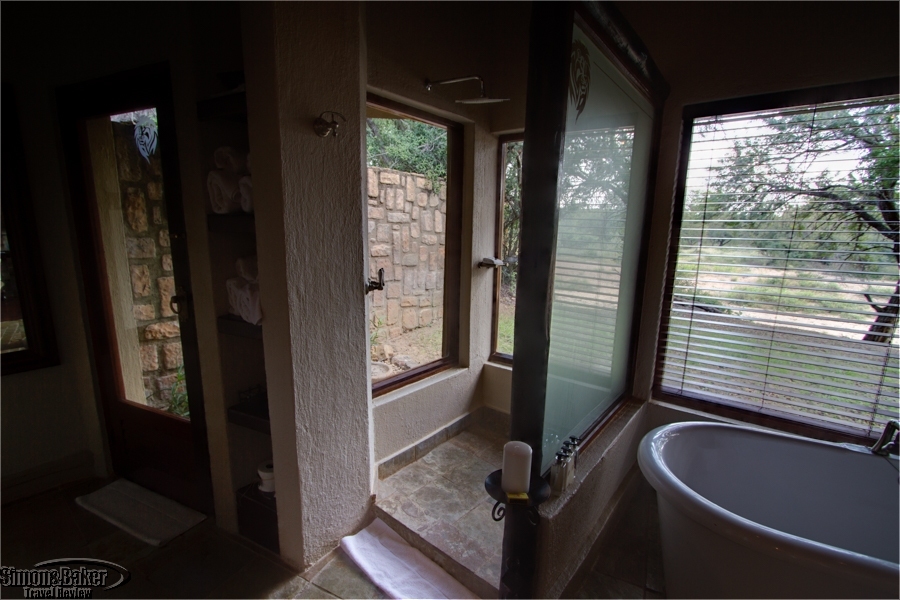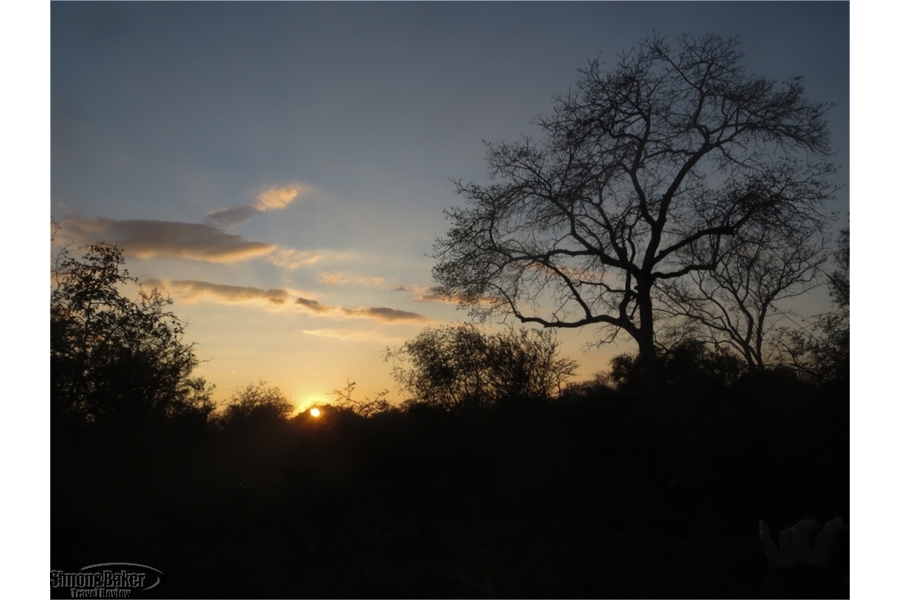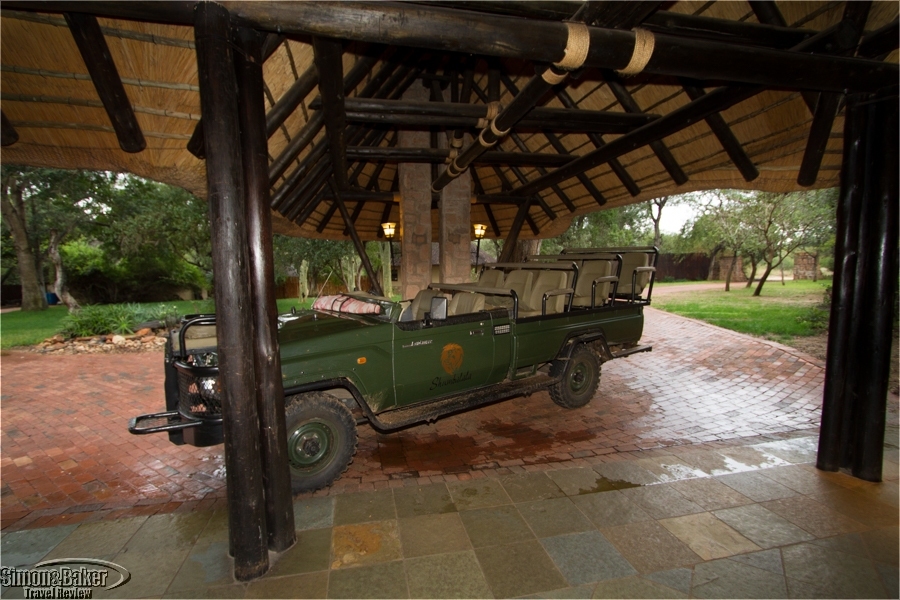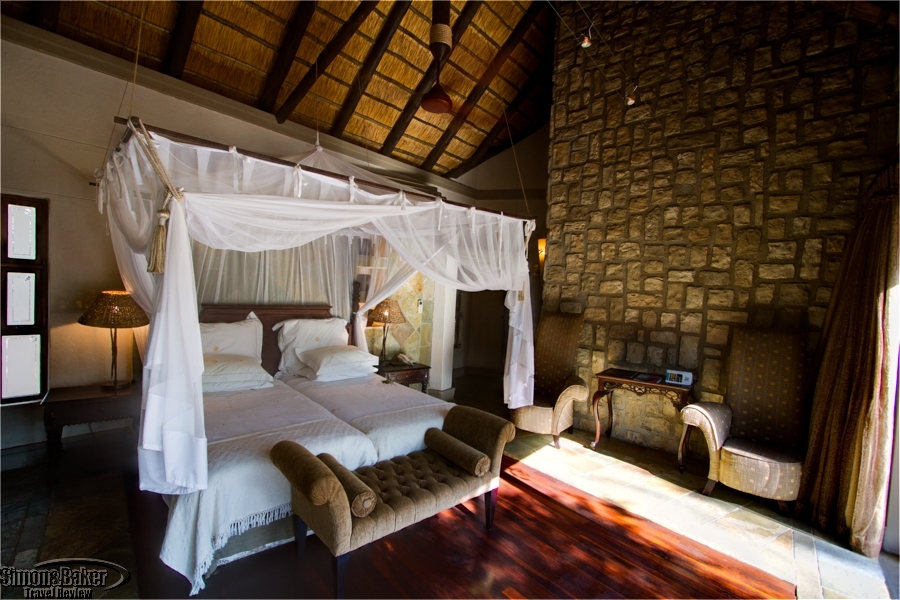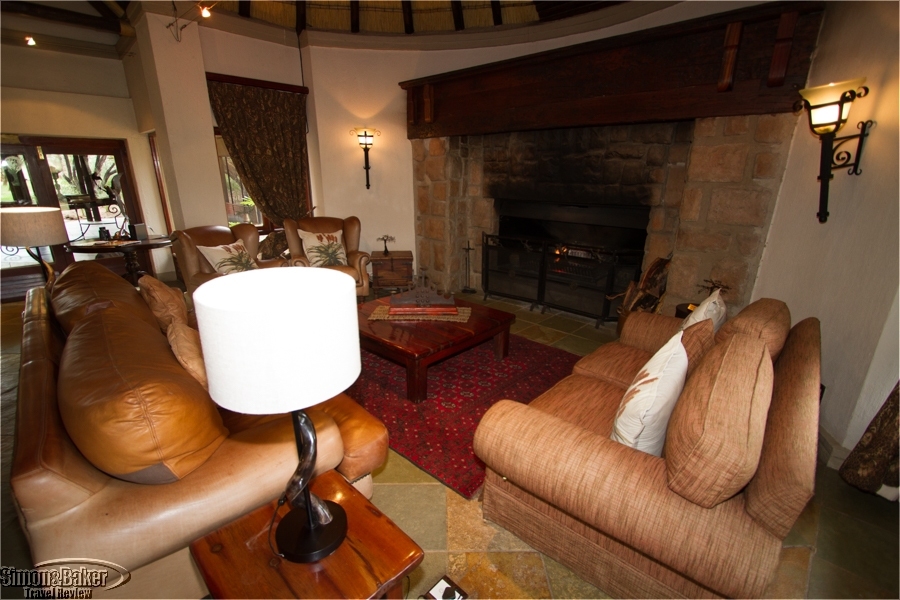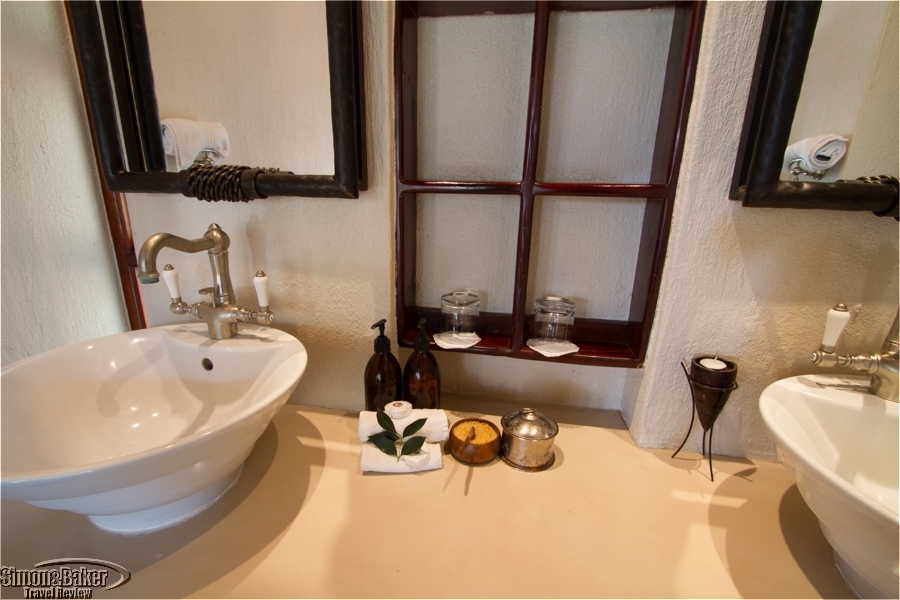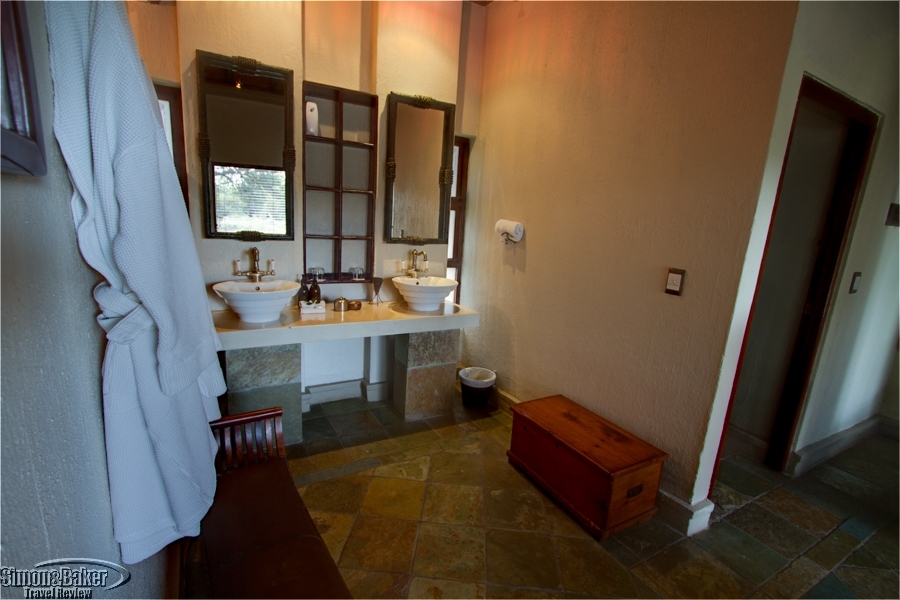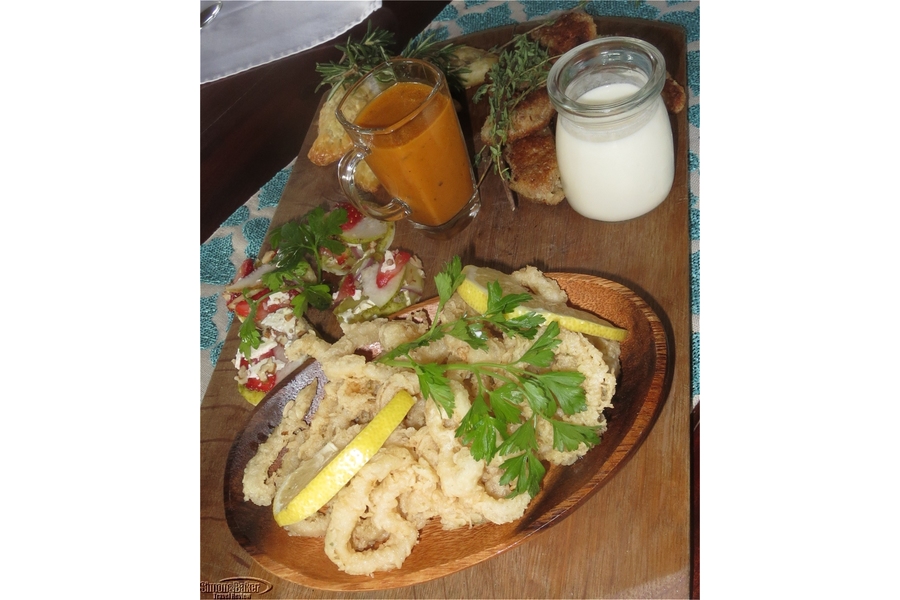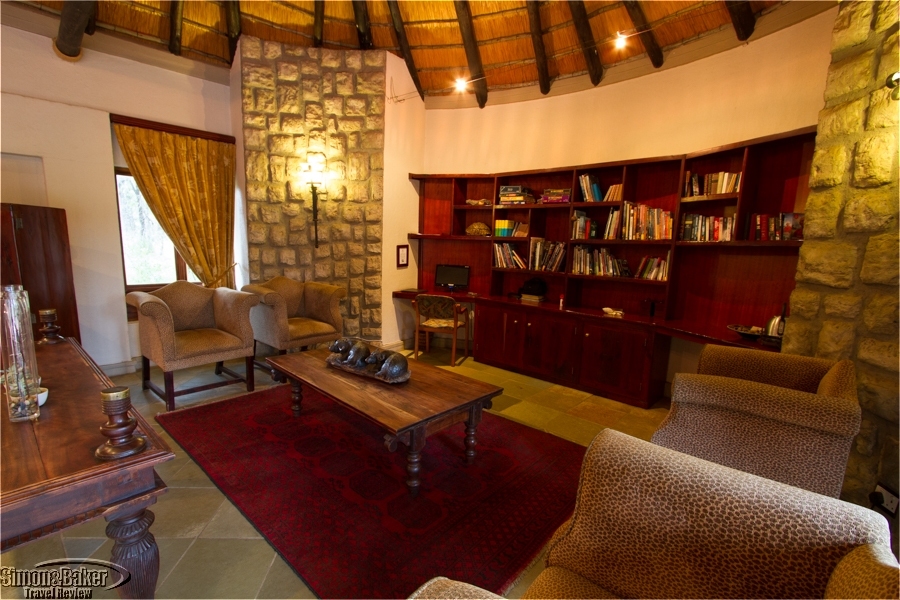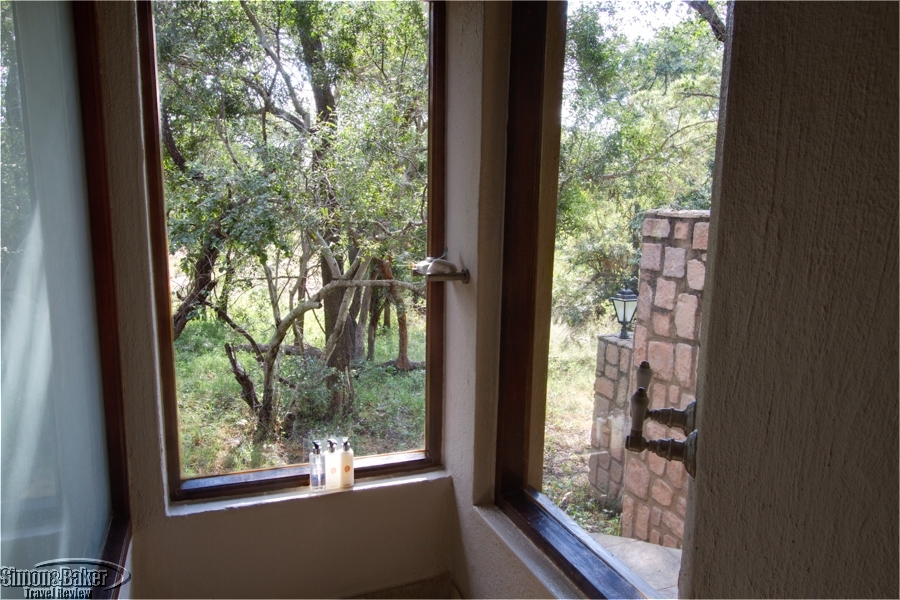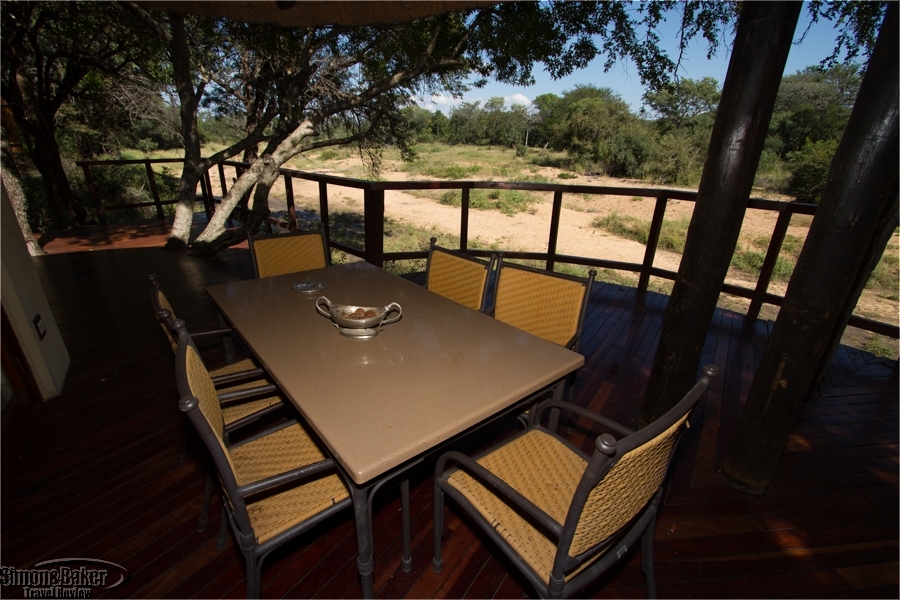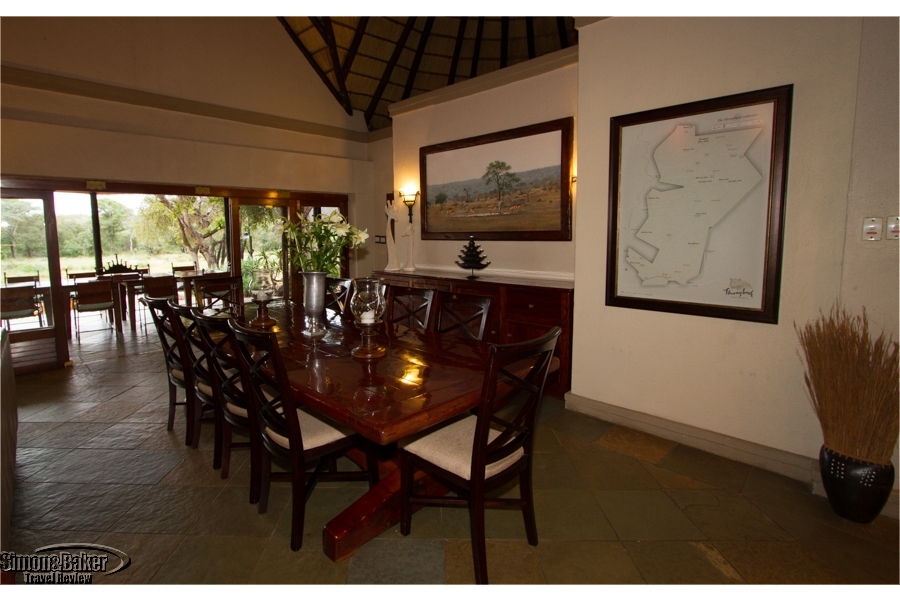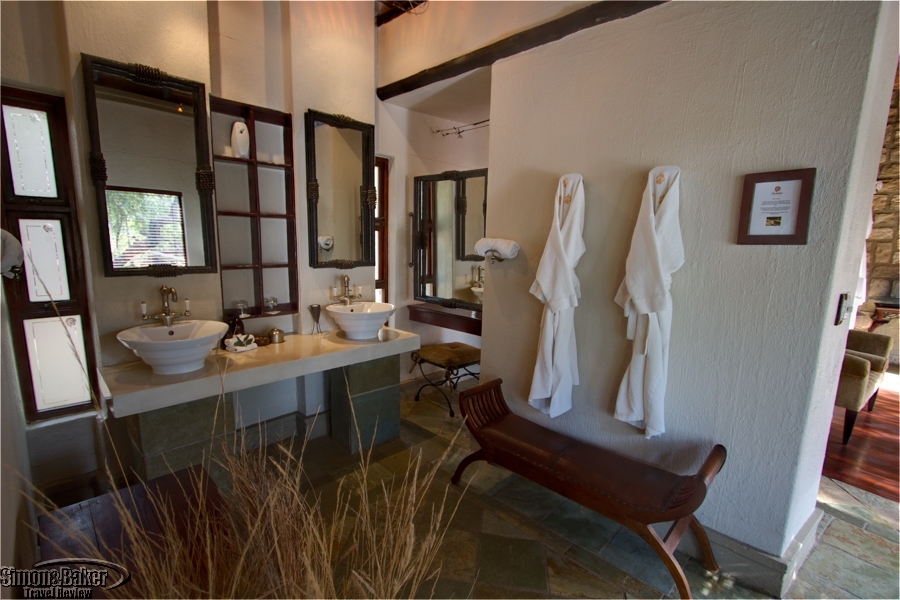 The property's desirable riverside location, handsome and spacious two-bedroom suite with private plunge pool, luxury features and rewarding Big Five game viewing place it on our short list within the Thornybush Nature Reserve.
Overall Impression
We liked Shumbalala Game Lodge, a luxury boutique safari property within the Thornybush Nature Reserve in South Africa, for many reasons not the least of which were our Big Five and rare wild dog sightings. Despite experiencing cold and rainy weather during most of our stay we left with a favorable impression and would gladly return. The name of the property was derived from the Shona language of Zimbabwe, shumba meaning lion and lala meaning to sleep or lie down, hence where the lion sleeps.
The pretty property was built facing the Monwana River, which added to its charm and bush appeal. Whether we were in the main area or in our expansive two-bedroom Presidential Suite the dry riverbed always drew our attention as did a manmade water hole on the opposite bank from the lodge. We liked the intimate and comfortable common spaces, lovingly tended gardens and original art. The spacious Presidential Suite was a good place to take refuge from inclement weather. Although monkeys climbed onto the suite deck, making it necessary to keep the doors closed at all times, the rooms in the suite had glass doors and glass walls that afforded us external views and filled the suite with muted sunlight. The crackling fire in the suite's big fireplace, lit thoughtfully by the staff, warmed the chilly air and lent the living room a romantic ambiance.
Thoughtful touches enhanced our well being. For example, the property had fleece lined water repellent jackets (a favorite) for guest use. The added layer combined with rain ponchos and hot water bottles on the early morning game drives went a long way toward taking the edge off the wet morning cold while we drove around in search of animals and birds to admire. It was the most comfortable early morning game drive I had the entire trip. And, despite the challenging weather game viewing at Shumbalala was outstanding. The property's desirable riverside location, handsome and spacious two-bedroom suite with private plunge pool, luxury features and rewarding Big Five game viewing place it on our short list within the Thornybush Nature Reserve.
Children
With pre-authorization the property welcomed children for guests staying in the Presidential Suite only. Rangers would customize activities for children in those cases. For safety reasons during Big Five sightings the Thornybush Nature Reserve only allowed children six years old and older on game drives. The property offered babysitting services.
Class of Accommodation Luxury Safari Five Star Boutique Lodge
Connectivity There was complimentary WiFi with an upload speed of two megabytes per second.
General Managers Victor and Jeandra Swan (Danielle was in charge during our stay)
Handicapped Access Yes, the property welcomed handicapped guests. According to a spokesperson, Shumbalala was the only handicapped friendly lodge within The Thornybush Collection; the property was graded by the Tourism Grading Council of South Africa as Wheelchair Assisted, able to accommodate handicapped guests traveling with an assistant or partner. There was a man in a wheelchair (traveling with his wife) at the property during our stay. One of the rooms was designed to accommodate handicapped guests. It had handlebars in the shower and toilet area.
Length of Stay Two nights
Location The property was 30 kilometers from Hoedspruit Airport inside the Thornybush Private Nature Reserve, which in turn was part of the Greater Kruger National Park area.
Number of Employees 16
Owned and managed Snyman, Maclaren-Taylor and Swan Family (Elsa and Keith Maclaren-Taylor, Noelle Snyman, and Victor and Jeandra Swan). The property was part of the Thornybush Collection, which handled reservations and marketing.
Size The two hectare property, part of a share block of 1,600 hectares, had four Suites and a two bedroom Presidential Suite. It was situated within a 14,000 hectare reserve to which it had full traversing rights.
Year Opened and Date of Most Recent Renovation The property opened in 1999 as a four star corporate camp. In 2001, the owners renovated it to the Five Star boutique hotel standard it had during our stay. Renovations were continuous, according to a spokesperson, and the most recent work onsite was the addition of a swimming pool in 2016.
Lobby and Common Areas
The property was decorated in a contemporary safari style with earth tones and original art. Guests arrived and departed via a porte cochere to an open air main area. It housed a living room with an oversize stone fireplace, common area bathroom, and kitchen. A taste for plants and flowers was evident in a fresh flower arrangement in the main building and pretty succulent plant garden features. A small gift shop, the manager's office and a cozy library and television room were steps away from the arrival foyer.
The owners sought to offer understated, timeless elegance with nature as the main focus. They commissioned original art by Johan Koch, and sculptures by Frank Miles and Richard Van Zyl. Elsa Maclarne-Taylor was responsible for the interior décor. From the main building a few steps led to a bar with eight bar stools. Next to it was a sitting room under roof adjacent to and with a broad view of the riverbed. A temperature controlled wine cellar with a glass wall and a splendid view of the riverbed was one level below.
Bathroom I liked that while the bathroom was spacious and well appointed its design drew my attention to the outside. Like the bedroom the bathroom had glass windows and doors facing the outdoors. There was a bathtub next to a window with a bush view. On the opposite side of the room there were twin sinks atop a polished concrete counter, beneath identical rectangular wood framed mirrors. Against the wall there was a wood and leather bench and a wood cabinet where the staff stored bed linen. Next to the bathtub there was a doorless walk in shower with two large glass windows facing the bush. Next to the shower there was a glass and wood door leading to an outdoor shower under roof also with a view to the bush. The toilet was in an enclosure of its own with a frosted glass and wood door.
Room
We stayed in the 225 square meter two bedroom (each bedroom was 75 square meters), two bathroom Presidential Suite, a standalone structure. It was well appointed and furnished for comfort. To reach it we followed a brick paved path from the main building to the double glass doors of our suite, the last one in the pathway. The suite was divided into two main areas, indoors and outdoors as well as three main interior areas, two bedrooms and a shared common living and dining space. We entered into a dining room. Behind it, sharing a large stone fireplace, was a living room. There was a bedroom on either side of the main area. The bedroom doors had large, noisy metal doorknobs. Because of the wind that filtered inside they would bang if we didn't latch them closed. All the doors and windows had to be closed and locked to keep monkeys out.
Like the rest of the property, the suite was decorated in earth tones and safari style. The building had a thatched roof, high ceilings and stone tile flooring. The side facing the river had many glass and glass and wood doors opening onto exterior decks. The temperature was controlled by wall-mounted air conditioning and heating units and ceiling fans. At night the staff provided us water bottles. Sunlight filtered in through the sliding glass doors and windows during the day. When we needed artificial light there were dimmer controlled track lights and lamps. When the air conditioner was off I could hear staff voices inside my room. The living area was chilly when strong wind penetrated indoors and there was no heat source when the fireplace wasn't lit.
The center of the dining room was taken up by a rectangular wood table and eight armless wicker chairs. There were built-in wood cabinets on either side of the room set against the wall, a wet bar, hot beverage items including a water pitcher, and a stocked mini refrigerator. The living room was furnished with twin leather armchairs; an oversize, rectangular wood coffee table atop an area rug; a green fabric love seat framed by identical square wood end tables, and four wood and leather stools. On either side of the dining and living room there was an external garden feature visible through floor to ceiling glass walls.
The bedrooms were mirror images of each other. Each one was divided into two areas, the bedroom and the bathroom without a door between them. A fourposter bed with synthetic pillows, a synthetic fibre bedcover and a mosquito canopy above it occupied the center of the room. The mosquito net had holes and hung above the ground, which meant the mosquitoes could an fly inside through the bottom. Fortunately, there were no mosquitoes. The bed was framed by identical rectangular wood night tables with lamps and a telephone (only for internal calls). There was a bench at the foot of the bed. On one side, set against the wall, there was a rectangular wood table framed by two cushioned high back chairs. On the opposite side of the room there was a vanity with a rectangular wood framed mirror and a cushioned metal stool. There was hanging and shelf space in a built-in wood closet. The room on the right side had a clear view from the bed to its private deck as well as the fire pit common deck of the suite.
The covered deck, on the outside of the living room, was furnished with a dining table for six. On the other side of the deck, there were four wicker lounge chairs facing a private plunge pool. The rectangular plunge pool was 3 meters by 1.5 meters in size and 1.5 meters deep. A remote control made it possible to slide a retractable floor cover over the plunge pool so seamlessly we would not have known it was there had the staff not pointed it out. There was a fire pit with four wicker armchairs. Because of the rainy weather we made no use of the deck and plunge pool.
Food
We sat at our own table for meals. Staff served breakfast on our return from the morning game drive. In lieu of lunch there was a small afternoon tea buffet at 2:45 p.m. The kitchen was able to accommodate vegetarian and gluten free dietary requirements with ease. At tea there were individual servings of spicy tomato soup, open faced cucumber and tomato bites, breaded chicken strips with a white sauce, fried calamari, a salad and two types of petit fours. The only beverage was sweet iced lemonade. During tea the manager took our dinner order, which was plated. There were two choices for starters and three choices for mains, including vegetarian options. We sampled the ostrich carpaccio starter, and for mains vegetable curry and beef served with vegetables and potato wedges.
Breakfast consisted of a cold buffet with two types of yogurt (each in a bowl), muesli, nuts (sunflower, pumpkin, pecans), dried fruit (banana chips, raisins, mango), deli meats (two types of ham, salami), cheese platter, banana bread and soft bread, juice, mini pancakes, jams. There was a fresh fruit cup (a favorite). Made to order egg dishes were available with sides of mushroom, beef sausage, bacon, tomatoes, sliced bell peppers and onions. One morning, the daily special was French toast with sauteed bananas and cinnamon topped with crispy bacon.
Danielle, the daughter of one of the owners, was the head cook. While she had no formal education she was "passionate about fresh ingredients, quality food and presentation." Dishes were served on modern dinnerware. She, Jeanette and Maggi were in charge of the food service. Dinners were five courses. The meal style was simple, with an emphasis on basics, cooking from scratch, and alfresco dining. Breakfast was served in the open air area under roof facing the fire pit. Tea was served in the sitting room adjacent to the bar facing the river, and for dinner we were seated in the same place as breakfast once, and indoors by the fire the second time. Our favorite setting was by the extra large fireplace in the main building.
Amenities
The suite price included meals, morning and afternoon game drives, snacks during game drives, bottled water, coffee, and tea (there was a hot beverage service in the suite and following our stay the property added Nespresso coffee machines to all the rooms). All other beverages, minibar items, and laundry were priced individually. On our return from game drives there were moist towels and in the evening there was sherry. There were house brand toiletries in refillable plastic bottles (shampoo, conditioner, body lotion, individual size soap) and bath salts. In each bedroom there were two cotton bathrobes, slippers, mosquito repellent, electronic safe, property folder, two property postcards, and notepad. At turndown, the staff left a one-page bush short story (Why Warthog is so Ugly; Why Rhino Scatters His Dung), a bottle of water and a bite-size nougat.
Our suite included a complimentary a 750 milliliter bottle of sparkling brut rose Kleine Zalze wine, sherry, tray of snacks (potato chips, cashews, dry sausages), and a fresh fruit bowl (bananas, green grapes, papaya, pineapple, plums, apples). For the musically inclined there was a Sony CD and iPod player with speakers and a nano with prerecorded music. There was a computer for guest use in the library.
Facilities There was a lookout deck overlooking the waterhole, library with television and book exchange titles, bar, Rimflow swimming pool overlooking the dry riverbed, wine cellar and small gift shop.
Pool In the main area, there was an attractive infinity edge main swimming pool 10 meters by 5 meters and 1.6 meters deep. There were eight lounge chairs and three large umbrellas facing the pool, the dry riverbed and the bush.
Shop A small curio shop next to the manager's office sold branded clothing, costume jewelry, and a few souvenirs. Most of the items were made in South Africa and ranged in price from 20 rand to 20,000 rand.
Game Viewing
Our ranger, Edward Reynolds, was Fields Guides of South Africa (FGSA) Level One and Advanced Birding Certified, and a Full Trails Guide. He was also a reptile enthusiast. Our tracker was Alfred Sithole.
We saw the following animals: buffalo, Burchell's zebra, bush baby, elephants, grey duiker, hippopotamus, impala, leopard, lion, nyala, tree squirrel, vervet monkey, warthog, white rhinoceros, wildebeest, Wild dog.
We saw the following insects: African monarch butterfly, Gaudy commodore butterfly.
We saw or heard the following birds: African grey hornbill, blacksmith lapwing, blue waxbill, Burchell's starling, Cape turtle dove, chanting goshawk, crested barbet, crested francolin, dark chanting goshawk, fork-tailed drongo, freckled nightjar, go-away-bird, green woodhoopoe, grey heron, hammerkop, lilac-breasted roller, magpie shrike, purple indigobird, red billed hornbill, redbilled oxpecker, southern yellow-billed hornbill, spotted eagle-owl, Swainson's spurfowl, Wahlberg's eagle, white-backed vulture, yellow-billed hornbill, Chinspot batis, Eagle snake brown, Yellow breasted appalis, Southern white tit.
Activities The activities on offer were twice daily game drives in an open Toyota LandCruiser safari vehicle, in the early morning around dawn and in the late afternoon around sunset. We went on four game drives, some in pouring rain. During half of our stay we shared the vehicle with another couple. A handicapped guest sat in the front seat next to our ranger. The other took up the entire front row, leaving the second and third rows of the vehicle empty. Our ranger kept in touch with other rangers in the area using a silent radio system.
Other
Our road transfer to the property required that our transfer service drop us off at a The Thornybush Collection sister property 15 minutes away. From there our guide and tracker picked us up in a safari vehicle and transferred us to Shumbalala. As with all the safari properties we visited in South Africa, Shumbalala required as part of checking into the property that we sign an exhaustive indemnity release.
The water from the tap was potable. Check out was at 10 a.m. There was loud frog song at night. The property recycled whenever possible and gray water was rerouted into the bush. Staff were planning an on-site herb garden. The property supported Eleos, a nonprofit organization based in Johannesburg, by fundraising on its behalf, and selling some of their souvenirs in the shop. As part of The Thornybush Collection, Shumbalala supported several local organizations.
The property was privately owned and part of Equisite Country Lodges, which included the Franschhoek Country House & Villas, a sister hotel in the village of Franschhoek in the Western Cape.
Cleanliness
Very good
Date of Last Visit May 2017
Reviewers
Article by Elena del Valle
Photos by Gary Cox
Service Danielle welcomed us with a moist towel and a serving of sherry to warm us after the early evening game drives. Our suite was serviced twice a day, in the morning and in the evening for turndown service. Sarah, who looked after us, was efficient and guest oriented.
Would You Stay Again? Yes
Contact Information
Address:

Shumbalala Game Lodge
Thornybush Reserve Guernsey
Limpopo, South Africa

Phone:

Lodge +27 (0)79 545 3140
Reservations +27 (11) 253 6500

Website:
Email: