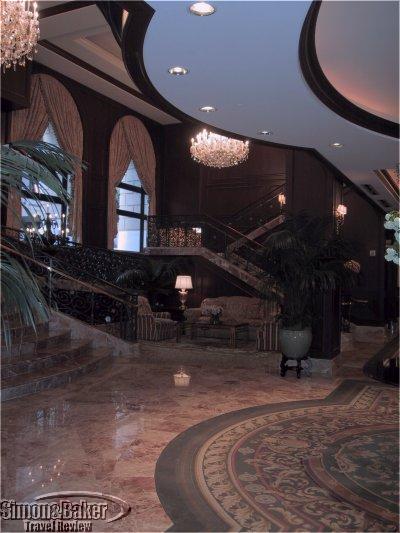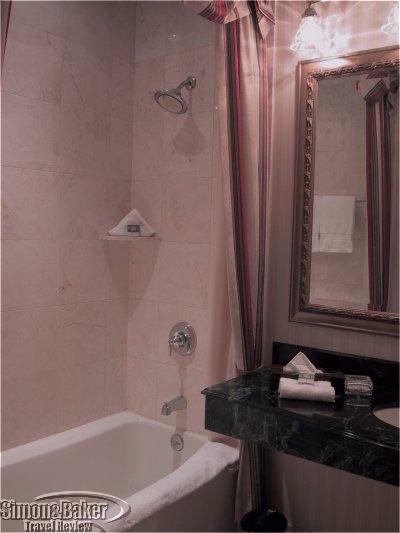 Feeling welcome and knowing there is always someone available to answer questions, lend a hand with restaurant recommendations reservations, directions, and all those little things than can make the difference between an ok stay a truly enjoyable one.
Overall Impression : We will remember the Omni San Francisco for its many desirable qualities, especially its friendly, proactive, helpful, enthusiastic service oriented staff. Feeling welcome and knowing there is always someone available to answer questions, lend a hand with restaurant recommendations reservations, directions, and all those little things than can make the difference between an ok stay a truly enjoyable one.
Concierge
all 10 front office staff shared concierge duties (Megan was immensely helpful and knowledgeable about the San Francisco area)
Connectivity Our room offered complimentary T-1 high speed connectivity and complimentary wireless access. There was a convenient hook-up (and cable) on the desk including two power outlets. We used one to charge our laptop computer.
General Manager : Mike Casey
Handicapped Access public areas constructed to allow handicapped access. Some rooms were specially designed for the "physically challenged." Elevator buttons included Braille letters. Wheelchairs were available upon request. Management: "We are completely handicapped accessible. Our building is completely equipped and we also offer special rooms with roll-in showers, and light/noise sensitive devices."
Length Of Stay two nights
Location in heart of San Francisco financial district and adjacent to China Town
Owned-Managed Bob Rowling
Pets Allowed Pets under 25 lbs were welcome
Size 362 rooms
Year Opened-Renovated Opened in 2001
Lobby And Common Areas contemporary decor with a nostalgic touch. Features included a two story "light and airy" lobby atrium, and a "secret garden" exterior terrace adjacent to the Grand Ballroom
Bathroom
included marble features, two sinks a phone and sliding door.
Room Our 499-square foot King Size Signature room on the 16th floor was spotless and comfortable. From the window we could see the bay. It featured a king bed with a glass covered wood night table and lamp on each side of the bed, flower patterned gold color curtains, flower patterned wall paper, two line phone with speaker, HP printer, glass covered wood desk, gold and red striped fabric chair, entertainment center with Panasonic DVD player, Panasonic 19 inch remote controlled tv, well stocked minibar, coffee machine (and instant tea bags), Bose radio/alarm, green flower pattern chair, foot rest, and stool, small wood glass covered table with a bowl of complimentary fruit and Fiji bottled water. The closet had extra a blanket and pillow, ironing equipment and an electronic safe.
Food And Restaurants 24-hour room service, Bob's Steak & Chop House, winner of the Di RoNa Award every year since 1999. These awards are presented to gourmet restaurants inspected anonymously "that exemplify culinary excellence in all aspects of fine dining from the making of a reservation to the final presentation of the check."
Amenities
Complimentary San Francisco Chronicle in the morning, fruit and bottled water (on the 16th floor), cotton bathrobes, slippers, Swiss brand toiletries including shampoo, conditioner, body lotion, mouthwash, bath salts, bath gel, cotton swabs, make-up mirror, blow drier.
Facilities Bob's Steak & Chop House restaurant, bar, fitness center, and business center.
Pool No
Fitness Center
the hotel 's fitness center, complimentary to guests, was accessible with the room key 24 hours a day. It offered Cybex strength training equipment, a circuit training program and a free weight area. We counted 14 machines including three ellipticals. There was a self service section with complimentary towels, fruit, newspapers, magazines, hot coffee and bottled water.
For a small fee ($15) guests could have a treadmill brought to their rooms. Ours was set up when we arrived (we requested it in advance) including a gym bag with small weights, a floor mat, bottled water and two work out towels. Having the treadmill in the room was an added luxury we greatly appreciated, especially in the early morning hours when the fitness center was crowded.
Conference Facilities
For meetings and special events, the Omni offered a 2,800 square-foot ballroom featuring 15-foot ceilings and 960 square-feet of pre-function space, for gatherings of up to 230 guests; a 12-person boardroom with an arched window overlooking the cable car line, audio/visual equipment and ergonomic seating.
Other Most of the financial district shuts down on the weekend including shops. We liked that because it meant traffic, noise and congestion were minimal. Though we had our own computer, it was nice to know there was a small room in the lobby (across from the front desk) with two computers, high speed T-1 Internet access, fax machine, printer and photocopier. It was open 24 hours a day seven days a week.
For families, the Omni Kids Program welcomed children with Jumbo activity books, crayons and loaner backpacks filled with puzzles, books and games for use during their stay. Parking was available through the Hotel's valet service for $45 per night.
Check-In-Check-Out Process Ease
excellent, with no wait
Cleanliness excellent
Date Of Review April 2005
Reviewers Article and Copyrighted Photos by Elena del Valle
Service Service was exceptional. Our room was serviced twice daily: in the morning and a turn-down service in the early evening. Megan at the front desk and Milton from housekeeping stood out for their outgoing and helpful attitude.
Would You Stay There Again? Yes
Contact Information
Address:
500 California Street
San Francisco , CA 94101
Phone:
Fax:
Website: