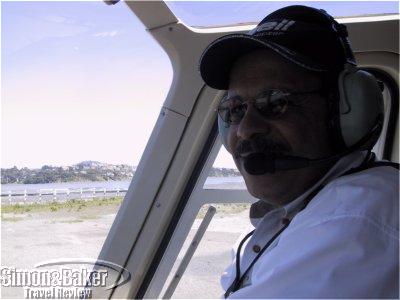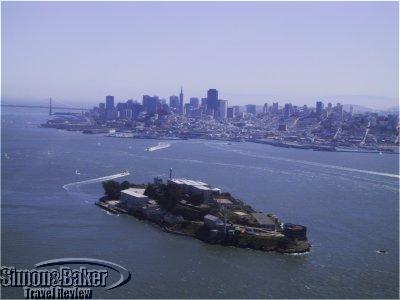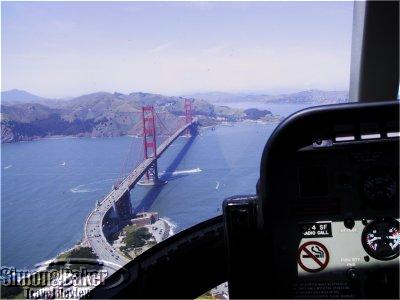 The flight enhanced our visit and made us appreciate the wonders of San Francisco even more. We will encourage our friends to take this scenic flight whenever they visit this famous "city by the Bay."
Overall Impression
We rushed from a cross country flight that departed before sunrise to arrive in San Francisco, collect our rental car (no small feat at the San Francisco airport) and check-in just before our 12:30 p.m. San Francisco Helicopter Tours van pick up. We were a bit miffed to find all the rushing, concern about find out hotel in time, checking in and missing out on lunch to discover the driver was 20 minutes late. A final pick up in a San Francisco hotel, saw twelve of us headed across the Golden Gate bridge to ritzy Marin County in a nearly full van.
After the first batch of six went for their half hour ride, it was our turn. It was wonderful! Seeing the bay area and San Francisco from above on the clear sky cool spring day was memorable. Ron, our pilot, handled the metal bird effortlessly (or so it seemed to us). We flew over well known landmarks including the Muir Woods, downtown San Fran, saw Angel Island and its many hikers, affluent Tiburon and Belvedere, and circled Alcatraz.
Our half-an-hour long flight ended at San Francisco International airport when the pilot touched down gently on a wooden landing pad. A waiting van drove us back to our respective hotels. In spite of the bumpy beginning, our overall experience was positive and worth repeating. Though it was a windy day, we could barely notice the strong winds, even during a marvelous over-and-under flight of the Golden Gate Bridge at 150 mph! The flight enhanced our visit and made us appreciate the wonders of San Francisco even more. We will encourage our friends to take this scenic flight whenever they visit this famous "city by the Bay."
Average Duration Of Visit
Our flight lasted 30 minutes thought the whole process took about three hours
Established In 1976
Handicapped Access They accommodated handicapped guests "from time to time." Wheelchair bound passengers interested in a tour, must able to sit in an aircraft seat (wheelchairs didn't fit inside the helicopter) and be accompanied by someone to assist them, if needed, into the aircraft.
Helicopters There were three Bell helicopters, one with seating for four passengers; two helicopters could accommodate six passengers. Our flight was on a 1999 Bell Helicopter, Model 206L-4.
Location One facility was at the Executive Terminal near SFO and another was in Sausalito Marin County, across the Golden Gate Bridge from San Francisco. We departed from Sausalito and landed at the San Francisco airport.
Owned-Managed John and Teri McClelland
Pilots There was one full-time pilot and three part-time ones. Pilots were factory trained and reviewed by the FAA on an annual basis. They attended the Bell Helicopter School in Dallas yearly. Ron Carter, was the pilot the day we toured the San Francisco sky. He worked part-time as a helicopter pilot and had more than 2500 hours of flying experience over 11 years
Size There were eight staff.
Transportation They provided roundtrip transport of passengers from major San Francisco hotels and back.
Tours They offered custom tours and charters, special itineraries for corporate outings, personal celebrations or incentive events such as golf in Monterey, business meeting at the Ritz in Half Moon Bay or lunch in the Alexander Valley. It was possible to book transfers and individual or small group tours. There were also packages with partners; one including a scenic dinner-dance cruise on the bay and the other, a bistro style lunch in the wine country with a tasting. Flights operated daily and year-round. Transportation from downtown and wharf hotels was included. Tours ranged from 20 minutes to five hours.
Other San Francisco Helicopters Tours boasted that "Coaches and facilities meet the highest standards in the commercial tour industry." Voice activated headsets allowed passengers to hear and speak with the pilot. There was background music choreographed to match the tour narration. We liked that the flights were available seven days a week and almost every day of the year.
Date Of Review
April 2005
Reviewers © 2003 Simon and Baker, Inc.
Article and Copyrighted Photos by Elena del Valle
Would You Ride On This Attraction Again? Yes
Contact Information
Address:

P.O. Box 280776
San Francisco, CA 94128-0776

Phone:
Fax:
Website:
Email: