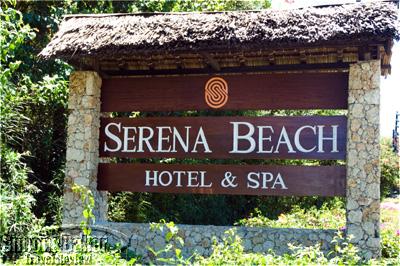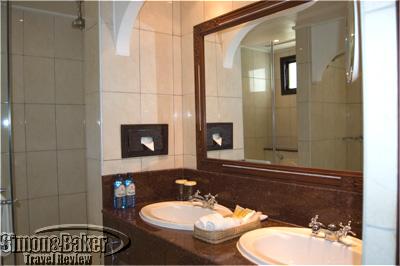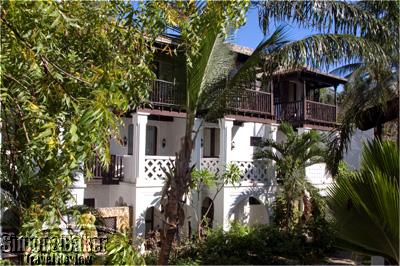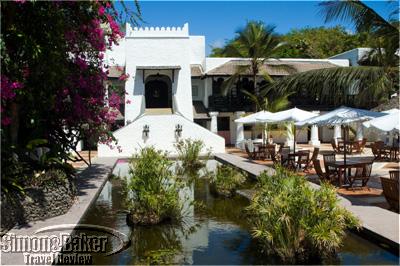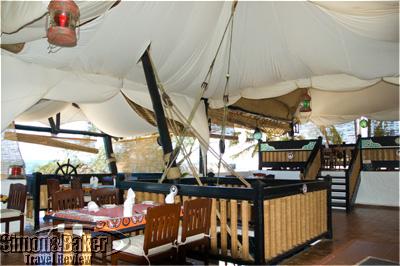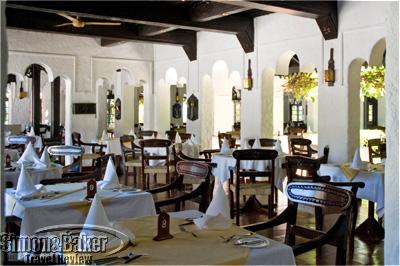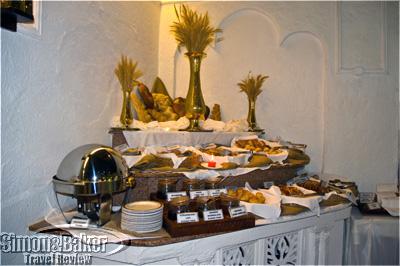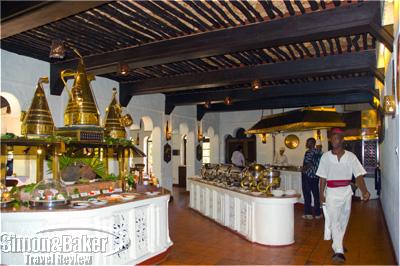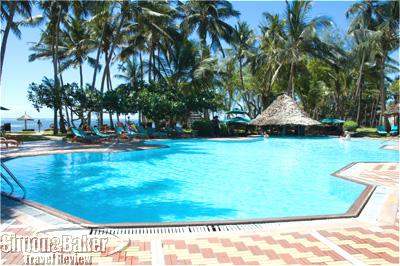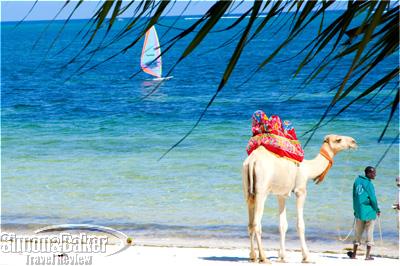 But I will also keep it in mind as a destination onto itself for a seashore holiday and a base for an exploration of the historic Swahili cities and ruins of the East African Coast.
Overall Impression
Inspired by the rich architectural tradition of the East African coast, the Serena Beach Hotel stretched along the Indian Ocean shoreline with the exotic appeal of an ancient Swahili town. The property was divided into picturesque clusters of whitewashed two- and three-story buildings, with a central core of elegant public spaces. The reception hall set the mood. Its intricately carved portal led into a cool soaring foyer with lush oriental rugs scattered about the gleaming stone floor. To the left of the entrance the wall behind the long marble-topped reception desk was covered with rows upon rows of letterbox-shaped slots, exact replicas of those found in the harems of Swahili homes until the 19
th
century. Now, they made unusual key receptacles. On both sides of the hall, tall pillars led the eye to the far end of the building and the low staircase rising to a landing with a panoramic view of the sun-washed terraces and galleried lounges facing the palm-shaded beach and the cerulean blue sea beyond.
The guest rooms, their deep, intricately carved wooden balconies and fretwork screens overlooking courtyards shaded by blooming bougainvilleas and frangipani trees, were haphazardly lined along narrow stone-paved alleyways winding toward the sea. Although the cool seclusion of my balcony was an enticement to linger and enjoy the abundant population of jewel-like birds and the antics of the vervet monkeys bickering in the trees, the lure of the beach was irresistible. The Serena was graced with a seemingly endless frontage of manicured lawns and soaring palm trees overlooking a wide, creamy sand beach and the gentle surf of the Mombasa Marine National Park and Reserve, a 80 square mile (210 square kilometer) environment of shimmering waters and pristine beaches. In the distance, a roll of whitecaps announced the famed coral reef laying a short 15-minute boat ride away. Friendly local sailors in their picturesque ngawalas (traditional local trimarans made from the trunks of mango trees) and small dug out mtumbwi (Swahili for canoe) seemed always ready to negotiate a fair price to ferry us to the reef.
Along with its timeless arabesque charm, the Serena Beach delivered all the up-to-the-minute conveyances of an international luxury property, including efficient in-room air-conditioning, wireless Internet access throughout the property and superb service, infallibly attentive to my comfort and interests. It was this thoughtful attention that presented me with one of the most memorable experiences of my visit. Early on, I had expressed interest in the hotel's involvement in a project to protect the nesting sites of migratory sea turtles. As I was leaving the restaurant after dinner on the last night of my visit, I was intercepted by a staff member who informed me that a large number of eggs from the endangered green sea turtle had been salvaged from an exposed area further up the coast. They were being settled in a safe nest on the property. Did I care to participate? I did! I was immediately escorted to the site and introduced to the biologist in charge, David Olendo, Ph.D. Under his guidance, I spent the next hour digging the sand and helping to deposit 140 eggs in their nest, wishing that I could be there in 60 days to see the hatchlings make their dash to the sea.
While the Serena Beach Hotel was a large property that could host travelers on family vacations, its expansive grounds and low profile, rambling village layout made for a private and serene environment. I found it an outstanding place to relax for a few days before the start of a strenuous safari itinerary. But I will also keep it in mind as a destination onto itself for a seashore holiday and a base for an exploration of the historic Swahili cities and ruins of the East African Coast.
Class Of Accommodation
Five star luxury resort
Concierge Ali Muhashamy
Connectivity My quad-band cell phone was fully functional on the property and in the greater Mombasa area. At the hotel, WiFi Internet access was available in my room and in the public areas, for a daily charge of 1,000 Kenyan shillings (about $13 )
General Manager Charles Muia
Handicapped Access Some ground-floor guest rooms were wheel-chair friendly.
Length Of Stay Three nights
Location On Shanzu Beach on the Indian Ocean coast, 12 miles (20 kilometers) north from the centre of Mombasa, the main port city of Kenya in east Africa. Moi International Airport was 18 miles (30 kilometers) to the west, a 40-minute drive away.
Owned-Managed Tourism Promotion Services Eastern Africa, Ltd (TPS). The Aga Khan Fund for Economic Development (AKFED) was the majority shareholder.
Restaurants There were three restaurants on the property, to accommodate a broad range of dining styles. The Fountain, the main restaurant, was open for breakfast, lunch and dinner. Breakfast was served from 7 A.M. to 10 A.M. It was a lavish buffet style affair with a baked goods and local jams display that was a work of art. It featured freshly baked brioches that could rival any I have enjoyed in Paris. This sorely tested my resolve, as an endless cold buffet followed, filled with exotic fruits and juices, international cheeses, delicious hams and other charcuteries that were hard to resist. It was followed by an equally tempting hot buffet with interesting Swahili dishes that showcased the Indian and Arabian influence of the cuisine. Selection was sweet torture, especially as a few steps further, two chefs stood at the ready to whip up any egg concoction on demand! And did I mention the complimentary champagne? I trust lunch was equally delicious, but after such morning excesses, I thought it best to forgo lunch. Dinner was à-la-carte most evenings and buffet-style on Tuesdays and Fridays. Menu was international with French influences and local flavors and consistently delicious.
A short walk from the common areas, the elegant El Jahazi Grill sat at the edge of the beach. The restaurant was built to resemble a traditional Swahili dhow, complete with sanded decks, painted prow and lashed sails. Jahazi Grill menu specialized in freshly caught seafood. With choices including crab, squid, lobster, prawns and a wide variety of local ocean fish, I once again found myself hard pressed to make a decision (the grilled squid won out in the end. Superb!).
For guests looking for a quick snack or casual meal, the palm-thatched Sokoni coffee shop served fresh-baked pizzas and other international light fare. It was open from 11:30 A.M. until early evening.
Size The 62 acre (25 hectare) property featured 164 rooms in two and three level structures arranged village-style around spacious common areas, along a one-and-a-quarter mile (two kilometer) beach. The resort could accommodate a maximum of 340 guests. It employed a staff of 285.
Year Open-Renovated The property opened in 1973. It was fully renovated in 2005.
Lobby And Common Areas The atmosphere of the common areas was that of Arabian palace. It had an impressive whitewashed reception with soaring pillars holding a traditional two-story high coral limestone ceiling. Arabic furnishings and rugs enhanced the mood. At the far end of the hall, a short flight of stairs led to airy bar and lounge areas on either side of the terraced landing. Further to the right, a large restaurant (The Fountain) built around a central square fountain opened on three sides onto trellised terraces overlooked the gardens, the pool and the beach. On the ground floor, an ornamental fishpond was filled with aquatic plants. It bordered Sokoni Plaza, which was designed to resemble a Swahili market place. Its geometric terra cotta floor held square wooden tables shaded with white canvas market umbrellas and surrounded by chairs with thick indigo blue cushions. It was the Nyota Terrace Bar, a lovely place to settle with a book and enjoy the gentle sea breeze. At night, some of the tables vanished to make room for a dance floor while others remained for guests who prefer to sit and enjoy the exotic rhythms of local bands. On the opposite side of the plaza, a palm-thatched dining area featured a casual dining menu during the day.
Bathroom
The 85 square foot (8 square meter) bathroom included a deep bathtub in an arched alcove. The separate large, glass-enclosed shower on the opposite wall featured a ceiling-mounted rain shower head. The commode was concealed behind the tub alcove. The double-sink vanity was a rich brown marble top. A mirror ran the width of the vanity wall.
Room Located in the Village area, styled to resemble the back streets of the historic island town of Lamu, my 300 square foot (28 square meter) room, Number 21, was a pleasing combination of Lamu-style Arabian elegance and modern conveniences. A carved-base ebony king-size platform bed included a headboard upholstered in crimson and white local fabric and built-in side tables. Above the bed, the whitewashed rough plaster wall featured a rectangular niche displaying a carved wood panel. It was flanked by the two brass lanterns that served as bedside lights. At night, the entire bed area was enclosed in a walk-in mosquito net. Sliding glass doors leading to the balcony were draped in white cotton with crimson trim. In front of the them, two wooden armchairs with red and white cushions were separated by a round side table. Lighting was provided by a tall wooden floor lamp painted with stripes of primary colors, topped by an oversized white shade. The wall opposite the bed held a writing desk with a wooden chair topped by a wall mirror, a bureau and a cabinet holding a mini bar that also served as a base for the television set. On the interior wall, the four-door floor-to-ceiling closet was faced with intricate dark fretwork. A mahogany chest with brass inlays doubled as a luggage stand. Floor covering was pale taupe ceramic tile covered by two crimson bedside runners. Yellow and red toss pillows on the bed and armchairs provided additional bright touches. The ceiling was traditional Swahili white coral limestone separated by dark red-stained mangrove pole.
Amenities
Room amenities included a welcome fruit basket upon arrival, daily newspaper, satellite television with several major international channels, coffee maker with an assortment of coffees and teas, bottled water, terry cloth bedroom slippers, in-room electronic safe, and mosquito room-spray. Bathroom amenities included toiletries by Taylor of London: bath and shower gel, hand and body cream, shampoo and facial soap; shower cap, oversized bath towels and two thick terry bathrobes. There were also complimentary recreational activities: use of a fully equipped health club, tennis and squash courts, butterfly nature walks on property and shuttle services into Mombasa Town.
Beach Shanzu beach outlined the frontage of the hotel property. It was part of the Mombasa Marine National Park and Reserve, established to protect the marine and coastal environments of the Indian Ocean territorial waters, including the coral reef running less than half-a-mile (one kilometer) off-shore, the prolific marine life it sustained and the immediate hinterland areas that border the ocean.
A few souvenir vendors displayed their wares market-style on the beach, mainly unremarkable wood carvings and cotton sarongs at inflated prices, inviting negotiation. They were accredited by the local authorities who regulated their number and hours of operations (9 A.M, to 6 P.M.). Each one wore an official identification badge,
Business Center Basic business services (fax, copier, computer for web access) were available. Secretarial services could also be arranged. A meeting room with seating for up to 35 classroom or 50 theater style was available.
Facilities There was a swimming pool, a children's wading pool, an ice cream parlor, bar and billiard room, a spa with separate male and female facilities, a fitness studio, a hair salon, squash and tennis courts, a gift shop and a business center.
Gift Shop The large and well stocked gift boutique featured a good assortment of well-priced casual resort wear and t-shirts, quality local crafts, ethnic jewelry and traditional gifts, as well as basic personal hygiene products.
Pool At the center of the coconut-palm shaded grounds overlooking the ocean, a free-form Olympic-length swimming pool was a focal point of the property. It was surrounded by a broad apron in tiled geometric stripes of beige and brown. Dozens of lounge chairs with thick brown pads were scattered around the pool area and on the lush lawn that separated it from the beach. At the far end of the pool a thatched "swim-up" bar served exotic cocktail concoctions. Vigilant pool attendants were on hand with stacks of bright turquoise beach towels.
Spa The Maisha Spa offered a variety of treatments and massages in its a superbly serene and luxuriously appointed facility, re-opened after a complete renovation in 2007. It was comprised of four treatment rooms, each with its own private outdoor shower and beautifully landscaped courtyard; a yoga podium suspended over a reflective pool of water, and a special treatment and relaxation area for couples. Click here to read dedicated article about the Maisha Spa.
Other
The Serena Beach Hotel was committed to responsible tourism practices, including promoting staff from within the Serena organization. A number of the management team began their career as restaurant staff and front desk clerks. The hotel also strongly supported the local community. The property was originally built and continued to be maintained using local materials and craftsmen. Interior décor made extensive use of local art, crafts and furniture and much of the woodwork was made by the members of the Association for the Physically Disabled of Kenya. A majority of the hotel staff and visiting entertainers were drawn from the local community. Much of the fresh foodstuffs served in the restaurants was locally produced and procured, including all the seafood that was bought from accredited local suppliers.
The hotel had recently set up an impressive butterfly project, which aimed to provide breeding areas for 12 species of endangered forest butterflies. The butterflies were hatched as larvae and developed into fully-fledged butterflies within the carefully constructed confines of the breeding houses, which were planted with foliage specific to the breeding and feeding habits of the various species. Once sufficient numbers of each species had been reared, selected groups were released into the hotel grounds to fulfill their ecological function (and contribute to the enjoyment of the guests).
The hotel cooperated with the Kenya Sea Turtle Conservation Committee on a rescue and conservation project that aimed to protect the nesting and feeding sites of seven species of migratory turtles. The program's objectives were to reduce the incidence of captured turtles by trawlers and fishing nets, curb the exploitation of turtle meat, shells and eggs and protect the hatching cycle of the baby turtles.
The Mombasa Serena Beach Hotel and Spa was a member of the Leading Hotels of the World
Cleanliness
Excellent
Date Of Review October 2008
Reviewers Article and photographs by Josette King
Service Every member of the staff and management team with whom I came in contact during my stay was consistently attentive, friendly and professional. My room was serviced twice per day.
Would You Stay There Again? Yes