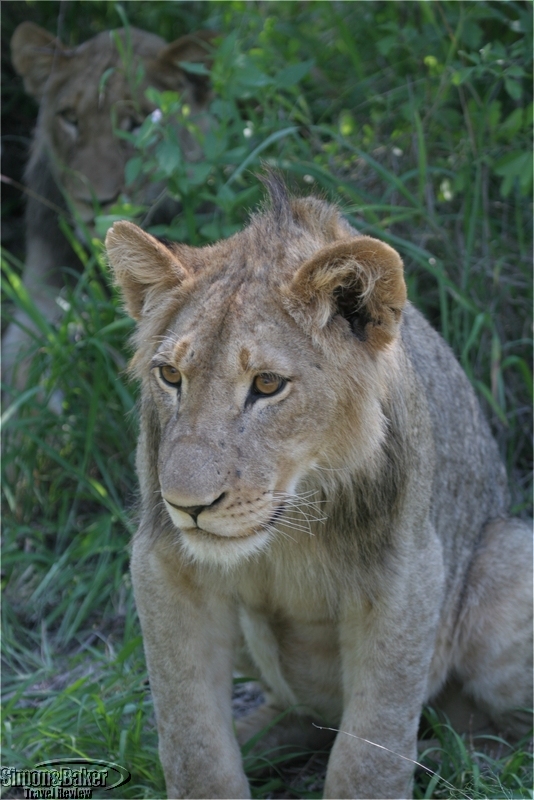 In addition to chance encounters with animals in the camp and excellent viewing from the waterhole facing camp deck, we liked Selati's twice daily game viewing drives with an enthusiastic guide, spacious suite accommodations and luxury oriented game viewing lodge experience in an attractive, intimate and quiet setting.
Overall Impression
Selati Camp, one of four Sabi Sabi Reserve properties, was decorated with a nostalgic railroad theme. The Sabi Sabi Reserve was situated within the larger Sabi Sand Reserve, an unfenced Big Five private game reserve neighbouring the world famous Kruger National Park. The Sabi Sabi Reserve is home to open areas, woodlands, sloping hills, rivers and pans resulting in an environment with abundant game and excellent game viewing opportunities. In addition to the comfortable accommodations and quality game viewing we enjoyed during our visit, what made Selati stand out for me were two special in camp game viewing moments.
One of my fondest memories of elephants takes me back to an afternoon shower outdoors at Selati Camp. Why you may wonder was I showering in the afternoon and outdoors? Outdoor showers are one of the pleasures of a bush visit. Dawn and dusk game viewing make early morning and evening showers, especially outdoor ones, inconvenient so when we're in a game viewing property we usually shower at midday or indoors in the evening.
The outdoor shower and bath area of our Selati suite, set in a concrete terrace behind our suite, was spacious and roofless. The bush facing enclosure was partly, though to my delight, not completely private. One afternoon as I enjoyed a hot shower, a mother elephant and her young son fed comfortably just 20 feet away. They knew I was there and watched me briefly. After a few minutes when we exchanged wary looks we settled into a relaxed understanding and went about our business. I finished my shower quietly and without sudden movements; they continued feeding, allowing me to enjoy the sighting for a little while.
Earlier that afternoon as I was sitting in the suite's outdoor wood deck meditating, several female antelope approached the deck while feeding. Two of them were just feet away below and across the railing. From where I was sitting I could see them clearly. It's rare to be so close to wild antelope, especially in the absence of a game viewing vehicle. These in camp experiences, unique in my many game viewing trips and outings, reminded me why I love the African bush.
While we were at Selati we appreciated the opportunity to meet and chat with fellow travellers from various parts of the world including Germany, Russia, Spain, United States, Switzerland and France. In addition to chance encounters with animals in the camp and excellent viewing from the waterhole facing camp deck, we liked Selati's twice daily game viewing drives with an enthusiastic guide, spacious suite accommodations and luxury oriented game viewing lodge experience in an attractive, intimate and quiet setting.
Class Of Accommodation
A five star luxury game viewing lodge
Established-Renovated Sabi Sabi was acquired in 1978 and opened shortly after that. In 2007, some of the common areas of Selati Camp were renovated and refurbished. The Farmhouse Kitchen was redone, a new viewing deck was built and new décor with soft furnishings were added.
Handicapped Access Guests with handicaps were welcome, although there were no special facilities.
Internet Connectivity Although there was no Internet access on site, on request guests could visit a sister property and make use of a computer with high speed Internet access.
Length Of Stay Three nights
Managed Carol Chamberlain
Owned Hilton and Jacqui Loon
Pets For safety reasons, no pets are allowed in the Sabi Sand Wildtuin.
Size Sabi Sabi is set in 6,000 hectares within the 65,000 hectare Sabi Sand Wildtuin. The reserve was shared by four luxury lodges. In addition to Selati Camp, there was Bush Lodge, Little Bush Camp and Earth Lodge.
Selati Camp had eight suites including the Ivory Suite (presidential) and Lourenco Marques Suite (honeymoon). Nineteen staff, including two rangers and two trackers, were based on site.
Lobby And Common Areas
Within the Sabi Sabi motto one of Yesterday, Today and Tomorrow, Selati Camp represented "yesterday." The camp was peppered with railway memorabilia from the railroad line that ran nearby in earlier times and suites were named for railway stops.
Selati Camp décor emulated a late 1800's and early 1900's Out of Africa theme including railway memorabilia from that era. Suites featured deluxe white linen, draped mosquito nets and antique furniture; while common areas were designed to reflect a colonial way of life. The dining room featured antique railway silverware from the era.
The intimate lounge and bar area were furnished with antiques including railway memorabilia and collectible artefacts. In addition to a traditional outdoor boma , Selati Camp had a newly built Farmhouse Kitchen .
Bathroom
To the right of the hallway, a glass and wood door led to a private outdoor area housing a bathtub with Jacuzzi and shower with a view of the adjacent bush. At the end of the hallway, there was a circular bathroom with a second bathtub, separate shower stall, WC, and twin sinks with mirrors.
Room We stayed in Murchison Suite (7), one of the furthest suites from the main area of the camp affording us quiet and privacy. Our 600 square foot accommodations were spacious and comfortable. A railway style marker with the name of our suite hung on the wall outside the entrance to the room. Outer screen doors and double wood framed glass doors led to the cool air conditioned interior. Across from the entrance a second set of identical glass doors and matching screens led to one of my favorite areas, a bush facing rectangular fenced in private porch furnished simply with two wood chairs.
Inside the suite, the décor matched the classic Africa railway theme of the camp. High ceilings of thatch roof and wood beams lent the southwest facing room a sense of space. Area rugs were strategically set over the thatch color tile in various spots across the suite. During the day, muted sunlight filled the room thanks to large glass windows. At night, railway lamps lit the interior reminding us of tent accommodations in the days of Africa's early exploration. For those moments when we had to see better, electric lights brightened the room, hallway and bathroom.
The suite was divided informally into three areas: an entrance area with two large wicker armchairs, a chest, a small wood vanity and wicker stool under an oval hanging mirror, an upright fan, and an antique oak, marble and tile dresser from the late 1800s (or early 1900s). A coffee and tea service on a tray sat atop the dresser and wildlife magazines lay on the chest. Two single beds with matching night tables were on the opposite side of the room and crowned with a hanging mosquito net which the staff laid out during the turn down service while we were enjoying the early evening game drive. In the corner across from the bed there was a wood enclosed refrigerated minibar stocked with cold alcoholic and non alcoholic beverages.
Our luggage was set atop luggage racks in the adjacent hallway that led to the bathroom. It also housed an electronic safe and wood armoire with ample space to hang our clothes.
Meals
Breakfast, at 9 am or immediately following our game drive, consisted of a cold buffet (cereal, yogurt, fresh fruit, bread and jams, cheese and deli meat) and made-to-order selections from the menu. Lunch was served at 1 pm and was a combination of buffet salads and cheeses and a la carte hot dishes. In the evenings we were served a plated dinner from a set menu with two main course options.
One of the lunch menus during our stay featured: Pan Grilled Fish of the Day with sea salt and black pepper potato wedges; Char grilled Grain Fed Sirloin of Beef; Seared Ostrich and Apricot Kebab; Homemade Pasta tossed in a fresh Basil Pesto; Char grilled Spring Chicken; South African Cheese Platter and the day's dessert. The dinner menu: Cherry Tomato and Feta Tartlet; Cheese and Chardonnay Soup; Slow Roasted Leg of Lamb with Mint Jus; Pan Fried Kabeljou with Dill and Yoghurt Sauce; and Traditional Crème Caramel with Passion fruit Coulis.
Where possible, the kitchen staff used fresh local produce, and combined local cuisine with international touches. Venison dishes were a speciality. Breakfast and lunch could be enjoyed in the indoor-outdoor dining areas and Farmhouse Kitchen; we had dinner on the deck and one night we dined under the African sky in the outdoor boma . During the game drives the staff served sundowners in the bush and home made snacks.
Amenities
There was complimentary bottled water, shampoo, body gel, body lotion, scented soaps, candles; robes and slippers; electronic safe; mini bar; pool towels, complimentary sherry; mosquito repellent and sunscreen. At night the staff would provide us a printed weather forecast for the following day and delicious Sally Williams almond nougats. We appreciated the post game drive scented moist towels, welcome drink, seamless luggage transfer to and from our suite.
Facilities Selati Camp had a swimming pool on a wooden deck overlooking a riverbed, a bar, dining area, Farmhouse Kitchen and an outdoor boma .
Pool Set on a bush facing deck with lounge chairs, plush pool towels and several umbrellas for shade, the pool area was inviting. The water was clean, chilly and refreshing in the heat of the mid afternoon when I and another guest went for a quick dip before tea.
Game Viewing
Our guide was Tal Twerksy. He was knowledgeable and pleasant, exhibiting an eagerness to show us the animals that was contagious. When we visited, we shared the game viewing vehicle with four other guests (the maximum number of guests the camp would assign to a vehicle was eight). In the morning, Tal would knock on our door at 5:30 am. Tea and coffee were served at 5:45 am in the dining area and we would head to the bush at about 6 am. We would drive for three hours, returning around 9:15 am and breakfast immediately. Although there was no break during the three-hour drive we were excited with our game viewing and didn't mind. In the afternoon, we would enjoy tea and coffee on the deck at 4 pm prior to heading out on the three hour 4:30 game drive.
There were two rangers and two trackers based at the property. When necessary additional staff came from sister Sabi Sabi properties. After completing a thorough selection course at Sabi Sabi, guides are required to write FGASA exams (Field Guide Association of South Africa), and undergo months of practical training on the reserve. Sabi Sabi rangers and trackers also received ongoing training within the reserve.
Animals we saw: Baboon, buffalo, bushbaby, bushbuck, duiker, elephant, giraffe, scrub hare, spotted hyena, impala, kudu, leopard, lion, dwarf and slender mongooses, tree squirrel, warthog, waterbuck, wildebeest, and zebra as well as flap-neck chameleon, giant plated and rock/white throated monitor lizards, leopard tortoise, foam nest frog and dung beetles.
In addition to Big Five game, more than 300 species of bird have been recorded in the Sabi Sabi Reserve including the rare Bat Hawk and Thick Billed Cuckoo.
Birds we saw: Crested barbet, little bee-eater, Burchell's coucal, jacobin and red chested cuckoos, Cape turtle and laughing doves, fork tailed drongo, bateleur and Wahlberg's eagles, paradise flycatcher, Swainson's francolin, common greenshank, helmeted guineafowl, hamerkop, Retz's helmet-shrike, grey heron, African grey and red billed hornbills, woodland kingfisher, grey go-away bird, square-tailed nightjar, black headed oriole, African barred owlet, Verreaux's eagle-owl, red billed oxpecker, African green pigeon, blacksmith lapwing plover, lilac breasted roller, magpie and southern white crowned shrikes, Cape glossy starling, amethyst sunbird, southern black tit, village weaver, and green woodhoopoe.
Activities There were game viewing drives in the morning and evening as well as optional bush walks in the morning after breakfast.
Other
Spa treatments were available at Sabi Sabi sister properties Earth Lodge and Bush Lodge or in guest suites. A few items of clothing were available for sale at the reception area.
Sabi Sabi involved local communities bordering the reserve with income-generating projects servicing and supplying product to the lodges. Sixty percent of permanent staff on the reserve are from the neighboring Shangaan villages of Huntingdon, Justicia and Lillydale.
Sabi Sabi Reserve received the 2007 ASATA (Association of South African Travel Agents ) Diners Club Award for Best Game Lodge in South Africa for the seventh year.
Since the lodge area was unfenced wild animals large and small walked about freely. Staff escorts were required in the evenings to and from our suite to the bar and dining areas.
Contact Information
Address:
Selati Camp
Sabi Sabi Private Game Reserve
Sabi Sand Wildtuin
Mpumalanga, South Africa
Phone:
Fax:
Website:
Email:
Office:
Address:
Head Office
4 Jameson Avenue
Melrose Estate
Johannesburg, 2196
South Africa
Phone:
Fax:
Website:
Email: